61 Awesome Things to Do in Grenada!
1.2K Flares
1.2K Flares
×
Grenada is a true jewel in the Caribbean. Located just far enough south to avoid the tourism masses that the northern islands see, yet it's still easy enough to get here on a cruise ship or a direct flight from North America.
Not many islands possess such a huge list of activities to do, sights to see and restaurants to eat at. You could spend a year here and never be bored!
After living in Grenada for 7 months, here is our list of 61 Awesome Things To Do In Grenada!
**Note: These are in no particular order and the Parishes are listed in brackets
1. Try "Doubles" (St. George)

Doubles are a delicious breakfast found in the southern Caribbean. A sweet and spicy chickpea curry is wrapped inside of a soft bara bread. Latta makes the best ones on the island, and you can find her serving doubles out of the back of her orange van on Wall Street in Grand Anse.
2. Grand Etang National Park (St. Andrews)
This beautiful, lush park is set high in the mountains of Grenada. At 1,900ft, this is the perfect spot to escape the heat and enjoy nature. With waterfalls, a lake and endless walking trails, Grand Etang is a place you could return to again and again.
3. La Sagesse Beach (St. David)
A stunning cove with soft sand, clear waters and lined with palm trees. This is one of the most beautiful beaches in Grenada. You can walk the length of the beach and then cross through the trees at the end to reach the next secluded bay.
4. Sunsets at La Luna (St. George)
There are many places to enjoy the golden sunset with a glass of wine in hand, but the best spot has to be at The La Luna Hotel. Going for a swim before lounging on the beach chairs and enjoying the sunset with a drink is perfection. You can come here for a drink at the beautiful open-air bar even if you're not a hotel guest.
**NOTE: In our opinion, The Laluna Hotel is the most beautiful hotel on the whole island! Click here to check it out.
5. Sailing (St. George)
Getting out on the water is a must when visiting an island! Sailing up the and down the Caribbean coastline is a magical experience. Check out Footloose Tours for a great day (or multiple days) of sailing.
6. Friday Night BBQ's (Island Wide)
Every Friday night, local vendors set up their BBQs on the street and serve up some delicious pork and chicken. Check out Rosanne's BBQ near Red Gate (St. David) it's the best BBQ on the island!
7. Dodgy Dock (True Blue, St. George)
This awesome marina-side restaurant and bar is a nice place to meet up with friends for an afternoon beer or dinner. There's also a micro-brewery on the premises with some nice ales on offer. The views of the water and sailboats are lovely.
8. Hashing (Island Wide)
The Hash House Harriers are a social running/walking group that meet every Saturday. Someone sets up a trail around the island (usually about 2 hours long) and the runners/walkers follow piles of shredded paper until they reach the finish line. The starting and finishing point is typically at a rum shack! It's a lot of fun.
Check out our article: On! On! The Art of Hashing in Grenada
9. Scuba Diving
The diving around Grenada is stunning. This island isn't really known for being a diving destination, but with the first Underwater Sculptures in the world, shipwrecks and coral that has been virtually untouched, it really should be more popular. Check out Dive Grenada, a great dive shop on the island.
Don't miss this article and video: Under The Caribbean Sea With Dive Grenada
10. Whisper Cove Marina (St. David)
This is a great go-to spot on Saturday afternoons. For only $10 USD you can enjoy a steak lunch with french fries, salad, and a cold beer!
11. Hog Island (St. David)
This gorgeous island is just a 10 minute boat ride from Whisper Cove Marina, or you can drive the bumpy road from Mt. Hartman Dove Sanctuary, and then walk across the bridge. Hog Island has a great trail for hiking with wonderful views.
12. Roger's Bar (Hog Island)
There's a little ramshackle bar located on Hog Island and every Sunday, Roger puts on a lunch BBQ consisting of chicken or fish, green salad, macaroni salad and potato salad. It's the perfect spot to enjoy a beer while swimming in the stunning water.
13. St. George's Carenage (St. George)
St. George's is a very colourful capital city! Walking along the carenage while enjoying the views of the water, the buildings and the boats coming and going makes for a great day.
14. Fort George (St. George)
This fort was built in 1705 by the French and is located to the west of the harbour. The views from atop the fort looking down on St. George's are fabulous. An entrance fee of $5EC is payable when you enter the fort.
15. Amici Miei Italian Restaurant (True Blue Area)
This Italian restaurant is amazing! The food here is homemade, authentic and delicious. Everything from wood fired pizzas to salmon and callaloo lasagna are available. They have nightly specials as well, and a huge menu to choose from. The portion sizes are really good, and the prices are more than fair. Check out their website here.
16. Belmont Estate (St. Patrick)
This gorgeous 17th century plantation is a great place to go to learn about cocoa processing. You can also visit gardens, the goat dairy farm and enjoy a delicious Grenadian lunch. To go on a tour of the plantation and learn about cocoa, the cost is only 13EC/person, which includes tasting some delicious chocolate at the end!
17. Morne Gazo Forest Reserve (St. David)
Not many people know about this gem and you most likely won't see anyone on the trail, ever. Located in St. David's Parish, near Perdmontemps, there are numerous hiking trails here with views out to the sea.
18. River Antoine Rum Distillery (St. Patrick)
It's a known fact that rum is the drink of choice throughout the Caribbean. The River Antoine Rum Distillery's processes have changed very little since the 1800's. This is the oldest functioning water-propelled distillery not only in Grenada, but in the whole Caribbean. Tours here are $5EC and you get a delicious tasting at the end.
19. Prickly Bay Marina (L'anse aux Epines, St. George)
This is where lots of sailors and yachties hangout. The vibe here is good, the pizzas are delicious (1/2 price on Monday and 2-for-1 on Saturday) and happy hour runs from 5:00 – 6:00pm. The sunsets over the marina here are nice as well.
20. Bacolet Bay (St. David)
This lovely off-the-beaten path beach is located on the south side of St. David's Point.
---
Looking for a beachside hotel in Beautiful Grenada?! Click here to compare deals with the best sites online.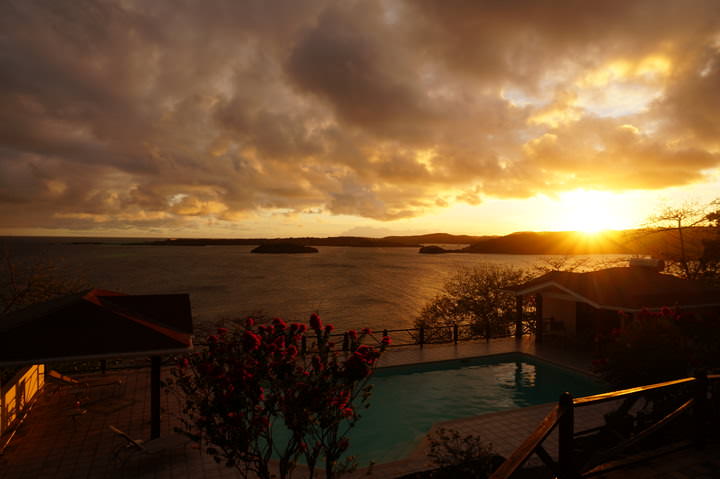 ---
19. Crab Racing (Grand Anse Beach, St. George)
Every Monday night, the Owl Bar (attached to Flamboyant Hotel) at the south end of Grand Anse Beach, puts on this hilarious race. Place your bets on hermit crabs and have a great time!
20. Levera Beach (St. Patrick)
Located at the very northern tip of the island, the beach here is lovely and is a great spot for a picnic. Leatherback turtles start nesting here in March and the hatchlings head out to the water by July. You need to come here in the evening in order to see the turtles.
21. Carib's Leap (St. Patrick)
Located in the town of Sateurs, this is a very historical spot in Grenada. In 1651, rather than face domination by the French invasion, the native Caribs leaped to their death off of this cliff.
22. Royal Mt. Carmel Waterfalls (St. Andrew)
Located just 3 km south of Grenville, these are the tallest waterfalls in Grenada. After an easy 20 – 30 minute walk you'll arrive at the falls. A great place for a picnic and a swim.
23. Grand Anse Beach (St. George)
This is the largest beach in Grenada! The sand is soft and white and the waters are clear and calm. A good spot to watch the sun set.
If you are looking to stay on this stunning beach during your trip to Grenada, check out these top recommended beach hotels:
Coyaba Beach Resort (with pool, tennis court, beachfront, massage service & more)
Flamboyant Hotel & Villas (with pool, bar, balcony, fitness center & more)
Mount Cinnamon Resort (with tennis court, views of the beach, restaurant / bar, BBQ area & more)
24. Umbrella's Beach Bar (Grand Anse Beach, St. George)
Located on Grand Anse Beach, this is a popular spot for locals, students, tourists and expats. The food is good and it's a casual place to head in for a drink. Try the Umbrella Burger! Fridays and Saturdays they have live music from 7:00 – 9:00 and on Sundays from 5:30 – 7:30pm.
25. Morne Rouge Beach (St. George)
Located one bay over from Grand Anse Beach on the south end, this is a gorgeous cove. The waters here are very calm and perfectly clear. This beach is much quieter than Grand Anse, and is one of the best beaches in Grenada.
26. Fort Frederick (St. George)
Built by the French, this fort is a great place to come for views of St. George's and the Caribbean Sea.
27. Fort Mathew Bar (St. George)
Just adjacent to Fort Frederick, this was once an insane asylum! Interested in drinking cold beer inside tunnels with rum barrels used as tables? Check out this unique bar.
28. Petit Bacolet Beach (St. David)
There's no development on this black sand beach whatsoever, and in order to get here, you have to hike from St. David's Harbour or from Bacolet Bay. There is a road leading to the jungle (just across from OK Amusement Park) where you can park you car and hike to the beach. Be warned, this path is very grown over at times and could be hard to navigate.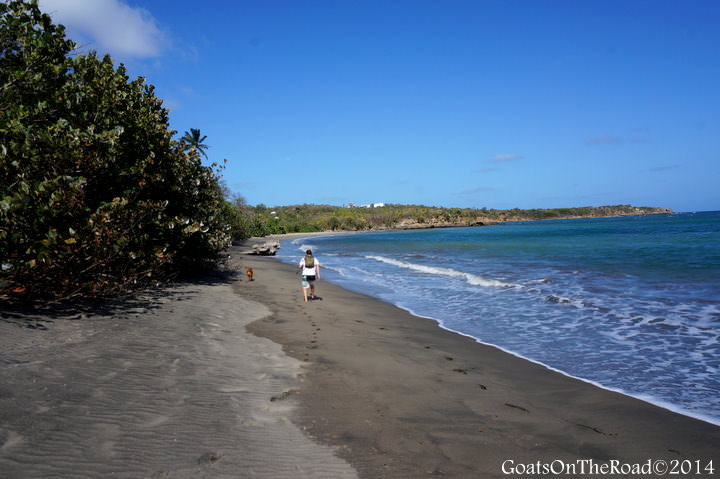 29. Annandale Falls (St. George)
Located just 15 minutes from St. George's, these are the easiest falls to visit on the island. The 15 meter high waterfall is beautiful and a great spot for a swim.
30. Laura's Spice Garden (St. David)
Grenada is known as the Island of Spice and a trip here wouldn't be complete without learning about the nutmeg and other spices this island is famous for. The tour here is about 20 minutes and the guide will explain every use for each herb and plant on the property (if you're lucky, she'll smile). There's a $5EC entrance fee.
31. Ronda's Ice Cream (St. David)
This small, side of the road ice cream shop is delicious! The ice cream is locally made with some flavours being imported from Trinidad. Make sure to try the cookies n' cream! Located on your righthand side when driving to La Sagesse Beach, if you're coming from the south.
32. Levera National Park & Bathway Beach (St. Patrick)
A lovely area at the very northern reaches of the island. Walk around the lagoon, or enjoy the bird-watching. Bathway Beach is a great place to enjoy the afternoon as well, just be aware of strong surf here.
33. Dragon Bay (St. George)
This local beach is a nice spot to enjoy a picnic and do some snorkelling. Here you'll rarely see another tourist, it's a great spot to get to know the locals.
34. Fish Friday in Gouyave (St. John)
An open-air event held each Friday. All sorts of fresh, local seafood is available and sold at little vendors. This is a very local event filled with good food, music and dancing in the street. It starts around 6:00pm and ends around 1:00am.
35. St. David's Point (St. David)
This is the point in between Bacolet Bay and Petit Bacolet Bay. The views here out to the sea and back to land are beautiful. Locals come here during holiday time to fly kites and have picnics.
36. Cycle Tour (St. George)
Mocha Spoke is a cool company here on the island offering cycle trips around Grenada. The guides are professional and the bikes are top-notch. Mocha Spoke is also an open air cafe, serving up waffles, paninis, and of course, coffee!
37. Carnival (St. George)
Carnival in Grenada is held every year in early August. Music competitions, costume competitions, dance competitions and parades happen all over the island. It's a bright, colourful, crazy festival!
38. Kayak Tour (St. David)
Conservation Kayak is the company to go with if you want to do a kayak tour. They leave from Whisper Cove Marina after a good 30 minute or so briefing. Tours vary, but most paddle out near Hog Island.
39. Deep Sea Fishing (Leave from St. George)
Grenada has some excellent fishing opportunities. Sailfish, marlin, tuna and barracuda are just some of the many fish you could hook into! Check out the Billfish Tournament which takes place each year in January and contact Gary, the owner of the beautiful Yes Aye, for some great fishing day trips.
40. Concord Falls (St. John)
There are actually three waterfalls here. The first is easily reached, while the other two require a bit of a hike through gorgeous scenery. It's about 45 minutes to the second fall. This is a great place to spend the day, pack a picnic!
41. Mt. Moritz Breakfast (St. George)
This breakfast is held on the last Sunday of each month. Many local foods are on offer and there's music as well. It's a well attended event and there's lots of seating and parking.
42. Saturday Morning Market (St. George)
If you're looking for some fresh fruits and veggies, this is the place to come on Saturdays! Located right in the center of St. George's, just one street back from the fish market.
43. Mt. St. Catherine (St. Mark)
At 840m (2,760ft), this is the highest point on the island. Mt. St. Catherine is actually a stratovolcano, and the youngest of the 5 volcanoes that Grenada is comprised of. You can hike up to the top, but you'll need to take a guide. Tours are available out of Victoria, or you could arrange it in St. George's.
44. Lake Antoine (St. Patrick)
This shallow crater lake is a great place for bird watching. There's a trail that circles it as well.
45. Spice Basket (St. George)
This is a bar, restaurant, museum and theatre. Here you'll see traditional dress, dance and music. You can also enjoy local foods, chocolate and rum. They have different events going on throughout the week.
46. Magazine Beach (St. George)
This is one of the most beautiful beaches in Grenada. You'll be sharing the beach with the guests of the Rex Grenadian hotel, but it's still pretty quiet. At the southern end of the beach is Aquarium Restaurant ($$$) where you can grab some lunch and a drink, or bring your own food and drink to the beach!
47. Fish Market (St. George)
A great place to find fresh fish! Snapper, barracuda, mahi-mahi and more are on offer. Prices about $8EC/pound. Even if you're not interested in purchasing anything, it's an interesting and bustling place to visit.
48. Black Bay Beach with Amerindian markings (St. John)
About a 20 minute hike from Concord off the main road is this secluded beach. There's also a cave here with Amerindian markings inside!
49. Dougaldston Spice Estate (St. John)
Learn about various spices while on tour at this 600 acre nutmeg plantation. This is a non-working spice factory now, but you can still visit to see the old buildings and machinery and get a glimpse of what a working plantation might have been like in its hey-day.
50. St. George's Anglican Church (St. George)
This church was built in 1825, but suffered during Hurricane Ivan. This church has no roof, but a bell, clock tower, some stained glass and tiled flooring remains.
51. National Museum (St. George)
This building has been a lot of things in the past – French Barracks, a prison, two different hotels and a warehouse. In 1976 the museum was established. The sections here are: Slavery, First Inhabitants, Plantation Economy, Whaling & Fishing Archaeology, and Early Transport & Technology. You'll also find Carib and Arawak artifacts here.
52. Drive Around the Island
This is a must do when in Grenada. You'll probably get lost a couple of times as there aren't many road signs, but just pull over and ask someone where you'd like to go! Get a good map, bring a picnic and enjoy the day. We recommend having a picnic up near Bathway Beach.
53. Creole Shack Restaurant (St. George)
Just down the street from the Fish Market, this restaurant serves up local, buffet style food. The cost of the meal is based on weight. There's a bar here, lots of seating, both inside and out. The food is really good and the cost is not too bad either.
54. Blowhole at Fort Jeudy (St. David)
This massive blowhole doesn't actually "blow". It's too big and the water is never rough enough to force its way through the massive opening. The points around the hole and the rest of Fort Jeudy area are beautiful for hiking.
55. Le Phare Bleu (St. David)
The actual Le Phare Bleu is a marina, restaurant and hotel. The surrounding area is residential and is a great place for walking. Try to find your way down to one of the little beaches!
56. Golfing at Grenada Golf & Country Club (Grand Anse/St. George)
You can play 9 holes ($20USD) or 18 holes ($30USD) here. The cost of a caddy and club rental is on top of the initial cost. The views of the Caribbean Sea from the greens are stunning.
57. Visit Carriacou & Petit Martinique
The island country of Grenada actually consists 6 smaller islands, as well as the largest island, Grenada. Carriacou and Petite Martinique are really the only other two islands you'll hear about. You can take the Osprey Ferry to visit these islands (about a 2 hour journey from Grenada to Carriacou), or you can fly with SVG Air.
58. Mango Bay Restaurant (St. John)
Grenada's only vegetarian restaurant! From Friday to Sunday it is open to the public, during the week, the restaurant is only open to guests of the hotel. The pizza, soup and desserts here are fantastic, filling and healthy. An appetizer, main, dessert and a (non-alcoholic) drink costs $40EC/person.
59. Eat Roti (anywhere)
Roti is a famous local dish that is made of wheat bread folded around a delicious spicy chicken curry. It's so good that we named it a Must Try Meals From Around The Globe!
60. Steel Pan
Listening to steel bands while in Grenada is a must! The sound is incredible, the vibe is great and the music will make you want to dance. You can find the music at Prickly Bay on certain nights, during Carnival and at the Spice Basket as well.
61. Cloud 9 Restaurant and Bar
This is a very chilled out, affordable place to eat. There's an outdoor pool which is very refreshing during a hot day. The bar food here is delicious (wraps, burgers, fries, salads, etc.) This is a popular student hangout and they even allow dogs at the restaurant!
Grenada is one of the most jam-packed islands (or countries) that we've ever come across. For such a small nation, it really does pack a lot of punch. There are many more things I could add to this list, but I don't want to give away all of our secrets!
Your Turn! Have you ever been to Grenada? Is there anything I should add to the list? Anything you don't think belongs on here? Share below!
For more articles and videos about living and travelling in Grenada, click here.
Like it? Pin it! 🙂