You're probably wondering who us "Goats" are! Well, we're Nick & Dariece, the Canadian videographers and writers behind this travel blog. We've been travelling to off-track destinations since 2008, and our passion for culture and adventure has driven us to find numerous ways to make money on the road so that we can continue our life of full-time exploration.
This blog and other online businesses now earn us a better living than our jobs in Canada ever did!
We share our financial tips, earning methods and travel stories with you, our readers, in the hopes that we can inspire you to live a freer life. We want to help show you how to turn your travels into a lifestyle.
We've chosen this unconventional way of life and are completely stress-free, happy and alive. No nine-to-fives, no boss, no planning for retirement, no white picket fence, no mortgage and most importantly, no debt.
---
Travel Blogging is a Reliable Source of Income
Starting a travel blog was the best thing that we ever did! It has combined our love for travel, photography and videography and given us an outlet to help others plan for their trips.
We sort of have two sides to our website – planning for travel, and sustaining travel. We love being able to help people prepare and plan, and give ideas on which countries to visit and what to do while there. We also love showing our readers how they can sustain their travels and make them last forever!
Here are some of our top articles about travel blogging as a profession: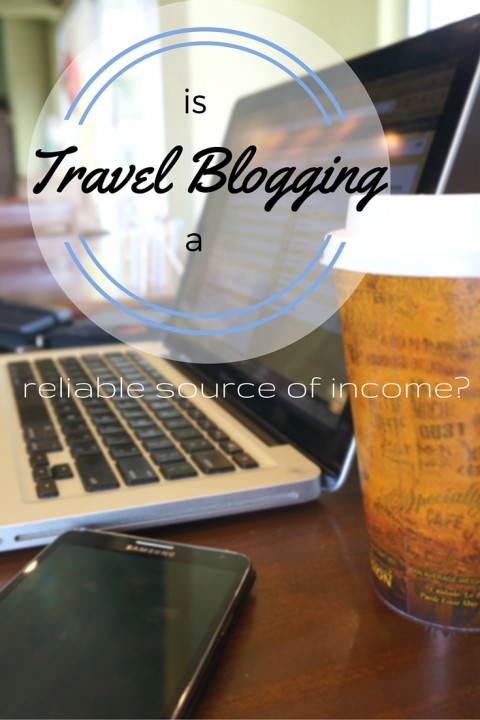 ---
---
---
Work once consumed us. There was a time when we had a mortgage and cars, good jobs and expensive things, but in realizing the futility of material possessions, we gained a new outlook on life itself.
We are the architects of our own reality and we are here to inspire you to create a happier life for yourself. Happiness comes in many forms, but for us, we find joy through travel and eye-opening experiences.
We love photography, tasting international foods, practicing yoga, trekking over mountains, laying on beaches, eating chocolate and drinking copious amounts of red wine. We wander the globe in search of off-the-beaten-path destinations, authentic cultural experiences, exotic cuisines, beautiful beaches and wild adventures. We've visited 46 countries on 4 continents, seen 5 Wonders Of The World and too many UNESCO Heritage Sites to count.
Why We Started Travelling
In 2008 we went on a typical all-inclusive Mexican vacation, and it just sparked something in us. About a month later, Nick came home from a brutal day of work and asked me "if you could travel anywhere for a year, where would it be?" My immediate reply was Southeast Asia.
During this time, we were also beginning to feel a little too "settled down" with good jobs, a home we loved, and a comfortable lifestyle. So, it just seemed right to drop everything and try something new.
We spent 13 months travelling through Southeast Asia, India, and Sri Lanka. After only a short time on the road we realized that travelling was how we were going to spend our lives. The things we saw and learned on that trip changed the way we thought about not only the world, but also our future.
(click here to read a summary of our first backpacking trip!)
When we returned to Canada on December 22, 2009, we knew we were on a mission to save as much money as possible to support our new passion.
Countries we've visited…where do you want to go?!
Within a year of being back home in Canada, we had enough money saved for our next journey…and we've been on the road ever since then, February 2, 2011. One day we'd like to say we've seen the world, but we've got a long way to go.
FAQ'S:
Q:  Why are you called "Goats On The Road"?
A:  Because no matter where we travel in the world, there seems to be goats roaming the roads! Since the two of us are also on the road, we have since decided to call each other "Goat"…therefore, we are Goats On The Road.
Q:  How can you afford to travel for so long?!
A:  For our first year-long trip in 2008, we sold our house and saved a lot of money from working. For our second trip we again saved up our money from working for a year in Canada, and were able to travel for 16 months. After that, we decided to teach english in China for a year. We saved $21,000 in a year living in China and that supported our journey through Mongolia, Russia, Central Asia and Iran.
As of early 2014, a combination of free accommodation from house-sitting and the earnings made from Goats On The Road completely funds our travels! It's definitely an accomplishment that we as travel bloggers are very proud of. 

(check out: An Honest Update from the Goats – How We Afford To Live Abroad)
Q: How do you pronounce Dariece?
A: Der – ees.
Q:  Do you ever get bored with travelling the world?
A:  Absolutely not! There are times when we feel a bit exhausted or overwhelmed from trying to juggle travelling and websiting and need some down time…but no, we're always excited to see and do new things each and every day. That's the best part about backpacking, there's always something new around each corner.
Q:  How do you get around?
A:  We always take local transport. Unless we absolutely have to fly (or for some reason it's much cheaper), we always opt for land transportation.  We get to see the country that way and get to mingle with the local people.
Q:  What is your favourite country so far?
A:  We don't have a clear answer for that one.  Each country is beautiful in its own way and has something to offer. However, the ones that stand out in our minds the most are: Thailand, India, Indonesia, Egypt, Mozambique, Turkey, China, Mongolia and Iran.
Q:  What are the weirdest things you've eaten on your travels?
A:  Scorpion, maggot, toad, horse meat, duck's blood, cow stomach and ox tongue.
Q:  Where do you sleep?
A:  We typically go for a hotel/guesthouse/hostel/hut or some sort of accommodation that is unique, has a funky vibe and lots of other like-minded travellers around.
We've slept on plenty of planes, trains, cars and buses.
We've had to embrace the dorm room a few times, but usually we go for private rooms.
Q:  Have you ever been worried about your safety?
A:  A few times. In Kenya we were held at knife point by a crazy, homeless man. Two other times Nick almost drowned – he fell down a waterfall in Laos and he was sucked out to sea by a rip-tide in Sri Lanka. We were also (possibly) stalked by a tiger while hiking though Periyar Tiger Reserve, India.
Q:  Have you ever had anything stolen or been robbed?
A:  Unfortunately, yes. We had $1,500 stolen from us during our adventures on the Pamir Highway in Tajikistan. We've also had a pair of sandals, an iPod Touch and a dive mask stolen. Luckily, none of those things were forcefully taken from us.
Q:  How long will you keep travelling?
A:  We plan to continue to live abroad for as long as we enjoy it. Teaching English, our website and house sitting are all great tools to continue with this lifestyle. For us, the blog will be our sole income and our fuel for continued world adventures.
Things We've Done:
Apart from quitting our jobs, selling our home and leaving Canada to pursue our dream of travelling, we have…
Snorkelled with Whale Sharks (Mozambique)
Gone on an African Safari (Masai Mara, Kenya)
Spent 3.5 weeks doing yoga and meditation at an Ashram (India)
Dove with Humpback Whales (Mozambique) 
Trekked to 5,416 meters through the Himalaya Mountains on the Annapurna Circuit (Nepal)
Went on a 4 day camel safari (Thar Desert, India) 
Sailed through the stunning Quirimbas Archipelago camping on deserted islands along the way (Mozambique)
Floated in the Dead Sea (Jordan)
Seen 5 Wonders Of The World: Great Pyramids Of Giza, Egypt; Petra, Jordan; The Taj Mahal, India; Chitchen Itza, Mexico and The Great Wall Of China, Beijing, China
Taught English in a rural village for a week (Naloy, Myanmar)
Dove the Blue Hole in the Red Sea (Dahab, Egypt)
Sailed up the great Nile River for 4 days (Aswan to Luxor, Egypt)
Stared in awe at the pile of rocks known as Stonehenge (England)
Seen the amazing temples at Ankor Wat (Cambodia)
Survived a deadly stomach virus (Monkey Bay, Malawi)
Discovered the most beautiful island in the world (Koh Rong, Cambodia)
Seen the prehistoric Komodo Dragons (Rinca Island, Indonesia)
Lived out our Robinson Crusoe fantasies on deserted islands (Mozambique & The Philippines)
Spent 3 days on a rice barge houseboat sailing the Kerala Backwaters (Allepy, India)
Trekked deep into the jungle to spot wild Orangutans (Bukit Lawang, Indonesia)
Went sand-boarding down massive dunes in the Great Sand Sea (Egypt)
Witnessed the migration of the Southern Right Whales and Humpback Whales from 50 feet away (Hermanus, South Africa)
Seen the Parthenon (Athens, Greece)
Survived Dengue Fever (Ho Chi Minh, Vietnam)
Cuddled a full grown tiger (Chang Mai, Thailand) – something we're not proud of.
Hiked a volcano for sunrise (Kintamani, Indonesia)
Wandered through the ancient ruins of Baalbek (Lebanon)
Went surfing (Lombok, Indonesia)
Attended an Indian Wedding (Rishikesh, India)
Rented a car and went on a 5 week road trip (South Africa)
Got tattoos in a foreign country (Koh Tao, Thailand)
Spotted rare Irrawady River Dolphins from a dug-out log canoe (Don Det, Laos)
Got a naked scrub-down from a complete stranger (Istanbul, Turkey)
Had an article published in South East Asia Backpacker Magazine
Travelled for two weeks on the Pamir Highway through Kyrgyzstan and Tajikistan
Took a helicopter ride over the Pamir Mountains bordering Afghanistan
Trekked on foot independently for 8 days in Mongolia
Rode the Trans-Mongolian/Trans-Siberian Train
Went on a two day horse-trek in Kyrgyzstan
Travel is our life, it's what we love and it's our passion! We hope to inspire you to live the lifestyle of your dreams. 
If you have any questions at all, you can Contact Us Here! We would love to hear from you.