The UNESCO listed city of Guanajuato is quite possibly the most picturesque place in all of Mexico. Brightly coloured buildings tumble-down the hillside, leading to lovely plazas and squares. The temperature is perfect, the people are friendly and there are endless amounts of things to do in Guanajuato, making it a must-visit destination.
After spending 5 nights in this lovely mountain town, we can honestly say we love it and can't wait to return. Guanajuato is one of the best places to visit in Mexico.
Here are 10 Awesome Things To Do in Guanajuato:
1. Wander the Colourful Lanes
Guanajuato is a well designed city with plenty of plazas and squares, and leading away from those squares are many lanes and alleyways just waiting to be explored. The colours of the buildings are bright and cheerful, and the little streets are endless. You may get lost, and if so, just wander downhill and eventually you'll come out in the center of town. Walking around and exploring on foot is one of the best things to do in Guanajuato for sure.
2. Visit the Mummy Museum
Of all the things to do in Guanajuato, visiting a museum filled with mummies is definitely the most offbeat.
One story says that these people had to be dug up from the cemetery in order to make room for new bodies. Another states that a perpetual burial tax was issued and those who couldn't afford it, had their beloved family members dug up and moved. Regardless of which story is true, what was discovered wasn't skeletons as planned.
Due to the large amounts of clay and limestone in the ground, the bodies became mummified!
Every local person you talk to will tell you to visit this museum, which houses over 100 mummified bodies. Mexicans are obsessed with death and their infatuation with this museum only helps to prove that. Westerners may find it a bit eery, creepy and sad, as we're not as comfortable with death as other cultures are. Regardless of how you feel, it's a very interesting museum and one of the weirdest things to do in Guanajuato.
☞ See More Mexico Articles Here:
3. Go to The Theatre
There are a couple of theatres in town with Teatro Principal having performances and events weekly, typically on Fridays during the months of February – June. The symphony is fabulous and tickets cost a mere 80 pesos for two hours of incredible music. If you're wondering what to do for date night in Guanajuato, this is it.
4. Visit The Alley of The Kiss
The name of this famous alleyway comes from an old folk tale. Apparently, two young people lived across the alley from each other and although the girl's father forbade their relationship, they were in love and continued to see one another.
Because the lane is so narrow, their balconies almost touched, allowing the young couple to kiss in secret! The story has a tragic ending, but if you go to this alleyways and stand on the red step and kiss your significant other, you'll have 7 years of happiness. For couples, this is one of the most romantic things to do in Guanajuato.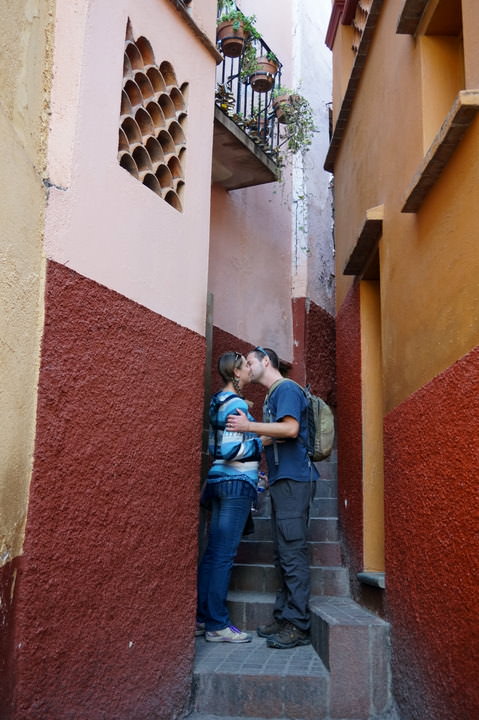 5. Go On a Food Tour (one of the best things to do in Guanajuato for foodies!)
If you're interested in sampling delicious street foods, visiting some markets and walking around the city, this tour is for you! From authentic gorditas, to sopes and tomales, this food tour will take you around to all of the hot-spots and best vendors. After devouring delicious snacks, sipping on Mexican coffee and finishing it all off with homemade ice cream, you'll be ready for a nap. Check out Mexico Street Food Tours for more.
*Warning, this video will make you hungry!
6. Wander Through Diego Rivera's Home
In case you've never heard of Diego Rivera, he was Frida's husband and a famous artist in Mexico. His home has now been turned into a museum/art gallery and you can wander through and take a glimpse into the rooms of his actual home – which are still set up with furniture. In order to turn the home into an art gallery, the house has been added onto. Some fantastic pieces are here, both Rivera's and other more modern artists.
[widget id="shortcodes-ultimate-5″]
7. Ride the Funicular
The funicular is a tram-car pulled by a cable, which takes you up the side of the mountain. It's kind of like an escalator, which is great as the mountainside is quite steep. Once at the top, you'll be rewarded with spectacular views over the colourful city of Guanajuato, as well as an upclose view of the statue of Pipila, a local hero.
8. Go Shopping
There are a few markets in town, but the most important (and biggest) is the Mercado Hidalgo. Vendors set up shop here selling everything from fresh fruits and clothing to cheese and meat. Even if you're not interested in purchasing anything, it's still worth a visit to see the beautiful building and the goods for sale.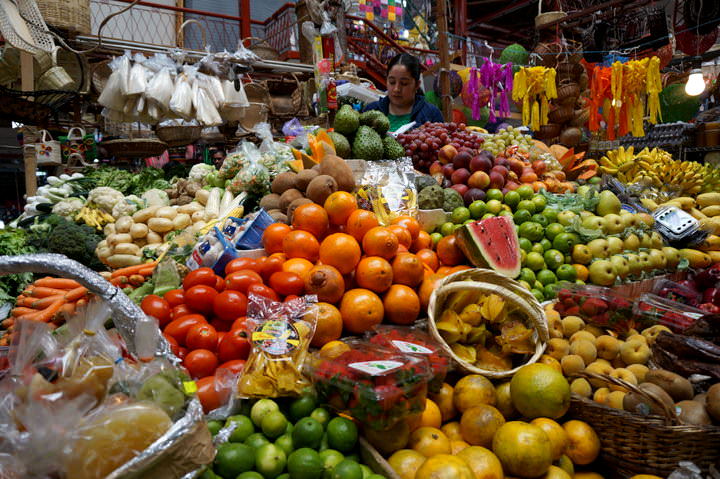 9. Check out Churches and Cathedrals
There are numerous churches and cathedrals in and around the city center. The vibrant yellow Basilica de Guanajuato dominates the main plaza, while the San Cayetano is located out near the mines. The Templo de la Compañía is considered one of finest examples of baroque style in Latin America. Even if you're not a religious person, you can't help but be in awe of the beautiful structures.
10. Visit the Alhóndiga de Granaditas (art and history museum)
This building has been used for many things over the years. Initially it was a grain storehouse, before becoming a fortress for the Spaniards. After that, it was used as an armory, then a school, then a prison, before finally becoming a museum. This was also the place of the first victory over the Spanish during the War Of Independence in 1810. Don't miss the beautiful murals above the staircase.
Ready For Guanajuato?!
Never during our travels have we fallen in love so quickly with a city. Guanajuato is an incredible place with many interesting things to see and do. This list literally could have gone on and on! We highly recommend visiting this UNESCO city in Mexico and hope you love it as much as we did.
Like This Article? Pin it!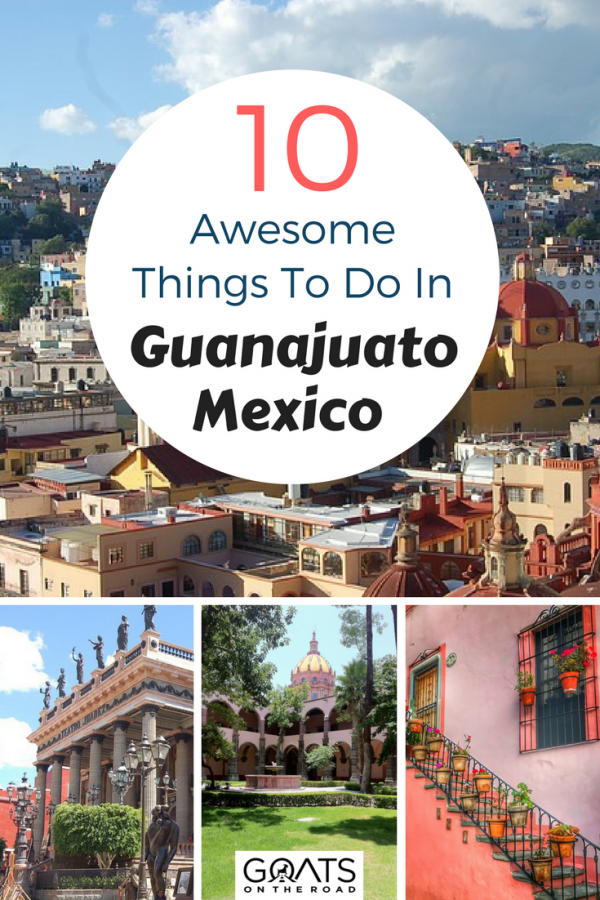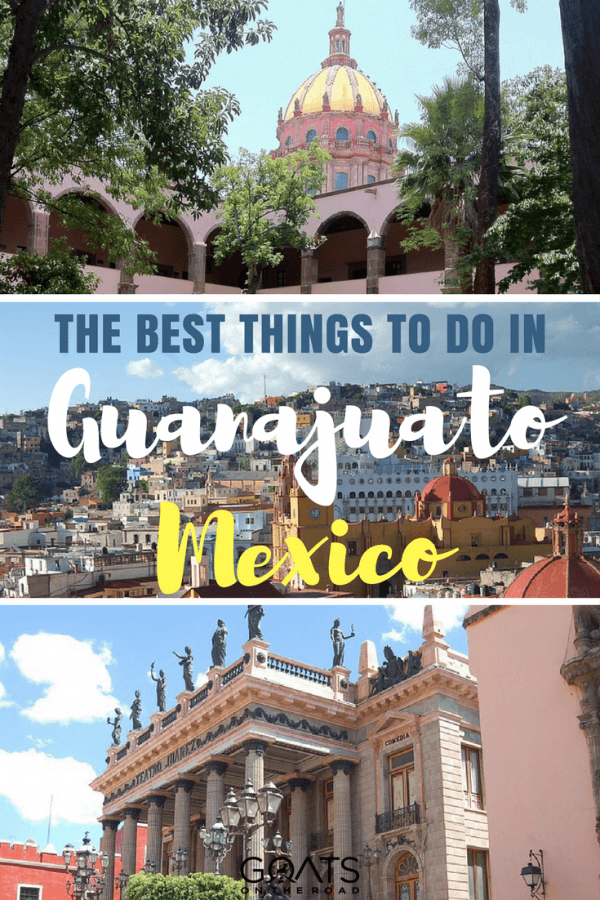 Disclaimer: Some links in this article are affiliate links, which means that if you purchase through them, we receive a small commission. This will never cost you extra and in many cases you receive a special discount. We appreciate your support!