Prior to our 10 day road trip through the wild nation of Albania, we didn't know much about the history, we were a bit unsure of the culture and customs, and we most certainly were unaware of how delicious Albanian food is!
The UNESCO town of Berat is home to some of the best food we've ever eaten. Anywhere. We may have only dined at one restaurant in town (Mangalemi Restaurant), but that's because the food was authentic Albanian, the home cooked meals were delicious, and the prices were more than fair.
Fantastic Albanian food can be found all around the country, but the dishes that stood out for us were found in Berat.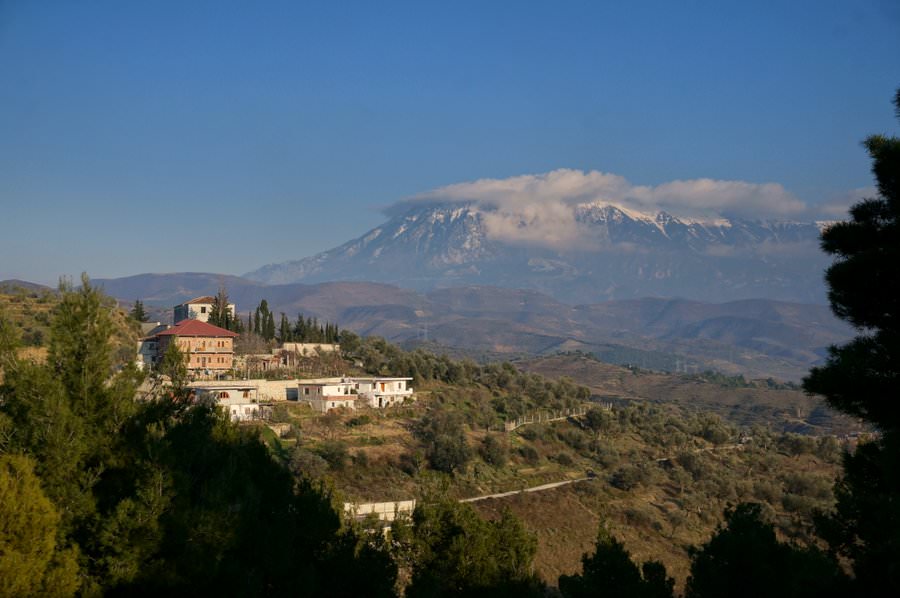 From inland Berat, we also made our way to the coast where we found some more scrumptious Albanian food, with an Italian flare.
Check out these 10 mouth-watering dishes from our travels in Albania.
Freshly Caught Shrimp
Being located right on the Ionian Sea, it comes as no surprise that fresh seafood is popular with tourists and locals in Saranda. The fishermen sell their catch early in the morning right along the pedestrian promenade, so if you want to take a peek at the fish on offer, head there around 9:00 and check it out. Dining seaside while feasting on freshly caught shrimp is a must.
Cost: 1500 ALL ($12) for 15 shrimp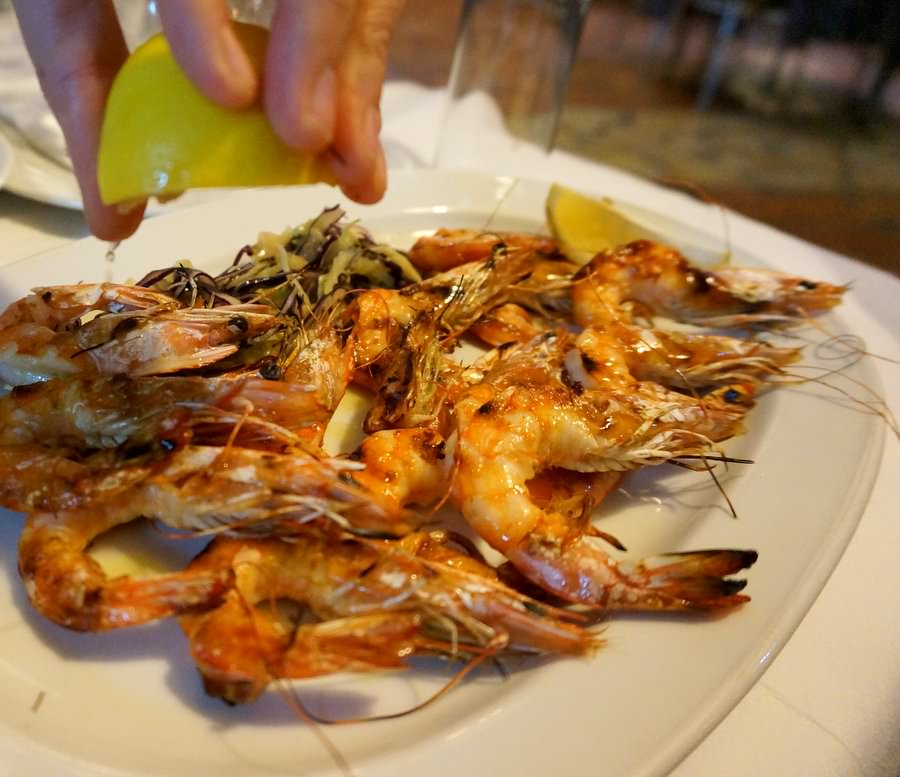 Fëgesë
This simple dish ended up being one of our go-to meals for lunch. Green and red peppers, along with skinned tomatoes and onions are cooked down with cottage cheese and spices. The end product is a thick dip, which when accompanied with some bread is actually quite filling.
Cost: 300 ALL ($2.40)

Tavë Kosi
Albanian food is known for featuring lamb and veal, and the tavë kosi is one of the most beloved dishes in the country. Lamb is baked in an earthenware dish with eggs and yogurt. The end result is a quiche-like dish, with tender meat and a light, creamy egg topping.
Cost: 500 ALL ($4.00)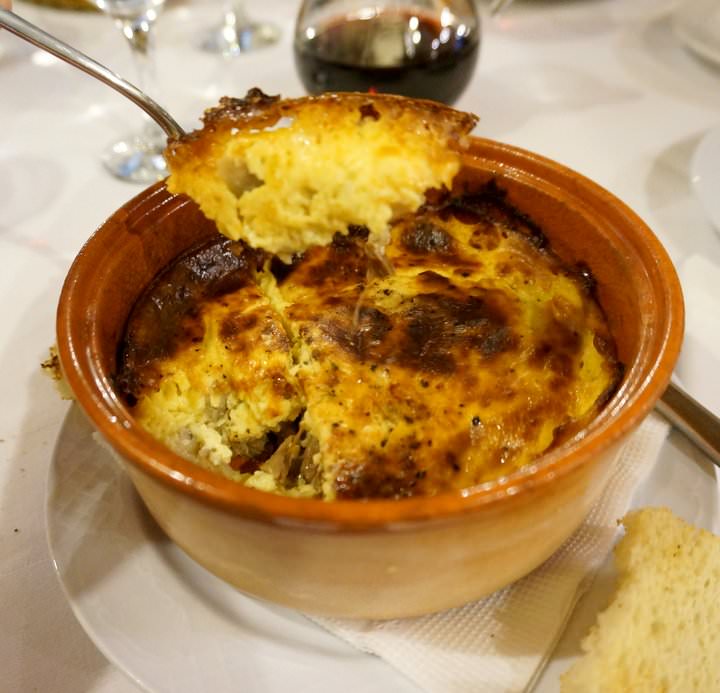 Planning a Trip to Albania? Don't Forget Travel Insurance!
---
It's important to have travel insurance before embarking on a trip to Albania. It's the one thing you should always pack. World Nomads is a popular choice for backpackers and travellers. Enter in your details below to get a free quote:
Perime Në Scarë
Grilled vegetables are a popular appetizer or accompaniment not only in Albanian food, but all of the eastern Balkans. Typically, eggplant, zucchini, tomatoes, onions and peppers are the vegetables of choice, and oftentimes cheese will be crumbled on top.
Cost: 300-400 ALL ($2.40 – $3.20)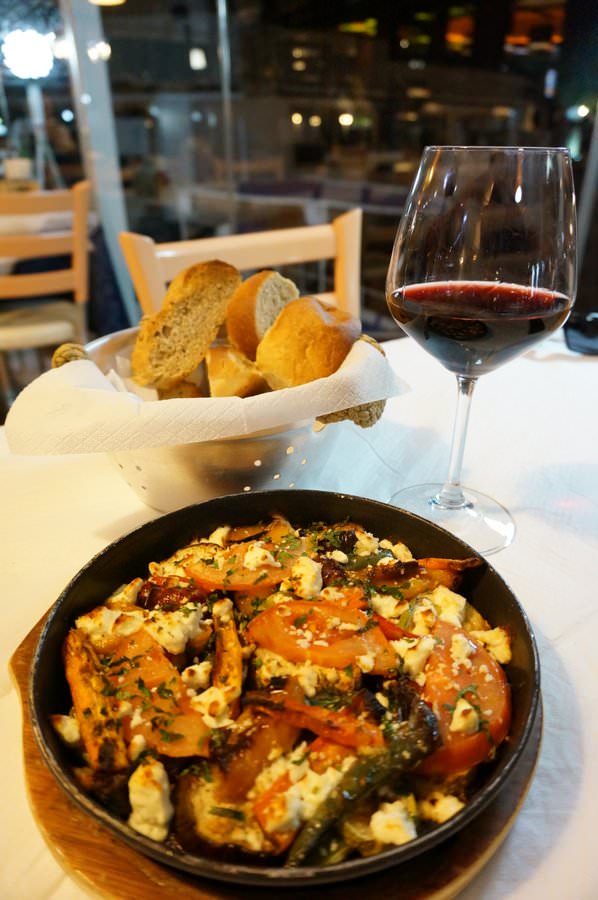 Fileto Pule Me Panna Dhe Kerpudha
Translated, this is grilled chicken breast with a cream sauce and fresh mushrooms. Since lamb and veal are the most popular meats in Albania, it's a welcomed change to see chicken on the menu!
Cost: 650 ALL ($5.25)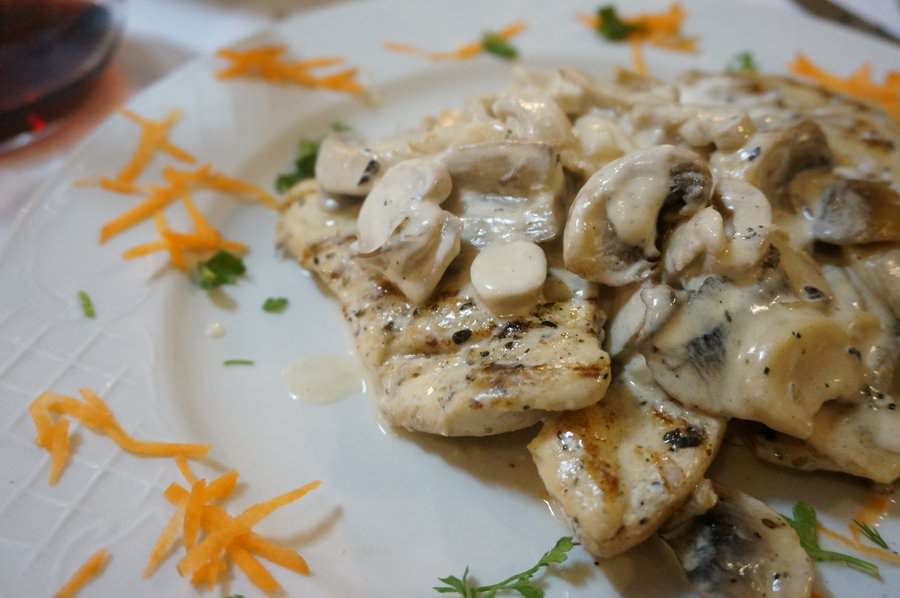 Chocolate Delight!
The cafe culture, complete with "dolces" (sweets or desserts in Italian) are popular in Albania. People sit in cafes while puffing on cigarettes, drinking espresso and eating these delicious desserts. This one was basically all chocolate with a bit of cake inside. It was extremely rich and very delicious.
Cost: 150 ALL ($1.20)
Speca me Glizë
Yellow, orange or red peppers are stuffed with rice, cottage cheese and spices, before being baked in the oven. This was one of our favourite Albanian foods, as it was bursting with flavour, and was a healthy choice.
Cost: 250 ALL ($2.00)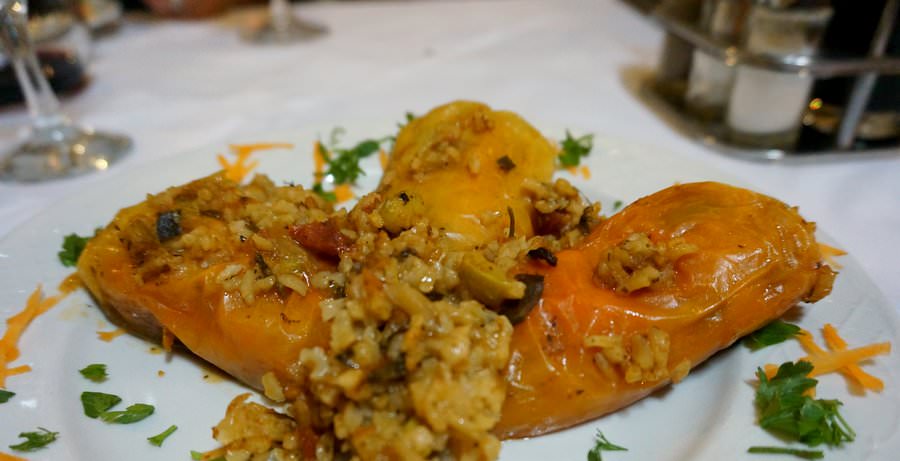 Byrek Mangalemi
A special of Mangalemi Restaurant, this is a delicious savoury pie. Topping a thin crust is a fluffy mix of pumpkin, potato, cottage cheese and a hint of lemon. Divine!
Cost: 250 ALL ($2.00)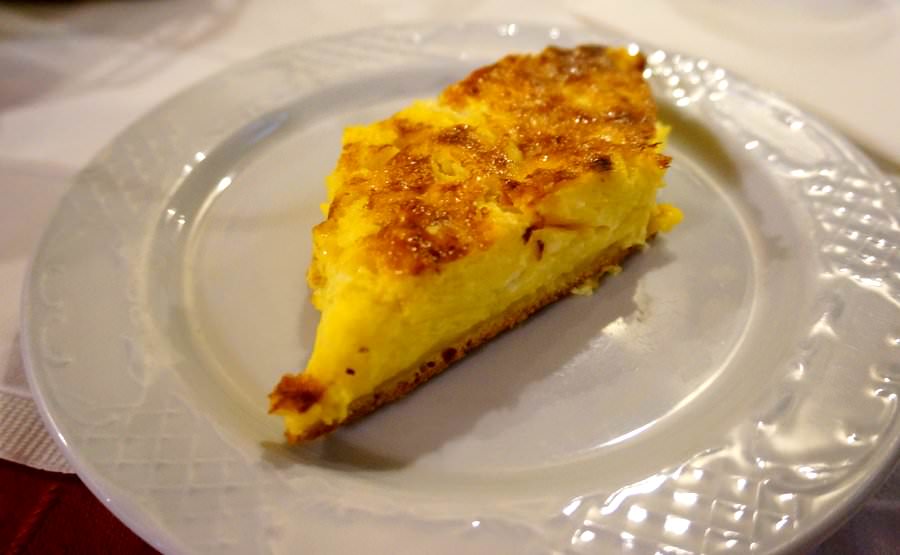 Pizza
Due to the large Italian influence in Albania, there are many Italian foods on the menus – pizza, pasta, risotto, etc. The wood-fired pizzas are actually really well done and can be found all around the country. We had a couple while we were staying along the Ionian Sea.
Cost: 550 ALL ($4.45) for a large pepperoni pizza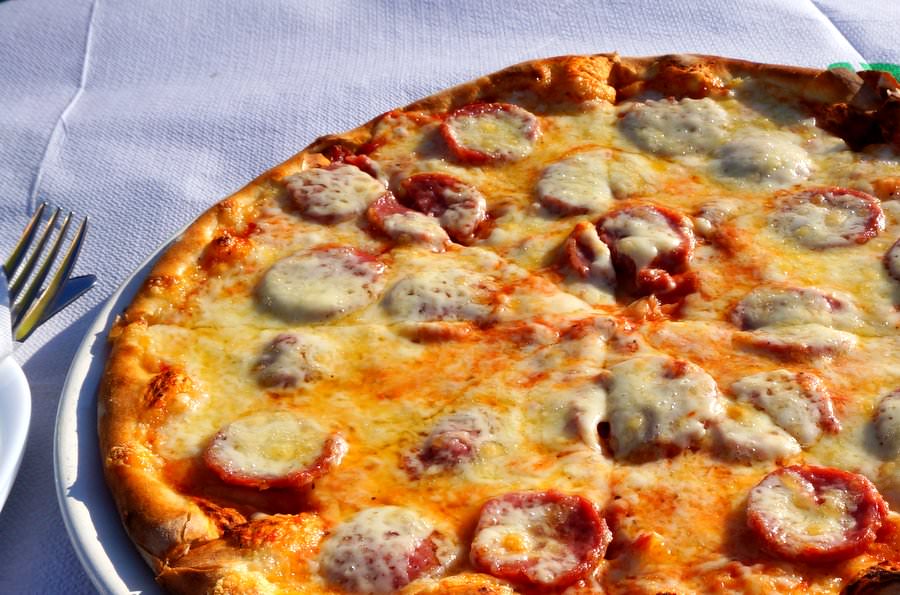 Shëndetli
This honey nut cake is a typical Albanian dessert, and is also a very popular one. It's made with all of the usual cake suspects – baking soda, flour, sugar, eggs – but what sets it apart is the addition of honey and walnuts.
Also, when the cake is ready, a hot syrup made with vanilla, sugar, water and cloves is poured over the cake and left to soak overnight. This dessert is delicious, and isn't too sweet either.
Cost: 150 ALL ($1.20)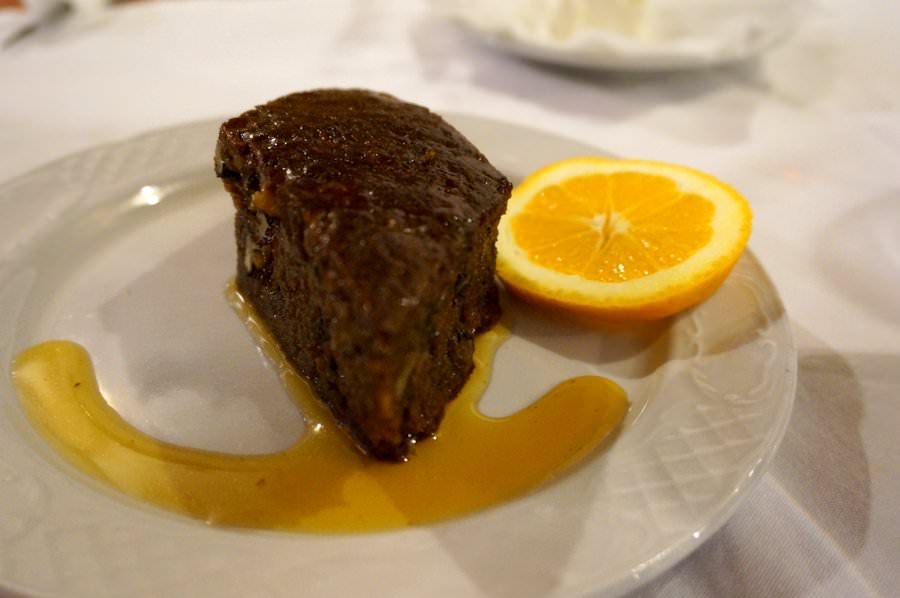 Sometimes when travelling, we tend to get a bit tired of having the same cuisine day after day. However, Albanian food had enough of a variety to satisfy all of our food cravings while travelling around the country. We loved the fact that practically everything that we ordered from the menu would be not only delicious, but inexpensive as well.
You can find more Albania Videos here!
If you liked this article, please give it a share on your social media channels!
For more on our travels in Albania, check out:
Video: 10 Day Road Trip in Albania
Acclimatizing to Albania: Our 10 Days of Travel
For more food posts to make your mouth water, check out:
7 Dishes That Will Shatter Your Misconceptions About the Food in Cuba
Mexican Food: 16 Must-Try Dishes in the Yucatan
Check out more of our Albania Videos here!
Like This Article? Pin it!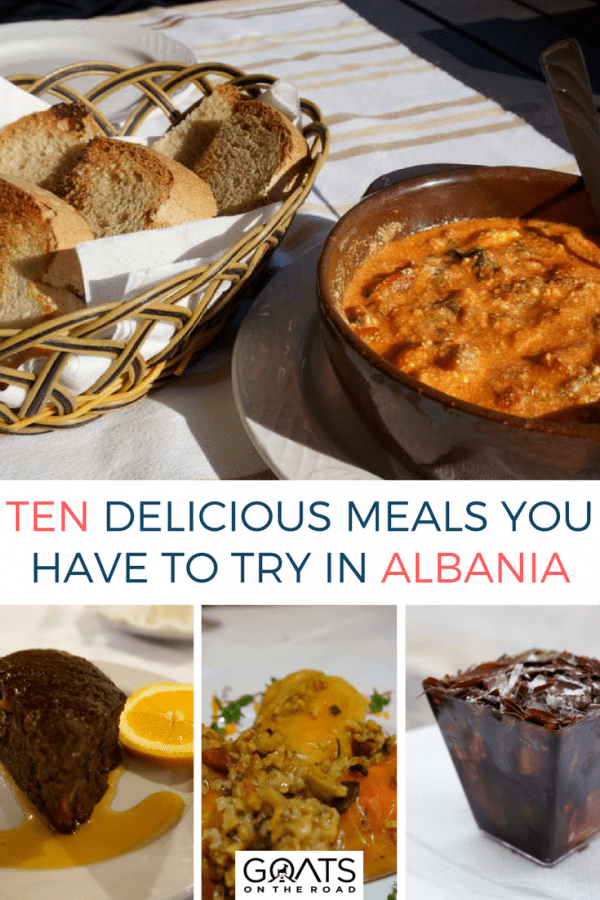 Disclaimer: Some links in this article are affiliate links, which means that if you purchase through them, we receive a small commission. This will never cost you extra and in many cases you receive a special discount. We appreciate your support!