Colombia is a hot topic lately, for all the right reasons! The Lonely Planet has recently listed this South American country as a must-see for 2017; the recent peace agreement with the FARC (guerrilla group) is all over the news; and us Goats have been talking (raving) about our trip to Colombia non-stop.
We spent 6 weeks backpacking Colombia and have now put it near the top of our list of favourite travel destinations to date. If you keep your wits about you, have an open mind and are up for an adventure, then Colombia is the country for you. There are so many things to do in Colombia, you'll never be bored.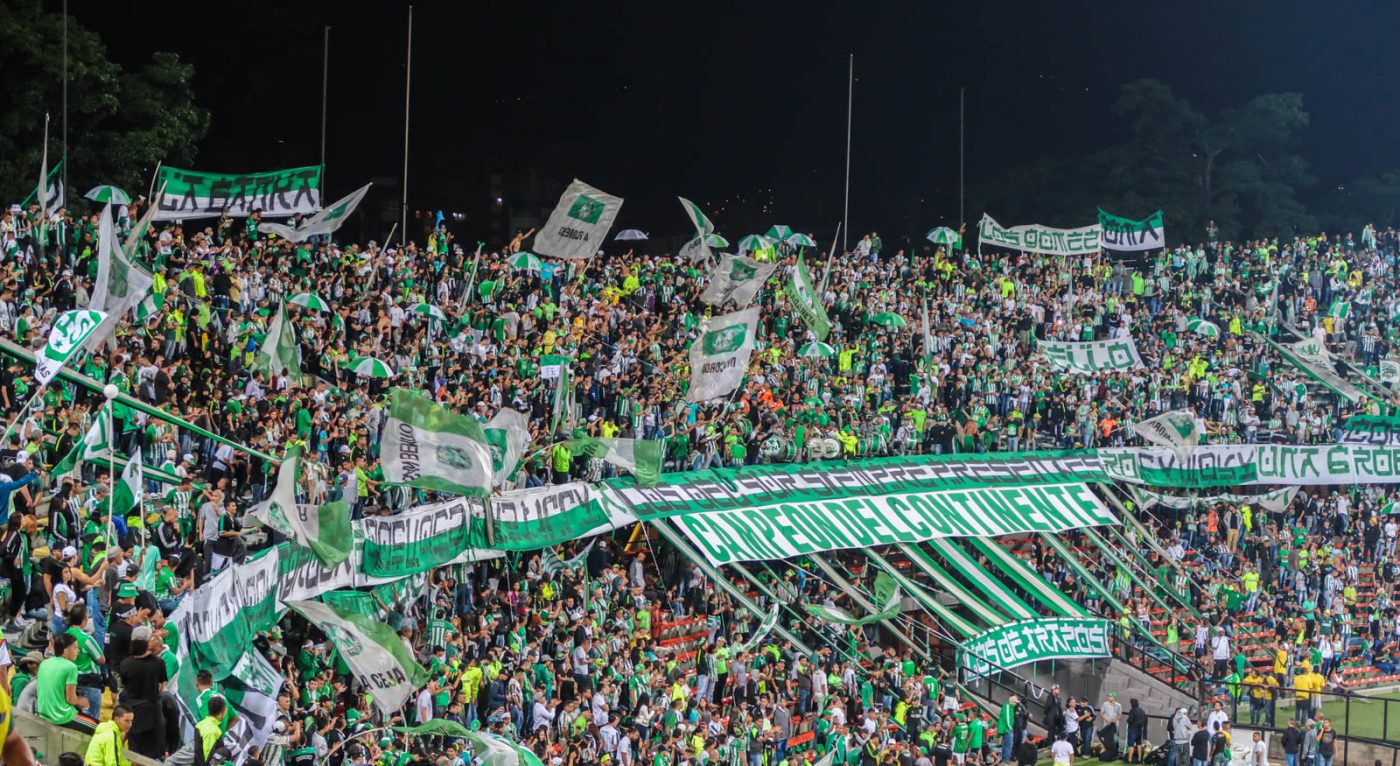 Here are 10 things to know when planning a trip to Colombia.
1. Entry Requirements Vary
As with planning a trip anywhere in the world, you'll want to check the entry requirements for your nationality (ie: the passport you will be entering Colombia with). For those travelling on an Australian, Canadian, American, British or EU passport (among others) you will be granted 90 days on arrival, for free.
Here's a list from Wikipedia that shows the countries who are granted 90 days on arrival at the airport:
Technically, everyone needs to show proof of exiting the country. We weren't asked to show this when we arrived, but you should have proof of a flight out of Colombia in case you are asked to provide it.
Pro Tip: If you are planning to leave by bus, or don't want to book your flight just yet, we suggest booking a flight on Expedia.com (or another booking engine with 24 hour free cancellation). Choose the flight, book it, pay for it, print out the confirmation, and then cancel the flight! Expedia.com gives free 24 hours cancellation and we frequently use this travel hack. 
For our fellow Canadians, you will be asked to pay a "reciprocity fee" upon arrival. The cost is 171,000 COP ($77 CAD), and it can be paid by credit card or cash (US Dollars).
We didn't know about this fee and were surprised to see a massive banner at the Medellín airport saying Canadians had to hand over this fee before being granted entry into Colombia.
Traveling to Colombia is fantastic, but planning a safe and fun trip can still be stressful.
ViaHero
makes traveling worry-free by pairing you with a Colombian local who plans your trip *and* provides 24/7 phone support.
Click here
to learn more about this unique service!
2. English Isn't Widely Spoken
When planning a trip to Colombia, I suggest brushing up on your Spanish-speaking skills. Of course, it's not expected that the locals will speak English (it's South America after all), but we were surprised at just how little English was spoken.
In fact, at the International Airport in Medellín, the immigration officials and the people that we encountered when we first arrived spoke Spanish only.
Each of the hostels we stayed at had one staff member who could communicate in English, while the rest were only able to speak Spanish. In the hotels we stayed at in Bogotá and Villa de Leyva, no one spoke English.
Not always, but most of the time even the servers at restaurants didn't speak English, and there weren't English menus available. Bus drivers and taxis usually only speak the local tongue.
However, if you book a tour (walking tour, graffiti tour, trekking, etc.), then your guide will most likely speak English.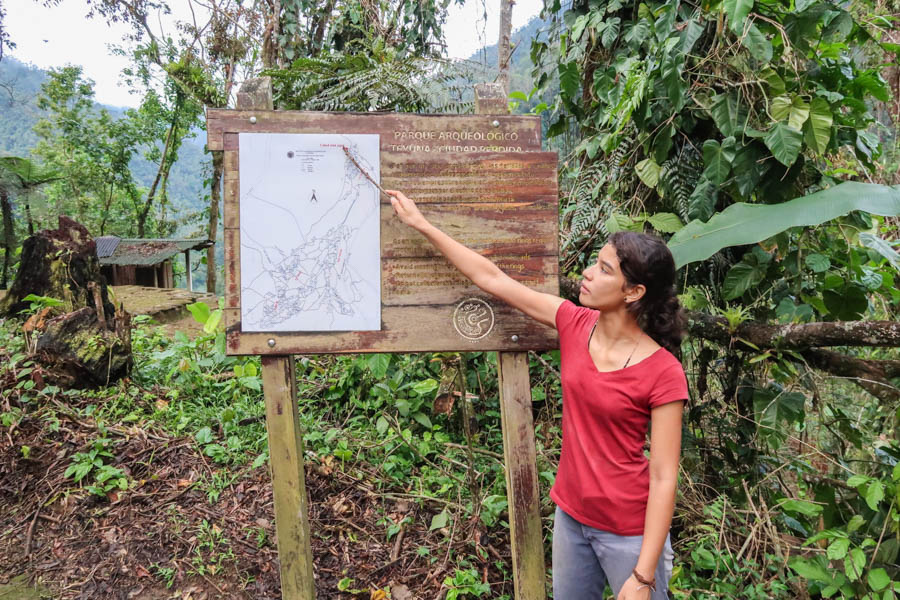 So, if you want to feel more comfortable when it comes to booking transportation, ordering a meal, or meeting local people, I suggest knowing at least the basics of Spanish. We know a little bit of Spanish which really helped us out in Colombia, but we are by no means fluent and if people ask us if we speak Spanish, we actually say "no". We are at a very beginner level.
Even though English isn't widely spoken, the people of Colombia will be willing and eager to help you out. It's amazing how far charades, hand-gestures and "acting it out" can go!
You can learn online, at school, or with an app on your phone. Speaking even a basic amount of Spanish will really enrich your trip to Colombia.
3. It's All About the Apps
Having a few key apps downloaded on your smartphone will really make your trip to Colombia a lot easier. We were probably one of the last people to get a smartphone, but these days, everyone has one and they are incredibly useful for travelling.
Here are a few apps I recommend having for your trip to Colombia:
This is by far our favourite app. If you are in a taxi, you can follow the route on your online map to make sure the driver is going the right way and not trying to pull a fast one (this feature works even when you don't have data). It's a great way to avoid being ripped off by taxis. We also use this for walking around cities, and for figuring out public transport as well. All you do is put in where you are and where you want to go and voilá, it gives you the bus / metro lines that you need to take.  
In Bogotá, using Uber is the best way to get around. Due to crime and theft issues in the capital city, everyone gets around by either taxi or Uber, as opposed to walking long distances.
Technically, Uber isn't legal in Bogotá, so when your car arrives, sit up front with the driver so it looks like he's just driving around a friend. We love this app because we don't have to hand over any cash, it's just billed to our credit card. Note, prices for cabs and Ubers are almost triple during rush hour times. Definitely download Uber for your trip to Colombia.
This is an excellent translator / dictionary. If you don't know what a word means, just type it in and the translation will show in English. This app is only for Spanish and English languages. If you aren't sure how to say something in Spanish, just type in the English word and the correct Spanish word will appear. This app works offline as well.
This is a great game for learning Spanish. There are 9 interesting games that you can play, which will help with your vocabulary and conversational skills. The games can be played offline, which is great for those long bus rides and layovers…
This is fast becoming the top language learning app. With the app you can learn Spanish, French, German, Portuguese, Italian, Irish, Dutch, Danish, Swedish, and English, for free.
4. Consider Flying
For budget travellers to Colombia, you'll probably be thinking that taking the bus is your best (cheapest) way to get around the country. And while it's true that buses are a good bet most of the time, don't assume that flights are too expensive.
For example:
We took a flight from Bucaramanga to Cartagena for $42 each and the duration was 55 minutes. Meanwhile, the bus was 15 hours (at minimum) and cost $44.
Colombia has a few good budget airlines to choose from: EasyFly, VivaColombia and Avianca. The first two are notoriously unpredictable and flight delays are not uncommon. Avianca is a better bet for reliability. But, if you have to cancel or change your flight with Avianca, good luck. In our experience, their customer service isn't great.
5. Colombia is Quite Safe
Forget what you see on TV or what you hear from your friends and family. The drug cartel and violence in Colombia is a thing of the past.
These days, the infamously dangerous city of Medellín has cleaned up its act and is becoming a hotspot for expats and digital nomads. There is an incredible metro line running through the city – the only one in all of Colombia – and a metro cable (gondola) connecting the outlying comunas with the "core" of the city.
There are so many things to do in Medellin, and surprisingly, riding metro cable is one thing you don't want to miss on your trip to Colombia.
Bogotá has some issues still, but for the most part, people who visit the capital city do so without any problems (ourselves included). There are actually quite a few fun things to do in Bogotá, so don't miss out on it just because you're worried about being robbed.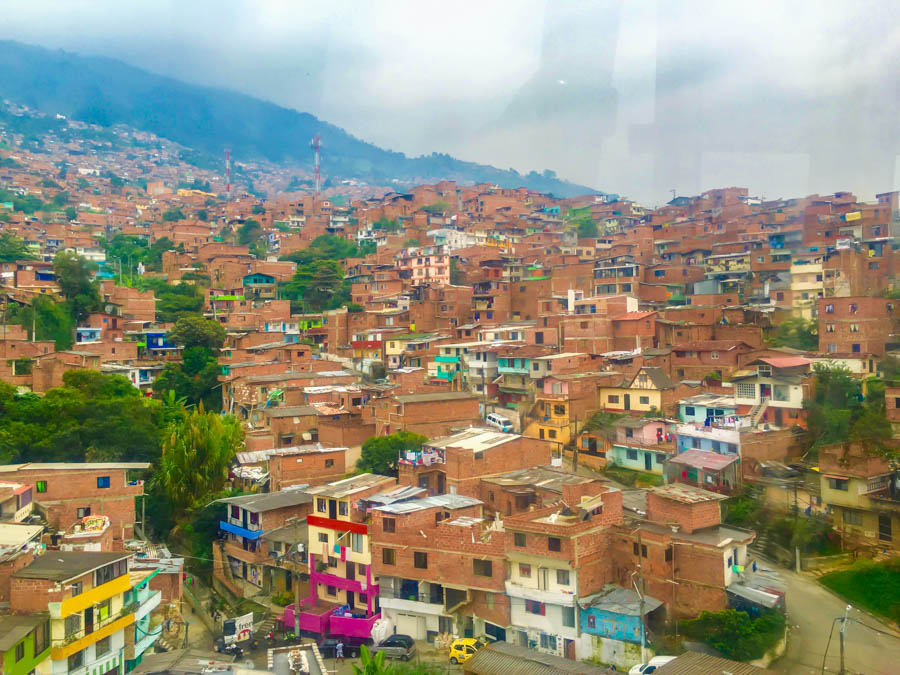 The towns and villages and coastal places in Colombia are very safe.
When you're in the big cities, it's important to be extra mindful of your belongings, and of which part of the city you are in. Some areas are safe for walking, both during the day and at night, while others aren't safe no matter the time of day.
In Medellín, we stayed in El Poblado area, but we did venture out to the other barrios (districts). We asked locals and our hostel where to go, and where to avoid. In Bogotá, we stayed in the Chapinero area of the city which was more trendy and modern than the old town of La Candalaria (which has high crime rates).
Outside of the cities, your only concern might be petty theft.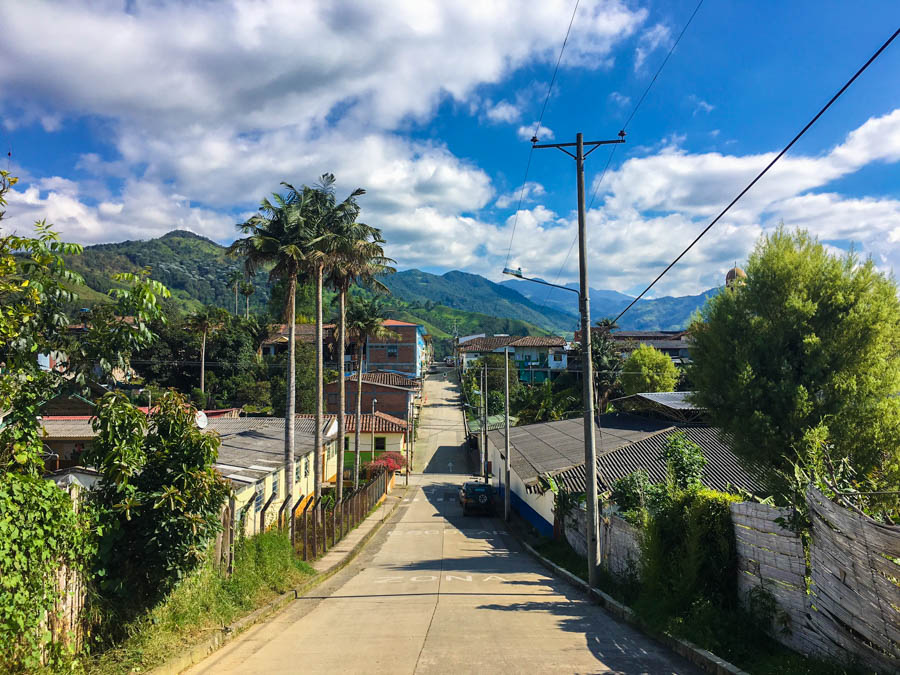 Having said all of this, there are problems with crime and violence all over the world. During our 6 week trip to Colombia we didn't have a single issue regarding our belongings or our personal safety. Colombians want tourists and travellers to have a good time in their country and will go out of their way to make you feel comfortable.
6. The Food Is Good
If you're on a budget and are conscious about clean eating and wholesome food, then you might struggle (just a little) in Colombia. When it comes to popular Colombian dishes, they are generally on the fried / unhealthy side.
Similar to Mexico, the street food and cheaper meals in Colombia are fried. Buñuelos are fried dough balls with cheese (500 pesos, $0.15). Empanadas are deep-fried pastries stuffed with meat (7,500 pesos, $0.50). Patacones are fried and flattened plantains topped with meat, cheese and sauces (9,000 pesos, $3). Arepas are corn flour pockets typically stuffed with meat, beans, cheese & avacado, then fried in some oil on a grill (7,000 pesos, $2.25). Arepas can also be eaten without being filled with any ingredients.
Bandeja Paisa is a popular dish in the Antioqua region around Medellín. This protein overload includes fried egg, sausages, ground beef, pork belly, beans, fried plantain, rice, avocado and arepa (prices vary. We paid 16,000 pesos, $5). You will definitely come across this mean on your trip to Colombia if you visit Medellin.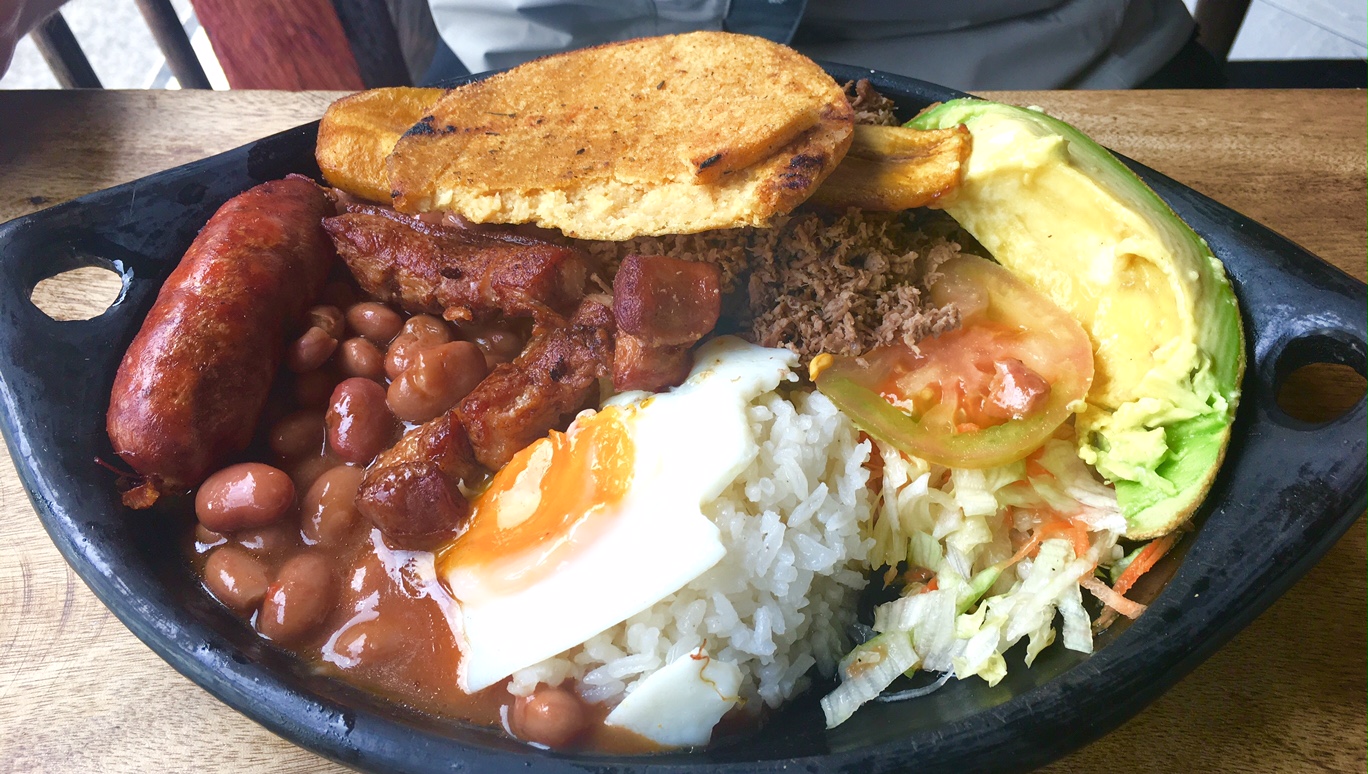 If you step up your budget a bit and move away from the street food, you will be able to find some really delicious local dishes.
Along the northern Caribbean coast around Cartagena, Santa Marta, Baranquilla, etc. you will find lots of fresh fish and seafood. The seafood will be grilled or cooked in a coconut sauce. Around Bogotá, you'll find corn and chicken soup and tamales (steamed corn packets stuffed with chicken).
All over Colombia you can find menú del dia, which is the menu of the day. If you can find truta (local trout), go for that meal! The grilled fish tastes a lot like salmon and is usually served with rice, beans, soup and some veg. There is also a meat option. The set meal is around 10,000 – 13,000 pesos ($3.50 – $4.50).
Fresh fruits are widely available and are very cheap.
In the cities, Medellín, Bogotá, Cartagena, San Gil, Santa Marta, Salento (to name a few), you'll find some excellent western restaurants and vegetarian / health foods. Whether you're craving pizza, pasta, burgers or a stir fry, you'll be able to find it on your trip to Colombia.
7. Understand the Money
The currency in Colombia is the peso. At the time of writing, the exchange rate was $1 USD = 2,745 COP. There are bank notes in denominations of 1,000, 2,000, 5,000, 10,000, 20,000, 50,000 and 100,000. There are coins as well in denominations of 50, 100, 200, 500 and 1000.
Using local currency is the most common way of paying for items while in Colombia. However, there are numerous restaurants and hotels that will accept credit card. Make sure you bring both your ATM card and your credit card for your trip to Colombia.
We also recommend bringing a few US Dollars (or another major currency) to exchange when you first arrive at the airport. When we landed in Medellín, it was late and there wasn't an ATM machine. We exchanged a few US Dollars to Colombian Pesos at the currency exchange booth in order to pay for our taxi ride to the center of the city.
Pro Tips: 
If you haven't already, I suggest speaking with your bank about a chequing account that doesn't charge fees for overseas withdrawals. We have the TD Canada Trust All-Inclusive Account. If we keep $5,000 in the bank each month, we aren't charged the monthly fee of $30, and we have unlimited, free withdrawals abroad. If you don't keep $5,000 in the account, you're charged $30 / month for unlimited overseas withdrawals.
An even better suggestion is to have a credit card that you can earn points from. We have the TD Infinite Card which has no annual fee because we have the above listed chequing account. We get 1.5% cashback on every dollar spent, and triple the rewards if we redeem through Expedia travel through TD. Which equates to 4.5% cashback on travel purchases.
Contact your bank to find the best chequing account and credit cards for travelling to Colombia.
8. Colombians Love Football (Soccer)
In many parts of the world, football isn't just a sport, it's the nation's pastime, passion and (practically) their religion! The same goes for Colombia. You'll see jerseys of various teams being worn around the country and people talking excitedly about the game last night.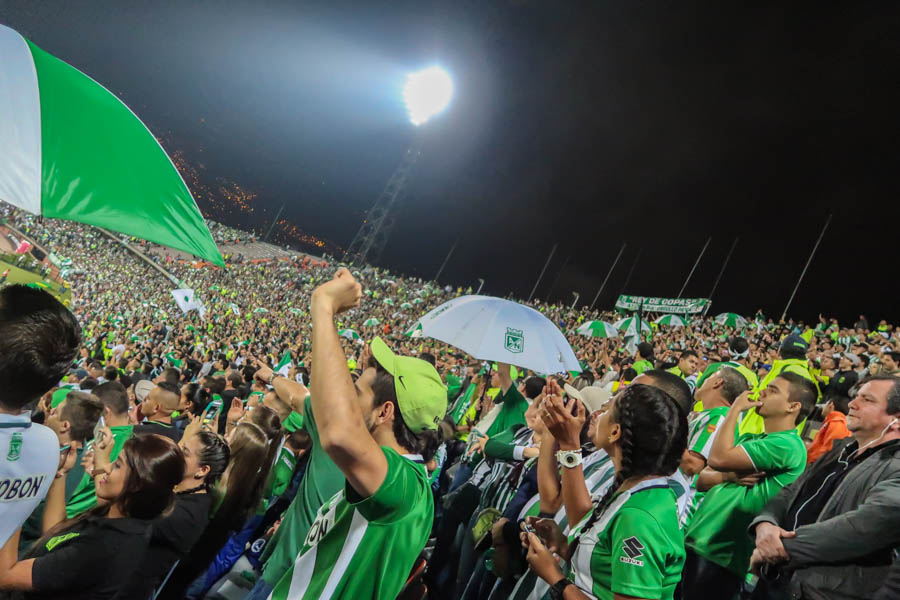 If you have a chance to watch a football match in Colombia, go for it. You can find games in Medellín, Bogotá, Cali, Baranquilla…and more. Just note that you probably won't want to sit in the main "rowdy" section where all of the extremely emotional, hardcore fans are!
Sit nearby the crazy section, but not directly in it.
9. Things Don't Always Go As Planned
You're in South America and there's bound to be a few bumps in the road. Things in Colombia don't always go as planned and you'll need to leave room for changes in your itinerary. Not to mention, Colombians are generally more laid-back than those of us from Western countries.
Your bus might be late, your boat might be cancelled and more often than not, your flight will be delayed by a few hours. Sometimes you'll show up at your hostel to find out that they have no record of you even booking. Maybe you said you're a vegetarian but your meal arrived with a big slab of beef on it.
The best you can do is go with the flow and have patience during your trip to Colombia. This is especially important when travelling around the Caribbean coast where everything is tranquillo (relaxed, calm). Not many things are rushed in Colombia. Enjoy it!
10. Be Respectful
The people of Colombia are incredibly warm, welcoming and kind. The individuals we encountered were willing to help us out when needed and wanted to learn more about us. We never felt ripped-off, and we actually made some really good friends! Colombians are happy and proud of their country.
There are a few things to keep in mind when travelling around here in order to be respectful.
There are many indigenous people in Colombia and taking photos of them might be frowned upon. In particular, the Kogi people of the Sierra Nevada area around Santa Marta do not want photos taken of themselves (unless someone says it is OK).
The Kogi people are beautiful and so different looking from us that we wanted to take photos and interact with them during our hike to the Ciudad Perdida, but we were told not to and so we respected that.
Family and country is very important to Colombians and as I said above, they are a very proud people. They love to talk about all aspects of their country and are very enthusiastic about many topics (football, religion, food, family, etc.). It's important to not talk poorly about Colombia so as to not offend anyone and. But, let's be honest, this applies to any country!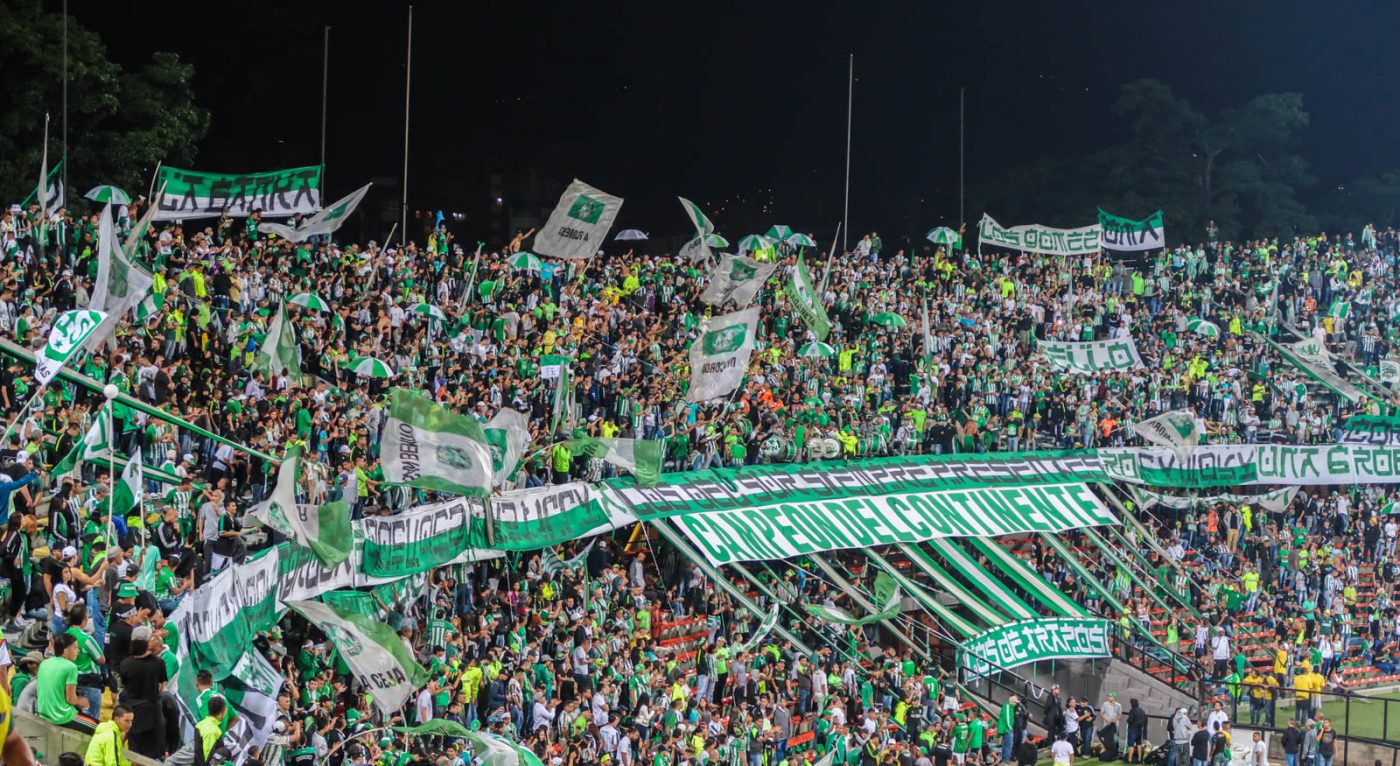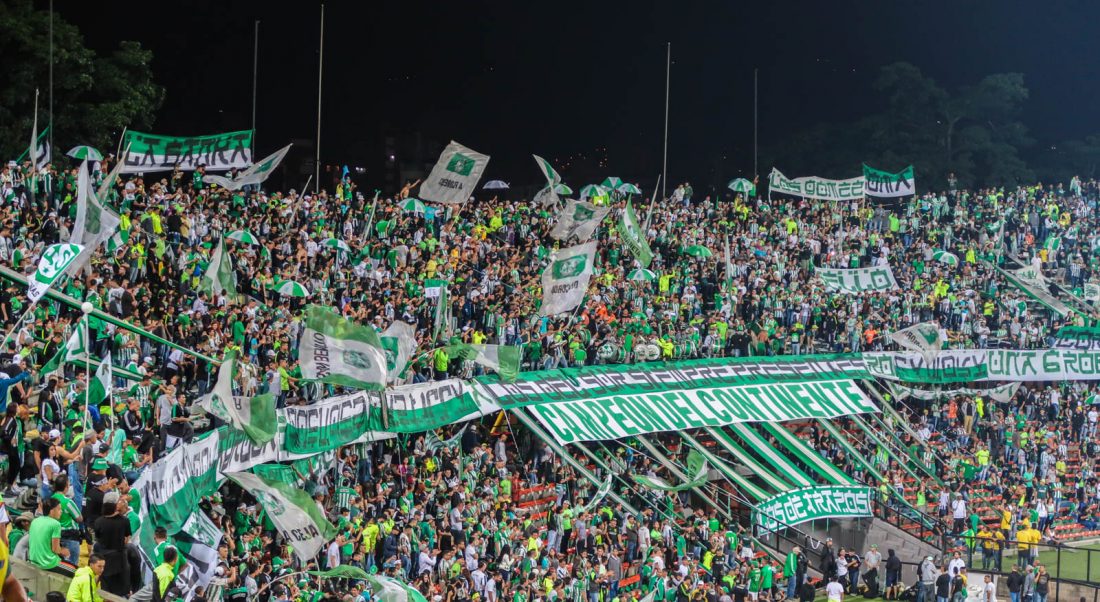 Colombians might ask you "what did you know about Colombia before travelling here?" Most likely, you've heard of Pablo Escobar, cocaine or the Netflix show Narcos. For Colombians, this is incredibly frustrating as the country is so much more than that.
The country has changed a lot since those days and wants to share their transformation with the world. When you travel to Colombia, don't bring up the country's past.
Ready For Your Trip to Colombia?
There is a lot to think about when planning a trip to Colombia, and apart from these 10 items I listed, I would say to be ready for some beautiful scenery, wonderful locals, fantastic adventures and an overall exciting vibe! Colombia is the country to visit.
Like This Article? Pin it!