If you're embarking on your first backpacking journey, you will probably have a thousand questions. Based on our experiences, here's a quick list of some of the top 10 things we think every backpacker should know – don't worry, once you've been on the road for a while, all of these things will become second nature!
1. Book your accommodation ahead of time
Check out Hostelworld or Booking.com, they're really good search engines for finding discounted hotels, hostels, guesthouses & apartments. In Southeast Asia, unless it's high-season or a holiday, you almost never need to book your rooms in advance. Smiling faces will greet you at the pier, bus station or train station waving brochures with pictures and information about their guesthouse. Many times we've stayed in these rooms on offer after a long travel journey, and most of them were really great. Also, there's a plethora of options in Southeast Asia that you really just need to walk around and pick a place that you like.
However, these days, we like to arrive knowing we have a hostel bed booked 🙂
2. Always, and we mean always, ask to see a few rooms!
99% of the time the guesthouse owners will show you their worst room first, hoping to pawn it off on you, the unsuspecting backpacker. There's almost always a better looking room next door to the one their showing you. Look around before committing.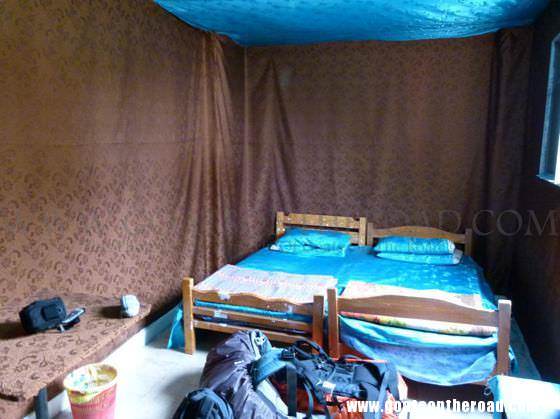 Read more: 7 Dreadful Rooms We Should Have Never Slept In
3. Make use of overnight buses, trains and boats
Since you'll be travelling throughout the night, you've crossed 2 things off of your list: accommodation and transportation. It helps the budget and also, you'll usually arrive at your destination early in the morning and can get a good start to the day. Travelling during the day is ok because you can see sights along the way, but you end up wasting a day that you could have had at your destination, and spending double the money.
Bring ear plugs for those overnight journeys.
4. Bargain/haggle/ask for a discount
In most parts of the world, you can bargain for almost anything and everything. In fact, it's a part of the culture in many regions of the world. Whether it's a discount on a room, a tour, goods at the market or transportation, always see if you can get the price down (especially in India & Southeast Asia). What's the worst that can happen? They say 'no' and you move on.
5. Have an assortment of funds on you
First of all, many countries (especially the ones in Africa) require you to pay for your visas and certain tours in American Dollars. You may be able to exchange local money to US Dollars, yes, but it's difficult to get foreign currency in Africa and other parts of the world. Depending on where you're going or how long your trip will be, we suggest having at minimum about $300 on you.
Why you ask? Because you never know if an ATM machine won't work, will be out of money or will be non-existent. Same thing with credit cards, maybe there aren't any machines around or the place you're staying at won't accept them (which is most likely the case). It's important to have a combination of currency on you when travelling.
We carry a credit card, a debit (ATM) card, local currency and some US Dollars for back-up. You never want to be stuck without money.
6. Keep track of your budget
We suggest having a notebook, an online spreadsheet or an app on your iPhone to keep track of where your money is going…and how quickly you are spending it. For example: if your budget is $50 / day, then write down how much your room costs you for the night and whatever amount is left over is what you have for food, entertainment, transportation and sights/tours.
No one wants to end their trip early, so keep track of your money!
Check out GoogleDocs for free online spreadsheets and the Trail Wallet App.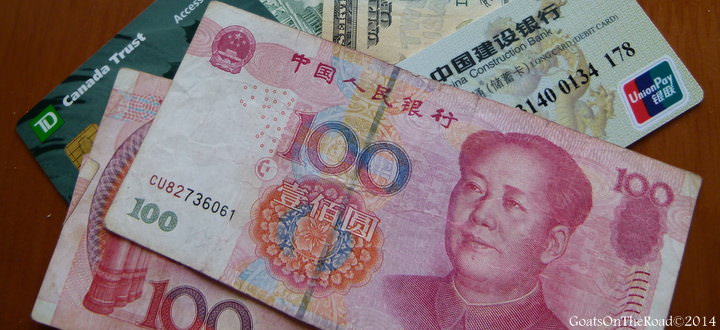 7. Always check to see which line is moving the fastest.
Whether you're at immigration or at the airport, have a look at the lines before choosing one to wait in. You don't want to find yourself stuck behind groups of friends or families who are all checking in at once, that seems to take forever! Look for the solo business travellers with nothing more than a briefcase, and others with carry-on bags.

8. Seek out the advice of locals and of other backpackers/travellers
The best way to figure out where to go, what to see or where to eat is to talk to others. The locals will almost always know where the best food can be found and where to find off-the-beaten-path gems. Fellow travelers can point you in the direction of a good place to stay and whether or not taking (insert bus company here) is a good idea! You'll find yourself meeting up with other travelers who have just come from the city or country you're going to next, pick their brain, get some tips & info for your journey there.
9. Book your train or bus tickets in advance if you can
If you have the option, choose your seat with the bus company (we recommend near to the front for views out of the main window) and pick a good berth on the train (ie, not the bottom bunk where everyone congregates during the day on your bed!). If you show up at the bus station the day of your journey, you may find yourself at the very back of the bus (not so good for motion sickness) or worse yet, not making it on the bus at all. Try to book your ticket at least a day in advance.
10. Always keep your valuables on you when you're in between destinations
Most likely, you will be separated from your big backpack (it'll be shoved under the bus, tied down to the roof, etc.) so you will want to make sure you have your passport, money & electronics on you in a separate bag. If you're on an overnight journey, make sure to have that bag of important items locked and under your head as a pillow or very close to your body. Do not put it above your head on the storage shelf or under your seat; it won't make for a very happy morning.
There are many other tips we could share with you. However, based on our experiences, these are the ones that apply for most countries in the world. Hopefully this helps you out! Feel free to comment below and share some of your tips and ideas. Enjoy your journey 🙂
Disclaimer: Some links in this article are affiliate links, which means that if you purchase through them, we receive a small commission. This will never cost you extra and in many cases you receive a special discount. We appreciate your support!