Dariece and I have been on the road for nearly 10 years and over that time, we've figured out some pretty useful tricks that save us a ton of time, money and stress while we're on the road. Here is our list of 10 awesome travel hacks that we use frequently. Have a look and let us know which travel tips and tricks you would add.
1. Need an onward flight to enter a country?
Easy. Simply head to Expedia.com (not .ca, .co.uk or .au). It has to be ".com". Book a flight through Expedia.com and (in almost all cases) you'll get a 24 hour free cancellation.
In the US, there's a law that says that airlines can't charge if customers cancel within 24 hours and thus, Expedia.com has to comply. If Expedia.com says "Free Cancel w/in 24 hrs", then the flight can be fully refunded within 24 hours.
Simply book the flight, wait until the e-ticket arrives in your inbox, print it out or save it to your computer, and then cancel the flight free of charge. We have done this nearly a hundred times and it works every time. There you go! Never worry about entering a country without an onward flight again.
☞ See Also: 7 Ways to Provide Proof of Onward Travel
2. Contact Airbnb hosts for a discount
Airbnb has crazy fees and oftentimes the cost of apartments on the site are inflated for the vacation rental market. Instead of finding an apartment and just booking it, click "contact host" and ask for a discount. This practice is so common that Airbnb even has a special function that allows hosts to give guests a discount. We've saved more than 50% off our booking by doing this.
Using Airbnb for the first time?
Click Here
and we'll give you $30 in Airbnb credit for your first booking. Already have an Airbnb Account? Create a new one with a new email address and you can still get the credit.
☞ See Also: The Airbnb Scam Travellers NEED to Know About
3. Use UBER
Say what you will about Uber as a company, but they are a lifesaver for travellers. In so many countries around the world, the taxi drivers are the biggest rip off artists. Some of them charge tourists 5 times the price simply because they don't know better. Another bonus of Uber is that no cash is exchanged, it's all paid for through the app with PayPal or Visa, meaning you don't have to worry about not receiving change back, getting robbed, or fumbling through your wallet while paying.
Download the Uber app and check if it's available in the cities you're travelling to. If it is… use it. It could save you a ton of money.
4. Download Local Maps
Google Maps is the best app for GPS, navigation and maps, but did you know that you can also use it offline? That's right! You need to know this hack. Normally maps are only available when you're using data or wi-fi, but if you zoom over a city, and then type "OK MAPS" into the search field in the app on your phone, then you'll see a magical DOWNLOAD button appear. Click it and you'll download the map area you're zoomed over and you can use that area while you're offline. Even directions!
Note: For distance calculations between places you can also use the Distances-from.com website, which enables you to easily calculate the distance between cities, villages or any other places on the map.
5. Clear Your Cache
Have you ever noticed that when you're searching for flights online, every time you check the flight fares seem to go up? That's no coincidence. Flight booking engines are legally allowed to save a cookie in your browser that tracks your browsing behaviour. If you return to look at flights time and time again, but don't book, they can increase the price to panic you and make you feel rushed.
It's true. If you didn't know about this hack, then you've likely paid 100's of dollars too much for your flights in the past. Don't worry, it's easy to fix and from now on you'll save money.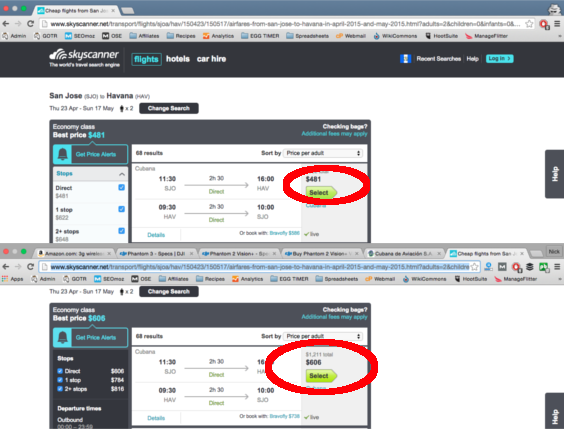 Simply clear your browser cache or search incognito. Open your browser (ie: Google Chrome, Internet Explorer, Safari etc) and click control+shift+N (command+shift+N on Mac). That will open a new window that doesn't allow cookies. Now type in your favourite flight booking engine and search again. If you've searched the same flight day after day and then you search in incognito, you'll likely see savings up to $200 / ticket!
☞ See Also: 21 Money-Saving Hacks For All Travel Related Bookings Online
6. Book on Booking.com
We're not saying this because we're affiliates for Booking.com, and we won't get any money or commission by telling you this. If you book frequently on booking.com you'll get "Genius" status which will save you money on bookings. On top of this, when you're booking on the website, look for big savings percentages that are highlighted with big red letters. We've saved a ton of money by booking on this site both last-minute and months in advance. Check it out.
As a bonus, they often have free cancellation on properties up to 24 hours before check-in time!
7. Change your flight seat
It sucks getting stuck in the middle seat or at the very back of the plane, but you can actually change your seat just before boarding the plane. Check into your flight as you normally would (never pay to select your seats). Then, when you're at the boarding gate waiting for your boarding call, walk up to the counter and ask the staff there if you can change your seat. Ask for an emergency exit row or for a row all to yourself. They'll be more than happy to help you out. Believe me! Give it a shot.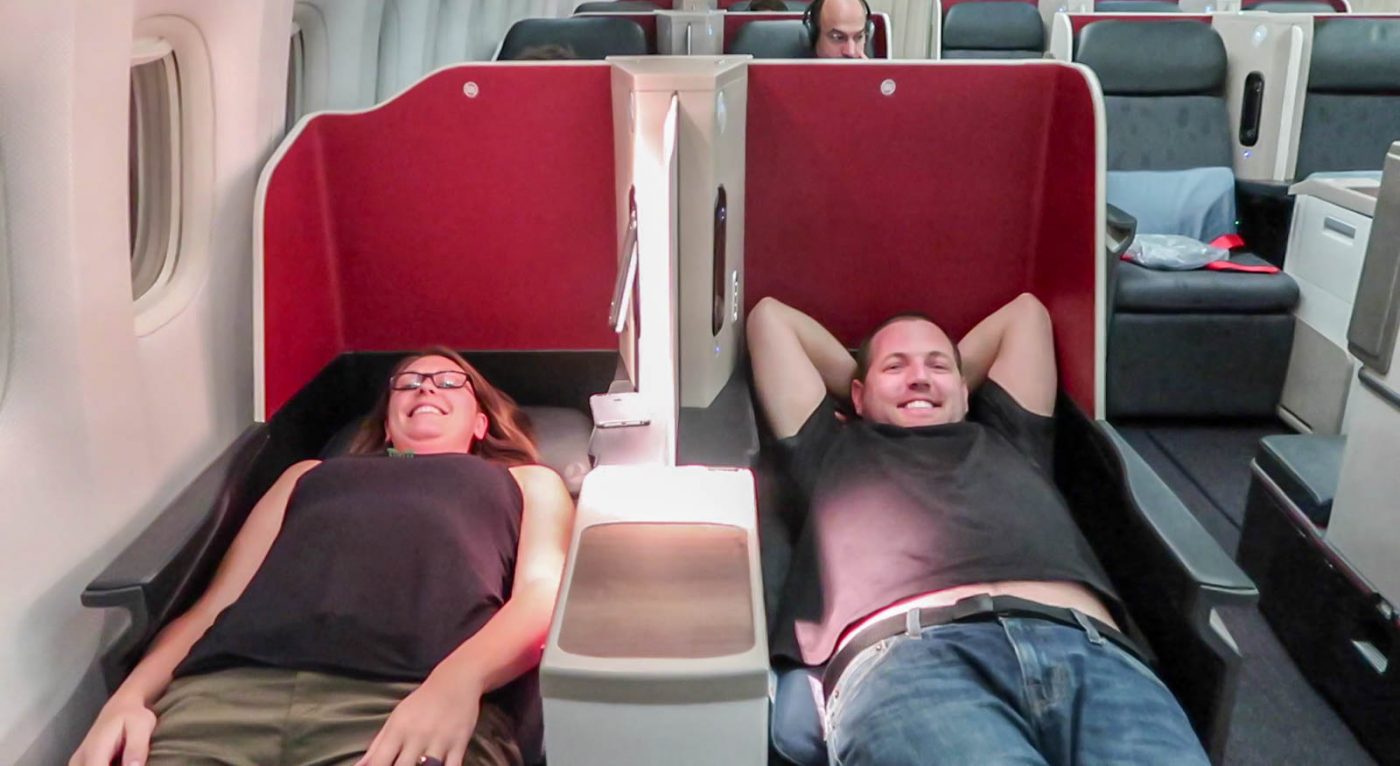 8. Get lounge access
Airport lounges aren't just for businessmen and women, or travel ballers. Really! There are two ways to get lounge access. One, you pay for it outright. Before you go crazy and tell me how you're a budget traveller, just know that some of these lounges only cost around $10 for access and they include snacks and beverages as well as comfy seats, AC and stronger wifi.
The more expensive ones are around $20 – $50 but they include free-flow booze and free meals. If you have a long layover that covers multiple meals, lounge access is definitely worth the price. Download the LoungeBuddy app to see which lounges are available at the airports you'll be during your trip, how much they cost and what they offer.
BONUS TIP: Most lounges allow for each passenger to have one guest for free. Hangout by the entrance to the lounges and ask if someone will allow you to be their guest.
9. Use a travel rewards credit card
If you're not raking in points while you're travelling, then you're missing out. No matter what country you're in, you should be able to earn some rewards. Not only are these cards great for earning free travel, but they also often have discounts on lounges, extra traveller's insurance, car rental insurance, trip cancellation and more. Check out this post to find the best travel rewards credit card in your country.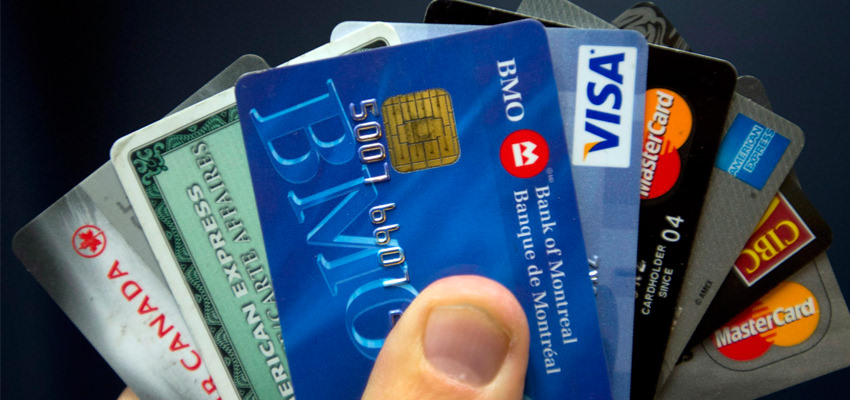 We've been using the TD First Class Infinite Visa and we've already accrued around $1,800 CAD in travel points.
10. Refer a friend
There are a ton of cool travel services (like UBER, Booking.com and Airbnb) that will pay you to refer friends. Simply sign up for their "refer a friend programs" and then share your unique link on your social media page and with your friends. Start earning money by referring your friends and you could have enough to pay for an entire week's worth of accommodation in no time.
Since we're talking about it, we'd like to refer you, our friend! If you use this link the next time you book with Booking.com, we'll receive $25 towards our next stay, and so will you.
If you don't have an account with Airbnb yet, click here to create one. When you sign up, you'll receive a $35 travel credit towards your first trip. When you actually book and pay for your room, we'll receive $20.
It's a win-win 😀
Let the hacking begin!
I hope you enjoyed these 10 travel hacks. We literally use them all the time when we're travel planning. I wanted to share these tips with you because they've saved us thousands of dollars over the years. That's no exaggeration. What's your favourite travel hack? Share with the Goat community in the comments below!
Like This Article? Pin it!