During our first couple of backpacking trips around the world, we didn't have any "techy" stuff – no smart phone, no tablet, no high-end cameras, and definitely no apps! But, things have changed since our first adventure in 2008, and now, having hand-held devices is the norm, rather than the exception. And to be honest, the apps that go along with these modern devices are actually very useful.
Since joining the rest of the world and getting an iPod and iPad, we have found a few cool travel apps which we either use and love, or know of and want to try. Here's a list of 10 of those apps:
1. Trip Verse
This is a new app, which helps you plan and share your travel itineraries. You add places you want to visit, hotels you want to sleep in, restaurants you want to eat at and sites you want to see. There are popular activities and restaurants already set in the app (via Foursquare), which offer some great ideas when planning, or, you can enter your own must-sees.
Addresses and a map are included for each of the places you choose through the app, but you will have to add your own addresses for those not in the app. Trip Verse is especially cool because it features an offline-readable itinerary viewer, meaning you can check your itinerary while you're exploring off-track places without wi-fi. Ditch the paper memos and notes, this app keeps track of your daily plans for you. 
2. Trail Wallet
Our friends over at Never Ending Voyage created this app not long ago, and it's one that we wish we had during our first couple of trips. Trail Wallet keeps track of your spending. You insert a total budget for your entire trip, or, a daily budget into the program, and every time you purchase something, you enter in the amount of the item. You can choose categories for your spending too – alcohol, food, transportation, accommodation, etc.
It's a great way to monitor your spending, and make sure you stay on budget! Another great thing about it is it converts the currencies. So, if you put in an amount in, say, Euros, it'll keep that amount, but you'll also have the option to convert it to your home currency as well.
We used the app for our trip to Cuba, and have since looked back on it to remember how much we spent on a bus from point a to point b, how much entrance fees to various museums cost us, and more.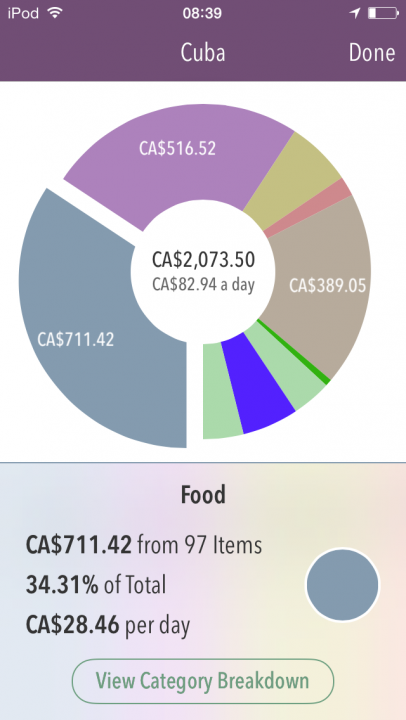 3. XE Currency
If you're like me, then trying to do currency conversion math on the spot, with a pushy seller pressuring you to buy, is not an easy task! With the XE Currency app, you just put in the local currency amount, and it'll convert it right away into your home currency, or currency of choice. It stores the latest updated rates, so it'll even work offline – but the rate will be slightly off.
Everyone's favourite new taxi apps. If you want to get somewhere, there's no cooler way than pulling out your smart phone, requesting a car from one of these apps and watching it on a map as it gets closer. Uber gives you time and fee estimates and really makes taking a ride a lot more fun.
If you want to learn more about these apps and how they work, check out RideShareApps.com for definitive guides, comparisons, fare calculators and more. There's a lot of news going around about these services lately and RideShare helps to make sense of it.
New users can use RideShare's free promo codes: FIRSTRIDEFREE for Lyft and 1SEO for Uber.
5. Around Me
This aptly named app is pretty cool. If you're in a city and are looking for something that's nearby, you just enter what you're looking for and voila, it shows up! Need an ATM? Looking for a gas station? Want to find a restaurant? Just input it into the app and the nearest ones will be listed.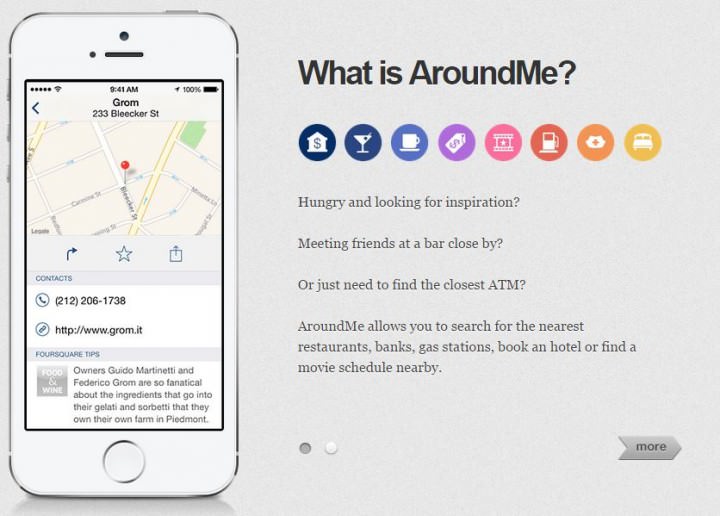 6. Trip Advisor
We've been using Trip Advisor for a few years now. It's our go-to website/app for reading reviews about hotels, restaurants and tours. Some of the reviews need to be taken with a grain of salt though, as many people can be way too negative about things, but if you just ween those ones out, you'll find some pretty solid reviews. Having the Trip Advisor app allows you to place a review right after you've finished a meal, or after you've come up from a scuba dive!
7. Spanish Dict
This was our app of choice during our backpacking trip through Mexico, our time spent living in Guatemala and our travels through Cuba. If you're not sure how to say something in Spanish, you just type in the word in English and it'll translate it. Plus, it shows all of the conjugations for verbs, which is great because that's what we struggle with. It also works offline, which is a bonus.
(Hopefully now that we're taking full-time, online lessons with Spanish Marks, we won't need the app so often!)
I've just heard of this app and can't believe I didn't know about it before. There are over 90 languages available for translation, and you have the choice of typing, or speaking what you want translated. If you've met someone from another country, they can speak their native tongue into the app, and it'll translate it into your native tongue! I also absolutely love that you can hold your device up to a word that you don't know, and it'll translate it (available in 6 languages). Unfortunately you can only download languages for offline translations if you have an Android device. Still, this app is Genius.
9. Google Maps
This is the best for when you're lost, or are looking for something. There are 220 country maps available, voice-guided GPS navigation and live traffic conditions and reports. You can save maps for offline use as well, but it works best if you have access to wi-fi or a 3G network.
10. Globe Tipping
Ever finished a meal, stepped out of a cab, or received a spa treatment abroad and aren't sure if you should tip, and if so, how much? Avoid the awkwardness by using this Globe Tipping app! Not only does it show you how much you're expected to tip (in over 200 countries), but it also helps with splitting up the restaurant bill evenly between you and your friends.
There you have it! Hopefully you find these apps useful and easy to navigate. Let us know which travel apps you currently have downloaded, and which of the ones listed above you would like to try.
Disclaimer: This article was brought to you by TripVerse.com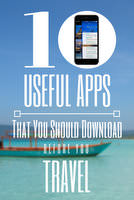 Disclaimer: Some links in this article are affiliate links, which means that if you purchase through them, we receive a small commission. This will never cost you extra and in many cases you receive a special discount. We appreciate your support!