Depending on where your travels will take you, and which activities you are planning to do, your packing list and must-have items will vary.
When trekking and camping through Mongolia and Central Asia, our necessities were a tent, sleeping bags and portable stove. However, while gallivanting and beach-bumming around SE Asia and India all we needed were flip-flops and hippie pants!
Now that we're backpackers and expats, our must-have items have changed, yet again.
No matter your travel style, all travellers will love (and want) these 13 items: 
Clothing by prAna
I had been looking for a new hiking pant, that would be stretchy, soft and (most importantly) not stick to my legs in the humidity of Grenada, and the Halle Pant is perfect for that! Even if you're not trekking or hiking, this pant is a good choice for travel days.
I just wore the pants for our long journey from Canada to Barbados, and was really comfortable.
prAna has a wide range of chillin' out, loose pants that you could wear while exploring cities, riding on buses, doing yoga, or just hanging out on the beach in the evenings. They also have many lightweight shirts, and clothing for adventurers.
They've been around for 22 years now and have to be the most ethical clothing company I've ever found. They focus on giving back to the earth, rather than taking, and are very conscious regarding the usage of water, energy and chemicals during manufacturing.
Their apparel is made from organic cotton and recycled materials, while avoiding the use of harmful toxins and chemicals. Many of their clothes are also Fair-Trade Certified! We're definitely happy to be showing off these clothes.
Packing Cubes
If you're not using packing cubes, you're wasting a lot of space in your luggage! During our first trip to SE Asia and the Subcontinent, we didn't know about these mesh / nylon zip-up cubes, and now, we don't travel without them.
They're great for condensing and categorizing your items, and keeping things organized in your bag. Roll up your clothes, put them into the cube and zip it closed. Don't be afraid to stuff these packing squares to the limit! We have them so tight that we're literally kneeling down on them in order to close the zippers.
There are many brands out there, but we use the packing cubes by Eagle Creek (in three different sizes). We've had them since 2011 and they're still going strong!
Backpack by Numinous Packs
When we were moving around constantly and were going on multi-day hiking trips, it was imperative that we had a lightweight, small backpack. These days, our journeys from point "a" to point "b" are much shorter, and we now carry a lot of important gear with us.
Numinous Packs are a bit heavier, but they have a lot more features than our previous packs.
Since we now carry more expensive gadgets than before, we think that these backpacks will be perfect in protecting our stuff. They're puncture proof, slash proof and have built-in locks.
We also use these packs as a safe while we're out for the day. No longer do we have to worry about our drone, computers and money being stolen, we just zip everything into these packs, and lock them to something secure.
We're actually in the middle of our third Numinous giveaway on our site (enter here!).
Footwear by Lems
As with prAna, Lems Shoes is another one of those companies that we can't believe took us so long to learn about. Lems is a small, American owned, family run business. They pride themselves on selling shoes that actually fit the natural shape of the foot.
We went with the Primal 2 shoe, which is exactly what we need for our lifestyle. Unfortunately, the size I ordered didn't fit me, and we left Canada before I was able to get the right size…but, Nick's shoes fit like a glove and he LOVES them!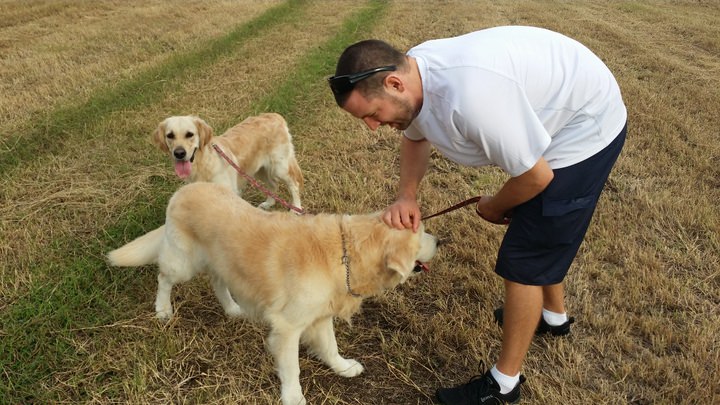 These shoes are super lightweight (6.9oz), flexible, stylish, versatile and form-fitting. We obviously need lightweight items in our pack for when we're travelling around, yet we need something comfortable and stylish for exploring cities, walking the dogs that we pet-sit, or meeting with potential partners. These shoes are perfect for all of those things.
Of course we'll still want to wear our flip-flops on the beach, and our hiking shoes for trekking, but we also need a proper shoe for day-to-day stuff.
So, we now have stylish, comfortable, shoes that can literally roll in a ball! This makes packing so much easier.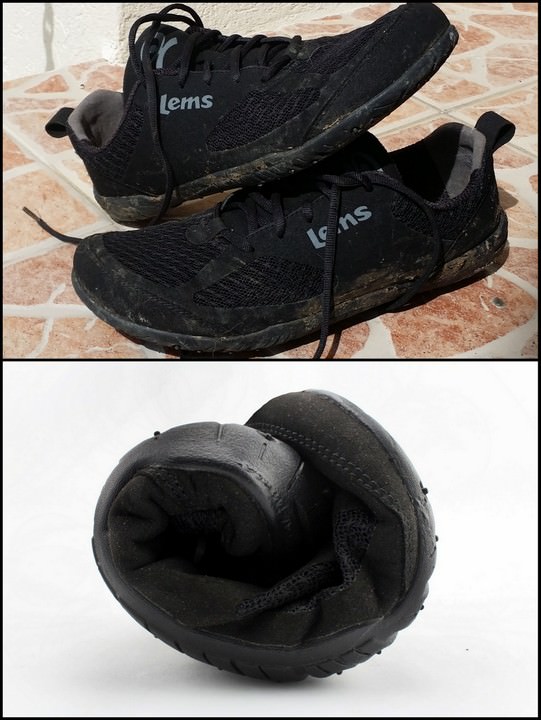 D-Link Wi-Fi Extender
Nick wrote a whole article about essential time-saving upgrades for digital nomads, and although wi-fi range extenders are great for those who are working on their computers, I think it's also an incredible piece of gear for people who are just travelling as well.
The wi-fi in hostels, hotels and cafes never seems to work all that well. Think of how much time you waste trying to upload photos to Facebook, FaceTime/Skyping with family or simply sending an email. That's usually because you don't have a strong enough wi-fi signal.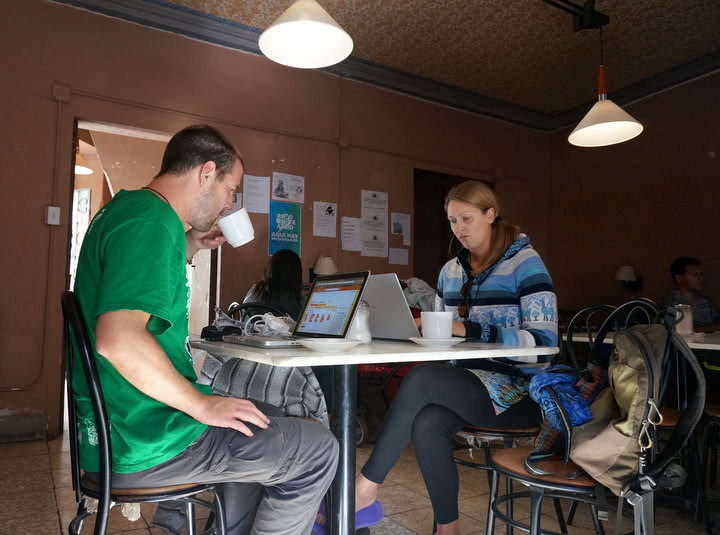 We've spent so much time just sitting around asking each other "Is your wi-fi connected?" "Do you have a signal yet?"
Now that we have purchased the D-Link Wireless N 300 Mbps Compact Wi-Fi Range Extender, which plugs into the wall, and the TP-LINK TL-WN823N 300Mbps Wireless Mini USB Adapter, which plugs into the USB port on the side of my computer, we have no problems getting internet. Happy days!
Diva Cup
This one is just for the ladies! When travelling around the world, having your period can be more difficult than it is at home. If you can believe it, tampons are hard to come by in many countries, often there are no garbage cans in the bathrooms, and in many places, you can't flush anything down the toilet!
This is where the Diva Cup comes in. This silicone cup can be worn for 8+ hours (great for long travel days), and it won't take up a ton of space in your pack, like bulky tampons do. It's easy to use and easy to clean. But the best part? You can't even feel it!
I use it monthly and highly recommend it.
Ok men, moving on 🙂
The Cube – Portable Movie Projector
Ok, maybe not an essential, but definitely an awesome addition to the backpack!
Regardless of whether we're backpacking around or living somewhere, we like to watch movies and TV shows. It's not like we're spending hours in our rooms wasting time on shows, but I think everyone likes some down time, or to have a movie night once in a while.
We recently discovered The Rif6 Cube, which is a small, 2 inch x 2 inch projector! All you do is hook it up to your laptop, smart phone or tablet, choose whichever movie or show you want to watch and it'll project out onto a wall or screen.
The colours are great and the clarity is excellent. We have our portable speakers hooked up, which makes the sound good as well. This is also a cool gadget to share with friends in a hostel, just set it up and gather around for a movie! We love it, and so will you.
Universal Charge Cord
There's nothing more annoying than having lots of charge cords getting tangled up in your pack, or searching around for the one you need. Not to mention that outlets can be hard to come by in many hostel / guesthouse rooms.
We're recently purchased a universal charge cord which plugs into the wall or your computer via USB and can charge 4 devices at once – lightning, micro-usb, mini-usb and the cable for the original iPods (it may charge other things, but I'm not sure what!).
Being able to simultaneously charge your devices is ideal for travellers.
Travel Towel
We've travelled with a travel towel since our very first trip in 2008. If you choose to sleep in hostels, guesthouses or huts, oftentimes towels won't be provided, or they charge a security deposit to rent them.
Travel towels are thin, lightweight, super absorbing and microbial (meaning they won't smell!). They have more uses than simply drying off after a shower – you can bring them to the beach, to waterfalls, use them as a blanket for a picnic, sit on them on a dirty seat, create shade at the beach, etc. etc.
We have the MSR Pack Towel, which has been going strong since 2011!
Exercise Gear
When we were travelling around before, we didn't really work-out all that much! Our exercise came naturally from exploring the new countries we were in, from lugging around our heavy packs (while refusing to pay $1 for a taxi!) and from playing beach volleyball.
Our hostel rooms were always too small to do any sort of exercises (or so we told ourselves), but these days, since we're house/pet sitting, we actually have a lot of room for getting our heart rates going.
Carrying a thin, lightweight yoga mat is great for stretching, practicing yoga, doing sit-ups, and meditating. I have a mat by Nike, which is very thin and lightweight – exactly what we need. With my old backpack (32L), it strapped nicely to the outside of the bag, but with my Numinous (55L), it actually fits right inside.
Mobile Phone
This is such a simple, yet much-needed item for travellers. It's so important to have a way to contact people when we're on the road. Whether we're out at the beach and our vehicle won't start, or if we're hiking in the middle of nowhere, we always carry our phone for safety.
Having a phone is a must not only for safety reasons, but to call ahead to hotels to book a room, or to call your hotel to find out the local price of a taxi so that you don't get ripped off.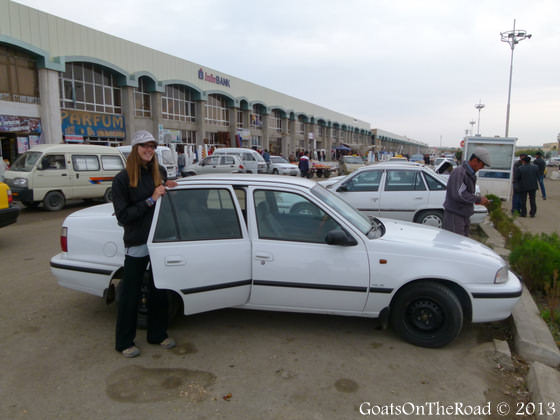 Up until our recent trip back home to Canada, I think we we're the only people who didn't own a smart phone! We now have a Samsung Galaxy Note 3, which we love.
But, before that, we just had a very basic Nokia phone. Unless you want to use data, which is good for using maps if you're lost, Periscoping / Snap-Chatting your life, or looking up nearby places on the internet, then you could get by with just a simple phone.
Always make sure that the phone you have is unlocked, that way you can purchase cheap SIM cards and pay-as-you-go plans from the countries you're travelling to.
Travel Adapter
Unfortunately, all of the voltages and plug-ins around the world aren't the same. Oftentimes this means that you can't use the charge cords that you brought from home, as they won't fit into the wall sockets.
A universal travel adapter is a staple in our bags. We picked up ours at a random shop, in a city that I don't remember! These much-needed things are available everywhere.
If you want to plan ahead, you can always buy one at home, or purchase one online.
Reuseable Bottles
Unless you're drinking glacier water, or are travelling in a 1st world country, most likely you won't be able to drink the tap water in the country you're visiting. Purchasing bottled water is a must, but what happens to all of the empty bottles afterwards? Just think of the amount of garbage you are producing while travelling abroad, especially for an extended period of time.
When we're living somewhere for a month or so, we always purchase one of those 18L bottles of water and just fill up our glasses / bottles as needed. If we're just travelling, we try to always purchase a reusable bottle and fill it up wherever drinking water is available.
In Mexico, almost every business and hostel had a jug of drinking water for customers and guests. In other parts of the world, something like a Steri-Pen to clean and sterilize the water, or using water purification tablets is a good idea.
No matter where you are, try to find a way to avoid drinking water from disposable bottles.
These are our must-have's at the moment. What items do you recommend? Tell us below 🙂
Like this article? Pin it 🙂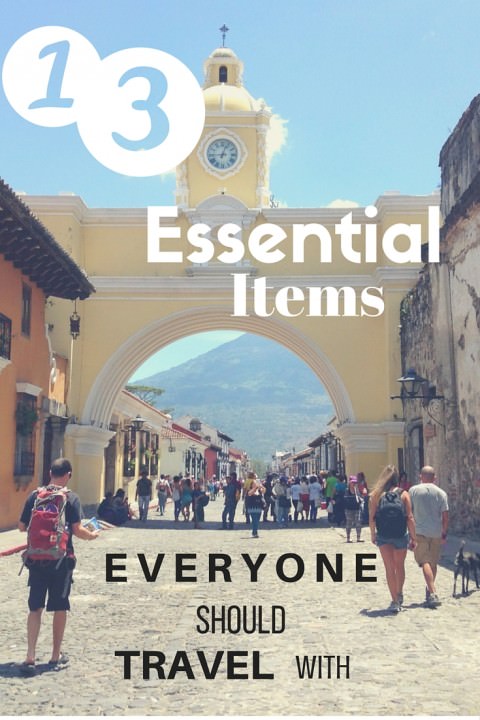 Check out some of our other articles here:
9 Awesome Gadgets That We're Super Stoked About
Essential Time Saving Upgrades Every Digital Nomad Should Consider
25 Awesome Travel Hacks That You Will Always Use
Disclosure: This article contains affiliate links, which means that if you purchase something, we will receive a small commission at no extra cost to you. We thank you in advance for helping to keep our site up and running!
Disclaimer: Some links in this article are affiliate links, which means that if you purchase through them, we receive a small commission. This will never cost you extra and in many cases you receive a special discount. We appreciate your support!