Have you ever travelled somewhere and been completely surprised at the amount of activities and things to see and do? For us, San Pancho (aka San Francisco) has been that place. For such a small town it really does pack a lot of punch. We just left after living there for nearly 2 months and we have found some awesome things to do in San Pancho that we want to share with you.
Watch Sunset
This is something that should be taken advantage of each and every night. In San Pancho, you're able to see the sun actually kiss the water before dipping below the ocean and turning the sky into a colourful display of orange, red and pink. Most people come down to the beach to watch the sunset and say goodbye to the day. Bring a blanket and a bottle of wine to really make a nice evening out of it. The sun sets here at 6:30 during the winter.
Go Golfing in San Pancho
The Las Huertas course is beautiful and was once an orchard. You'll find palm trees and fruit trees and some squirrels and iguanas while golfing here. Nine or eighteen holes are offered and clubs and golf carts are also available for rent. The cost for 9 holes is 400 pesos, club rental is 120 pesos and the cost of 9 holes including a golf cart is 500 pesos. After enjoying a round, make sure to eat brunch or lunch at the on site restaurant. The view over the Pacific Ocean is stunning, the meals are very affordable and the portion sizes are huge!
Check out our day of golf here:

Try Surfing
This area of Mexico is known for having some excellent surf spots. The neighbouring towns of Sayulita and Punta de Mita have some good waves for beginners, but the waves in San Pancho are excellent for intermediate and advanced riders. Even if you're not interested in trying surfing, it's still an entertaining sport to watch from the shoreline.
Join Pilates
The Pilates studio here is fantastic. It's clean, modern and they even have Pilates reformer beds for working out on. The instructors are professional and well-trained and the owners Gabi and Keoni are friendly, knowledgeable and kind. A free trial class is recommended and they offer classes for all levels. Drop-ins are 100 pesos for an hour class, 12 classes in a month is 1,000 pesos and 20 is 1,500 pesos.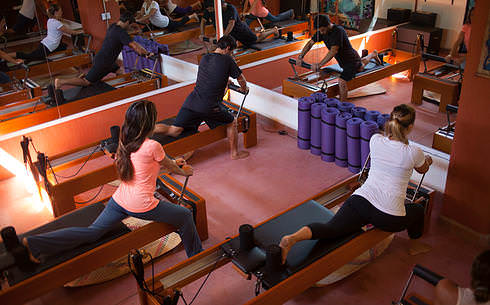 Watch Live Music
One of the great things about San Pancho is the incredible music talent in this town. On Mondays at Maria's you can enjoy soft tunes in Spanish, English and French, accompanied by live guitar. On Thursdays, check out Maria's for more upbeat dinner music in English, French and Spanish, complete with violin and guitar. On Fridays, Darjeeling has different bands each week. Bueno Vida offers live Spanish and reggae music throughout the week.
The music here is excellent and it makes for a fun night out. (Note: Live music isn't as common during the off-peak season from April – November.)
Eat Delicious Food
We like to think of San Pancho as the gastronomical capital of the Riviera Nayarit. The restaurants in this tiny town are of excellent value and quality. Most can be found along the main street, with a few hidden gems found elsewhere on the side streets. Whether you're craving Italian, French, Mexican or American style foods, you'll find it.
Some restaurants have healthy menus, while others offer up BBQ ribs and pizzas. For the best tacos in town, check out Arbollitos, for seafood and ocean views visit Las Palmas and for all around good western and Mexican food, make sure to visit Maria's. For healthier fare, head to Luna Del Venado and try their wraps.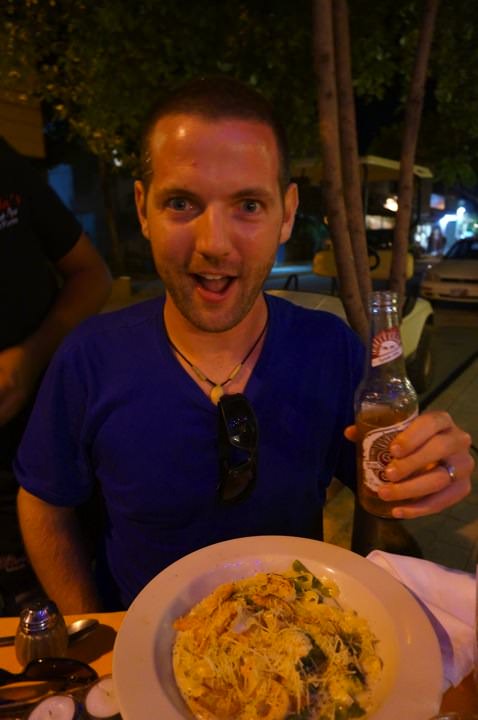 Take Spanish Lessons in San Pancho
What better way to immerse yourself in the country you're visiting than learning the local language? Even if you're only travelling to San Pancho for 2 or 3 weeks, you can still take part in this course. The curriculum is Warren Hardy, with levels 1 through 4 on offer. The teacher, Lander, is from the USA and is excellent. Classes run Monday, Wednesday and Friday from 9:00am to 12:00pm. The cost of the 2.5 week course and materials is $350 USD.
Click here to learn more about San Pancho Spanish School
Go For A Walk
The main street here is quite busy and filled with shops and restaurants, but if you just veer off of the main road, you'll find some great walking spots. Check out the road that runs behind the hospital and alongside the golf course. The dirt road here is wide and covered in lush jungle. A great place to walk for views out to the ocean is behind Pakistan Street, on Tahiti Street. Hike up to the top for great vistas and cool breezes!
Visit the Plaza
The Plaza is one street back from the beach and is where any and all events will be held. Here you'll find markets, performances, celebrations and even sports being played. When there aren't any scheduled events, typically there will be some local people playing football (soccer) or basketball. This is also a nice place to wander around and hangout on the benches watching the world go by. Right across from the Plaza is the only church in San Pancho.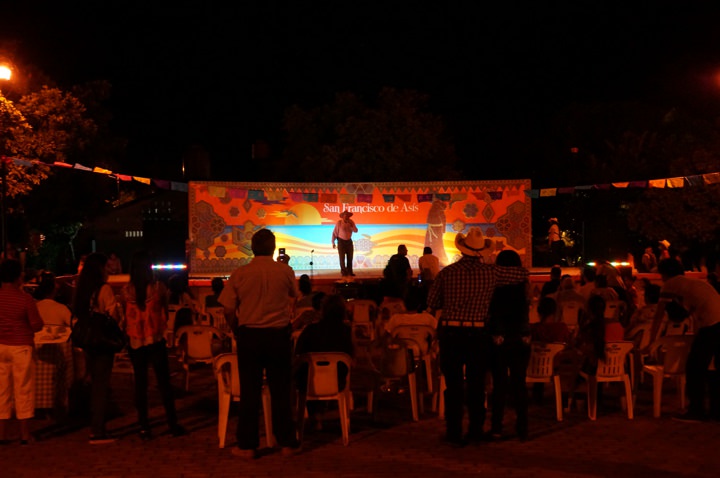 Check Out The Market
Tuesdays are market days here in San Pancho. Starting at 10:00am and running until about 2:00pm, the plaza is transformed into rows of booths and vendors selling their goods. Residents and transients come from the nearby towns to sell their items, many of which are often handmade and one of a kind. From jewellery to clothing to organic products, this little place has something for everyone. There are even a few food stalls selling lunch…and offering free samples!
Volunteer at Entre Amigos (The Community Center)
For such a small town, the community here is very involved in improving San Pancho and offers many programs and services to the residents here. Free computers and internet are available, there is a library, a daycare service and education center. If you're interested in helping out, make sure to stop by, they would love to have you on board.
☞ Read More Mexico Posts Here:
Go To The Beach
This is an obvious point! The beach here is beautiful and quite long as well. If you order some food or drinks at one of the three beachside restaurants, you can use the lounge chairs and umbrellas for the day. The sand here is golden brown and the ocean is a deep blue. From November onwards, it's possible to see humpback whales breaching and swimming off shore. Keep an eye out for dolphins as well. One of the great perks of this beach is that there are hardly any vendors, so you won't be bothered by anyone while you're trying to relax.
*Note: The ocean here can be quite rough at times, while other times it's completely calm. Always ask a local before venturing into the water. The calmest area of the beach is all the way down on the left hand side.
Visit The Art Gallery
This newly opened gallery is fantastic. With local art set in a beautiful casita, it's a great place to go and wander around for a bit.
Watch The Turtles Being Released
There is a great turtle rescue and nursery here and practically every night they bring down around 50 baby turtles to release them into the ocean. A large area of the sand is raked and closed off. Everyone is welcome to gather around and watch the beginning of the turtles' long and strenuous journey into the wild. Read about our time volunteering with Leatherback Turtles in Grenada.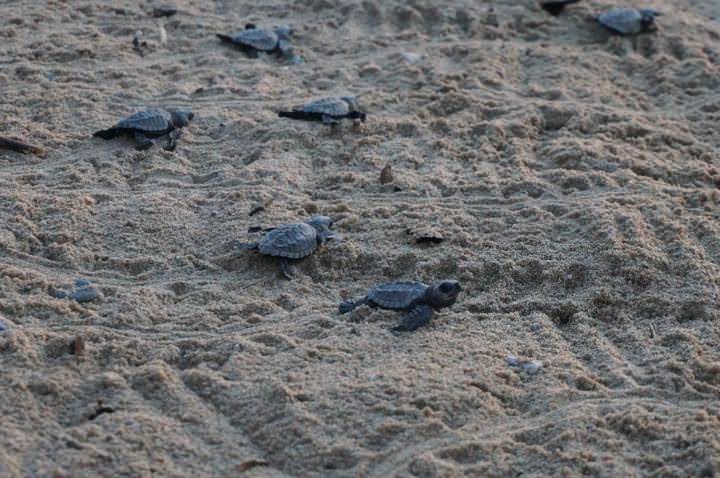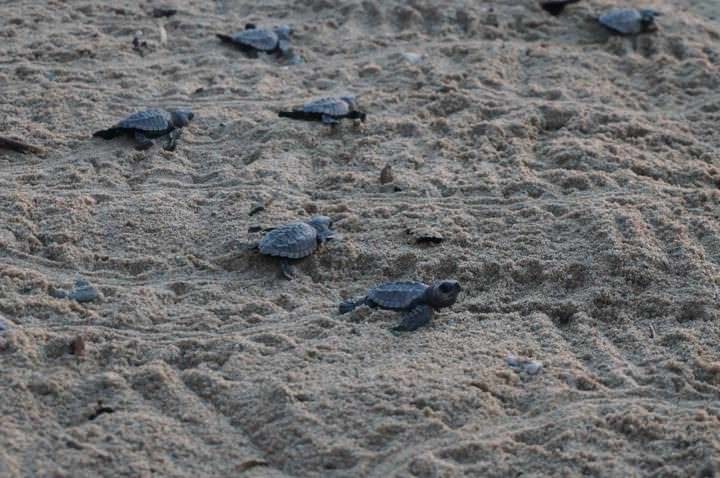 Watch A Football (Soccer) Match
Just as you enter town, there is a large soccer field on the right hand side. Often, there will be matches played on the weekends. Sometimes kids are playing, while other times you'll be able to see a more competitive adult game. Anyone is allowed to use the field during the day, making it a great spot for playing with dogs, going for a run, or just sitting on a blanket and reading a book.
This is only a small portion of what San Pancho has to offer…
San Pancho is a special town with incredible residents (there are only around 2,000 people living here), yet the restaurants are top-notch, the hotels and vacation rentals are first class and the arts flourish here. It's amazing how many things there are to see and do, you'll never be bored in sleepy San Pancho.
Like This Article? Pin it!