The new year is just around the corner, and if you're a culture-crazed, food-freak, adventure-junky, travel-lover like us, you're already thinking of next year's travel destinations!
After seven years of being on the road, we've had some pretty amazing adventures. In fact, there have been so many great experiences, that it's very hard to narrow it down to just 16, but somehow we've managed.
Here is the Goats On The Road list of 16 epic adventures to have!
1. Sail The Tobago Cays, Saint Vincent and The Grenadines
Let's start this list off with an easy adventure, good for all ages and anyone who enjoys serene beauty, untouched nature and world-class snorkelling.
The Tobago Cays are known as "The Jewels of The Caribbean" and coming from a couple who has spent a considerable amount of time living & travelling in this region, we'd have to say that this is the most impressive and visually stunning set of islands that we've ever seen in the Caribbean.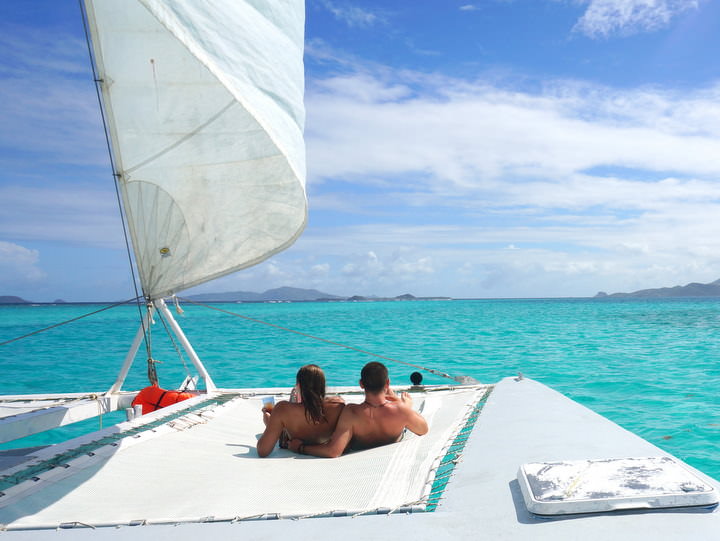 You can hop on the Yannis sailboat for a day trip that costs just $100 including 2 meals, all alcohol, snorkelling, sailing and a great crew. This is one of the best deals to be found anywhere in the West Indies and there is no better way to see the Tobago Cays.
2. Camel Trek in Rajasthan, India
It's time to take a pretty big jump up on the adventure scale. India itself is an adventure, but climbing on the back of a gigantic Bactrian beast and heading into the barren depths of the Thar Desert near Jaisalmer is an intrepid undertaking to say the least.

Don't worry though, your experienced guide will make you feel right at home amongst the rolling dunes, dung beetles and remote villages. Sleep under a silky black sky, sprayed with more stars than you ever knew were visible from Earth. This will surely be a hard-to-beat experience.
See: Camel Safari – Jaisalmer, India
3. Houseboat on the Backwaters of Alleppey, India
India hits this list again with another epic experience that should be on everyone's travel bucket list. Hop on a Keralan rice barge – turned luxurious houseboat – and follow the Alappuzha Backwaters, a narrow network of crisscrossing waterways that pass by villages, temples, markets and seemingly endless farmlands.
Witness the village life of rural india, from the comfort of a privately chartered vessel with a staff that will cook, clean and captain for you the entire way, stopping when you want to visit the towns, buy souvenirs or just mingle with the local people.
These houseboats can be rented for as little as $70 / day for the whole boat with 3 staff members, all food and drink and comfortable a/c rooms!
See: Houseboating on the Backwaters of Alleppey, India
4. Hike Independently in Mongolia
Head to Google Maps, find Mongolia, pick a river and plot your route. Mongolia is a camping, trekking and fishing wonderland, perfect for anyone who loves the outdoors.
Independently trekking will give you the opportunity to meet local people, see the countryside and learn about the fascinating itinerant lifestyle of a Mongolian nomad. This truly is an off-the-beaten-path adventure.
See: Epic 8 Day Mongolian Trekking Adventure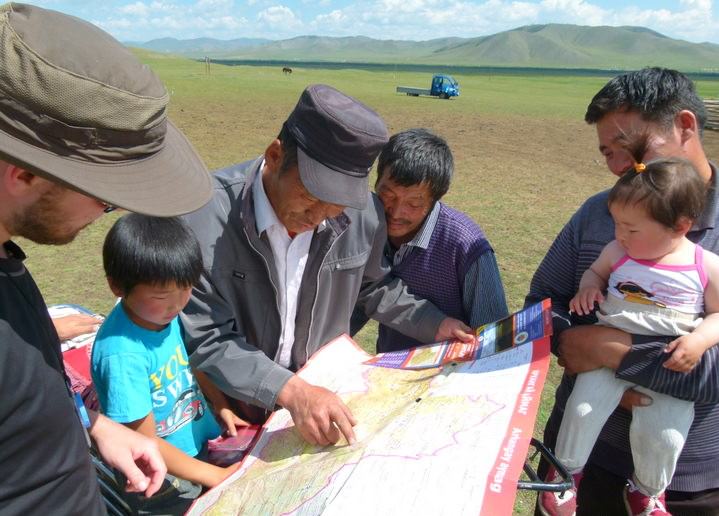 5. Trek The Himalayas, Nepal
You don't need to be an Everest-conquering mountaineer to trek in Nepal. There are plenty of different trails for all skill sets and endurance levels.
We recommend the Annapurna Circuit for a medium-difficult trek, which is easy to navigate and (despite recent development) remains an astonishingly beautiful place to explore. Other (easier) treks can be found around Jomsom and Pokora.
6. Drive The Pamir Highway, Tajikistan
Not interested in taking on the high alpines by foot, or bike? Consider driving through the formidable Pamir Highway in Tajikistan. Hire a guide from either Dushanbe or Khorog and set out on a five day – two week adventure through some of the most spectacular and menacing mountain scenery you'll ever encounter.
Sleep in remote local villages and witness the incredible hospitality of the Pamari people, soak in hot springs, explore ancient fortresses and shop at cross-border markets where Afghani families meet you with smiles and quality goods for sale.
See: The Ultimate Guide to Backpacking Tajikistan
7. Take The Trans-Mongolian / Trans-Siberian Train
This list wouldn't be complete without at least one epic train journey. The Trans-Siberian rail expedition takes you between Moscow and Northern China (through Siberia and Mongolia) on one of the longest and most legendary train rides in the world.
The journey can take anywhere between one week to one year, depending on how often you stop and how much you intend to see.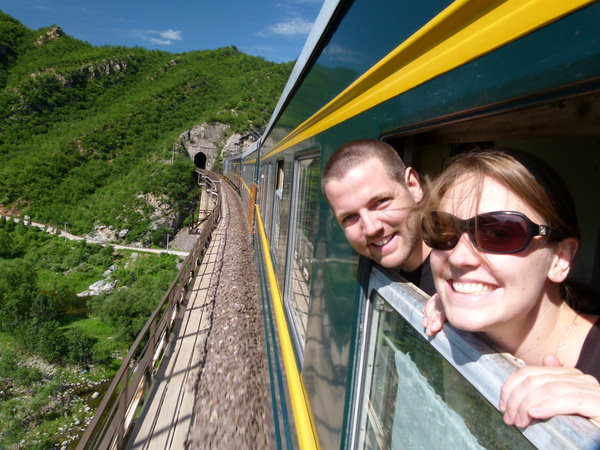 We recommend allowing at least one month for the trip, so that you can get off and explore some of the region's hidden gems, like Olkhon Island in Russia & Lake Khogsvol in Mongolia.
See: Traveling on the Trans-Mongolian Train: All You Need To Know
8. Go On A Safari in The Masai Mara, Kenya
The Masai Mara (along with the Serengeti in Tanzania) is one of the most spoken about safari spots, on a continent teeming with more wildlife watching opportunities than you could shake a camera at.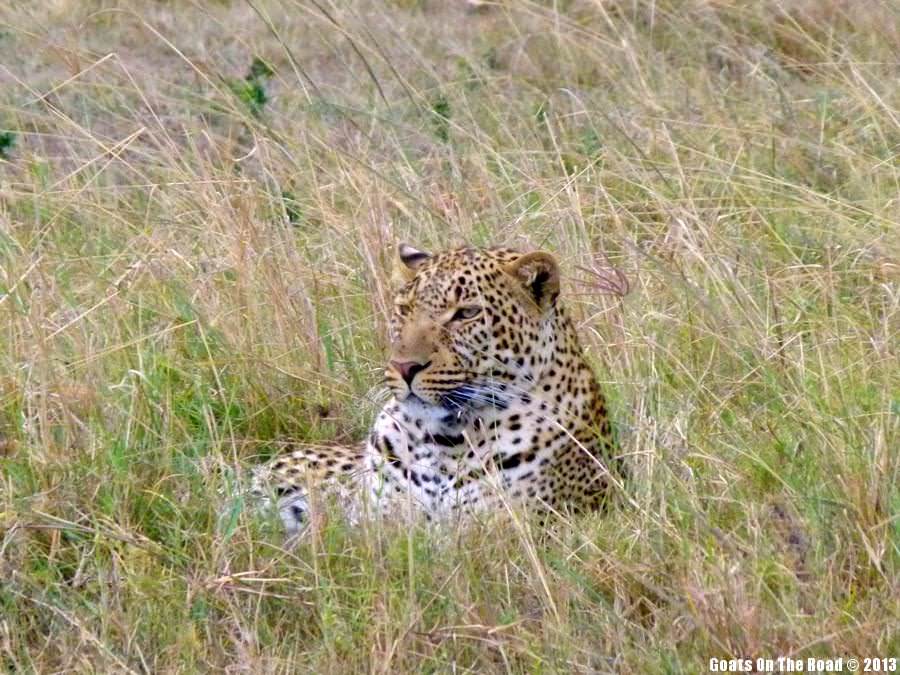 Hire a jeep, pay the entrance fee, charge your camera battery and enter a world of wild and untamed natural hierarchy, violent survival drama and awe-inspiring landscapes that can only be witnessed in Africa.
A safari is without a doubt one of the most exhilarating and humbling travel experiences that you can have and seeing the big 5 is a definite bucket list item that everyone should try to tick off.
See: On Safari in the Masai Mara – Our Quest For The "Big 5"
9. Go Surfing in Lombok, Indonesia
Skip the crowds of tourists and the busy waves of Bali and head to Lombok for a more relaxed surfing experience. Hire an instructor for $10 / day, hop on a long tail boat and head out to some of the most exquisite coves and perfectly formed tubes, swells and rollers on the planet.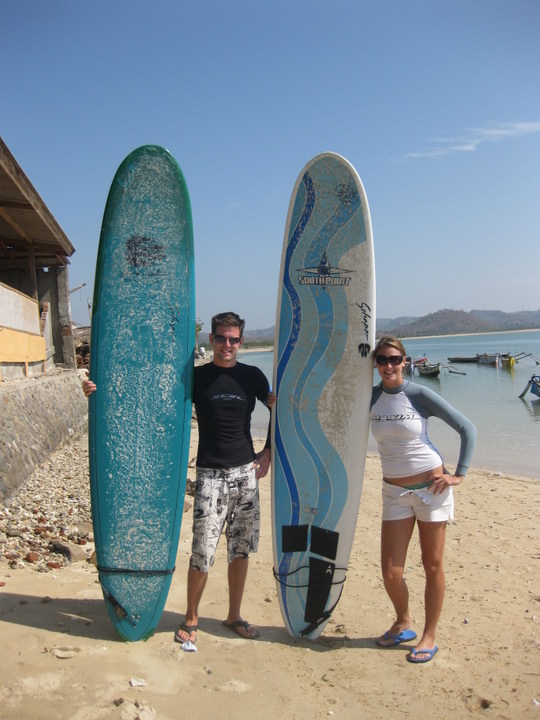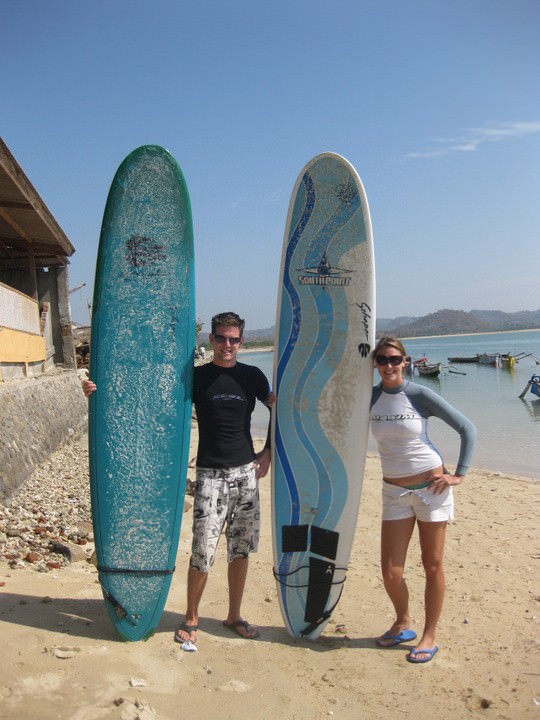 Don't worry, there are waves here for all experience levels. Dariece and I both rode waves on our first day on the water!
10. Scuba Dive Sipadan, Malaysia
Without a doubt, the most astonishing dive site I've ever seen in my life (and I've done quite a few dives around the world), Sipadan is an underwater utopia, teeming with more fish life and coral growth than you could ever imagine.
You'll see dozens of turtles, countless sharks, tornadoes of jackfish and swarms of snapper. You'll start to think that all of the world's fish are congregating around this one group of islands off of the northeastern coast of Borneo.
See: Sipadan – The Best Scuba Dive of My Life
12. Sail The Nile on a Felucca, Egypt
I know, we've already spent a fair amount of time on sailing vessels and houseboats on this list, but none of those ships stop at 4,000 year old temples, and ancient stone tombs…until now.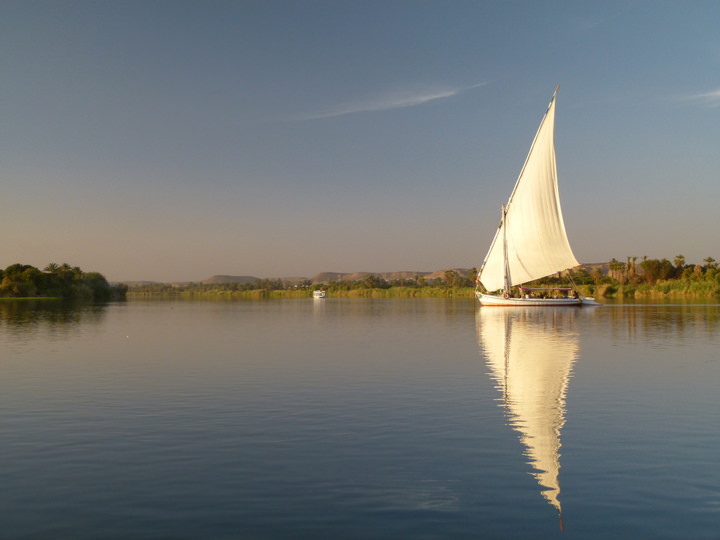 Hire a felucca (Egyptian sail boat) and a captain and sail from Aswan in southern Egypt, up the legendary Nile River, stopping at villages, tiny riverside restaurants, farms and of course, colossal mausoleums of fallen pharaohs and lost kingdoms of ancient Egypt.
See: Sailing The River Nile: A Four Day Felucca Journey
13. Experience Cappadocia, Turkey
Picture an extraordinary landscape of cone-shaped rock formations, jutting out from the sun-scorched earth of Central Antalya. These aptly named "fairy chimneys" create a bizarre-looking world which seems as if it came straight out of a Tim Burton movie.

Hike through the dramatic landscape and learn about how these strange peaks formed, and how the Cappadocian people have etched their homes, hotels and shops into these jagged cliffs. You can even stay in a fairy chimney cave hotel!
See: 10 Reasons To Travel To Turkey
14. Wakeboard on a Volcano Lake, Guatemala
Lake Atitlan is probably the most visually stunning place that we visited in all of 2015. Soaring crater walls fortify this sublime and tranquil lake, while numerous indigenous villages are scattered around the shoreline, making for perfect day trips and cultural outings.
When you've tired of observing Mayan culture, learning about coffee-making, climbing volcanoes and relaxing by the shore, consider heading out wakeboarding on the mirror-smooth waters of Lake Atitlan.
See: Travelling to Lake Atitlan, Guatemala – a Guide to The Villages
15. Scuba Dive in an Underwater Cave (Cenote), Mexico
Submerging into a dark and cavernous cenote, watching the light disappear from behind you and feeling completely engulfed by a watery abyss is an exhilarating and intimidating experience.
For any diver who loves adventure, I recommend Dos Ojos near Tulum in southern Mexico.
16. Help Out Where It's Needed, Anywhere
For all that travel gives us, maybe this is the year to give back. Wherever you are in the world (even in your own country), try to help out where it's needed most.
Some of our favourite (and most rewarding) experiences on the road were volunteering to teach English in Laos, teaching children to brush their teeth in rural Myanmar and helping out at orphanages in Africa.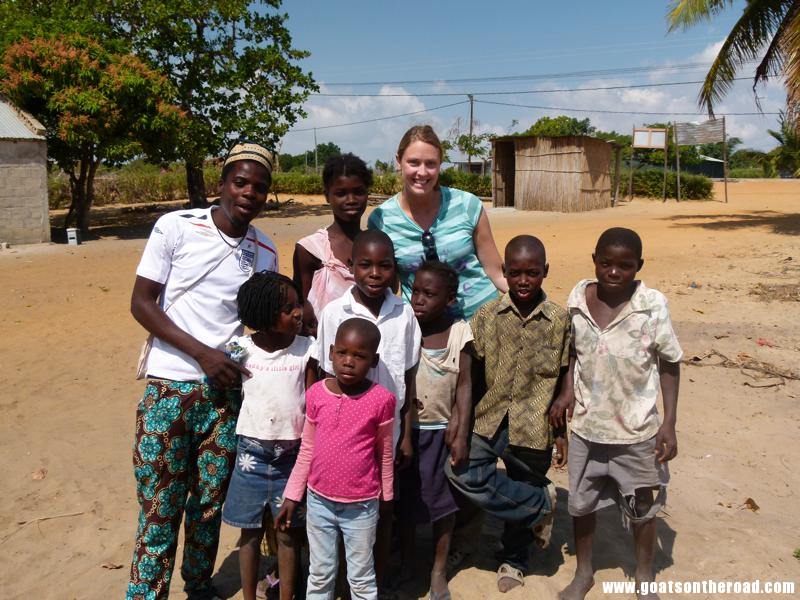 The world is a beautiful place to explore and to experience and we should cherish it and everyone who lives in it. Let's start now.
This can be a year to give back, to learn and try to empathize with those who have different beliefs and for those who are less fortunate.
This can be a year of adventure, experience and growth.
This can be a year to remember.
Like this article? Pin it 🙂