In this 2 day itinerary, you'll learn to spend the perfect weekend in Paris.
Paris. The name alone conjures up images of decadent food, sumptuous wine, Renaissance architecture, and of course, the iconic Eiffel Tower. Many people dream of visiting this famous city, and for good reason!
Spend 2 days in Paris and see for yourself what this magical place has to offer.
With a weekend away in Paris, you'll be able to enjoy the history, art, food, wine, markets, and shopping — there's a little something for everyone in the French capital.
We spent 5 days in Paris during our travels around Europe, but not everyone has that amount of time to spend in the city. Even if you have just 2 days, plan a weekend in Paris — you won't regret it.
With so many cheap (direct) flights from North America and Europe, getting to Paris is simple.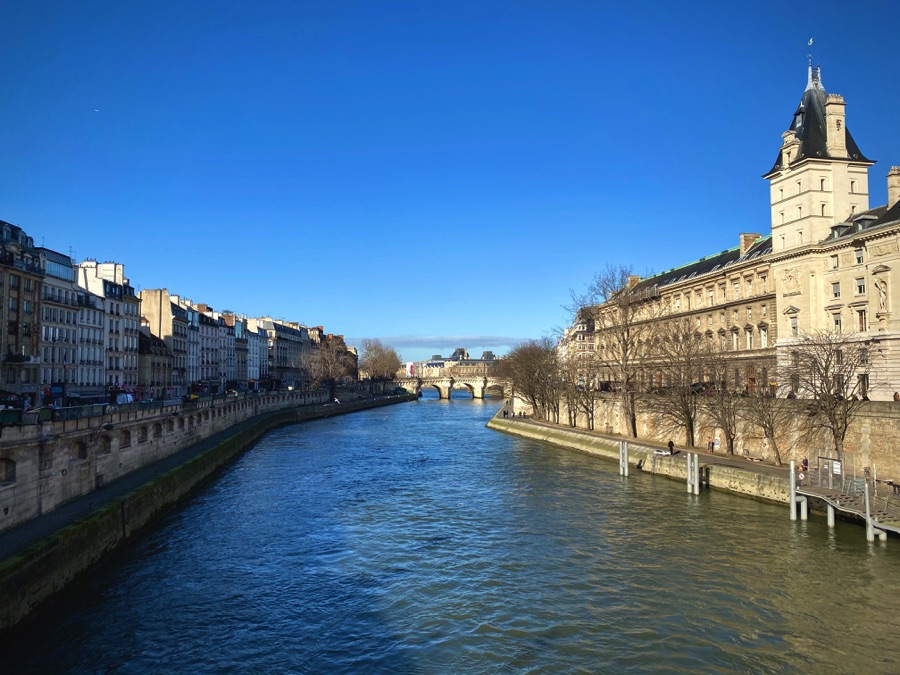 Here's my perfect weekend itinerary for 2 days in Paris to help you plan your trip.
Paris in a Weekend: Day 1
Waking up in Paris is such an exciting feeling! You'll want to start your day off right with a tasty breakfast and coffee.
Unless you're a real breakfast person, I suggest doing as the Parisians do and keeping your first meal simple — pastry and a coffee. Then, get on with your day.
Morning
Start your day with a buttery, baked good at one of the many Patisseries. I recommend Notre Patisserie in the 7th Arrondissement which has delicate baked goods on offer.
I don't know about you, but having an authentic, Parisian croissant or a pain au chocolat was high on my list when planning our trip to Paris.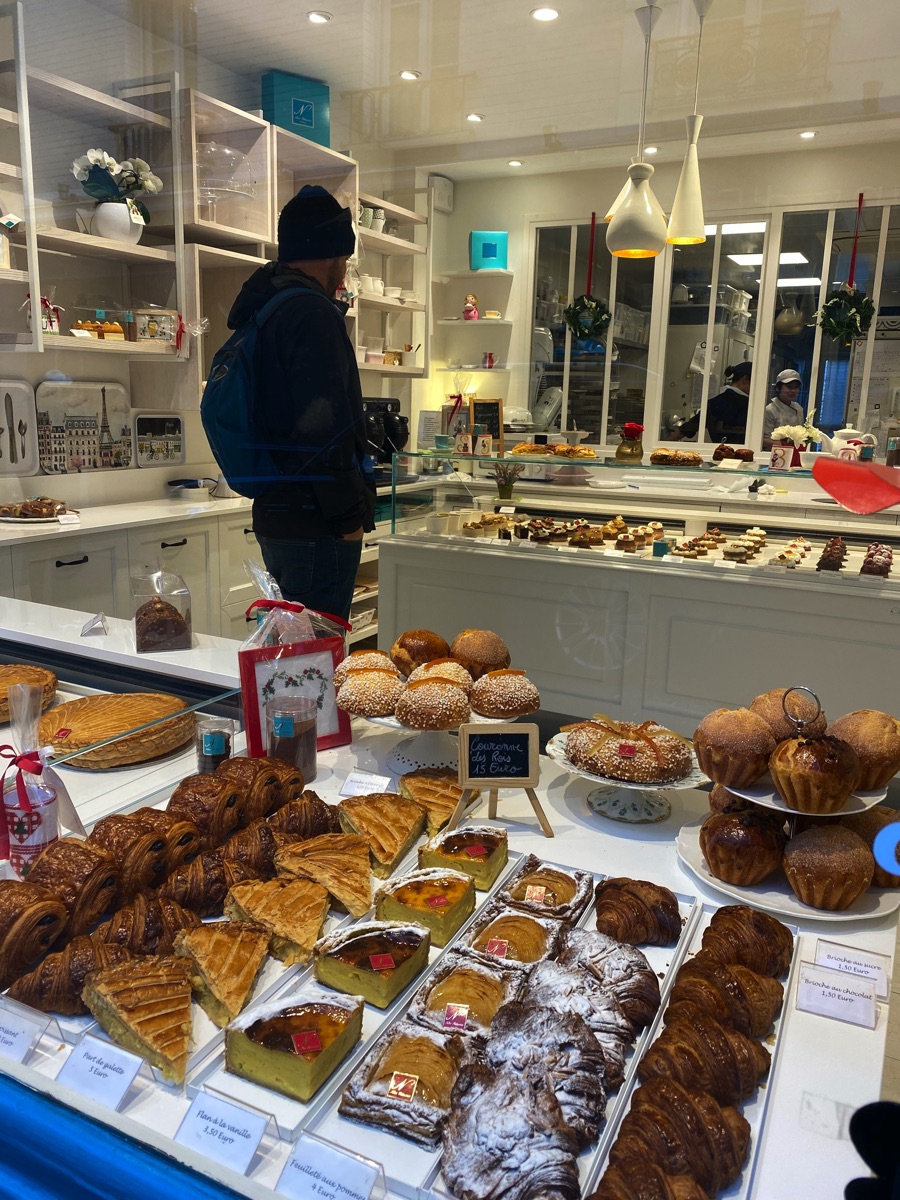 The women working in this cute little shop are kind and welcoming. A croissant and a flakey pain au chocolate will set you back about €2.50.
For coffee, if you find yourself in the 7th, I recommend the Bleu Olive cafe (the staff here speak English and the coffee is good), or Terres de Cafe — the owners pioneered specialty coffees in the country.
If you're in Le Marais area (the 4th), check out The Caféothèque of Paris and if you're in Montmartre (the 18th), don't miss The Hardware Société.
Insider tip: coffee is quite pricey in Paris (think €4 – €6 for a small latte), so you may want to see if your hotel or Airbnb accommodation has coffee on offer or a coffee maker in the room.
After you've had some breakfast, it's time to go on a free walking tour of Paris to get yourself orientated with the city and to learn some of the basic history. Joining a free walking tour is one of the best things to do in Paris when you first arrive.
There are a few companies that you can go with, but we chose SANDEMANs and enjoyed the experience. There are a few time slots throughout the day, but try to join the 10:30am one so you can maximize your weekend in Paris.
The tour ends outside of the Louvre and the Arc de Triumph, which, since you're trying to see a big city in a short period of time, means this would be a good time to visit the Louvre Museum.
But first, lunch.
Afternoon in Paris
By this point in the day, your pastry will have worn off and you're probably ready for a meal.
A great lunch spot that I recommend is Bistrot Victoires, located in the 1st Arrondissement just an 8-minute walk from the Louvre. This buzzing spot offers delicious, affordable meals. And, there is an English menu available.
Order the tender duck confit with garlic fried potatoes and salad (€12.50), or the fall-off-the-bone roast chicken with homemade mashed potatoes and gravy (€10.90). You can thank me later!
Wash it all down with a glass of wine, or a craft beer and you're all set to keep exploring.
Before you enter the Louvre, walk 7 minutes from the restaurant to the Église Saint-Eustache — an impressive gothic church, which is free to enter.
From the church, it's a 10-minute walk to the Louvre Museum, which is the largest art museum in the world — housing around 38,000 objects.
Now, if you're an art lover or a historian, you'll want to spend some time here admiring all of the pieces. You may even want to join a guided tour to fully understand all that the Louvre has to offer (and to not get lost in the 72,734 square meter / 782,910 square foot building!).
Since we're not big on museums, we only spent 1.5 hours in the Louvre ticking off the highlights — the Crown Regent, the Mona Lisa (from a distance because the line up was massive), Venus de Milo, Victoire de Samothrace (Winged Victory), and many more paintings and sculptures.
If you don't book a guided tour, you'll need to purchase your entrance ticket beforehand and I recommend getting a skip-the-line ticket, as the wait times can be huge. We purchased this ticket and were able to enter right away. Click here for details.
Late Afternoon
From the museum, make your way to the Eifell tower, the iconic symbol of Paris!
While we personally didn't climb up the tower, many people want to get that amazing view of the city and enjoy the experience of being in the Eifell Tower.
You'll need a special ticket for that, click here for a skip-the-line pass with access to the second level.
After checking out the Eiffel Tower, it's time to hop on a boat and take a 1-hour cruise down the River Seine (which departs from near the Eiffel Tower).
Pass by famous monuments, such as Les Invalides, Musée d'Orsay, the Notre Dame, Louvre Museum, and Grand Palais — while learning about these sites from your audioguide.
The one hour boat ride is a great way to see the city from a different vantage point. Not to mention, it's very affordable. Click here for details and to book your boat ticket online.
Evening
Finally, to round off your first day in Paris, enjoy dinner at Constant Cafe.
This restaurant is located in the 7th Arrondissement and is run by Michelin Star chef Christian Constant — who owns 6 restaurants in Paris. Plus, he was actually a judge for 4 years on the French version of Top Chef.
To be honest, I didn't know any of those things about the restaurant before we decided to visit. I just read one blog that suggested going to Constant Cafe, and I'm glad I found that article.
The small Bistrot style restaurant offers comforting, hearty, French dishes at affordable prices. It's a casual place, so you don't have to worry about dressing up in your finest clothing to enjoy fantastic food.
With homemade dishes such as French beef filet with mignonette pepper, scallops roasted with salted butter, and free-range chicken roasted with herby butter, and potatoes with bacon and baby onions…the only problem is deciding what to order!
I personally recommend the beef stew, escargot, cream of pumpkin and chestnut soup and the profiteroles with chocolate sauce. Make a reservation as this place fills up fast.
Weekend in Paris: Day 2
Get up early and enjoy your last full day in the city.
Morning in Paris Itinerary
If you're enjoying a weekend in Paris, you'll definitely want to visit the Bastille Market on Sunday Morning. If you're spending 2 days in Paris during the week, this market is also open on Thursday.
The Bastille Market opens at 7:00am, but since you were probably out a bit late last night, you don't have to arrive when it opens. Plan to be at the market around 9:00am, which is when many locals arrive as well.
This is a proper market with residents stocking up on their food for the week.
The outdoor Bastille Market is one of the best we've ever been to. Located on Boulevard Richard-Lenoir with the Place de la Bastille's Colonne de Juillet (monument commemorating the Revolution) as the backdrop, you'll find over 100 stalls selling everything from artisanal cheese and meats to fresh fruits and vegetables.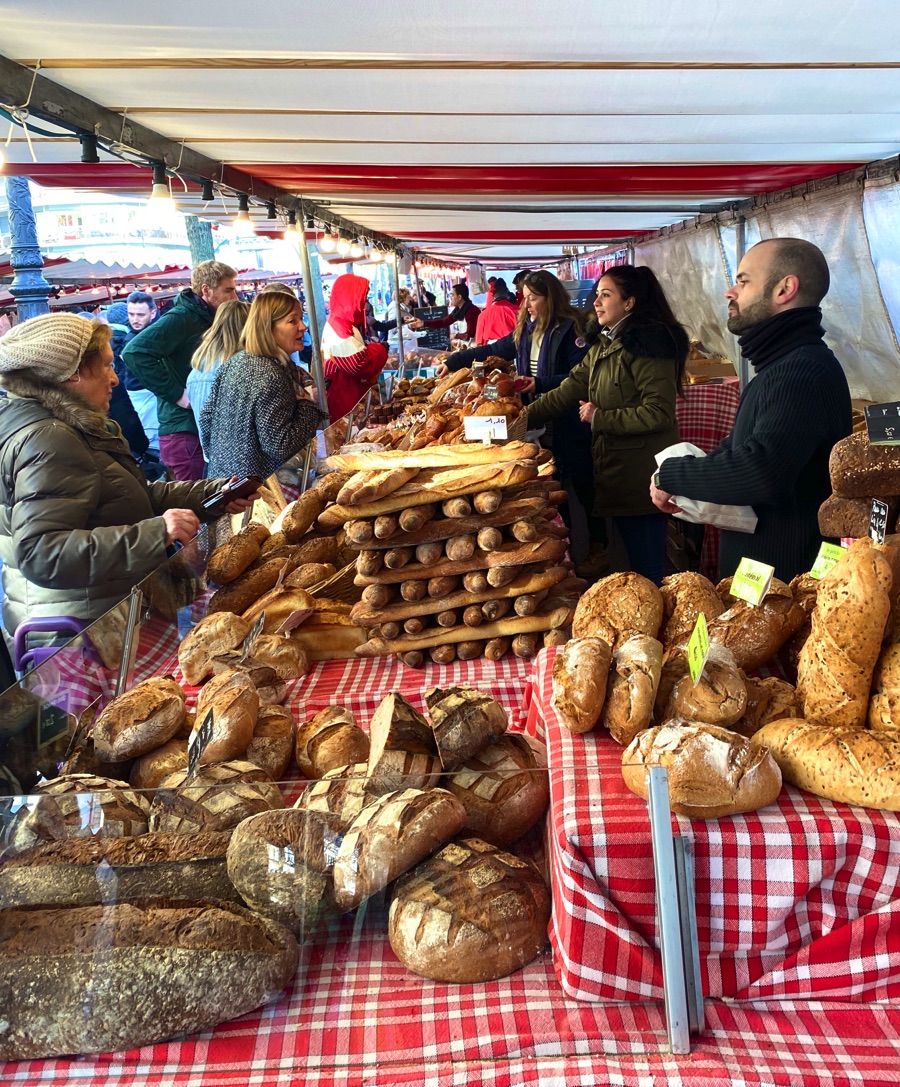 Plus, there's an area of the market dedicated to housewares and clothing.
After browsing and shopping (and sampling!), it's time to move on.
Make your way by foot to Le Marais neighbourhood (in the 4th Arrondissement), passing through the stunning Place des Vosges, and the National Archives Museum and Garden.
Continue wandering through the narrow, crooked alleyways, while passing by boutiques, vintage shops, museums, art galleries and more.
Prior to Napolean, all of Paris looked like Le Marais, but these days, this quarter is all that's left of the medieval streets and pre-revolutionary buildings.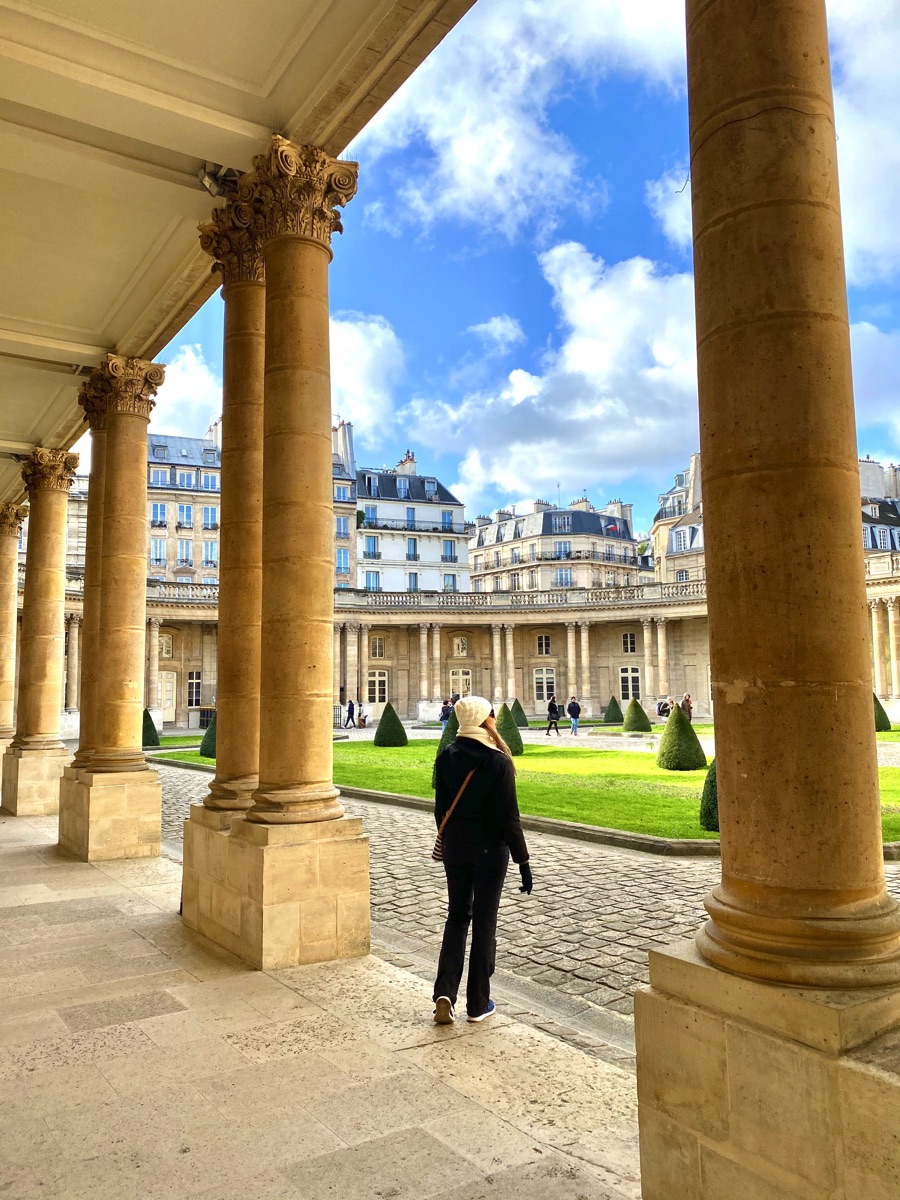 Spend some time here enjoying the twists and turns and unique shops before grabbing a bite to eat.
Keep lunch simple today and grab a falafel to go at one of the many popular shops on Falafel Street in Le Marais — I recommend Chez Hanna for its falafel. Or, opt for a tasty crepe at the highly-rated La Droguerie.
Afternoon in Paris Itinerary
In the late afternoon, it's time to explore another beautiful neighbourhood in Paris — Montmartre in the 18th Arrondissement
Walk to the Etienne Marcel station in Le Marais and take Metro 4 to Montmartre.
Perched on a hill, this is the artist district of the city and is a place where you'll see artists painting in the plazas, musicians on the street corner, and street art on the walls. In fact, famous artists such as Picasso, Modigliani, Monet and Van Gogh all lived around here.
Since the neighbourhood is on a hill, there are quite a few steps to reach the Sacré-Coeur — the 1914 basilica that towers over Montmartre. If steps aren't your thing, you can always hop on the funicular and ride up!
After wandering around the quiet lanes and visiting the Sacré-Coeur, make your way to Le Mur des Je t'aime (Love Wall), which is a wall painted with "I Love You" in numerous languages. Snap a photo and carry on.
If you're looking for a little "pick me up" at this point, pop into The Hardware Société for a coffee. 
Evening in Paris Itinerary
To round off the weekend in Paris, enjoy a fabulous homecooked meal by an awarded French chef! We found this experience on Airbnb and can't recommend it enough.
Chef Nick greeted us at his atelier (private workshop/studio) and immediately, we felt like we were having dinner with a friend.
Nick is welcoming, funny and full of interesting stories about Paris and France as a whole.
I won't give away the menu or share any photos as he likes to keep it a surprise, but it's a stunning 3-course meal with wine. I'm a bit of a picky eater and I loved everything on the menu — so I'm sure you will too!
This won't be a private dinner (unless you book it that way), and we had one other traveller who joined us. It's a great way to meet new people from around the world, while dining on tasty food in a fantastic setting. Click here to learn more.
Other Things To Do With a Weekend Away in Paris
The weekend in Paris itinerary I set out above is pretty jam-packed, but if you're the type of person who can get up early and go to bed late, you might have time for more.
Or, maybe you're not interested in the suggestions above. Here are a few other fun things to do with 2 days in Paris.
The Catacombs
Descend 30 meters below ground into the catacombs of Paris.
These are the old limestone quarries, which were turned into mass graves when the cemeteries became full. There are 200 miles (320 kilometers) of tunnels under Paris, housing the bones of between 6 and 7 million people!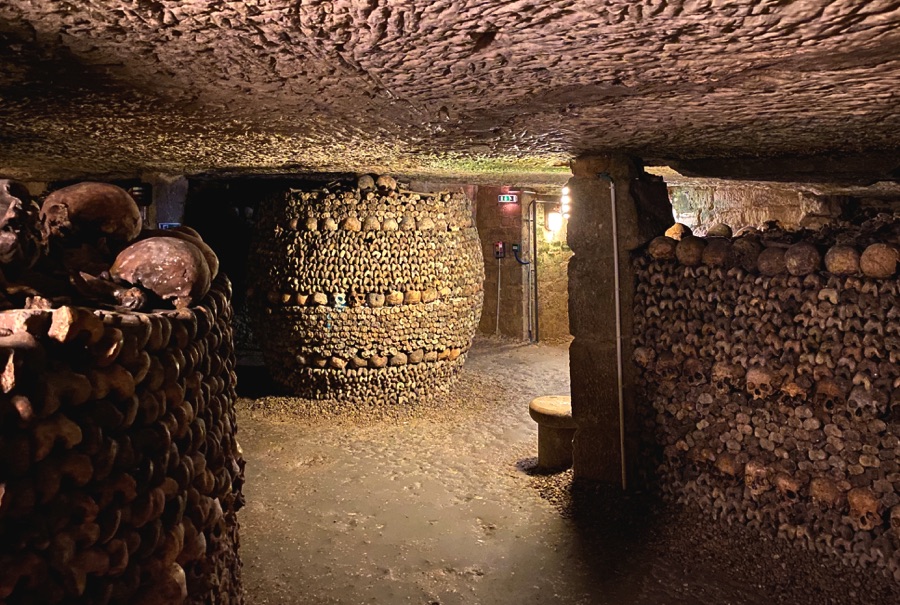 If you get claustrophobic or are creeped out by skeletons, this tour won't be for you.
We both really enjoyed the eerie experience and recommend getting the audioguide, otherwise, you'll have no idea what you're looking at. Click here for a skip-the-line ticket with an audioguide. You can find the Catacombs here on the map.
Walk Along The River Seine (a must-do with a weekend in Paris)
If you don't want to take the river cruise, it's still nice to walk along the river. This is a great way to get away from the traffic of the busy streets and enjoy a quiet stroll.
Pantheon
Yes, there's a Pantheon in Paris, not just Rome! Located in the 5th Arrondissement (Latin Quarter), this stunning mausoleum houses the remains of many important French citizens.
While the exterior is stunning, inside you'll find pillars, decorated domes, and artwork. Find it on the map, here.
Luxembourg Gardens
These gardens are huge! Dating from the 17th century, these formal gardens (which spans 25 hectares) are a great place to relax and people watch or go for a walk. Here you'll find ponds, trees, orchards, greenhouses, 106 statues, and much more. If you're feeling active, you can also play tennis here. Find the gardens on the map, here.
Getting to Paris from The Airport
Before you can enjoy your Paris travels, you first need to get into the city from the airport. You should know that there are 3 airports in Paris, and I'll list how to get from the airport to Paris for each one.
Charles de Gaulle Airport (the main one)
If you're flying in from North America, Australia, South America or Asia, you'll most likely land here. This is the major international airport in Paris, it's also one of the largest in Europe.
To get into the center of Paris, you can take the Metro (RER), a taxi, the bus, Uber, or a private driver.
Metro (RER): The metro (RER B) operates from Charles de Gaulle to Gare du Nord (in the 10th Aronndessemont). It's about a 35-minute journey. That the metro runs from 04:50 to 23:50, so plan your trip accordingly. Click here for a detailed post on getting from the Charles de Gaulle Airport to Paris.
Taxi: If you're arriving late, or if you don't want to deal with figuring out how to take the metro (while being jet-lagged!), then just hop in a taxi. Follow the signs from arrivals towards the taxi stand. There's a flat fee depending on which part of the city you are in. Rates are between €50 – €65 euros, with the journey taking about 45 minutes to the Eiffel Tower (7th Arrondissement).
Bus: The Roissy Shuttle bus takes about an hour to get into the city and runs from 6:00 am to 8:45 pm, every 15 minutes, and 8:45 pm to 00:30 am every 20 minutes. The bus picks up from Terminal 1, Terminal 3, Terminal 2AC,  Terminal 2D and Terminal 2EF, and drops off at Opera in Paris.
Orly Airport
This is the main domestic airport in France, with Air France and Transavia France operating out of here.
From this airport, your best bet is taking the Orly bus which links the airport to Denfert-Rochereau in the 14th Arrondissement. The bus runs from 6:00am to 12:30am, with departures every 15-20 minutes. The ticket costs €8.70 one way.
Another bus option is Bus Line 1, which runs from Orly Airport to Gare Montparnasse (with stops at the Eiffel Tower, Trocadéro, and Etoile/Champs Elysées). This journey takes between 30 and 40 minutes. It's €12 euros one way, or €20 for the return journey.
Paris Beauvais Airport
If you're taking a budget airline such as Ryan Air or Wizz Air, this is where you'll arrive. While the cost of the flight might seem cheap, you have to take into consideration that this airport is farther away from the center, with longer journey times, and that you'll still need to get from the arrival point in Paris, to your hotel.
From the Beauvais airport, hop on the Beauvais shuttle bus which departs from the airport and arrives at Porte Maillot. The journey is 1 hour and 15 minutes (traffic permitting), and tickets can be purchased in advance or when you arrive. From Porte Maillot, you'll need to take a taxi, or the metro to reach the center.
The cost is €17 euros each way. Click here for details.
Now You Know How to Enjoy a Weekend in Paris!
The City Of Lights truly is a dream destination, it's no wonder it's one of the top places to visit in all of France. If you get the chance to visit, jump at it.
While two days isn't a lot of time, it's enough to see the main highlights of Paris…and eat some delicious cuisine while you're at it!
My biggest tip would be to walk as much as you can so you see all of the "in-between" bits. It's about the journey as much as it is the destination. Paris might not be the cheapest destination in Europe, but it's worth every euro. Bon voyage.
*The lead image in this article is courtesy of Shutterstock, a top website for finding royalty-free images and videos.
Like This Article? Pin it!