After 5 years spent on the road, we can consider ourselves expert travel hackers. We may not be pros when it comes to hacking credit cards and earning a ton of points (yet), but that's mainly because we're Canadian and our cards don't offer as good of rewards programs as some other countries!
However, we are good at being everyday MacGyvers and life-hackers, which helps make our lifestyle cheaper, safer and more comfortable.
Here are 25 of our favourite travel hacks, most of these we use on a regular basis, while others we only learned about recently.
1. Use Packing Cubes
We were smart enough to get these useful cubes on our second trip around the world, and after adding them to our packing list, we wondered what we ever did without them. These little zipper cubes have saved us a lot of space (and frustration) when searching through our bags for something we need. They not only keep everything organized, but they really compress down your clothes, which allows you to pack more items.
A little bonus hack here, make sure you roll your clothes inside of the cubes, rather than folding them as you'll save a lot of extra space.
2. The Hoodie Pillow
I've used my hoodie as a pillow on pretty much every bus, plane, train and taxi since we first started travelling. I thought it was a normal thing to do, but I've since seen other travellers wearing their hoodies or holding them on their laps, while they're passed out with their head smashing against the chicken bus window.
Basically, if you fold your hoodie in the way shown below, you'll have a nice, comfy pillow that can rival those in nice hotel rooms.
3. Sarong / Clothespin Privacy
If you like your privacy, then we suggest using your sarong as a curtain while you're travelling on a train, or for your dorm room bed. By tucking the sarong underneath the bunk/bed above of yours, it will hang down and create a secret space for you.
If you have two blankets, towels or sarongs, that's even better! Once you're all set up, you can use clothes pins to keep the "curtain" together…which will ultimately prevent the weirdos from staring at you through the small openings.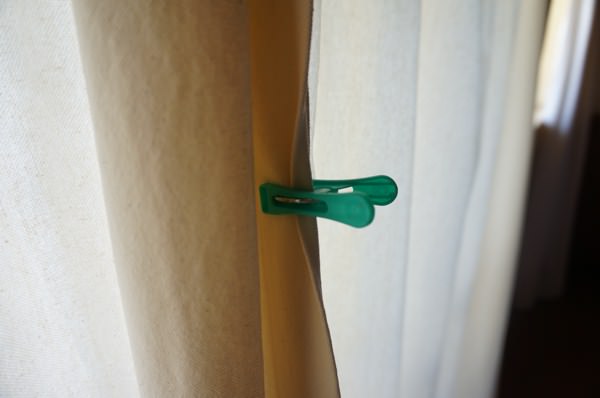 4. Prop Up Your Toothbrush With A Clothespin
Nobody knows exactly how often those bathroom counters are cleaned, if at all. It's bad enough in private rooms, but shared bathrooms can be even worse. Next time you leave your toothbrush on the counter, prop it up with a clothespin to keep it from touching all of that nasty, invisible bacteria. Better yet, consider buying a folding toothbrush that will keep your toothbrush clean in your hotel room and in your backpack. Either way, you should always travel with clothespins because they can do a lot more than just hang up your t-shirts.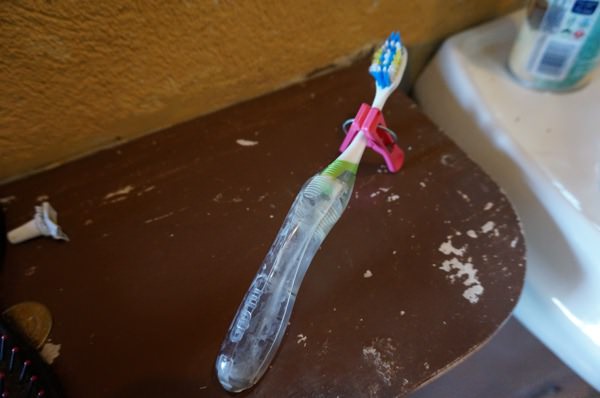 5. Hook- Up Your Laptop To The Hotel Room Television
We travel with a VGA cord, which is a bit old-school but it works on some older tube TV's as well as new LCDs. Many hotel rooms, or the common areas of hostels have TV's, and being able to just plug your laptop into the TV and stream Netflix or watch your favourite downloads on a big(ish) screen, rather than your tiny laptop is awesome.
6. Access Wi-Fi Wherever You Are
This hack is especially useful if you're staying in a small town or village for an extended period of time. Consider eating at multiple restaurants for the first few days, and make sure they're spread out along the main areas that you walk. Every time you hit up a new joint, make sure you get the wi-fi password and save it into your mobile device.
We've been places before where we've signed into so many access points, that it was just like having 3G, but free 🙂
7. Bring The Coil
These little heating coils are a life saver, and you can pick them up at most appliance stores while you're on the road if you forgot to pack one. You will also need to have a cup or pot of some sort to hook the coil onto. They can boil water for instant oatmeal, coffee, tea, instant soups or potatoes and can easily boil eggs. They're like having your own portable stove!
8. Cook In The Hotel Coffee Maker
Don't have a coil? This is a new hack for us but it's a great idea. If your hotel room has a coffee maker (and you don't have access to the kitchen) then put some vegetables, porridge or soup in the carafe, add some water, turn it on, and before you know it you can have a quick, fresh meal.
9. Book Your Flight With Car Rental Or Hotel Rooms
Even if you like to just show up and find a room, or if you don't like travelling in a rental car, consider booking one with your flight anyways. Why you might ask? Well, search engines and airline websites, such as Expedia and British Airways, often give killer deals when you pair your flight booking with another purchase.
In our sample booking on BritishAirways.com the cheapest flight to go from Toronto to London in July of 2015 was $1,524. We searched for that same flight in July from the British Airways tab "flight+car" and found it for just $1,444. What amazing savings! You get a rental car for the duration of your stay, plus you save $80 off the airfare for a total savings of $315… just for clicking that secret tab.
10. Book Far In Advance on Booking.com, Or Not At All
Normally we don't strongly recommend Booking.com because they can have pretty high premiums on room rates. We've booked rooms before on this engine, only to show up and find that the room is $10 cheaper / night if paid for at the check-in counter.
But, if you book your room on Booking.com 30 days or more before your arrival, you can find some incredible deals. We stayed in some beautiful apartments in Greece for just $20 / night because we found them on booking.com early and took advantage of huge sales. If you're booking last-minute, don't use this service, if you're booking far in advance, it can be a real cash-saver.
11. Get A Range Extender
We literally just ordered one of these on Amazon and we have no idea how we didn't know about them before. The one pictured below plugs into the wall, while Dariece has a USB style extender that plugs directly into her computer. She used to NEVER have a signal, and now her wi-fi rarely goes out.
If you're in a hotel or hostel room that has no wireless signal, you can use this little gadget to extend the range and give you full bars! Staying in a dorm? Your fellow travellers with thank you.
12. Pack A Power Strip
This is another way to get other travellers to thank you, or to just maximize the outlets in your hotel or hostel room. These little power strips can work as adaptors, surge protectors and USD power as well. Definitely worth carrying around.
13. Fishing Line Security
If you're spending the night on a long bus, at the airport, or are sleeping in a hammock, this little trick may just give your luggage some extra protection. Pick up some cheap fishing line and tie it to the bag, and then around your arm or ankle while you're sleeping. A would-be thief won't see the line, so when he tries to nab your bag you'll wake up, at which point you can teach him (her) a stern lesson about karma.
14. Plastic and Coin Sink Plug
If you're like us, you always forget to pack a sink plug, well this hack will save you some cash on laundry (or perhaps ensure that you have a clean pair of underwear tomorrow). Tear off a small piece of a plastic bag that's big enough to cover the sink's drain. Then, take out your wallet and size up the coins from the country you're travelling in. Usually the biggest ones will do the trick. Place the plastic in the hole, then place one large coin over top of the plastic and push it down securely into the drain, then fold all of the plastic over the first coin, leaving a small tab out for removal later, and place another coin on top. Voila! You've got a home-made sink plug.
15. Bounce Sheets For All Your Freshness Needs
You should always travel with dryer sheets. You can get them at any grocery store around the world and they can freshen up so many aspects of your travelling life. Tape them to fans or air conditioning units to eliminate odors in your hotel or dorm room. Put them in your backpack to keep your dirty clothes from stinking up your clean ones, and put them in your shoes after a long hike.
Dryer sheets can do more than freshen, they also keep away bees! Hang them up while you're eating dinner if you're travelling somewhere with a bee problem (like Canada in the summer).
16. Record YouTube
Have you ever wished that you could save YouTube videos and watch them while you're away from wifi? Well you can. There are plenty of different ways to do this. If you're watching a tutorial, or a video that you know you're going to want to see again later (when you're offline), you can use QuickTime for Mac. Just open the app and click File > New Screen Recording. A window will pop-up which will allow you to choose to record your entire screen, hit record, then head back to YouTube and watch hit play on whatever show you want to watch later.
If you don't want to watch the video through, or wait for it, the easier way is to simply paste the URL of the video into one of the sites below:
17. Wrap Your Headphones On A Paperclip
This is one trick that we need to start using, because every time I take out our iPod, the headphone wires are all over the place. We recently got some really good quality Meze Earphones, and we definitely don't want them to get ruined. This is a pretty simple idea, just check out the gif below:
18. Put Everything You Can On A Credit Card
Of course, this is travel hacking 101, but for Canadians, who don't have access the greatest rewards credit cards for travel hacking, it is still important to put everything you can on plastic…especially when you're buying all of your gear for your trip. Most credit cards have purchase protection, insurance, flight cancellation and even buyer's remorse protection built right into their plans. Putting purchases on your card can earn you points, and protect your gear and travel plans.
19. Put Your Jewlery In A Pill Bottle
Dariece has been carrying her jewelery in an Advil container for years. It's the perfect size to fit all of her precious necklaces, bracelets and earrings from around the world and it doesn't take up much extra space. You can also put the pill bottle in your medical bag to disguise it from possible thieves (unless the burglar happens to have a headache when he's rummaging and finds the jackpot!)
20. Use "Okay Maps"
If you're like us and you only travel with an iPod and not a 3G device, or you don't want to be charged for using data while overseas, consider using the "okay maps" function in the Google maps app. When you're somewhere with Wi-fi, open the app and find the area you plan to travel to. Once the appropriate map is on the screen, type "okay maps" into the search form and the app will automatically save that region onto your phone for offline use. This can come in pretty handy when searching for hotel rooms in a new town.
21. Ask Your Hostel / Hotel Staff
This is a pretty simple hack, but one that I think lots of travellers forget to take advantage of. Generally the staff at your hotel or hostel is local, and can speak English. Ask them where the best places to eat are and what they recommend you see while you're in their home town. This will help you get off the beaten path and discover some places that aren't in your guidebook. We once found the most amazing restaurant in Tanzania thanks to our hotel staff and it wasn't in the guidebook or even on Trip Advisor!
22. Duct Tape Fixes Everything
If you're Canadian, you were probably raised knowing the value of duct tape (gaffer tape for UK). This strong, sticky, silver adhesive can do so much for a traveller. Fix your broken shoes, seal up holes in window frames where creepy crawlers can enter, patch tears in your mosquito net, temporarily cover a wound or patch the screen on your windows. Duct tape can do it all!
Quick Bonus Hack: Don't pack a huge bulky roll of duct tape, instead just remove the ink portion of a plastic pen, roll the tape around it and cut off the excess plastic bits on either end.
23. Charge Your Device From The Hotel TV
This is a handy little trick that not too many people know about. I can't count the number of times that we had too many devices to charge and not enough wall adaptors. Well, if your device(s) charge with USB, you can hook them up to the back of the TV. Some TVs have as many as 4 USB outlets!
24. Carry Business Cards
Even if you don't own a business, carrying cards can be pretty handy. Instead of writing down your information every time you meet a new friend on the road, consider carrying a business card with your essential info on it and just hand them out. You can even get free cards through Vista Print.
25. Half Freeze Water Bottles
If you're like me, you prefer to drink cold water on travel days or walking trips. Fill your empty plastic water bottle halfway with water and put it in the freezer over night. Then when you're heading out on the town or onto the bus, pull it out and fill it the rest of the way with water. Depending on the climate and the size of the bottle, the cold water can last from a few minutes to a few hours (consider fully freezing a second or third bottle to extend cooling time).
Want more hacks? Check out:
21 Money Saving Hacks For All Travel Related Bookings Online
There you have it! These are some of our best hacks. Share your travel hack secrets with us below!
Did You Find Some Useful Hacks in This Article? Pin it!