These days, there are unlimited options for travellers looking to put a roof over their heads. Gone are the days of dirty dorm rooms and basic, overpriced hotels. For travellers this day in age, there are loads of accommodation options offering both comfort and affordability.
Here are 3 types of accommodations you should consider for your next trip:
Vacation Rentals
If you're travelling with your family, with a group of friends, or even as a couple, this could be a great option for you. Websites such as HouseTrip.com list homes and apartments from all around the world, available for you to rent. In fact, they have over 300,000 listings in over 20,000 destinations.
Rather than spending your holiday in a hostel or a small hotel room, for basically the same price per person, you and your group could rent a whole house.
The good thing about vacation rentals is that you don't have to go around knocking on doors to find a home for rent, you just go on the website and search through many beautiful dwellings. Independent rentals require you to stay for at least one month, which isn't ideal when you only have a short time away from work. With vacation homes, you can rent nightly!
Vacation homes are fully furnished with all of the utilities and amenities that you would expect – kitchen, wi-fi, washing machine, etc. Some of the homes even have a pool!
Hostels
When most people start out travelling, they usually have an image in their minds of what hostels are like – cheap and dirty. Although most are happy about the cheap part, the dirty aspect doesn't normally appeal to most. Luckily, these days the double rooms aren't so bad and most hostels are well kept.
There are dorm beds available for solo travellers, or those looking to save a buck. For couples or those wanting a bit more privacy, you can rent a double room for the night. You can usually choose between a shared or a private bathroom, the former being the cheapest.
Hostels have a fun, relaxed vibe and are where you'll find intrepid backpackers and travellers hanging out swapping stories. You'll meet people of all ages, budgets and backgrounds. The hostels will often arrange activities for you, can help you with onward transport and have some amenities available.
This is still basic accommodation though, so don't expect any luxury!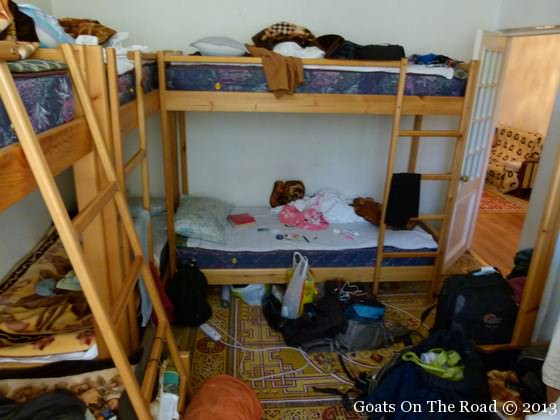 Camping
Feeling adventurous? Many people who are on a tight budget, or those who enjoy the great outdoors opt for this accommodation option when travelling. All you need is your tent, a sleeping mat and a sleeping bag and you're set!
Camping allows you to be with nature and save loads of cash on nightly stays. However, it's definitely not for everyone. You have to make sure you're OK with sleeping on the ground and in many (most) cases, not having a shower or a proper toilet.
Before setting off to see the world, think about where you want to sleep each night. The great thing about the internet is that now you can choose to book all of your accommodations beforehand, or you can reserve as you go.
However, many of the popular hostels or vacation homes can book up fast, so as soon as you know where you'll be travelling to, it's recommended that you go online and book your preferred room / home!
Which accommodation options do you choose when travelling around the world? Share with us below!
Disclaimer: Some links in this article are affiliate links, which means that if you purchase through them, we receive a small commission. This will never cost you extra and in many cases you receive a special discount. We appreciate your support!