Travel is good for the soul, but depending on your travel style, it's not always good for your body. Moving around Mexico, eating cheesy deep-fried snacks and drinking beer can quickly do a number on your waistline. But there are ways to stay fit even when you're moving from hostel to hostel (or hotel to hotel).
Here are 3 simple ways to stay healthy while travelling.
Excercise in Your Room
This is something I need to do a little more often. Most hotel rooms have plenty of room to excercise in, and while if you're staying in a dorm it may be more difficult, many hostels offer free yoga classes.
You can use your backpack for a fun workout or you can simply do your own yoga class in your room. We have found a lot of great yoga classes on YouTube like this one. Walking around town can be a good excercise for your legs, but Yoga is great for your whole body.
Swimming
One of the joys of travelling near a beach, lake or river is the opportunity to swim every day. We once stayed in a small Batak style house on Lake Toba in Indonesia (one of the most beautiful lakes in the world) and every day we'd wake up and jump off of the rocks in front of our house and into the lake for a morning swim.
When you're on a beach, there's no better way to start the day than with a nice long swim.
Rivers are possibly the best because you can swim up current and then float your way back to your starting point. An hour of vigorous swimming will burn up to 650 calories. It burns off more calories than walking or biking and is said to use more muscles in the body than any other excercise.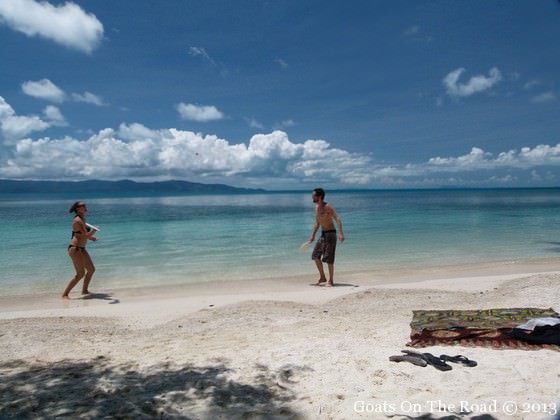 You can combine a good swim with the number one tip in this article as well. Beach yoga is fantastic and whether you do it in the water or on the sand, you'll get an excellent work out and you'll be able to easily cool off when you're done.
Healthy Eating, Supplements & Cleanses
It's not always easy to eat healthy on the road. Sure if you're travelling in Asia, you're likely to eat a lot of fish and light noodle and rice dishes, but in places like Italy, the US and Mexico, you'll probably end up taking in more calories than you're burning.
Making an effort to eat healthy is important while travelling. When we were travelling in Mexico for 2 months, we started to feel our bodies become weighed down by heavy foods. This slowed down our travel considerably and made it harder to experience some of the more active adventures like hiking and scuba diving.
Food in restaurants may be more fatty than you would like. Consider cooking for yourself in an apartment, or at the hostel kitchen. You can find some healthy recipes here. If you're staying in a hotel, ask the restaurant staff to cook you up something special.
You can also take health supplements to help to ensure that you're getting the right vitamins in your diet. In Mongolia for example, there are very few vegetables in the food (especially in the countryside), so it's important to carry vitamin A supplements and if you're there for extended periods of time, vitamin D is also important because the sun rays carry less of the important vitamin so far from the equator.
You may also want to invest in an herbal cleanse or health drink either before you leave, during your travels or when you return home.
After long travel stints, your body can pick up numerous toxins and bacteria that are hard for your western immune system to fend off. A Green Juice Detox is like hitting the reset button on your body and allowing it to recuperate after extended exposure to new viruses, bacteria and toxins.
Dariece did a cleanse after returning from our first trip abroad and she felt rather ill during the actual process, but much better after she was finished.
Travel is For The Body, Mind & Soul
Your soul and mind will automatically improve during travel, but it's your body that you have to take extra care of. On our first trip through Southeast Asia, I was sick 6 times and actually lost 32 lb (14.5 kg) during the 13 months of travel. I returned to Canada weighing 132 lb (60 kg) and I'm 6 feet (185 cm) tall!
By taking supplements, cleansing your body and continuously doing excercise while travelling, you'll be able to limit your illnesses and have more fun on the road. Take it from me! Health is a very high priority for nomads. Without it, you'll end up seeing the world from your sick-bed. Take care of yourself and enjoy travel with a healthy mind, body and soul.
Disclaimer: Some links in this article are affiliate links, which means that if you purchase through them, we receive a small commission. This will never cost you extra and in many cases you receive a special discount. We appreciate your support!