Europe has a reputation for being expensive, but this is not necessarily true. We've managed to travel here for less than $40/day per person and as credit card fees are getting lower, this budget is becoming more and more comfortable. Here are our 5 financial reasons to visit Europe now.
1. Shopping In The Bazaars Of Istanbul, Turkey: As you take your journey closer to the Middle East, the exotic flavour and culture drastically changes. Enter Turkey, a stunning mix of European and Arabian cultures where the energy is immediately noticeable for visitors. Spend your days searching the Bazaars in Istanbul for some real treasures. Here you can find everything from carpets to nargillas (decorative water-pipes) all at amazing prices. Try your hand at bartering and get a real souvenir at a great price.
2. Watching The Sunset On Santorini, Greece: It is possible to find some rock bottom discounts in Greece. We were able to find a beautiful, two-level apartment on Santorini, close to the beach for a little €17! Rent a motorbike here and head to one of the many lookout points where you can witness one of the most dazzling solar displays in the world; a sunset over the Mediterranean Sea.
3. Staying At The Marriott In Spain: The Marriott is famed as one of the most luxurious hotels in the world, but they don't always have to be over your budget. There are great deals on rooms in the Marriott in Marbella where you can laze by the pool or day trip into the interesting town of Estepona.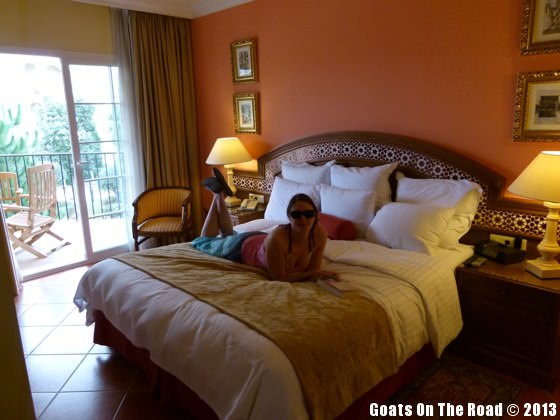 4. Convenient & Affordable Transportation: Even if you only stay in Europe for a short while, it is possible to visit several different countries thanks to the compact geography and excellent network trains. Once you arrive in a major city in Europe, you can get around using one of the many trolleys, subways, trams and buses that can take you to all of the major sites.
5. Delicious Food At Amazing Prices: You really can't go wrong with eating in Europe. From the world-renowned cuisine of France and Italy, to the lesser known but equally tasty assortment of dishes in Belgium (more than just waffles), you can really give your taste buds a tour while travelling here. The prices are great and many restaurants accept credit cards so you don't have to worry about hunting down an ATM machine. The food in Europe alone is worth a trip.
With all of these great experiences to be had in Europe, why not pack your bags now? You can book your hotels, flights and transport with your credit card before you arrive, or you can simply pay for things as you go. The continent is more accessible than ever and yet it still retains much of its age-old traditions and culture. Now is the time to visit Europe, whether on a budget or otherwise.
Disclaimer: Some links in this article are affiliate links, which means that if you purchase through them, we receive a small commission. This will never cost you extra and in many cases you receive a special discount. We appreciate your support!