It's no secret that South Africa is one of our favourite backpacking destinations. We spent 5 weeks in this incredible country and we absolutely fell in love with it. Although we travelled it completely independently, there are plenty of South Africa holiday specialists such as Travelbag who can help you along with your journey!
Here's our list of 5 things to do in South Africa:
1. Go On Safari: Ok so you may have expected a little bit more of an "off the beaten path" idea for our first point in this article, but you just can't beat a safari. South Africa's parks are some of the best on the continent and you don't have to limit yourself to Kruger National Park (the largest in Africa). There are some stunning parks where few other tourists go so if you're into off the beaten path travel, consider Addo Elephant National Park or Tswaing Nature Reserve.
2. Rent A Car: This is, hands down, the best way to see the country. If you don't take a tour, you'll be limited to public transport which often doesn't reach the desired destinations. You can rent a car for as little as $25 / day in South Africa and it's worth every penny. Get yourself a local map and look for roads marked "scenic route". You'll never be disappointed by the views in this geographically blessed country.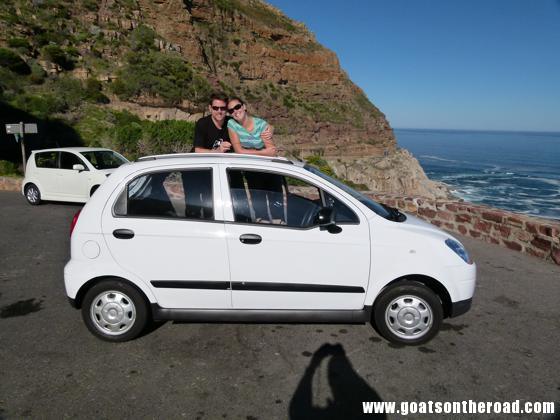 3. Witness An African Dance: One of the best ways to get a feel for African culture, is through her music and dance. The entire country buzzes with the rhythm of the African drum and to miss a dance performance would be missing the heart of the nation. Don't worry, you don't have to look to far to find one. There's a yearly drum festival in Coffee Bay, but there are celebrations, festivals and performances going on all the time. From major cities to tiny villages, you WILL find the arts.
4. Visit Cape Town: Surely one of the most enchanting cities on Earth, Cape Town frequently leaves visitors in awe of its beauty. With the enormous Table Mountain looming as a backdrop to this gorgeous seaside town, you will be able to find plenty to do here. Take a trip up the mountain in a gondola or, if you're fit, on foot. Visit the gigantic Cape Town Stadium and enjoy seafood at a waterfront restaurant near the harbour. If you're coming to South Africa, you can't miss Cape Town.
5. Volunteer Your Time: For all of the great experience and love South Africa gives you, consider giving something back. There are plenty of places to arrange orphanage visits and shelter help can be arranged as well. Instead of just walking through a soweto (slum), consider offering some of your time or skill to the community. It is both rewarding and fulfilling.
There really is a lot to do in South Africa. We've only listed a few of them here so we thought we should probably add some honourable mentions: shark cage diving, snorkelling, swimming with dolphins, surfing, sky diving, trekking, eating Bunny Chow, watching Great White Sharks breach, whale watching… the list goes on and on! South Africa really is one of the most adventure-packed countries you'll ever find, so pack your bags and book your flight now! You won't regret it.
Disclaimer: Some links in this article are affiliate links, which means that if you purchase through them, we receive a small commission. This will never cost you extra and in many cases you receive a special discount. We appreciate your support!