It's difficult to maintain a healthy diet when you're presented with new, exotic foods and tasty treats. When it comes to your health, backpacking poses more of a challenge than traditional travel, as you'll most likely be on a tight budget.
Food items that are higher in fats usually come cheaper than the healthier ones — tacos and quesadillas in Mexico, stir-fried noodles in Hong Kong, deep-fried pakora in India, banana pancakes in Thailand, suppli in Italy, etc.!
And although you should sample the local favourites, that's all you should do if you want to maintain healthy eating habits when backpacking abroad.
Here are my top 7 tips for eating healthy while backpacking.
1. Shop at Local Grocery Stores
Finding a local store is a cheap and effective way to eat healthily.
For one, purchasing food from a supermarket is usually less expensive than eating out since you're buying food that will last you longer than one meal.
Groceries offer food that is fresh, which enables you to fix a healthy meal, rather than one full of fats, sugars, and preservatives.
Grocery stores, or markets, are also great places to restock healthy snacks for your backpacking venture, like fresh fruits, granola bars, and mixed nuts. (Healthy snacks do not include chocolate bars and chips.)
Make sure to do your shopping around the perimeter of the grocery store, where fruits, vegetables, fish, and dairy are typically located. The center aisles tend to house junk food — these should often be avoided!
While grocery stores and supermarkets are filled with variety, if you can, head to one of the local farmer's markets. Not only will this ensure freshness of produce, but you'll be directly supporting the local community.
2. Seek Accommodations With a Kitchen
If you're able to shop at a local market or grocery store, then it's preferable that you also have access to a kitchen.
These days, many people are opting to stay in Airbnb apartments (either in a private apartment or in a room in a shared house), but even if you're in a hotel, hostel, or staying with a local, you may have access to a kitchen — make sure to utilize it if you can.
This allows you to fix meals perfectly portioned for your day and creates a healthy habit of not eating out as much.
Some affordable, yet healthy meals include stir-fried vegetables with rice, whole wheat pasta with a tomato-based sauce, green salad, scrambled eggs with whole-wheat toast, yogurt with granola and fruit, baked chicken with salad, etc.
Depending on where in the world you're travelling, grocery store food can be really affordable — if you purchase the typical food of the country, and don't opt for imported goods.
For example, it's about $3 for 3 chicken breasts from Portugal, but $6 for just a jar of Indian style curry marinade. In Grenada, it's $6 for an imported red pepper, but just $1 for local lettuce and herbs.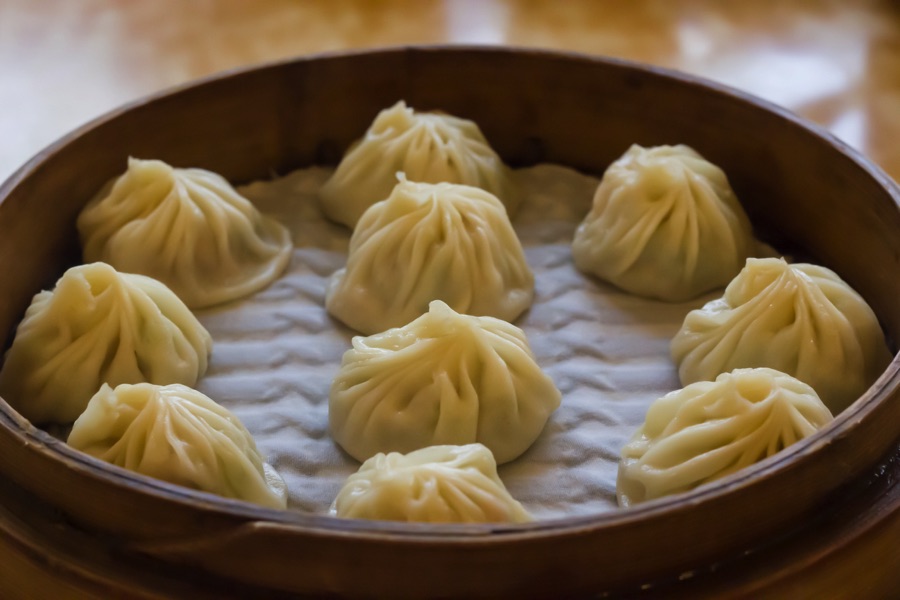 If you're backpacking in the wilderness, be sure to grab food that you can toss together into a meal for later.
Just because you're hiking doesn't mean you can't eat well; there are many options for food to cook while in the wild, from freeze-dried and dehydrated foods to dry pastas and canned meats.
Remember that an adequate diet is crucial for your health when taking on strenuous activities like climbing mountains or rugged trails.
Related Article: What to Pack for a Camping and Trekking Backpacking Trip
3. Don't Skip Breakfast
If you find yourself skipping breakfast only to be ravenous by lunch, you might want to rethink your choices.
Breakfast is one of the most important meals of the day, as it offers a great boost to your morning. One of the main benefits for backpackers is that it increases your energy. It also improves memory, concentration, and mood.
Breakfast makes you feel more awake and even helps you burn fat throughout the day. In order to keep your mind off of food during a long hike or tour through a new city, make sure you don't skip this meal!
4. Don't Snack (On Junk Food) – Eat Real Meals
If you decide to constantly eat junk food because it looks appetizing and makes you feel full in the moment, then rethink your diet.
Snacking consistently throughout the day on foods lacking in fiber and nutrients is not good for you; it will only make you hungrier.
But, snacking isn't all that bad, depending on what you choose to eat. If you must snack, choose a protein bar, hard-boiled eggs, vegetables with hummus, some fruit, or nuts to maintain some energy.
This is perfectly fine — especially while hiking. However, junk food will only slow you down and make you lethargic.
5. Pack a Water Bottle
Staying hydrated is essential to keeping a healthy diet. It helps you feel fuller and more energetic while also keeping headaches away.
If you're heading into the wilderness, always take some sort of water filter, as it's important to treat the water you find while outside of civilization.
While water at high elevations in remote areas may actually be cleaner than we think, it's still safer to be prepared than to be stuck without a filter.
In more isolated countries, tap water is not always safe to drink, so keep that in mind as well when traveling abroad.

Having a water filter, or purification tablets will help the budget out as well because you won't need to constantly purchase bottled water. Not to mention, you'll be helping out the environment by not discarding all of that plastic.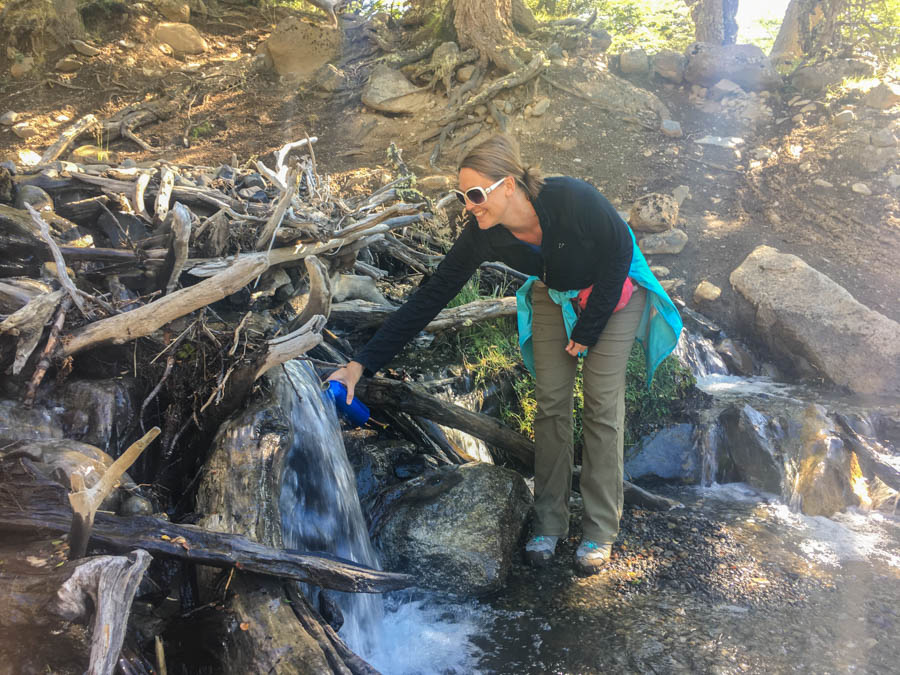 6. Choose Cheap, Healthy Places to Eat
Even though I'm saying you should opt for shopping at the grocery store and markets in order to help out with eating healthy on a budget, the reality is, you will end up eating at restaurants.
This can be a good thing!
Not only will you be able to sample the traditional food of the country you're visiting, meet new people, support the locals, but quite often you can do it on a budget.
In Thailand, choose a Pad Thai. This is a healthy, protein-packed meal that will keep you full and satisfied for hours. Rice noodles are stirfried with egg, tofu, bean sprouts, peanuts, fish sauce, tamarind sauce, chili peppers, green onions, and more! It's a tasty meal, and at just $1.50 on the street, it's a bargain.
If you're in many parts of South America, opt for the menu del dia, which quite often will be served with grilled meat or fish, veggies, soup, and rice. Typically, this is just a few dollars. Or, look for meals with protein-packed black beans.
In Vietnam, order up the salad rolls (rice paper filled with herbs, greens, shrimp or tofu), in Japan, head to the conveyor belt sushi and get 2 pieces of sushi for $0.50 – $1, while in China, you can find steamed dumplings, dim sum, and cold noodle dishes all for $1.
If you're backpacking in Europe, look for fresh meals at local farmer's markets, lunch specials, and check out apps like The Fork for discounts. Plus, head to Eastern Europe where the stews and meats are plentiful, but the prices are low.
Basically, source out the cheap meals that aren't deep-fried, and are filled with proteins — either in the form of nuts, meat, beans, eggs or tofu.
7. Skip the Beer
Ok, this might not fall under the "food" category, but since you'll most likely be drinking and socializing while you're backpacking, try to skip the beer.
This carb-filled booze does nothing for keeping your weight down.
If you can, opt for clear alcohol (vodka, gin, tequila) mixed with soda water and lime.
Or, if you're into wine and can afford it ($2 for a bottle in Europe!), then a glass – or two – a day keeps the doctor away! But seriously, there are many benefits to drinking red wine.
Here's to Healthier Backpacking Habits
I hope that this list gave you some good ideas for travelling around on a budget, but still keeping healthy.
Of course, you'll be tempted to sample some of the local specialties (some of which won't be the healthiest option), and my suggestion is to just go for it.
Have one day a week where you indulge in a tasty treat, otherwise, you'll be completely missing out on the local food culture, which is a big part of travel.
Healthy travels!
Like This Article? Pin it!