When you mention Dubai and Abu Dhabi, most people will conjure up images of the glittering concrete jungles, beautiful artificial islands, or endless luxury. This is expected, but there are many natural attractions on offer as well!
The two popular city-states in the UAE are home to growing clusters of skyscrapers and man-made marvels — chief among these being the iconic Burj Al Arab, Palm Jumeirah, Yas Island, and more.
If you're the type of traveller who looks for destinations with natural attractions, don't discount Dubai and Abu Dhabi just yet.
Of course, the steel beauties and the overall atmosphere of opulence are magnetic, helping to draw more than ten million visitors last year alone. However, that's not all Dubai and Abu Dhabi can offer!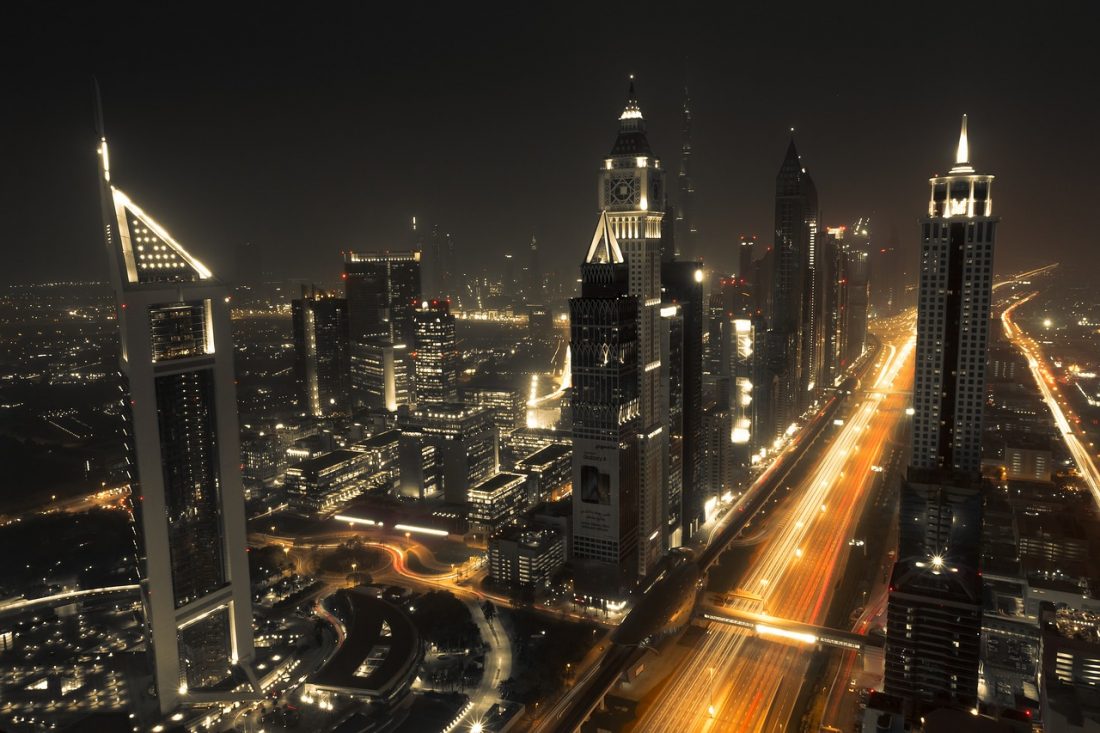 These destinations are also home to natural areas that are mostly pristine, untouched by man or machine.
The greenery, the desert, and the wildlife create an interesting contrast to the sleek images that the two cities present to the world.
In fact, there are some awesome camping opportunities to be had in the desert around Dubai. Enjoy glamping in the silent desert, while gazing up at the stars and enjoying the Bedouin hospitality and culture.
Wego, the top travel search website in the Middle East and UAE, will help you get to these top natural destinations in Abu Dhabi and Dubai by offering cheapest prices for flights and hotels around.
After ticking off this list, you might even leave with a fresh view of the two futuristic cities.
Here are 7 of the top natural attractions in Dubai and Abu Dhabi!
1. Wadi Ghalilah, Dubai
Ever thought about climbing the Stairway to Heaven? Technically located in Ras Al Khaimah, Wadi Ghalilah is easily reached by car from Dubai, which can be rented from Renty.
The so-called Stairway to Heaven is a mountain trail that links a village in Oman with Ras al Khaimah. Clocking in at a 1,500-meter climb, it beckons experienced rock climbers and mountaineers with its steep rocks, narrow paths, and winding cliffs.
Needless to say, this hike is not for everyone.
But if you have the stamina, climbing knowledge and the sensibility to stay safe until you reach the top, you'll be rewarded with a spectacular, thrilling view and perhaps some bragging rights.
Some things to note before embarking on this hike:
Weather: as you can imagine, it's hot in the region, so make sure you take lots of water with you — more than you think you may need.
Harsh terrain and extreme drops: the area here is beautiful, but the terrain is rocky and hard on the feet and joints. Plus, the ups and downs don't do any favours for your knees. Make sure to wear a sturdy pair of hiking boots and carry some trekking poles with you.
The Sun: the sun here is intense, so not only do you need water, but make sure to have sunscreen, sunglasses, a hat, and long sleeves to protect yourself from SPF.
Inform someone: always hike with a friend, or if you're going at it alone, let someone know when you're leaving and when you're expected back.
Start early: you don't want to be descending in the dark, make sure to start early.
2. Al Wathba Wetland Reserve, Abu Dhabi
This compact wetland reserve on the outskirt of Abu Dhabi attracts more than 200 species of migratory birds, which you'll get to observe comfortably from the bird hide.
The star here is the flamingo population, numbering in thousands, so much so that the reserve is also known as Flamingo City.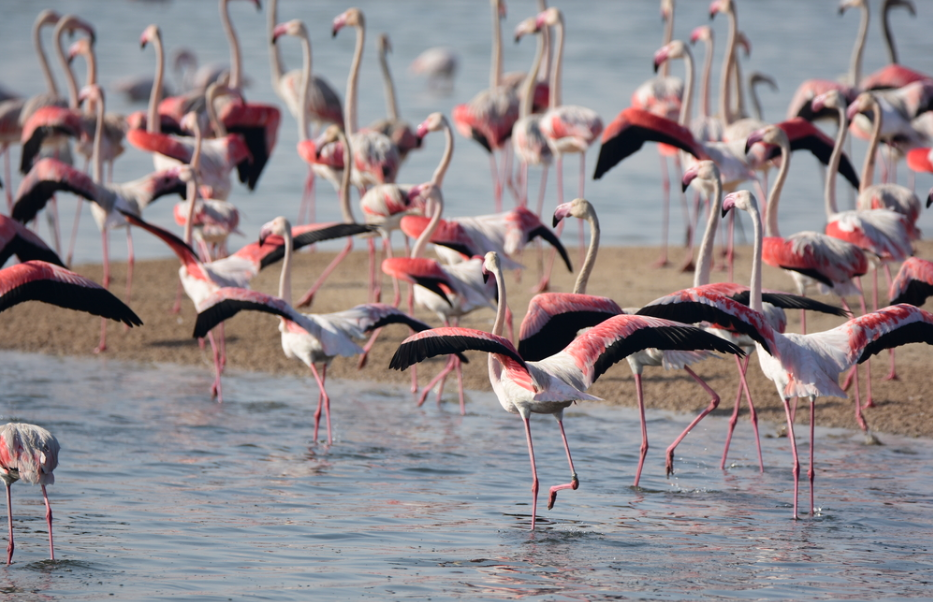 The protected-area site comprises of several habitats, from freshwater and saline lakes to dunes, shrubs, and trees, all catering to different natural inhabitants.
Al Wathba also provides walking trails so you can explore the diverse ecosystems. This is a must-see on your Abu Dhabi holiday!
3. Big Red, Dubai
Travel down Dubai-Hatta highway toward the desert and you'll spot Mars on Earth here in the form of the aptly named Big Red sand dune, locally known as Al Hamar.
It's a highly popular spot for locals and travellers who are interested in adventure and natural attractions in Dubai.
The 100-meter high dune provides the perfect arena for dune bashing, sandboarding, and other extreme activities. Not much of a daredevil? You can still entertain yourself by watching the adrenaline junkies duke it out.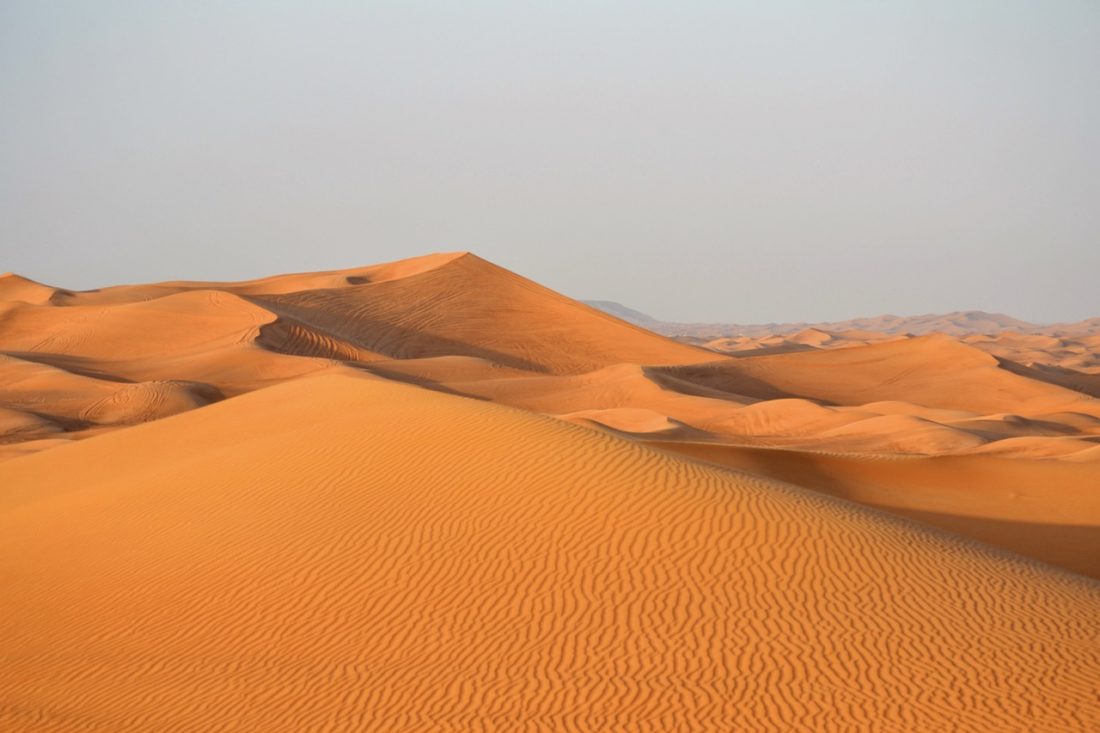 But, Big Red sand dune is more than just a playground for desert sports enthusiasts.
The dune's deep hue, a natural curiosity brought by the high iron oxide content, makes for a mesmerizingly eerie background as you explore this great expanse.
Just remember to bring water and be here early in the morning to avoid getting sun-scorched! A visit here is definitely one of the top things to do in Dubai.
4. Hatta, Dubai
When the heat gets too unbearable in the city, Hatta is one of the places locals go to relax. Due to the more eastern location, the weather there is generally milder.
The drive to this Sheikhdom comes with flashes of majestic deserts, giving way to lush mountains as you enter Hatta. A little to the south, you'll find the delightful Hatta Dam, where calm turquoise waters hug the rugged mountains.
This is one of the most beautiful, natural places to visit in the UAE.
Beyond offering cool respite, Hatta is also perfect for fans of nature and outdoor activities. Selections include mountain biking, hiking, camping, and kayaking through Hatta Lake.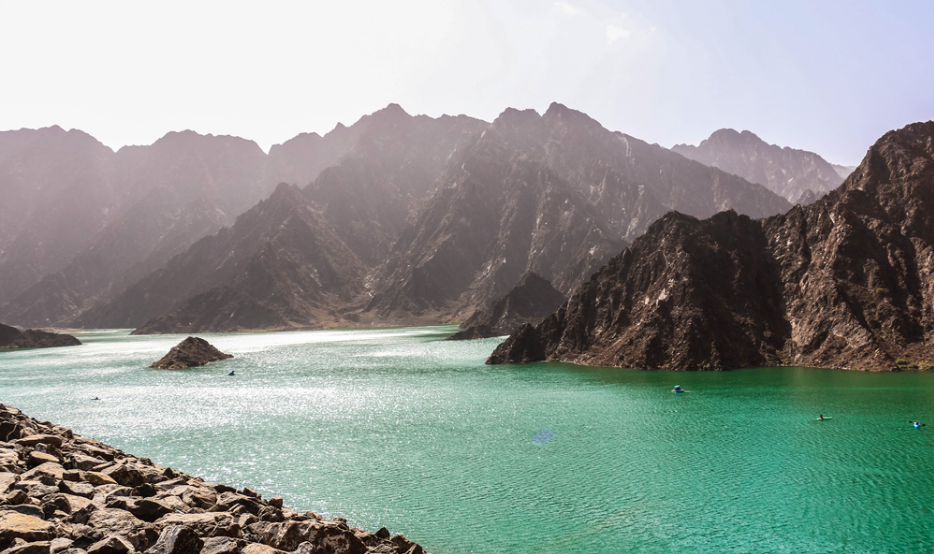 5. Mangrove National Park, Abu Dhabi
Mangrove forests can be found all over UAE, but the closest to Abu Dhabi is the Mangrove National Park, a slice of peace and nature away from the bustling city.
Modern constructions have ravaged a huge chunk of mangrove population here, bringing a negative ripple effect on the biodiversity that the trees support.
Conservation efforts have been made to restore the balance, including opening the park up to the public to spread awareness.
Visitors have the option of kayaking, paddle boarding, or boating tour to explore the area.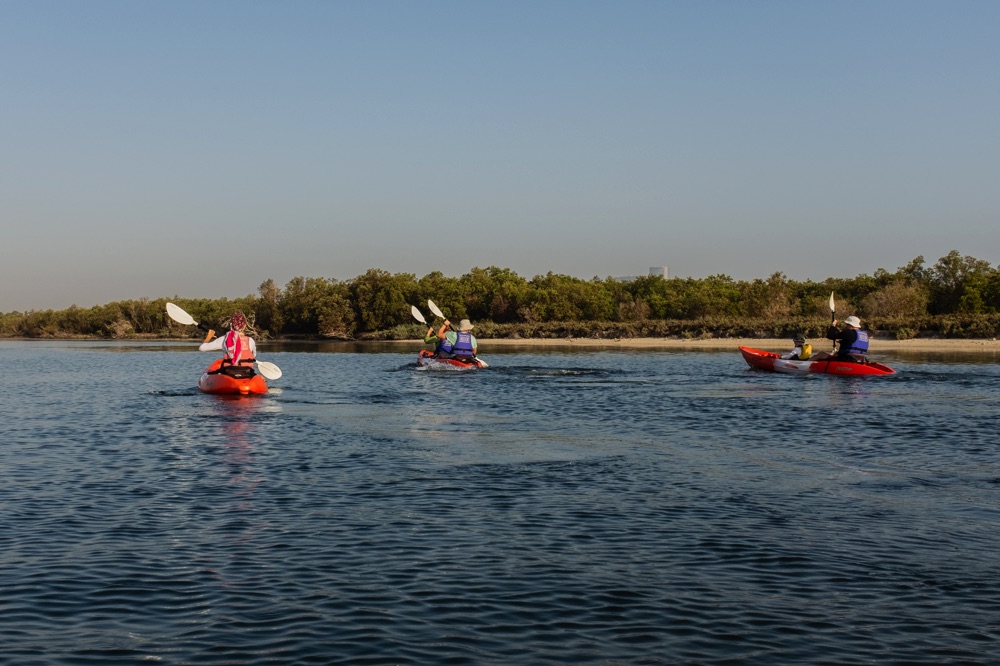 The water is clear enough to witness life wriggling between the roots, but you can also expect to spot larger animals, such as turtles, blue swimmer crabs, and even dolphins!
6. The Green Planet, Dubai
Okay, this is not entirely natural, but you have got to be impressed by the concept: a tropical rainforest contained within a glass box in the middle of a modern metropolis.
The ambitious project delivers scenes from nature — lizards, sloths, snakes, birds, and other wildlife that coexist in all five levels of the biodome.
The temperature and humidity level are also fine-tuned to recreate the experience of walking through a tropical rainforest.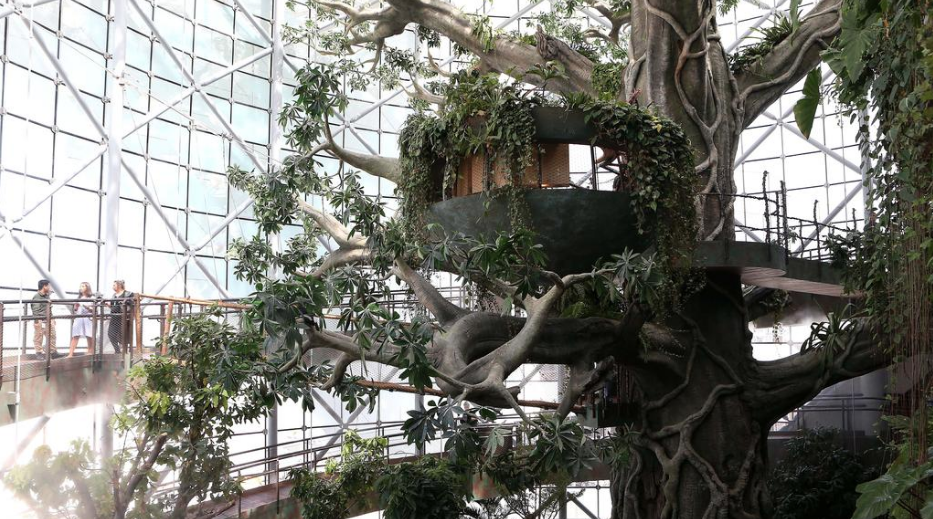 You get to essentially tour a different ecosystem level by level, observe the animals and even interact with them, as toucan, macaw, and other exotic birds fly among the branches.
The whole experience can be rather surreal, but good fun nonetheless. It definitely is something you need to see on your own.
7. Al Qudra Lakes, Dubai
Just a 30-minute drive from Dubai and you'll arrive at this manmade desert oasis.
At these lakes, you can expect to spot fox and onyx, plus numerous birds — swans, ducks, flamingos, and more. There are more than 200 species of birds here, including the endangered Steppe Eagle and the Asian Houbara! Join a tour, or explore on your own.
The lakes are a popular spot for picnicking and BBQ'ing, so you won't have the area to yourself. Many people even camp here, which would give you the opportunity to witness both sunset and sunrise.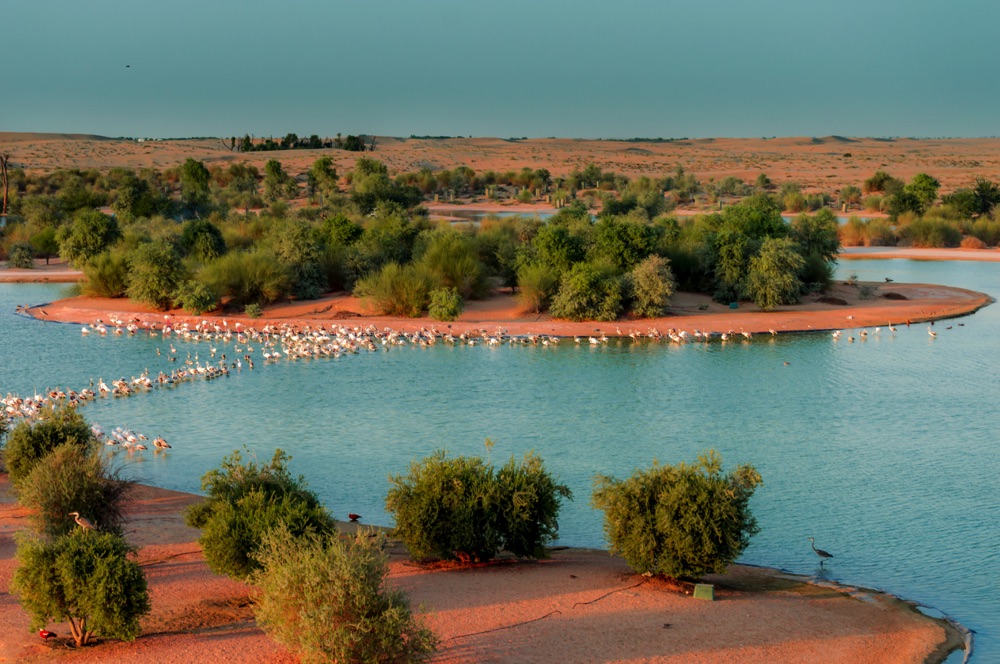 Just keep in mind that except for Love Lake, there are no amenities here. Bring all food and water that you will need. If you plan to drive offroad, make sure you have a proper 4-wheel drive vehicle. Click here for directions.
Enjoy the Natural Attractions in Dubai and Abu Dhabi!
With such a diverse range of activities and things to see and do, a trip to the UAE should be high on your travel list.
You'll definitely want to explore the beautiful architecture, eat at the highly acclaimed restaurants, and shop 'til you drop, but make sure to add these natural attractions in Dubai and Abu Dhabi to your itinerary.
Like This Article? Pin it!