The island of Grenada in the Caribbean is a true jewel. There are numerous things to do in Grenada, but there isn't a lot of information online about this tiny island nation.
Fast Answers: The Best of The Best in Grenada
We lived on and returned to Grenada on and off for the past for over 7 years, so we know lots of unique things to do in Grenada and this blog has more information about Grenada activities than any other online today.
The "Isle of Spice" is located just far enough south in the Caribbean to avoid the tourism masses that the northern islands see, yet it's still easy enough to travel to Grenada on a cruise ship or a direct flight from North America.
People often ask us "What is there to do in Grenada?!" The answer: There are so many things to do in Grenada, you could spend a year and never be bored.
If you're wondering what to do in Grenada during your trip, I've got you covered. Here is my list of 61 best things to do in Grenada:
*This post has been updated with new attractions for 2023.
61 Best Things To Do in Grenada
Let's go! Here are the 61 best things to do on the beautiful island of Grenada. In the 5+ years we've spent on the island, we've done many more fun activities than this, but we've narrowed it down so you can chip away at this list on your travels to The Isle of Spice!
1. Try Doubles (Grand Anse)
Doubles are a delicious breakfast found in the southern Caribbean and while they're originally from Trinidad, they're so delicious that they make our list of things to do in Grenada.
Sweet and spicy chickpea curry is wrapped inside of a soft bara bread.
Latta and her husband make the best ones on the island, and you can find them serving doubles out of the back of their orange van on Wall Street in Grand Anse. Update: Latta and Frank now have an orange and dark coloured van! Look for either one of them.
2. Visit Grand Etang National Park (St. Andrews)
This beautiful, lush park is set high in the mountains of Grenada. At 1,900ft, this is the perfect spot to escape the heat and enjoy nature.
With the Seven Sisters Waterfalls, a lake, and endless walking trails, Grand Etang is a place you could return to again and again. Visiting this National Park is one of the top things to do in Grenada for sure.
Join this highly-rated day trip which includes round-trip transportation, a guide to show you the way, and free time to enjoy swimming in the waterfalls.
*Note* These days there's a new highwire canopy obstacle course that has been built in the rainforest at Grand Etang falls. Many people enjoy this activity and it's something fun to do in Grenada with kids.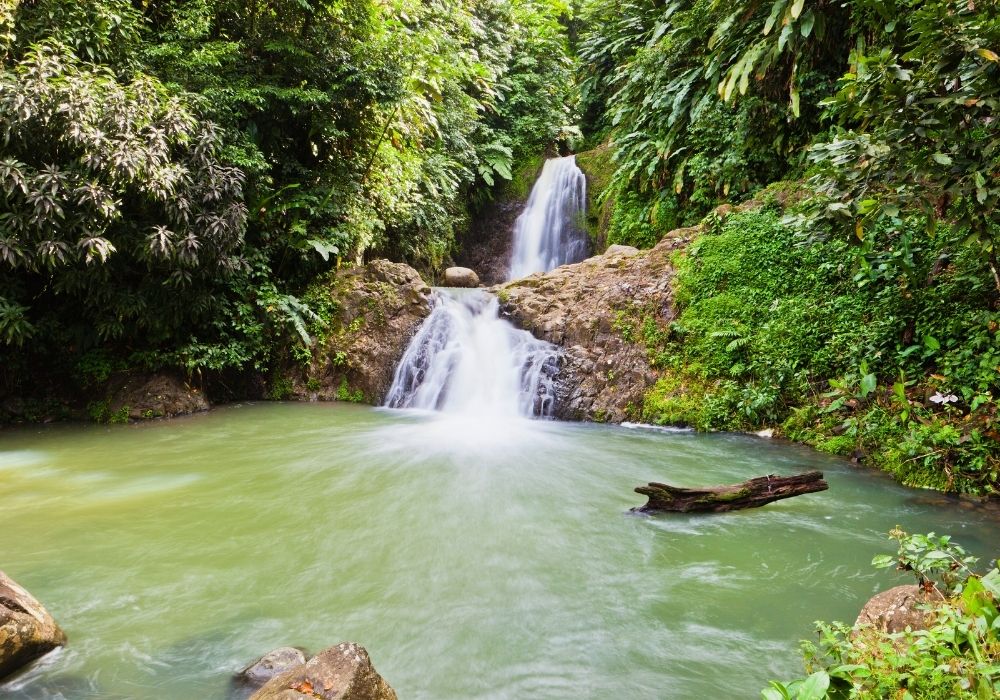 3. Swim at La Sagesse Beach (St. David)
A stunning cove with soft sand, clear waters, and lined with palm trees. This is one of the best beaches in Grenada. You can walk the length of the beach and hardly see another person.
There's only one hotel on this beach, which has a restaurant open for breakfast, lunch, and dinner. As La Sagesse is often very quiet, be mindful of your belongings and your safety when on this beach.
Update 2023: Sadly, there are new developments happening on this beach which has (in my opinion) harmed the natural feel and overall look of La Sagesse. The restaurant is still a nice place to eat, but the beach has lost some of its allure.
---
Top Tours in Grenada
Do you have a day to spare and want to take a tour around the island? Many people aren't comfortable driving abroad (and, the driving in Grenada can be a bit crazy!), but a great option is to take a half-day tour, or a full-day tour while ticking off some of the main activities in Grenada along the way. 
BY A LOCAL: 6hr Raggae Island Tour
If you want a truly local experience then you can meet up with a good friend of ours Akeem (A#keem) and enjoy this Unique Musical Island Adventure tour around the island. This is the kind of experience you won't find in any tourist brochures. It's "D real ting" 😉.
You'll get to enjoy a Raggae Concert, some of the island's best food (cooked by the river), free drinks, and much more. Plus you get to hang out with a true local of Grenada.
Akeem knows the island incredibly well, he lives the island life, he's an amazing musician, and just a great guy. Tell him The Goats sent you!
1. Full-Day Tour with Chocolate and Rum Sampling
This highly-rated full-day tour enjoy chocolate factories, national parks, strolls through town, rum tasting and waterfalls in this amazing full-day tour. Learn more about this tour here.
2. Half-Day Grenada Sunshine Highlights Tour
This highly-rated half-day tour takes in the lesser-visited west coast of Grenada. Heading up the coast, you'll take in the Belvidere Estate (learn about the growing of fruits, vegetables and spices), visit Concord Waterfalls, the Gouyave Nutmeg Processing Station, the Diamond Chocolate Factory (free samples of Jouvay chocolate included), and a stop at the Grand Etang National Park on the way back. Learn more and read traveller reviews here.
3. Half-Day Unspoiled Tropical Island Experience
This highly-rated full-day tour is one of the only tours on the island that takes in the colorful capital of St. Georges with a fun market tour, before heading to the island's best waterfalls and Grand Etang National park. Finally, the tour ends at one of our favorite beaches, Mourne Rouge. You can't go wrong with this one. Learn more and read traveler reviews here.
---
4. Enjoy Sunsets at La Luna (St. George)
There are many places to enjoy the golden sunset with a glass of wine in hand, but the best spot has to be at the gorgeous La Luna Hotel.
Going for a swim, lounging on beach chairs, and enjoying the sunset with a drink is one of the more romantic things to do in Grenada. You can come here for a drink at the beautiful open-air bar even if you're not a hotel guest.
Sunset at Laluna is a real secret on the island! Even the locals don't know about the half-price drinks, so you won't likely find this on any other list of things to do in Grenada.
☞ Click here to see the latest price of Laluna on their website.
5. Sailing (St. George)
Getting out on the water is a must when visiting an island! Sailing up and down the Caribbean coastline aboard a sailboat is a magical experience. We've sailed with quite a few sailing companies on the island. Many of them are now closed down but Savvy Sailing is still our favorite and still going strong.
The company is run by a local Grenadian Captain, Danny, who is also a great friend of ours. You can't ask for a better crew and captain with the perfect mix of fun, sun, and safety while out on the waters around Grenada.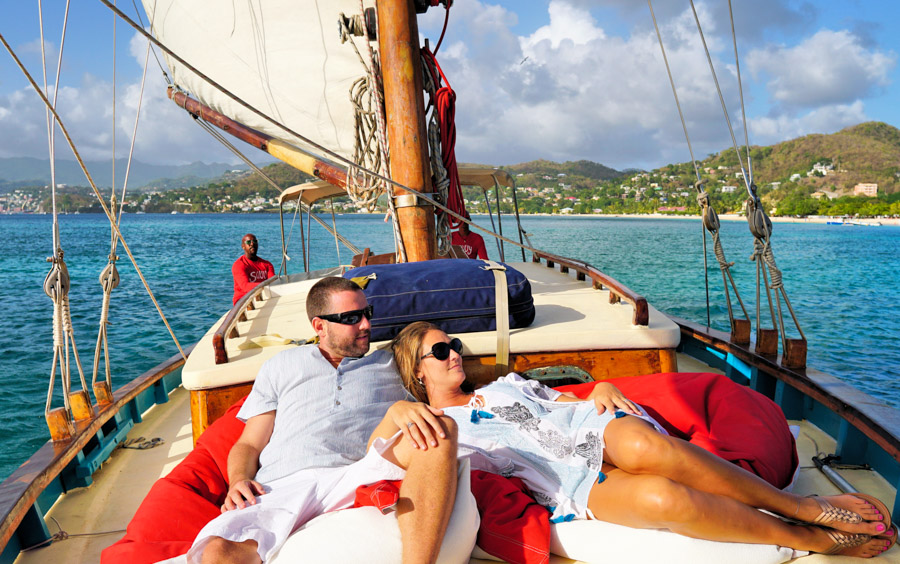 If you plan on spending more time in this region of the world, make sure to visit the Bahamas — in particular, the Exumas. We recently went swimming with the famous pigs and rented a boat to explore all of the amazing cays! The water around the Bahamas is crystal clear and seeing swimming pigs is something you don't want to miss.
6. Eat at Streetside BBQ's (Island Wide on Fridays)
Every weekend, local vendors set up their BBQs on the street and serve up some delicious pork and chicken. Check out the BBQ at D'Cliff, St. Paul's, Jerk chicken in Grand Anse Valley, and Rosanne's BBQ near Red Gate (St. David) it's the best BBQ on the island!
7. Party at Dodgy Dock (True Blue, St. George)
This awesome marina-side restaurant and bar is a nice place to meet up with friends for an afternoon beer or dinner. The views of the water and sailboats are lovely.
Plus, you can also stay here at the True Blue Bay Resort, or pay for a day pass which will grant you access to the watersports, pools, lounge chairs, food and drinks. Click here to learn more about True Blue.
Update 2023: Every Wednesday at Dodgy Dock is street food night. This is the perfect opportunity to eat lots of local food from friendly local vendors and support Grenadian small businesses.
8. Go Hashing: One of The Most Unique Things To Do in Grenada (Island Wide)
The Hash House Harriers are a social running/walking group that meets every Saturday. Someone sets up a trail around the island (usually about 2 hours long) and the runners/walkers follow piles of shredded paper until they reach the finish line.
The starting and finishing point is typically at a rum shack! It's a lot of fun and a very unique thing to do in Grenada.
Check out our article: On! On! The Art of Hashing in Grenada
Fun Note: Hashing is one of the best things to do on Grenada because you can become a part of a pretty cool community with loads of locals, expats, students, and tourists on the island.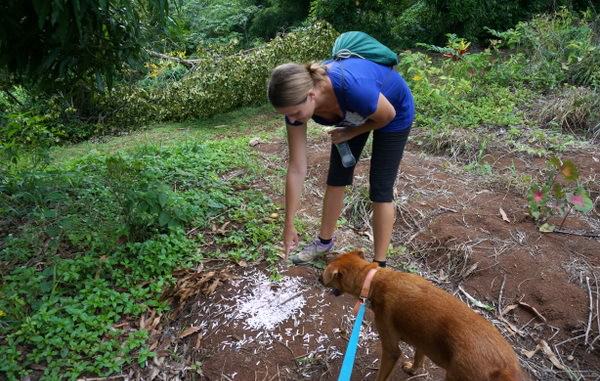 9. Scuba Diving
The diving around Grenada is stunning. This island isn't really known for being a diving destination, but with the first Underwater Sculpture Park in the world, shipwrecks, and coral that has been virtually untouched, it really should be more popular.
Check out Dive Grenada, the best dive shop on the island with excellent divemasters, and equipment. Nick has done numerous dives with this company and highly recommends them.
Don't miss this article and video: Under The Caribbean Sea With Dive Grenada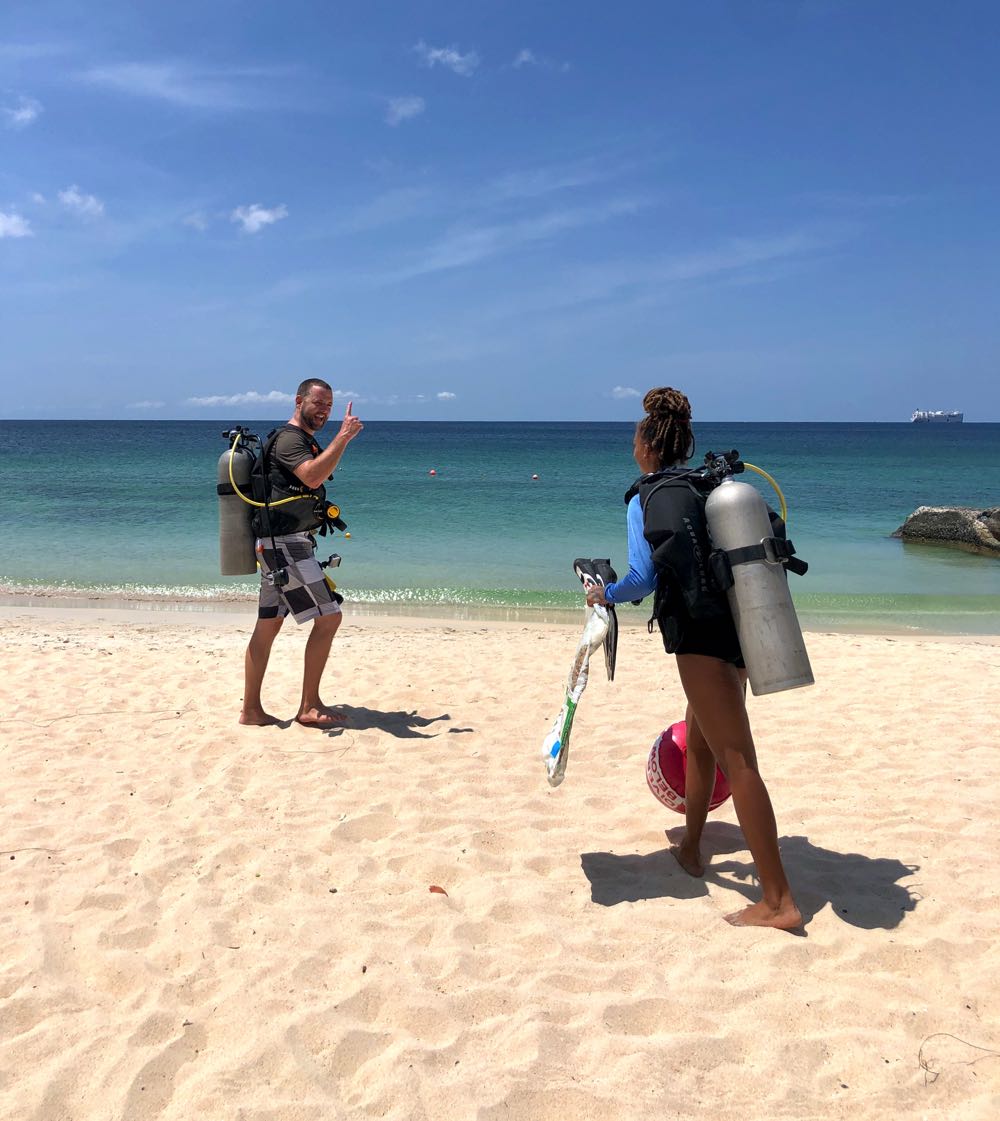 10. Stay at Mount Cinnamon (St. George)
Mount Cinnamon is our top pick for the best hotel in Grenada, but it's also the best place to enjoy weekend barbecues.
This is one of the best things to do in Grenada on a Friday night. If you like bonfires, s'mores, steel pan music and BBQs (and who doesn't?!) head to the Savvy Beach Cabana, which is one of the best restaurants in Grenada.
Dine under the stars with your feet submerged in the soft sand, while the local steelpan band serenades you with their tunes.
For dinner, take your pick between chicken, steak, fish, lobster and more, which are all served with a side of rice and peas, mashed pumpkin, roast potatoes and house salad.
For dessert, relive your childhood by toasting a marshmallow on the beach bonfire to create your own s'more, complete with graham crackers and a square of Grenadian chocolate.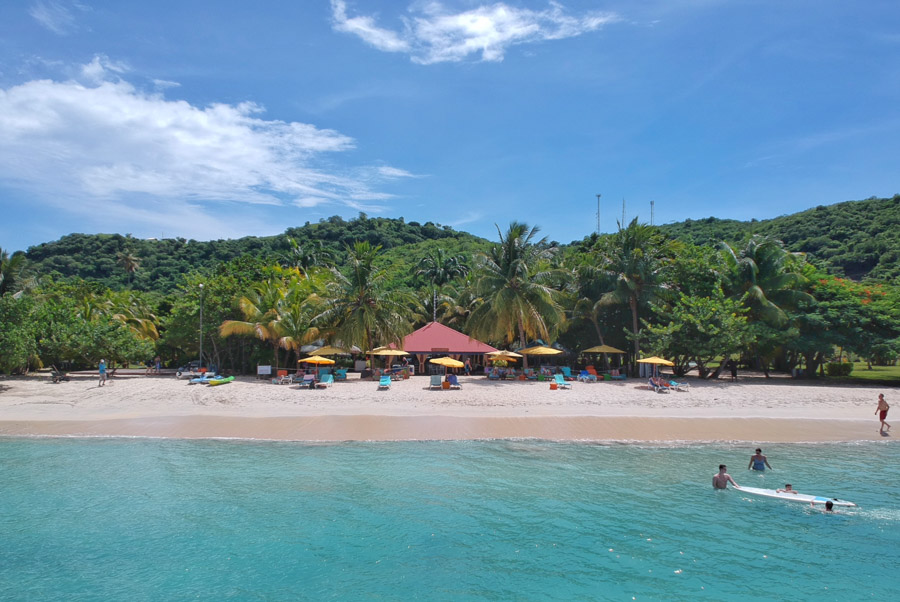 Insider Tip: Many guests assume that the side dishes are served in hollowed-out coconut shells, but they're actually made from calabash – impress your server with your island knowledge!
Outside of Friday nights, the Savvy Beach Cabana is open for lunch and drinks from 10:00am to sundown. This is a great lunchtime spot with a diverse, tasty, and affordable menu. Don't miss the catch of the day, the chuck burger, and (when in season) the lobster linguine.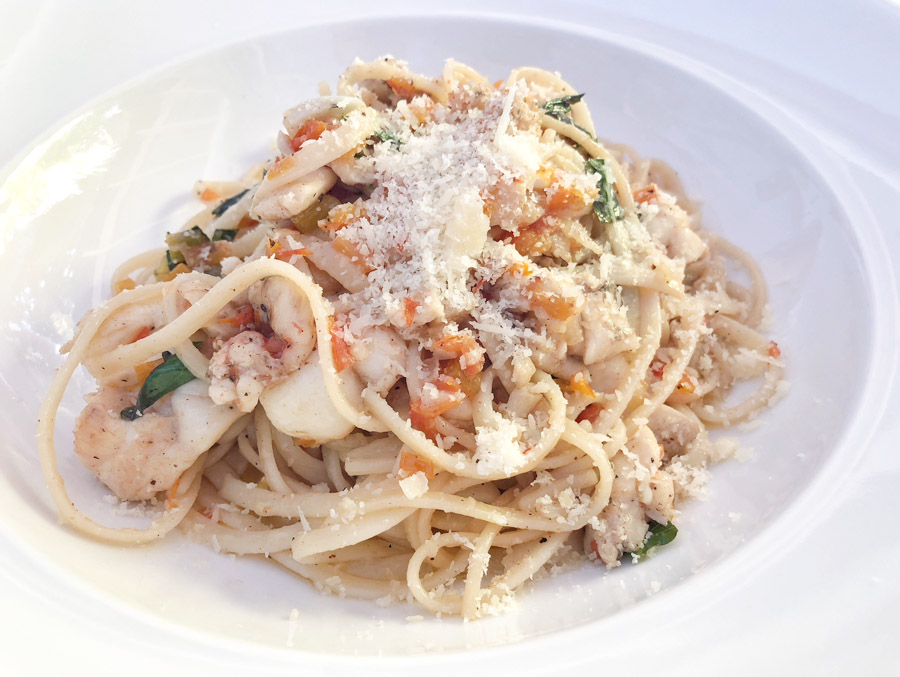 Savvy Beach Cabana is a part of Mount Cinnamon Grenada, one of the top-rated accommodation options here on the island. If you're looking for a great place to have dinner outside of Friday nights, then check out their second restaurant, Savvy's.
11. Whisper Cove Marina (St. David)
If you're looking for something to do in Grenada on Saturday afternoons, look no further! For only $10 USD you can enjoy a steak lunch with french fries, salad, and a cold beer! (Update: This restaurant is now under new management. On Saturdays, they now offer Spicy wings, Fish cakes, Fish tacos or Battered fish, with fries for $11 USD).
12. Hog Island (St. David)
This gorgeous island is just a 10-minute boat ride from Whisper Cove Marina, or you can drive the bumpy road from Mt. Hartman Dove Sanctuary, and then walk across the bridge. Or, you can set off on a long walk near the Secret Cove Marina.
Hog Island has a great trail for hiking, a nice (shallow beach), and wonderful views. This is one of the more off-track places to visit in Grenada.
13. Roger's Bar (Hog Island)
There's a little ramshackle bar located on Hog Island and every Sunday, Roger puts on a lunch BBQ consisting of chicken or fish, green salad, macaroni salad and potato salad. It's the perfect spot to enjoy a beer while swimming in the stunning water.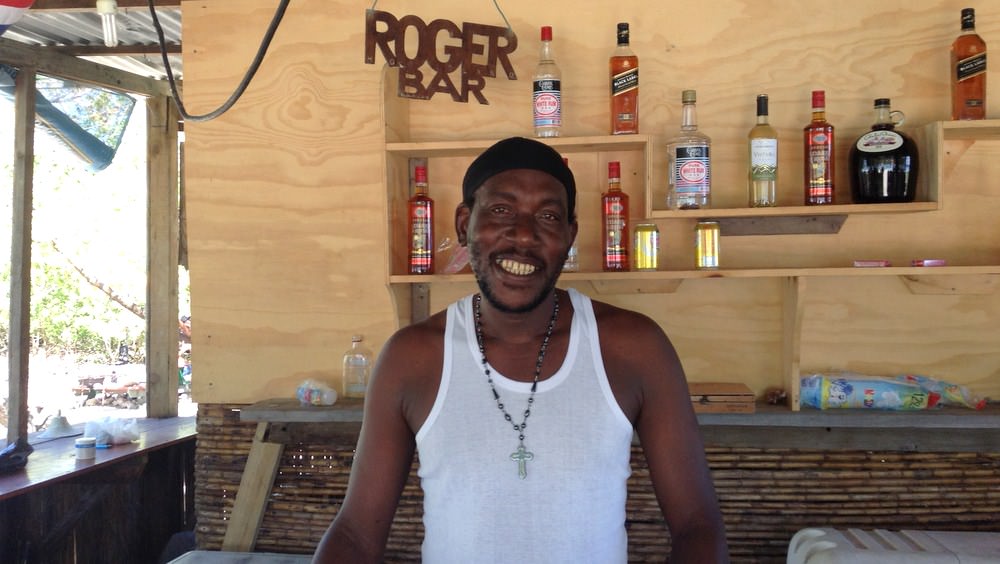 14. St. George's Carenage (St. George)
St. George's (what the locals call "town") is a very colourful capital city! Walking along the carenage while enjoying the views of the water, the buildings, and the boats coming and going makes for a great afternoon.
15. Fort George (St. George)
This fort was built in 1705 by the French and is located to the west of the harbour. The views from atop the fort looking down on St. George's are fabulous. An entrance fee of $5EC is payable when you enter the fort.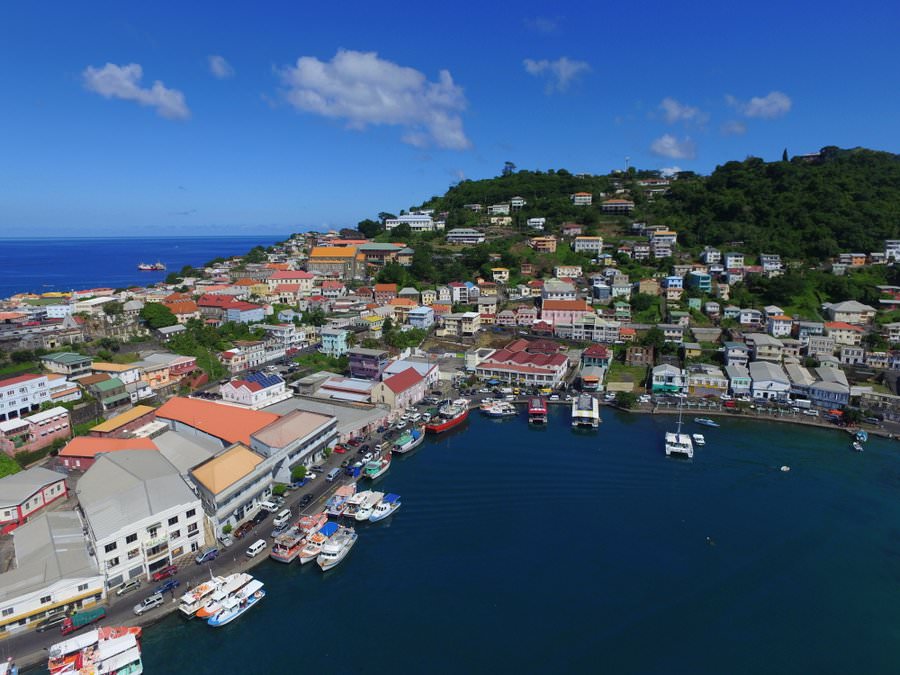 16. Volunteer at the GSPCA (St. George)
Do some good during your holiday and spend a couple of hours helping the sweet dogs and cats at the GSPCA. You can stop by for a visit to give the animals some love, spend an hour or so taking a dog for a walk, or, if you don't have the time, you could always donate some cash to this non-profit company.
Be warned, the fur babies are so cute you'll want to take one home with you!
While looking for things to do in Grenada, consider activities that give back to the local communities. The GSPCA helps provide affordable animal care to locals through donations and volunteer work.
17. Belmont Estate (St. Patrick)
This gorgeous 17th-century plantation is a great place to go to learn about cocoa processing. You can also visit gardens, the goat dairy farm, and enjoy a delicious Grenadian lunch.
To go on a tour of the plantation and learn about cocoa, the cost is only 13EC ($4.80) /person, which includes tasting some delicious chocolate at the end!
18. See The Leatherback Turtles (St. Patrick)
Leatherback turtles start their nesting season on Levera Beach in March, and the hatchlings head out to the water by July.
Seeing these massive turtles haul themselves up on shore, dig a canal in the sand to drop their eggs, cover them up and head back out to sea is an unforgettable experience.
You need to come here in the evening with a guide in order to see the turtles. Learn more about volunteering with the conservation of leatherback turtles here.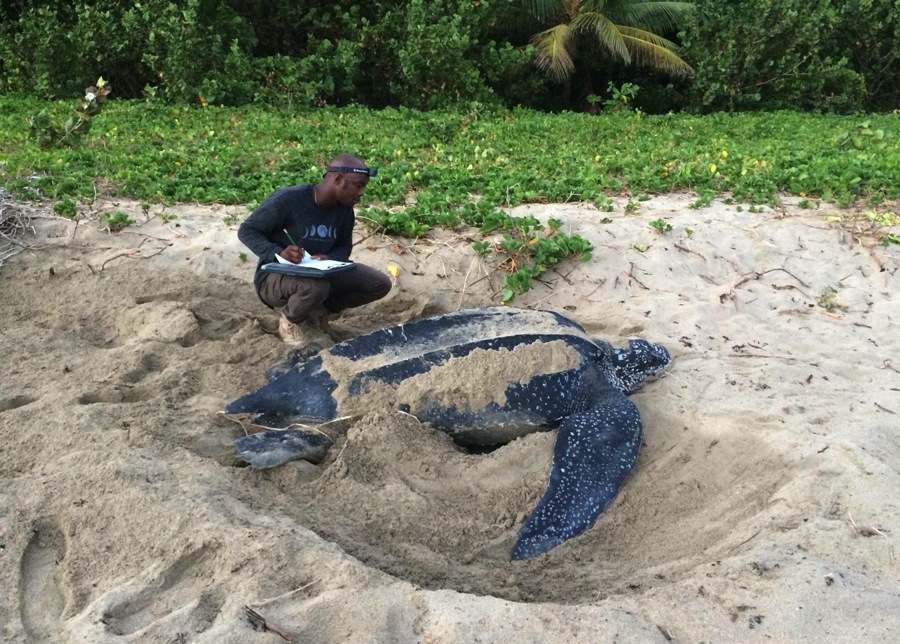 19. River Antoine Rum Distillery (St. Patrick)
It's a known fact that rum is the drink of choice throughout the Caribbean. The River Antoine Rum Distillery's processes have changed very little since the 1800's. This is the oldest functioning water-propelled distillery not only in Grenada but in the entire Caribbean.
The best Grenada rum depends on who you ask, but if you're looking for an interesting tour, check out this place. Tours here are $5EC ($1.85) and you get a tasting at the end. Bottom's up!
20. Hike to Golden Waterfalls (a more adventurous thing to do in Grenada)
If you're looking for a stunning hike with hot and cold waterfalls, then the trek to Golden Waterfalls is a must.
The falls are that gorgeous golden colour due to the sulfur springs flowing out of one of the vents in Mount St. Catherine (which is an extinct volcano).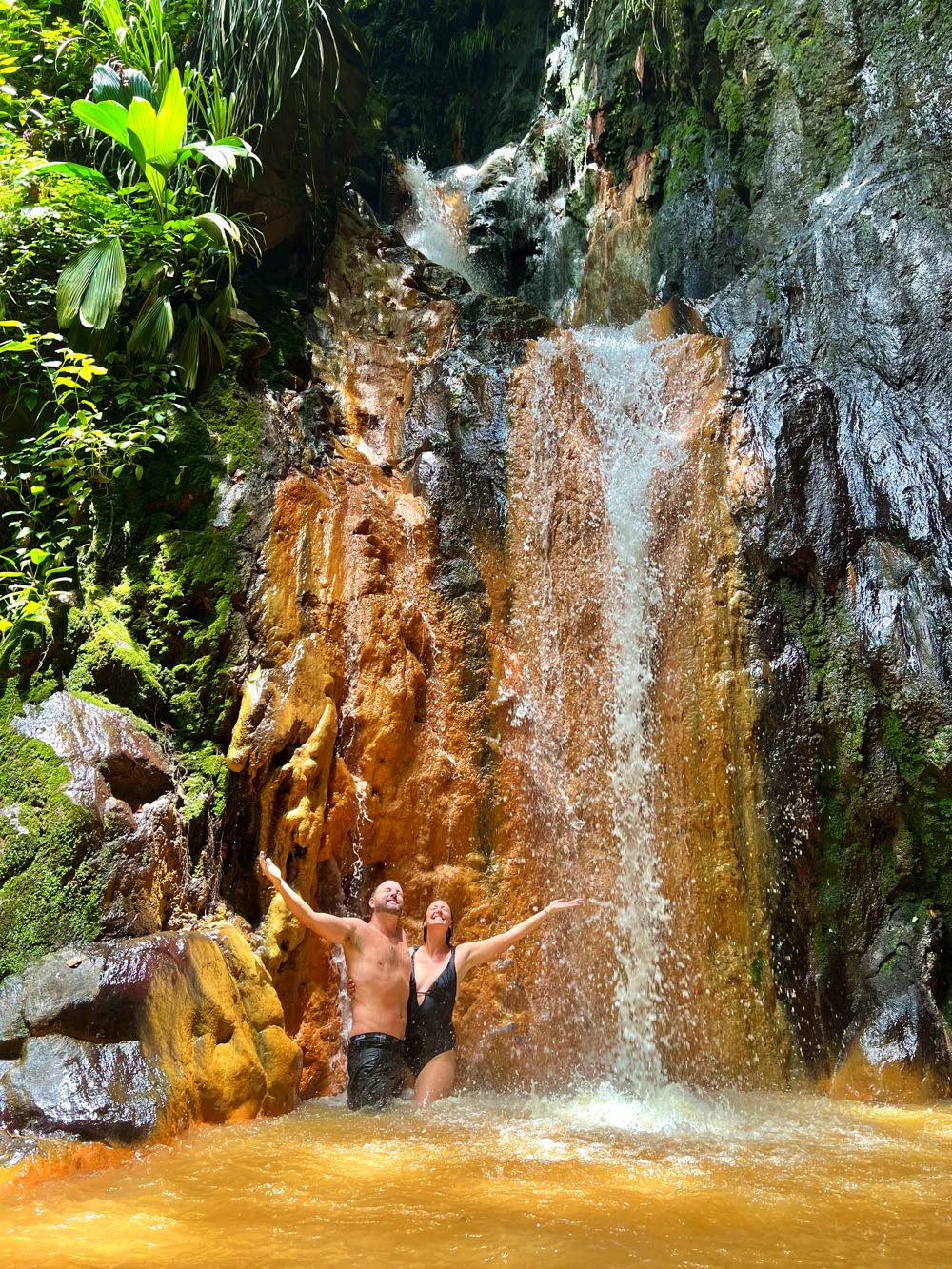 The really cool thing about the falls is that there is both hot AND cold water here — the hot sulfur spring and the cold river.
There are around 25 waterfalls on this volcanic island, but the Golden Falls have topped our list of favorites in terms of uniqueness and beauty!
A guide is definitely needed to visit here as the trail isn't marked at all and there are some challenging parts. Contact Delon from Real Grenadian Taxi and Tours for details on visiting this natural attraction in Grenada.
21. Try Oil Down – Grenada's National Dish (Islandwide)
This one-pot dish is actually very complex and time-consuming to make. The ingredients are coconut, saffron, callaloo, chicken, crab, dumplings, breadfruit (and more).
We've only seen it made at friends' houses, or at get-togethers, so if you want to sample a taste of Grenada, ask at your hotel where you can try it!
While we've listed oil down as one of the things to do in Grenada, it's actually quite hard to find because it's so difficult to prepare that most restaurants won't feature it on their menu.
To maximize your chance of trying this delicious dish, come around Carnival time when there's oil down on many street corners.
22. Sunset Sailing (St. George)
For an amazing afternoon of sailing (or multi-day trips), check out Savvy. They sail on a traditional sloop boat and offer fun times on the sea.
You'll sail up the west coast, do some swimming, some drinking and of course, enjoy the company of Danny and his crew. Click here to read about our experience aboard the Savvy, it is definitely one of our favourite things to do in Grenada.
*Note: Savvy is locally owned and operated. Danny runs private tours on his boat, so you'll never be stuck with a group of people who you don't know. Click here to contact Savvy and arrange your day at sea.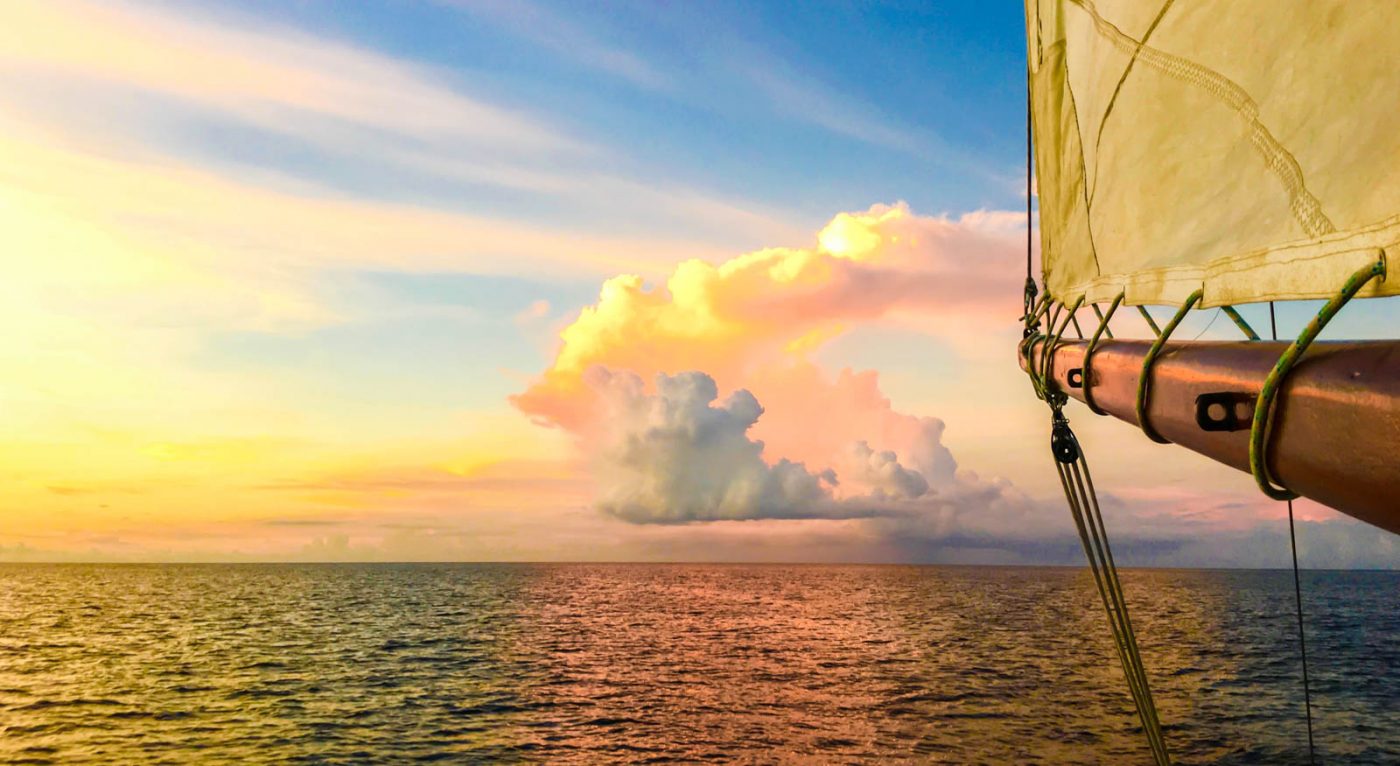 23. Levera Beach (St. Patrick)
Located at the very northern tip of the island, the beach here is lovely and is a great spot for a picnic. The beach is usually quite empty, so be mindful of your belongings. Also, this is not a good beach for swimming as the currents are very strong.
24. Carib's Leap (St. Patrick)
In 1651, rather than face domination by the French invasion, the native Carib people leaped to their death off of this cliff. Located in the town of Sauteurs, this is a very historical spot in Grenada.
25. Royal Mt. Carmel Waterfalls (St. Andrew)
Located just 3 km south of Grenville, these are the tallest waterfalls in Grenada. After an easy 20 – 30 minute walk, you'll arrive at the falls. A great place for a picnic and a swim.
26. Grand Anse Beach: One Of The Best Things To Do in Grenada! (St. George)
This is the largest beach in Grenada, and arguably the most beautiful. The sand is soft and white and the waters are clear and calm. This is the most popular beach in Grenada, yet it's practically empty.
You can go diving, swimming, kayaking, snorkelling, or just chill out on the sand with a book in hand. It's also a good spot to watch the sun set. This beach is one of the top tourist attractions in Grenada, and for good reason.
If you're looking for free things to do in Grenada, lounging on Grand Anse beach should be at the top of your list.
27. Umbrella's Beach Bar (Grand Anse Beach, St. George)
Located on Grand Anse Beach, this is a popular spot for locals, students, tourists and expats. The food is good and it's a casual place to head in for a drink.
Try the Umbrella burger, catch sandwich, beet salad, wings and the wedges! Fridays and Saturdays they have live music from 7:00 – 9:00 and on Sundays from 5:30 – 7:30pm. Find them here on the map.
28. Morne Rouge Beach (St. George)
Located one bay over from Grand Anse Beach on the south end, this is a gorgeous cove. The waters of Morne Rouge (BBC Beach) are very calm and perfectly clear. This beach is much quieter than Grand Anse, and is one of the best beaches in Grenada.
29. Fort Frederick (St. George)
Built by the French, this fort is a great place to come for views of St. George's and the Caribbean Sea. It's right next to Fort Mathew (below) and they both make our list of things to do in Grenada because they both have great views over the nation's capital, St.George.
30. Fort Mathew (St. George)
Just adjacent to Fort Frederick, this fort went from battleground to insane asylum! The 18th-century fort offers underground tunnels and cells, plus army kitchens and more.
☞ SEE ALSO: Travel to Grenada: The Ultimate Budget Guide
31. Practice Yoga (St. George)
Practicing yoga is one of the best things to do in Grenada after a long flight… or if you've been sitting on the beach for too long!
There are a few great yoga spots around Grenada. Check out Spice Harmony Yoga in St. George, MitSukha at Coyaba Beach Resort (St. George) and Sankalpa at True Blue Resort (St. George).
32. Annandale Falls (St. George)
Located just 15 minutes from St. George's, these are the easiest falls to visit on the island. The 15-meter-high waterfall is beautiful and a great spot for a swim.
This is one of the most popular things to do in Grenada, and one of the top sights when coming from the cruise ships. So, you'll likely see lots of people (locals and tourists) at this refreshing hot spot.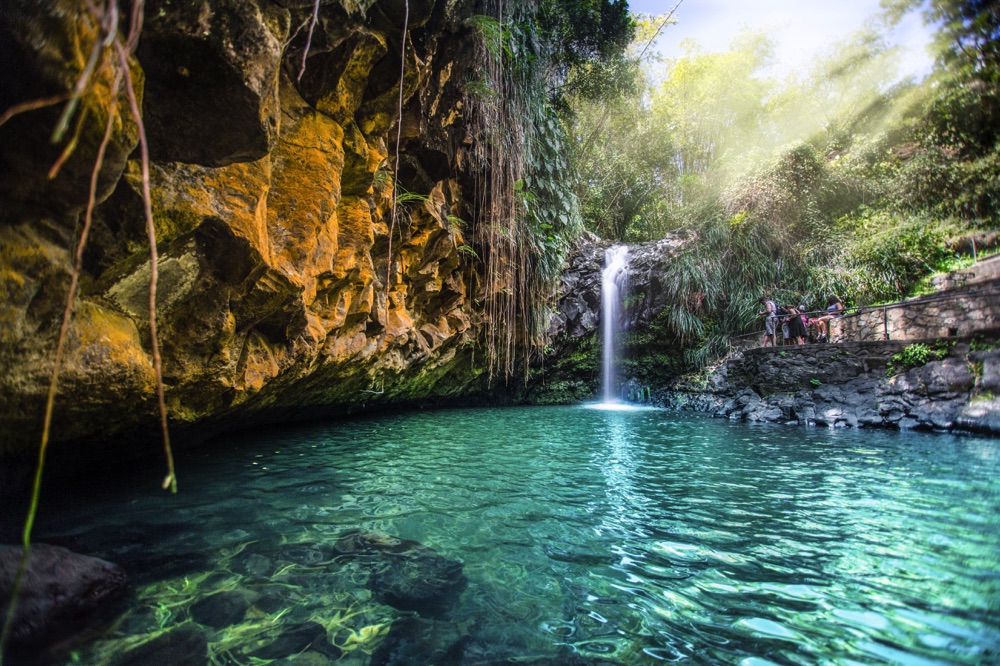 33. Laura's Spice Garden (St. David)
Grenada is known as the Island of Spice and a trip here wouldn't be complete without learning about the nutmeg and other spices this island is famous for.
The tour here is about 20 minutes and the guide will explain every use for each herb and plant on the property. There's a $5EC ($1.85) entrance fee.
34. Ronda's Ice Cream (St. David)
This small, side-of-the-road ice cream shop has local ice cream on offer. Make sure to try the cookies n' cream! Located just before the Grenada Marina turnoff on your right-hand side when driving to La Sagesse Beach, if you're coming from the south.
35. Levera National Park & Bathway Beach (St. Patrick)
A lovely area in the very northern reaches of the island. Walk around the lagoon, or enjoy bird-watching. Bathway Beach is a great place to spend the afternoon as well, just be aware of strong surf here.
A trip "up island" may seem like a long way to go, but it's worth the drive and is one of the best things to do in Grenada.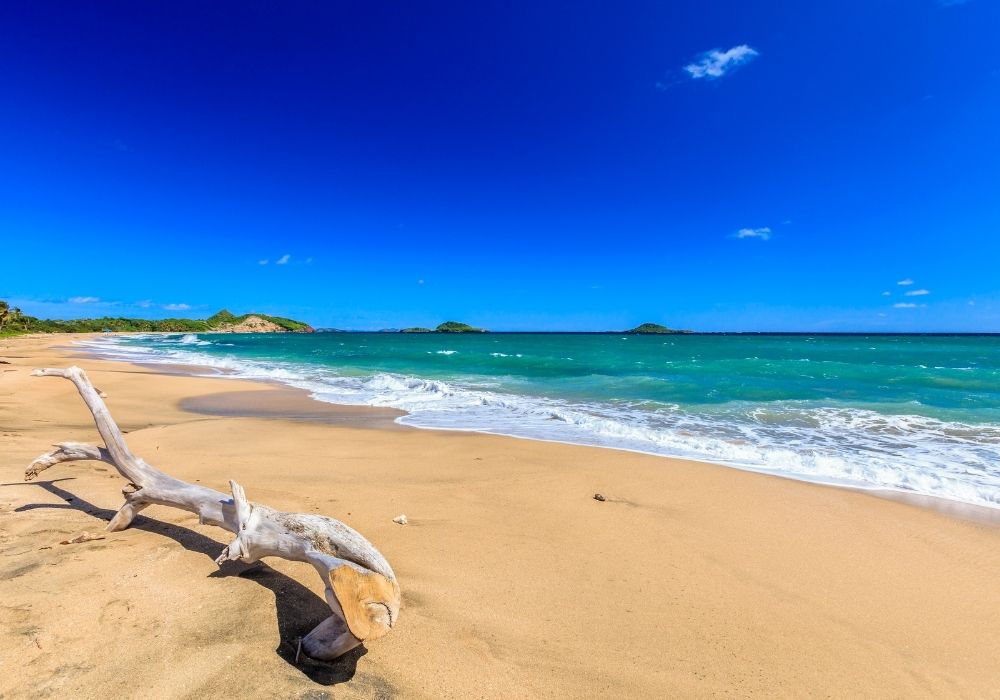 36. Dragon Bay (St. George)
This local beach is a nice spot to enjoy a picnic and do some snorkelling. Here you'll rarely see other tourists, it's a great spot to get to know the locals.
37. Fish Friday in Gouyave (St. John)
An open-air event held each Friday. All sorts of fresh, local seafood is available and sold at little vendors. This is a very local event filled with good food, music, and dancing in the street. It starts around 6:00pm and ends around 1:00am. This is one of the most popular things to do in Grenada.
38. Go For a Craft Beer (St. George)
Located near the Calabash Hotel in Lance Aux Epines is the West Indies Beer Company. The beers are brewed in-house and are very tasty. Try the IPA! The food here is also very affordable, and they often have live music. Click here to learn more.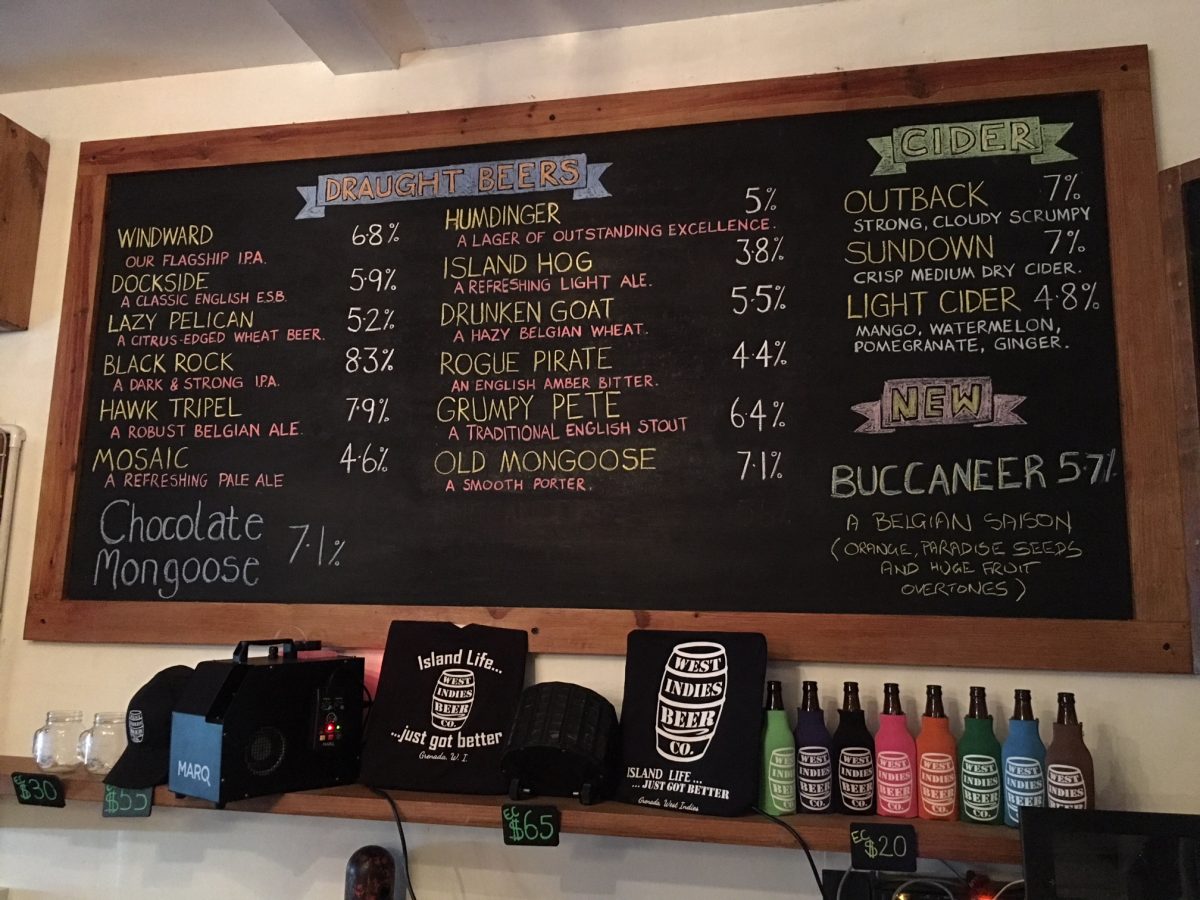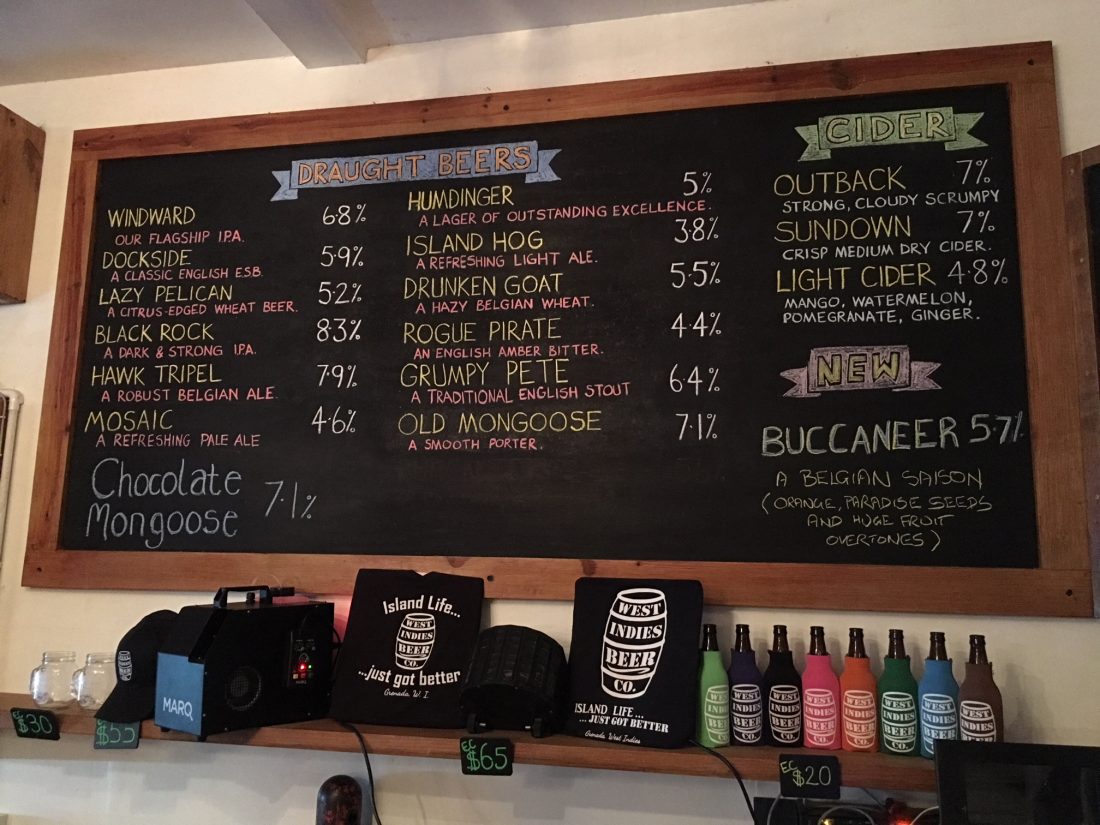 39. Cycle Tour (St. George)
Mocha Spoke is a cool company here on the island offering cycle trips around Grenada. The guides are professional and the bikes are top-notch. Mocha Spoke is also an open-air cafe, serving up waffles, paninis, and of course, coffee! Update, they no longer run cycling tours, but still have the cafe.
40. Celebrate Carnival (St. George)
Carnival in Grenada is held every year, with the main music competitions and parades in July / early August. Music, costume, and dance competitions happen all over the island. It's a bright, colourful, crazy festival!
Don't miss J'ouvert, Monday Night Mas, and Pretty Mas. If you're looking for things to do in Grenada, this celebration is our top choice.
In our opinion, this is one of the absolute best things to do in Grenada.
41. Kayak Tour (St. David)
Conservation Kayak is the company to go with if you want to do a kayak tour. They leave from Le Phare Bleu after a good 30-minute or so briefing. Tours vary, but most paddle out near Hog Island.
42. Deep-Sea Fishing (Leave From St. George)
Grenada has some excellent fishing opportunities. Sailfish, marlin, tuna, mahi-mahi, and barracuda are just some of the many fish you could hook into! If you're an avid fisherman or woman, you'll want to check out the Billfish Tournament which takes place each year in January.
But either way, if you're interested in a fun day at sea with a professional, safety-oriented, fun crew, contact Frank, the owner of the Oceanus. We went on a 6-hour trip with this Grenadian-owned and operated company, and highly recommend it.
Click here to learn more about the Oceanus and book your deep-sea fishing excursion.
43. Concord Falls (St. John)
There are actually three waterfalls here. The first is easily reached, while the other two require a bit of a hike through gorgeous scenery. It's about 45 minutes to the second fall. This is a great place to spend the day, pack a picnic.
44. Mt. Moritz Breakfast (St. George)
This breakfast is held on the last Sunday of each month. Many local foods are on offer and there's music as well. It's a well-attended event and there's lots of seating and parking.
45. Saturday Morning Grenada Market (St. George)
If you're looking for some fresh fruits and veggies, this is the place to come on Saturdays! Located right in the center of St. George's, just one street back from the Grenada fish market.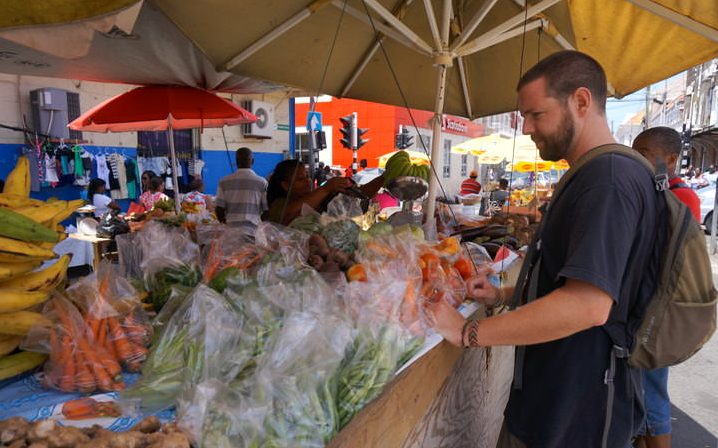 46. Mount St. Catherine (St. Mark)
At 840m (2,760ft), this is the highest point on the island. Mount St. Catherine is actually a stratovolcano and the youngest of the 5 volcanoes that Grenada is comprised of.
You can hike up to the top, but you'll need to take a guide. Tours are available out of Victoria, or you could arrange them in St. George's. As with the Golden Falls trip, you can contact Delon with Real Grenadian Taxi and Tours to learn more.
47. Magazine Beach (St. George)
This is one of the best beaches in Grenada. You'll be sharing the beach with the guests of the Rex Grenadian hotel and Maca Bana Villas, but it's still pretty quiet.
At the southern end of the beach is the Aquarium Restaurant which has an awesome Sunday BBQ, or bring your own food and drinks to the beach. You can snorkel here as well if you have your own gear.
48. Lake Antoine (St. Patrick)
This shallow crater lake is a great place for bird watching. There's a trail that circles it as well. Bring some food and spend a couple of hours chilling out.
49. Grenada Fish Market (St. George)
A great place to find fresh fish! Snapper, barracuda, mahi-mahi, and more are on offer. Shore fishing in Grenada is quite popular, but to haul in these big fish, these fishermen will be out on their boats.
Prices are about $8EC ($3) / pound. Even if you're not interested in purchasing anything, it's an interesting and bustling place to visit.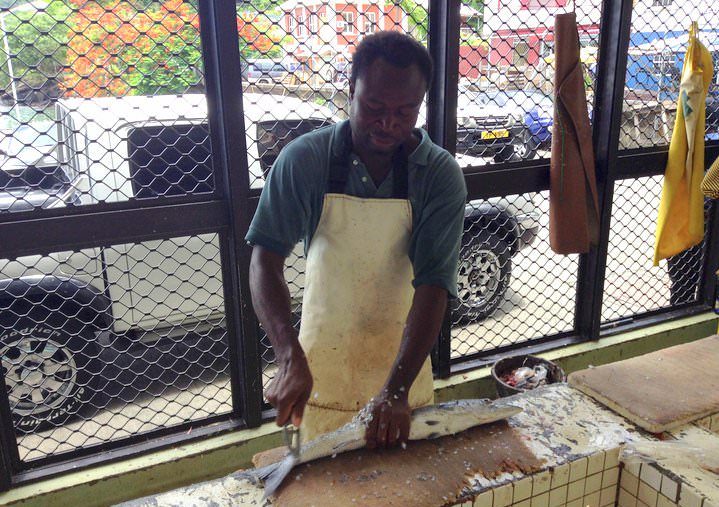 50. Black Bay Beach with Amerindian markings (St. John)
About a 20-minute hike from Concord off the main road is this secluded beach. There's also a cave here with Amerindian markings inside.
51. Dougaldston Spice Estate (St. John)
Learn about various spices while on tour at this 600-acre nutmeg plantation. This is a non-working spice factory now, but you can still visit to see the old buildings and machinery and get a glimpse of what a working plantation might have been like in its heyday.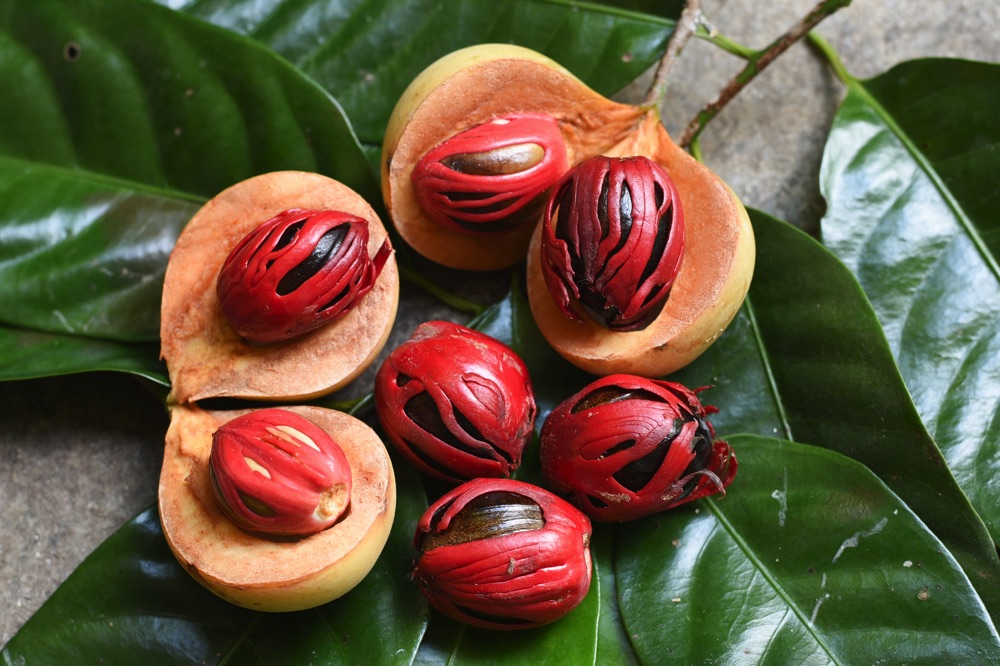 52. St. George's Anglican Church (St. George)
This church was built in 1825 but suffered during Hurricane Ivan. This church has no roof, but a bell, clock tower, some stained glass, and tiled flooring remains. It's an interesting stop during your trip to St. George's town.
53. National Museum (St. George)
This building has been a lot of things in the past — French Barracks, a prison, two different hotels, and a warehouse. In 1976 the museum was established.
The sections here are Slavery, First Inhabitants, Plantation Economy, Whaling & Fishing Archaeology, and Early Transport & Technology. You'll also find Carib and Arawak artifacts here. For history buffs, this is one of the things to do in Grenada that you won't want to miss.
54. Drive Around the Island
This is a must-do when in Grenada. You'll probably get lost a couple of times as there aren't many road signs, but just pull over and ask someone where you'd like to go!
Get a good map (or have Google maps), bring some food, and enjoy the day. We recommend having a picnic up near Bathway Beach. Car rentals cost around $50 / day, but once you have a car it's easy to tick many items off your list of things to do in Grenada.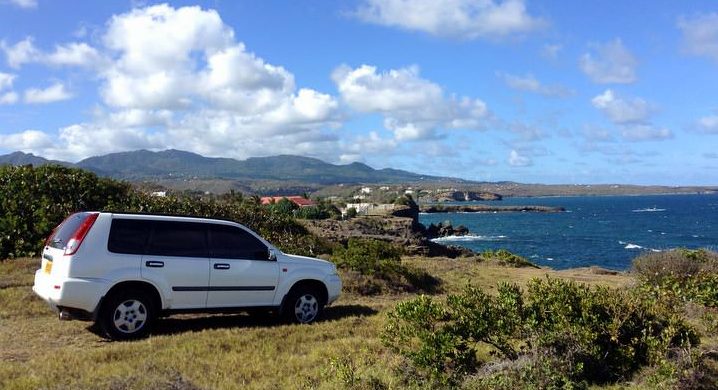 55. House of Chocolate (St. George)
Another fun thing to do in St. George's, Grenada's capital. This boutique bakery and mini-museum has been around for just a few years and is already a very popular spot to visit. Enjoy a homemade chocolate goodie, while learning about cocoa in Grenada. Learn more here.
56. Go Bowling (St. George)
This is one of the newer things to do in Grenada. Lavo Lanes are on the road to the airport, and they have about 8 lanes for bowling.
Upstairs and the rooftop terrace are more of the party areas, complete with a bar and oftentimes, live music. If you're wondering what to do in Grenada when it's raining, this is a good idea. Click here to learn more.
57. Le Phare Bleu (St. David)
Le Phare Bleu is a marina, restaurant, and boutique hotel. Enjoy a meal at the newly renovated restaurant, or a drink at the Lightship which is docked just offshore.
A new addition to the hotel and restaurant is the onsite Bluelight Gin Factory. Learn more about the gin tour and information here.
The surrounding area is residential (Egmont) and is a great place for walking. Try to find your way down to one of the little beaches.
58. Golfing at Grenada Golf & Country Club (Grand Anse/St. George)
You can play 9 holes ($32USD) or 18 holes ($42USD) here. The cost of a caddy and club rental is on top of the initial cost. The views of the Caribbean Sea from the greens are stunning.
There's also brunch on Sundays from 10am, make sure to call and make a reservation beforehand. Their telephone number is 473 444 4128 and email address is: grengolfclub2017@gmail.com.
59. Visit Carriacou & Petit Martinique
The island country of Grenada actually consists of 6 smaller islands, as well as the largest island, Grenada. The sister isles of Carriacou and Petite Martinique are really the only other two islands you'll hear about.
You can take the Osprey Ferry to visit these islands (about a 2-hour journey from Grenada to Carriacou), fly with SVG Air, or you can take a sailboat for a journey up the Grenadine chain with Savvy.
60. Listen to Steel Pan Music in Grenada
Listening to steel pan bands while in Grenada is a must. The sound is incredible, the vibe is great and the music will make you want to dance.
You can find the music at Prickly Bay on certain nights, Friday nights at Savvy Beach Cabana, during Carnival season, and at the Spice Basket as well.
61. Pure Grenada Music Festival (St. George)
April 2016 was the debut of this music festival and it's been going on every year since! In fact, it was listed by Billboard Magazine as a top 7 must-see festival in the Caribbean.
The venue is the grassy area at Port Louis Marina, and the entire production is top-notch. The stage, sound, vendors, and performers all come together to create this incredible event.
2018 had three different music nights: Soul, Reggae & Caribbean, with top international artists such as Daley from the UK, Chrisette Michele, and Morgan Heritage from the USA, Jah9 and Protoje from Jamaica, Alison Hinds from the UK/Barbados, and numerous Grenadian performers as well!
The local talent on this island is phenomenal. Click here to learn more about the festival, and check out our live Facebook video from the event below.
2019 Grenada Music Fest was held at Quarantine Point, with some top performers, such as Ky-Mani Marley, Maxi Priest, Busy Signal, Patrice Roberts, and the Grenadian artists Lavaman, Luni Spark & Electrify, Wuss Wayz and more. It was paused for a couple of years for obvious reasons, but now it's back.
To learn more about the music events on the island, click here.
Now You Know What To Do in Grenada!
Grenada is one of the most jam-packed islands (or countries) that we've ever come across. For such a small nation, it really does pack a punch. There are many more things to do in Grenada that I could add to this list, but I don't want to give away all of our secrets…
Your Turn! Have you ever been to Grenada? Do you know more things to do in Grenada? Anything you don't think belongs here? Share below.
For more articles and videos about living and travelling in Grenada, click here.
Like This Article? Pin it!