The island of Grenada in the Caribbean is a true jewel. There are numerous things to do in Grenada, but there isn't a lot of information online about this tiny island nation.
We've lived here for over 5 years, so we know lots of unique things to do in Grenada and this blog has more information than any other online today.
The Isle of Spice is located just far enough south in the Caribbean to avoid the tourism masses that the northern islands see, yet it's still easy enough to travel to Grenada on a cruise ship or a direct flight from North America.
There are so many things to do in Grenada, you could spend a year and never be bored!
If you're wondering what to do in Grenada during your trip, I've got you covered. Here is my list of 61 best things to do in Grenada:
*This post has been updated in 2021. These items are in no particular order and the Parishes are listed in brackets.
1. Try "Doubles" (St. George) – one of the best things to do in Grenada for foodies
Doubles are a delicious breakfast found in the southern Caribbean and while they're originally from Trinidad, they're so delicious that they make our list of things to do in Grenada.
Sweet and spicy chickpea curry is wrapped inside of a soft bara bread.
Latta and her husband make the best ones on the island, and you can find them serving doubles out of the back of their orange van on Wall Street in Grand Anse. Update: Latta and Frank now have an orange and dark coloured van! Look for either one of them.
2. Grand Etang National Park (St. Andrews)
This beautiful, lush park is set high in the mountains of Grenada. At 1,900ft, this is the perfect spot to escape the heat and enjoy nature.
With the Seven Sisters Waterfalls, a lake, and endless walking trails, Grand Etang is a place you could return to again and again. Visiting this National Park is one of the top things to do in Grenada for sure.
Join this highly rated day trip which includes round trip transportation, a guide to show you the way, and free time to enjoy swimming in the waterfalls.
*Note* These days there's a new highwire canopy obstacle course that has been built in the rainforest at Grand Etang falls. Many people enjoy this activity and it's something fun to do in Grenada with kids.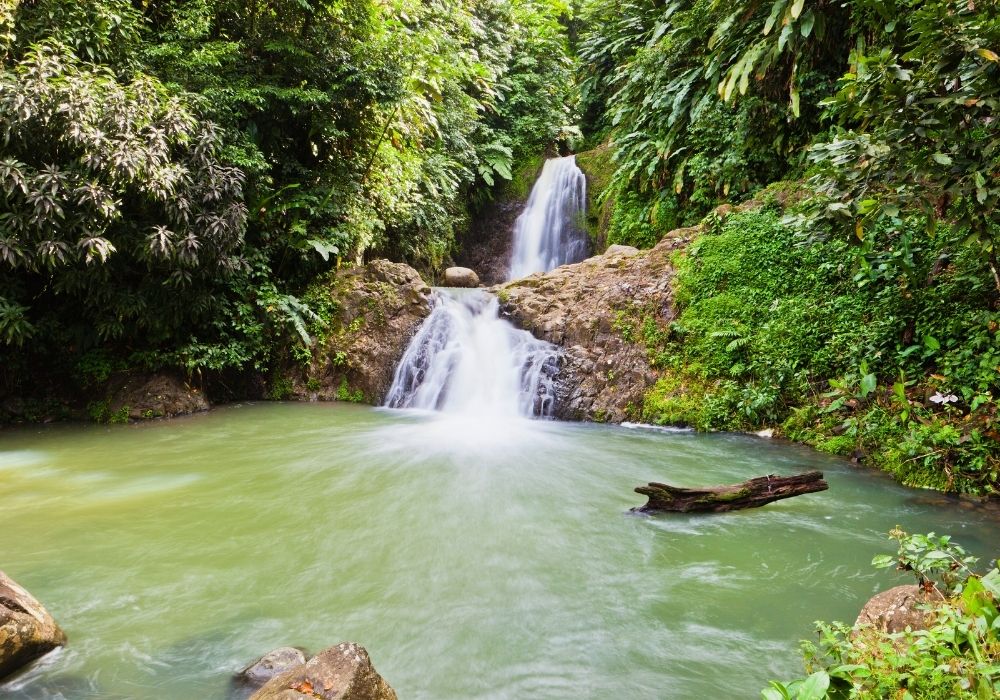 3. La Sagesse Beach (St. David)
A stunning cove with soft sand, clear waters and lined with palm trees. This is one of the best beaches in Grenada. You can walk the length of the beach and hardly see another person. There's only one hotel on this beach, which has a restaurant open for breakfast, lunch, and dinner.
*Note: as La Sagesse is often quite quiet, be mindful of your belongings and your safety when on this beach.
---
Top Tours in Grenada (the easiest way to see all of the top attractions in Grenada)
Do you have a day to spare and want to take a tour around the island? Many people aren't comfortable driving abroad (and, the driving in Grenada can be a bit crazy!), but a great option is to take a half-day tour, or a full-day tour while ticking off some of the main activities in Grenada along the way.
1. Half-Day Highlights of the Things to See in Grenada
This highly-rated half-day tour takes in St. George's town, Annadale Falls, Grand Etang Lake, a rum distillery, and the stunning Morne Rouge Beach. Learn more and read traveller reviews here.
2. Half-Day West Coast Highlights
This highly-rated half-day tour takes in the lesser-visited west coast of Grenada. Heading up the coast, you'll take in the Belvidere Estate (learn about the growing of fruits, vegetable and spices), visiting Concord Waterfalls, the Gouyave Nutmeg Processing Station, the Diamond Chocolate Factory (free samples of Jouvay chocolate included), and a stop at the Grand Etang National Park on the way back. Learn more and read traveller reviews here.
3. Full-Day Highlights and Top Places To Visit in Grenada
This highly-rated full-day tour is a bit longer and offers many of the things to do in Grenada that I list in this article. You'll visit St. George's town, Grand Etang rainforest, Concord waterfalls, Douglas Spice Plantation, and River Antoine rum distillery. Learn more and read traveller reviews here.
---
4. Sunsets at La Luna (St. George)
There are many places to enjoy the golden sunset with a glass of wine in hand, but the best spot has to be at the gorgeous La Luna Hotel.
Going for a swim, lounging on beach chairs, and enjoying the sunset with a drink is one of the best things to do in Grenada. You can come here for a drink at the beautiful open-air bar even if you're not a hotel guest.
Sunset at Laluna is a real secret on the island! Even the locals don't know about the half-price drinks, so you won't likely find this on any other list of things to do in Grenada.
☞ Click here to see the latest price of Laluna on Booking.com.
5. Sailing (St. George)
Getting out on the water is a must when visiting an island! Sailing up the and down the Caribbean coastline aboard a catamaran is a magical experience. Check out Footloose Tours for a great day (or multiple days) of sailing. (Update: our favourite company to sail with is Savvy, more on them below).
6. BBQ's in Grenada (Island Wide)
Every weekend, local vendors set up their BBQs on the street and serve up some delicious pork and chicken. Check out the BBQ at D'Cliff, St. Paul's, Jerk chicken in Grand Anse Valley, and Rosanne's BBQ near Red Gate (St. David) it's the best BBQ on the island!
7. Dodgy Dock (True Blue, St. George)
This awesome marina-side restaurant and bar is a nice place to meet up with friends for an afternoon beer or dinner. The views of the water and sailboats are lovely.
Plus, you can also stay here at the True Blue Bay Resort, or pay for a day pass which will grant you access to the watersports, pools, lounge chairs, food and drinks. Click here to learn more about True Blue.
8. Hashing: One of The Most Unique Things To Do in Grenada (Island Wide)
The Hash House Harriers are a social running/walking group that meets every Saturday. Someone sets up a trail around the island (usually about 2 hours long) and the runners/walkers follow piles of shredded paper until they reach the finish line. The starting and finishing point is typically at a rum shack! It's a lot of fun and a very unique thing to do in Grenada.
Check out our article: On! On! The Art of Hashing in Grenada
Fun Note: Hashing is one of the best things to do on Grenada because you can become a part of a pretty cool community with loads of locals, expats, students and tourists on the island.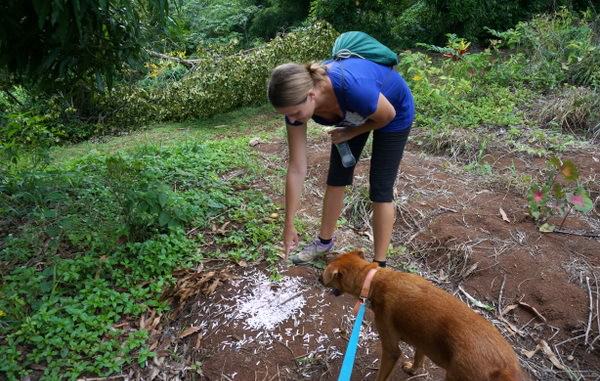 9. Scuba Diving
The diving around Grenada is stunning. This island isn't really known for being a diving destination, but with the first Underwater Sculpture Park in the world, shipwrecks, and coral that has been virtually untouched, it really should be more popular.
Check out Dive Grenada, the best dive shop on the island with excellent divemasters, and equipment. Nick has done numerous dives with this company and highly recommends them.
Don't miss this article and video: Under The Caribbean Sea With Dive Grenada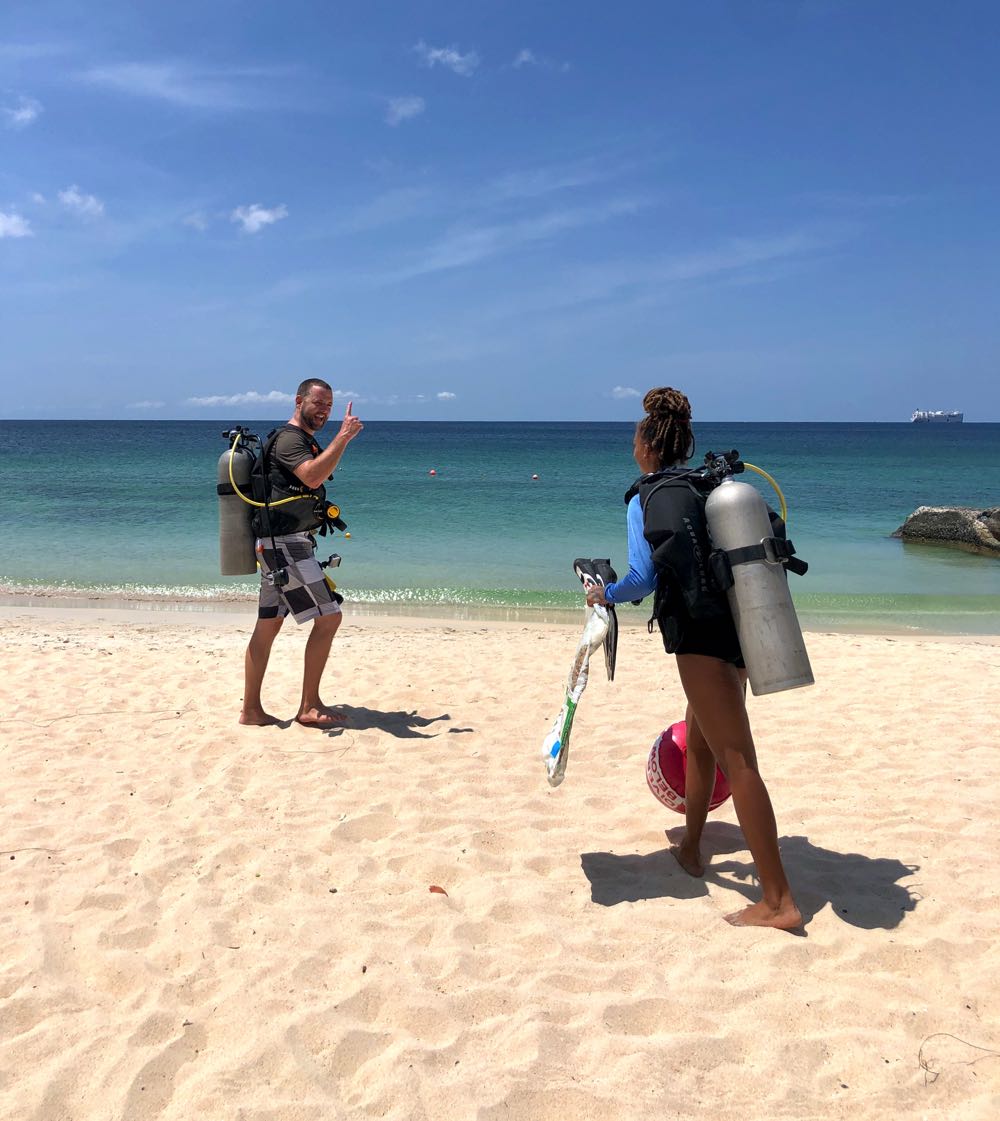 10. Friday Bonfire & BBQ (St. George)
This is one of the best things to do in Grenada on a Friday night. If you like bonfires, s'mores, steel pan music and BBQs (and who doesn't?!) head to the Savvy Beach Cabana, which is one of the best restaurants in Grenada.
Dine under the stars with your feet submerged in the soft sand, while the local steel pan band serenades you with their tunes.
For dinner, take your pick between chicken, steak, fish, lobster and more, which are all served with a side of rice and peas, mashed pumpkin, roast potatoes and house salad.
For dessert, relive your childhood by toasting a marshmallow on the beach bonfire to create your own s'more, complete with graham crackers and a square of Grenadian chocolate.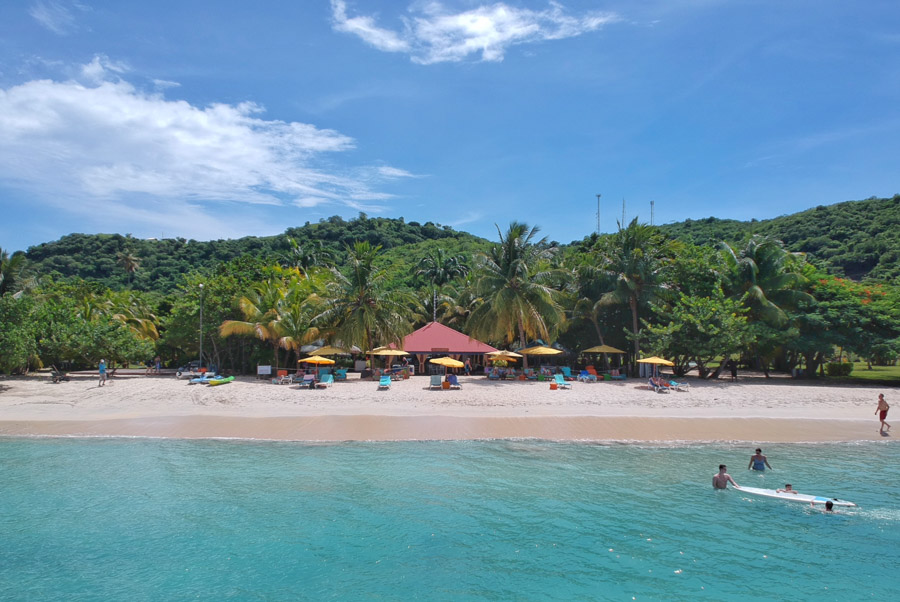 Insider Tip: Many guests assume that the side dishes are served in hollowed-out coconut shells, but they're actually made from calabash – impress your server with your island knowledge!
Outside of Friday nights, the Savvy Beach Cabana is open for lunch and drinks from 10:00am to sundown. This is a great lunchtime spot with a diverse, tasty, and affordable menu. Don't miss the catch of the day, the chuck burger, and (when in season) the lobster linguine.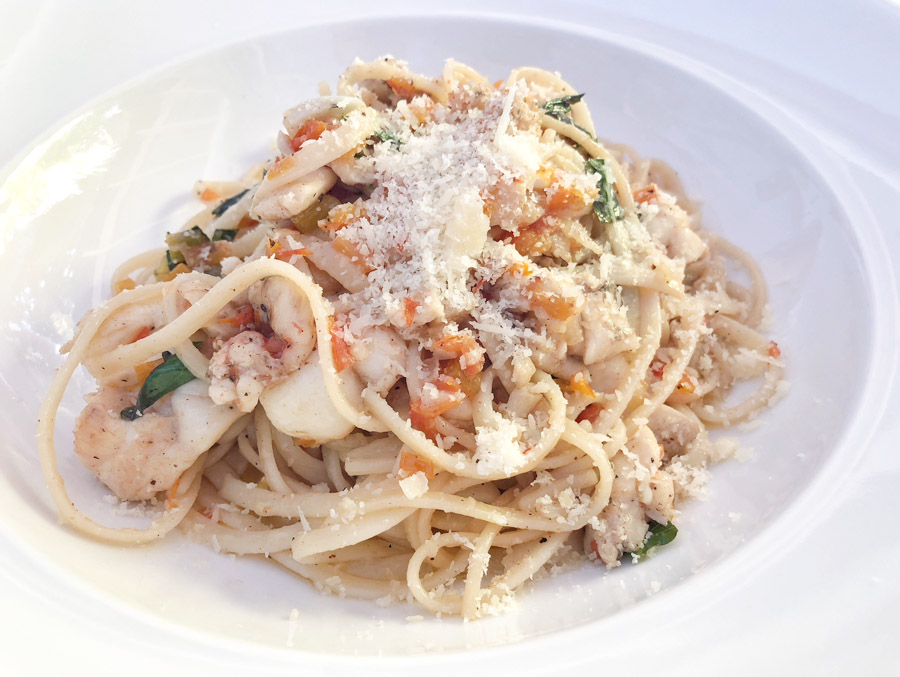 Savvy Beach Cabana is a part of Mount Cinnamon Grenada, one of the top-rated accommodation options here on the island. If you're looking for a great place to have dinner outside of Friday nights, then check out their second restaurant, Savvy's.
11. Whisper Cove Marina (St. David)
If you're looking for something to do in Grenada on Saturday afternoons, look no further! For only $10 USD you can enjoy a steak lunch with french fries, salad, and a cold beer! (Update 2021: This restaurant is now under new management. On Saturdays, they now offer Spicy wings, Fish cakes, Fish tacos or Battered fish, with fries for $11 USD).
12. Hog Island (St. David)
This gorgeous island is just a 10-minute boat ride from Whisper Cove Marina, or you can drive the bumpy road from Mt. Hartman Dove Sanctuary, and then walk across the bridge. Or, you can set off on a long walk from near the Secret Cove Marina.
Hog Island has a great trail for hiking, a nice (shallow beach), and wonderful views. This is one of the more off-track places to visit in Grenada.
13. Roger's Bar (Hog Island)
There's a little ramshackle bar located on Hog Island and every Sunday, Roger puts on a lunch BBQ consisting of chicken or fish, green salad, macaroni salad and potato salad. It's the perfect spot to enjoy a beer while swimming in the stunning water.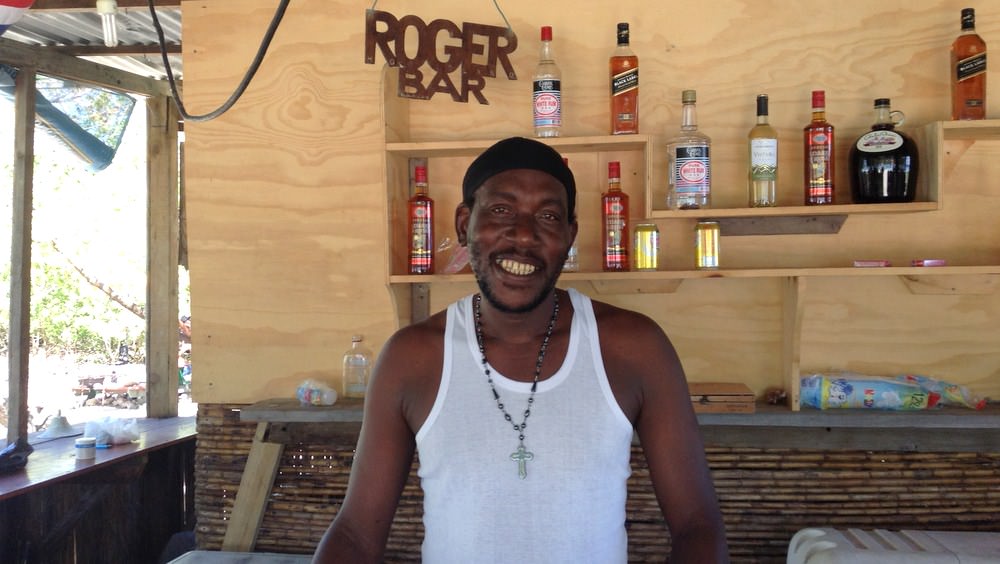 14. St. George's Carenage (St. George)
St. George's (what the locals call "town") is a very colourful capital city! Walking along the carenage while enjoying the views of the water, the buildings, and the boats coming and going makes for a great afternoon.
15. Fort George (St. George)
This fort was built in 1705 by the French and is located to the west of the harbour. The views from atop the fort looking down on St. George's are fabulous. An entrance fee of $5EC is payable when you enter the fort.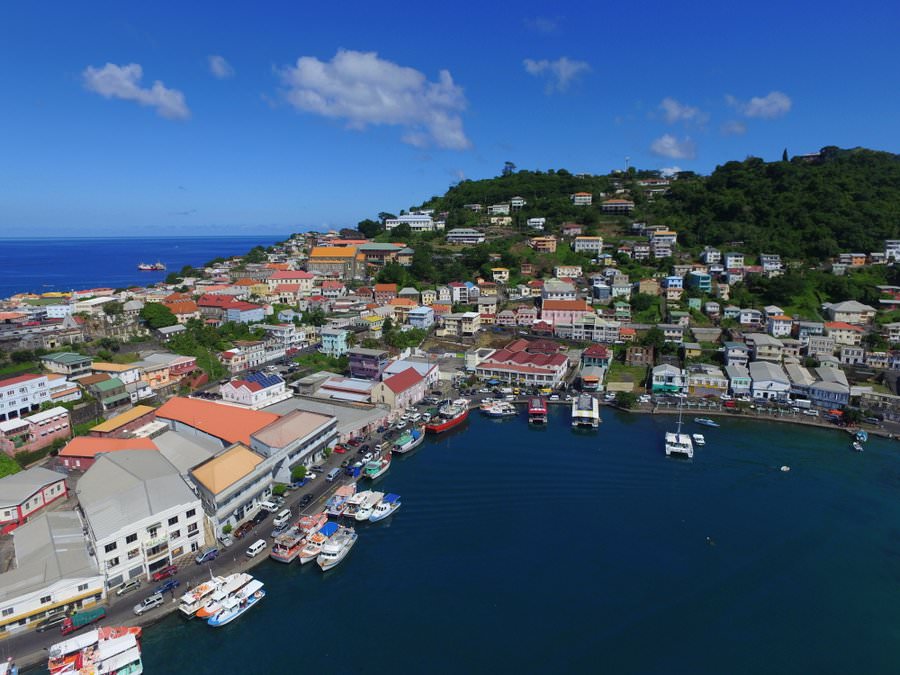 16. Volunteer at the GSPCA (St. George)
Do some good during your holiday and spend a couple of hours helping the sweet dogs and cats at the GSPCA. You can stop by for a visit to give the animals some love, spend an hour or so taking a dog for a walk, or, if you don't have the time, you could always donate some cash to this non-profit company.
Be warned, the fur babies are so cute you'll want to take one home with you!
While looking for things to do in Grenada, consider activities that give back to the local communities. The GSPCA helps provide affordable animal care to locals through donations and volunteer work.
17. Belmont Estate (St. Patrick)
This gorgeous 17th-century plantation is a great place to go to learn about cocoa processing. You can also visit gardens, the goat dairy farm, and enjoy a delicious Grenadian lunch.
To go on a tour of the plantation and learn about cocoa, the cost is only 13EC ($4.80) /person, which includes tasting some delicious chocolate at the end!
18. See The Leatherback Turtles (St. Patrick)
Leatherback turtles start their nesting season on Levera Beach in March, and the hatchlings head out to the water by July.
Seeing these massive turtles haul themselves up on shore, dig a canal in the sand to drop their eggs, cover them up and head back out to sea is an unforgettable experience.
You need to come here in the evening with a guide in order to see the turtles. Learn more about volunteering with the conservation of leatherback turtles here.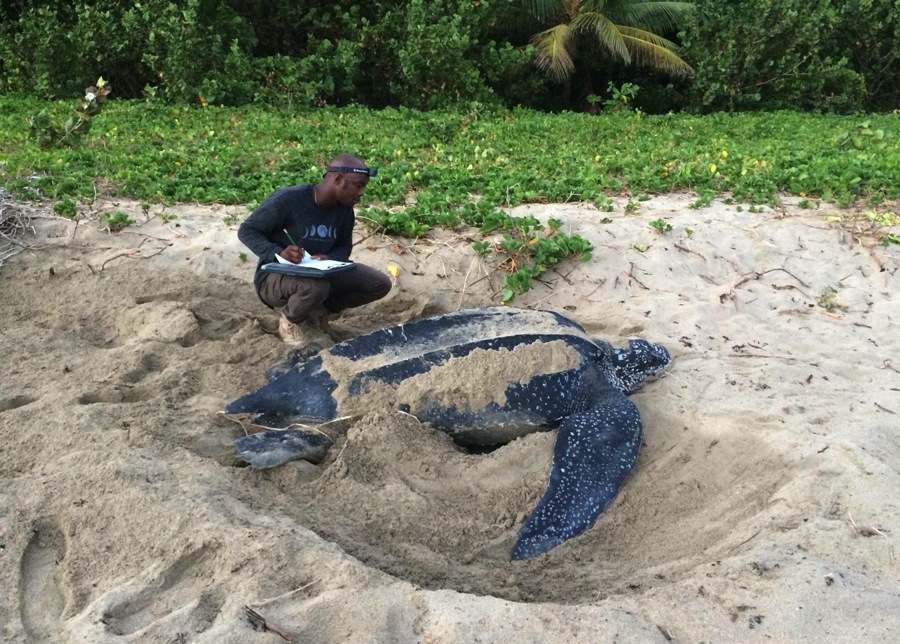 19. River Antoine Rum Distillery (St. Patrick)
It's a known fact that rum is the drink of choice throughout the Caribbean. The River Antoine Rum Distillery's processes have changed very little since the 1800's. This is the oldest functioning water-propelled distillery not only in Grenada, but in the entire Caribbean.
The best Grenada rum depends on who you ask, but if you're looking for an interesting tour, check out this place. Tours here are $5EC ($1.85) and you get a tasting at the end. Bottom's up!
20. Prickly Bay Marina (Lance Aux Epines, St. George)
This is where lots of sailors and yachties hangout. The vibe here is good, the pizzas are delicious (1/2 price on Monday and 2-for-1 on Saturday) and happy hour runs from 5:00 – 6:00pm. The sunsets over the marina here are nice as well.
21. Try Oil Down – Grenada's National Dish (Islandwide)
This one-pot dish is actually very complex and time-consuming to make. The ingredients are coconut, saffron, callaloo, chicken, crab, dumplings, breadfruit (and more).
We've only seen it made at friend's houses, or at get-togethers, so if you want to sample a taste of Grenada, ask at your hotel where you can try it!
While we've listed oil down as one of the things to do in Grenada, it's actually quite hard to find because it's so difficult to prepare that most restaurants won't feature it on their menu. To maximize your chance of trying this delicious dish, come around Carnival time when there's oil down on many street corners.
22. Sunset Sailing (St. George)
For an amazing afternoon of sailing (or multi-day trips), check out Savvy. They sail on a traditional sloop boat and offer fun times on the sea.
You'll sail up the west coast, do some swimming, some drinking and of course, enjoy the company of Danny and his crew. Click here to read about our experience aboard the Savvy, it is definitely one of our favourite things to do in Grenada.
*Note: Savvy is locally owned and operated. Danny runs private tours on his boat, so you'll never be stuck with a group of people who you don't know. Click here to contact Savvy and arrange your day at sea.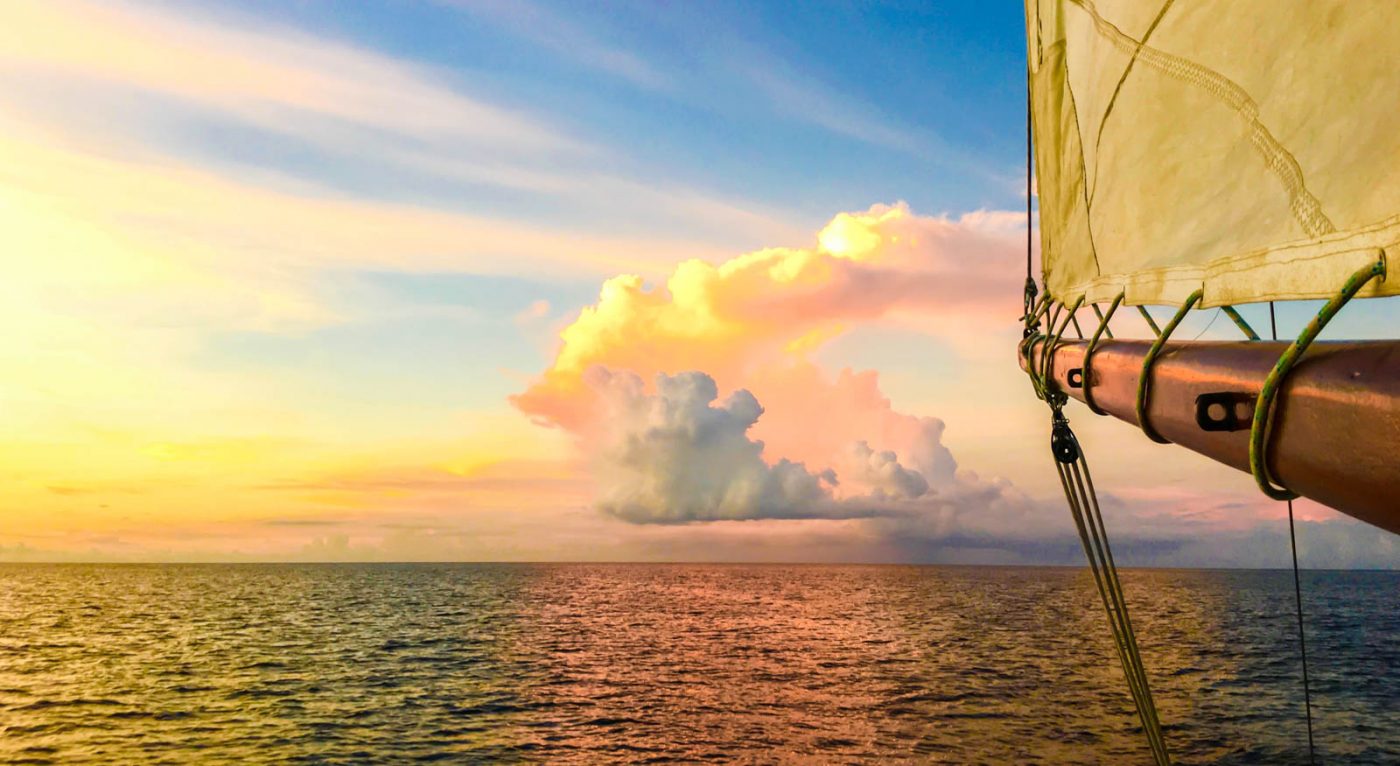 23. Levera Beach (St. Patrick)
Located at the very northern tip of the island, the beach here is lovely and is a great spot for a picnic. The beach is usually quite empty, so be mindful of your belongings. Also, this is not a good beach for swimming as currents are very strong.
24. Carib's Leap (St. Patrick)
Located in the town of Sauteurs, this is a very historical spot in Grenada. In 1651, rather than face domination by the French invasion, the native Carib people leaped to their death off of this cliff.
25. Royal Mt. Carmel Waterfalls (St. Andrew)
Located just 3 km south of Grenville, these are the tallest waterfalls in Grenada. After an easy 20 – 30 minute walk, you'll arrive at the falls. A great place for a picnic and a swim.
26. Grand Anse Beach: One Of The Best Things To Do in Grenada! (St. George)
This is the largest beach in Grenada, and arguably the most beautiful. The sand is soft and white and the waters are clear and calm. This is the most popular beach in Grenada, yet it's practically empty.
You can go diving, swimming, kayaking, snorkelling, or just chill out on the sand with a book in hand. It's also a good spot to watch the sun set. This beach is one of the top tourist attractions in Grenada, and for good reason.
27. Umbrella's Beach Bar (Grand Anse Beach, St. George)
Located on Grand Anse Beach, this is a popular spot for locals, students, tourists and expats. The food is good and it's a casual place to head in for a drink.
Try the Umbrella burger, catch sandwich, beet salad, wings and the wedges! Fridays and Saturdays they have live mus