"Make sure you bring some salt with you to Cuba, the food is very unseasoned and bland."
"Don't forget to pack some hot-sauce, the food is seriously lacking in flavour!"
These were the words of advice we received from friends and family while planning our trip to Cuba. Unfortunately, one of the hot topics surrounding this country is how awful the food is! In fact, many of the questions we received from readers upon our return were all about the cuisine – "What's the food like? Is it as bad as people say?"
It's true, if you're a hardcore foodie, you may be disappointed by the food on offer, or if you eat at the all-inclusive resorts, or at the State-run restaurants. And I'll be the first to agree that the variety of snack foods available are seriously lacking.
But, here's the secret to enjoying the food in Cuba…
Eat at the casa particulares! These homestays offer fantastic, authentic food that will definitely satisfy your cravings. For $7 – $10, you'll have a table full of food (so much that you won't be able to eat it all), which usually comes with fresh fruit juice, and sometimes, a cocktail.
In 1993, Cuban people were allowed to open up small, family run businesses called paladares (prior to that, it was illegal). Although this sounds like a good thing, there were many stipulations attached to the restaurants that they were allowed to open, including who they could hire, the number of seats available and the amount/type of products they could sell.
That didn't leave a whole lot of room for imagination and creation of meals! Luckily, all of that changed in 2010, and things have become even better since 2014, with 9,000 previously State-run restaurants being privatized.
These days, Cubans can own their own businesses, which is good news for travellers as there are some seriously good cooks in the country. Apart from eating at the casas, there are many excellent restaurants popping up, serving local and international cuisine.
Still not convinced that the food in Cuba is delicious? Check out our 7 favourite meals from our recent travels there:
Enchilado de la Casa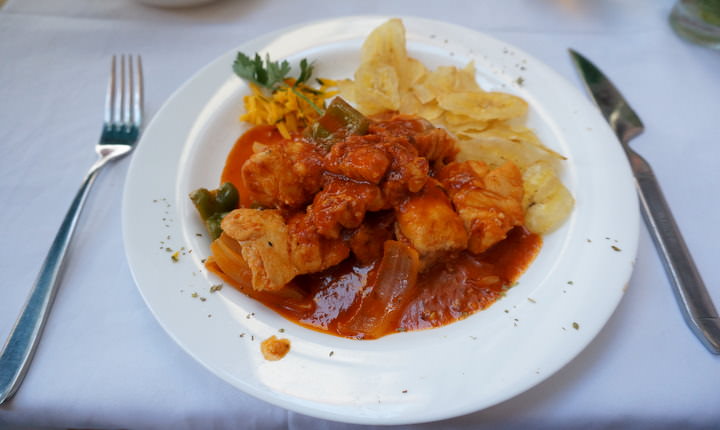 This snapper fish was sautéed in white wine and a spicy red sauce, which had a nice kick to it. The fish was cooked perfectly and flaked apart easily. The meal was accompanied by a salad, black beans and rice, as well as the fried plantain chips on the plate. At the end of our trip, this was still my favourite meal during our travels in Cuba!
Check it out at Paladar Dona Eutimia in Havana. This restaurant is always busy and reservations are necessary. This meal cost $9.
Ropa Vieja
This is the most popular dish in Cuba, which literally translates to "Old Clothes!" Although old clothes might not sound all that appetizing, I can assure you that this dish of shredded beef or lamb is fantastic. The meat is stewed in a tomato sauce with green peppers, onions, garlic, cilantro and cumin and is typically served with rice. We actually had some leftovers one time and made sandwiches with it the next day – highly recommended. This meal came with rice, beans, salad and the fried plantains on the plate.
Ropa Vieja is found all over Cuba, but this particular picture is also from Paladar Dona Eutimia in Havana. This meal cost $8, but can be found elsewhere in the country for much less.
Spaghetti Bolognese
Italian food is popular around Cuba – some of it is done really well, while other attempts completely fail! This spaghetti, however, was incredible. The owner of the restaurant lived in Italy and does a great job with all of the pastas here.
Check out El Olivo Restaurant in Viñales. The pastas range from $4 – $6.
Lobster Tail
Fresh seafood is abundant in Cuba! Nick had 2 lobster tails with rice, sautéed vegetables, garlic potatoes and tomatoes, complete with fruit for dessert, a daiquiri cocktail, and coffee at the end of the meal. The whole meal was $12.
Tamales
We recently shared our food experience making tamales in Mexico on Expedia, and although the tamales pictured here from Trinidad weren't as good as the ones we made from scratch in Valladolid, they still did the trick (especially after a few beers!) The corn flavour was perfect, the density of the dough was good and the tomato sauce on top was a nice touch.
Check out Taberna La Botija, which is open 24 hours. Happy hour is from 4:00 – 6:00 with cocktails and tapas being 25% off. These tamales were only $1.15.
Pork Ribs
Taverns are widespread in Cuba and are a great place to hear live music, have drinks and eat good food. We ordered these rib tapas many times during our stay in Trinidad. The meat literally fell off of the bone and the onion and garlic sauce drizzled on top was perfection.
Check out Taberna La Botija, which is open 24 hours. Happy hour is from 4:00 – 6:00 with cocktails and tapas being 25% off. This pork rib plate cost $2.65.
Stewed Chicken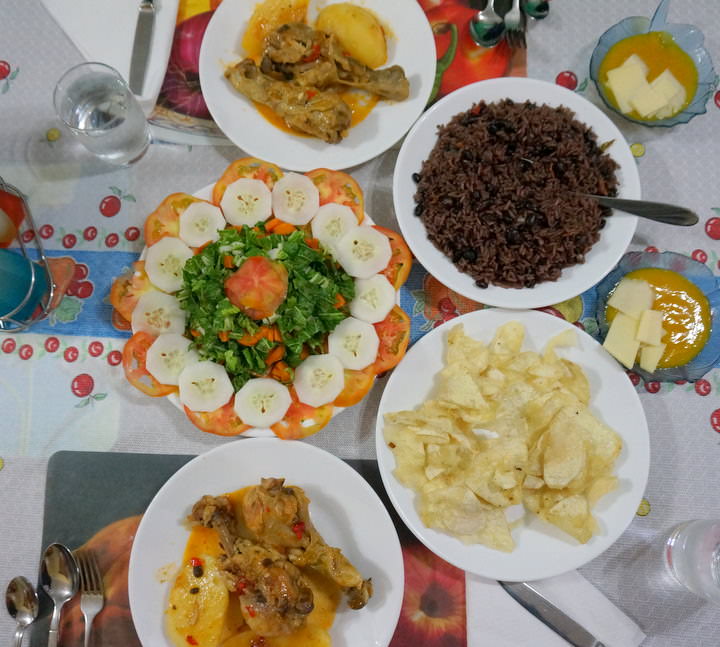 This meal was prepared at our casa in Viñales (Casa Boris y Mileidi), and it was perfection! The chicken was so tender and bursting with flavour and the accompaniments of potatoes, salad, rice & beans, homemade plantain chips, mango puree and fresh cheddar cheese was perfect. The meal cost $7 and we were stuffed!
Have we changed your mind?!
If you know which restaurants to eat at, and if you sample the home-cooked meals at your casa, you'll really be impressed by the food in Cuba. However, if you are on a very strict budget, or you only eat at high-end restaurants or resorts, you may find yourself disappointed by the food on offer.
In our personal experience, we can honestly report that we enjoyed pretty much everything we ate during our travels in Cuba. I think it's safe to say that you can leave the salt and hot-sauce at home.
For more articles about our backpacking trip in Cuba, check out:
Planning a Trip to Cuba: To-Do List Before Travel (Updated May, 2015)
Goodbye Guatemala, Hello Cuba! Our Journey from Lake Atitlan to Havana
Havana, Cuba – Could This Be Our New Favourite City?
Finding the Real Cuba in Viñales
Have you been to Cuba? What did you think of the food there? Tell us about it 🙂
Like it? Pin it! 🙂