The Philippines is a dynamic archipelago comprising of over 7000 islands situated off the northern coast of Borneo, the southern coast of Taiwan, Vietnam is to the West and the Philippine Sea is to the East. Even though this country is considered to be a part of SE Asia, it seems to have a lot in common with America and Spain. In 1521 Magellan sailed across the pacific ocean for 4 months only to stumble upon the Philippines, he then claimed the islands for Spain. Today, the country still has a huge Spanish influence; everything from the language, the currency (peso), salsa & tango dancing, tapas bars, cobblestone streets and Catholicism (80% of the country is Catholic).
In 1898, because of a fight over Cuba, war between America and Spain started. As a branch of that war, the States decided to expel the Spaniards from the Philippines. Enter the Americans and the 3 year Philippine – American War. The USA occupied the islands until 1935, at which time the Philippines became an autonomous country. Besides killing at least 600,000 Filipino people during the war, the Americans also brought with them the English language (which was taught in schools), their style of dress and foods. Today, backwards hats, basketball jerseys and other Western wear are a common dress for the younger guys, basketball is a very popular sport, American music (country music too!) is sung on karaoke machines, radios and Ipods, the English language is spoken widely and there are many American fast food chains all over the country.
The Philippines were hit hard during WWII after the bombing at Pearl Harbour. The Japanese landed on the island of Luzon and two years of brutal Japanese rule followed, until 1944 when the People's Anti-Japanese Army and the US were able to drive the Japanese out. In 1946, the Philippines finally became an independent country.
Even though there are obvious similarities between here and the Spanish and American culture, the Philippines still have much in common with SE Asia. They are a very kind, conservative & hospitable people, always welcoming us in for food and conversation. Food is a major part of entertaining with the staple foods being fish, chicken, pork and rice.
The stunning landscapes are similar to South East Asia as well: volcanoes, amazing beaches, tropical climate, jungles and waters teeming with wildlife. They have street-side markets filled with fresh fruits & vegetables, clothing and anything else you could imagine. One thing that isn't similar, but I wish it were, is that they don't eat with chopsticks!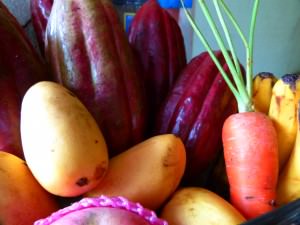 We missed coming here on our last trip through SE Asia in 2009. After hearing nothing but praise for this country from other travellers and Filipino friends, we were definitely looking forward to it this time.
Like it? Pin it! 🙂