Deserts are like beacons of solitude that call out to be explored. In this Photo Journey Through The Deserts Of Egypt we will take you through some of the most remote stretches of land on our planet. Egypt is a place best known for the Great Pyramids Of Giza, which are often photographed to appear as if they are lost in a barren desert somewhere far away from civilization. In reality, they are so named because they exist only 60 kilometres from the major city of Giza. The true deserts of this land lie far west from these wonders, past the current capital of Cairo and past the former capital of Alexandria.
The Black Desert, The Great Sand Sea, and The White Desert are mass realms of emptiness where solitude reaches a new level. The epic dunes of the Sand Sea give way to the volcanic landscapes of the Black Desert before all pigment is lost in the White Desert, where formations take on peculiar and oddly familiar shapes. This Photo Journey Through The Deserts Of Egypt will lead you into these expanses of sand and rock and through one of the least visited regions on Earth. While looking at photos will never fully conjure up your feelings of serenity, silence and solitude, perhaps they will help give you the drive to explore the deserts of our planet … starting in Egypt.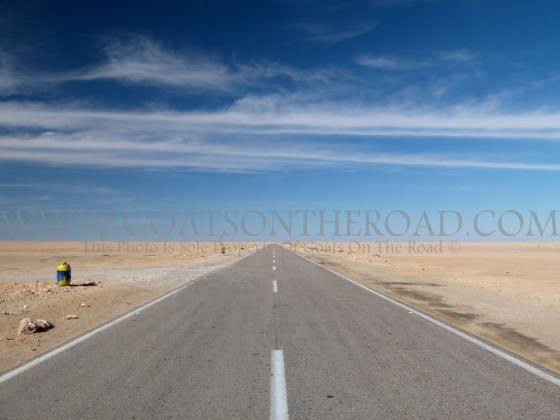 Finding your own path is an essential part of backpacking and in the desert, there are no paths so each turn you take is your own. We love the desert for many reasons and anytime we get a chance to enter one, we do. There is something about the cool crisp nights and the searing hot days that makes us want to return. We enjoy waking up with a little sand on our pillow and desert foxes at our feet. We love the deafening silence in the middle of the night when it's so quiet that you can hear the footsteps of dung beetles. The desert is a place like no other and the deserts of Egypt are some of our favorite stretches of sand on Earth. So head to Egypt and get lost in the vast emptiness of these unknown lands.
If you're interested in travelling to Egypt, you should also check out:
BUDGET BACKPACKING GUIDE TO EGYPT
Like this Post? Pin it!
Disclaimer: Some links in this article are affiliate links, which means that if you purchase through them, we receive a small commission. This will never cost you extra and in many cases you receive a special discount. We appreciate your support!