After our 6 day tour of the Mongolian Desert and our Epic 8 Day Trek Along The Chulut River, we were running out of time on our 30 day visa in Mongolia, so we decided to check out Terelj National Park before our time was up. We took the bus from Ulan Bator at 12:00 pm (3hrs/2500MNT) from the stop across from Narantuul Hotel on Peace Ave. When we arrived at our ger camp, we knew we were going to have a good time!
Dariece and I love getting to a new room, and a new ger (traditional Mongolian nomadic home) is no different… in fact it's better! We had our own private ger with 2 nice big beds and a stunning view over the national park. Our showers in Mongolia have been weeks apart and when we do finally get under the jets, it's usually more like a leaky faucet. But the showers at Terelj Lodge ($40/ger) were absolutely incredible! Huge rain shower heads blasted out piping hot water in a spotless, clean shower room. We were in Heaven! (No pictures of us in the shower, sorry)
We took a quick hike around our area on the first day and for once in Mongolia, the sun was shining! We checked out the restaurant at our lodge and were surprised that the wine was affordable! Of course, if you know anything about us by now, we bought a bottle (okay 2) and enjoyed some delicious Australian red under the sparkling blue Mongolian night sky.
Our ger had a nice little stove inside, which we didn't really need because it was pretty warm at night, but we lit it anyways and sweat it out in a sauna-like atmosphere inside. We just wanted to have a fire.
The next day we set out on a nice long hike around the southern reaches of Terelj National Park. We did all of the touristy stuff (which isn't really like us) but we enjoyed it thoroughly. We checked out Turtle rock which is a massive rock formation that looks like a…you guessed it, turtle.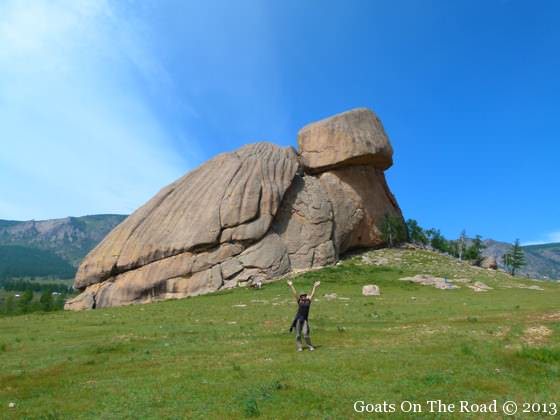 After Turtle Rock we kept hiking around the park. We had lunch on a nice little cliff side, just Dariece and I. We looked out over the park and a large monastery that hung to a cliff.
The southern end of Terelj is quite developed with dense scatterings of upper-class Ger Camps. We didn't have enough time to really trek into the pristine wilderness which we've come to appreciate in Mongolia, but our little hike still gave us an idea of the topography of this beautiful national park.
When we got back to our ger we enjoyed another glorious shower (had three total). We spent another night sipping wine and enjoying the hot fire inside our little ger.
After our 8 Day Trek and Gobi Desert Tour it was nice to just relax in a nice place and enjoy some laid back hiking. Terelj was just the place to do it and we're glad we made the quick trip there from Ulan Bator. Terelj Lodge was definitely the nicest ger camp we've stayed in and we treated ourselves well while staying there.
Now we're back in Ulan Bator and today we're hopping on the Trans-Siberian train heading up to Lake Baikal in Russia! We're very sad to be leaving Mongolia but we're excited to see what the rest of this amazing trip has in store.
For more information, make sure to check out our Guide to Traveling Mongolia.
Check Out Our Terelj National Park Video!
Like it? Pin it! 🙂