Tens of millions of visitors come from all over the world each year to get a taste of the exotic delights that Thailand has to offer. It's famous for its thousands of magnificent temples, fascinating ancient ruins, inviting tropical climate and friendly and welcoming culture which led to it being nicknamed "The Land of Smiles". And don't forget the mouth watering cuisine that's achieved global domination with its heady blend of fragrant spices, found in dishes like Pad Thai, Massaman Curry and Papaya Salad.
Thailand is also well known for its dozens of tropical islands which boast palm lined white sand beaches, year round sun and impossibly turquoise waters. Koh Samui, the country's second largest island, has earned a well deserved reputation as one of the most classy and luxurious holiday destinations in Southeast Asia. Belmond Napasai in Koh Samui is the most exclusive of resorts, providing upscale 5 star villas in the most stunning surroundings.
Please Note: This article is no way intended to be an unbiased review of this hotel. It is a paid advertisement for Luxury Escapes. Booking through our links helps to keep this blog running and we appreciate your support.
The Perfect Location
The Belmond Napasai resort lies on the tranquil north shore of Koh Samui, facing out towards Koh Phangan and the beautiful Gulf of Thailand. The split level beach, dotted with tall palm trees and furnished with comfortable sun loungers, is the largest and most exclusive on the entire island. Behind it 17 acres of flourishing green gardens stretch high up into the surrounding hills, providing an alluring backdrop to the enclosed golden sands along the private beach. This unspoilt, naturally secluded setting is the perfect destination for a relaxing and romantic getaway.
Koh Samui was one of the first islands in Thailand to embrace tourism which might explain why it's slightly ahead of the curve, evolving from a backpacker haven into an upmarket sanctuary. Just a short boat ride from the mainland, it's also the starting place for people wanting to do a bit of island hopping around the nearby archipelago which includes Koh Tao and Koh Phangan. There are also dozens of smaller, uninhabited isles which all fall under the banner of the Ang Thong National Marine Park and make for a wonderful day trip.
Belmond Napasai's Luxury Villas
The accommodation at Belmond Napasai consists of charming individual villas which are nestled away in the gorgeous gardens that overlook the beach. Each villa is complimented by an incredible sea view so you never lose sight of the ocean, as well as its own private garden area or balcony terrace. The villas are designed to be a home away from home, with large living spaces to relax in and generously sized bathrooms with terrazzo bathtubs. The Oceanfront Pool Residences also come with private pools, fully fitted kitchens, their own massage sala and a dedicated housekeeping service.
Inside the villas are bright and airy with large windows giving you panoramic views. The rooms are decorated in traditional Thai style, with the natural combination of cotton and wood featuring prominently throughout. Stay connected with the complimentary wifi in every room as well as widescreen TVs and DVD players. You'll also find a range of indulgent bath and shower products in the bathrooms for your use.
Dining and Drinking at Belmond Napasai
Take your pick from dining either inside or on the spectacular outdoor terrace at the main Lai Thai restaurant. It serves a delightful array of traditional Thai recipes as well as a selection of Mediterranean and oriental dishes, all cooked to perfection by the team of accomplished chefs. You'll be welcomed with a smile by the attentive waiting staff at any time of the day to enjoy a relaxed breakfast, lunch or dinner. For true al fresco dining, take a seat at the impressive Beach Restaurant which serves an assortment of grilled and barbecued dishes. Or for a light meal or snack head to the Infinity Bar next to the stunning infinity pool where you can order to your sun lounger as well as enjoying a signature cocktail in the shade.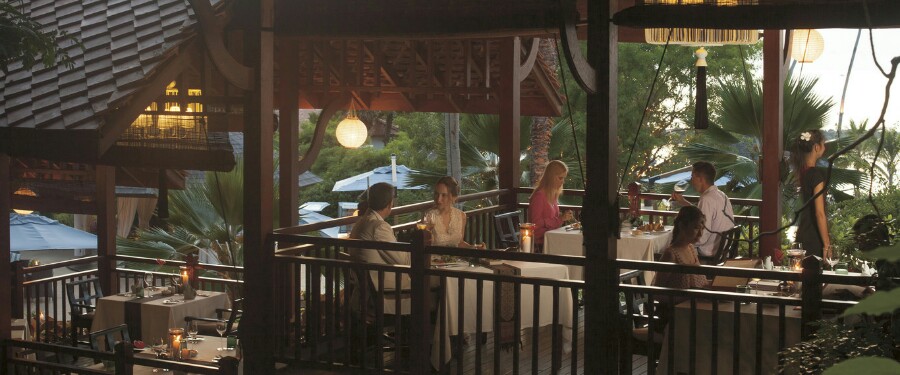 Whatever you do, don't miss out on one of the hand tailored dining experiences available at Belmond Napasai. The Countryside Package offers a private dinner or picnic in the gorgeous grounds of the resort. The Private Villa Dinner means you'll be served in the surrounds of your accommodation without having to leave the luxury of your villa. And the You and the Beach option will see you dining under the stars, on a private table on the sand, what could be more romantic?
A Beautiful Spa
Treat yourself to some indulgent relaxation at the peaceful Belmond Napasai Spa where you can choose from a range of therapies designed for your mind body and soul. Ancient Thai tradition is respected here and integrated into all of the treatments for an authentic experience. Go for a package which will include anything from a hydrating body wrap to a rejuvenating body scrub, or choose from a long selection of individual treatments.
Facials, traditional Thai massage, aromatic and herbal baths are just some of the treatments on offer, or you can also opt for a pedicure or manicure. Many of the treatments and packages are available to have done in the privacy of your own accommodation or in your dedicated massage sala.
A Host of Activities
There is a wide range of activities to keep you entertained on Koh Samui, many of which can be booked through, or done directly in the Belmond Napasai Resort. For fans of watersports, windsurfing, kayaking, scuba diving and snorkelling all can be done at the resort itself. Enjoy a game of tennis at the onsite court which provides complementary ball and racket hire, try your hand at Thailand's national sport Muay Thai, or for something a little more relaxing join in one of the regular yoga classes.
For foodies there are cooking classes and culinary demonstrations where you can learn to make traditional Thai dishes as well as delicious local cocktails. If you fancy learning some of the Thai language then head over to one of the language classes which are scheduled weekly. Other exciting activities on offer include massage classes, leather carving and drawing lessons and photography workshops.
This has been a paid advertisement for Luxury Escapes. They are currently running this great deal on the Belmond Napasai Hotel.
Experience a tranquil island escape staying at the five-star secluded hideaway of the oceanfront Belmond Napasai Koh Samui. Enjoy seven nights staying in a Seaview Villa overlooking the pristine ocean and enjoy daily buffet breakfasts, return airport transfers, nightly cocktails, a three-course 'Tastes of Thailand' dining experience, a themed buffet dinner, two 60-minute massages and more for only $999 per person (twin share), valued up to $4,892.
Like This Article? Pin it!