Very seldom do we come across a hostel that really blows our mind, but Hostel Amigo Suites is definitely one such place. For those of you who hear the word "hostel" and think of dingy dorm rooms, dirty bathrooms and cramped living space, get that picture out of your head. Amigo Suites Downtown has all the style, space, amenities and helpful staff of a 5 star hotel in a funky, friendly hostel setting.
The Rooms
Our room at Amigo Suites was huge. There were two beds (one queen and one double) and there was plenty of closet, cupboard and dresser space to unpack our things. The large, clean shower pumped out blazing hot water with so much pressure that it massaged our scalps.
The bathroom was clean and stocked, the beds were comfortable and there was a small TV hung oddly high on the wall. A small balcony looked out onto a quiet(ish) back road and the room was tastefully painted in bright and funky Mexican colours.
The hostel offers dorms, suites with kitchenettes and a variety of dorms and all looked clean and comfortable. Some rooms have less natural light so it's good to view a few before committing if you can.
If we had to think of a con for the rooms, we'd say that the towels were slightly old and the windows weren't completely sealed, although noise was never an issue and we slept peacefully every night. We're really reaching to find some cons here!
The Staff
Every member of staff at Amigo Suites spoke perfect English and they were incredibly helpful with everything from booking buses to finding good places to eat.
The hostel offers numerous tours around Mexico City, but when we explained that we wanted to see the sights independently, they were quick to draw us up a map and help us find our way, even though we weren't spending money on their guide service. Amazing!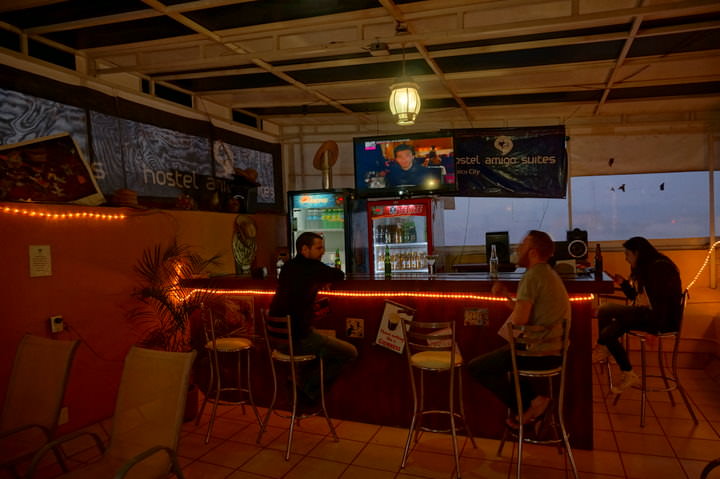 It seemed that the staff members had studied every bus route, metro line and taxi cost because they had a answer for every single one of our questions. You would expect this kind of service from a high-end hotel, but it's a welcome surprise in a budget hostel.
The Amenities
A beautiful rooftop terrace looks out onto a bustling Mexico City street and towards Santa Domingo Plaza. There are computers for all guests to use and a bar on the roof as well. Every morning, breakfast is served at 8:30 on the terrace and dinner (that's right, the hostel offers free dinner) is served at 6:30 pm.
The front desk can help organize tours, taxi rides and pretty much anything you could ask for.
The showers are all hot and have great pressure.
The Location
You really can't beat the location, smack dab in the center of the historical zone and just a couple of blocks away from the main city plaza and cathedral. If you're looking for a hostel in the thick of the action, you've come to the right place.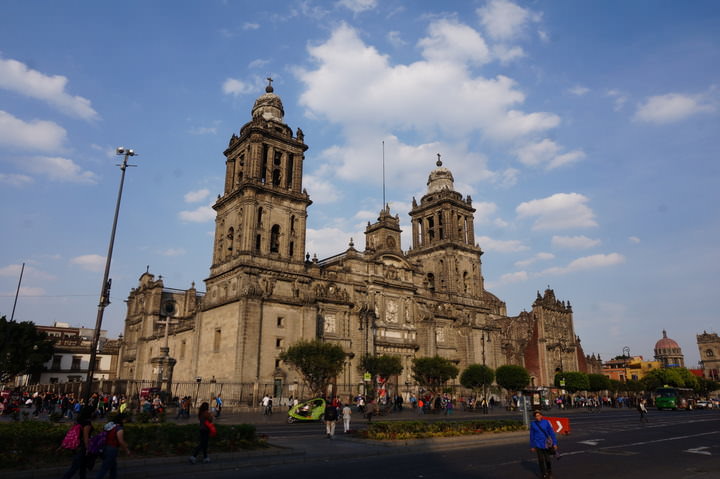 The Cost
Huge rooms, great service, unbeatable location and free breakfast and dinner. Must be expensive right? Not at all! We were blown away by the value for money at Hostel Amigo Suites Downtown. Book on HostelsClub.com to find great deals.
Type
Availability for 1 night
Price (average price per guest per night)
Private rooms
standard 2 bed/s with private bathroom
6 room/s
14.92 USD(guest/night)
suite 2 bed/s with private bathroom
3 room/s
18.97 USD(guest/night)
standard 3 bed/s with private bathroom
3 room/s
3.70 USD(guest/night)
Dorms
standard 3 bed/s mixed with private bathroom
9 bed/s
11.11 USD(guest/night)
standard 4 bed/s mixed with private bathroom
12 bed/s
9.63 USD(guest/night)
Overall
There is only one hostel we've ever stayed at before that could compare to Hostel Amigo Suites downtown and it was in Merida, Mexico. With great service, big rooms, comfy beds and reliable hot water showers, this is definitely one of the best hostels we've ever stayed at. If you're heading to Mexico City, you really can't beat Hostel Amigo Suites Downtown. Definitely check them out.