Looking for Airbnb Paris Accommodation? We'll cover very best Paris Airbnbs with the best ratings for all budgets!
If you're looking for Airbnbs in Paris then you've likely already browsed the Airbnb website and found thousands of listings, but with an explosion of Paris Airbnbs you really have to watch out for Airbnb scams and low-rated Airbnbs in Paris.
There have been complaints from travellers that the photos of the apartments, villas or private rooms simply didn't live up to what the place actually looked like when they checked-in.
In this article I'm going to list some of the best Paris Airbnbs, including the ones that have the highest guest ratings and the most trusted hosts so that you can ensure a great trip to the city of romance.
If you're planning a trip soon, be sure to claim our $35 Airbnb Coupon for free.
Why Choose Airbnbs in Paris?
You might be trying to decide between staying in a hotel, hostel, apartment, villa or resort during your stay in Paris. We also love to mix up our accommodation types. The great thing is that Airbnb has all of these types of accommodations in Paris and more.
France is one of the best countries in the world for food, so if you are a foodie, you'll want to get an Airbnb right downtown close to all of the restaurants.
Here are some reasons you may want to book on Airbnb for your next vacation in Paris.
The Price
Hotels in Paris are expensive and they book up quickly. According to Trip Savvy, the average cost of comfortable hotels in Paris comes in at around US$190 per night, while the average cost for comfortable Airbnbs in Paris is around US$85 per night.
The cheapest hotel I could find on Booking.com in Paris was US$65 per night while the cheapest Airbnbs in Paris start at just $20 / night.
The Selection
Not all cities have as many Airbnb listings as Paris does. This is one of the most visited cities in the world with many locals listing their properties on Airbnb to make some extra income on the side. You can find everything from charming little guest houses with shared living rooms to luxury villas with Eiffel Tower views when searching Airbnbs in Paris.
The Reviews
I love Airbnb reviews. They offer real opinions of people who have actually stayed in the Airbnbs. Of course, you can check reviews on pretty much any booking engine, but when I'm searching for Airbnbs in Paris I like to set the filters to only include "Superhosts".
This ensures that your Paris Airbnb has nothing but great reviews. Dariece and I have never stayed in a Superhost Airbnb that we weren't extremely happy with.
The Coupon

Why not get $25 off your next Paris Airbnb booking? Check out our Air bnb coupon for a discount off your first booking on the platform. If you already have an account, you can easily create a new one and still get the discount.
Where To Stay in Paris
There are so many neighbourhoods to choose from in The City of Lights, but if you want the quintessential, romantic experience that most people are looking for when they visit Paris, then you probably want to stay in one of three neighbourhoods.
To ensure that your apartment is in the neighbourhood you want, you can click on the map view when you're searching for Airbnbs in Paris.
Le Marais
This is probably the best neighbourhood to stay in Paris for nightlife and shopping. There are plenty of sights to see here like the Hotel de Ville and Centre Pompidou as well as dozens of great restaurants, chic cocktail lounges and buzzing cafes.
The architecture in Marais is some of the best in the city and you can shop until you drop here at one of the many boutique shops, luxury stores and open markets.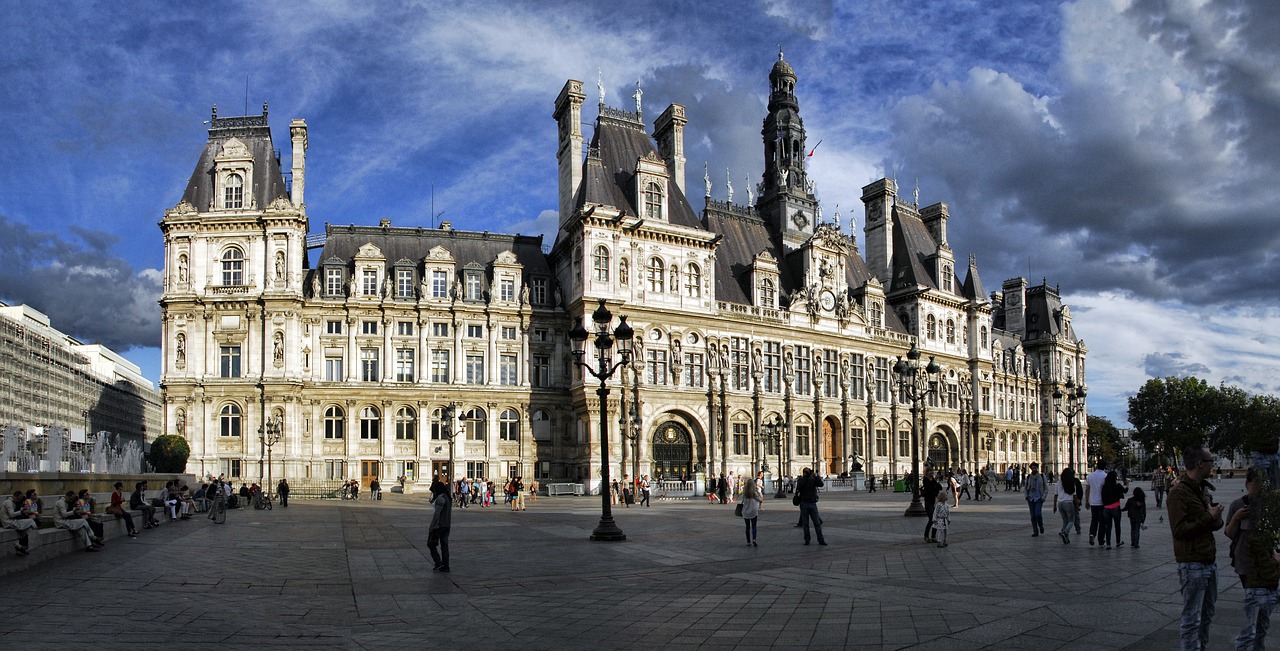 The central location means that you're never too far from anything in the city and there is a great eclectic mix of cultures, races, religions and genders in this part of Paris. If you're looking for a gay-friendly neighbourhood, or just a liberal area in the city that is always fun and exciting, then you probably want to stick to The Marais.
Montmartre
Climbing the hills of Montmartre you'll feel like you've entered another world, where romance fills the air. This neighbourhood feels more like a village than most other places in Paris and it offers some of the best views of the city thanks to its high vantage point.
Make sure you visit the only vineyard in Paris and take the time to sit on the steps of Sacre Couer to enjoy the stunning views and people-watch for a few hours. Why not do it with a glass of wine and some cheese from a nearby fromagerie?
11th Arrondissement
If you're a foodie and you want to sample some Parisian cuisine during your trip, then you should definitely search for Airbnbs in Paris that are near 11th Arrondissement.
This area is where you'll find a more local vibe and things are much more affordable (including the Paris Airbnbs here). The restaurants serve excellent food, but in a more relaxed atmosphere.

Don't expect preppy and pretentious haute cuisine here, instead prepare yourself for some of the most authentic and down-to-earth dishes in relaxed and casual Michelin starred restaurants.
How To Find The Perfect Airbnbs in Paris
When searching Airbnbs in Paris, you'll want to check that the property is in a good neighbourhood. But, if you fall in love with a Paris Airbnb that's not in one of the three neighbourhoods above, you may be surprised at how easily you can get around by metro and local bus.
During your search, if you find a lot of Airbnbs in Paris that are outside of the main tourist areas, just check the reviews and the summary of the property to see how far it is from the nearest metro / bus stop.
Always check reviews on Airbnb. Not only is it good to search for high ratings when looking for Airbnbs in Paris, but you should also read individual reviews to see if the guests had any complaints.
Sometimes the walls are thin, the hosts aren't around or the location isn't great. Reading reviews can help ensure you get the best Paris Air BnB possible!
If you have a late flight, the location of your Paris Airbnb may be crucial. Picking an apartment close to the airport will mean you'll have a cheaper taxi / Uber to the Airport. You can find Airbnbs close to the Paris airport by simply searching on Google, "Airbnbs near Charles De Gaule airport".
If you are taking the late flight or you have a long layover and want to explore Paris, you may want to store your luggage somewhere. While some Airbnbs will let you store your luggage while you're walking around, you may be better off storing it in a secure locker.

There are plenty of luggage storage lockers in Paris. Check out LuggageHero.com to book a spot somewhere near your Airbnb. Prices start from €1 / hour and never cost more than €8 / day.
What Kind Of Airbnb Do You Want?
There are many different types of Airbnbs in Paris including traditional Bed & Breakfasts, hotels, chalets, hostels, boutique hotels and apartments. If you want your Paris Airbnb to have a kitchen, then you should probably look for an apartment, villa, loft or townhouse.
If you're looking for room service and a reception desk, then I'd recommend checking out the boutique hotels, hostels and guest houses for a more traditional hotel-like stay.
I personally love to search for apartments and villas on Airbnb because, while I do make sure to eat at restaurants and try local cuisine, I love to have my own kitchen where I can prepare at least one or two meals per day for myself.

This helps to save money on the trip and also helps to eat a little healthier. French cuisine is amazing, but it's not low-fat!
When To Visit Paris
Paris can be visited at any time of year, but generally the best time to visit la Ville Lumière is from April – June and October – November. These would be considered the shoulder seasons, and although they're still very busy, these months aren't as busy as the summer months when thousands of visitors clog the already narrow streets.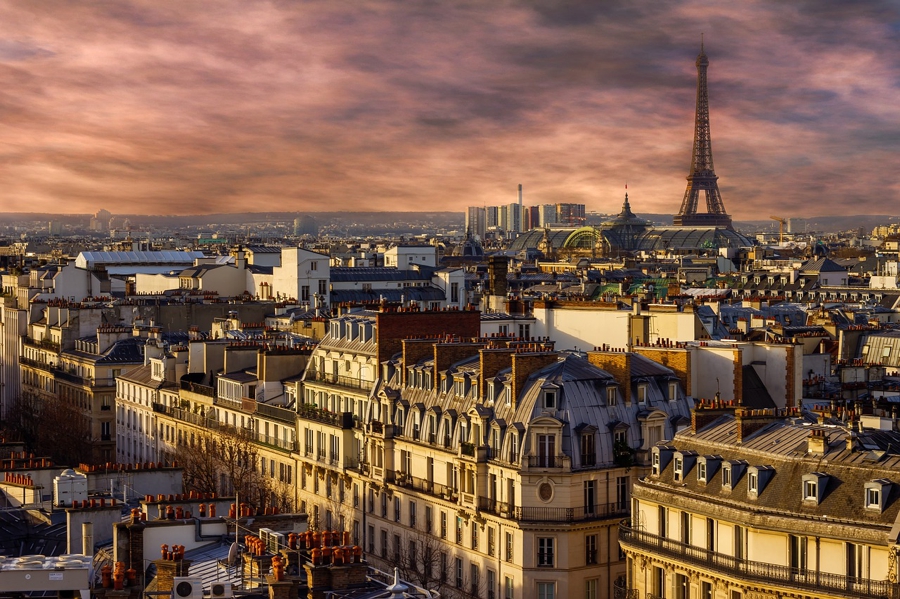 Airbnbs in Paris book up quickly, so if you want to lock down that perfect apartment or villa, it's best to book at least 2 months in advance, particularly if you're visiting during high-season.
If you're unable to book your Paris Airbnb 2+ months in advance, then just expect that many of the "Superhost" properties will be booked up. But you can still find great Airbnbs in Paris even when booking last-minute because there are just so many on the market and more and more are popping up each day.
⚠︎ NOTE: Before booking any of the below Airbnbs in Paris, be sure to claim your $25 Airbnb Coupon Code for a free discount off of your stay!
The Best Airbnbs in Paris
Now it's time to get right down to it. I've searched through hundreds of listings of Airbnbs in Paris and narrowed it down to 10 of the very best. These will mostly be in one of the 3 above listed neighbourhoods in Paris and will be rated by guest reviews, price, location and overall cleanliness. Let's get started.
Airbnbs in Montmartre
As mentioned above, Montmartre is the best neighbourhood for spectacular views over the city, so if you're looking for Airbnbs in Paris that are bright with panoramic vistas, then you'll love these 4 places:
#CosyStudio
Cost: From US$95 / night
Neighbourhood: Montmartre
Airbnb Type: Studio 1 bed 1 bath
With over two hundred 5 star reviews at the time of writing, Cosy Studio is one of the highest-rated Airbnbs in Paris and it has long been a guest favourite on the platform. The central location near Grands Margasins and The Bourse means that the best sites in Montmartre are within walking distance.
The space itself is lovely. Built within a stunning 18th century building and newly renovated with inset timber, exposed stone finishings and gorgeous brick walls, this studio is perfect for couples or single travellers looking to stay in a traditional home in Paris.
The apartment is fitted with "unbreakable glass" so even though it is located in a safe neighbourhood, you can sleep with ease knowing that you're inside of an impenetrable fortress.
Guests claim that the area is lively and bustling day and night, but the apartment is well-insulated and quiet, so it's easy to get a good night sleep.
I read through dozens of reviews and it's clear that the host Estelle is hospitable, kind and quick to communicate with guests. If you have any questions about the neighbourhood, local eateries or off track places to visit in Paris, don't hesitate to ask.
Studio Pigalle
Cost: From US$102 / night
Neighbourhood: Montmartre
Airbnb Type: Studio, 2 beds, 1 bath
Another fabulous studio apartment in the Montmartre neighbourhood, this place offers guests a great check-in experience, sparkling clean rooms and a well-stocked kitchen all in a fabulous location right near to many popular cabarets, bars, restaurants, cafes and night clubs.
Rue du Martyrs is just a couple of blocks away as well and there's also a Carrefour supermarket right around the corner if you want to cater for yourself sometimes. It'll be hard to stay inside for meals though, when some of the best restaurants in the city are just a short walk away.
Studio Pigalle has heating, a free laundry machine in the building, wi-fi and cable tv, but there's no air conditioning so the place can heat up on warm summer days. Generally during the evenings it cools down enough that a fan is sufficient for most people.
One complaint that some guests have is that the room is a bit noisy some nights, particularly on weekends, so it may be a good idea to bring earplugs with you. But with more than two hundred 5-star reviews, in one of the most sought after areas and with a (rare) full-sized shower, this is one of the best value Airbnbs in Paris.
Montmartre Paris Apartment
Cost: From US$100 / night
Neighbourhood: Montmartre
Airbnb Type: 1 bedroom, 1 bed, 1.5 baths
Another great value apartment right in the heart of Montmartre, this is one of the few Airbnbs in Paris that isn't a studio. There is a separate bedroom for sleeping and a lovely open floor plan. What makes this place so cool is the bright, funky colors and the large comfortable bed.
The hosts have great interaction with their guests, as made evident by the unbelievable Superhost status with 443 great reviews. This is very hard to accomplish, even when running an Airbnb in Paris where you get 80% occupancy rates.
The place comes stocked with its own washer and dryer, fast wi-fi, a LCD TV with over 150 channels and (my favourite part of all) a Nespresso machine for those early morning coffees.
There's an excellent bakery on the corner just outside of the apartment and everything is close-by in Montmartre including shopping, the Sacred Heart and the Trianon Concert Hall. If you want to adventure further afield, there are plenty of metro stations within a 5 – 10 minute walk.
VIEW Montmartre Apartment ON AIRBNB
Paris Opera Loft
Cost: From US$170 / night
Neighbourhood: Montmartre
Airbnb Type: Loft 2 bedrooms, 3 beds, 1 bath
If you're looking for a luxurious stay in an artistic building right in the heart of Montmartre, then look no further. This is one of the most spacious and highest rated Airbnbs in Paris and at $170 it's a steal, especially when comparing it to similar priced hotel rooms in the area.
The apartment is set in a 17th century building and is tastefully decorated with modern stylings. The timber inset roof is absolutely breathtaking and helps to open up the already palatial space. The Opera Loft also comes with a washer, drier and Nespresso machine!
On the ground floor of the building there is a small theatre that has shows twice per week. This means that you're very close to some excellent entertainment, but it also means that the apartment can be a little noisy during this time. If you're not attending the performance, you may want to plan go out to avoid the noise.
Patricia and Debora are excellent hosts who are always catering to their guests. Their reviews speak for themselves. They can help you with anything in the neighbourhood, or questions that you have about Paris or France. Overall, this is definitely one of the most stylish and well-situated Airbnbs in Paris!
VIEW Paris Opera Loft ON AIRBNB
Airbnbs in Le Marais
Le Marais is a neighbourhood famed for great nightlife, excellent shopping and plenty of cafes. This place is buzzing day and night, so when searching for Airbnbs in Paris that are within the Marais neighbourhood, make sure there are no noise complaints in the reviews section!
Cosy Apartment in Rue des Rosiers
Cost: From US$147 / night
Neighbourhood: Le Marais
Airbnb Type: Studio, 2 beds, 1 bath
This 25 meter² apartment is cosy but well laid out and spacious feeling. The ceilings are over 3.4 meters high, giving the living area a wide open and luxurious feel. This is a typical Parisian-style apartment set in a traditional building in the Marais neighbourhood, close to all of the main attractions.
The hosts, Vu and Kim have been on the platform since 2014 and run some of the very best Airbnbs in Paris. The property itself has fast wi-fi and a LCD TV with international and local cable channels. The kitchen has modern appliances and includes a fridge, dishwasher, microwave, grill, stove and coffee machine.
There is no laundry in the flat, but there is a laundry mat nearby. Keep in mind that there's a narrow stairway to get to this third floor apartment with no elevator, so if you're bringing back masses of laundry it may be a tight squeeze.
The neighbourhood that this place is set in within Le Marais has plenty of cool shops, cafes and falafel stands. One of the best parts of this particular Paris Airbnb is that Kim offers a walk around the neighbourhood to introduce you to the best places to eat, drink and party!
VIEW Rue des Rosiers Apartment ON AIRBNB
Le Marais 28M2
Cost: From US$108 / night
Neighbourhood: Le Marais
Airbnb Type: 1 bedroom, 1 bed, 1 bath
This lovely 1 bedroom apartment actually feels more like a studio because of the open floor plan, but it's still spacious and very comfortable. Set right in the heart of Le Marais and Rue des Rosiers, guests can have easy access to many of the best things that this area has to offer.
The apartment is extremely well-insulated, making it silent in the evenings, perfect for a good night sleep after exploring the city. The modern furnishings are artistically appointed and although the kitchen and the apartment overall is quite small, in manages to retain a spacious feel.
All the basic amenities are included in the apartment like wifi, cable TV, a microwave and a decently stocked kitchen, but you'll need to leave the property for laundry and you'll have to wash your own dishes as there is no dishwasher
The host, Andre, is attentive and responds to all emails and communications with his guests. He can show you the best places to eat and relax around the apartment and guests have claimed to have an excellent check-in and check-out experience with him.
Le Marais Romantique
Cost: From US$301 / night
Neighbourhood: Le Marais
Airbnb Type: 2 bedrooms, 2 beds, 1 bath
The Le Marais Romantique apartment is one of the few verified "plus" Airbnbs in Paris, which means that the staff of Airbnb has visited and verified this property for its quality. Just looking at the photos you can see that this is a luxurious place with high vaulted ceilings, inlaid timber, modern elegant furnishings and plenty of amenities including a beautiful fireplace.
Because this is a Plus Property, you can view it room by room and do a virtual tour before booking. Each room is spacious and bright and there's just about everything you can ask for in the nearby area.
Marie is a wonderful host who is responsive to all of her guests. In fact, most of the 5-star reviews that she has (of which there are a few dozen) many people mention how kind and friendly she is.
This is one of the few 2 bedroom Airbnbs in Paris and is great for families or two couples looking to share. For four guests the price is still $300+ (most Airbnbs in Paris charge more for 3+ guests), so this place would be an excellent value for a small group or family.
VIEW LE MARAIS ROMANTIQUE ON AIRBNB
Airbnbs in 11th Arrondisement
The foodie capital of Paris, 11 Arrondissement is the perfect place to sample the best of Parisian cuisine in cool, casual eateries scattered throughout the neighbourhood.
Spacious 120m² Loft
Cost: From US$204 / night
Neighbourhood: 11th Arrondissement
Airbnb Type: 1 bedroom, 4 beds, 1 bath
At 120 meters² this truly is one of the most spacious Airbnbs in Paris and you can't beat the location. Technically just inside of the 11th Arrondissement on the border with Le Marais, this beautifully furnished ground-floor loft is modern, funky and has everything you could possibly need from a Paris Airbnb.
You can walk to all of the main sights in 11 Arrondissement from here and you can actually take the hike to the Notre Dame Cathedral in about 30 minutes. Laurent, the host, is lovely and she can help you out with maps, directions and recommendations.
At $204 / night, this is probably the best value of any of the Airbnbs in Paris that I've listed in this article, especially considering the location and the fully stocked amenities.
The bed is reported as very comfortable and the space has tons of natural light thanks to the sky-light style ceiling which is rimmed by some beautiful greenery. There are subway stations within a 5 minute walk from the building and a great little bakery about 10 minutes away as well.
VIEW SPacious 120m² Loft ON AIRBNB
Little House in Paris
Cost: From US$481 / night
Neighbourhood: 11th Arrondissement
Airbnb Type: 4 bedrooms, 8 beds, 2.5 bath
This enormous 4 bedroom flat can sleep 11 guests and is perfect for large groups or multiple families. Located right in the heart of the 11th Arrondissement just a few minutes walk from the famous and trendy Canal St.Martin, you can expect to be close to the action in this place.
The high ceilings and wide open spaces make this place feel even bigger than it is and with a gracious host like Segire (who has over 350 great reviews on Airbnb), you really can't go wrong with this place.
The price may seem high at over $450 per night, but with all of the amenities and extra space, the Little House in Paris is still an excellent value for the city. There's a washer, dryer and a dishwasher in the apartment, but the one thing this place doesn't have is a TV. If you're planning on watching movies in the evening, bring your own laptop.
But really… who wants to watch movies at night when you're near to so much amazing nightlife. There's a crib and multiple single beds in this apartment, making it perfect for families with small children.
VIEW Little House In Paris ON AIRBNB
Small Corner of Paradise
Cost: From US$136 / night
Neighbourhood: 11th Arrondissement
Airbnb Type: 1 bedroom, 2 beds, 1 bath
Small Corner of Paradise is again just on the border with Le Marais, making it the perfect place to have access to multiple neighbourhoods in Paris. At only 388 square feet, the space isn't enormous like the last couple of Airbnbs in Paris that I've included on this list, but the high, vaulted, timbered ceilings and great floor plan make this apartment feel much larger than it actually is.
The apartment has all of the amenities you'd expect including a few extras. There's an oven, microwave, Nespresso coffee machine with pods at your disposal, toaster, blender, and even bread making machine!
Eugénie is a great host and has excellent reviews from her guests. She can show you around the neighbourhood and check-in and check-out to the Small Corner of Paradise is a breeze.
The apartment is within close walking distance to the Picasso Museum as well as many other sites and there is plenty of shopping, cafes and restaurants nearby as well.
VIEW Small Corner of Paradise ON AIRBNB
Find The Best Airbnbs in Paris Now!
There you have it, 10 of the highest rated, best located and most stylishly furnished Airbnbs in Paris. If you want to search for more places in the city, click here to see all of the Airbnbs in Paris. Make sure you enter your dates before searching because you may be disappointed to find out that your favourite Airbnb is booked up!
Paris is a fabulous place, but it's no secret. Book your Paris Airbnb now and make sure to take advantage of our special $25 coupon code before booking. Have a great trip.
Where is your favourite place to stay in Paris? Do you like Paris Airbnbs? Share in the comments below!
Like This Article? Pin it!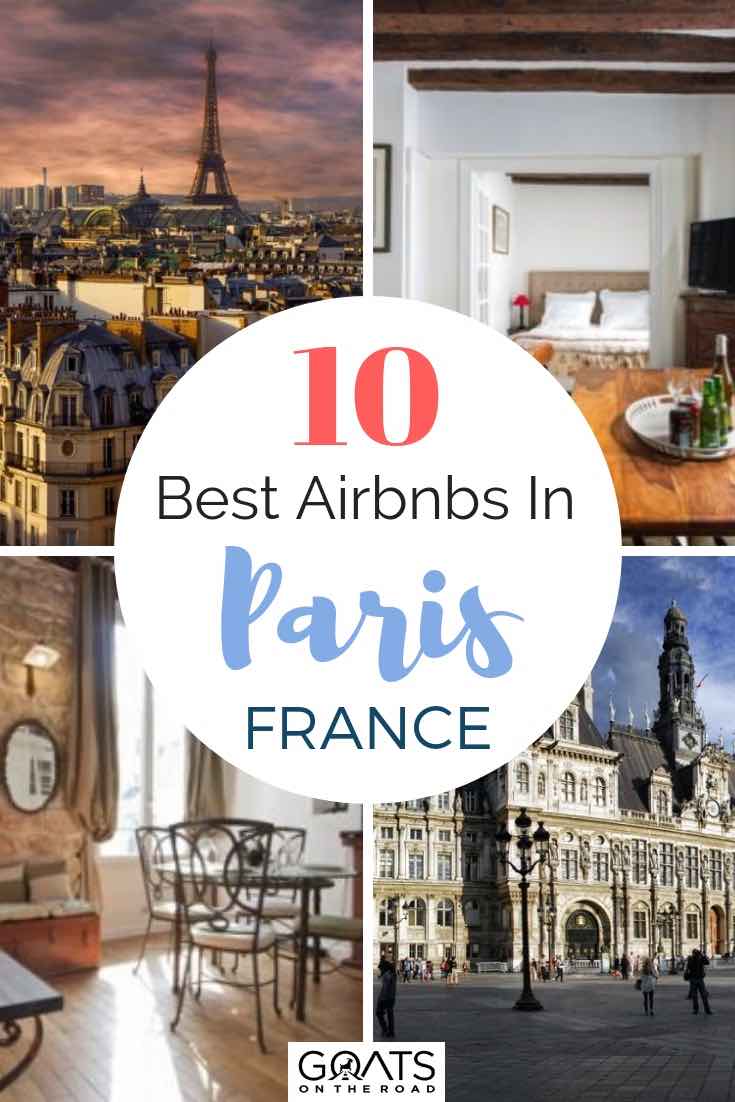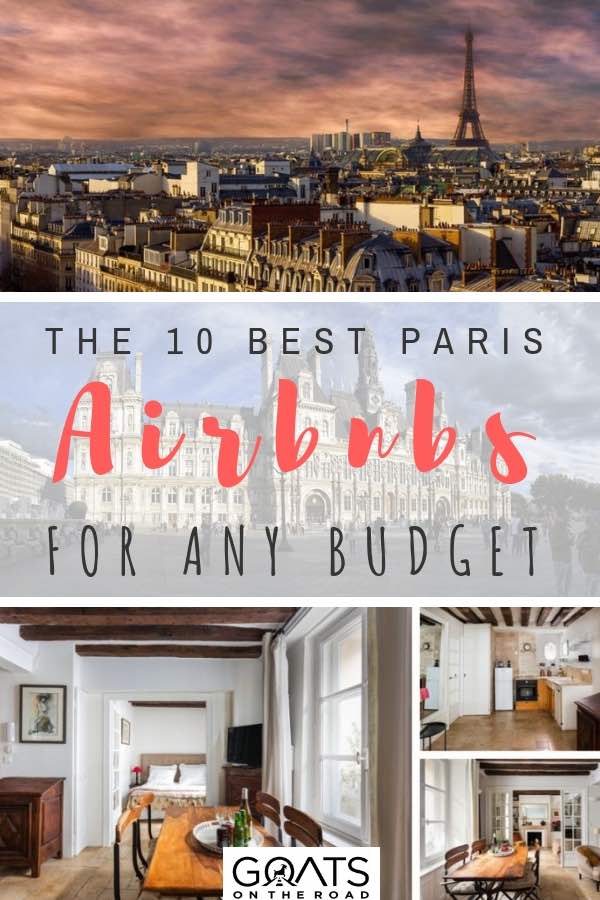 Disclaimer:Goats On The Road is an Amazon Associate and also an affiliate for some other retailers. This means we earn commissions if you click links on our blog and purchase from those retailers.