Since returning from Cuba, you may have noticed that we've been raving about how great the casa particular experience is in the country. Staying with a local family, eating Cuban food, smoking cigars with the home owners and learning about the nation's culture and history from real people was one of the major highlights of our trip. It's also much easier to experience this now with companies like CubaCasa helping to make online booking quick and easy.
There are plenty of state-run hotels in Cuba and they are quite nice as well, often set in old colonial buildings and sometimes even including wi-fi (!). But they simply can't compare to the experience of staying in a casa particular.
In this article we'll give you a good idea of exactly what a casa particular is, how to book them, how much they typically cost (don't worry, it really won't cut into your Cuba budget!) and what you should expect during your stay. We also have a quick video of our favourite casa at the bottom of this post so definitely check that out.
The History of Casa Particulares
In Spanish, the casa particular literally means "private home". In 1997, the Cuban government announced that Cuban families could register their home as a privately owned business and rent out rooms to foreigners.
This was an enormous step towards economic freedom in Cuba. Before 1997, all accommodation in the country was entirely state-owned and operated. This legalization of privately owned business was one of the first examples of the Castro administration borrowing hints from capitalism to fit his idealistic views for a socialist Cuba.

Since Raul Castro took over, many more economic reforms have taken place and these days, Cuban citizens are free to open restaurants, run hotels and even travel overseas. The future for Cuba is looking brighter and more free every day.
Travel Insurance for Cuba
---
You'll need to have travel insurance in order to travel to Cuba. It's actually mandatory that all travellers have insurance, and you may or may not be asked to show proof of insurance on arrival. To get a free quote from World Nomads, just enter your details below:
What is a Casa Particular?
Basically these are Cuban home stays, but in our experience there is more privacy in a Cuban casa particular than in a regular home stay that you'd find in other parts of the world. Many times, there is an entire separate home, or at least section of the home, for tourists to stay in.
The family is always there to help you out and chat with you, but you're given a lot of privacy as well. Don't think that just because you're staying in a casa particular that you'll be expected to hang out with the family 24/7. They want you to get out and explore their city and aside from some dinners and breakfasts, you'll be left alone to explore and relax.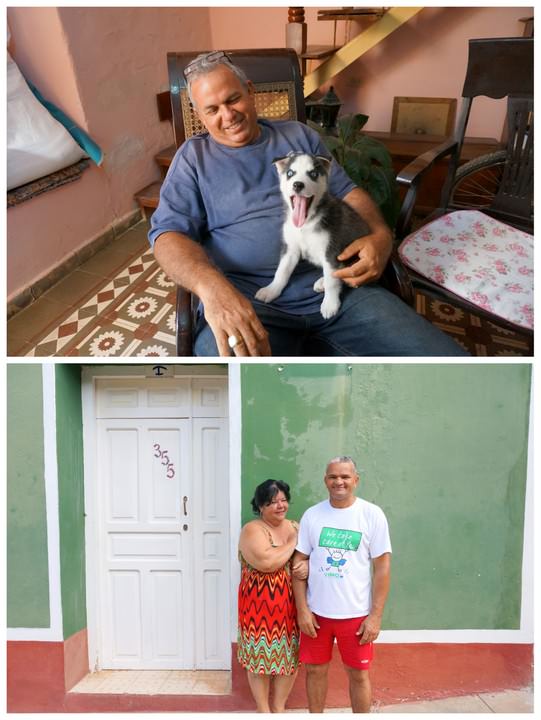 How Much Do Casa Particulars Cost?
Usually a casa will cost around $20 CUC which is equivalent to $20 USD because the CUC is pegged equal to the USD. You can get cheap mojitos and delicious, home cooked meals at almost every casa for a fraction of what you'd pay at a restaurant. A typical dinner will cost between 5 CUC – 10 CUC, the portions are enormous and the food is fantastic. Mojitos & cocktails are around 2 – 3 CUC.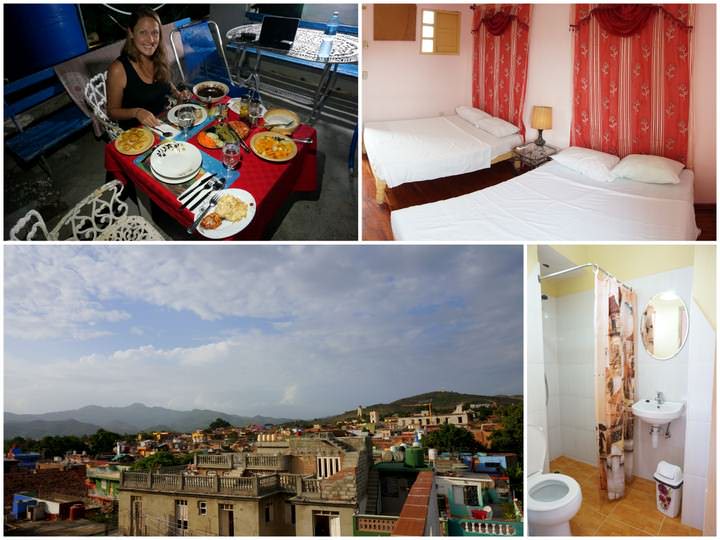 How Do I Book a Casa Particular?
Many online booking sites like Booking.com, HostelWorld.com and HostelBookers.com simply don't include listings for Cuba, but HostelsClub has properties in pretty much every town a tourist would likely visit. We had a great experience with them and can honestly recommend them.
**UPDATE 2017: Finally! The popular booking sites Booking.com and Airbnb are now offering listings for Cuba. Click here to compare prices and see reviews for casa particulars on Airbnb, and click here for Booking.com.
How Do I Find My Pre-Booked Casa In Each Town?
We suggest calling or emailing each casa owner before you arrive in their city. Most of the time they will come and meet you at the bus station with a sign that has your name on it. It's a good idea to arrange this because there are many stories of people actually being conned into going to (what they thought was their booked casa) by a fraud at the bus station.
The homestays usually don't have a sign on them, so you really wouldn't know any better, and if the owner is willing to scam like that, there's a good chance that he or she doesn't offer as good of services and facilities as the one you had booked. Definitely try to arrange pick-up!
What Are Casa Particulars Like?
I could write and write about how great our stay at casas were and how clean and comfortable they were, but I think it's best that you just check out the quick video below and see one of our favourite casas. This particular one is in Havana and it's called Casa Habana Blues 1940.
For more information on Cuba, check out our articles here:
To learn Spanish before your trip to Cuba, click here!
A special thanks to HostelsClub for providing us with accommodation around Cuba. All thoughts, opinions and reviews remain our own, despite any complimentary services received.
Like it? Pin it! 🙂