After an amazing 10 days in Kazakhstan, it was time to say goodbye. We had planned to see more than just Astana and Almaty, but after having some fast-paced travel days, we decided to just stay put and travel slower. We spent a whole week just in Almaty and had a great time there. We did so many things and learned a lot about the country from our new Kazakh friends…we actually could have stayed longer!
The morning of our departure, we took a city bus to the long-distance bus station where we boarded one of the many marshukas (shared mini-vans) bound for the capital of Kyrgyzstan, Bishkek. The ride started off ok, but after a short break for lunch, we were all shuffled into a different marshuka. Our backpacker mentality kicked-in and we both automatically said "no". We've seen the scams before, you pay the full price to one city and switch buses mid-way where they expect you to pay more money to get to your final destination.
But since everyone was moving their bags over (all local people) we decided to just go with the flow and follow along, either that, or be stuck at the dusty, middle of nowhere stop. Our new marshuka was older, louder and much shitier (is that a word?) Nick and I were sitting in the very front seats of this mini-bus and the engine started to overheat. It was cranking out extreme temperatures from the air vents, directly into our faces. Our entire bodies were sweating; opening the window didn't even help because the air outside was over 30 degrees. We were crawling along the highway at about 50kms/hour.
Finally we arrived at the border.
Before starting on this trip, we had read (and been told) that citizens of most western countries don't need a visa for Kyrgyzstan, we just receive a stamp in our passports on entry. When we got up to the counter, the passport control was flipping furiously through our passports in search of something. We both looked at each other knowing what he was looking for. He finally gave up and said: "You have a visa for Kyrgyzstan, yes?" Um, "No, we don't need one" was our reply. He went asking around to his colleagues and lucky for us, our research was correct and he stamped us out of the country – surely the passport control should know this though and not have to be told by a couple of Canadians!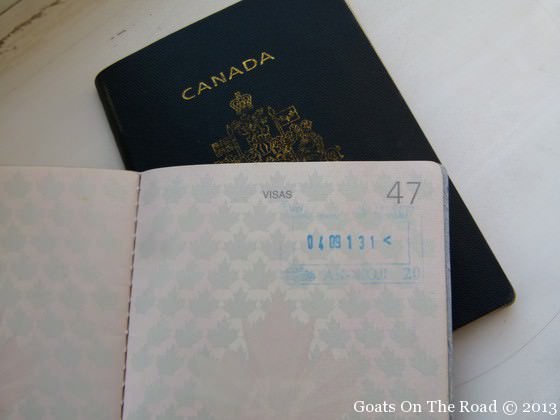 We continued to walk about 1 km to Kyrgyzstan and were stamped in with no problems. We then had to wait for our marshuka to take us to Bishkek. We people watched, drank some water and stood around in the shade waiting for our bus, or anyone that we recognized from it for that matter. After about a 1/2 an hour we started to think we had been left behind. We walked back to the border area to look, we were scanning the people but recognized no one.
Then we spotted him! He had just taken longer to go through customs with the vehicle than we had…phew. We waved at him with huge smiles on our faces, but he just looked right at us with a blank stare and drove about a kilometer away where he pulled into a gas station. Oh good, he's just fueling up we figured. So we hoofed it there, lugging our bags on our backs in the scorching sun (swearing at him for not picking us up along the way). Just as we were arriving at the gas station, we saw our white minivan peeling out of there as fast as possible.
It was official, we were being left behind!
We had a little bit of local currency that we had exchanged at the border so we decided to flag down the next minibus or car we saw and ask for a ride. Within a couple of minutes, a local bus that runs from the border to Bishkek pulled over. It was only going to cost us 50 cents to get to the city. Luckily we had enough and hopped in.
We spent two nights in Bishkek at Silk Road Backpackers. A husband and wife team own this one and the hostel that we stayed at in Almaty. The hostel was ok, we at least had a double room and didn't have to endure sleeping in a dorm room…but like a few other places we've stayed on this trip, the door to our room didn't lock.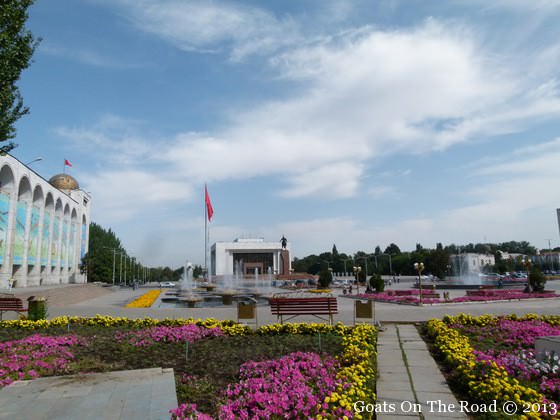 We spent our time in Bishkek wandering around the leafy streets, eating some amazing local food, applying for and obtaining our Tajikistan visas (yay!) and just chilling out. Bishkek was an alright city, we had heard it's basically just a place to eat good food and to apply for some of the many visas a traveller needs in this part of the world.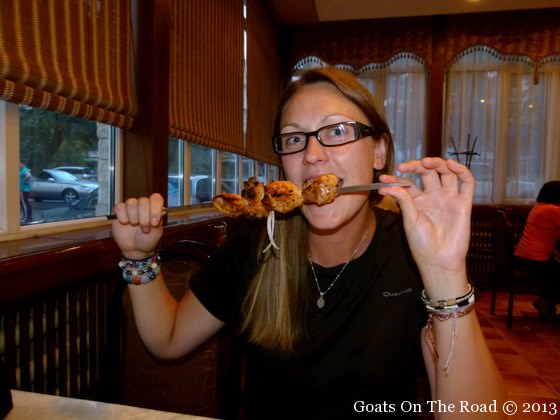 We thought it was a nice stopover, but knew it was just that…we wanted to get to stunning Lake Issyk-Kol as soon as possible!
Have you ever been ripped off when taking transportation? Tell us about it below!
***Goat Notes:
In Almaty – Take bus number 45 from along Dostyk Ave. to get to the Sarayan Bus Station (Long Distance Bus Station) the cost is 80KZT, taking about 30 minutes to get there.
Marshukas from Almaty to Bishkek run from early in the morning until the evening, leaving when full. The cost is 1,300KZT and it takes 5 hours to get there.
FROM THE LEAFY STREETS OF ALMATY: ARE WE IN KAZAKHSTAN?
ASTANA: THE DUBAI OF CENTRAL ASIA
Like this Post? Pin it!