There's an ever-growing number of apps for freelance writers. Countless article writing apps and other software for freelance writers all claim to be able to help you write more, better quality, and in less time.
However, with so many apps and tools available, it can be hard to know where to start. That's why I've put together this list of the best freelance writing apps to help you decide which ones are worth using.
Freelance writing is one of the best jobs for digital nomads and anyone else who wants to work for themself and make money with an online job. As a freelance writer myself, I'm always looking for new ways to make my work easier and more effective.
Used properly, the following tools can help keep your work running smoothly and efficiently and help stop you from feeling overwhelmed.
If you're looking to become a freelance writer, have a look at my review of the Knowadays Freelance Writer course. I recently completed this course and provided my honest insights and tips here in this review.
Best Apps For Freelance Writers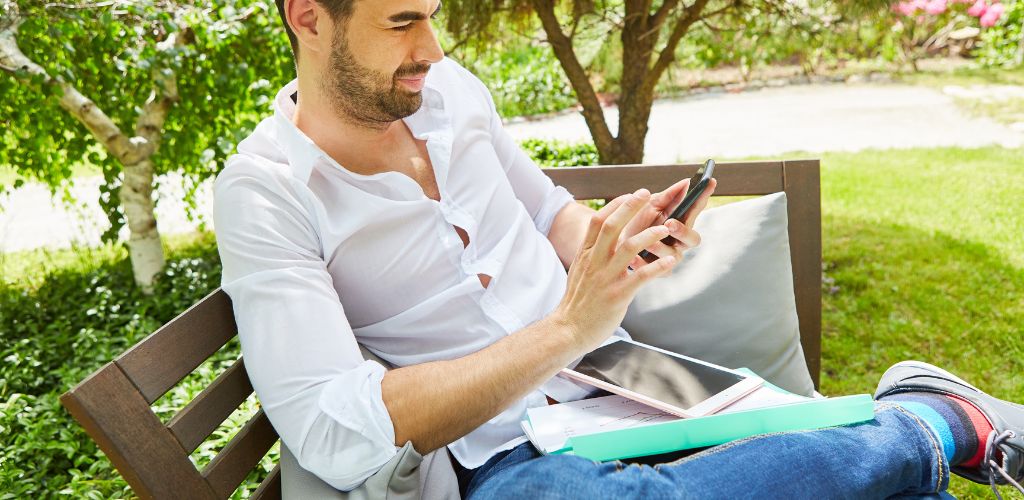 From apps for content writing to plagiarism checkers, and file management to communication tools, this post is all about 15 of the best apps and programs for freelance writers.
When compiling this list of tools for freelance writers, I included many of the programs that I regularly use myself. For the rest, I picked some of the most popular and highly-reviewed apps available online. To help those on a budget, I've also included several free freelance writing apps.
1. Grammarly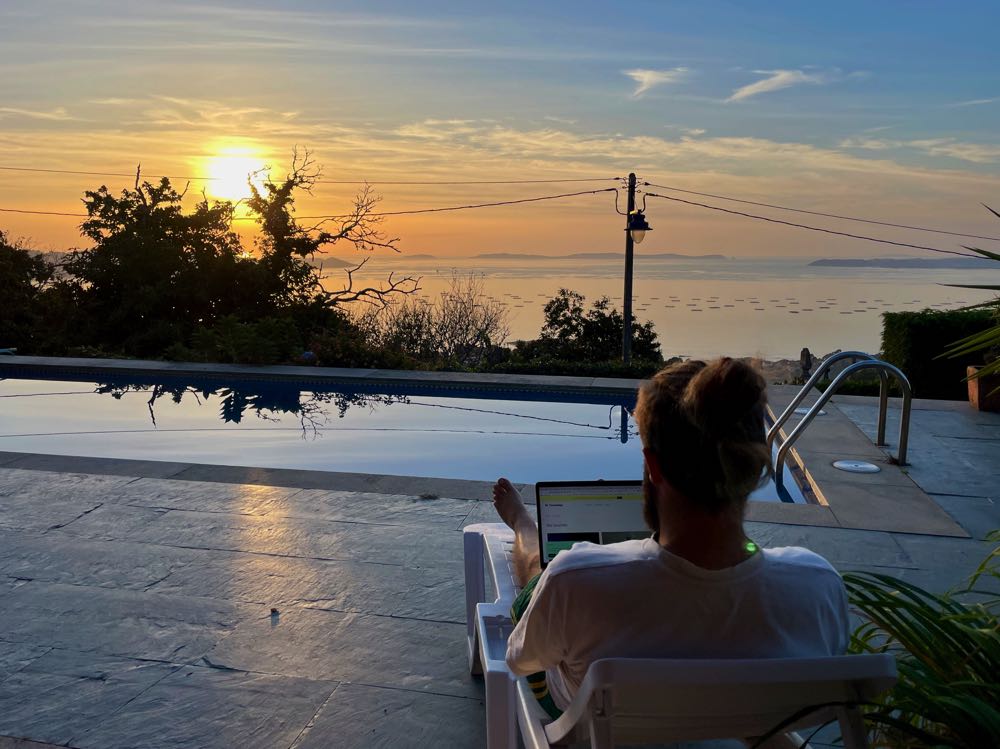 Grammarly is one of the best-known, and most useful, tools to help writers polish their work up to a high standard. I use Grammarly every day and think it's one of the best freelance writing apps out there. Even if you think your writing skills are up to par, turn on Grammarly and I bet you'll see some errors!
As a freelance writer, it's vital that you can consistently deliver writing that's free from spelling mistakes and grammatical errors. But it's also important to ensure that your writing flows well, is clear, and has the right tone.
Grammarly delivers this in an easy-to-use, set-and-forget format. It's simple to install and set up and works as a plugin across a range of platforms including Chrome, Google Docs, Microsoft Office, Apple Notes, and more.
Even better, the standard version is free to use. You can pay for the premium version ($144 per year, $60 per quarter, or $30 per month) which contains several advanced features, like advanced tone and clarity editing. But in my opinion, the basic free version is perfectly adequate.
Pros of Grammarly
Broad range of checks including spelling, punctuation, grammar, tone, word choice, and clarity.
Real-time, accurate suggested corrections.
Customizable settings (e.g. you can set it to British, American, or Australian English).
Well-designed user interface.
Compatible with a broad range of platforms and other apps, including Chrome and most common Windows and Mac applications.
The basic version is free (and great).
Cons of Grammarly
Occasionally it can be a bit buggy with some other applications (e.g. the WordPress editor).
Frequent prompts to upgrade your account (which, I guess, is fair enough as it's a freemium product).
It can't learn your voice, so sometimes makes suggestions that don't fit with your own personal style.
I've found that occasionally it makes a suggestion that isn't accurate, although this doesn't happen too often.
2. Scrivener
Scrivener is another useful tool designed to help make freelance writers' jobs easier. The app acts as a word processor, a portfolio, and a scrapbook for your notes. It allows you to manage and organize all of your materials, research, and writing in one easy-to-access place.
Scrivener has a number of advanced features that are designed to help create a seamless research, writing, and editing process. These tools include research cards, customizable templates and presets, the ability to import and index files, and metatags.
Scrivener is particularly useful for managing long-form writing projects. Whether you're an aspiring novelist, a scriptwriter, a freelance copywriter, or any other type of freelance writer, these features can help improve your workflow and keep everything organized and easy to access.
It works across all major operating systems including macOS, iOS, and Windows. Cost-wise, Scrivener has a one-off fee of $59.99 for Mac or Windows or $23.99 for iOS. There's no free plan, although there is a 30-day free trial so you can try it out before you buy.
Pros of Scrivener
30-day free trial with access to all features.
Customizable setup and interfaces for a personalized user experience.
A variety of pre-set templates for various genres of writing.
Offline functionality.
Helpful tutorials for mastering the platform.
Relatively affordable, one-off fee.
Cons of Scrivener
Requires separate licenses for each platform (so, if you want to use it on both Mac and Windows, you need to purchase two licenses).
No free version.
Wide range of features might be tricky for some people to become familiar with.
3. Evernote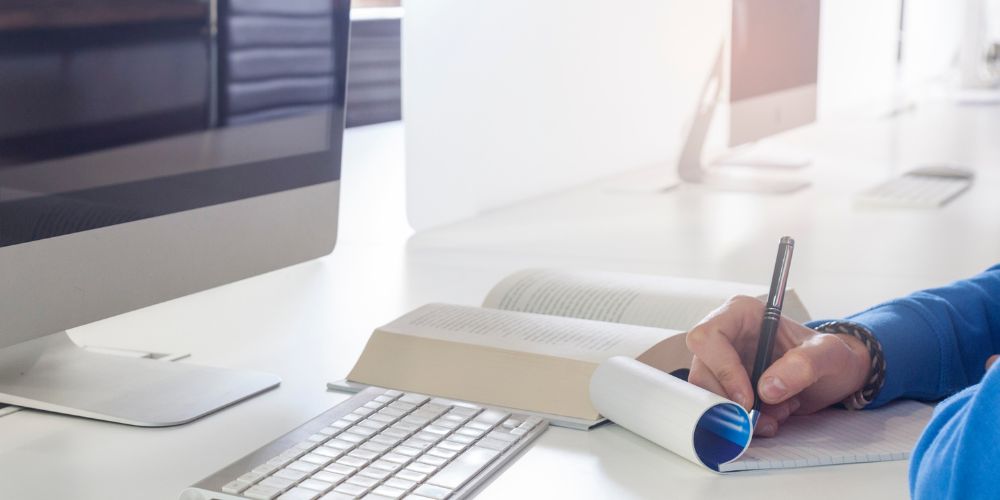 Evernote is essentially a powerful note-taking tool that offers a simple yet effective means for jotting down ideas, conducting research, drafting articles, organizing your notes, and even creating to-do lists.
Many people (myself included) can find the process of writing somewhat chaotic and overwhelming at times. This is where Evernote comes into its own, making the creative process more structured and manageable. The program has a range of templates to help you kickstart your note-taking process.
It's a very versatile platform and allows you to incorporate links, tables, attachments, images, audio recordings, and even sketches into your notes. You can even use it as a basic project management system and it's compatible with both Windows and Mac.
Evernote has a free version with limited features (including a maximum note size of 25 MB and a limit of 60 MB uploads per month). There's also a Personal plan (currently $10.83/month or $129.99/year) or a Professional plan $14.17/month or $169.99/year) with a greater range of functionality.
Pros of Evernote
Simple, intuitive interface.
Excellent tool for note-taking and keeping your notes organized.
There's a free plan.
Document scanner feature for digitizing handwritten notes or documents​.
Powerful search function makes it quick and easy to navigate through extensive notes.
Cons of Evernote
The free version has limited functionality.
Paid plans are relatively expensive for what you get.
Occasionally it can be a bit buggy when syncing across multiple devices.
4. Google Docs
Everybody's heard of Google Docs, right? This fantastic free tool is super useful for freelance writers, especially those who regularly work in collaboration with clients and others.
Google Docs is basically like a free version of Microsoft Word, except everything is stored in the cloud and you can collaborate with multiple other users simultaneously. This is another app that I use on a near-daily basis and would recommend it to any freelance writer.
Being able to share a document with your client and see edits and comments in real-time is incredibly helpful. It makes the process of communication and revision much quicker and easier compared with "traditional" back-and-forth via email.
Because everything is cloud-based, all of your work is saved automatically and can be accessed from any device (Windows or Apple) at any time. The version history feature also allows you to track changes over time, which can come in handy when working on multiple revisions.
☞ SEE ALSO: 15 Pros and Cons of Being a Freelance Writer
Pros of Google Docs
It's free.
Real-time collaboration so multiple people can edit documents simultaneously.
Cloud-based, so everything is saved automatically and can be accessed at any time (and from any device).
It's super intuitive and user-friendly.
Loads of helpful features and settings from simple to advanced.
Compatible cross-platform, so you can edit the same document on an iPhone, an Android phone, a PC, and a Mac all at the same time!
Cons of Google Docs
Lacks some advanced formatting and editing features compared with Microsoft Word.
You can work offline, although real-time changes are only synced when you have an internet connection.
5. ProWritingAid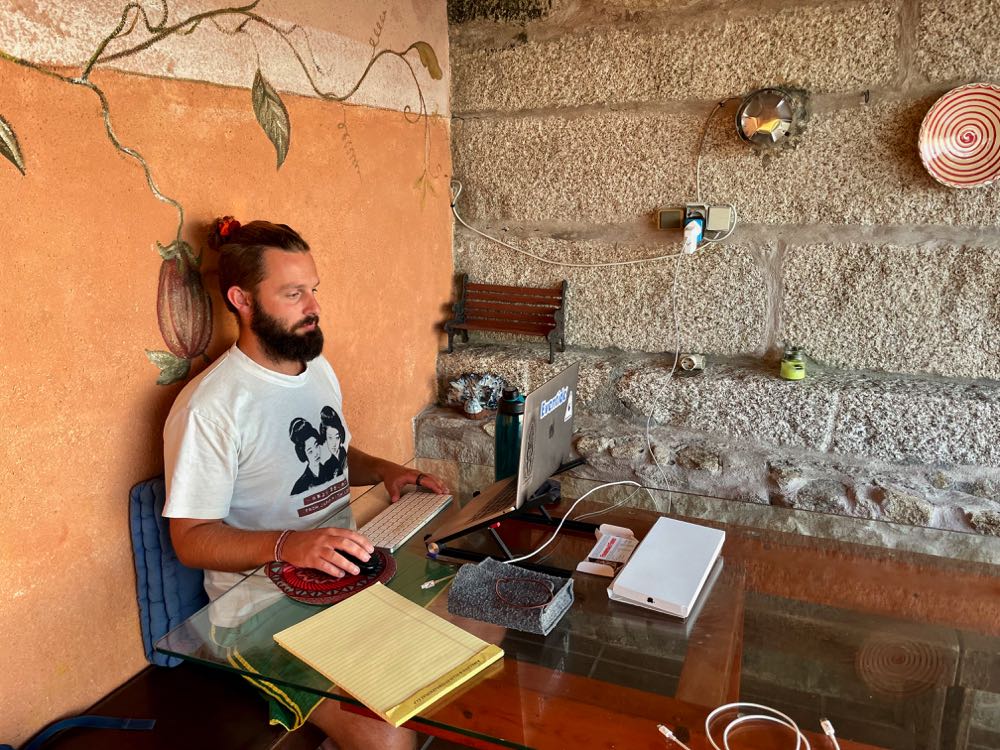 ProWritingAid is a powerful tool for freelance writers, serving as both a writing editor and a personal writing coach. There's a (limited) free version, or you can pay $30 per month, $120 per year, or $399 for lifetime access to the premium version.
Similar to Grammarly, ProWritingAid helps to enhance the quality of your writing by identifying and fixing any spelling mistakes and grammatical errors. It also checks for plagiarism as well as any contextual errors in your writing.
One of the best features of ProWritingAid is its ability to revise vague or unclear writing, offering helpful suggestions to improve the quality of the text.
It's a versatile platform and is compatible with Windows and Mac through browser extensions (Chrome, Safari, Firefox, etc.) as well as plugins for other apps such as Microsoft Word, Scrivener, and Google Docs.
Pros of ProWritingAid
In-depth grammar, spelling, and style checks to improve writing quality.
Plagiarism checker to ensure content originality.
Easy to use.
Compatible with many other writing tools.
Browser extensions for easy access and usability.
Affordable pricing (if you pay annually) plus a free version available.
There's a lifetime plan, which is cost-effective in the long run.
Cons of ProWritingAid
The free version has limited functionality.
The premium version is relatively expensive if you pay monthly.
Occasionally suggests incorrect amendments.
No mobile app.
6. Dropbox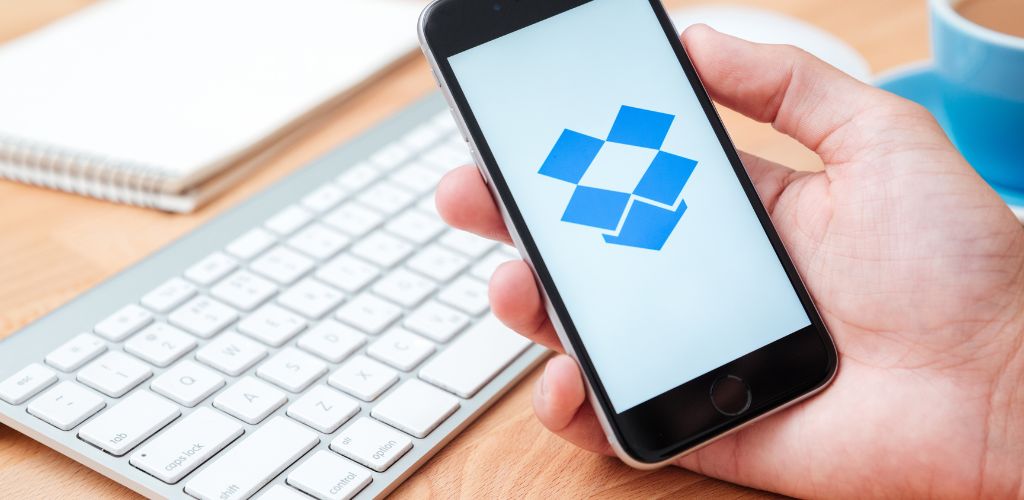 I've been using Dropbox for as long as I can remember, since well before I started working as a freelance writer. However, it's a particularly useful tool for freelance writers who need to store, backup, share, and access their work from anywhere, including on the go.
Dropbox is seamless and super easy to use. It's essentially a drag-and-drop system where you pick the files and folders you want it to access and the platform does the rest for you.
There's a free plan that provides up to 2GB of storage. If you need more, you can pay $22/month (or $18/month if you pay annually) for up to 3TB of data.
I use Dropbox to back up my most important photos, documents, and files. It's also a great way to share larger files (like high-res photos) with others, especially if these files are larger than the limit that you're able to send by email.
Pros of Dropbox
Real-time syncing of files across various devices.
Easy way to collaborate and share files/folders with others.
Secure means of backing up important work.
There's a free version with up to 2GB of storage.
Compatible on all major operating systems, including iOS.
Cons of Dropbox
The free plan offers only 2GB of storage which might be insufficient for some.
7. Freedom
Freedom is a great app for freelance writers who want to be free from distractions during their working hours. And in turn, being more productive.
The app blocks out distracting websites and apps on your devices (Instagram, news websites, etc.) allowing you to work in a quiet, conducive digital environment.
You can customize the websites/apps that it blocks, and schedule "blocked" sessions during which all distractions are kept at bay. It even has a "locked" mode for those who might be tempted to try and disable the blocker.
The app is compatible with most major operating systems (both mobile and desktop) and costs $8.99/month if you pay monthly, or $3.33/month if you pay annually.
Pros of Freedom
Efficiently blocks distracting websites and apps.
Great for those who struggle with productivity because of distractions.
You can pre-schedule "blocked" sessions.
"Locked" mode for stricter enforcement of the blocking rules.
Cons of Freedom
It's relatively expensive for what it is (especially if you pay monthly).
It might be too restrictive for some, especially if you like to take regular breaks and browse other things online when working.
Not necessary for everybody.
8. Hemingway Editor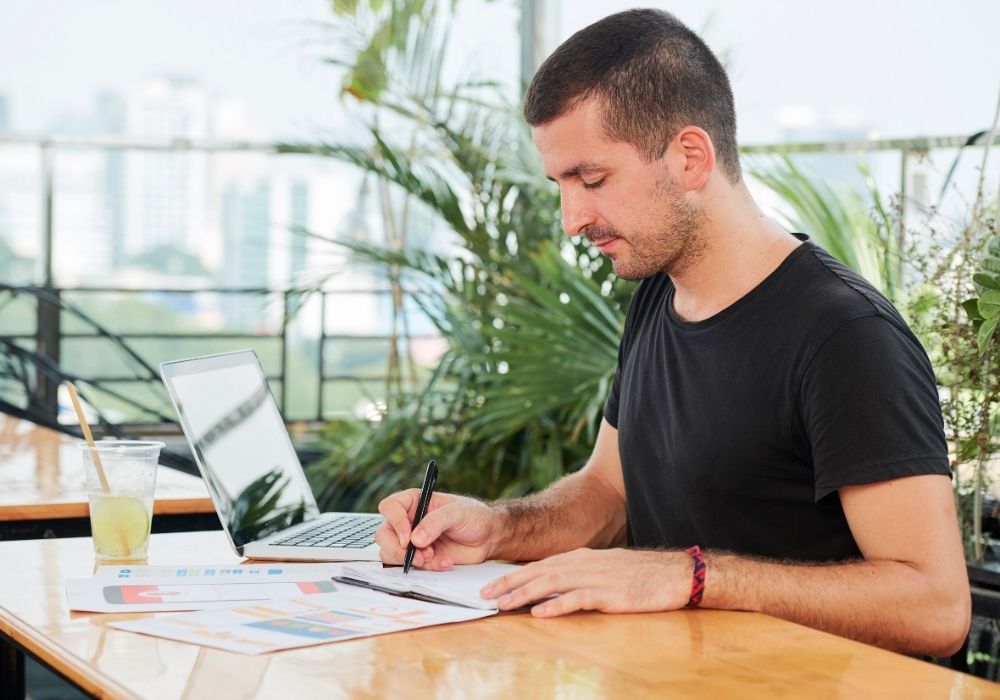 Hemingway Editor is another popular tool for freelance writers looking to enhance the quality of their written output. As well as containing a standard spelling and grammar checker, it also offers enhanced insights on readability, sentence complexity, and active vs. passive voice.
Hemingway Editor helps ensure that your writing is clear, engaging, and easily digestible. It makes suggestions where necessary to help improve the clarity and tone of your writing.
This is a particularly useful tool for those who find themselves writing overly complex sentences, or using too much passive voice, which can sometimes harm the clarity of the message being conveyed.
The online version of Hemingway Editor is free, making this a great option for freelance writers on a tight budget. The offline desktop version is available for a one-off fee of $19.99, making it one of the best cheap freelance writing apps available today.
Pros of Hemingway Editor
Effortly improves your writing style, making text clearer and more engaging.
Assesses readability and sentence complexity.
Great for those who struggle with clarity and overuse of passive voice.
The online version is free.
The offline desktop version is affordable ($19.99 for lifetime access).
Compatible with both Windows and Mac.
Cons of Hemingway Editor
It may sometimes oversimplify complex ideas or topics.
May not be suitable for certain technical or complex genres of writing (e.g. science, law, engineering, etc.).
Some people might find the suggestions unhelpful, especially if you have a distinct writing style.
9. Canva
Canva is a great tool for freelance writers who also need to create visually appealing content, such as social media posts, presentations, posters, advertisements, official company publications, and the like.
With an intuitive drag-and-drop editor and a huge number of customizable templates and design types, it makes the otherwise long and (dare I say it) tedious process of graphic design super easy, quick, and satisfying.
I use Canva fairly often and particularly like its rich library of photos and graphics. I also love how easy it is to format and customize your own templates, allowing you to produce consistent designs at scale.
You can access the basic version of Canva for free. Canva Pro offers a range of more advanced features, templates, and images and costs $119.99 for an annual subscription, or $14.99 if paid monthly.
Pros of Canva
Huge library of templates, photos, and graphics.
Quick and effortless to create beautiful visuals and professional-looking designs.
Customizable templates for brand consistency.
User-friendly drag-and-drop editor.
Easy to use, even for those (like me) without any background in graphic design.
Compatible with Mac and Windows.
The free version is great and has lots of functionality.
Cons of Canva
You need to pay for some advanced features.
The huge number of features and templates might be overwhelming for some.
Not likely to be useful for text-only freelance writers.
10. Yoast SEO
If you're a freelance writer who needs to write SEO-friendly content (eg. website copy, blog posts, etc.), Yoast SEO is one of the best and most useful tools around.
Yoast analyzes your writing and provides actionable insights and recommendations on how to optimize your content to ensure that it complies with SEO best practices. It has a beginner-friendly interface, making it a great tool even for those unfamiliar with SEO.
Yoast SEO is a plugin for WordPress, which is a common platform for managing online content on websites. The basic version is free and there's also a paid Premium version that costs $99 per year.
I use the free version all the time and would highly recommend it to any freelance writer producing online content.
Pros of Yoast SEO
Easy to use and intuitive interface.
Provides practical insights and recommendations for on-page SEO optimizations.
Focus keyword feature helps you optimize content around specific keywords.
Regular updates and good customer support.
The free version is great.
Cons of Yoast SEO
Recommendations can be a bit overly prescriptive and mechanical.
Only useful for freelance writers who need to write SEO-optimized content for online publication.
11. Copyscape
Copyscape is one of the best programs for plagiarism detection and is a great tool for any freelance writer to ensure that the content you produce is original and free from any form of plagiarism.
It's an online platform where you input the writing you want to check and it quickly scans the content and lets you know how much (if any) of this material appears anywhere else online.
Copyscape is cheap and straightforward to use. You can either copy and paste content into the tool or simply upload whole PDFs or Word documents and the software scans it for you automatically.
Copyscape is accessible via a web browser so isn't dependent on any operating system. Pricing is based on the number of words checked, starting at 3 cents for the first 200 words and 1 cent for each additional 100 words.
Pros of Copyscape
It's fairly cheap as long as you don't need to check very large volumes of content.
Supports checking entire documents in PDF and Word format.
There's a WordPress plugin for those writing online content.
Cons of Copyscape
The free version of Copyscape only allows you to check for plagiarised versions of your content already online.
To check whether your content contains plagiarism itself, you need to pay.
The cost can quickly add up for larger documents/projects.
It's web-based so you need internet access to use it.
12. Otter
Otter is an app that offers professional-quality speech-to-text dictation. It's a great tool for freelance writers who prefer dictating their ideas rather than writing them down and works in seconds to transcribe your spoken words into text.
There are lots of different speech recognition software out there all offering similar things. I've personally used Otter and it's one of the most accurate tools I'm aware of, much better than the speech-to-text function built into my iPhone or MacBook.
Otter is available as an app for smartphones (iOS and Android), so it can be used anywhere, including on-the-go. My partner is a journalist and she also uses Otter to create transcripts of interviews and other meetings. It's pretty versatile.
There's a free version that gives you access to basic features, as well as a Pro version that costs $10/month (billed annually). Otter Pro allows you to transcribe longer conversations, add colleagues to your workspace, import and transcribe audio and/or video files, and more.
Pros of Otter
Very accurate voice recognition.
You can add custom words like technical terms, company jargon, slang, etc.
Integrates with other apps including calendars, Slack, Teams, etc.
User-friendly interface that's easy to use.
Cons of Otter
You have to pay to access premium features (like transcribing audio and video files).
The cost might be a deterrent for some.
It does occasionally mistakes (although, in fairness, that's true of all transcription software, and Otter is definitely one of the best options).
13. Slack
Slack is a popular tool among freelance writers and other teams to stay in touch with their colleagues and clients.
Freelance writers can use it to communicate with their clients, share documents (briefs, drafts, comments, etc.), and discuss and collaborate in real time. You can use it to make calls, host video meetings, and for one-on-one or group instant message chats.
Slack is available as both an app (smartphone and desktop) as well as via a web browser. It integrates with a number of other apps and tools (including Google Suite) which further enhances its functionality.
I use the free version of Slack quite regularly. There's also a paid version that starts at $7.25 per user per month (billed annually) and has even more advanced features.
Pros of Slack
Seamless communication with clients and colleagues.
The free plan has a lot of useful features.
The paid version is fairly affordable.
Integrates with a large number of other apps and tools.
Multiple built-in communication options cater to various communication needs.
Easy-to-use and highly customizable interface.
Cons of Slack
Many people might not like the "always available" nature of instant messaging.
I personally find it can be challenging to keep track of ongoing conversations and the message history can get buried.
The web browser version is often quite slow to load.
14. Notion
I've recently started using Notion and it's been a game changer for me. Notion markets itself as a unified workspace that allows you to keep all of your notes, projects, tasks, and to-do lists in one place.
Rather than having multiple tabs open at the top of your browser for each of your ongoing tasks, you can file these all efficiently within Notion in an easy-to-access format.
It's a great way to organize your thoughts, manage your schedules and deadlines, and keep everything running smoothly. For me, as a freelancer and small business owner, it allows me to juggle multiple projects simultaneously without feeling overwhelmed.
The basic version is free and comes with a great range of features. There's also a paid version, although I don't really think it's necessary given how good the free version is. Notion also has apps for desktop and smartphones, although personally, I prefer the web-based version.
Pros of Notion
A great way to organize your notes, tasks, deadlines, and to-do lists.
It's an all-in-one workspace.
Highly versatile with a wide range of useful features.
The free version is great.
Available in web-based format as well as through apps (for smartphone, desktop, Mac, Windows, etc.).
Cross-platform functionality.
Cons of Notion
There's a bit of a learning curve when you first start.
Not everyone might find it useful, it depends on how you like to work (but I'd still recommend trying it – I love it!).
15. Pocket
If, like me, you always have an extensive "to read" or "to watch" list, you'll love Pocket. This great little app allows you to save articles, websites, documentaries, videos, and more all in one place, allowing you to access them later.
For freelance writers, this is a great way to store research and other materials together, to help keep everything organized and easy to manage. You can file things away into folders, allowing you to refer back to them quickly whenever you need to, including when you're offline.
It's also great for personal recommendations, whatever you're interested in. Whenever somebody says, "You must read X" or "Watch Y, it's great", I save the recommendations in Pocket and then read/watch them later whenever I have time (e.g. on a long flight or train ride).
The basic version of Pocket (which I use) is free. There's also a Premium version that contains additional features (like a permanent library, advanced searching, note-taking, annotating and highlighting materials, etc.) and costs $5 per month or $45 per year.
Pros of Pocket
The basic version is free (and great).
It's a really efficient way to store and organize content that you want to read later.
The app also recommends additional content for you to read based on your personal interests.
Offline access to saved content (written only, not video).
Premium version offers additional features including advanced searching, unlimited highlighting, and a permanent library.
Cons of Pocket
You can't save videos for offline playback.
You have to pay for Premium features (although it's still relatively affordable).
Must-Have Freelance Writing Tools: FAQs
Conclusion
I highly recommend taking advantage of these apps for freelance writers to help maximize your productivity, manage deadlines, and optimize the quality of your writing.
I use many of these tools daily. They're all great and help me enormously, I hope you find them useful too. If you're considering becoming a freelance writer, have a look at the course with Knowadays. I recently completed this course and highly recommend it. Use this link and promo code GOATS25 for 25% off.