Planning a trip to India for the first time can seem like a daunting task. You've probably heard stories of dirty streets, culture shock and absolute chaos. While this can be true, India is probably the single most rewarding and awe-inspiring travel destination on Earth.
Most travellers to India have a love/hate relationship with the country and this will likely be true for you. You'll love the food, the friendly locals, the spirituality, the colours and the culture, but you'll hate the chaos, the poverty, the grime and the hassle in equal measure.
The key to a great trip to India is to minimize your stress levels, and one of the biggest stresses for backpackers in this country (or any new country) is getting from point A to point B. The transportation system in India can seem overwhelming, so overwhelming in fact that we figured it was necessary to make a Goat Guide specifically for Indian transport!
This guide will walk you through the transportation options in India – from figuring out what type of India traveller you are, to working the transport system for maximum benefit and ultimate savings.
For more on India, check out our article: Preparing To Travel To India and our Budget Backpacking Guide to India.
What Type of Traveller Are You?
There is a wide variety of transportation options in India, from luxury 1st class cabins in trains, to buses that are crammed so full that even veteran travellers find themselves gasping for air. You may say to yourself: "I've travelled a lot before so I can handle hectic transport" and while this may be true of some people, most westerners will never be able to handle a seater class 1 train from Mumbai to Kolkata.
So we arrive back to our first question.
What type of traveller are you? Or rather, what type of India traveller are you?
Let's assume that you'll be travelling long distances, which is normal in India. Let's also assume that you don't want to spend 12 hours hanging out of the door of the train, desperately trying to get a grip of something to pull yourself inside the dirty, loud cabin before the next tunnel rips your arms off. We've been on trains like this and in our opinion, no matter how strict your budget is, long-distance seater class trains are not worth the money you'll save.
So, you'll probably be looking at SL (Sleeper Class), AC 2 Tier (AC 2) or AC 3 Tier (AC 3) trains. There are many different classes of trains but these are the most common for long distances.
If you're a bus traveller, you'll have fewer options for buses that will get you to where you want to go. You'll likely take local buses to your destination and these usually don't have AC and can get very crowded, although they are always frequent and reliable.
There is a new bus in India that may be the backpackers' savior. It's called RedBus and although we've never used the service, it sounds like it could be a great addition to India's transportation options.
[widget id="shortcodes-ultimate-5″]
Train Travel – Choosing Your Train Class
Most backpackers on the budget end of the scale will be opting for an SL train. These trains are not bad, although they do vary greatly in cleanliness and service. Midrange travellers will want to check out AC class trains, while those with a bit more money to spend (or who want to experience a bit of glamour) should check out the luxury trains in India.
SL Sleeper Class Cabins:
These cabins consist of 3 bunks on each wall facing each other, with another 2 bunks perpendicular to those across the hall. There is no air conditioning on these trains and the beds are slightly harder than they are in the AC class.
You won't have to bring food with you because there is a kitchen on the train and workers will bring through meals and snacks on a schedule, for an extra cost. There are also hawkers that come on at almost every stop selling everything from
chai
(Indian tea) and
samosas
to blankets and sweaters.
Riding on an Sleeper Class Train can be very interesting and is often a great way to interact with local people, although you may be sharing your bed with the occasional cockroach or mouse.
AC Class Cabins:
The AC class can actually be broken down again into three categories: AC1, AC2 and AC3. Keep in mind that some of these options are only available on certain lines. AC1 is the higher end of the three and is probably out of most backpackers' budgets.
AC2 is relatively affordable, spacious and comfortable with just 2 bunks on each wall of the berth, giving you plenty of space to sit up, move around and breath. These trains have only 2 beds on each wall and they really feel like a step up from the SL class.
Some backpackers with higher budgets will be able to afford AC2 but AC3 trains are cheaper. AC3 is like a much cleaner, air-conditioned version of an SL train with three bunks on each wall.
The best thing about AC trains is that the windows are sealed shut, so not only is it much quieter at night, but you won't be woken up by the smell of excrement at every stop. Also, there is a curtain on AC trains that can be pulled across the cabin for more privacy.
What's The Difference Between AC and SL?
AC Trains offer sealed windows, temperature control, better meals (free), curtains across the compartments and blankets & pillows. None of these things are offered in SL Class. Another major difference between the AC Class and the SL Class trains is the people who ride them. I always use this example when explaining to other backpackers the divide of classes:
When we took our last SL train it was loud, over crowded and there were some cockroaches running around at night. People were changing their baby's diapers and throwing the dirty diapers at their feet. We then upgraded to AC because there were no SL classes available on our required journey. When we boarded the train it was quiet, people were speaking English and it was blissfully cool. I stepped on the lower bed to get up to my top bunk and the gentleman sleeping there scowled and brushed off the dirt left from my foot. He said: "Excuse me sir, please use the latter, your feet are very dirty". Yes, the change between classes is extraordinary.
Having said that, there is a lot more commotion and excitement on the SL trains and you will most likely have a much better "people experience". Locals seem to be more social in the lower class trains and you'll probably end up sharing a delicious home-cooked lunch with the family in your cabin. The decision is up to you.
Choosing Your Berth
Deciding which seat you want can be a tough decision…at first. Once you've been on an Indian train for a long journey, you'll know exactly which seat you want next time! On SL and AC3 Trains, there are 6 berths/cabin with another 2 berths across the hallway. On AC2 Trains, there are 4 berths/cabin with another 2 berths across the hallway.
LB (Lower Berth)
During the day, everyone is allowed to sit on the bottom bed, even if it's yours and you want to lie down. At times, there could be up to 5 people trying to squish onto your bottom bed. The pros of the lower berth are that you have a window to look out of and you are close to your luggage, which is stored under the lower bunk. Also, you don't have to worry about going up and down the ladder at night to go to the bathroom!
MB (Middle Berth)
We personally think this is the worst seat you can have! During the day the middle berth is folded down and acts as a back rest for everybody sitting on the lower berth. This means that you can only lie down when all of the other passengers are going to sleep and you can finally hook your bed back up. The middle berth doesn't exist on AC2 Tier trains, as there are only 2 beds on either side of the cabin.
UB (Upper Berth)
The upper berth is a good choice. You can lie down whenever you want and no one will be asking you to sit on your bed, or to fold your bed up to make a back rest! The downsides are that it can be a bit cramped up there, during the day it can be very hot (if you're on an SL Train) and you won't be able to see out of the window. If you're on an AC2 Tier Train, the upper berth is a good choice. It's spacious, private and since there's AC, you won't be too hot.
SL (Side Lower)
SL refers to "Side Lower" and is not to be mistaken with the SL class of the train. If you're on an SL or AC3 Train, this is a good seat to choose. During the day, this bed turns into two chairs facing one another. So, you will be able to have your own seat and will only have to share your area with one other person. Each person will be able to have a view out of the window as well.
SU (Side Upper)
Another good choice. Since there are only two beds on the side berths, the side upper bed is spacious. There's plenty of room for sitting up during the day and more room for sleeping at night as well. The only downside is that there's no window view from the side upper bed.
Our preference are the SU and SL berths. If there are two of you travelling, definitely opt for these two seats. During the day, you have the bottom bunk to yourselves, your luggage will go beneath your bed and the upper bunk is spacious. The only downside is that these beds are a bit more narrow than the berths inside the main compartment.
Booking Your Tickets
Booking train tickets can be a confusing process in India. With so many different classes of trains, different classes of tickets and a ton of different ways to obtain them, your head might be spinning by the time you figure out where you want to go.
We've gone over the different classes of trains already, but now you need to know the different classes of tickets. You see, in India there are so many people travelling that the IRCTC (Indian Rail Company) decided to reserve tickets for foreigners, and for people who forgot to book early. You'll pay a bit extra for these tickets but sometimes they're your only options.
Tatkal Tickets: To allow travel at short notice on trains that often become fully booked, Indian Railways introduced a system called Tatkal (a Hindi word for 'immediate').  A certain number of tickets on busy trains are reserved and then released at 10:00 am one day before departure, then sold with a Rs75-Rs300 extra Tatkal charge. If there are Tourist Quota tickets available, you won't need to worry about Tatkal.
Tourist Quota Tickets: Major stations in cities like Bombay, Delhi, Calcutta, Agra, Jaipur and Varanasi have an International Tourist Bureau where foreign travellers can book trains away from the crowds and queues at the train station booking office. For a list of stations with an International Tourist Bureau and their opening times, visit www.indianrail.gov.in. Tourist Quota tickets can be a life saver because they're only for holders of foreign passports and they're available for most of the popular routes. If the train you're trying to reserve is fully booked, ask about Tourist Quota Tickets!
RAC (Reserved Against Cancellation) Tickets: When a train becomes fully booked with passengers who have confirmed reservations (CNF), a certain number of tickets in each class are sold as 'Reservation Against Cancellation' (RAC). Basically, if someone cancels their trip, you'll be bumped up to CNF and you'll find your seat number and berth posted to a notice board in the train station (ask information at the station for help).
WL (Wait-Listed) Tickets: These tickets are one step below the RAC tickets. Basically you won't get on the train unless a lot of other people cancel. These are often a last resort and while they don't always get you on the train, there are times when you can get lucky.
Where Do You Book Train Tickets?
You basically have three options for where you will book your tickets: at the station, from a travel agent or online.
At The Station:
Booking your tickets at the station can be a hassle and you'll have to pay for transportation to and from the station to book your ticket in advance. Sometimes the station can be way out-of-town. However, you avoid paying any extra travel agent fees this way and if you're already near the station, it would make sense to stop in and book a ticket. Look for the "foreigner window" so you don't have to wait in a long queue.
Through A Travel Agency:
The easiest option is to go into a trusted travel agent, pay a small fee and have them do all of the work for you. Typically the extra charge is about $1 and it's worth it to save yourself the hassle and commotion at the train station.
Booking Online:
WARNING: The IRCTC website ONLY accepts AMEX Credit Cards! That's right, NO VISA, NO MASTERCARD. 
**UPDATE August, 2016: The IRCTC website now accepts VISA and Mastercard. 
You'll have to go through a long, 8-step booking and registration process. Check out this article on Seat61 for more (scroll down to "Buying India Train Tickets Online").
Checking Your Reservation & Finding Your Seat
Your train ticket will show your train, coach and seat number printed clearly (see below). The berth on the ticket will state either UB (upper berth), MB (middle berth), LB (lower berth), SU (side upper) or SL (side lower).

When you arrive at the train station, look at the departure board for your train number. Beside it there will be a platform number which your train will be leaving from.
About 2 hours before the planned departure, you'll find a reservation list posted on the notice board of the train station. The list contains the name, age and sex of every passenger on the train. This helps officials make sure the correct people are in the correct seats/beds.
Once you are at the correct platform and the train is arriving, you then need to look for your coach number. After you've boarded the correct coach, you will then need to search for your seat number and finally, your berth.
Bus Travel
Booking Your Tickets
If you're taking the local bus, you can usually just head to the bus station and hop on the next one leaving. Because there are so many people travelling around India, you never have to wait too long to catch the next bus out.
The main problem comes when you see that all of the destinations are written in Hindi. This can be annoying, but luckily you're never too far from a fluent English speaker in India, so you should be able to find someone who's happy to help you. If you're going to take the new backpacker bus, you can book cheap tickets with Red Bus.
Checking Your Reservation & Finding Your Seat
If you're taking the bus then you probably won't have any issues with this. Local buses are often first-come, first-serve and you'll either buy your ticket right at the station, or when you're on the bus. Seats typically aren't assigned on the local buses.
Tips For Indian Travel Days
Travel days should be fun and exciting, but if you don't plan them properly, sometimes they can be disastrous. Here are a few tips for making the most of your travel days in India.
Keep An Open Mind: Even if you're in the lowest class train or bus, you can have a great journey. Things will most definitely be different than they are at home, but just be open to it and learn from the experience. Try to connect with the people and enjoy the ride!
Pack Food and Water: Even though you'll have meals and drinks offered to you on both bus and train journeys, it's best to pack a few snacks that you know you'll want to eat, just in case you're not interested in what's on offer. A hungry travel day can be a grumpy one and nobody wants that!
Bring a Sweater For AC Journeys: When you're boarding your train mid-day you may find that the AC is a god-send, but when the sun sets and the AC is still blasting full force, sometimes you'll be close to hypothermic! Bring a sweater just in case.
Travel At Night: If you're on a budget, why not get a free night's stay with your train journey? If it's an 8 hour trip or longer, you might as well be sleeping through it. Night trains are great and if you're taking SL class in the hot season, you may find that the day trains are simply TOO HOT.
Book Your Meals On Trains: If your train has a restaurant car then you'll probably see a man walking around taking orders before mealtime. Flag him down and order something light and tasty. Train food isn't the best but it's good enough to get you by.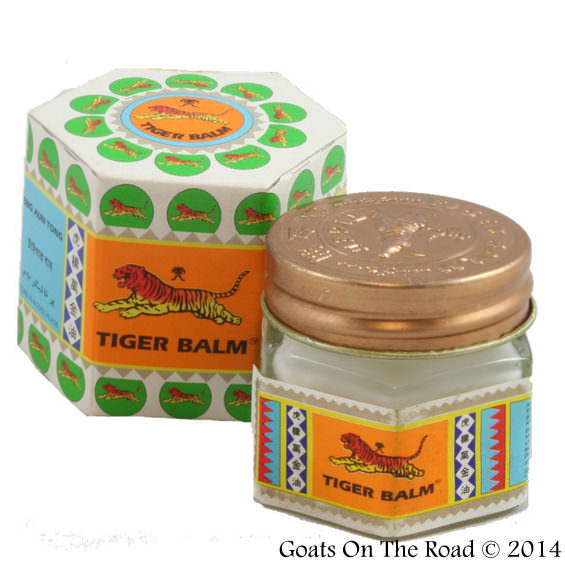 Pack Tiger Balm: Sometimes there are some nasty smells from the sewage covered tracks and side-of-the-road garbage dumps. A little Tiger Balm under the nose can do wonders! It's also great for headaches.
Reserve A Good Bunk: During the day on trains (or as long as the other passengers decide to stay up), the bottom bunk is free game for everyone. If you're ready to lie down but everyone else is just eating dinner, you'll have to wait until they retreat to their bunks before you can kick back and relax. If you choose the top bunk, you can lie down whenever you want. Better yet, if there are two of you, book the side-upper and side-lower bunks and have the whole area to yourselves!
Women, Make Yourself A Curtain: More and more stories of harassment (or worse) are coming out of India these days. A good way for women to avoid unwanted attention is to bring a sarong on the train and tie it up around the bunk to create a curtain. Only foreigners would do this, but only foreigners would get enough attention to warrant such actions.
Arriving At Your Destination
Now you've figured out how you want to travel, you've booked your ticket, checked your reservation, boarded the train or bus and made it to your destination. But the journey's not done yet. You'll have to get to your hotel or guest house. The best way to avoid unnecessary stress is to pre-book your accomodation.
Before your train or bus arrives, phone and ask your hotel to pick you up, or ask the receptionist exactly how much a taxi, tuk-tuk or city bus will cost directly to the hotel. Taxis and tuk-tuks will be lined up ready to take tourists to their hotel and charge them tourist prices. Know your transport costs and do some bargaining… it's fun when you know the real price!
In some cities, taxis and tuk-tuks have a meter. If so, find a ride that's willing to use the meter. If you're ever having a hard time making them use their meter, flag down a nearby police officer and the driver will quickly change his tune. If the driver takes you straight to your hotel, the meter will ALWAYS be cheaper than a quoted price.
Now You're A Pro!
Travelling around India doesn't have to be difficult. Aside from some buses and seating class trains, the days of riding on the roof and not being able to find your reserved seat are pretty much over. For all of India's disorganization, its transport system is now efficient, punctual, comfortable and fun. You just need to know how to tackle your travel plans and transportation bookings and you'll have a better trip in India.
Travelling by land in India is the best way to see this incredible country. Not only is bus and train travel cheap, but the scenery and people you'll meet along the way are sure to make your trip a memorable one.
Some Useful India Transportation Websites:
https://www.seat61.com/India.htm#.U3Yfy1hdUyk
https://wikitravel.org/en/India
https://www.goatsontheroad.com/category/southern-asia/india/
If you have any questions about travelling to India, feel free to leave a comment below or Contact Us Here!
Like it? Pin it! 🙂