During our previous trips to SE Asia, Africa, the Middle East and Europe, we always stayed in a private double room. There were a few reasons for this, the most obvious one being that backpacking couples need their privacy (for cuddling, arguing, and other things…) The other reasons being that we like to have our valuables locked away safely in our own room and we don't want to be disturbed by people snoring, turning lights on in the middle of the night and getting up early!
We've always stayed in hostels, but opt for the private room instead of a dorm bed.
We tried out a dorm room two times on our previous travels, once in Borneo, Malaysia and once in Mozambique, (only because everything else was fully booked) and we hated every moment of it! We had visions of dirty, smelly dorm rooms with rock hard beds…and we were right. There were about 20 people in the room, bags and clothes littered the ground and hung over each bunk-bed. Guys were walking around in their teeny-tiny underwear, it smelled like a locker room and people were checking in at 3:00am and being really loud.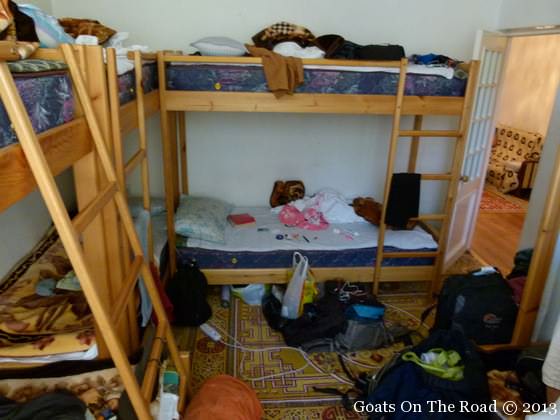 From that moment on, we vowed never to go in a dorm room again.
But…
This trip has made us embrace the dorm room with open arms!
In Mongolia, we did a trip to the Gobi Desert and 6 of us stayed in one ger tent and it turned out to be great. In Ulan Bator, there aren't really any private rooms. Basically, the rooms in people's apartments have been turned into dorm rooms for backpackers. The beds are really comfy and clean, there are only 8 beds in a room (maximum), it doesn't smell and the shared bathrooms are spotless!
The same goes for our time spent in Russia. We were in a dorm room that only had 4 beds, it was silent, very clean and the other backpackers were really respectful. The second dorm we were in had 7 beds, all of which were full, and the people were really quiet, used their headlamp at night to search through their bags and seemed to tippy-toe around the room. There was even a privacy curtain that could be pulled across the bottom bed! So awesome.
Besides the fact that the rooms are really clean and it's a nice atmosphere to be in, the cost is much, much cheaper for a dorm than for a private room in this area of the world. In Ulan Bator, the cost of 2 dorm beds was $12, while a double room was $30. That $18 we saved per night really added up and helped out our budget for Mongolia. While travelling in SE Asia, the cost of a private room wasn't much more than the cost of 2 beds in a dorm room.
Why are the dorms cleaner, quieter and better in this part of the world?
We think it's because of the types of travellers.
SE Asia, South America, Central America, Australia and Europe are hotspots for gap year students and younger travellers…and are known for being places to party! Which is fine, but being in a dorm isn't exactly all that enjoyable for a couple. From what we've seen (and heard) the beds aren't great, the rooms are kind of grubby and things can quite easily get stolen.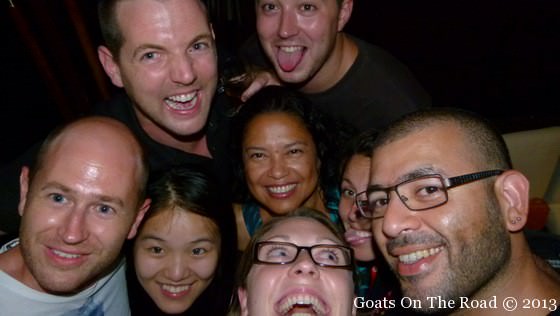 The travellers we've met so far have been a more mature crowd. Everyone seems to be here for trekking, hiking, culture and history and the age demographic is about 25-50. Mongolia and Central Asia don't exactly scream "beach party".
The owners are also always around. They either sleep in a dorm bed as well, live in the apartment right next door, or are hanging out in the kitchen during the day.
Of course we don't always stay in dorm rooms, but since there aren't many options for private rooms, we've decided to be more open-minded and have had positive experiences so far!