We weren't too sure what to expect when backpacking in Kazakhstan. We knew it was the ninth largest country in the world, that Ewan McGregor and Charlie Boorman rode through here on motorbikes in The Long Way Round (awesome series by the way) and that the movie Borat was supposed to be portraying this Central Asian nation.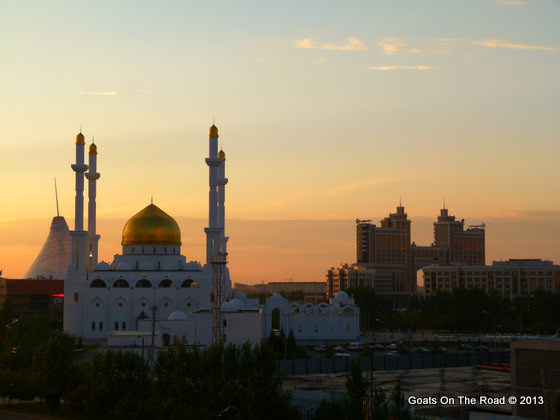 We only spent 10 days in this huge country because we wanted to make sure we were in Kyrgyzstan and Tajikistan for the trekking season and to make the epic Parmir Highway journey without freezing to death. Even though we only spent a week and a half here, we had an unforgettable time.
Here are some highlights from our journey through Kazakhstan:
We took a very long overnight bus journey from Russia to get to Kazakhstan – and almost overstayed our Russian visa!
We wandered around the streets of Astana gazing in awe at the awesome feats of architectural engineering. From egg-shaped buildings to heat absorbing tent-like structures, from mosques to museums, from grand palaces to massive malls, Astana has some of the most interesting structures we've seen.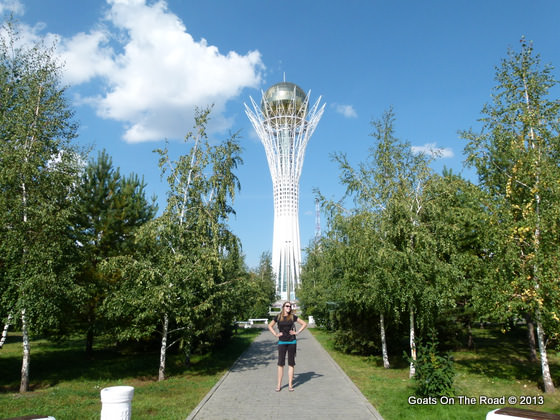 We boarded yet another train and made the 21 hour journey from the capital city to the former capital city, Almaty.
We ate meat stews, meat skewers (shashlyk), fried rice with meat, steamed meat dumplings, and more meat! The Kazakhs love their mutton, lamb, chicken and beef. Different breads, soups and salads accompanied our amazing meat dishes.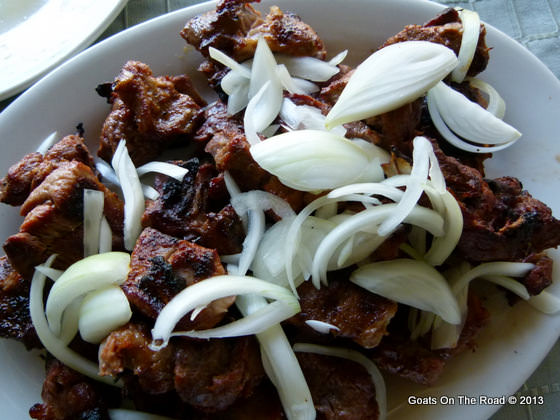 We wandered through local markets, sampling dried fruits and nuts and honey along the way from excited vendors.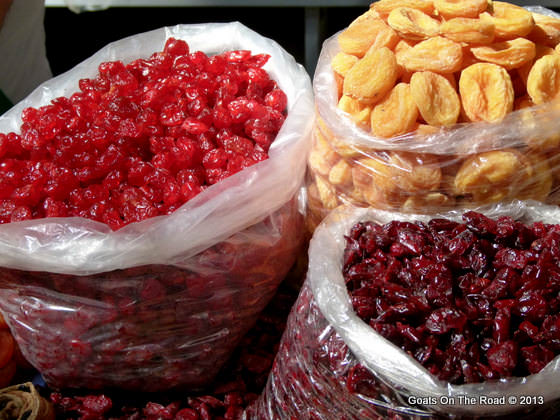 We enjoyed some western comforts of pizza and beer as the sun was setting.
We bought loads and loads of fresh raspberries, strawberries, blackberries and honeydew melons from street-side fruit vendors.
We scrubbed ourselves down in one of Central Asia's finest bath houses.
We met some amazing friends in Kazakhstan who treated us to lunch and spent the day with us at the glowing Big Almaty Lake.
We took a gondola up to the nearby ski resort and hiked to the perfect picnic spot.
We enjoyed days spent in beautiful parks, while gazing up at brightly coloured Russian Orthodox Cathedrals.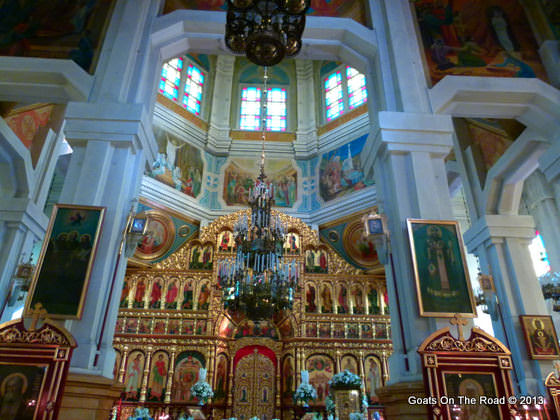 But most importantly, we relaxed! We had some amazing down time in Kazakhstan and loved wandering around the leafy streets of Almaty and not having to be somewhere. We had been dealing with some "down days" before coming to Kazakhstan, but after spending 10 days in this beautiful country, we were cured! No more low days for us, we were back in travel mode and loving life.
Rakhmet Kazakhstan!
Check out this quick video of our time spent backpacking through Kazakhstan:
Have you ever travelled to a country and weren't really sure what to expect? Tell us about it below!
THE LEAFY STREETS OF ALMATY: ARE WE IN KAZAKHSTAN?
ASTANA: THE DUBAI OF CENTRAL ASIA
Like this Post? Pin it!