Famous for its beaches, rice terraces, and temples, Bali is one of those places that seems to be on everyone's bucket list. Whether you're a backpacker, honeymooners, or a traveling family, the Island of the Gods is an appealing destination. In this post, I'll dive into some of the best Bali tours to help you plan the perfect trip there.
While it may look tiny on the map, Bali is actually a pretty big island. It takes about four hours to drive from south to north, or an entire day to make a lap around the coast.
It's mostly known as a beach destination, but Bali is also home to lush forests, rushing waterfalls, and towering volcanoes. As you might imagine, there's a wide variety of Bali activities you can take part in thanks to this diversity.
Adventure-seekers will be happy to hear that you can go scuba diving, ride an ATV through the jungle, and climb a volcano at sunrise. All of this and more is possible on one island!
I definitely see the appeal in just kicking back and relaxing in a lounger on the beach, but there's so much more going on in Bali. Even if the main purpose of your trip is some R&R, there are plenty of Bali tours for you as well. Perhaps a leisurely stroll through the rice terraces or a cooking class to break up all that chill time.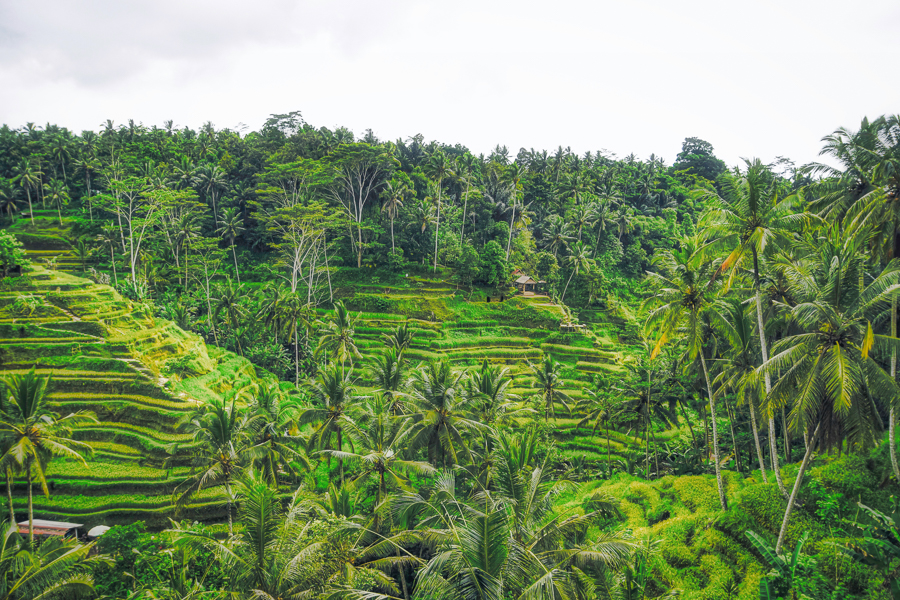 I've done several laps all around the island to find the best Bali activities to recommend for visitors. Read on for a detailed list of the best Bali tours out there.
Adventure Bali Tours
For the adventure-seekers, here are some of the top tours and activities you won't want to miss.
1. Sunrise Hike to Mt. Batur With Breakfast
In all of my Bali adventures, this remains my personal favorite. They pick you up super early in the morning (or late at night depending on your perspective) to begin the tour. Depending on where you're staying, it's a 1 or 2-hour drive to reach Mt. Batur.
The ascent begins at around 4AM and it takes about two hours to reach the summit. It can get really chilly up there right before sunrise, so make sure to bring some warm clothes.
After watching an epic sunrise, you get breakfast on the mountain. Have you ever had hardboiled eggs cooked in a volcano? You will after this tour! It's pretty amazing.
From there, you walk a bit more to take in the views of the crater, and the panoramic view of three volcanoes — Mt. Agung, Mt. Abang and Mt. Rinjani in Lombok.
There are a few options for hiking up to Mt. Batur, but you want to make sure you go with a reputable company. Check out Your Bali Trekking Tour which has thousands of positive reviews on Get Your Guide. If you like hiking, this is one tour in Bali you won't want to miss.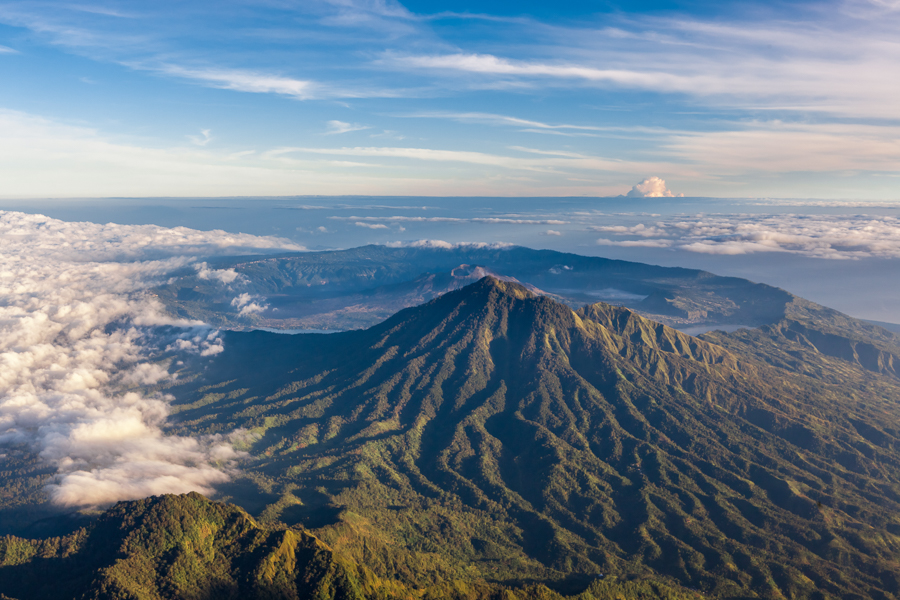 2. Mt. Batur Black Lava Jeep Tour
Those wanting to experience the incredible scenery around Mt. Batur without the early morning hike can check out this tour. You'll hop into a 4WD Jeep with a guide to explore the lava formations.
This is one of the most exciting Bali tours out there. Riding in these open-air jeeps, you'll get to see some of the most amazing scenery on the island. Of course, there are plenty of awesome photo opportunities along the way.
After a few hours of driving around the lava formations, you'll head to the hot springs for lunch and a relaxing dip. The tour starts at 6:30 AM and lasts about 8 hours. Click here to learn more about this tour.
3. Downhill Bike Tour
If you're staying in the Ubud area and are keen to do some cycling around Bali (but with minimal effort), this is the tour for you! You're picked up in the Ubud area and driven to the slopes of Mt. Batur in the Kintamani area.
Here's where you get kitted out with a mountain bike and gear, before hopping on and beginning the descent.
Along the way, you'll visit an organic plantation and take a stroll through the UNESCO World Heritage rice terraces. Later on, there are stops at different handicraft villages around Ubud.
The tour finishes up with a delicious meal in a local restaurant. They depart at either 8:30 AM or noon and last about 6 hours. Tickets for this highly-rated downhill biking tour can be purchased here.
4. Sanur Cycle Tours
Some of the most enjoyable Bali tours I've been on were with these guys. They have a wide range of cycling tours for you to choose from. These vary in length from a few hours all the way up to an epic week-long tour.
If you're an early riser, you can jump on their sunrise tour. Catching a beautiful sunrise is definitely one of the top things to do in Sanur. We had a great time on their morning tour, visiting a local market, riding along the beach, and checking out the super cool Man Shed bar.
One of their most interesting options is the Jurassic Park tour. This one takes you to Taman Festival, an abandoned theme park where nature has taken over. Be sure to bring your camera along for this one, as there are some great photo ops.
Their half-day tours typically last a few hours and cost $25-30 per person. They provide the bike and helmet, as well as drinking water in a nice reusable bottle that you can keep. Check their website to see all their tour options.
5. ATV Jungle Buggy Adventure
Adrenaline junkies will love this epic ATV jungle adventure. On this tour, you'll head to Bali's first ATV track. It's a 4.5 km-long track that's tons of fun to whip around.
You're sure to get dusty after a few laps around the track, but that's no problem! After racing your ATV around, you get to relax by the pool for a while before heading back to your accommodation.
This exciting tour starts at either 9 AM or 3 PM and lasts for 4 hours. The tour includes lunch and insurance. Note that you must have a driver's license in order to partake. Click here to reserve your spot.
5. Hidden Canyon, Waterfall, and Temples Tour
This tour offers a nice mix of adventure and culture. You'll get to walk into the famed "Hidden Canyon" and go for a swim before heading to the massive Tegenungan Waterfall.
It's a long walk down the stairs to reach the waterfall, but it's well worth it. Take a dip in the refreshing water or do a bit of cliff-jumping if you're up for it.
The second half of the tour takes you to two amazing Balinese temples. First up is Goa Gajah, which is also known as the Elephant Cave. Then it's off to Gunung Kawi, one of the oldest monuments on the island.
This is a great way to tour Bali and some of its best sights in just one day. Tours depart at 8 AM and last for 7.5 hours. It costs just $29 to join a group tour, and you also have the option of taking a private tour. Click here to book.
Wondering where to stay in Bali? We have you covered with our epic guide to the best destinations around the island, and the top accommodations in each place. Whether you're into surfing, outdoor adventure, or beach bumming, there's a place in Bali for you — Where To Stay in Bali: A Guide to the Best Areas and Accommodations
Water-Based Tours in Bali
Getting out on the water is a must in Bali — you're on an island! Here are some of the best water-based activities you can try.
1. Snorkeling Day Trip to Nusa Lembongan
Off the southeast coast, there are three smaller islands that are actually still a part of Bali. These are the Nusa Islands — Lembongan, Ceningan, and Penida. And actually, some of the best beaches in Bali are found here!
One of the best Bali tours around is a snorkeling day trip over to Nusa Lembongan. It's an epic tour where you visit three different snorkeling spots around the islands. Expect to spot parrotfish, angelfish, turtles, moray eels, and maybe even manta rays.
This tour starts at 7:30 or 8:30am (depending on where you are being picked up from) and lasts for 9 hours. The price includes pick-up, snorkel gear, a beachside lunch, and a kayaking tour of the mangroves. Click here to learn more and to book your spot.
2. Ayung River White-Water Rafting
Among the exciting Bali activities on offer is this white-water rafting tour down the Ayung River. This is the longest rafting tour available on the island, hitting 30+ class II and III rapids!
With Mason Adventures, you start further north up the river than other companies — meaning you'll have the river to yourself. Not only is the rafting an epic adventure in itself, but the natural beauty of the area is stunning. Keep your eyes peeled for monkeys!
This tour can be enjoyed by anyone from age 5 to 65. Tours depart at 9 AM and 1:30 PM and last for 5 hours. Click here to learn more and to reserve this exciting tour.
3. Seminyak Beginners Private Surfing Tour
Bali is a world-famous surfing destination with waves for all levels. One of the best places for beginners is Legian Beach, and that's exactly where this tour takes you.
All you need to bring is your swimsuit as they provide the board, rash guard, and sunscreen. Start with a 30-minute lesson on the beach and then get in the water to start carving it up.
Best of all, these surfing lessons only cost $11 an hour and include GoPro shots! After a few hours with an instructor, you'll have some sweet pictures and videos. Click here to find a time for this great surfing tour.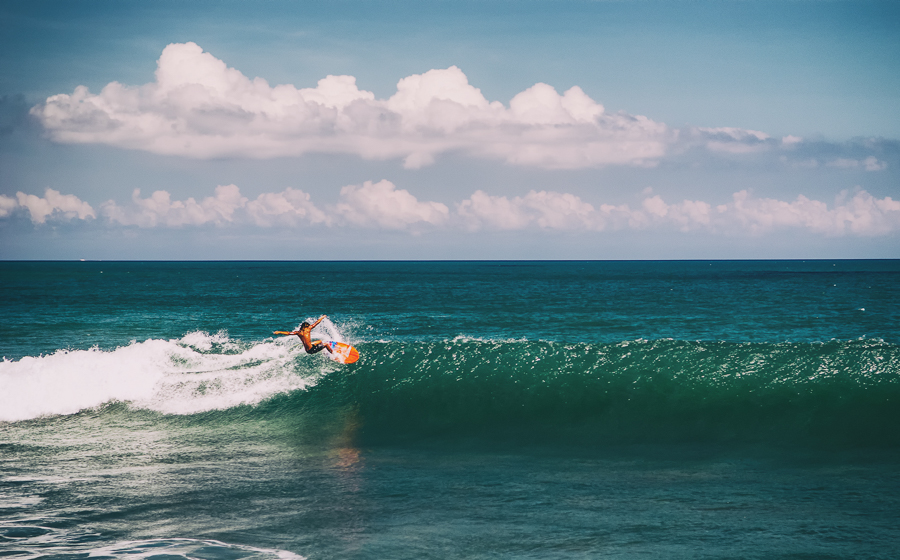 4. North Bali Sunrise Tour with Dolphins, Waterfalls, and Temples
This tour packs a lot into one morning by covering some of the highlights of north Bali. It's an early 3 AM start if you're staying down south to make the drive up to Lovina, which is one of the top places to visit in Bali.
The reason you leave so early is so that you can enjoy the sunrise and see the dolphins when they're active.
Upon arrival, you'll hop in a boat to go out on a sunrise cruise to spot dolphins in their natural habitat. After that it's a trip to the amazing Gitgit Waterfall before heading to a famous lakeside temple.
It's a 10-hour tour in total but you're still back at your hotel in time for lunch! This highly rated trip is one of the best tours in Bali for a reason. Click here to learn more and to book your spot.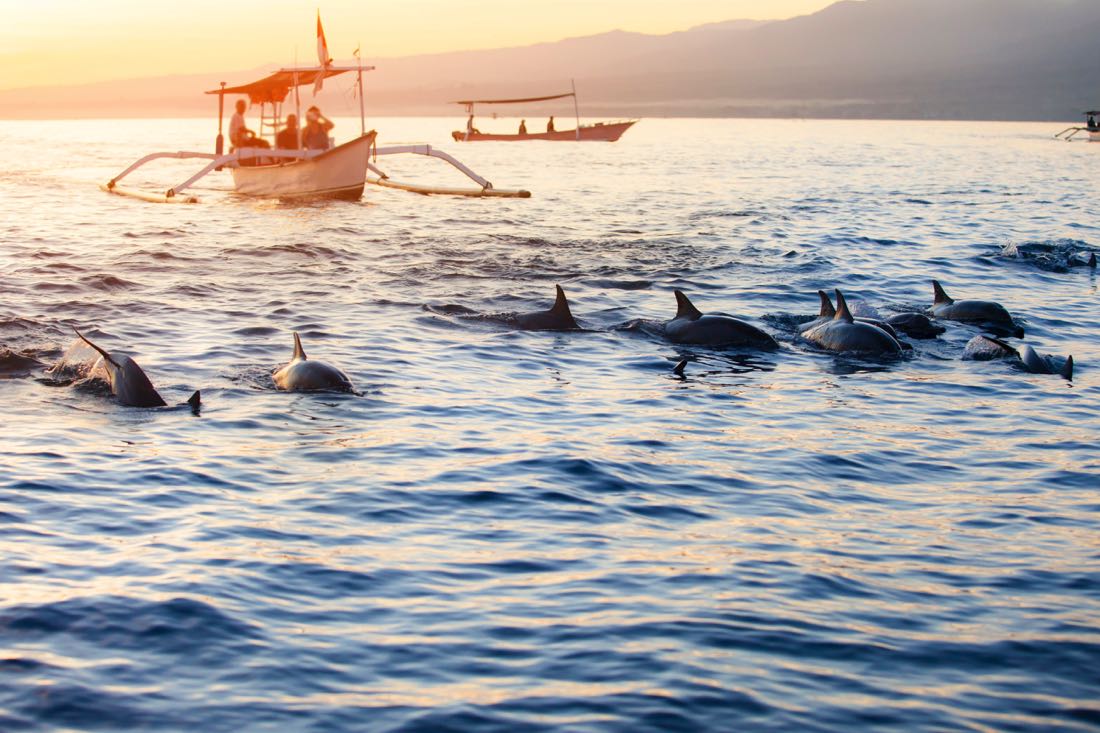 Cultural Bali Tours
If you're not into adventurous, outdoor activities, there are still numerous tours in Bali that you'll enjoy. Here are some of the top culture and foodie excursions.
1. Food Tours
Foodies will be happy to learn that there are plenty of Bali tours centered around eating. One such tour is called the Bali Food Safari, where you'll get to sample 12 dishes across 4 different venues.
One of the coolest things about this tour is that it's a mystery! They don't tell you exactly which restaurants you'll visit or which dishes you'll try, but they always pick some great spots.
The Bali Food Safari only runs on Monday, Wednesday, Friday, and Saturday. It starts at 5:30 PM and is an awesome tour for foodies! Click here to learn more and to book.
For something a bit more local, there's an excellent 3-hour food tour of Denpasar. Most tourists never even make it to the island's capital, so it's well off the beaten path.
This tour is both delicious and informative, as you'll learn a lot about the local culture as well. You get to try five different dishes along the way and it only costs $35 per person. Click here to reserve your spot.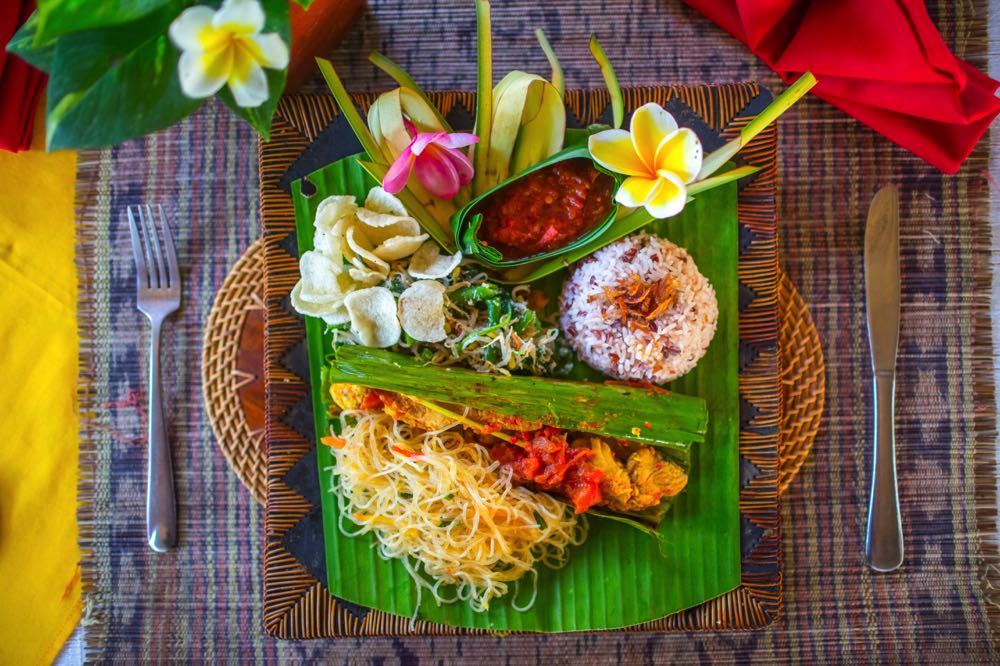 2. Balinese Cooking Class at an Organic Farm
You know what's even better than eating delicious Balinese food? Eating delicious Balinese food that you cooked yourself! That's exactly what you'll get to do on this great tour.
You'll start with a visit to a local market to procure the freshest ingredients possible. Then you'll head to the organic farm where the cooking school is located and enjoy a tea or coffee before you get to work in the kitchen.
They offer both a regular and a vegetarian menu for you to follow. At the end, you get to enjoy the fruits of your labor with a delicious meal. You also get to bring a recipe book home to wow your friends with your Balinese cooking skills!
This highly rated (and awarded) tour starts at either 7:15 AM or 12:15 PM and last for 5-6 hours. It costs $30 per person and includes round-trip transportation. Click here to learn more and to reserve your spot.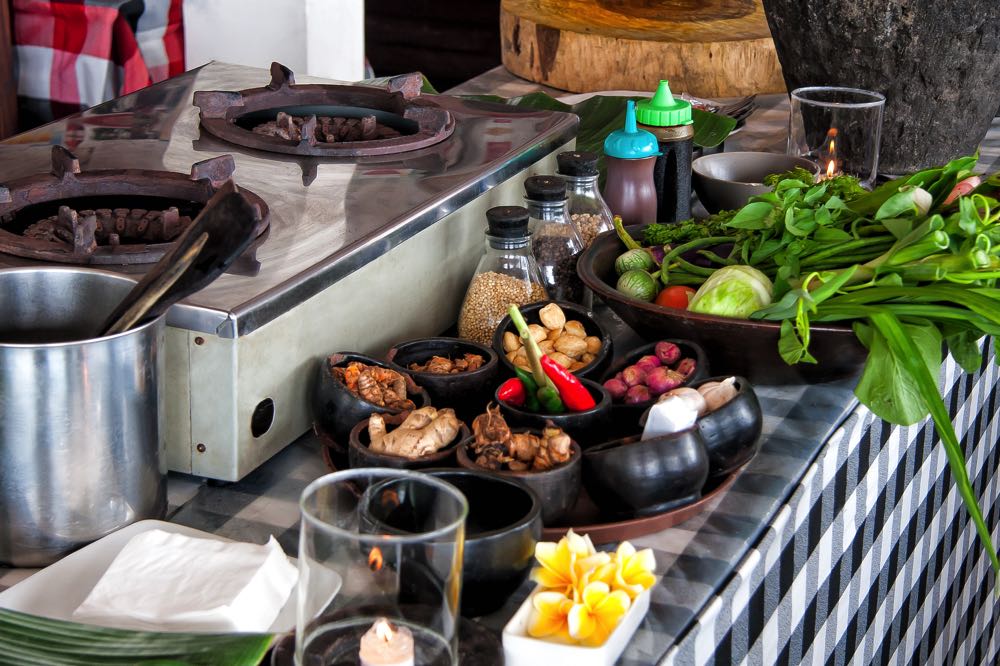 3. Temple Tours
When planning out your Bali tours, I recommend scheduling in at least one or two temple tours. After all, this is the Island of the Gods! There are hundreds of temples across Bali of all shapes and sizes.
My personal favorite takes you down to Uluwatu Temple on the southern tip of the island. Here you get to watch a beautiful sunset before taking in a kecak performance. It's one of the most interesting cultural shows you can see in Bali!
This tour doesn't start until 3 PM, so you have plenty of beach time beforehand! After the show, you visit the scenic Jimbaran Bay where you have the option to get yourself a seafood barbecue dinner. Tours cost $44 per person. Click here to learn more and to book your spot.
Another great option takes you to two different temples as well as one of Bali's stunning water palaces. First, you'll visit Lempuyang Temple. Also known as the "Gates of Heaven," this is one of the most popular Instagram spots on the island. Just be prepared to wait in line for your turn!
Next up is Tirta Gangga, a tranquil water palace and beautiful place to explore. A riverside buffet lunch is included in this tour as well. Finally, you visit Pura Besakih – the Mother Temple.
This top-rated, jam-packed tour departs at 7AM. Don't miss this tour if you're interested in Balinese culture and seeing the spectacular temples. Click here to reserve.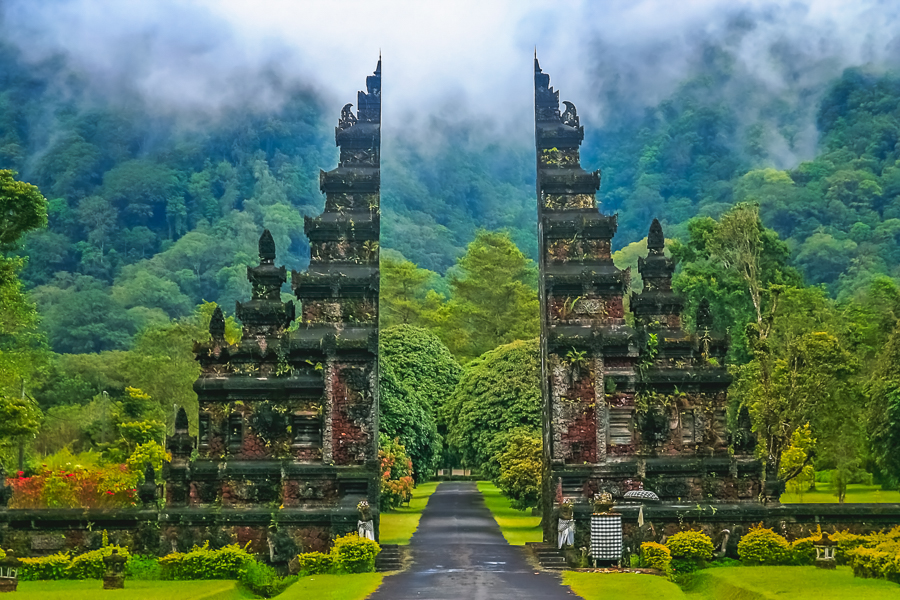 4. Best of Ubud with Jungle Swing
Ubud is the cultural heart of Bali and one of the most popular places to visit on the island. This 10-hour tour takes you to several of the highlights in and around Ubud for an awesome day.
It starts with the Sacred Monkey Forest in the center of Ubud. The forest is literally full of Balinese long-tailed monkeys. If you show up with snacks in your bag, don't be surprised if they try to steal them! Keep a grip on your camera and sunglasses as well.
After the monkey business, you head over to the Tegalalang Rice Terraces. These are some of the most impressive rice terraces on the island. Next up you're treated to lunch at a nice restaurant in the jungle.
The second half of the tour takes you first to the Tirta Empul water temple. It's definitely one of the most interesting temples to visit in Bali.
Another highlight of this tour is visiting a coffee plantation that's home to a giant swing. It's the perfect spot to snap a memorable photo. Finally, you get to cool off with a refreshing dip at the Tegenungan Waterfall.
This huge tour departs in the morning and lasts all day. Click here to learn more and to make your reservation.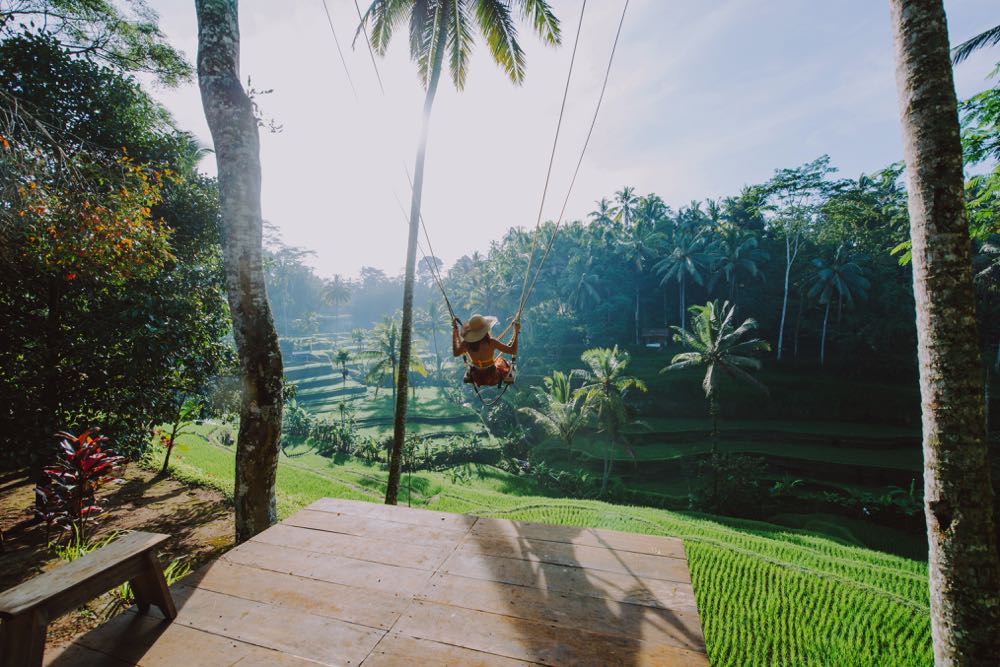 5. Traditional Villages
If you're short on time and want to tour Bali in just one day, this is the option for you. This massive tour lasts ten hours and covers a lot of ground in that time.
First up, you'll visit two different villages to see local artisans at work. One is famous for its batik weaving while the other is known for its silver and gold jewelry.
This tour also includes a visit to a traditional Hindu temple before moving on to many of the island's highlights. You'll check out the Monkey Forest, Tegalalang rice terraces, Mt. Batur, and the Tegenungan Waterfall among others.
For a group of 2-3, this tour costs $55 per person. If you have four or more, it's only $50 each. That includes entrance tickets and lunch, so this one is an amazing deal. Click here to learn more about this popular tour in Bali.
6. Northern Charm
There are postcard-worthy images all over Bali, and this tour takes you to several of them. First up is the extremely photogenic Ulun Danu temple on Lake Beratan. It was built in honor of Dewi Danu, the goddess of the lake.
The tour continues to the stunning Handara Gate before moving on to a twin waterfall. Be sure to bring your swimsuit so you can take a refreshing dip in the cool water.
Finally, you head to the Wanagiri Hidden Hills. Here you can take in the incredible views of the lakes while perched on a swing. This photo will definitely rake in the likes on your Instagram!
The Northern Charm tour departs at 7 AM and lasts for the entire day. Click here to reserve this fun and chilled-out tour.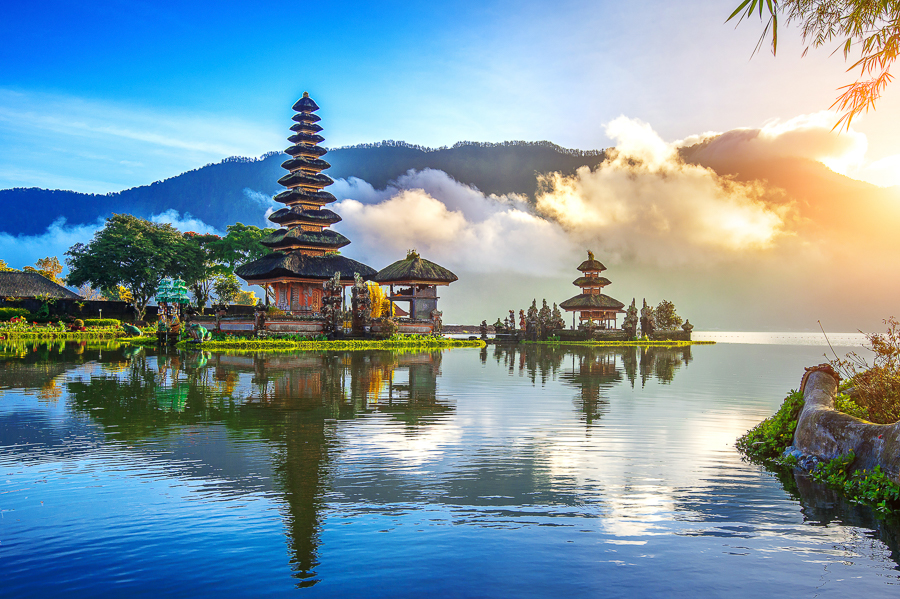 Relaxing Bali Tours
Here are a couple of easy tours in Bali that anyone can enjoy.
1. Bali Instagram Tour
It's no secret that Bali is one of the most Instagramable places in the world. Just do a quick search for #bali and you'll see plenty of eye-catching photos.
If you're looking to fill your own IG feed with some stunning pics, this is the tour for you! It takes you to temples, waterfalls, and palaces that are all super photogenic.
There are tons of different options for this tour.
If you're willing to splurge a bit, you have the option to take a private tour with your own personal photographer. You can also add on a professional drone video of the trip. Click here to see all the options — this tour has thousands of positive reviews and is very popular. Make sure you book in advance.
2. Ubud 2-Hour Spa Treatment
Sometimes you just want to be pampered on your vacation. This 2-hour private spa treatment at a riverside luxury resort in Ubud is the perfect option for you!
The treatment begins with a short foot bath ritual before an hour-long massage. They use frangipani oil that helps to relax your mind and body.
Next, you get a nice body scrub before winding down with a relaxing milk bath. The treatment finishes with a quick trip to the sauna and some delicious ginger tea.
There are several different time slots available, click here to make a reservation.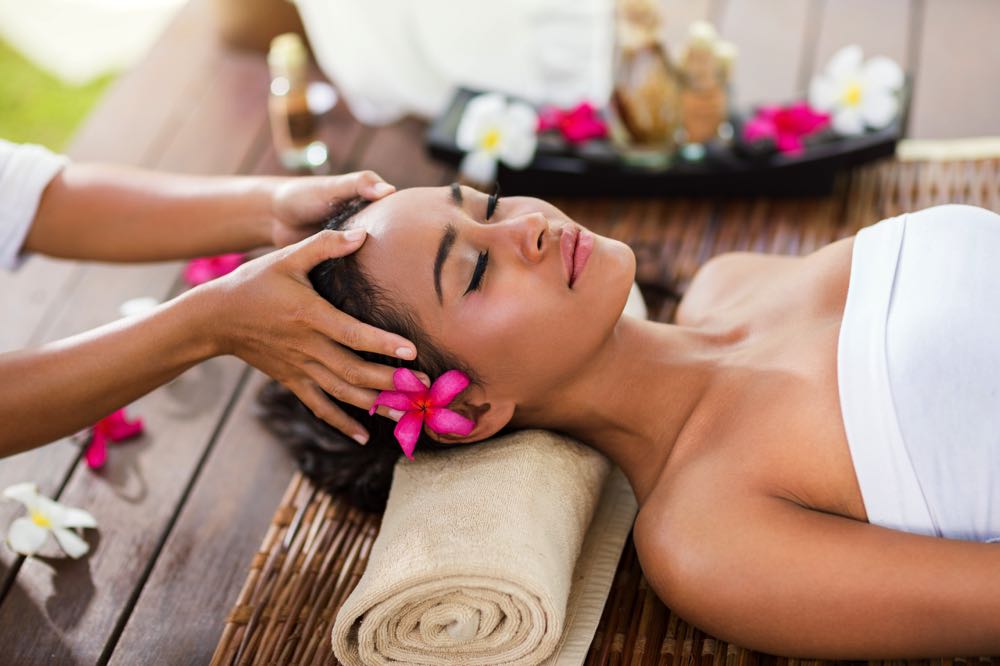 Enjoy All the Activities in Bali
As you can see, there's no shortage of options for excellent Bali tours. Whether you're looking for adventure, hoping to soak up the local culture, or just into some R&R, there's a tour for you on the Island of the Gods.
Even with just a week in Bali, you can hike a volcano, carve up some waves, visit traditional temples, cycle through the rice terraces, and treat yourself to fine dining and spa treatments. No wonder so many people call this place paradise!
Take it from me that there are endless options to tour Bali. After visiting the island twice, I decided to just go ahead and live there for a year to really see it all. Goats On The Road spent 3 months in Canggu and loved it there as well. There's just something magical about Bali…
Have you been to Bali and have an amazing tour to recommend? Leave a comment below and let us hear about it!
Images in this post are courtesy of Shutterstock.com.
Like This Article? Pin it!