From exploring the bustling capital of Hanoi to visiting floating markets in the Mekong Delta, there are plenty of amazing things to do in Vietnam. Here you can cruise around the gorgeous Ha Long Bay in a junk boat and embark on a motorbike tour of the Central Highlands. In between all those epic adventures, you'll need a place to chill out. That's where the beaches in Da Nang come in.
Located conveniently right in the middle of Vietnam, the town of Da Nang and its beaches are a great place to visit.
Despite having a population of over one million, Da Nang lives in the shadows of its larger counterparts Hanoi and Ho Chi Minh City. Vietnam's third city is often overlooked by foreign travellers, who simply use Da Nang as a transit point to get to nearby Hoi An.
While it may lack the culture of Hanoi and the excitement of Ho Chi Minh, the beaches in Da Nang alone make this city well worth a stop. Located on the South China Sea and surrounded by mountains, this is a stunning place to visit.
If you're planning on adding Da Nang to your Vietnam itinerary, read on for a look at the beaches in Da Nang, what to do there, where to eat, how to get there, and much more.
An Introduction to Da Nang
The city of Da Nang is basically a microcosm of the development of Vietnam as a whole. Da Nang has been developing at a breakneck speed in recent decades, and the "anything is possible" attitude is strong here.
Not too long ago, Da Nang beach was the landing point for the first batch of American soldiers arriving in 1965. During the war, there was a strategic air force base here used by the Americans and South Vietnamese. For the next decade, American troops came to relax on the city's famous "China Beach."
Da Nang saw its fair share of conflict during the war, which finally ended in 1975 when North Vietnamese tanks rolled into Saigon. Much has changed since then, as Vietnam has transformed into one of the fastest-growing countries in the world.
This transformation is highly visible right here in Da Nang beach. The former air force base is now home to an international airport, connecting Da Nang to the world and bringing in a steady stream of visitors. Beachside shacks have been replaced by luxury resorts, which are sprouting up one after another.
While the American forces are long gone, their influence is clear. These days, you're likely to see young Vietnamese snapping selfies with their iPhone at Starbucks or places like American Burger Grill. People in Da Nang are happy to look to the future rather than dwell on the past.
As with many other parts of Vietnam, Da Nang beach has developed rapidly in recent years. It's a very popular holiday destination for travellers from other parts of Asia, and is quickly catching on with backpackers and digital nomads alike from other corners of the globe.
If you're planning your trip in Vietnam and are looking for a place to enjoy some good old fashioned R&R, look no further. Da Nang beach is the perfect place to enjoy some sun and sand before moving on with your journey around Vietnam.
5 Best Beaches in Da Nang
There are actually several beaches in Da Nang, so let's take a closer look at the 5 main areas:
1. North Da Nang Beach
North of downtown Da Nang, you'll find a few nice beaches. Both Xuan Theiu (Red Beach) and Thanh Binh are picturesque beaches with white sand and clear blue water.
These beaches are less developed and don't have as many facilities as others. This is the kind of beach where you relax with a good book and your own cooler filled with food and drinks. You can still find beach chairs for rent here and some restaurants, cafes, and bars just off the beach on the main road.
2. Son Tra Peninsula
The mountainous Son Tra Peninsula also goes by "Monkey Mountain," a name given to it by American troops. With a rented scooter, you can enjoy some fantastic views and a bit of beach hopping around this hilly peninsula.
There are several different beaches on Song Tra, but unfortunately, some of them are private. For example, if you head to Bai Bac (North Beach) the security at the swanky Intercontinental Resort will shoo you away. At Bai Nam (South Beach), you can hang out if you eat at the Son Tra Resort & Spa.
Most travellers head to the Son Tra Peninsula to visit the Linh Ung Pagoda and the large statue of the Goddess of Mercy. Your best bet for a Da Nang beach on the peninsula is Tien Sa. Apart from a few fishermen, this beautiful stretch of beach is usually deserted.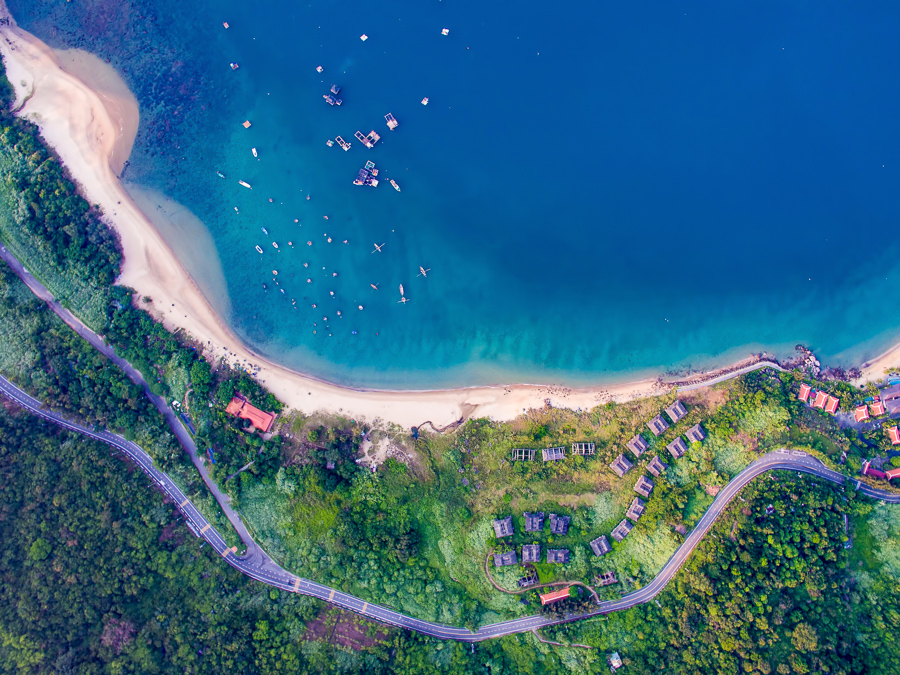 3. South Da Nang Beach
South Da Nang beach actually starts just east of downtown across the Han River. There's an impressive 30 km-long stretch of beach here, so you've got plenty of options!
From north to south, the beaches here are Pham Van Dong, My Khe, Bac My Anh, and Non Nuoc (China Beach). There's really nothing to differentiate these beaches from one another as they all look the same. It's one long stretch of sand between the peninsula all the way down to Hoi An.
Since My Khe is the closest to downtown, this is the busiest Da Nang beach. That being said, it's usually completely empty during the day and only gets busy later in the afternoon. That's because Da Nang is mostly popular with Asian tourists, most of whom want nothing to do with sunbathing.
4. Lang Co Beach
If you don't mind traveling a bit, Lang Co is a great beach to visit. It takes about 45 minutes to an hour to get here from central Da Nang, so it sees far fewer visitors than the beaches that are right near downtown.
Many travelers combine a stop at Lang Co beach with a ride on the Hai Van pass or Bach Ma National Park. After a big day on a motorbike or walking in the mountains, this is the perfect place to relax for a while.
As it's a fishing village, there's plenty of delicious seafood being cooked up in Lang Co. There are also quite a few hotels out here as well, so you could even stay a night or two if you're looking for a more relaxed vibe.
5. Cham Islands
Just a short boat trip away from the city, you'll find the Cham Islands. This cluster of eight small islands includes the Cu Lao Cham Marine Park, which is a great place for some snorkeling or scuba diving.
Most people just visit the Cham Islands on a day trip from Da Nang or Hoi An, but there are also homestays you can book or you can just camp out on the main Hon Lao island. It's a whole new world after all the day-trippers have gone back to the city!
During the monsoon season (October to February), the islands become inaccessible due to poor conditions. Dive shops stop running trips during these months as well. Your best bet for visiting the Cham Islands is between June and August. You can get over there with a tour or just catch the public ferry if you want to stay awhile.
Things To Do in Da Nang
While many come to Da Nang for the beach, there's a lot more going on in Vietnam's third-largest city. In addition to beach hopping, you can check out the impressive Cham Museum. The museum is home to the largest collection of Cham art and sculptures in the world and is well worth a few hours.
Another popular thing to do is to visit the Marble Mountains. This cluster of five mountains is a short drive from downtown and is a really fun place to explore. Here you can check out Buddhist shrines and pagodas, visit a few caves, and hike to some stunning viewpoints.
As I mentioned in the section about Son Tra Peninsula, this is one of the best places to go in Da Nang for some outdoor adventure. It's the perfect place to spend a day cruising a motorbike around, stopping along the way to take in the sights and the views.
The people of Da Nang are very proud of their bridges, and rightfully so. Of the nine bridges here, the most impressive is definitely the Dragon Bridge. As the name suggests, this 666-meter long bridge is in the shape of a dragon crossing the Han River. Every Saturday and Sunday night at 9PM the dragon comes alive and breathes fire and water, which is pretty freaking cool.
Getting to Da Nang
As the third biggest city overall and largest in Central Vietnam, Da Nang is a major transportation hub. The Da Nang International Airport recently opened a new terminal for international flights. There are several options for flights to and from cities across Vietnam and other parts of Asia.
It's a quick 10-minute drive from the airport to downtown and another few minutes to Da Nang beach. Taxi drivers have a good reputation here and will use the meter, although they will tack on the small airport toll fee.
You can also travel to Da Nang by train, which is a great way to travel in Vietnam. Da Nang Station is at about the halfway point of the famous Reunification Line linking Hanoi to Ho Chi Minh City. For train times and more info, check out this article from Seat 61.
Of course, a bus is always an option as well. The hop-on, hop-off style of bus travel is very popular with backpackers in Vietnam as it's super cheap and flexible.
Once you're in the city, your best bet is renting your own wheels. Motorbike rentals are readily available and very affordable. Just be warned that this isn't the place to learn how to ride! Traffic can be quite chaotic in Vietnamese cities, so be sure you've got travel insurance whether you're experienced or not.
Where To Eat in Da Nang
You're spoiled for choices when it comes to eating out in Da Nang. Of course, you've got plenty of options for cheap and tasty Vietnamese classics like pho or bahn mi. The international restaurant scene is flourishing here as well, meaning you can find cuisine from all over the world.
For local fare, one of the best places to go is the Han Market. Here you can get a filling lunch for a few bucks and pick up some souvenirs while you're at it. Just be sure to bring your haggling skills!
The local specialty in Da Nang is mi quang — shrimp and pork noodles in a fragrant broth. A great place to try this local favorite is Mi Quang Ti. There are also a few excellent places to get bahn xeo (crispy Vietnamese pancake) around here, such as Quan Bahn Xeo Mien Trung.
If you're ever unsure of where to eat in Da Nang, just take a walk up Nguyen Chi Thanh. There are tons of cafes and restaurants to choose from here and even more on the side streets. Whether you're looking for some noodle soup, a burger, sushi, or pizza, you can find it here.
You can't come to Da Nang beach and not eat some fresh seafood. There are lots of restaurants cooking up clams, oysters, shrimp, and fish steamed with lemongrass. One popular beachside option is Cua Bien Quan and there are several other seafood restaurants around here.
Best Time to Visit Da Nang
Da Nang enjoys mild temperatures for most of the year, ranging from 18°C (65°F) to 35°C (95°F). August is the hottest month of the year while January is the coldest.
The city has two seasons — rainy and dry. The rain generally starts up in September and lasts until March. Just because it's rainy season doesn't mean you can't enjoy Da Nang beach. Storms usually come in short bursts here, so just bring an umbrella and/or raincoat.
In April the rain begins to slow down, but it gets very hot and humid here by the end of summer. Not surprisingly, Da Nang beach sees an influx of visitors during the summer months. Expect to find crowds (but no deals) if you visit between June and August.
The best time of year to visit Da Nang beach is between February and April. It's nice and dry and not too hot during this time. Days are sunny and warm – perfect for chilling on the beach – and evenings are nice and cool.
Ready for Da Nang?
As you can see, Da Nang really is a fantastic travel destination. It's pretty awesome that you can spend your morning hiking up in the mountains and then spend the afternoon relaxing on the beach. Best of all, you get to enjoy delicious Vietnamese food and coffee along the way!
Hopefully, this post has shown you that Da Nang is much more than a transit hub. It's well worth stopping here in between other hot spots like Hue and Hoi An. Chances are you'll end up wanting to linger as you realize how much fun Vietnam's third-largest city really is.
Have you been to Da Nang and have some great recommendations? Leave a comment and let us know!
Like This Article? Pin it!