The world that we live in is mostly digital. A lot of our shopping is done online, we look for service providers on the internet, and turn to blogs and social media for advice and product information.
These days, the benefits of having a website for your business are plentiful.
I currently run three businesses of my own and have seen the advantages of having a website firsthand. Without my website for my service-based business, I would not be able to be my own boss full-time.
Whether your company is new or has been around for a few years, having a website for your business will help you grow your brand and gain more traction. Without a website, you're doing your business a disservice.
10 Benefits of Having a Website
The importance of having a website is often overlooked. Below, learn more about the benefits of having a website for your business.
1. Build Brand Awareness
The top and most basic benefit of having a website is that it can help you build brand awareness. Without brand awareness, you will not be able to have a successful business, especially if you're a newer company.
Brand awareness means that people recognize your brand, which in turn helps you grow your audience base and income.
It's also essential when it comes to funnels to sell your services or products.
If someone doesn't know about your brand, they most likely won't trust you and aren't going to find your sales funnels or learn more about your products and what you have to offer.
Another facet of brand awareness that is often overlooked is that the more people have heard of your business, the more likely they are to purchase from you.
Don't you usually buy from the same brands because you know and trust them? The same goes for people purchasing from you.
With having a website, you can also create your own domain email address which instantly makes you look a lot more professional and helps your brand start to build credibility — hello@yourwebsite.com looks a lot more credible than hello@hotmail.com.
2. Gain Insights into Your Audience
Gaining more insight into your audience is easily one of the advantages of having a website for your business.
There are tons of analytics that can come from your website, and if you don't have one, then you are missing out on free information to help your business grow.
By using a tool like Google Analytics, you'll be able to track lots of things about the people visiting your site.
You can find the demographic you're reaching, see the pages that visitors are landing on, the search queries that people are searching for on Google that leads to them finding your website, and you can even find your most popular pages.
These insights can be invaluable when it comes to your business.
For instance, maybe you find that your most popular search query is something that could lead to a new product or service since people are finding your website by searching for it anyway.
Analytics can help you finetune your offerings and products, and if you aren't using analytics, then you are seriously missing out on some very useful (free) information about your customers.
3. Find New Customers through SEO
SEO, or search engine optimization, is easily one of the main benefits of having a website for your business. By ranking higher on Google, you can find new customers and increase your monthly profit immensely.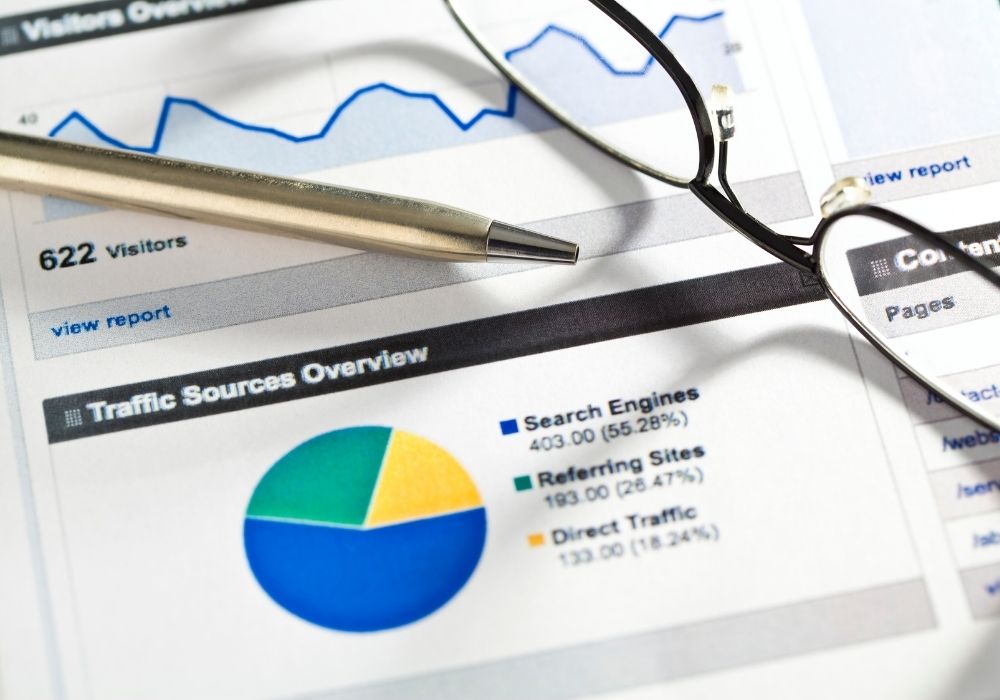 If you don't know what SEO is, it's best to ask your web designer or purchase a course of your own to learn how to utilize it in your business.
Some popular courses out there include Make Traffic Happen, Stupid Simple SEO, and Goats On The Road's course, Advanced SEO Made Simple.
Essentially, by finding keywords (using platforms like Keysearch) that you can rank for based on your Domain Authority, your articles and information can begin to show higher on specific Google search results.
As you may know from your own experience, the higher you rank in search results, the more likely your website will be clicked.
How often do you ever go to page two in search results when looking for something online? You probably don't even go past the first three, or four search results before finding exactly what you are looking for.
Grow Your Blog & Earn Money
In our Free SEO Training, we teach you how to take your hobby blog and turn it into a full-time, money-making machine using Advanced SEO and our ABC Monetization Formula that works on any type of website or blog.
One of the easiest ways to begin working on SEO for your site is to create a blog within your website. This way, you can discuss topics in your industry and show that your website is consistently updated.
4. Position Your Brand as an Expert in the Industry
If you don't have a presence online, then you aren't going to be seen as a professional business. Appearing professional is one of the benefits of having a business website that you might not have even considered.
With professionalism comes positioning yourself as an expert in your industry. Your website is your own little corner of the internet that belongs to you and your business, so take advantage of that.
On your website, educate people about your industry in ways that could help you sell your products.
For instance, as a graphic design business, maybe you'll have a few posts on your website about the benefits of hiring a professional designer instead of having work done in-house.
If you start to present yourself as an expert in your industry, you'll begin to get referrals and find more customers or clients in general because you'll start to become known for what you do. This can help increase your profitability tenfold!
5. Showcase Your Portfolio of Work
No matter what industry you're in, being able to showcase your past work is one of the best uses of a website.
People aren't going to want to buy from you or sign a contract for your services if you don't have any social proof showcasing what you are capable of.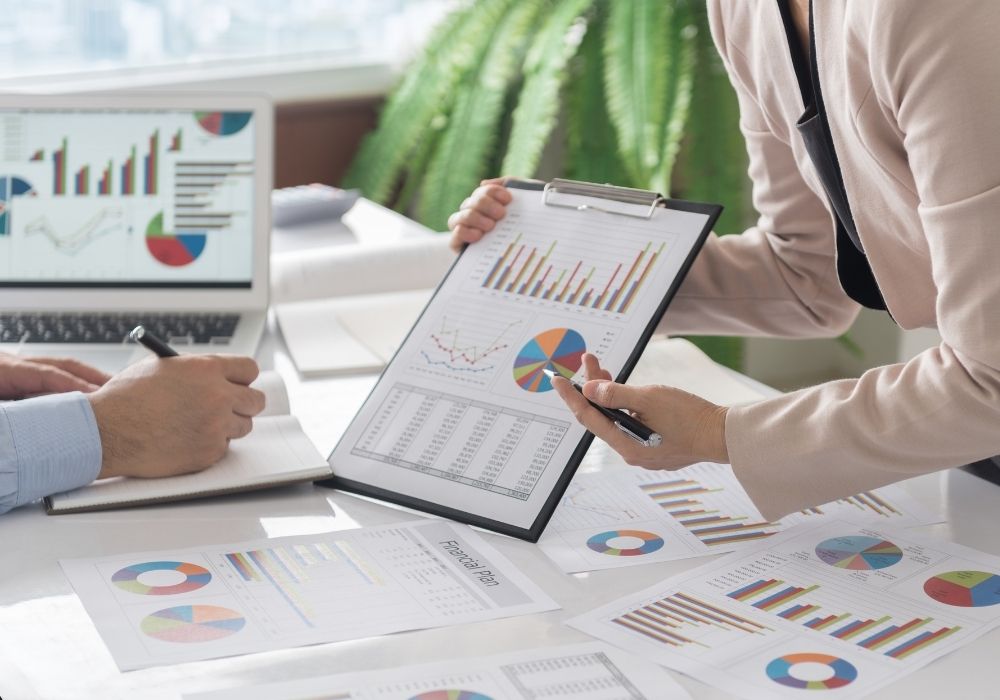 While you may think that this is something that can help freelancers more, it's important for any type of business.
If you are a landscape company, you can showcase before and afters of what you've done for other customers. If you're in a profitable niche such as health and fitness, showing weight loss results and before and afters will really boost your credibility.
This is one of the benefits of having a business website that many companies don't utilize.
The best way to do this is to have an entire portfolio page, specifically on your website. This could simply be called "portfolio", "past work" or "testimonials". Either way, it will show that you are actually credible and aren't just offering these services without any past experience.
Within your portfolio page, keep in mind that it is also essential to include many client testimonials. Reviews are essential when it comes to finding new clients.
6. Grow Your Brand
With an online presence, you can have extended business hours, especially if you are offering products. Maybe you have a brick-and-mortar store, which means that people can only purchase by visiting your store. With a website, anyone can buy your products at any time of day.
You can also begin to grow your brand by getting your audience more involved in your business.
Websites have the ability to have a comment section, so you can pose questions to your customers and get them more intrigued in what you have to offer by involving them in your posts.
You can also take customer feedback from the comments as well.
Having a website also allows you to stay on-trend and up to date with your competition. If your competitors don't have websites, then congrats, you'll be ahead of the competition, which can only help your business or brand in the long run.
7. Save Money
One of the advantages of having a website for your business is that you can save money.
Brick and mortar stores can be costly, and you can reach a wider audience while cutting costs by having a website and running your business online.
By cutting down on rent, employee costs, electricity, and more, you can begin to put more money into your business in other ways.
You could grow your product base, invest in email marketing, or even online advertising. There are endless possibilities.
If you often use print materials for advertising your business, then switching to online advertising can save you money. Print costs can add up quickly, and then you also have to pay to send your postcards or brochures to people, which is costly.
Finally, with online advertising, you can specifically target people who would be interested in your business through Facebook Ads or Google Ads.
8. Increase Customer Service
With an in-person business, your customer service can only be available during the hours you're open. People can make phone calls, email your business, or drop in to ask any questions they might have.
However, with a website, you can increase your customer service and answer inquiries in a timely manner. One of the top benefits of having a website is that you can invest in customer service to be available 24/7.
You could easily hire customer service representatives on the other side of the world to cover the night shift while you're asleep. All you have to do is take the time to train them, and then you'll have someone who can answer any questions for you when you aren't available.
Another way to stay on top of customer service is to invest in chatbots. A.I. is getting smarter every day, and you could at least have some sort of chatbot answer basic questions your customers may have.
Having a website means that you could also consider hosting a knowledge base on your products or services. This could include tutorials and guides that hold answers to frequently asked questions to cut down on the number of inquiries you get regularly.
9. Tell Your Brand's Story
People are more likely to purchase from brands that they can easily align with. So, take the time to have an in-depth "About Page" on your website and make sure that your values are clearly located front and center.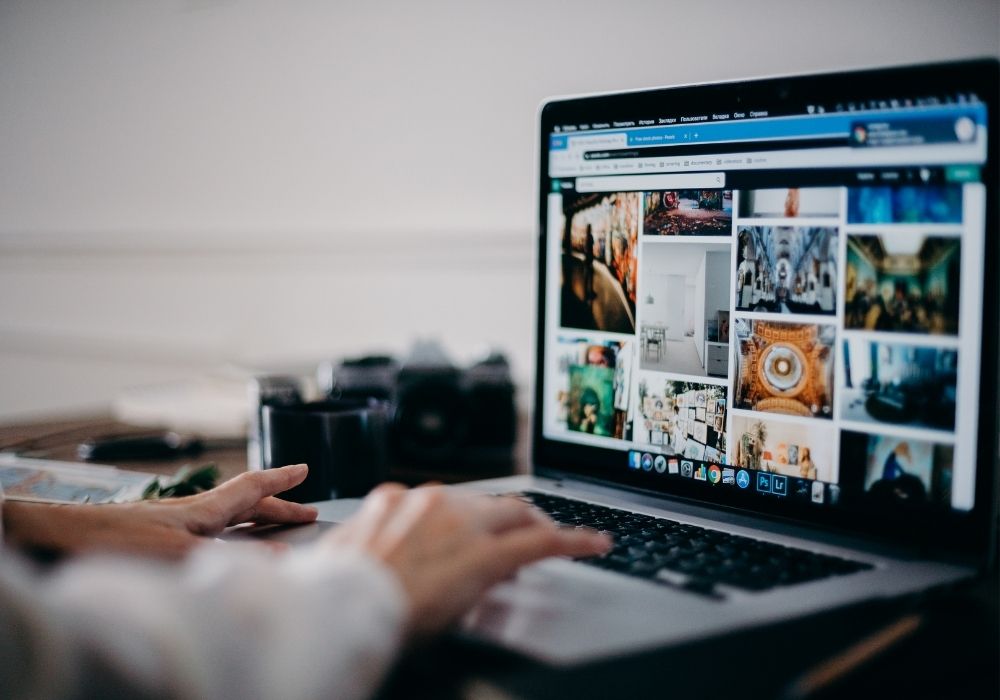 Another important thing to include when telling your story is your background. Let people visiting your website know exactly how your business was started and where you come from. This is another opportunity for people to connect with you.
Your business is a lot more than just a company, because, at the end of the day, it was started by someone — you. Make your business one that people can relate to, and you'll see that reflected in repeat business.
Without an online presence, it will be a lot harder to tell your brand's story. It's genuinely one of the best uses of a website.
10. Grow Your Team
Being able to grow your team is one of the other advantages of having a website for your business. These days, not many people turn to newspapers or other print materials to look for jobs.
Most jobs are posted online, so using your website to grow your team creates an excellent opportunity.
Not only will people visit your website to learn more about your services, but once they get interested enough, they might want to work for you.
Posting jobs on your website can also help with your website traffic, especially if the positions you are looking to fill are ones that are often searched for online.
Some examples of this might be customer service representatives, graphic designers, content creators, or even marketing directors.
While there are different types of job portals you can integrate into your website, many smaller businesses will just create their own landing page and list the job opportunities there.
How To Start a Business Website
Here's how to quickly and easily start a website for your business.
1. Buy a Website Domain
Before you can even start creating a website, you need to purchase a website domain.
You might be wondering what a domain is. It's what you type into the search bar to find your website. For instance, www.goatsontheroad.com is a website domain.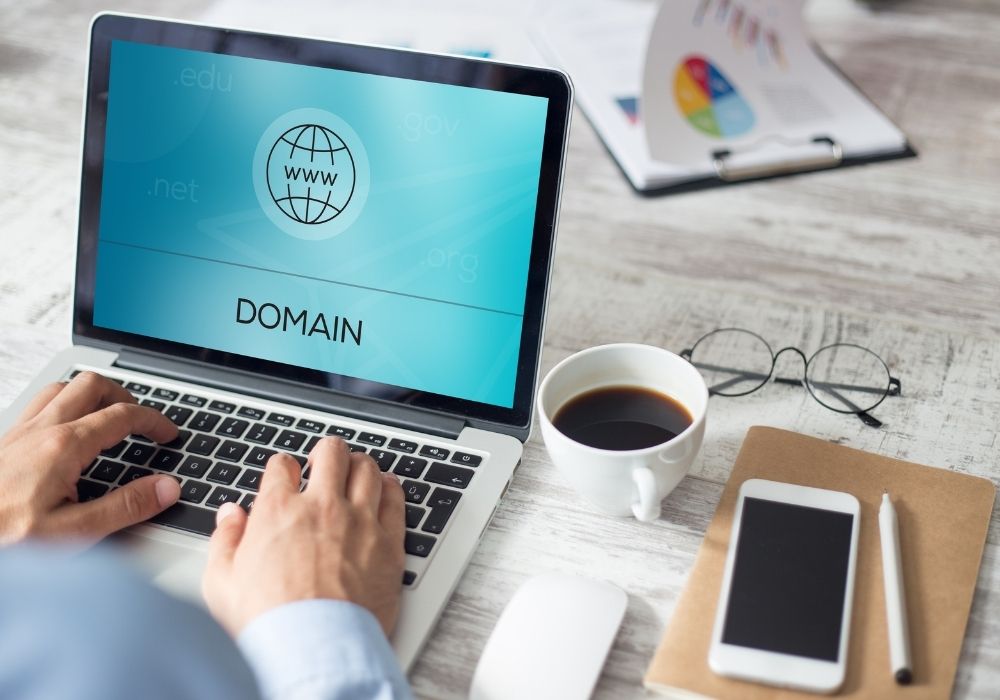 While you can just use a free website domain, keep in mind that it's not professional at all. You don't want your website to be www.yourbusiness.wordpress.com, do you?
People are less likely to buy from a website like that because it doesn't seem professional and it almost looks like you don't care about your business at all.
Go online and purchase your domain from a site like GoDaddy. This usually costs about $12 annually, so it's not too much money out of your pocket.
By purchasing a domain, you'll also want to create your own domain email account which only adds to your professionalism.
2. Pick a Website Platform and Purchase Hosting
After purchasing a website, it's time to choose a platform to host your website on. The biggest thing to consider when choosing a website platform is what your business offers.
For instance, if you sell lots of products, you won't necessarily care about having a website on a platform that is great for blogging. You'll want one that makes the customer shopping experience easy.
Start a Blog & Get a Free Course!
When you start a blog, you'll get our WordPress Beginner Blogger Course for free. This course shows you how to start, design, and grow a professional website from scratch… even if you're not tech-savvy.
For product sales, you'll most likely want to consider using a website platform like Shopify. Another option is to use WordPress and integrate Woocommerce or ShopifyLite, but this is only recommended if you sell ten products or less.
Most businesses opt to have their website on WordPress because of its endless capabilities.
It's great for blogging, SEO, and has tons of plugins. Plus, there are so many WordPress designers out there, so someone will be there to help you if you run into any issues ever.
Other options include Squarespace, Wix, Webflow, and Showit, among others.
After picking your website platform, you'll also want to purchase hosting. Consider options like Bluehost or Siteground, but make sure to always do your research before committing to one.
3. Design Your Website or Hire a Designer To Do It For You
Now comes the fun part; you get to design your website. While there are many free templates out there for every type of website platform, you can also get a professionally designed website that is best suited for your business to stand out.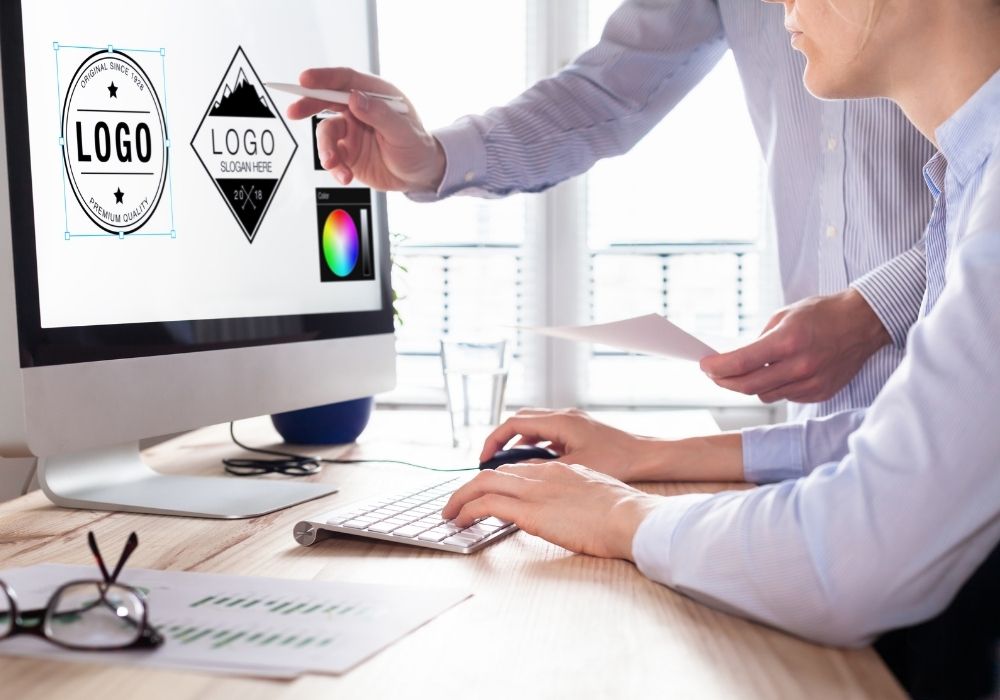 There are many website designers out there, and each web designer will charge a different price depending on how much experience they have.
Website designs can cost anywhere from $1,500 to $15,000, so try to find a designer you like within your budget.
When looking for a designer, make sure you find one that has designed in a style that you are attracted to.
Speaking from experience as a designer, you should never expect a designer to create something in a style that they have never done before, or that isn't showcased in their portfolio.
If you'd rather design it yourself, that is another option.
However, make sure you pick a theme that isn't popularly used by other websites, or you will have a generic design that isn't helpful for your brand.
An easy way to design a website yourself is to use a simple theme like Astra and then purchase access to Elementor Pro so that you can make endless drag and drop edits on your own.
4. Write the Copy for Your Website
The copy is almost more important than your website's design because it's what makes people get to know your brand more. Similar to design, you can either do this yourself or hire someone to do it for you.
The benefits of having a professional copywriter do the copy for your website are well worth the price that the services may cost.
More often than not, people who hire a professional copywriter tend to earn money back a lot quicker than those who do it themselves.
One thing to keep in mind when writing your copy is to make sure that you focus a lot on the customer. When someone visits your website, they want to know how you can help them.
5. Make Sure that You Have All of the Essential Pages
No matter what industry your business is in, there are some pages that you absolutely must have, or else your business's website isn't useful.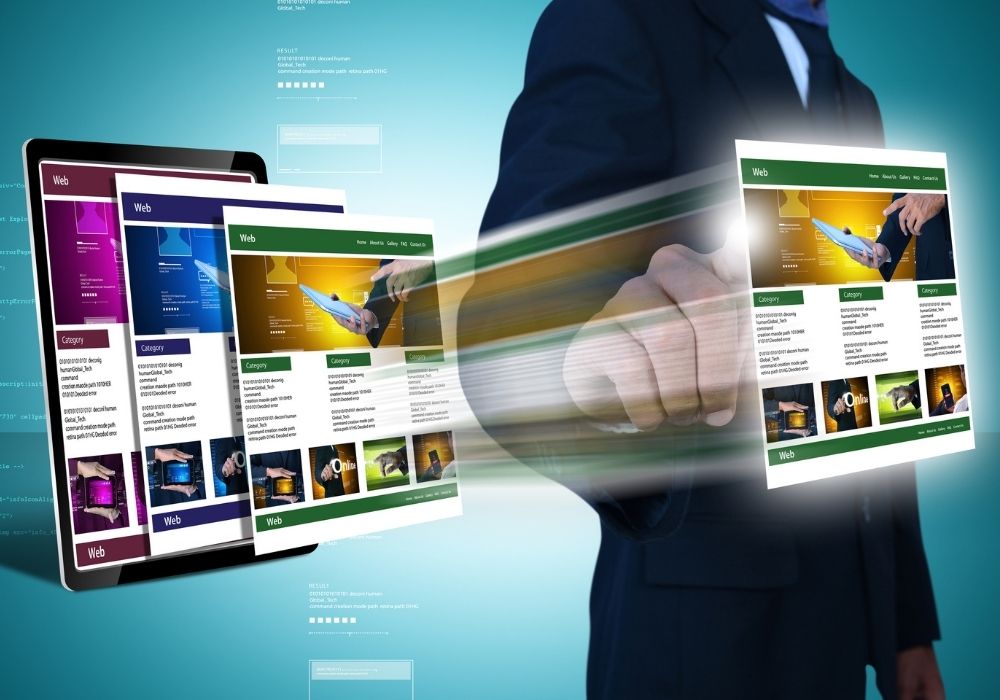 Every website needs a home page. This is usually the page that people land on first, so it has to introduce your business to those visiting your website.
An about page is also extremely important because it shows your business's history and shows a relatable person behind the company. This intrigues people. You could also include business values and ethos on this page.
Other essential pages include a contact page, products or services page, and a blog if you want to improve your SEO rankings.
6. Share Your Website with the World
Last but not least, you can finally share your website with the world. Make sure to link it to all of your social media accounts so that it can start gaining some traffic.
Conclusion
If you haven't started a website for your business already, I hope that this article has inspired you to do so. In this digital age, if you're not online, your business will be left behind…
While you don't have to invest in the top website designers or copywriters, as long as you have your business showcased on your own corner of the internet, then you are off to a great start!
Like This Article? Pin it!