With crystal clear waters and soft white sands, the beaches in Watamu are an irresistible draw for tourists from Kenya and other parts of the world. It genuinely is one of the best places to visit in Kenya. These stunning and pristine stretches of sand are strategically located along the coastline, offering something appealing to everyone.
Whether you're a watersports enthusiast searching for a place to surf or snorkel, a family seeking a spot for relaxation and some sunbathing, or a couple looking to escape city crowds, there's a beach in Watamu to perfectly suit your needs.
I've had the opportunity to visit Watamu several times, and most recently, I spent a week exploring its various attractions. This small coastal town is famous for its beautiful shoreline, extending from Jacaranda Bay to Short Beach, spanning north to south.
If you're considering a trip to Watamu soon, join me as I reveal the top beaches of this fantastic Kenyan destination. Additionally, I'll provide my favorite restaurant restaurants in Watamu and accommodation recommendations near each beach.
Best Beaches in Watamu
As going to the beach is one of my favorite things to do in Kenya, read on for a list of my favorite beaches in Watamu. They include serene spots for fine white sands, exciting watersport activities, and tranquil places to relax and rewind. These Watamu beaches are ideal for families, couples, those wishing to party, and sunset seekers.
1. Jacaranda Bay Beach
Kicking off this list of the best beaches in Watamu is Jacaranda Bay Beach – my favorite. This off-track beach at the northern tip of Watamu attracts fewer crowds, making it an ideal spot for couples seeking a romantic retreat. It also transforms into natural pools during low tide, creating the perfect setting for a refreshing swim.
Beneath the blue waters of Jacaranda Bay, and against the backdrop of pristine white sands, lies the enchanting Sardinia 2. This coral garden attracts snorkeling enthusiasts with its colorful fish and beautiful marine life, and once you see it, you'll understand why.
You'll find several beach bars and restaurants with clean facilities along the shore, including toilets and changing rooms. For a memorable experience, unwind at Marafiki Beach Restaurant, where you can enjoy fresh food and drinks, watch a magical sunset, and soak in breathtaking ocean views.
Accommodation Near Jacaranda Bay Beach
There are few accommodation facilities near Jacaranda Bay Beach owing to its secluded location. However, you can check out the following top-rated beach houses:
Alawi Home: This boutique beach house features elegant rooms, an outdoor swimming pool, an on-site restaurant, and other great amenities. It's next to the main beach and boasts a private sandy front. Click here for more details.
Mirror House Watamu: This one-bedroom villa provides accommodation in a tranquil atmosphere, ideal for couples. Besides a fully equipped kitchenette, it has a TV set and free WiFi and boasts an open-air bath with a perfect ocean view. Click here for more details.
Jumbo Club Watamu: This hotel offers clean and air-conditioned rooms with free WiFi, private bathrooms, and a desk, ensuring a comfortable stay, and one you can work from should you need to. You'll enjoy additional amenities such as an outdoor swimming pool, a bar, a restaurant, and free private parking. Click here for more details.
Restaurants Near Jacaranda Bay Beach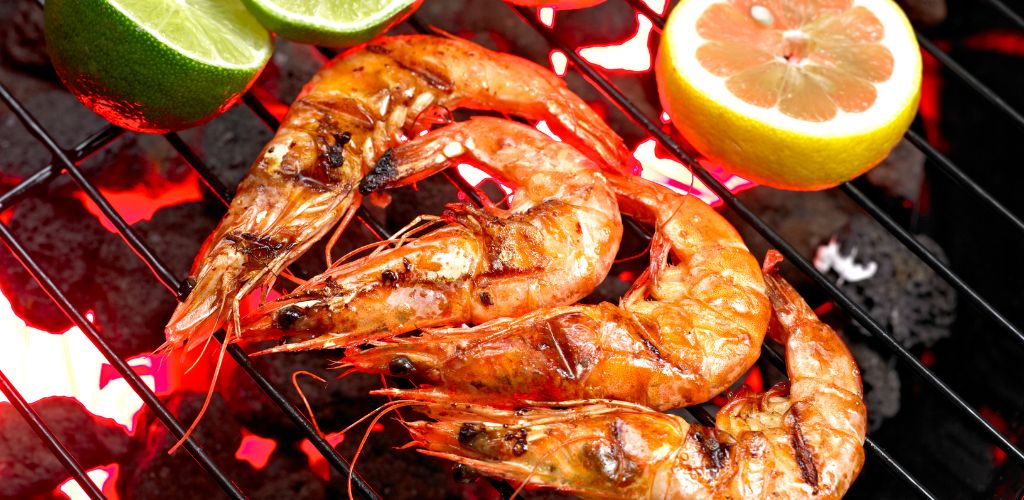 My favorite beach bars and restaurants close to Jacaranda Bay Beach, Watamu are listed below:
Safina Beach Bar & Restaurant: Safina offers a stunning ocean view and a menu featuring grilled seafood, local rice dishes, pizzas, gelatos, cocktails, and local beers. Try the delicious ugali samaki served with kachumbari, (a fresh tomato and onion salad), and local vegetables. Click here for directions.
Luwa Beach Bar & Restaurant: This is a perfect spot for lunch near Jacaranda Bay Beach while enjoying the ocean view. They mainly specialize in Italian pizzas, pasta, and seafood (prawns, fish, and lobsters). Click here for directions.
Marafiki Beach Bar & Restaurant: This is another great beach bar and restaurant around here (and another of my favorites). Besides delicious meals, including Kenyan cuisine, Italian dishes, and seafood, they offer both alcoholic and non-alcoholic drinks. Click here for directions.
2. Watamu Beach (Mapango)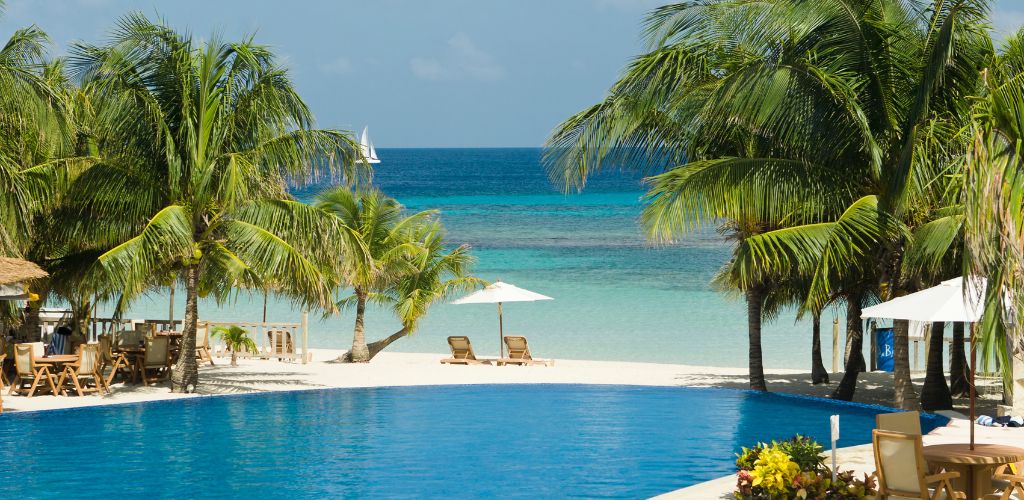 Whether you're looking to catch a breaking wave or unwind on the soft sands, Watamu Beach (also known as Mapango) is an ideal destination. The small stretch of sandy bliss is best for families, first-time visitors, and those seeking a relaxing escape.
Any time I visit Watamu Beach, I love taking a leisurely walk along the beach or dining at the Kokomo Beach Bar and Restaurant. From here, you can witness the mesmerizing sunset over the water, with a picturesque backdrop of moored boats and children playing in the shallows and building sand castles.
The beach offers various activities such as swimming, boat rides, beach sports, and the chance to enjoy the sight of waves crashing against the towering rock cliffs nearby. If you prefer to experience the soothing sound of the ocean, you'll find several beach bars and restaurants equipped with comfortable sun loungers to watch the world go by.
Accommodation Near Watamu Beach
Here's a list of the best accommodation facilities near Watamu Beach:
Solana Apartments: If you want a spacious, fully equipped self-catering studio apartment near Watamu Beach, check out this one-bedroom unit. In addition to an outdoor pool and free WiFi, the Swahili-style apartment has a private bathroom and more amenities. Click here for more details.
Dream Luxury Villas: This bed and breakfast villa, located 700 meters from Watamu Beach, offers elegant rooms with a terrace, a private bathroom, free WiFi, an outdoor pool for relaxation, and access to a spa. You can also enjoy breakfast with continental, English, and Italian options available for guests. Click here for more details.
Lalasalama B&B: For those looking for a budget-friendly stay in Watamu close to the beach, shops, and entertainment spots, I recommend Lalasalama. This modest bed and breakfast features cozy rooms, a shared lounge, a restaurant, and free parking. Click here for more details.
Restaurants Near Watamu Beach
Watamu Beach is lined with several nice beach restaurants to try. Check out the following options:
Kokomo Beach Bar and Restaurant: This is my favorite restaurant for an evening in Watamu Beach that provides incredible ocean views during sunset over a beer or cocktail. Its menu features authentic Lebanese mezze, grilled fish, lamb kebab, and veggie burgers. Click here for directions.
Sunset Beach Restaurant: This spacious and cozy beach bar and restaurant is known for serving the best pizza in Watamu, including vegetarian options. It has friendly staff, a variety of drinks, and a lovely setting that's perfect for a sundowner (or two). Click here for directions.
Hosteria Romana Watamu: If you crave Italian cuisine, be sure to head to this restaurant along Watamu Beach Road. In addition to delicious pizza and pasta, you can order fresh fish, lobsters, and prawns here. Click here for directions.
3. Turtle Bay Beach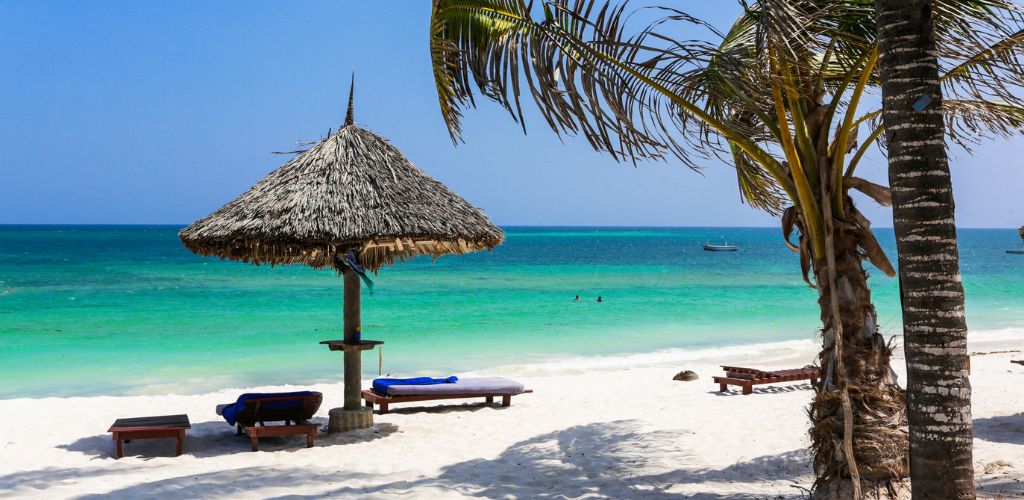 For travelers who prefer tranquility and those who crave ocean adventures, I recommend Turtle Bay Beach. Here, you can enjoy the beach or participate in water activities such as swimming, snorkeling, kitesurfing, and stand-up paddle boarding.
You'll find Turtle Dive Watamu beside the beach, a center that offers diving classes and various watersports. They also organize boat trips to the Watamu Marine National Park, where you can go scuba diving in the nearby coral reefs, such as Whaleshark, Brain Coral, and Nudi Reef.
Turtle Bay Beach is also close to Watamu's top-rated hotels for couples and families, such as Medina Palms and Hemingways, making it the best beach in Watamu for holidays and honeymoons. If you love shopping and exploring a destination's culinary scene, many supermarkets, eateries, and craft shops are less than a ten-minute drive away.
Accommodation Near Turtle Bay Beach
Turtle Bay Beach is home to some of the best accommodation facilities in Watamu. Check out these top-rated beach hotels and their latest prices below:
Ocean Sports Resort: This resort is popular among tourists for its excellent location, friendly staff, and cuisine (primarily fresh seafood and pizzas). It features air-conditioned, ocean-facing rooms, a restaurant and bar, and an outdoor swimming pool. Click here for more details.
Hemingways: Featuring modern Swahili-style suites with bright interiors and private bathrooms, Hemingways is one of the best hotels in Watamu. The outstanding facility also has an on-site restaurant, two pools, and a spa. Click here for more details.
Medina Palms: This 4-star beach hotel offers everything you need for a perfect vacation. It's close to the beach and features exquisite villas, suites, three swimming pools, a restaurant, a coffee garden, and a beach bar. Click here for more details.
Restaurants Near Turtle Bay Beach
If you're looking for the best places to eat near Turtle Bay Beach, check out the following restaurants:
Turtle Bay Beach Club: The Turtle Bay Resort is home to a restaurant offering continental breakfast, buffet lunch, and various dinner options. It also has a pizzeria, a snack bar, and a reservations-only spot with a la carte menus (Blue Turtle). Click here for directions.
Amandina Restaurant: This restaurant at Medina Palms offers a perfect outdoor setting to enjoy relaxed dining with family and friends. It's open for breakfast, lunch, and dinner, featuring eclectic cuisine focusing on Italian dishes, fresh seafood, and vegetarian options. Click here for directions.
Gede Coffee Gardens: This restaurant by Hemingways provides a white linen dinner experience with delicious meals including grilled beef fillets, karoo lamb, seafood, and vegetarian dishes. You can also enjoy a selection of drinks at the iconic Hemingways Bar. Click here for directions.
4. Garoda Beach
Garoda Beach, the cleanest and calmest of Watamu beaches, boasts crystal blue waters and pristine white sands. It's a favorite among locals and tourists, earning its reputation as one of the best public beaches in Watamu.
Here, you can stroll along the shore during low tide, taking in the breathtaking ocean view and refreshing sea breeze as you head toward Turtle Bay Beach.
Not only is Garoda Beach an incredibly serene spot, but it's also a hub for adventure seekers. It's known as the ultimate kitesurfing destination in Watamu, offering thrilling experiences for surfers of all levels. Plus, it's one of the launching points for boat trips to Watamu Marine National Park's incredible snorkeling and swimming spots.
If you're eager to learn kitesurfing or improve your existing skills, you're in luck, as Garoda Beach is home to Watamu Local Kitesurfing School. The center offers lessons for all skill levels and equipment rentals.
While Garoda Beach may have limited shops, a few sell beachwear, gifts, and souvenirs to remember your visit. You'll hardly find any beachside bars with amenities such as sunbeds and changing rooms, but nearby hotels offer these conveniences if needed.
Accommodation Near Garoda Beach
If you're drawn to watersports and are planning to visit Garoda Beach, here are some of its best places to stay. They include lodges, camps, and B&Bs such as Watamu Beach Cottages – my favorite.
Kobe Suite Resort: This resort offers air-conditioned suites with stunning ocean views, and each suite comes with mosquito-net-draped beds and a private bathroom with shower and bidet. It also boasts two outdoor pools, a tropical garden, a private beach area, and a restaurant and bar. Click here for more details.
Gecko Resort: The beach resort offers clean, comfortable rooms with beautiful garden views. Additionally, it features a buffet restaurant, a bar, a swimming pool, and a small private beach, all complemented by welcoming staff and a great location next to Garoda Beach. Click here for more details.
Bamba Kofi Tented Camp: This beach camp in Watamu offers affordable accommodation in tents surrounded by lush green vegetation and provides direct access to Garoda Beach. It has a fully equipped outdoor kitchen, free WiFi, shared bathroom facilities, and an outdoor shower. Click here for more details.
Restaurants Near Garoda Beach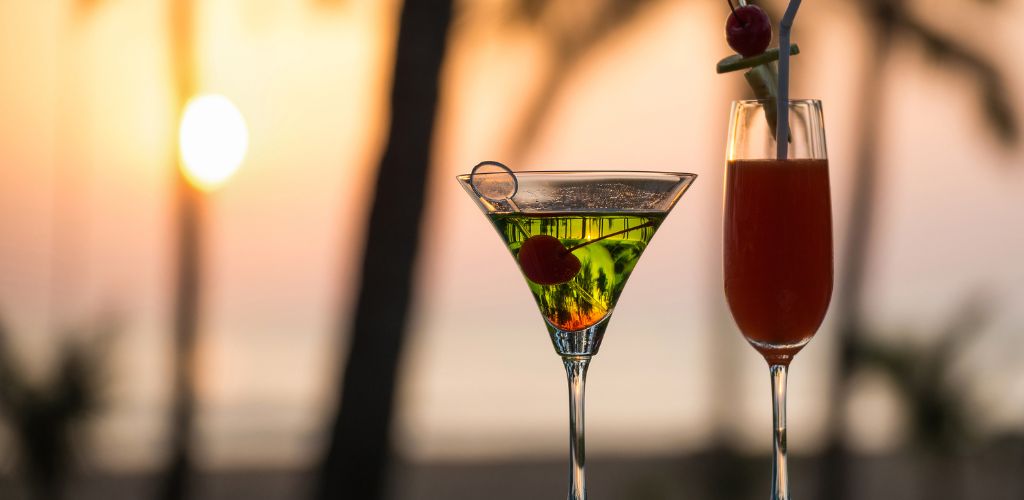 Here's a list of some of the best restaurants near Garoda Beach in Watamu:
Prawn's Lake Conservation Group: This is a lovely spot for watching the sunset over the creek and enjoying some delicious, fresh seafood and local dishes. Try out the grilled octopus and their irresistible prawn samosas. Click here for directions.
Pilipan Restaurant: Situated on the same creek as Prawn's Lake, Pilipan offers a beautiful setting for enjoying golden hour with beers and cocktails. They also serve scrumptious meals such as barbecued snapper, fish and chips, seafood skewers, and chicken wings. Click here for directions.
5. Papa Remo Beach (Love Bay)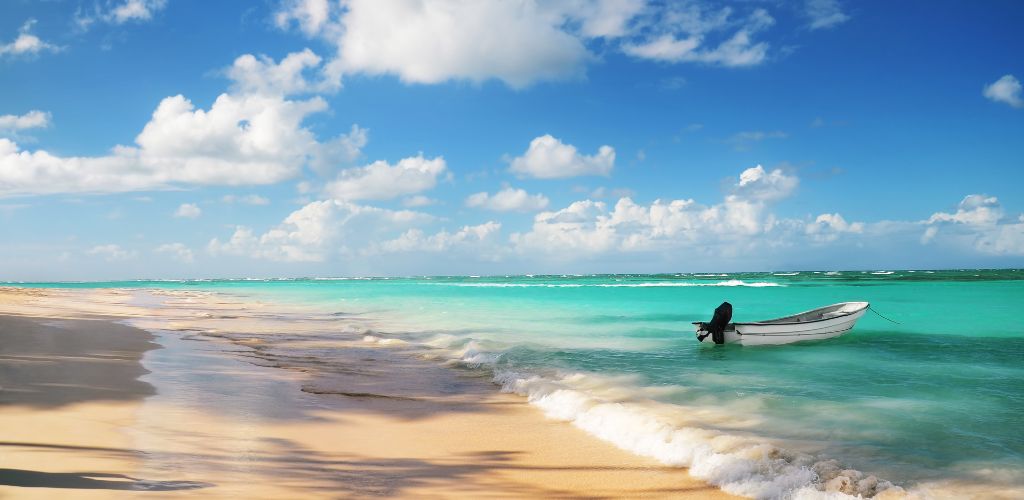 Next up on our list of the finest sandy beaches near and around Watamu is the captivating Papa Remo Beach, also affectionately known as 'Love Bay' or 'Seven Island Beach'. This lovely beach is situated north of Watamu Beach and offers breathtaking views of seven picturesque islets.
If you're seeking the best beach in Watamu for some lively fun, Papa Remo is the place to be. Unlike some of the neighboring beaches, Papa Remo has all the amenities you need; from beach bars and restaurants to changing rooms and beach shops. It's also conveniently located close to some of the finest hotels in the area.
Here, you can unwind, savor delicious meals, and sip your favorite drink in tranquility. If you love great music and dancing, I highly recommend attending the Papa Remo Beach Party. This thrilling event takes place every Saturday from 11 pm until late and is sure to be one of the most memorable experiences you'll have from your time in Watamu.
Accommodation Near Papa Remo Beach
Just a few minute's drive from Watamu town center, you'll find plenty of places to stay near Papa Remo Beach. These include the following recommended resorts and a hotel:
Visiwa Beach Resort: Visiwa is a superb boutique hotel in Watamu near Papa Remo Beach with only eight elegant rooms and three family apartments. It also features a restaurant, bar, outdoor swimming pool, and beautiful garden. Click here for more details.
Crystal Bay Resort: This beachfront resort is perfect for couples and families seeking relaxation and beach exploration. It offers sun loungers, a buffet restaurant, a tropical garden with well-tended flowering trees, and well-maintained swimming pools. Click here for more details.
Boutique Hotel Nyumbani Tembo: For a clean and cozy hotel with spacious rooms and comfortable beds in Watamu, book your stay at Nyumbani. It offers a shared kitchen, lounge, restaurant, swimming pool, and a small garden, conveniently located near shopping centers and beaches like Papa Remo. Click here for more details.
Restaurants Near Papa Remo Beach
There are several places to eat near the beautiful Papa Remo Beach. Some of my go-to's include the following beach bars and restaurants:
Tamu Restaurant: This is your best bet if you're looking for a restaurant with a romantic vibe close to Papa Remo. Although they have a beach bar, I usually choose to dine in their indoor space. It's cozy and well-lit, and the sliced beef fillet is particularly delicious. Click here for directions.
Willy Beach Watamu: Located on the southern end of the beach, Willy is another excellent place to dine and chill. They specialize in grilled seafood like octopus and lobsters, but you'll also find other dishes like chicken, beef, and fried fish served with ugali (a traditional type of corn meal made from maize or corn flour). Click here for directions.
Papa Remo Beach Restaurant: This is my favorite restaurant along the Watamu coastline for food, relaxation, and entertainment. It offers both indoor and beachfront dining options with delicious meals – mostly fresh seafood and Italian dishes. Click here for directions.
6. Short Beach
Right after Garoda Beach, you'll stumble upon Short Beach (at the southern end of Watamu). It's a hidden gem yet to be discovered by many. This charming little location is like your own private paradise, often quiet and empty, giving you the luxury of having the whole shoreline to yourself.
Short Beach is a peaceful spot and is perfect for anyone seeking some peacefulness by the sea. When the tide goes out, you can take a leisurely walk from Short Beach to Garoda Beach and beyond, enjoying the beautiful scenery of waves, sandbars, and rocky cliffs. However, it's a good idea to go with someone who knows the tides well to avoid getting lost.
If you're staying at Temple Point Resort, Short Beach is the most accessible beach. From here, you can catch breathtaking sunsets at Lichthaus Bar, join a day trip to Mida Creek and Sudi Island, or even book a boat ride from the nearby marine park office for snorkeling adventures.
Accommodation Near Short Beach
Although Short Beach is secluded, there are still several accommodation facilities nearby. These include the following:
Temple Point Resort: Located on the southern end of Watamu, this hotel boasts elegant rooms, a restaurant that combines international and Kenyan cuisine, a swimming pool with sun loungers, and a charming bar overlooking Mida Creek. Click here for more details.
Nyumba Nyekundu: If you're traveling as a group or a family looking for an exquisite holiday home, check out the "Red House." It has an outdoor pool and lovely units with all the amenities for a memorable stay. Click here for more details.
Restaurants Near Short Beach
Just like hotels, there are limited restaurants near Short Beach. However, you can dine at Temple Point's Clubhouse Restaurant or its nearby bar (see below):
Lichthaus: This bar by Temple Point is one of the best hangout spots in Watamu. It has hammocks and a terrace where you can dine and drink while savoring a breathtaking sunset over Mida Creek. Try out the grilled garlic beef served with chips. Click here for directions.
7. Mida Creek
Although Mida Creek may not qualify as a beach, it offers a unique coastal experience that's well worth exploring. While it lacks the expansive white sands of other beaches within the larger Watamu Marine National Park, it does boast small sandy stretches along its shores.
This coastal gem is famous for its rich mangrove forests, providing the perfect feeding ground for marine life including lobsters, fish, crabs, and octopus. It's also a haven for nature enthusiasts and birdwatchers, as it attracts diverse species such as the sacred ibis, terek sandpiper, and the grey plover.
Another standout feature of Mida Creek is its sections of shallow waters, making it an excellent choice for swimming.
From this somewhat secret spot, you can embark on boat trips and dhow cruises along the creek to witness the magical Watamu sunset. If you're up for some adventure, you can join day tours to nearby islands like Sudi and Waka Waka to explore more of this unique ecosystem.
Accommodation Near Mida Creek
Here's a list of some of the best places to stay along the shores of Mida Creek, Watamu:
The Mida Creek Hotel: This quiet and relaxed boutique hotel is located on the south side of the Mida Creek. It has only six rooms and features amenities including a restaurant, an outdoor swimming pool, sundecks, and a fitness center, making it ideal for families. Click here for more details.
Rock and Sea Resort: This bed and breakfast is home to cozy rooms, bush bubble domes, and a fantastic restaurant serving delicious food. It's located on the same side as the Mida Creek Hotel, overlooking Short Beach on the other side. Click here for more details.
Mida Creek Nature Camp: This is the perfect place to stay near Mida Creek (northern side) for budget travelers and nature enthusiasts. The eco-camp offers accommodation in treehouses and tents in a serene environment. Click here for more details.
Restaurants Near Mida Creek
There are many places to eat while exploring Mida Creek, and if you join a tour, you'll most likely have lunch at Waka Waka or Sudi Island. That said, here are my favorite restaurants to pick from:
Panoramic Restaurant: This restaurant by Rock and Sea combines delicious food with magical views of Mida Creek. Its multi-cuisine menu includes tasty starters, main courses, and a selection of wines from South Africa, Italy, and France. Click here for directions.
Crab Shack Dabaso: Tucked in between the mangroves, this community-run restaurant is famous for its great food, welcoming staff, and its amazing viewpoint for magical sunsets over Mida Creek. I highly recommend their seafood platter comprising prawns, grilled fish, calamari, octopus, crab, and lobster. Click here for directions.
Beaches in Watamu: FAQs
Here are some answers to the most commonly asked questions about visiting beaches in Watamu, Kenya:
Which is the best beach in Watamu?
With its soft white sand and crystal-clear waters, Watamu Beach is often considered the best in the area. Other great options include Garoda for watersports, Turtle Bay for families, and Jacaranda Bay for a quiet environment.
Which are the best beaches in Watamu for partying?
If you fancy a lively atmosphere, I recommend Papa Remo Beach for partying.
Which is the best beach in Watamu for families?
Turtle Bay Beach is considered the best beach in Watamu for families. Thanks to its enchanting hotels and calm waters, it's ideal for children to swim and play safely.
Which is the best beach in Watamu for couples?
Jacaranda Bay Beach is a popular choice among couples in Watamu for a romantic getaway, offering a tranquil and secluded setting. Watamu and Turtle Bay are also excellent choices.
Which beach in Watamu has the clearest water?
Jacaranda Bay and Turtle Bay beaches are known for having the clearest and most pristine waters in Watamu.
Are there white sand beaches in Watamu?
Yes. Watamu is known for its white sand beaches, especially at popular spots like Watamu Beach, Turtle Bay, and Jacaranda Bay.
Which is the safest beach in Watamu?
Beaches in Watamu are considered safe for visitors. However, it's always wise to follow local safety guidelines, exercise caution, and be aware of your surroundings. Regularly check the latest travel advisories for Kenya from the US, UK, and Canadian governments.
What should I wear in Watamu?
In Watamu, casual beachwear like swimsuits, shorts, and light clothing are ideal for the tropical climate. However, it's recommended to dress modestly when outside of the beach areas and when visiting religious or cultural sites. Remember sunscreen and a hat.
Now You Know The Best Beaches in Watamu
As you've seen and read, magnificent beaches are abundant in Watamu, each with distinct character and allure. Watamu is also a place where the sunsets never fail to colorfully paint the sky, the waves lull you into relaxation, and the warm hospitality of the locals makes you feel right at home.
While here, you can unwind on a sun lounger while sipping a cocktail, attend the Watamu beach party, relax under a palm tree with a good book, or dine at one of its many beach restaurants. Alternatively, the Watamu Marine National Park allows you to snorkel, swim, and surf.
So, if you haven't already, make Watamu your next beach destination, and I promise you won't be disappointed. This coastal haven will capture your heart and leave you yearning for more, just as it's repeatedly done for me.
Watamu isn't the only beach destination in Kenya, though, you should check out the beaches in Mombasa, too!