In this post, I'll list the best cenotes in Mexico you won't want to miss. A surprising number of visitors to Mexico's Yucatan Peninsula never experience its most outstanding natural feature: cenotes.
You can't blame them, though. The beaches are first-rate, and other attractions, such as all-inclusive resorts, Spanish colonial villages, and ancient Mayan ruins, steal the spotlight.
But ask any frequent visitor to the Yucatan, and they'll urge you to indulge in a refreshing swim and snorkel in a cenote.
Certified scuba divers may decide that exploring the deep and narrow caverns connected to cenotes is even more appealing than the world-class dive sites in the nearby Caribbean.
That was the case for me. I'm a scuba diver, but on my first visits to cenotes, I only snorkeled in them. I was traveling with friends who didn't dive.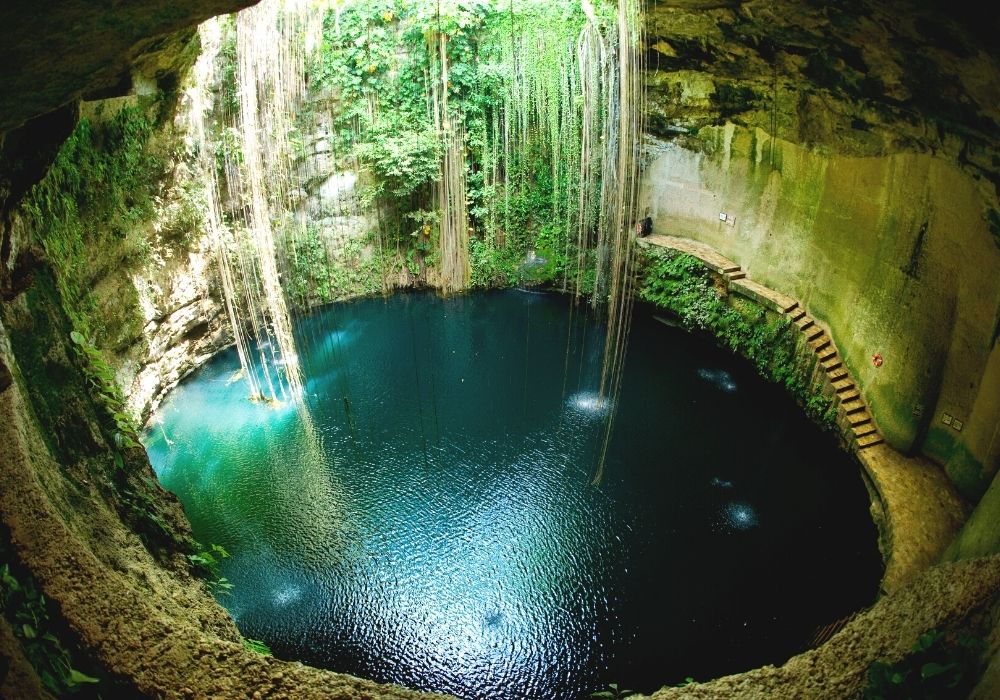 Many years later, when I first dove in cenotes, my mind was blown. It wasn't only one of the best things I'd done in Mexico, but one of the best things I'd done anywhere, period.
Now, I plan my trips to the Mayan Riviera around scuba diving in cenotes. But even if you don't dive, don't miss out on a swim and snorkel in this unique geological environment.
In this article, I'll list the 15 best cenotes in Mexico and give some information about where to find them, what to bring, and more.
What is a Cenote?
Cenotes are sinkholes filled with freshwater that are found throughout Mexico's Yucatan Peninsula.
How were cenotes formed?
Located in the southeast corner of the country, the Yucatan Peninsula is a broad block of limestone with an enormous network of caves under the surface.
In fact, the region contains one of the largest cave systems in the world, with the discovery that the Sac Actun and Dos Ojos systems (near Tulum) were connected.
The caves were flooded around 11,700 years ago, at the end of the last Ice Age. Stalagmites, stalactites, and all kinds of weird rock formations were perfectly preserved in the freshwater, along with animal skeletons and evidence of human inhabitation, including fire pits.
Over the millennia, sections of the brittle limestone surface collapsed, forming cenotes. Some are wide open pools, while others are merely holes or cracks in the ground.
There are more than 6,000 cenotes in the Yucatan Peninsula, most lost in the jungle. They were important sources of freshwater and ceremonial sites for the ancient Mayans.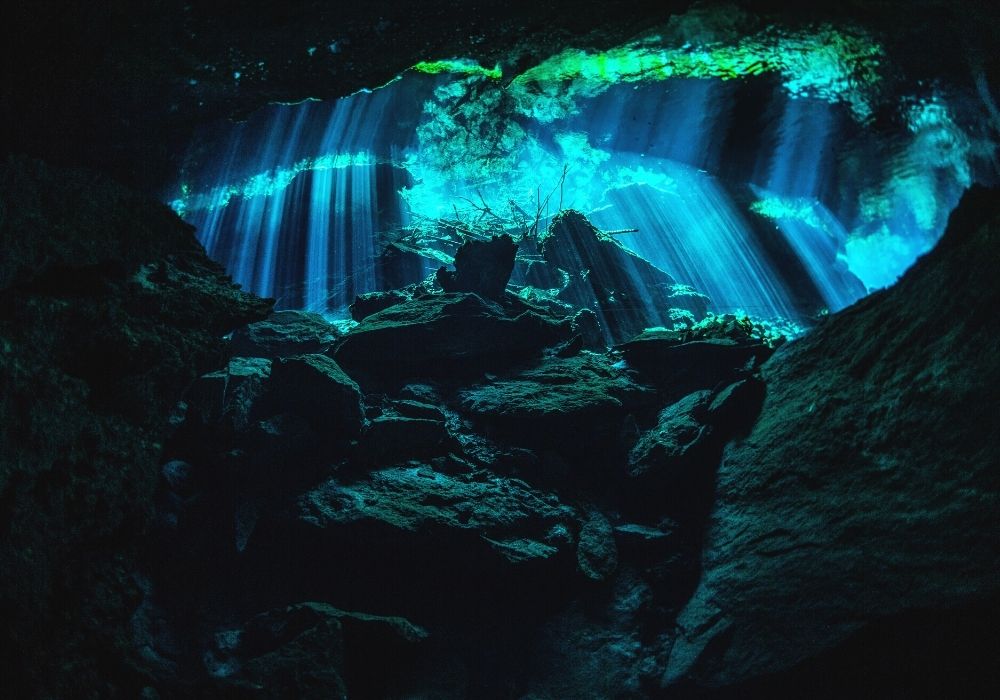 For instance, remains of sacrificed humans and animals have been found in the two cenotes in Chichen Itza (which you can't swim in, only admire from above).
Visiting cenotes as a tourist
Cenotes that have been developed for tourism have entry fees (usually less than $10 USD) and facilities for renting snorkel gear, life jackets, and other aquatic necessities. Often they contain restaurants and offer other adventure activities, such as ATV rentals and ziplining.
Certified scuba divers can experience cenotes in a whole other way, by exploring the caves winding under the surface. You'll need to go with a divemaster, and established routes are marked by ropes. Some cenotes, including Dreamgate, Angelita, and El Pit, require an advance certification.
If you want to scuba dive in cenotes, it's best to arrange a trip from a dive shop in Playa del Carmen or Tulum. You can choose a package that includes gear, transportation, and up to three dives, usually in two different cenotes.
For swimming and snorkeling, you can just show up at the cenote and rent your gear right there.
Best Cenotes in Tulum
Tulum is surrounded by cenotes, making it an excellent base for exploring the best cenotes in Mexico.
You can combine your trip to a cenote with a visit to another attraction near Tulum. For example, Dos Ojos (and many other cenotes) are near the Tulum ruins. You can visit them before or after you explore the archeological site.
To the south, you could spend half a day at the Kaan Luum lagoon and then travel onward to the Muyil archeological site. Or, after a long day at the extensive Coba ruins, you could stop at Gran Cenote on the way back to cool off before returning to Tulum town.
1. Dos Ojos
Two side-by-side oval cenotes give Dos Ojos (Two Eyes) its name. It's a fantastic place for scuba diving, with two different routes leading between the cenotes that contain narrow passages and lots of stalagmites and stalactites.
With an overhanging cliff edge in both "eyes," Dos Ojos is also a good spot for swimming and snorkeling. You can get a taste of underwater cavern exploration without needing to strap on scuba gear.
This affordable, fun tour (with pickup from Tulum, Cancun or Playa del Carmen) takes in Dos Ojos and the Tulum ruins. Find out more here.
2. El Pit (one of the best cenotes in Mexico for freediving and scuba diving)
El Pit shares an entrance with Dos Ojos and is located farther back in the jungle. This deep cenote is all about scuba diving and freediving, and along with Angelita is one of the two best cenotes near Tulum for deep diving.
When you dive into cenotes, you rarely go deeper than five or six meters, because the caves run mostly horizontally to the ground above. El Pit (along with Angelita) is an exception, hence the name, the Pit.
At El Pit, a deceptively small hole leads to a huge open chamber, where beams of light slant through the water in many shades of blue.
Along the sides of the chamber are several narrow passages you can squeeze into, but don't go too far, because, like all cenotes, they lead to a practically infinite array of deeper chambers.
There's no reason to go to El Pit for swimming, although if you're already at Dos Ojos and are curious, you can walk up the road to check it out.
3. Angelita
Angelita is much smaller than El Pit, just one semicircular pool heading straight down. As with El Pit, don't go there (and pay the entrance fee) unless you're scuba diving.
Angelita is remarkable for its halocline, a yellow cloud of hydrogen sulfate located at 30 meters. A bump of earth is located there, and broken branches stick out of the cloud, looking like mist in an old horror movie.
Once you reach it, you can continue descending into the cloud. The smell of sulfur fills your mask, and all you can see is the spooky yellow glow of your flashlight. You can't stay long below the halocline, because it's deep and you'll use up your oxygen quickly.
Because of this experience, Angelita is absolutely one of the best cenotes in Mexico for scuba diving.
4. Gran Cenote
Gran Cenote is inland from Tulum on the highway to Coba. This was the first cenote I visited in Mexico. I went there after a long, hot day of riding a bicycle around the large ancient city of Coba.
On the way back to Tulum town, once I saw the sign, I asked the bus driver to stop at Gran Cenote.
Gran Cenote is in a beautiful location in the dense jungle, with plenty of places to lay out in the sun. It's rather shallow and has lots of structures to swim under and around. It's also a good spot for scuba diving, although most dive shops will recommend Dos Ojos first.
5. Yax-Muul and Sac Tuunich Cenotes
For a cavern diving experience without scuba gear, head to Yax-Muul, located about 10 minutes by car or bus north of the archeological site of Tulum.
Yax-Muul is an underground cenote with only half-flooded caves, so you can snorkel or simply swim through them, making it one of the best cenotes in Tulum for adventure. The other cenote on-site, Sac Tuunich, is where Mayan ceremonies are performed.
The adventure continues above the water, with rappelling and ATV rentals available. You can also choose to experience a temazcal, a traditional sweat lodge ceremony. Be sure to shower before getting back in the cenote.
6. Dreamgate
At the dive shop, the first time I planned to go scuba diving in cenotes, I flipped through a guidebook about the best cenotes near Tulum. The dive master told me about Dos Ojos, El Pit, and Angelita. They sounded great.
I closed the book and asked, what's the very best cenote in Mexico for scuba diving? Without hesitation, he said, Dreamgate.
It wasn't in the book, so he opened his phone to show me photos. They looked like something from another planet, rows of stalagmites and stalactites ranging from the size of your pinky finger to a massive tree trunk, stretching out in all directions and eerily distorted by the water.
Dreamgate has extremely tight caverns, so an advanced dive certification is necessary. What's more necessary, however, is total control over your buoyancy, so you don't bump into a stalactite and break it off.
Dreamgate has no entrance gate or facilities other than a concrete outhouse. Arranging a trip with a dive shop is essential.
7. Kaan Luum Lagoon
Kaan Luum is an outlier, and it's only really a cenote by default. But it deserves to be considered one of the best cenotes in Mexico because it's absolutely stunning.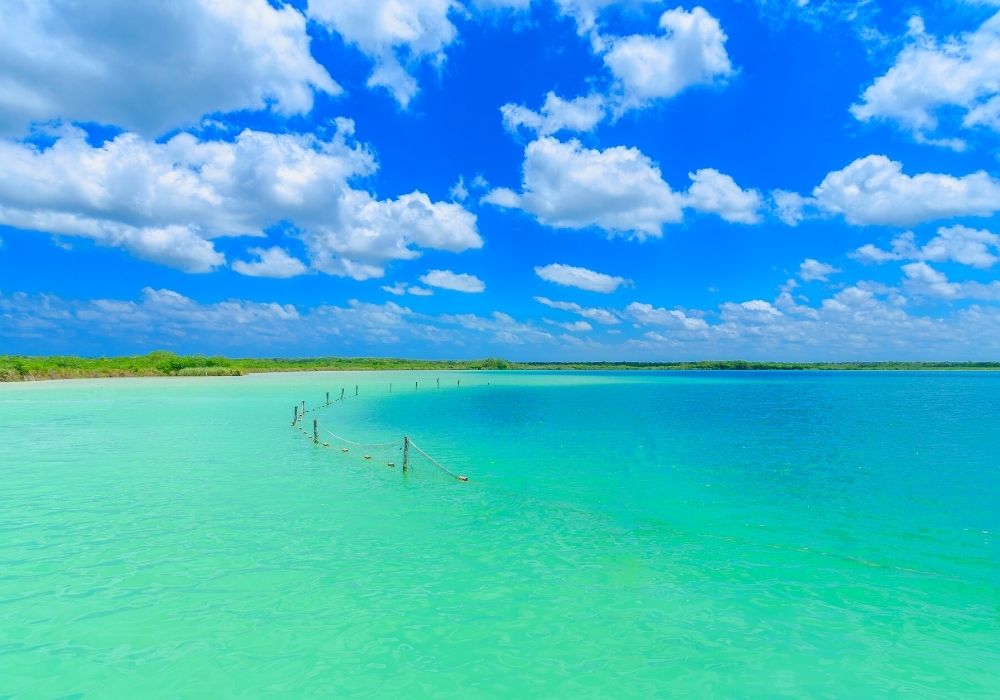 The glowing turquoise water of this otherwise shallow lagoon turns dark in the middle, where a deep cenote lies. The cenote is blocked off by a rope and buoys, so you can't swim into it, but it makes for a lovely setting.
Two long docks stretch out over the water, where you can lay in the sun between swims. There are also a few wooden swings in the water where you can pose for your perfect photo.
A few tips for Kaan Luum: bring lots of water and food. It's so pretty that you'll want to stay all day.
Or, if you're feeling adventurous, you can travel to the archeological site of Muyil down the road. The ruins are somewhat small, but several hiking trails branch out from them, leading into the Sian Ka'an Biosphere Reserve.
Think twice if you're tempted to ride a bicycle from Tulum town to Kaan Luum (like me). It's a long and really hot ride.
Best Cenotes in Playa del Carmen
The 64 km stretch of highway between Playa del Carmen and Tulum contains numerous cenotes, some of which I've described above. Dos Ojos is closer to Tulum, for instance, but it's also easily accessible from Playa del Carmen.
This is also the case for the several cenotes near Akumal, which is at roughly the midway point between Tulum and Playa del Carmen. Others, like the two described below, are much closer to Playa del Carmen.
1. Cenote Azul
Wide-open and surrounded by lush jungle, Cenote Azul is one of the best cenotes in Mexico for swimming. Rent or bring your own snorkel gear so you can check out the fascinating underwater structures and schools of fish. There's even a small cliff you can jump off.
Cenote Azul is one of five cenote parks about 20 minutes south of Playa del Carmen, across the street from the sprawling Barcelo resort.
The other four are Chikin Ha, Kantun Chi, Hunab Ku, and Jardin del Eden. These are undoubtedly the best cenotes near Playa del Carmen.
Of these five, Cenote Azul is the most popular because it's so large and close to the highway. During high season in the Mayan Riviera, especially during a holiday, you may want to check out one of the other parks to avoid crowds.
Each of the cenotes have separate entrance fees, all less than $10 USD. If you're really into cenotes, after Cenote Azul you can visit another (or all) of them.
This highly rated cenote day trip takes in Cenote Azul, plus three others. It also includes a tasty lunch in a Mayan village. Learn more here.
2. Cenote Jardin del Eden
Right next door to Cenote Azul is Cenote Jardin del Eden, another large, open cenote that's great for swimming and snorkeling. Jardin del Eden (Garden of Eden) lives up to its name with its colorful and tranquil setting in the tropical rainforest.
Jardin del Eden is also popular with divers, making it one of the best cenotes near Playa del Carmen for scuba diving.
Best Cenotes in Cancun
There are no cenotes in Cancun proper neither in the hotel zone nor the city on the mainland.
The nearest cenotes are in the Ruta de los Cenotes (Route of the Cenotes) in Puerto Morelos to the south, which is about halfway between Cancun and Playa del Carmen.
For the other best cenotes in Cancun, your best bet is to visit ones near Tulum or Playa del Carmen, or visit a cenote near Valladolid on your way to the ancient Mayan city of Chichen Itza.
1. Cenote Sol y Luna (Ruta de los Cenotes)
The Sol y Luna (Sun and Moon) Cenote is part of the Ruta de los Cenotes, which follows a road going inland from the pretty beach town of Puerto Morelos.
Travel agencies and the Sol y Luna Hacienda can arrange an entire day of adventure on this route, with mountain bikes, ATVs, or horses to ride on rugged jungle trails. Or, you can head straight to the cenote by taxi or rental car.
The cenote itself is an open cenote lined with low rocky walls. It's crossed by a zipline, and there are a few platforms where you can sit and soak up the sun before cooling off again in the cenote.
Because of all the activities, it's a good choice for families with children, and because it's near both Cancun and Playa del Carmen, it's a good choice if you have limited time.
2. Cenote Suytun
It's actually hours from Cancun, but it's quite close to one of the most popular destinations that many people visit from Cancun: Chichen Itza.
Chichen Itza is the famed Mayan archeological site with the iconic blocky pyramid. If you're traveling to the ruins from Cancun, you can easily stop at this Cenote Suytun on the way back, and many tours to Chichen Itza include a visit.
Like Chichen Itza, Cenote Suytun comes with a downside — it can get seriously crowded.
Arriving early in the morning before the tour groups is a good idea, especially if you won't be going to Chichen Itza the same day (because you'll probably want to beat the tour groups there first).
Despite the crowds and the distance from Cancun, Suytun is one of the best cenotes in Mexico because of its huge underground chamber that's lit up by a wide beam of light coming from a hole in the ceiling.
This beam falls into a broad semicircular pool where a platform has been built. All around are walkways dug into the cave walls that take you down to the water.
3. Cenote Oxmán
Four cenotes are located very close to one another to the immediate southwest of the picturesque colonial town of Valladolid: Cenote Saamal, Cenote Xkeken, Cenotes Dzitnup, and Cenote Oxmán.
All four are gorgeous — basically, all cenotes are gorgeous — so Cenote Oxmán is one of the best cenotes in Mexico because of the colorful hacienda nearby. The restaurant at the hacienda serves local cuisine and has a bar next to a pool.
The cenote is an open basin under steep, rugged cliffs with walkways built into them. Long vine-like roots hang from the trees at the tops of the cliffs, reaching into the water below.
Best Cenotes in Merida
Merida is a cenote hotspot, with some of the best cenotes in Mexico all around. If you don't have a rental car, then you can get to most of them by bus or colectivos (passenger vans), most of which leave from the bus station in central Merida.
Below are some of the best cenotes near Merida, with options not found elsewhere in the Yucatan Peninsula, such as horse-drawn carriages and centuries-old haciendas.
1. Cuzuma Cenotes
The small town of Cuzuma gives easy access to several of the best cenotes in Yucatan, and not only because of the cenotes themselves (which are lovely), but because of the means of transportation you'll take to get to them.
Near Cuzuma, a horse pulls a small carriage over narrow train tracks to three different cenotes deep in the jungle. The area used to be a sugarcane plantation, and the train tracks were made for transporting the crops.
Now, they're used to transport swimmers between the cenotes. At times, the horse gets moving pretty quickly, making for an exciting ride.
The cenotes themselves are easily some of the best cenotes in Mexico. One is an enormous chamber with a wide pool below and a ledge for jumping up above. You enter another by descending a wooden ladder down a shoulder-width hole in the ground.
2. Cenote Yaxbacaltun
At Yaxbacaltun, a long staircase leads to a platform above the water in the center of the circular open cenote.
The water is quite deep, so bring your snorkel gear or rent it there. Along the cliffs are some wooden platforms to jump off and a big rope swing.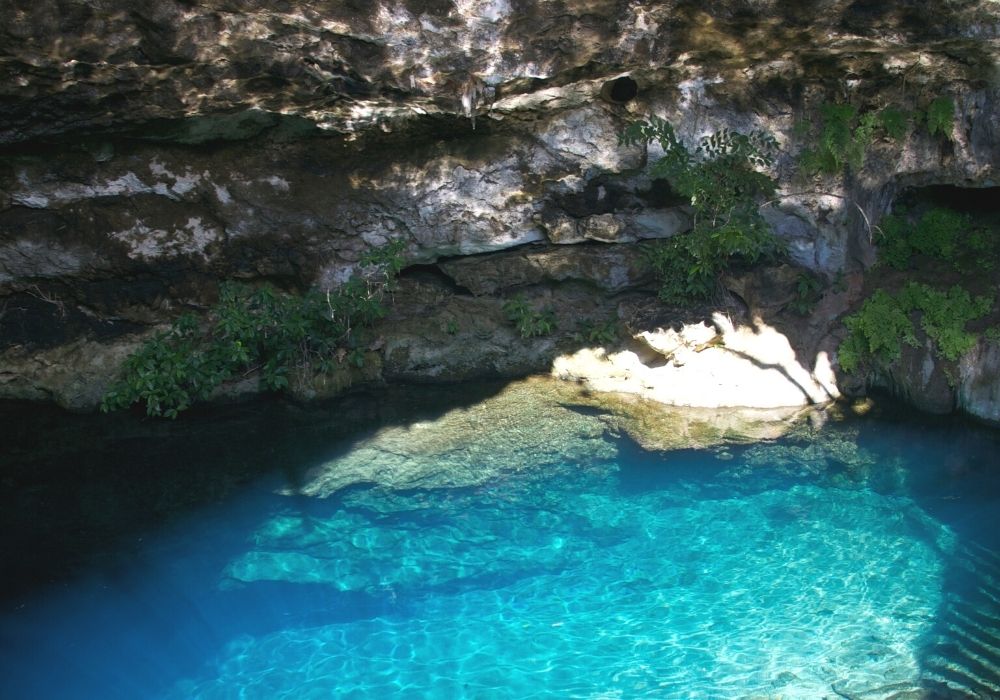 Several caverns extend far underground with enough space above to paddle a kayak through. You can also venture into these caverns on the wooden staircases that weave through them.
Yaxbacaltun is about an hour away from Merida on public transportation, just a little farther away than Cuzuma. There's a restaurant and campsite there, and it's near other cenotes and caves. It's a great starting point to visit more of the best cenotes near Merida.
3. Cenotes Hacienda Muchuyché
Cenotes Hacienda Muchuyché is more than a cenote, but an experience. You'll find a 17th-century hacienda near ruins, a wild jungle setting, and two large cave cenotes with crystal clear water. There's even a narrow canal for swimming or floating between them.
It's also significantly more expensive than some of the other best cenotes in Mexico, with current prices at about $30 USD for general admission.
But visiting the hacienda is a full-day excursion. Besides exploring the cenotes, you can eat at the restaurant, learn the history of the hacienda, and take guided walks through the jungle.
What is the Biggest Cenote in Mexico?
This is a hard question to answer. Some cenotes have a humongous open pool, some have a large inner chamber, and some lead to deep caves, meaning that cenotes can be big in three different ways.
A cenote meeting all three of these criteria is probably deep in the jungle and inaccessible to tourists, if not undiscovered. But, based on the ones we know of, the answer would be the Sac Atun system including Dos Ojos in terms of length.
What is the Deepest Cenote in Mexico?
Funny enough, the deepest cenote in Mexico isn't located in the Yucatan peninsula! At a depth of 282 meters, Zacatón, in the state of Tamaulipas is the deepest cenote in Mexico.
What is the Most Beautiful Cenote in Mexico?
This is totally subjective, of course. Regarding pure aesthetics, not awe or wonder (like Dreamgate or Angelita), I believe El Pit is the best cenote in Mexico for astounding beauty.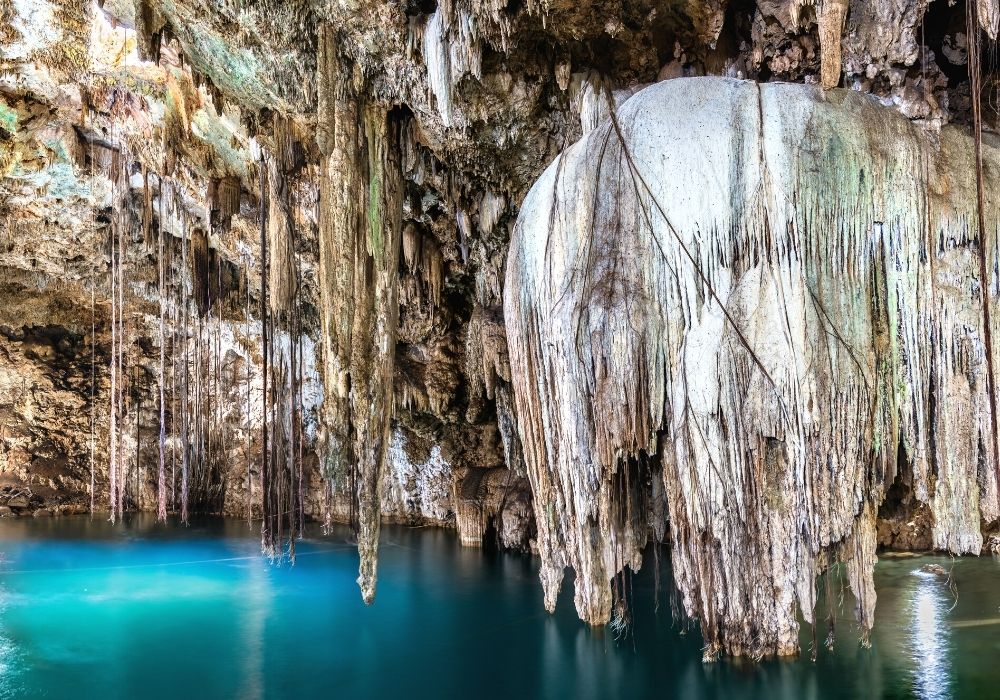 If a breathtaking jungle setting is what you're after, then I suggest the Cuzuma cenotes or Gran Cenote near Tulum. For those Instagram-worthy shots, Cenote Suytún is a great option.
If you're interested in enjoying some impressive architecture and history with your time in the water, check out Cenotes Hacienda Muchuyché.
5 Tips for Visiting Cenotes in Mexico
The most important tip is more of an unwritten rule. Don't put on sunscreen or insect repellant before entering a cenote. It's bad for the freshwater.
Make sure you have a hat to protect you from the sun and long sleeves to protect you from mosquitos. As soon as you're done swimming, liberally apply both sunscreen and mosquito repellant.
Cenotes are often in remote jungle settings and sometimes require a bit of a walk on sandy roads to get to from public transportation drop-off points, so sturdy shoes may be a better choice than flip-flops.
If you plan on doing a lot of snorkeling during your trip to Mexico, bring your own gear. You'll save money on rentals wherever you go, whether at cenotes or beaches like Akumal. You can buy a cheap set at Walmart or another big box store.
Bring your own food and drinking water to save money on the overpriced drinks and snacks at the cenotes. Bring a camera, an underwater one if possible, and also a flashlight that works underwater, if you're really interested in getting some cool photos.
Is It Safe to Swim in Cenotes?
Yes, it's absolutely safe to swim in cenotes. If you're not a strong swimmer, you can rent a life jacket or bring your own. In many cenotes, in fact, life jackets are mandatory.
Some cenotes have high ledges to jump from. Before doing so, swim around below the ledge to check for large rocks. Although the water is crystal clear, the light might not be good enough to see what's exactly below the surface.
If it's a popular cenote, and you see people lined up to jump off the ledge, in that case, you don't really need to worry about it.
Best Cenote Tours in Mexico
A visit to the cenotes is often best combined with a trip to historical sights or towns. Here are a couple of great day trips to cenotes from Cancun, Playa del Carmen and Tulum.
Explore Cenotes and Avoid Crowds
This experience is not only very highly rated but there's some mystery to it! The company decides which cenotes to go to based on the day — there are 10 that they rotate between.
You'll visit two beautiful cenotes and enjoy a fabulous lunch as well. The pickup point is in Tulum. Have a look at photos, read reviews and find out more here.
Most Picturesque Cenotes
If your goal is to not only swim and experience beautiful cenotes but also get that perfect shot, then this tour is for you.
Visit three gorgeous cenotes that offer beautiful backdrops (Suytun, Oxman and one more…), followed by a gourmet Yucatan-style meal in Valladolid. Find out more here.
Cycling and Cenotes
If you'd like to get some exercise on your holiday, this tour is for you. Although not overly strenuous, this experience takes in a total of around 10 kilometers of cycling. Cool off in two beautiful cenotes and enjoy a Mexican lunch.
This trip is highly rated and very affordable. The meeting point is in Tulum. Learn more here.
Chichén Itzá, Valladolid & Cenote Tour
On this day trip, you'll visit the most famous ruins in Mexico (Chichén Itzá), swim in the Saamal cenote, enjoy a tasty lunch and explore the town of Valladolid.
Pickups are available from Tulum, Playa del Carmen and Cancun. Find out more about this cenote trip here.
Now You Know the Best Cenotes in Mexico
As mentioned earlier, there are more than 6,000 cenotes in the Yucatan Peninsula. Therefore it's quite possible that the best cenote in Mexico isn't even on this list. It's probably buried in the jungle, only known to locals, who guard the secret carefully.
Thankfully, you don't have to worry about that. You'll never find a bad cenote — practically by definition, they're beautiful, refreshing, and exotic.
If you know another of the best cenotes in Mexico that didn't make the list, please tell me in the comments. I'll be sure to go there someday.
Like This Article? Pin it!