China is an incredibly rewarding place to teach, but what are the 10 best cities to teach English in China? With such a unique and varied landscape, from the Himalayas to the Gobi Desert, from the Karst mountains, to vibrant and bustling cities, China has it all!
With 56 distinct ethnic groups scattered across this vast landscape, the different cultures to see are unparalleled to anywhere else.
Each region or city has its own special cuisine. From duck in Beijing, to dim sum in Guangzhou, hot pot in Chengdu, or lamb in Xinjiang, China is a foodie's heaven. Being a country with a strong Buddhist influence means vegetarians are not disappointed either.
It's no secret that China has been a powerhouse when it comes to the TEFL/TESOL industries, but since covid, things have been shaken up dramatically.
I have taught English in China over a six-year period both before, during, and after the initial outbreak of covid. I first taught in the city of Harbin, where I obtained my TESOL certificate, before moving to Luoyang. My final months in China were spent living in the city of Sanya, on tropical Hainan Island.
In this complete guide, I will tell you all you need to know about choosing the best city to teach English in China, what requirements there are, and some handy insider tips.
Can Foreigners Still Teach English in China?
Yes, foreigners can most definitely still teach English in China, and in fact, in some ways, now has never been a better time to go. With many foreigners having left during the covid outbreak, there's a severe shortage of teachers, and salaries advantageously reflect this.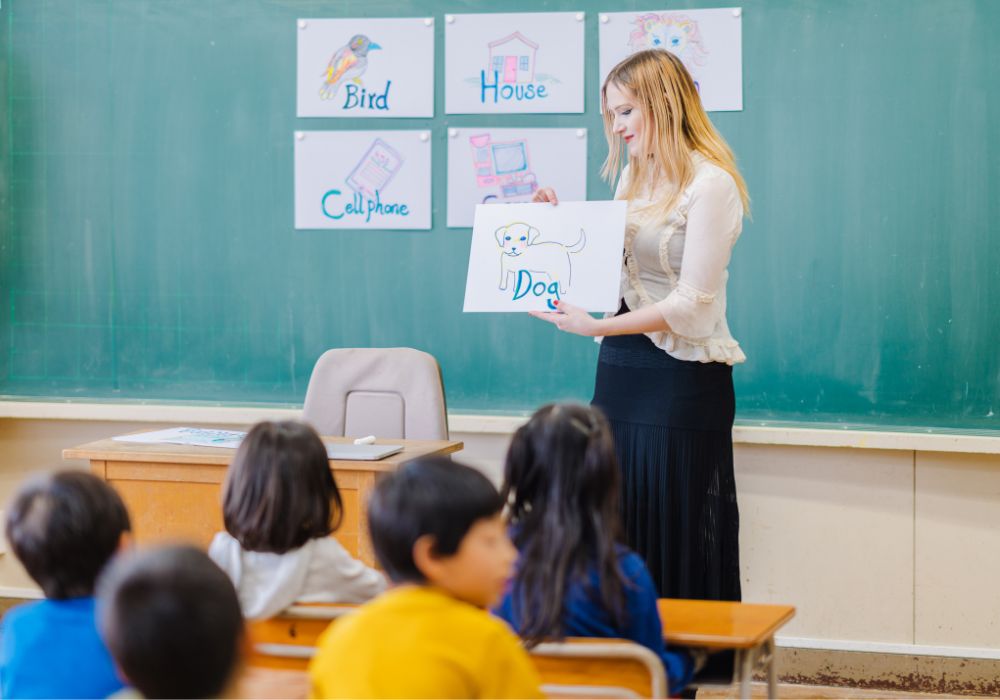 Unfortunately, the days of working few hours for high pay in training centers are over, due to the government's ban on teaching English for profit. However, there are still plenty of opportunities to teach in kindergartens, high schools, international schools, and universities.
There are new opportunities for teaching English combined with sports, so if you have experience in coaching basketball, football, (soccer), or any other sport, then there are lots of positions available.
10 Best Cities to Teach English in China
Below you can find 10 of the very best cities in China to teach English. From the bustling capital, to lesser well-known, but no less charming destinations, you will be sure to find the perfect place to embark on your TEFL journey in China.
So, without further ado, let's dive right in and discover the best places to teach English in China!
1. Beijing
Beijing is one of the top cities to teach English in China thanks to its vibrant mix of old and new traditions, world-famous tourist sites, and excellent nightlife.
There are many schools and universities across the capital offering teaching positions, and this is where many people start out their teaching careers in China.
One of the things you can enjoy during your time off is to explore the hutongs, which are narrow alleyways where people have lived in close proximity for centuries.
Beijing is packed with cultural sites; from the Forbidden City and lakeside Summer Palace, to the Lama Temple and much more.
Beijing is one of the few cities in China where you can find cuisines from around the world, so if you are looking for variety when eating out, Beijing is the place to be.
Beijing is one of the easiest cities to find teaching jobs, and you will find that kindergartens tend to be the top recruiters. Working in a kindergarten is a little less glamorous than teaching at a high school or university, and means you will also take on the role of "nanny", which may not appeal to some looking to get started in the TEFL/TESOL field.
That being said, as the capital, there are still plenty of roles in middle and higher education. Word-of-mouth and WeChat groups are some of the best ways to find work in Beijing. If you can reach out to teachers already in the city, then your chances of finding work will be high.
Be wary of Chinese recruitment agents and be sure to do your own research, as some companies tend to operate in a grey area, and can over-promise without delivering.
See Also:
2. Luoyang
Luoyang was once the capital of China during the Sui and Tang dynasties, and retains much of its imperial charm. It's a small city by Chinese standards, (with a population of around 7 million), so you can expect a more relaxed pace of life here in comparison to cities like Beijing, Shanghai and Shenzhen.
Luoyang is packed with cultural and natural wonders like the incredible Longmen Grottoes; a series of stone carvings of the Buddha engraved into the hillside, the White Horse Temple, and nearby Shaolin Temple; the birthplace of Kung-fu!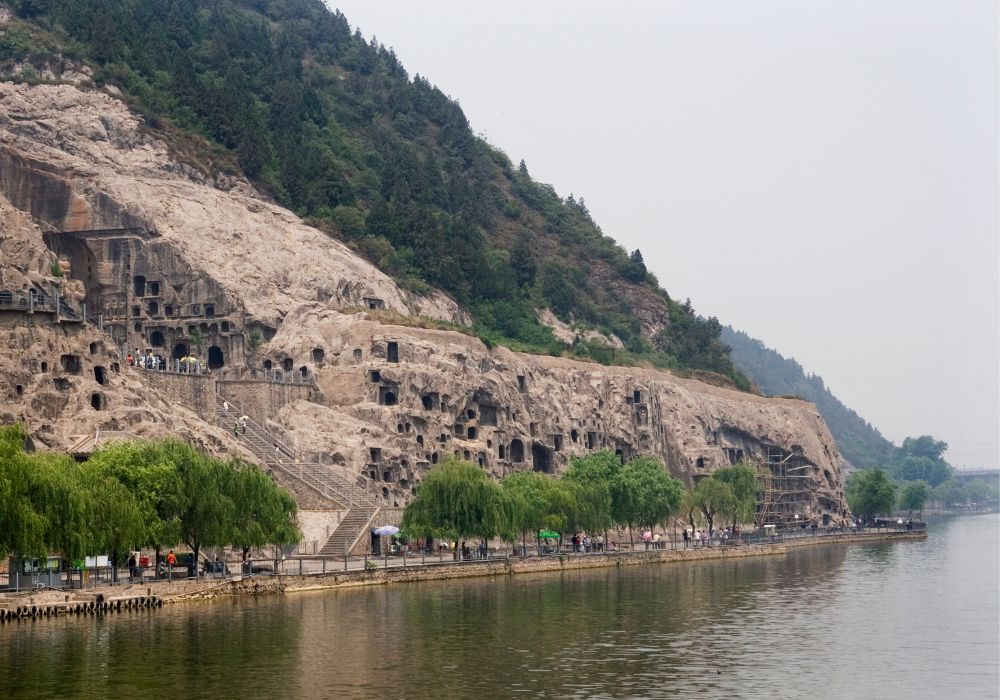 I lived in Luoyang for five years and found it a great city to live and work in.
There's certainly enough to keep teachers occupied during downtime, and its central location means visiting other places in China is very easy. Xi'an is just 90 minutes away by fast train, and Beijing around 4 hours.
The expat scene in Luoyang is small, and you won't find many other cuisines apart from Chinese, but if you're keen to get a feel for the real China, then Luoyang is a great option!
Teachers looking for work here can apply to Luoyang Normal University, which has a foreign teaching department. Maple Leaf is another top employer in the city, and there are many high schools frequently looking for teachers.
As with Beijing, and most cities in China, word-of-mouth tends to be a great way of finding positions. If you can make contact with teachers in the city, then you stand a great chance of finding employment.
3. Hangzhou
Hangzhou is one of China's most beautiful cities, and one of the best places for teaching English in China.
The city is famed for West Lake, a large body of water surrounded by hills and mountains. It's in these hills that the world-famous Dragon Well Tea has been cultivated since the times of the emperors.
Hangzhou also has a modern city center with all the entertainment, dining options and nightlife to keep you entertained during your time off.
The city is only 175km from Shanghai, and even closer to some of China's famous water towns such as Wuzhen and Xitang. The city hosts many events throughout the year, including concerts and festivals, yoga workshops, and more.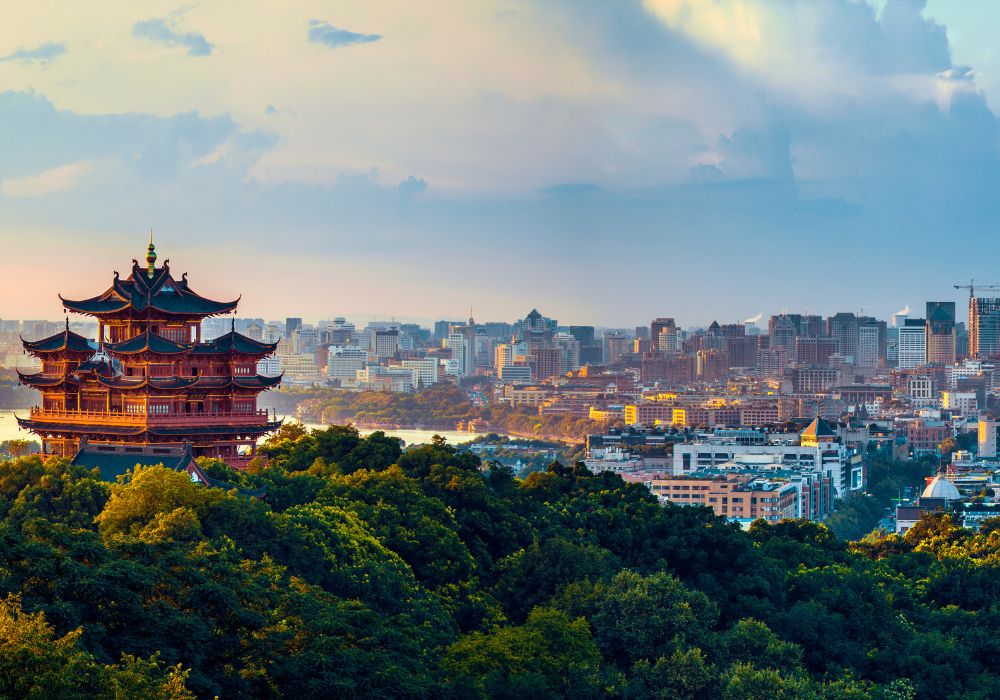 As one of the most beautiful cities in China, Hangzhou is hugely popular with foreign teachers, and it's easy to find work in the city. Zhejiang University is a great option for those looking at teaching in higher education, and there are multiple high schools and kindergartens always looking for foreign teachers, so check the local Wechat groups for job postings.
4. Sanya
Sanya is China's beachside paradise on Hainan Island; the southernmost province of China and closer to Hanoi in Vietnam, than Beijing. Teachers here can expect year-round warm weather and plenty of beachside activities, from snorkeling and diving, to surfing and boat trips.
Sanya has some excellent restaurants. I can personally recommend Casa Mia, the best Italian restaurant in China, and the Dolphin Bar and Grill, which is a cool hangout for the city's expat scene that entertains with live music most nights.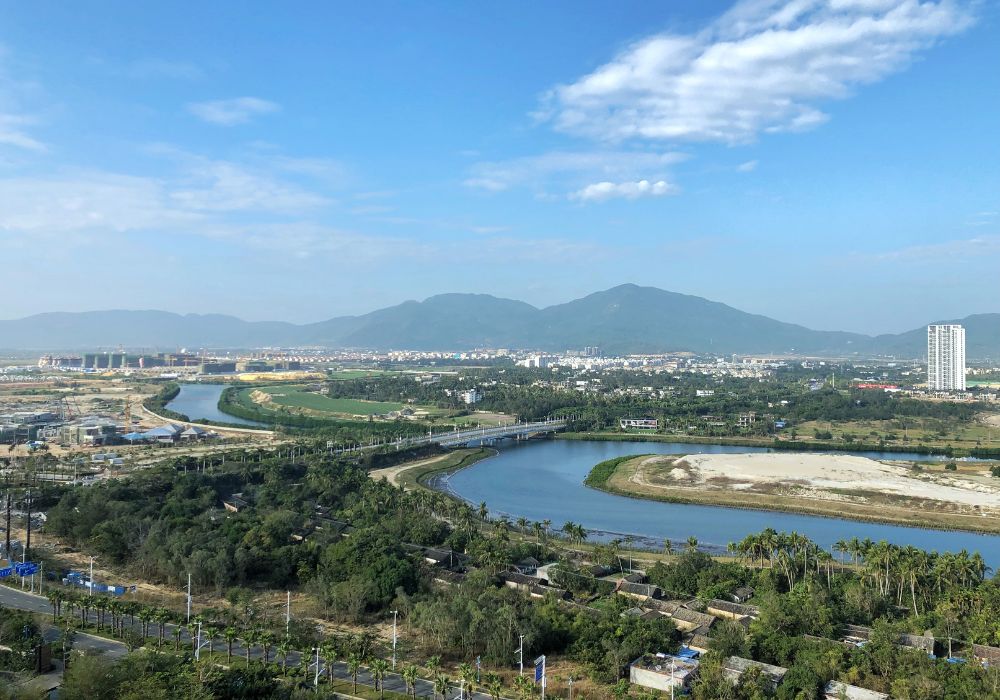 One of the most fun things to do around Sanya is to explore the lush jungle and mountains surrounding the city. There are many national parks within easy reach where you can discover the local wildlife, and if you're lucky, spot a clouded leopard or Chinese cobra!
Having lived in the city for six months, I can recommend Sanya as one of the best cities to teach English in China. Perfect beaches, lush jungle, great bars and restaurants, and a thriving expat scene make this my number one choice!
It's no secret that many teachers want to head to Sanya to work and live, but despite this interest, there are usually vacancies available throughout the year.
As with Beijing, there are lots of kindergartens in Sanya always looking for teachers. Check out That's Sanya on WeChat for job postings.
5. Chengdu
Chengdu is another popular city for foreigners teaching English in China. The city is famed as the home of the giant panda, and you can visit these adorable creatures at the Chengdu Breeding Center. It's amazing to see the panda cubs messing around!
Chengdu is a modern city with large shopping malls, restaurants, plenty of entertainment, culture, and a large expat scene.
There are lots of interesting sites nearby, such as the Leshan Giant Buddha. Chengdu also makes an excellent base for exploring the Tibetan Autonomous Region, which doesn't require a special permit to visit.
It's easy to find teaching work in Chengdu given the size of the city and the many schools and universities there. Chengdu University is a good option, and you can usually find postings in the city on Dave's ESL Cafe.
As a tier 1 city, you can expect a high salary, similar to Beijing and Shenzhen.
6. Guangzhou
Charming Guangzhou is definitely one of the best cities to teach English in China, thanks to its rich culture, tasty Cantonese food, (the best dim sum in China is found here!), and proximity to the coast.
Guangzhou benefits from year-round warm weather thanks to its southerly location, so you can expect balmy evenings in short sleeves, even in winter.
The ultra-modern center is dominated by the Pearl River and the 600-meter Canton Tower. But if you want to experience nature away from the city, Baiyun Mountain Park is just a 30-minute bus ride away.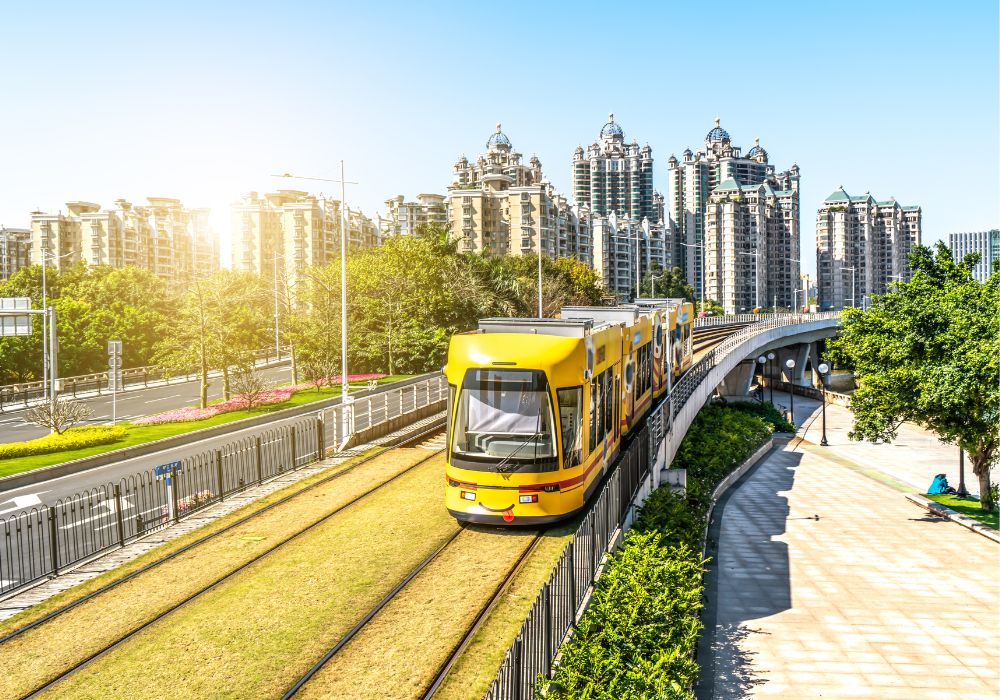 Guangzhou is another tier 1 Chinese city with plenty of high-paying ESL jobs, making it one of the best cities to teach English in China. Lots of opportunities exist for kindergarten, high school and international schools such as ISA Liwen.
☞ SEE ALSO: Teaching English in Guangzhou – An Interview With an ESL Teacher
7. Xi'an
Xi'an is another of China's ancient capitals and was the first city on the ancient Silk Road that led the west into Europe. The city has a real east meets west feel to it, and this is most apparent along "Muslim Street" where you can sample dishes from China's far west Xinjiang region.
Xi'an is bursting with culture and is known around the world thanks to the 1974 discovery of the Terracotta Army of Warriors and Horses.
The center of the city is dominated by the ancient defensive walls, which form a path stretching 14km around the city, and is perfect for cycling.
Xi'an sits on the central plains of China meaning it has great connections to the rest of China, with Chengdu just 4 hours away by fast train. Xi'an has a thriving bar scene with some great tap houses to try out. Be sure to visit Near Wall Bar where you can see the brewery behind the bar!
The city is popular with foreigners looking for the best cities to teach English in China; there's a large expat community, and plenty of roles from public schools, to universities, are available.
8. Qingdao
Laid-back Qingdao is a seaside town on the east coast of the country, and another popular city for teaching English in.
Qingdao has a long stretch of golden, sandy beach perfect for cooling off in summer. The city is also home to the Tsing Tao Brewery, one of China's most popular beers which is exported around the world.
The city was once occupied by the Germans, and retains architecture from this period such as St Michael's Cathedral. There are plenty of parks around the city; from Zhongshan Park, to the beautiful Laoshan Scenic Area which overlooks the Yellow Sea.
Qingdao has a decent-sized foreign teacher community with lots of opportunities. Salaries might be a little lower than the top-tier cities, but the standard of living is high, and apartment rentals are cheaper than in Beijing and Shanghai.
9. Shanghai
Shanghai is China's financial hub and offers a very high standard of living for those wishing to live and work in the city. This does come at a cost though, and you can expect to pay considerably more for an apartment in Shanghai than in some of the less well-known cities.
There are many opportunities for teaching in Shanghai; from kindergarten and public schools, to universities. Wages are generally higher to reflect the high cost of living, but you will certainly find your money doesn't go as far here.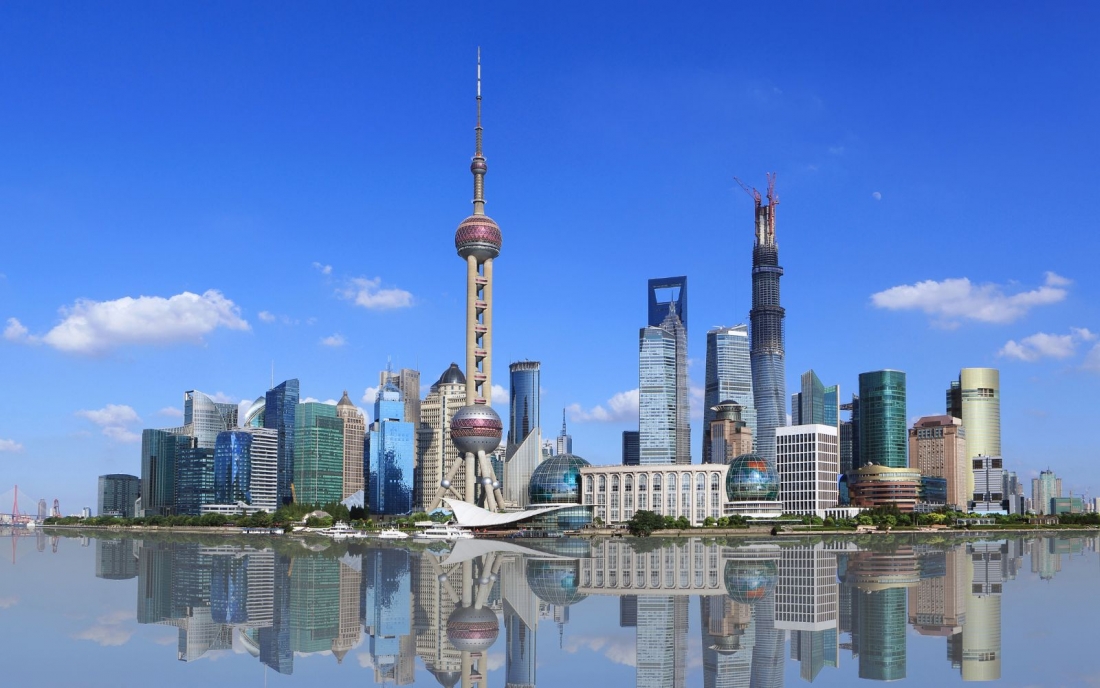 For those looking for a bit of glitz and glamour, Shanghai is definitely a great option for teaching English in China. You will find many other foreigners in the city, so you can expect a better social life here than you'd find in smaller places.
There's plenty to keep you occupied in Shanghai. From strolling around the Bund, to ascending skyscrapers for a bird's eye view of the city. Shanghai also has some of the best restaurants in China, so the city is a great option for food fanatics!
10. Shenzhen
Shenzhen is another bustling metropolis, and China's technology center. As such, there are lots of opportunities here for foreigners wanting to teach English. The city is in a great location, with Hong Kong easily accessible via MTR, bus and boat.
As with Beijing and Shanghai, you can expect to find a good selection of eating options offering a lot of choice. On weekends, you can head to the nearby beaches such as at Huidong. Guangzhou is a short train ride away and also makes for great day trips from the city.
Shenzhen is a hugely popular place to teach English thanks to the high salaries and large foreign teacher community.
How to Find Jobs Teaching in China
One of the best resources for finding English teaching jobs in China is Dave's ESL Cafe. They have a whole job board dedicated to China, and it was here that I found my job in Luoyang which lasted for five years!
You can also try searching for schools online, but unless you speak Mandarin, or know they have a Foreign Teachers' Manager, then contacting schools directly may not be the best option.
Another great way of finding work is through WeChat groups. WeChat is China's answer to WhatsApp or Facebook; a messaging and social media platform that will make your life so much easier in China.
Join groups for the city you are thinking of moving to, and you will find lots of jobs advertised.
TEFL companies such as MyTEFL and English First are another great way to find job opportunities across China. Be wary of Chinese agencies as many operate illegally. Always check your contract thoroughly, and look out for red flags such as wanting to keep your passport, (which is illegal!).
Pros and Cons of Teaching English in China
As with any job, there are both pros and cons to teaching English in China, however, the positives far outweigh any negatives.
Pros of Teaching English in China
Salary – you can expect to be paid between $2,200 – $4,000 per month with free or subsidized accommodation
Standard of living – you can enjoy a much higher standard of living in China, and your money will go a lot further
Rewarding career – teaching English in China can be hugely rewarding and you will find the students generally very well behaved
Great working hours – You will usually have free weekends to explore China's fascinating culture
Travel opportunities – China is packed with interesting cities, national parks, beaches, mountains and more
Food – one of the perks of living in China is being able to try the different foods on offer
Learning a language – ever wanted to learn another language? Living somewhere is a sure-fire way to master another skill
Culture – from the tribes of Hainan Island, to the peoples of the north, you can expect to experience some incredible cultures
Cons of Teaching English in China
Zero covid policy – lockdowns, quarantine, and restricted travel etc are likely to last for the foreseeable future
Being stared at – if it was bad before covid, it's a whole lot worse now, as Chinese people tend to assume every foreigner has it
Shady employer practices – try and find a school with a Foreign Teachers' Manager who can bridge the gap between you and Chinese management
Noise and pollution – China is noisy, and depending on which city you teach English in, can be very polluted in winter
Teaching English in China Requirements
Here are some of the main requirements to teach ESL in China. The first three are the most important.
A notarized degree certificate
A clean criminal record (from your home country and the last place you lived)
English as a native language
A Chinese visa (that will then be cancelled and replaced with a "Z" work visa and resident's permit).
A TEFL or TESOL certificate (MyTEFL is a legitimate, affordable option, use promo code GOATS35 for a 35% discount)
Teaching experience
It may or may not surprise you that most of the above can be sidestepped for the right price, (criminal record check and visa notwithstanding for obvious reasons).
I would not suggest anyone work in China illegally as you will be completely on your own if the authorities catch up with you. At the very best, you can expect to spend time in a Chinese jail before being deported; please ensure that requirements are respected.
FAQs About TEFL in China
Here are some answers to commonly asked questions about TEFL in China.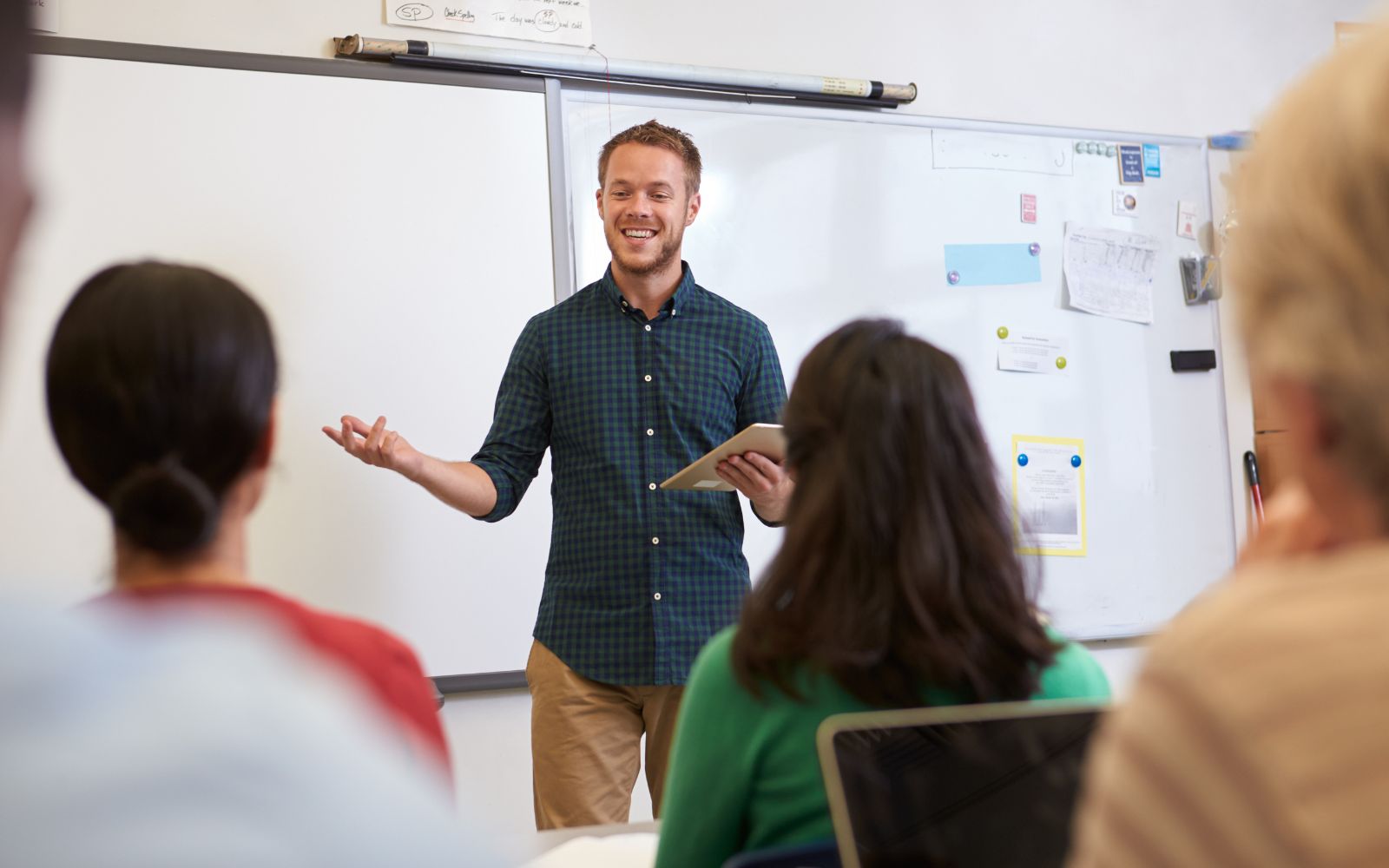 Is there a Demand for English Teachers in China?
There's a huge demand for English teachers in China. The demand is so high in fact that many companies operate illegally to satisfy Chinese parents' demand for teachers. Be careful about who you sign a contract with, and ensure the school is above board by asking for a copy of their license.
Which City is the Best to Work in China?
This is completely subjective depending on the sort of person you are, and what you're looking for. I'm biased, but I can say without a shadow of a doubt that the best city to live in, in China, is Sanya.
Year-round hot weather, beautiful beaches, thriving nightlife, mountains, ethnic tribes, and fresh seafood. I could go on all day… If you want glitz and glamour then head to Shanghai, but don't expect to find the true China there.
Beijing is a good all-rounder and offers a decent amount of authentic Chinese culture with a more international scene. And of course, Luoyang, my home for five years, is also a great place to live.
Can I Teach English in China with No Experience?
Yes, it's definitely possible to teach English with no experience. Many schools give on-the-job training, and ongoing performance reviews to help you improve as a teacher. The more experience you gain as you teach English in China, the higher your salary will become.
Are English Teachers Paid Well in China?
English teachers in China are paid incredibly well. Due to the low cost of living, (outside of large cities like Shanghai and Shenzhen), you'll find your money goes a long way. The average salary for an English teacher in China is $2,200 USD, plus an apartment that is paid for, or often a subsidy to cover living arrangements.
Due to the current shortage of teachers in China, it's even possible to earn up to $4,000 per month in some of the larger cities such as Shanghai and Shenzhen.
Conclusion
I hope you have found this guide to the 10 best cities to teach English in China useful. Whether you are looking for culture, nightlife, food or attractions, each of these cities offers plenty for foreign teachers making the move to China.
Whichever city you choose, you are guaranteed the experience of a lifetime with a rewarding and fun job, and the opportunity to really experience the country's rich culture and history.
Like This Article? Pin it!