In this post, you'll learn all the secrets of the best islands in Greece from a well-travelled local herself!
The Greek islands need no special introduction. They're renowned all across the globe for being the perfect destination for your summer vacation. But, what makes the islands in Greece so special?
Apart from the gorgeous beaches, the Greek islands are great for a romantic honeymoon, a holiday with friends, or a family vacation with kids.
As an adventure seeker or a party-goer, you'll also find an island in Greece that suits your vibe. There are so many fantastic places to see in Greece, with the islands having a little something for everyone.
The Greek islands are among the most exciting destinations to visit in the world for their unique ambiance, beautiful architecture, excellent weather, and authentic way of life.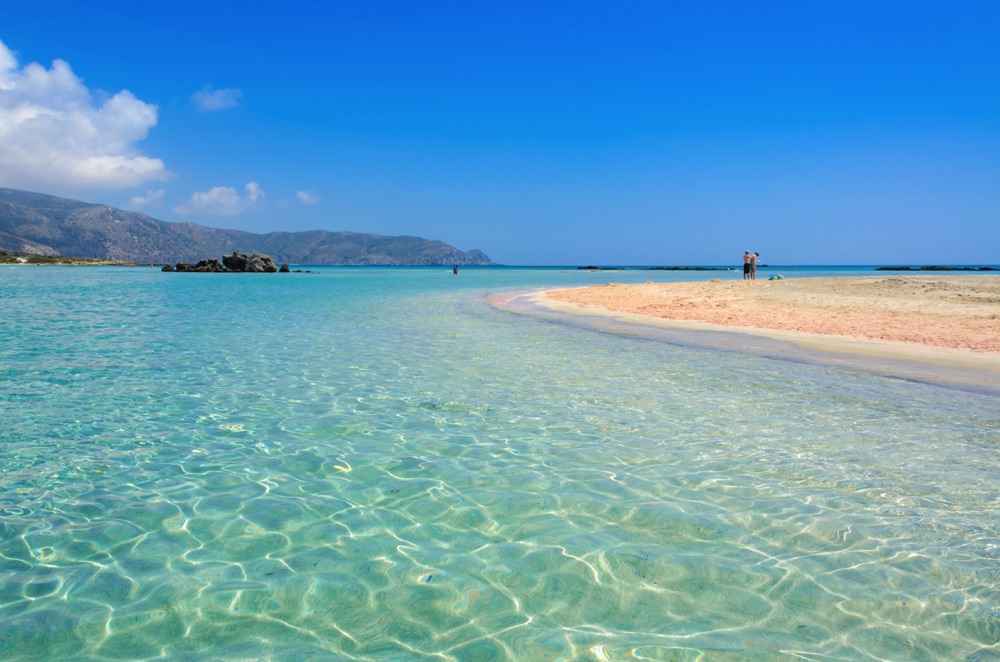 I'm Greek and I have lived all my life in Greece. Ever since I was a kid, my family's go-to summer destination was one of the islands.
As a grown-up and an avid traveller, no matter the wonders of the world I've seen, the Greek islands will always have a special place in my heart.
Here's a list of the 20 most beautiful islands in Greece.
Greece has more than 200 inhabited islands! Here I'll list the 20 best islands for tourists looking for the perfect vacation.
1. Santorini: Most Romantic Island in Greece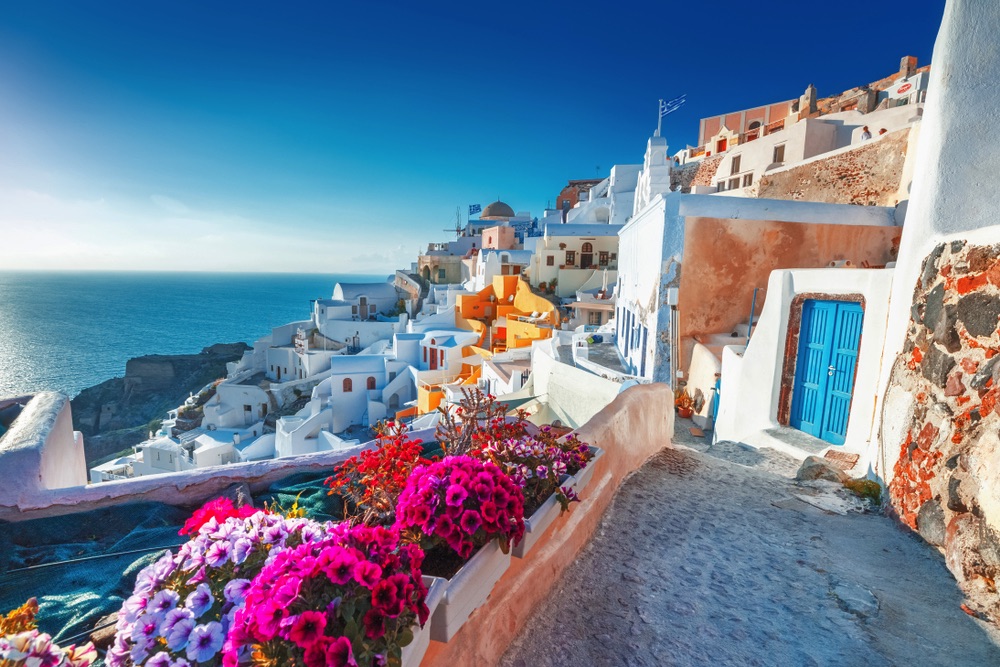 Perhaps the most famous island in Greece, Santorini is the most photogenic one as well.
Santorini is an island of stunning architecture, gorgeous views, incredible sunsets, and unique landscapes. However, the island's extraordinary beauty is also why it can get really crowded, especially during summer.
Santorini is also one of the most romantic destinations in the world and it certainly offers the perfect backdrop for unforgettable photos with your significant other.
Last but not least, Santorini has some culinary delights on offer. Don't leave the island without trying mashed fava beans and any tomato-based dish.
Getting to Santorini
Flights from many European cities to Santorini International Airport are quite frequent, especially in the summer. Alternatively, you can get to Santorini by ferry from Piraeus Port near Athens.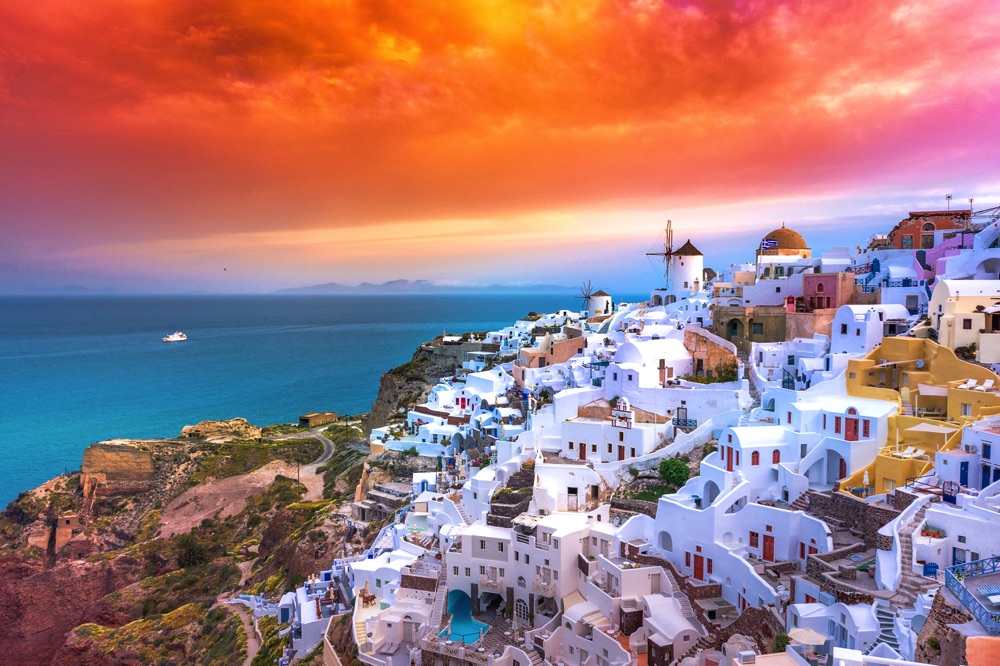 Things To Do in Santorini
There are numerous fun things to do on the island, here are the top 5.
1. Visit Oia At Sunset
Oia is the most picturesque town in Santorini and it looks fantastic any time of day — but it's absolutely dreamy at sunset.
2. Join a Winery Tour
Santorini is one of the most important wine regions in Greece. The best way to try some of the island's varieties and learn the secrets of local winemaking is by joining a wine tour at one of the island's wineries.
3. Find Out The Secrets of Ancient Akrotiri
Ancient Akrotiri is a very well-preserved ancient town which was buried under tons of volcanic ash thousands of years ago. A visit to Akrotiri reveals exciting facts about life in this prosperous ancient city and it's definitely among the best things to do in Santorini.
4. Hike an Active Volcano
While vacationing in Santorini, you have the unique opportunity to visit an active volcano. Its crater is situated in Nea Kameni, a volcanic islet just off Santorini's coast. A 30-minute hike will take you to the smoking crater and the very heart of the most surreal setting you could ever imagine.
5. Dance The Night Away in Fira
Even if you're not an avid party-goer, a night out in Santorini is really worth experiencing at least once. Fira Town is home to historic night clubs which have been around for many decades and never seem to disappoint.
📍 Find Santorini on the map, here.
Read More: 15 Best Things To Do in Santorini
2. Crete: Best All-Around Greek Island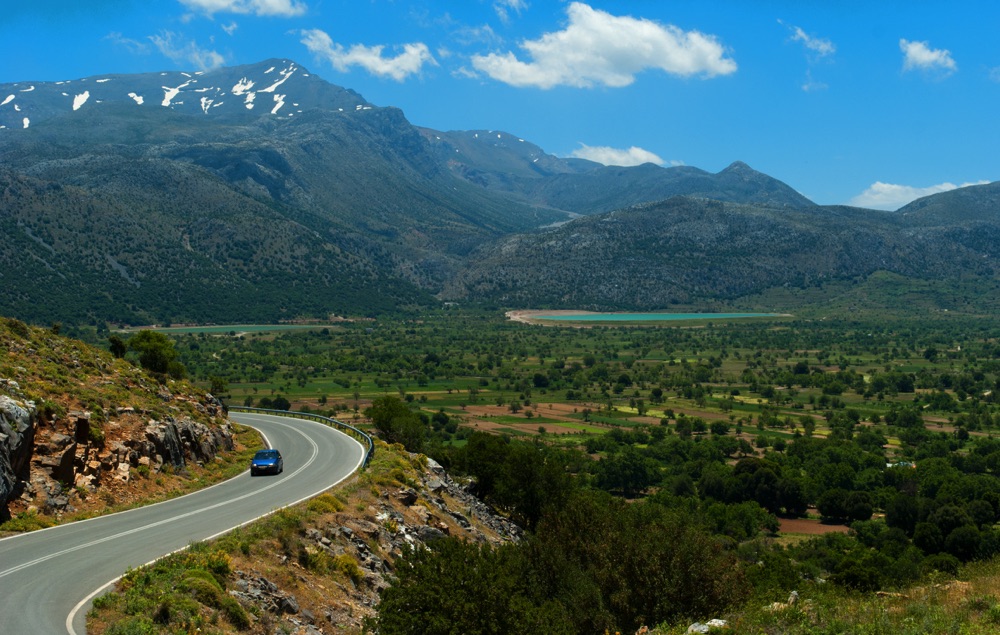 Crete is the largest island in Greece. Historically, the island was the centre of Europe's first advanced civilisation, the famous Minoan Civilisation.
Crete is an incredibly diverse destination. A land blessed with an exceptional natural landscape and rich cultural heritage, the island is perfect for everyone — from couples and families to groups of friends and solo travellers.
Although a very popular island, Crete is so big that there are both crowded and peaceful places to go, even during peak seasons.
Similarly, Crete is a remarkably authentic destination, especially in terms of food. The Cretan cuisine is synonymous to one of the healthiest and most delicious diets in the world.
☞ See our complete travel guide to the island of Crete.
Getting to Crete
There are two international airports in Crete: one in Chania and one in Heraklion. There are many direct flights from Europe, and 1 stop flights from North America.
Alternatively, you can get to Crete by ferry from Piraeus.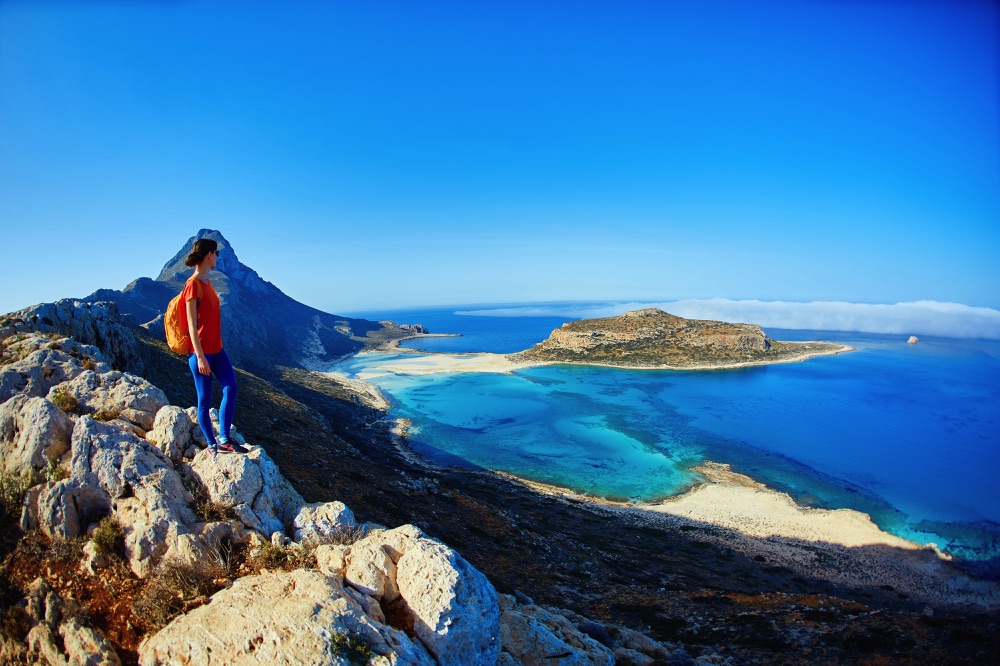 Things To Do in Crete
There are numerous things to see and do in Crete, these are the top 5.
1. Wander Around The Palace of Knossos
As the centre of the renowned Minoan Civilisation, the Palace of Knossos is one of the most impressive archaeological sites in Greece you definitely don't want to miss.
2. Swim in The Exotic Waters of Balos Lagoon
Balos Lagoon is the most exotic beach in Greece. It's, in essence, a shallow pool of turquoise waters surrounded by steep cliffs and its beauty is out of this world. This is definitely one of the top beaches in Greece.
3. Take in The Beauty of The Venetian Port in Chania
Walking along the gorgeous promenade of the Venetian Port in Chania is among the best things to do in Crete as well as the optimal way to see and be seen on the island.
4. Visit Arkadi Monastery
Beautiful Arkadi Monastery near Rethymno was the site of one of the darkest but also most heroic instances in Cretan history.
During an Ottoman siege, the people who had found refuge within the walls of the monastery decided to take their own lives rather than surrender.
5. Hike Samaria Gorge
The National Park of Samaria Gorge offers a unique opportunity for a 15km hike like no other. Although quite strenuous in some parts, this hike is an experience you won't want to miss.
📍 Find Crete on the map, here.
Read More: 15 Best Things To Do in Crete
3. Mykonos: Best Greek Island For Nightlife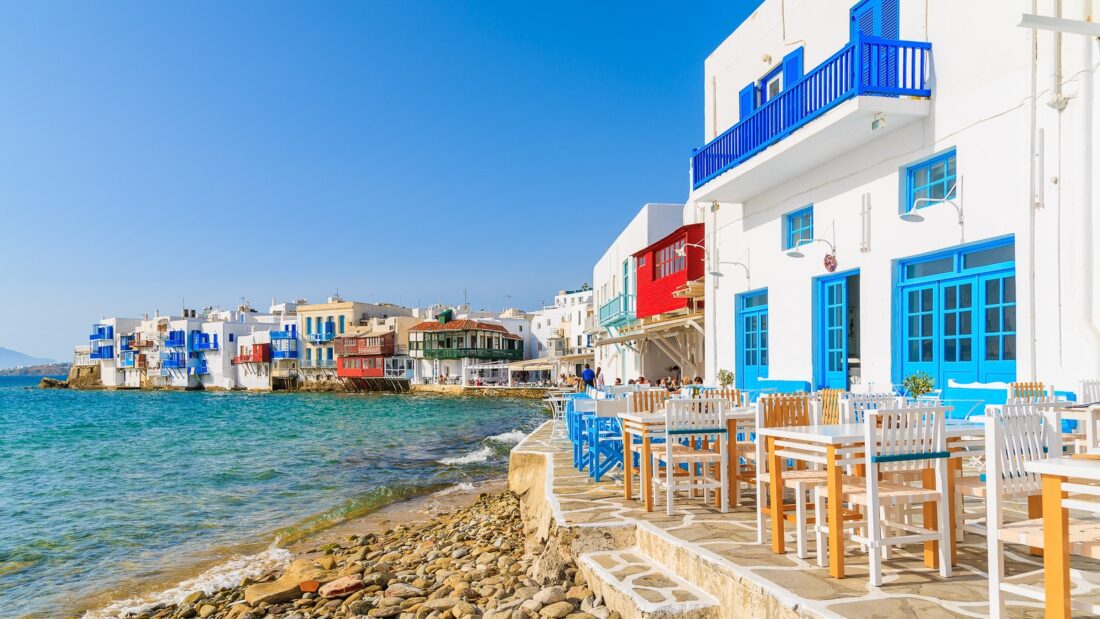 Ever since the 60s, Mykonos has been known for its vibrant nightlife and for being the ultimate LGBT-friendly destination.
Yet its gorgeous beaches and stunning traditional architecture are equally valid reasons to plan an unforgettable trip to this stunning Greek island.
Although touristy and party-oriented, Mykonos also has an authentic side which is most striking once you leave behind the busy Chora (town) and head to the island's splendid countryside.
Getting to Mykonos
There is an international airport on the island but you can also get to Mykonos by ferry from the ports of Piraeus and Rafina near Athens.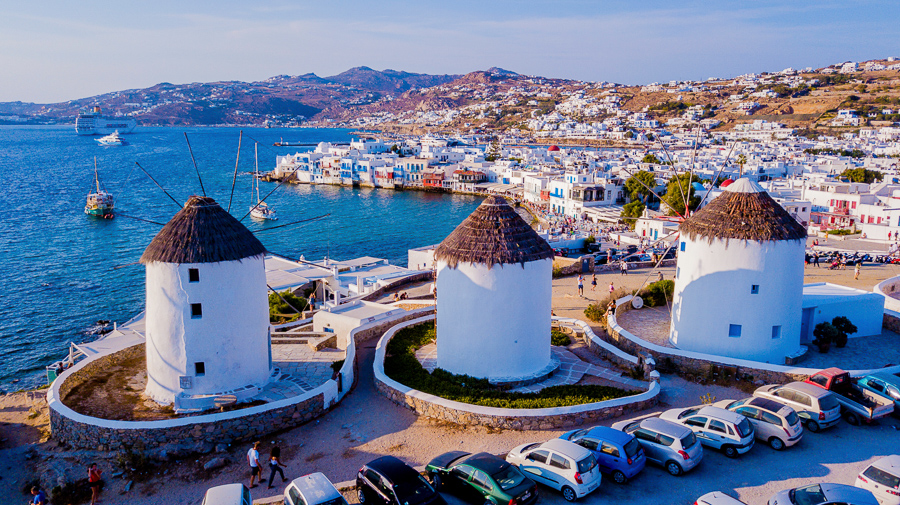 Things To Do in Mykonos
There are numerous fun things to see and do in Mykonos, here are the top 5.
1. Watch The Sunset At Little Venice
Little Venice is the ultimate symbol of Mykonos and the most gorgeous place on the island to enjoy an incredible sunset.
2. Get Lost in The Narrow Alleys of Chora
Mykonos Town or Chora boasts a dreamlike maze of whitewashed narrow streets. A stroll around Chora is the best way to marvel at the island's exquisite traditional architecture.
3. Visit The Most Pristine Beaches
Mykonos is famous for its beachfront bars where the party never stops. However, the island is also home to quite a large number of unspoilt beaches with crystal clear waters and fantastic scenery.
4. Admire Armenistis Lighthouse
Just 6km north of Chora, one of the most beautiful lighthouses in Greece awaits. Armenistis Lighthouse looks really imposing as it dominates the low hill on which it is built, especially at sunset.
5. Take a Day Trip To Delos Island
Delos Island, just off the coast of Mykonos, is the site of one of the most important archaeological treasures in Greece. The best way to learn all of the ancient sanctuary's secrets is by joining a guided tour from Mykonos.
📍 Find Mykonos on the map, here.
Read More: 21 Best Things To Do in Mykonos
4. Naxos: One of The Best Greek Islands For Families
The largest of the Cyclades, Naxos is a laid-back island which has been famous since ancient times for its quarries.
Unlike other Greek islands, Naxos never feels busy. The island is quite big with long sandy beaches, ideal for families and groups of friends alike.
Apart from its stunning beaches, Naxos also boasts some beautiful mountain villages and is also known for its cheese-making. Speaking of which, don't miss the chance to try the exquisite Arseniko, the island's signature cheese.
Getting to Naxos
You can get to Naxos by plane from Athens. There are also charter flights from other European cities during the summer. Alternatively, you can get to Naxos by ferry from either Piraeus or Rafina.
Things To Do in Naxos
There are numerous fun things to see and do in Naxos, here are the top 5.
1. Walk To Portara At Sunset
The ultimate symbol of Naxos is Portara, the gate (or what's left of it) to an unfinished ancient temple. Nowadays, Portara welcomes ferries as they enter the island's port, and it's the best place to be during sunset.
2. Soak Up The Sun at Agios Prokopios Beach
Agios Prokopios Beach is the best place to just sit, relax and enjoy doing nothing under the splendid Greek sun. This long sandy beach is hands down the best beach in Naxos.
3. Have a Glass of Citron Liquor
Naxos has been producing Kitron (citron liquor) since 1896. Kitron comes in three varieties (green, yellow and clear) while bars in Naxos get creative by serving Kitron-based cocktails as well.
4. Explore The Ancient Quarries
Home to marble and emery quarries since ancient times, Naxos is where you can see unfinished statues right on the spot where they were sculpted: the quarries.
5. Wander Around Naxos Old Town
Naxos Old Town is an enchanting maze of winding alleys and secret passages, all under the shade of the island's imposing Castle.
📍 Find Naxos on the map, here.
5. Paros: Best Island in Greece For a Short Stay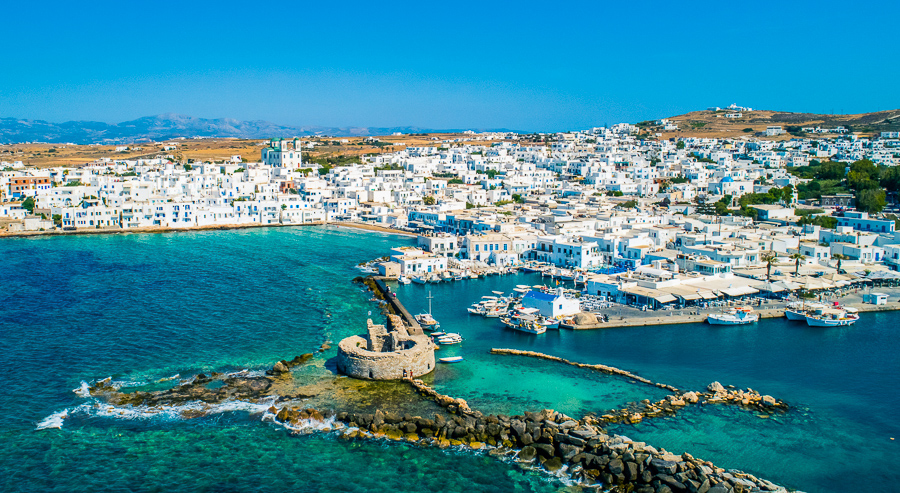 Located in the Cyclades, cosmopolitan Paros has been supplying the rest of the country with top-quality marble since ancient times. Many statues and monuments in Greece are made of the famous Parian marble.
Although it mostly attracts young crowds, Paros is a fantastic island for either families or couples as well. Paros boasts pristine beaches and some of the most beautiful traditional settlements in the Aegean Sea.
Getting to Paros
You can get to Paros by either plane or ferry from Athens. Paros is the first stop for many ferries transporting passengers to the other Cyclades islands of Mykonos, Naxos, Ios and Santorini.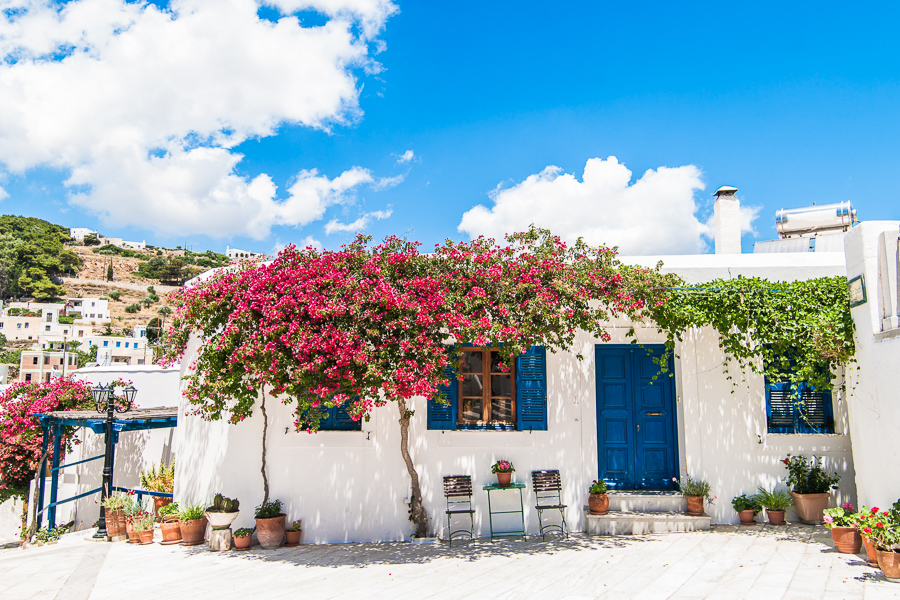 Things To Do in Paros
There are numerous things to do and places to visit in Paros, here are the top 5.
1. Visit Lefkes Village
Lefkes is one of the prettiest villages not only in Paros but in the entire Cyclades Islands.
There is a laid-back feeling about it which, combined with gorgeous architecture and colourful bougainvillaeas, renders Lefkes Town irresistible.
2. Enjoy a Cocktail At Naoussa Port
Naoussa is a small fishing village that is cosmopolitan with an authentic touch, which is the perfect combination if you ask me.
The best time to take in the beauty of Naoussa is at dusk, the ideal time to have a cocktail or two at the picturesque port.
3. Go To The Venetian Castle in Parikia
Parikia is the main port of Paros and the island's largest settlement. It has its fair share of whitewashed buildings and streets but it also features a Venetian Castle with jaw-dropping views of the Aegean Sea.
4. Swim At Kolimbithres Beach
Impressive granite formations and incredibly crystal clear waters are the reasons why Kolimbithres is the most spectacular beach in Paros.
5. Spend a Day At Nearby Antiparos Island
Antiparos Island is situated a stone's throw from Paros as you can get there in less than 10 minutes by ferry. If you want to escape the hustle and bustle of Paros for a few hours, then a day trip to quaint Antiparos is exactly what you need.
📍 Find Paros on the map, here.
Read More: 21 Best Things To Do in Paros
6. Folegandros: Best Island For Romantic Moments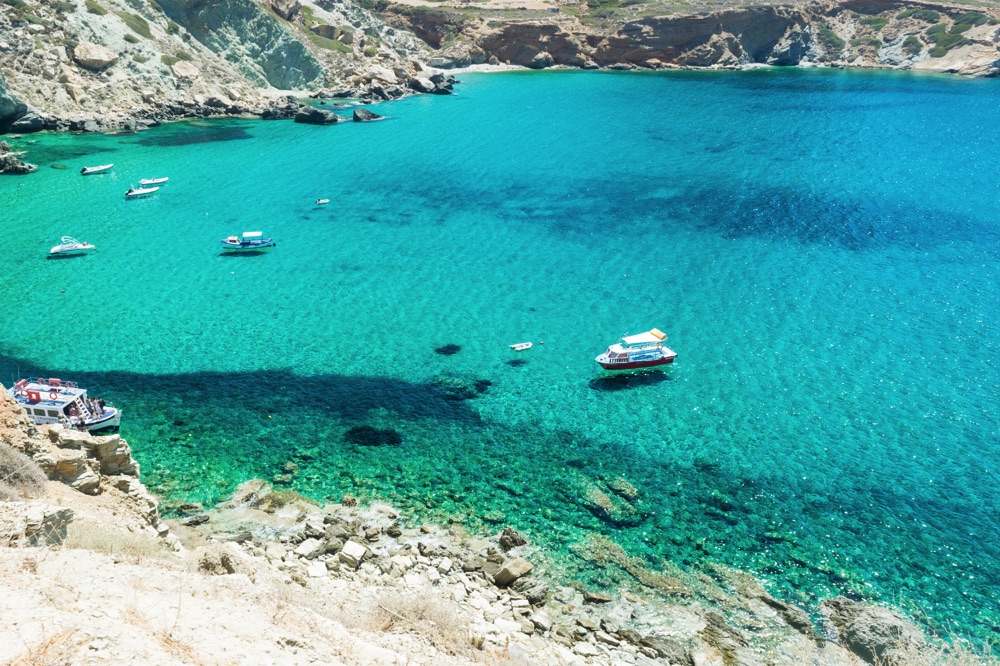 Folegandros is a small island in the southern part of the Cyclades and one of the least known islands in Greece — the island's beauty and romantic feel is second only to Santorini's.
Few islands in Greece can beat the authentic and slow vibe of Folegandros while the island's romantic ambience is ideal for couples of all ages.
Getting to Folegandros
You can get to Folegandros by ferry from Athens.
Things To Do in Folegandros
Here are the top 5 things to see and do in Folegandros.
1. Eat Matsata
The typical dish of Folegandros is Matsata, a handmade fresh pasta dish which is exquisite in its simplicity. The fresh pasta is made daily in the island's restaurants and then served with grated local cheese and red sauce.
2. Wander Around Gorgeous Chora
I've been to many Greek islands but I can wholeheartedly say that the Chora (town) in Folegandros is the prettiest of them all. I can't find the right words to describe its beauty. You just have to go and see it with your own eyes.
3. Swim At Katergo Beach
Getting to the best beach in Folegandros is not easy. You can only go to Katergo Beach by boat (10 minutes) or on foot via a hiking path (30 minutes). Swimming in the beach's deep blue waters is absolutely rewarding.
4. Watch The Sunset From The Church of Panagia
The Church of Panagia is perched on a hill overlooking Chora. Make sure you're there right in time for sunset at least once as the spectacle is nothing quite like you've ever seen.
5. Visit The Folklore Museum
Housed in a traditional residential building in Ano Meria Village, the Folegandros Folklore Museum offers its guests a fascinating journey into the island way of life of centuries past.
📍 Find Folegandros on the map, here.
7. Rhodes: The Best Greek Island For History Buffs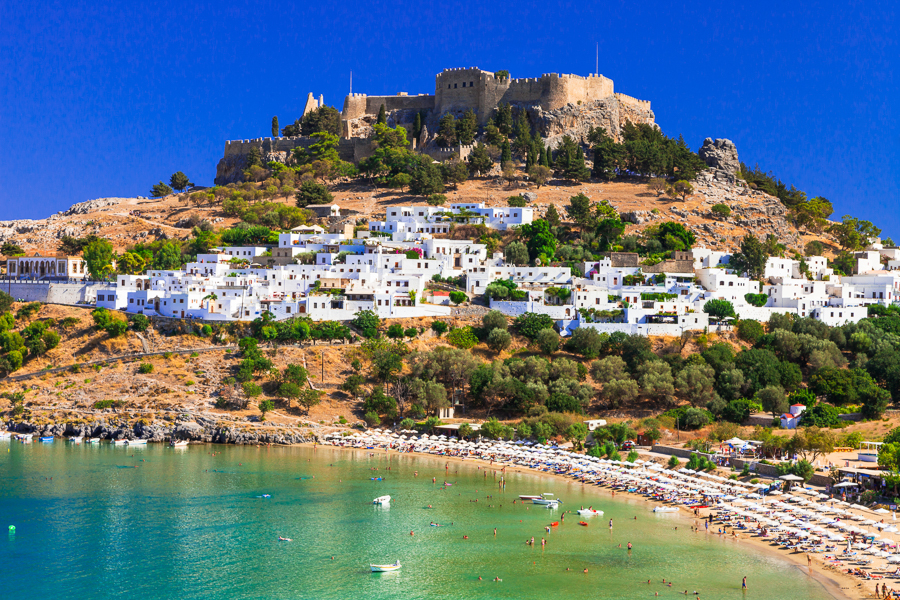 The largest of the Dodecanese Islands, Rhodes is popular and an important historical island. It's also one of the most special among the Greek Islands.
With an Old Town that resembles more Italy than Greece and with an average of 300 days of sunshine per year, Rhodes is the ultimate summer destination for everyone.
Getting to Rhodes
Rhodes International Airport connects the island to many European cities. Alternatively, you can get to Rhodes by ferry from Athens.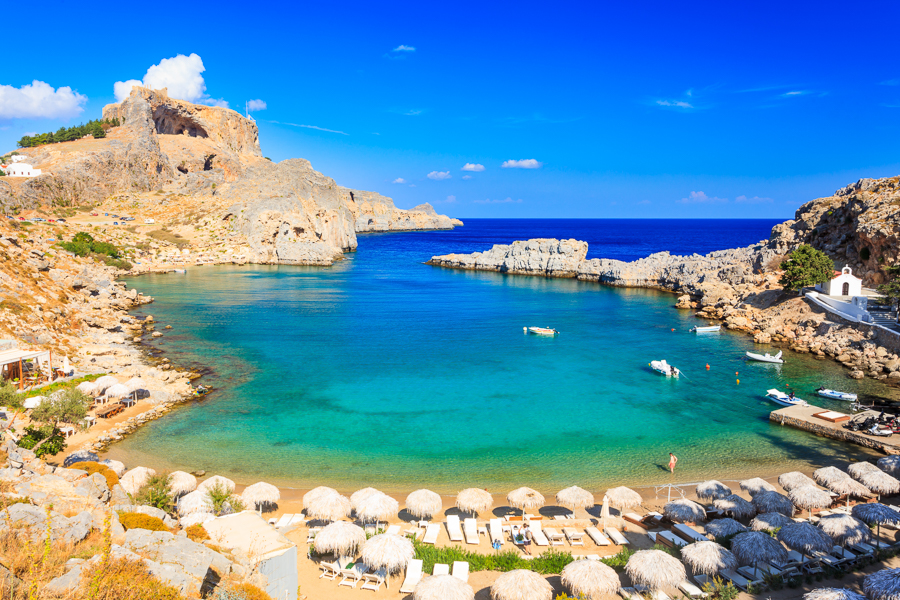 Things To Do in Rhodes
Here are the top 5 things to do in Rhodes:
1. Walk Around The Medieval Old Town
A UNESCO World Heritage Site since 1988, the Medieval City of Rhodes is utterly enchanting and definitely one of its kind in Greece. Stroll around the Old Town and check out wonders such as the Palace of the Grand Masters and the Street of the Knights.
2. Visit Lindos
Quaint Lindos can keep you busy for an entire day with its whitewashed alleys, gorgeous beach and historical Acropolis.
3. Water Sports in Prassonisi
At the southernmost tip of Rhodes, Prassonisi is an exotic beach and the absolute heaven on earth for surfers and kite-surfers alike.
4. Discover Anthony Quinn Beach
When Anthony Quinn filmed The Guns of Navarone in Rhodes back in the 60s, he fell in love with this place — for good reason. Take the trip to Anthony Quinn Bay and get ready to swim in the most emerald waters you could ever dream of.
5. Relax At Kallithea Thermal Springs
The therapeutic properties of the hot springs in Kallithea were known since antiquity. Yet it was during the Italian Occupation that the Kallithea Springs became a site of unsurpassed architectural beauty as well. Nowadays, spending a relaxing day at the renovated hot springs is an absolute must.
📍 Find Rhodes on the map, here.
READ MORE: Travel Guide to Rhodes
8. Kefalonia: Best For Scenic Drives and Beaches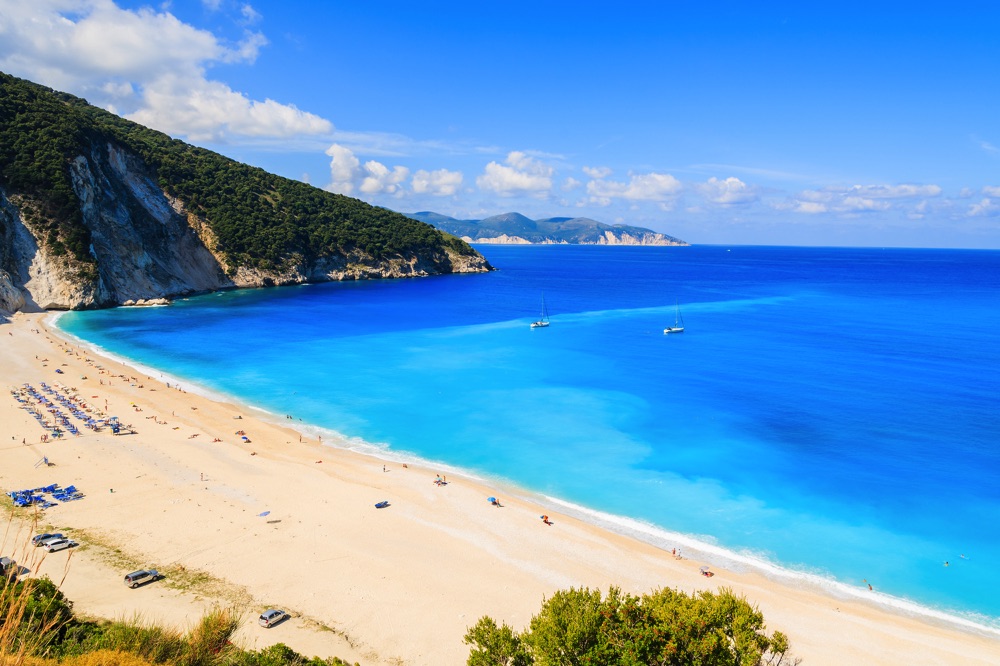 The largest of the Ionian Islands, Kefalonia is a fascinating blend of many cultures due to the island's long history under the rule of various nations before it was finally united with Greece in 1864.
An island of fantastic beaches and quaint countryside, Kefalonia is one of the best islands in Greece for anyone who enjoys a scenic road trip and a bit of exploration.
Plus, the island's large size renders Kefalonia a relaxing destination that never feels busy, even during peak season.
Getting to Kefalonia
There are frequent flights from Athens to Kefalonia, while, in the summer, there are charter flights from other European cities too.
From Athens, you can also get to Kefalonia by a combination of public bus and ferry. The latter departs from Kyllini Port which is located 290km west of the Greek capital.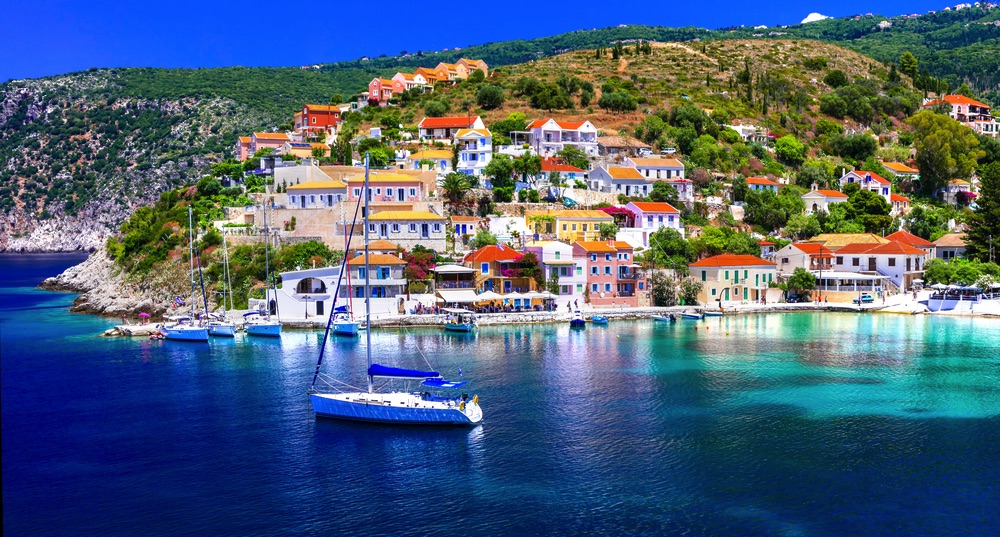 Things To Do in Kefalonia
Here are the top 5 things to do in Kefalonia:
1. Visit Melissani Cave
Melissani Cave is a natural site of unique charm. The only way to explore the cave is by rowboat. Make sure you visit on a sunny day so that you enjoy the magic of the sunrays entering from an opening on the cave's ceiling as they reflect on the underground lake's blue waters.
2. Spend an Evening in Assos Village
Assos is the most charming village in Kefalonia. It is particularly beautiful in the evening, when people stroll along its narrow waterfront and the setting sun dyes the sea in the most magnificent colours.
3. Explore Agios Georgios Castle
A former Venetian stronghold, the Castle of Agios Georgios is one of the best places to visit in Kefalonia both for its historical significance and its breathtaking views.
4. Swim At Myrtos Beach
Myrtos is frequently listed as one of the best beaches in Greece, and I can see why! Being Greek, I've been to more spectacular beaches than I can count. Yet Myrtos is truly unique. Its dazzlingly white pebbles and turquoise waters make swimming in Myrtos an unforgettable experience.
5. Take a Day Trip To Ithaca
Ithaca is yet another of the best Greek Islands that could keep you busy for more than just one day. That said, if you're short on time, don't miss the chance to plan at least a day trip from Kefalonia to Ithaca, one of the greenest and most laid-back islands in Greece.
📍 Find Kefalonia on the map, here.
read more: kefalonia travel guide
9. Andros: Top Greek Island For Hiking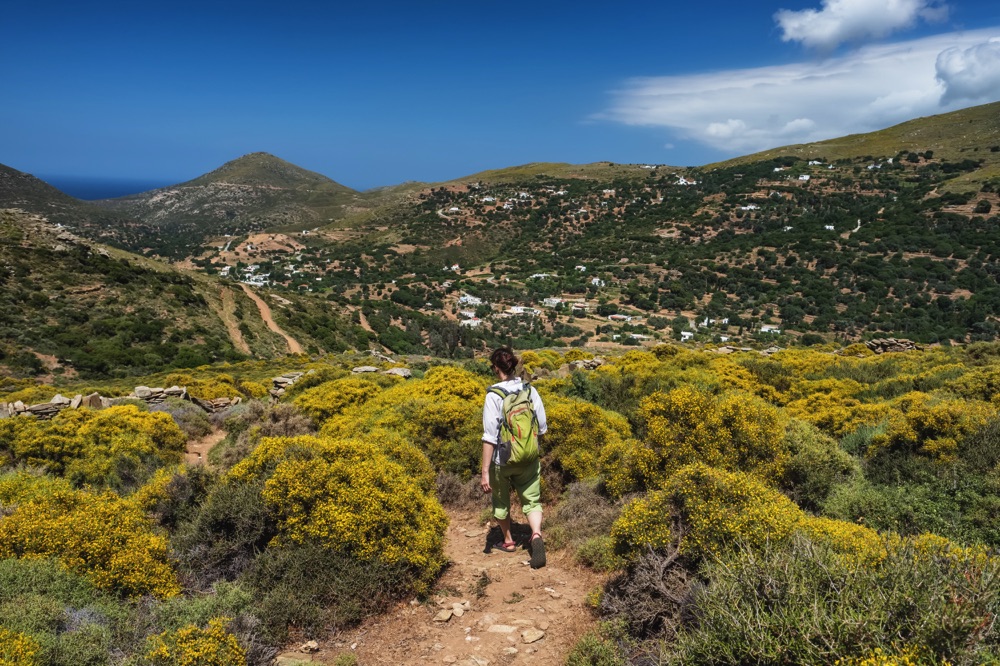 Unlike the rest of the Cyclades Islands which are dry with no or little vegetation, Andros boasts lush greenery and 10 (!) rivers with a continuous flow all year long.
I may be partial to Andros as it has become some kind of a second home to me in the last couple of years. But do believe me when I say that Andros is a really special and totally unspoilt island that feels like no other.
The countryside in Andros is scenic while the towns and villages retain their authentic ambience to the fullest. Also, the island is home to the best beaches in the Aegean Sea.
Getting to Andros
You can get to Andros in just 2 hours by ferry from Rafina Port.