Despite the reputation for calorie-ridden, deep-dish pizza, the Chicago food scene is really quite varied and surprising. Expect tasty brunch, lunch, dinner, small brews, farm-to-table, international cuisine, and off-the-beaten-track places to eat in Chicago.
I've been to Chicago many times with my husband and friends and always enjoy what I eat — and at prices cheaper than what you'd find in New York City, what's not to love? This is one of the best places in the US for foodies for sure.
21 Best Places to Eat in Chicago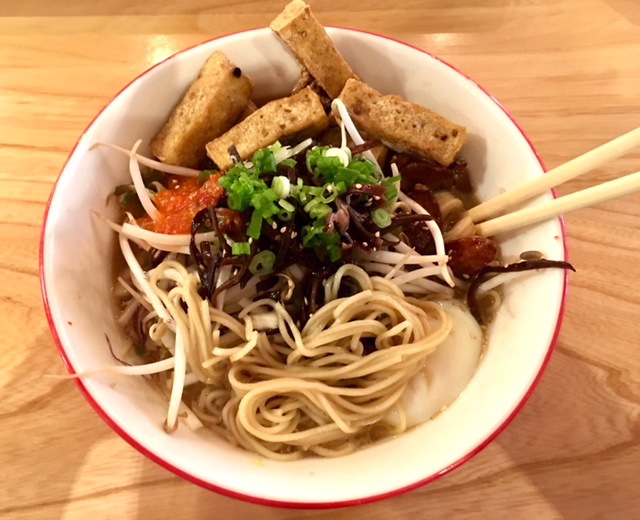 Exploring all the best places to eat in Chicago is a delicious challenge when visiting the Windy City, one I'm always up for. Not to mention, eating your way around the city is one of the best things to do in Chicago.
Check out this Chicago food guide for my list of the top 21 best places to eat in Chicago:
Best Places to Eat in Chicago for Brunch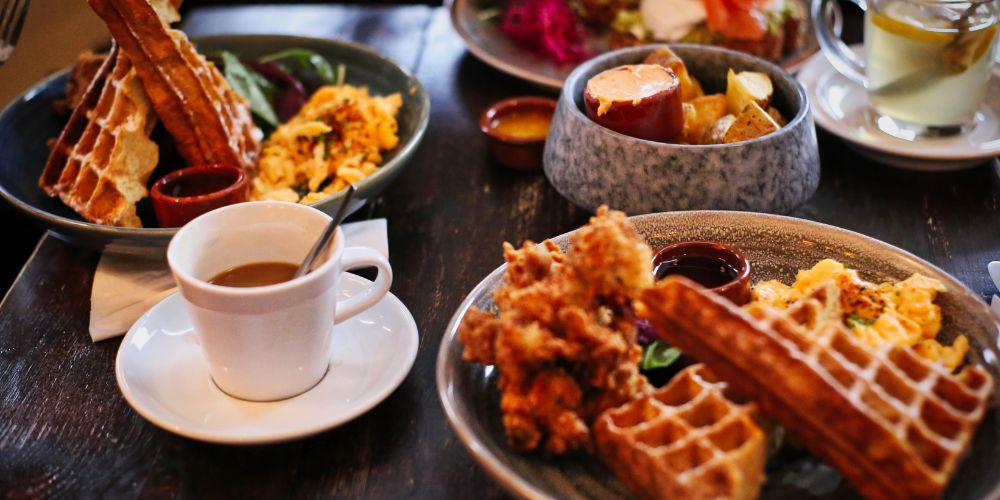 Chicago does brunch just right.
I'm a true-blue, native New Yorker and my love of my hometown will forbid me from admitting publicly that Chicago's brunch scene could ever rival New York's. That being said, I think most people can agree that Chicago knows how to kick brunch's ass.
Whenever I come to the Third Coast to visit my friends, we always try to get our eat on. Here's a list of some of our favorite places to eat in Chicago for brunch:
1. Mortar and Pestle
I had the best Cubano sandwich I've ever had here. Try as I might, I haven't found a place to top this one no matter which of the best places to eat in Chicago we dine at.
Mortal and Pestle is a classic, hipstery, modern-looking restaurant with big windows perfect for people watching.
Last time I was there, I felt comfortable seated in the window seats watching the world go by. I love going somewhere I don't feel I need to rush out of, ya' know?
Pro Tip: They are walk-in only and don't take reservations.
☞ NOTE: another top thing to do in the city is going on the Chicago Architecture River Cruise. After you've had a fantastic lunch, hop aboard a boat and learn about the history and architecture along the Chicago River. Don't miss it!
2. Batter and Berries
If you are looking for one of the best places to eat in Chicago, look no further than Batter and Berries. People love this restaurant not just for the wonderful owners, but for the fantastic meals. How about apple pie french toast with maple butter? Or maybe some cheesy hash browns?
Batter and Berries is also BYOB, so don't expect to order a Bellini here.
Pro Tip: This place is popular! Expect a wait, but the line moves fast.
3. Tweet
Tweet is one of my go-to spots to score some awesome biscuits and gravy. Their menu is not all stodgy carbs, though. They have excellent gluten-free options and vegan scrambles to die for.
Located in a really cute restaurant with a bunch of local art on the walls, this cash-only brunch restaurant is a great stop.
Pro Tip: Get one of their Bloody Marys, they are huge and delicious and will give you a great buzz to start your mid-morning stroll.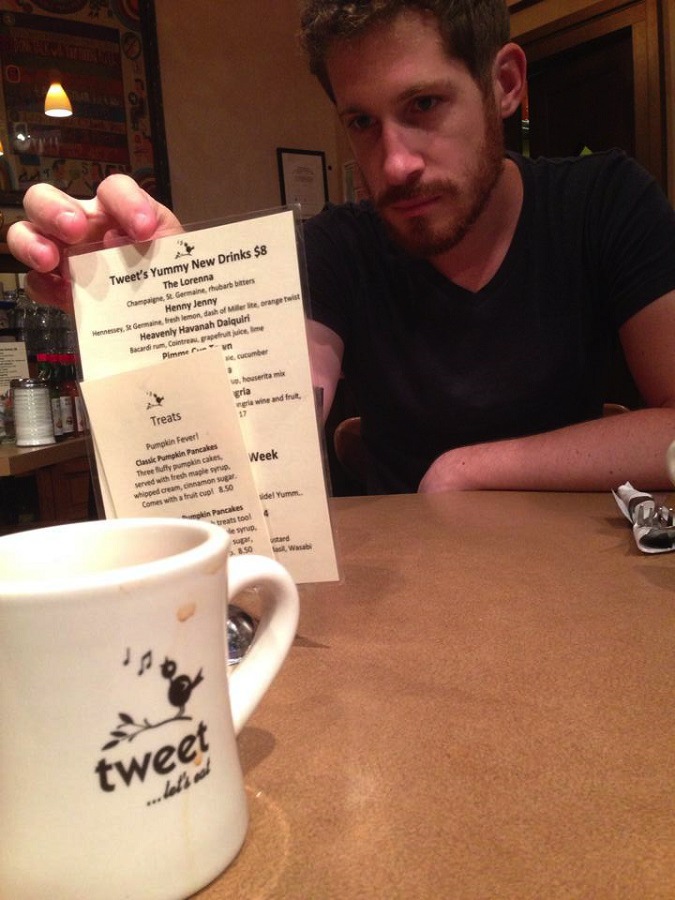 4. Slightly Toasted
If you enjoy a cocktail with your brunch, Slightly Toasted has got you covered. This bar and coffeeshop claims to have one of the largest whisky collections in Chicago, and I must say I believe them! There were far to many for me to sample in just one visit.
The food is great too, and if you're looking for something less strong than whisky to start your day, they also have excellent coffee (and craft beer!).
5. Lula Cafe
Recently featured in Thrillist's Best Brunch Spots in America, this one is a real show-stopper among the best places to eat in Chicago. Lula Cafe specializes in farm-to-table fare, mixing up their menus to suit which ingredients are currently in season.
They have a fantastic vegetarian / vegan menu that uses organic, seasonal ingredients. So, enjoy stuffing your face with greens and fruits…and if you have space in your stomach, get the side dish of coleslaw. It's fantastic!
Pro Tip: They have amazing organic coffee here.
6. Goddess and the Baker
If you are looking for something more in the downtown core, then Goddess and the Baker is one of the best places to eat in Chicago. They have two branches around town and offer an amazing breakfast.
What I really enjoyed most about this place was the effort they made for Pride Week in Chicago. They had glitter and rainbow coffee, and rainbow pastries!
There are also lots of vegan options. But if you are looking for more of a heart-stopping meal, their Mac and Cheese is delicious. Here is, truly, a hipster paradise.
Pro Tip: Great to stop in for a coffee on your way to Millennium Park.
7. Lucy's Cafe
Vegans and vegetarians, rejoice! Lucy's Cafe is a good, cheap, veggie-friendly restaurant featuring tons of brunchy yumminess. Don't miss this casual restaurant's delicious vegan french toast.
Pro Tip: There's a lot of available parking outside in case you decide to drive.
8. Longman & Eagle
This American, hipster restaurant is not to be scoffed at. Featuring farm-to-table menus and a rotating line-up of fresh ingredients, there is always something special being cooked at Longman & Eagle.
The real humdinger about this place is the huge list of delicious cocktails and spirits they serve, setting this brunch apart from the rest of the cool places to eat in Chicago.
Pro Tip: Although famous for their brunch, these guys are open late into the night serving food and drink. According to some of my local friends, sometimes they'll offer really cheap drinks like $1 PBRs.
Would you prefer to have a local show you where to eat in Chicago? Check out this 3-hour food, drink, and walking tour or this 4-hour food, drink, and cycling tour!
Best Places to Eat in Chicago for Lunch and Dinner
In my opinion, the best places to eat in Chicago are authentic, flavorful and unique. Even if the restaurant I plan to visit only serves burgers, I'd hope that this American classic is done well and leaves me feeling like I had something special.
For lunch or dinner, Chicago is known for its deep-dish pizzas — you can't go wrong seeking out a chance to drown your hunger in cheese, sauce and bread. That said, here are some other classics in Chicago that you should try.
9. Lou Malnati's Pizzeria
I'm partial to calling Chicago's deep-dish pizza a glorified casserole with cheese, tomato sauce, and crust. I'm biased though because aside from a rivalry over whose buildings are the tallest, New York and Chicago tend to have very different ideas over what "pizza" really is.
My biases aside, I can't say "no" to a ton of cheese and a crusty edge no matter how thick that slice may be…
Lou Malnati's is a staple of deep-dish pizza and with so many places to eat in Chicago, you're likely to come across more than one location beckoning you to come in and stuff yourself with all the carbs a body can handle.
I won't beat around the bush: deep-dish pizza is fantastic but heavy.
I split a personal-sized pizza with a friend when I was last there. We ordered the pepperoni and it was amazing. The crust was buttery, the sauce was bright and that cheese oozed all over the place.
Pro Tip: Go for a downtown location and then take a walk along Lake Shore Drive to help burn off that calorie avalanche your body has to deal with.
10. Big Jones
Big Jones is southern Louisiana cooking done right. Huge portions will fill you up until you burst with pleasure, before rolling yourself home. The shrimp and grits are out of control, plus they give beignets with your meal!
The price tag for this restaurant is a little on the expensive side, so don't come if you're on a shoestring budget, but it is well worth a visit. If you need more convincing, Thrillist listed Big Jones as one of the best fried chicken joints in America.
Pro Tip: They also serve awesome cocktails.
11. Tank Noodle
Tank Noodle is my favourite Vietnamese restaurant outside of Asia, and it's what to eat in Chicago if you're looking for something different from classic American cuisine.
Every time I visit the city, I go here and order the crispy, stir-fried, large, rice noodles with seafood. Divinity in a serving bowl.
The restaurant is no-frills, so don't come expecting 4-star service, but I have never walked away from this place disappointed. Even in Vietnam, I couldn't find the crispy, oily, large noodles like Tank Noodle.
Pro Tip: Go with friends and order a couple of dishes to eat family style.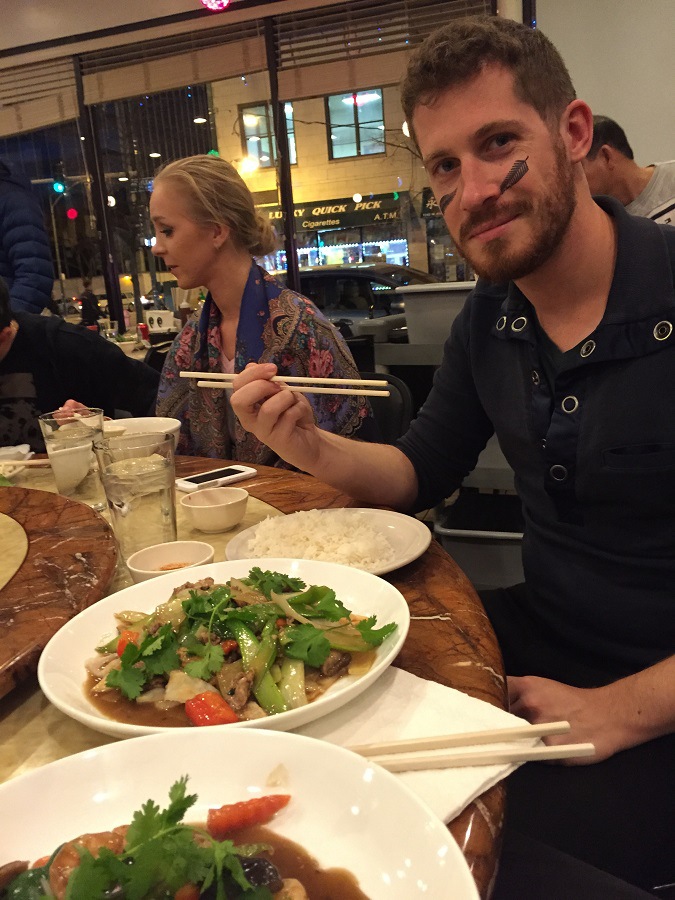 12. Parson's Chicken and Fish
One of my friends claims that the fried chicken at Parson's Chicken and Fish is the best in the city. But my real reason to go is to enjoy their massive patio and drink a beer.
If fried chicken isn't your thing, they also feature a bunch of other tasty treats…that you can wash down with delicious frozen alcoholic slushies.
Pro Tip: The fried fish is not as good as the fried chicken as it's heavy on the batter.
13. Revival Food Hall
This stylish food court is a great place to sample many different types of cooking under one roof. The Revival Food Hall doesn't only have great cuisine, but also fun events like Yoga and Trivia Nights.
This was my go-to spot when I wasn't sure what I wanted to eat, or when I was with a group of friends who all had different cravings. There was always something at the Revival Food Hall for everyone.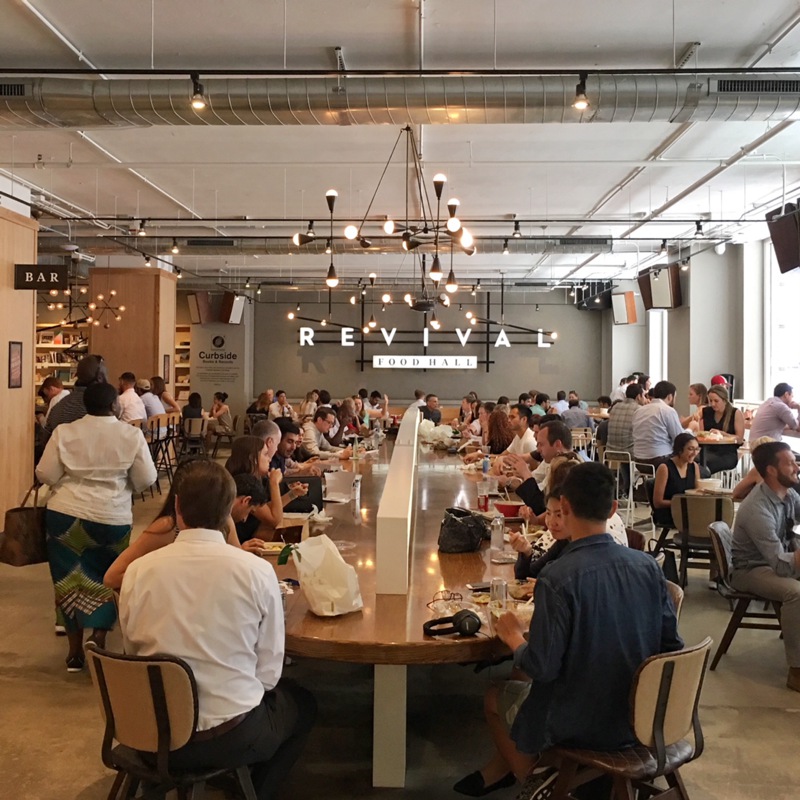 14. Demera
Rated as the best Ethiopian food in the Windy City, Demera is a gem among the best places to eat in Chicago. This Michelin Guide recommended restaurant is a great place to take a group of friends for a family-style night out.
The interior is bright, friendly, and easy to plop down in a seat and get your eat on.
There are vegetarian and vegan options to choose from on the menu (although the menu can be a little daunting and hard to navigate if it's your first time – just trust that this food is outstanding!). They also feature imported African beers, which you should give a try.
Pro Tip: Ethiopian food is eaten with your hands, and if you have never tried this incredible cuisine, come with an open mind (and clean hands!).
Best Places to Eat in Chicago for Snacks and Brews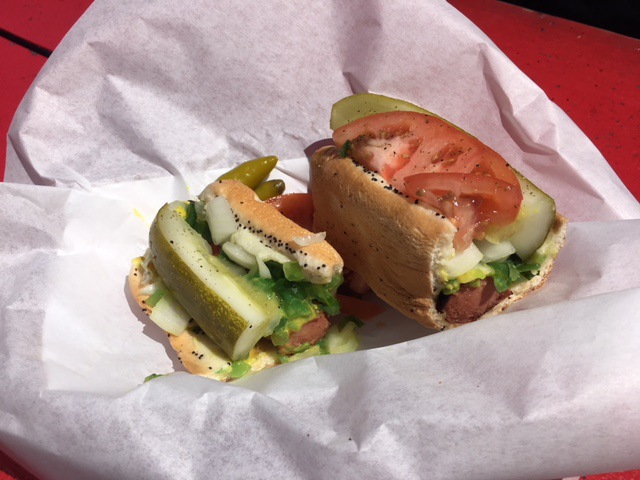 Walking in Chicago is one of my favorite pastimes and whenever I visit, I'll walk until my feet feel like they'll fall off. That's why knowing a couple of the best places to eat in Chicago that can dish out a snack and a beer to break up the walk is so critical!
My Chicago friends have taken me to many of these places listed below when we're walking around. It's like they're calling us to come in and take a load off.
In my opinion, you can't come to Chicago without trying at least one local brewery and eating a Chicago hot dog. So, here's a list of the recommendations I have for beers and snacks to help you get the most out of your strolls.
15. The Wiener Circle
The Weiner Circle has a well-known reputation among places to eat in Chicago, for just toeing the line between a joke-like vibe and flat-out insults hurled at the customers.
When I last walked in with a friend, the lady behind the cash machine had just finished telling off a customer for "taking too long to order".
I made sure I knew just what the hell I was ordering before I stepped up.
Their hot dogs speak for themselves, however, and you can't miss a chance to bite into a crunchy, crispy, overstuffed charred 'dog that sings Chicago's praises (even if you won't hear them from the cashier).
Pro Tip: This is a great place to come if you are looking for a post-drink-a-thon night out.
16. The Doughnut Vault
There are two locations of the Doughnut Vault in Chicago, because these doughnuts are that good. You can get whatever type of fried dough you feel like: glazed, stuffed, plain, dusted… you name it.
Sometimes there will be a line out the door for people waiting to get their hands on a doughnut.
Their selection of flavours and varieties changes daily, so go with an open mind. You might come away with a new favourite flavour.
Pro Tip: Don't wait until the end of the day to get here, this bakery closes its doors once the stock runs out!
17. Four Moon Tavern
The Four Moon Tavern is a true neighbourhood bar with lots of space and a little patio to go and spend some time outside. Play a game of billiards or put some money in the old-school jukebox, this is a good, classic pub to get a brew and some nibbles.
The food is great: Four Moon's bar food rotates, but their chicken tenders are really good. Occasionally, they'll feature a chicken pot pie that is out of control delicious. You can also order some great cheap drinks.
Pro Tip: This spot is a hang for lots of theatre people who'll go for a nightcap after finishing with their evening performances.
18. Hopleaf
Hopleaf is a bar where you can get seasonal fare, a great beer and not be distracted by a million TVs!
I think the best places to eat in Chicago are airy, filled with good conversation, and don't constantly bombard customers with a loud sports game or TV show.
Hopleaf is a 21+ adults-only bar. No kids. No families. Just adults eating good food — making it one of the coolest places to eat in Chicago.
They have wine on tap and they are always rotating their beer and wine list, offering the visitor a chance to just hang with grown-ups and order good, cheap food (like maybe a cashew butter and jelly sandwich?). Don't miss this spot, or the other best bars in Chicago.
Pro Tip: They also have live shows a couple of times a month if you'd like to see some storytelling or reading or performances by local artists. Check out their website for more details.
19. Begyle Brewing
A neighbourhood bar where lots of locals chill out with a good brew and good friends, Begyle Brewing is a smaller, no-frills place where you can drink good artisanal beer.
I recommend Begyle Brewing because you're likely to avoid the worst of any tourist crowd and get a chance to rub elbows with locals.
Begyle does not offer a full kitchen for eating, but they do encourage you to bring your own food and there are often food trucks parked near the brewery to fill an empty stomach. Be sure to take a brewery tour while there.
Pro Tip: There's a skee ball machine!
Don't miss this video of the awesome things to do in Chicago!
20. Billy Goat Tavern
Among the best places to eat in Chicago, few are as classic and historic as the Billy Goat Tavern (the original opened in the 1930s).
The location I listed above is on the "lower-level" of Chicago, meaning its no-frills, Gotham-like location was perfect for the set of some of the Batman movies (which were filmed here!).
Billy Goat is most famous for their "cheezborger," which you are encouraged to order with more than one cheesy meat patty if you desire. The burgers aren't served with lettuce or tomato, instead heaped high with pickles. There are no fries, either. You can get a bag of chips.
Pro Tip: Coming here for the burger is all well and good, but the location is also really cool to walk around and pretend you're on the set of a Batman movie.
21. Waterfront Cafe
If you visit Chicago, the Waterfront Cafe is a great patio-only restaurant featuring views of Lake Michigan and a chance to get as much of a beachy vibe as possible while in the Windy City.
The restaurant is right on the water and the atmosphere is really chilled out. Come enjoy the sun and wind while sipping a very reasonable $10 sangria.
Waterfront Cafe has a small selection of eats and they feature live music on weekend nights. For a really nice Lake Michigan experience, this is one of the best places to eat in Chicago.
Pro Tip: Go for the views. Seriously. This restaurant still feels like a hidden gem and isn't too crowded.
FAQs About Where to Eat in Chicago
Here are answers to some frequently asked questions about the best restaurants in Chicago.
What food is Chicago most famous for?
Although there are countless foodie restaurants in Chicago, the city may be most famous for two decidedly unpretentious dishes: hot dogs and Chicago-style deep dish pizza. Somewhat lesser-known on the Chicago food scene are Chicago barbecue, Italian beef sandwiches, and flaming saganaki.
What type of food should I eat in Chicago?
Chicago is a large city with a wide variety of restaurants, so you can have good versions of any kind of food you'd like. Perhaps the most iconic, must-try meal is deep dish pizza. Check out the suggestions for the best restaurants in Chicago in the article above.
What street food is Chicago known for?
If you're wondering where to eat in Chicago on the street, keep an eye open for hot dogs, Polish sausages, and Italian beef sandwiches.
Is Chicago known for burgers?
They may be overshadowed by pizza and hot dogs, but you can find many good burger restaurants in Chicago. One of the best is the Billy Goat Tavern, with its "cheezborger," made famous by John Belushi in Saturday Night Live.
Is Chicago a foodie city?
Absolutely, and in 2023 Chicago was listed as a Top 10 Food City in the U.S. by Food & Wine Magazine. There's no doubt that there are plenty of great foodie restaurants in Chicago.
Now You Know Where to Eat in Chicago!
While there are numerous fun things to do in Chicago, the fact that the city is known for its foodie scene means that you must indulge during your trip – it's practically a requirement!
As you can tell from this Chicago food guide, the Windy City offers food from all around the world, plus the typical American classics. I hope this list gave you some inspiration for amazing dining options in Chicago.
Like This Article? Pin It!