As the world becomes more connected, and with English firmly established as the lingua franca of business, travel, and more, you can choose practically any country to teach English abroad.
The best places to teach English overseas are those that interest you.
It could be a traditional village or a vivacious metropolis, a steaming tropical beach or a picturesque ski town, a country with a language you've always wanted to learn, or one with a language you can study for years and never get quite right.
I've been an English teacher abroad for nearly 20 years. I've taught in four countries — South Korea, Canada, Mexico, and now China — and I chose each for different reasons.
While the work was nominally the same, my experiences in each country were vastly different. As I decided where to teach English abroad next, the environment and society I'd be living in was as much a factor as the actual job.
In this guide, I'll list some of the best places to teach English abroad and give some insight into the general conditions, salaries, and benefits you can expect.
1. South Korea
South Korea is one of the best places to teach English abroad for all the important reasons.
Where to Teach in South Korea
Employment is available at many different kinds of schools throughout the country. You'll find better benefits and a more enjoyable lifestyle in large cities such as Seoul, Incheon, and Busan.
Although, you can find jobs practically everywhere, including lovely tourist destinations like Jeju Island.
Where to Find Jobs
You can find work at universities, K-12 grade schools, and the ubiquitous hagwons — small private academies attended by students looking for a headstart in South Korea's ultra-competitive educational system.
There are so many opportunities that one of the biggest job-hunting platforms, Dave's ESL Cafe, has an entire section devoted to Korea.
Browsing these jobs reveals a wide range of salaries and benefits. You can expect a furnished apartment, return airfare, and at least $2,000 per month.
The minimum teaching requirement in South Korea is usually a bachelor's degree in any subject. Having a TEFL certificate helps for finding better jobs.
☞ SEE ALSO: How to Get a Job Teaching English in South Korea
Benefits of Teaching Abroad in South Korea
Another reason South Korea is one of the best places to teach English abroad is its large and fun-loving expat population.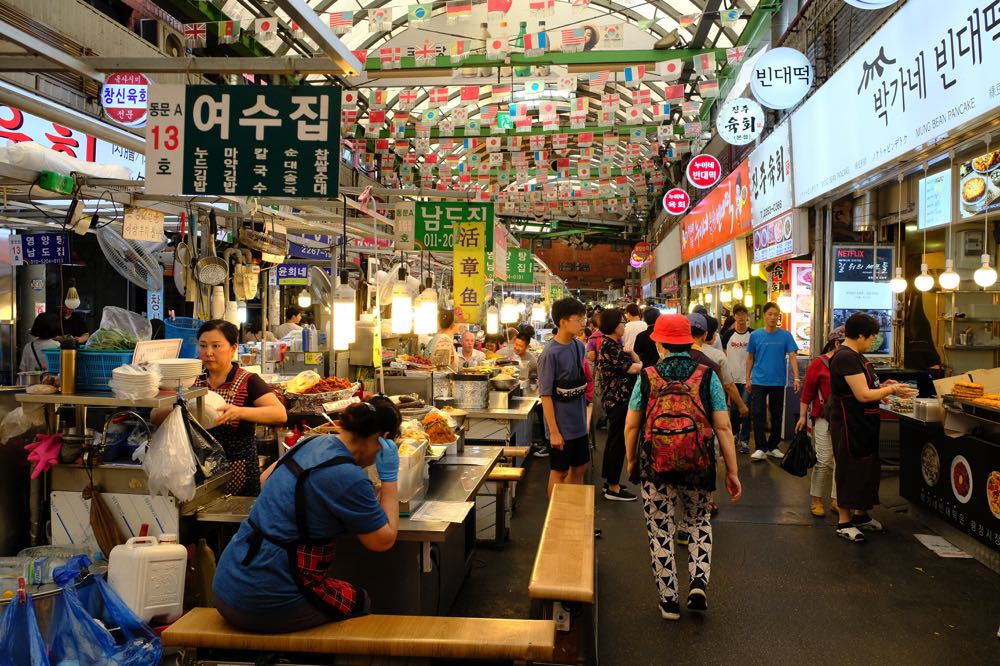 Lots of English-teaching positions mean lots of foreign teachers, which in turn means new friends from around the world, both at your place of employment and in popular hangouts like the Itaewon neighborhood in Seoul.
I started out teaching English in South Korea, and to this day some of my closest friends are from that time in my life. I discovered that, after a rocky first few months, I really did enjoy teaching, and the challenges of living in another country were actually quite interesting.
If you haven't taught English yet and are worried that you won't like it, South Korea is a great place to get started. After teaching in South Korea, you may decide to make teaching your full-time career, as I did.
2. Japan
The situation in Japan is similar to South Korea: a well-established EFL industry with plenty of jobs in a safe and friendly country.
Where to Teach Abroad in Japan
Tokyo and Osaka have the most schools, although if you prefer nature to big cities, you can look in far-flung places from mountainous Hokkaido in the north to the paradise beaches of Okinawa in the south.
Where to Find Teaching Jobs and Salary
As with anywhere, you can look for work on your own or sign up for a program. The Japan Exchange and Teaching (JET) Programme, sponsored by the Japanese government, is a tried-and-true option.
Your salary will vary depending on the ESL job. Here's a rough idea:
Assistant Language Teacher on JET Program: $2,500 per month. Teaching English at a Preschool: $2,300+ per month. Teaching at a Conversational School: Hourly rate $25. Teaching Business English: Hourly rate $30+.
Many schools don't provide housing, meaning you'll have to find and pay for it yourself.
Luckily, salaries reflect this and are mostly higher, but it still makes taking a weekend trip much more expensive than a similar trip in South Korea (or Thailand) would cost.
☞ SEE ALSO: Teaching English in Japan – A Guide to Finding Jobs
Benefits of Teaching in Japan
Like Korea, Japanese culture is different enough to be interesting but not so different that you'll deal with overwhelming culture shock.
A crucial difference is the cost of living. Japan is one of the most expensive countries in the world.
Even so, Japan is one of the best countries to teach English abroad. Living here will allow you to immerse yourself in Japanese culture and explore a stunning archipelago of forests, volcanoes, and mega-metropolises.
☞ SEE ALSO: Teach English Online to Japanese Students – 5 Companies That Pay
3. China (one of the most popular places to teach English abroad)
The Chinese government and society have accepted (for the most part) the need for more English education in their country, and therefore thousands of schools are desperate for English teachers.
This, combined with good salaries and a relatively low cost of living, makes China one of the best places to teach English and save money.
Where to Teach English in China
There are many cities to teach English in China. I've only worked in big cities in the south, Shenzhen and Guangzhou, but during my job hunt, I found university jobs all over China.
Usually, the larger the city, the better the pay and benefits are, although this isn't always the case, because some smaller and more remote cities know they have to offer more in order to attract foreign teachers.
☞ SEE ALSO: How We Saved $21,000 in One Year Teaching in China
How to Find Teaching Jobs in China
The visa application process is quite complicated, and at the moment, because of COVID-19, new visas aren't being issued.
Another problem is that training schools (private schools) were closed down by the government in 2021. The reason for this was to take pressure off students and parents (who pay for them) in China's highly competitive educational environment.
This move eliminated an enormous number of English teaching jobs, for first-time teachers in particular.
Even so, many schools are hiring English teachers to teach online until the country reopens and new visas are finally issued. It won't be long until China is again one of the best places to teach English abroad, if not the very best.
Look for jobs on Dave's ESL Cafe, search for a reputable recruiter online, or find jobs through your TEFL provider.
Qualifications to Teach Abroad in China
Regardless of the recent changes, it's still fairly easy to find work at a K-12 grade school. Plus, international schools typically have the highest salaries for teachers in China (up to $4,000 USD a month).
For those with at least two years of experience, many Chinese universities are looking to hire foreign teachers, not only to teach English, but to teach practically any subject in English. For these positions, a master's degree is extremely helpful.
You will also need a TEFL certificate in order to teach in China.
Benefits of Living in China
No question, China offers unparalleled opportunities for both professional and personal growth.
Living in China means you can explore the vast country, dine on delicious cuisine, learn about its thousands of years of history and culture, and try learning Chinese. Read about the pros and cons of living in China.
☞ SEE ALSO: Teaching English in Guangzhou – Interview With an ESL Teacher
4. Spain
Spain is one of the best places to teach English in Europe despite somewhat lower salaries than in other parts of the continent.
Where to Teach in Spain
There's a large demand for learning English, and private English schools are popping up throughout the country, especially in the north.
There are many TEFL jobs in Madrid and Barcelona. Both cities are good options for beginning a job search, and in general, the farther south you go, there are fewer opportunities and lower salaries.
Requirements to Teach English in Spain
You'll need at least a bachelor's degree for grade schools and universities, and a master's degree or teaching certificate may also be required. For smaller English schools, however, a bachelor's degree or TEFL certificate may not be necessary.
Where to Find Teaching Jobs and Salary
The biggest English language school franchise is Vaughan Systems. They even have their own TV and radio station in Madrid. They hire inexperienced teachers and provide training, although non-EU citizens must apply for a work permit.
US citizens can take advantage of the North American Language and Culture Assistants Program (NALCAP), sponsored by the Embassy of Spain. This popular program offers salaries of around $1,000 USD a month.
Spain is also one of the best countries to teach English without a degree, as you can teach private lessons. Teaching private lessons is a good option if you aren't sure how long you'll stay in the country, while you're looking for a regular job.
Teaching private classes on the side is also a good supplement to the lower incomes paid by many English schools in Spain, where $2,000 USD is usually the maximum.
5. France
Many other European countries belong on a list of best places to teach English abroad, such as the Czech Republic, Hungary, and Germany. But for its culture, lifestyle, and history, France beat them here.
Expats have been flocking to France for as long as France has been a nation.
If you'd like to join luminaries like Ernest Hemingway, Gertrude Stein, and Ben Franklin as expats who made France their home, it's good to know that the country is one of the best places to teach English abroad.
Where to Find Jobs Teaching in France
Big cities have an abundance of English language schools, where you'll teach anyone from children to business people.
Many of these schools provide training to inexperienced teachers. If you're paid to do the training, you may be locked into a 12-month contract, so make sure you want to work there for that amount of time.
Another option is teaching private lessons, mostly in big cities such as Paris, Lyon, and Toulouse.
You'll have to be quite proactive to find students, utilizing message boards in cafes and the like, but once you do, you should find plenty of eager students who don't have the time or interest to attend classes in an English school.
You can also find programs that help place potential teachers, including Momji, a childcare company that doesn't only recruit nannies (which is in fact a good option for a first job abroad), but also English teachers.
Finally, like Spain, France also has a teacher recruitment program for US citizens.
The Teaching Assistant Program in France recruits more than 1,500 US citizens and permanent residents to teach for up to seven months in France. Teaching other languages is a possibility as well.
Requirements to Teach in France
Requirements are strict for the Teaching Assistant program, with a bachelor's degree (but not a TEFL certificate), an age limit (20-35), and proficiency in the French language necessary. Despite this, it's a good option and will jumpstart any potential EFL teacher's career.
Because of the visa situation, however, citizens of the European Union (who don't need a work visa) have the best shot at teaching jobs, with British citizens a close second.
Teaching Salary in France
Also, at around $1,500 USD, salaries aren't nearly as high as in East Asia or the Middle East. But opportunities exist for people willing to take the time to search out opportunities and comply with visa requirements.
6. The United Arab Emirates
Along with neighboring Saudi Arabia, the cities of the UAE offer some of the best salaries in the English-teaching world.
Where to Find Teaching Jobs
Many jobs are in Dubai, the most multicultural of the seven emirates, and English teaching jobs abound in all of them, with the largest, Abu Dhabi, coming in second.
Notable differences exist among the seven emirates, such as laws — for example, alcohol is illegal in Sharaj. In general, they're extremely safe, modern, and have good infrastructure and facilities, such as well-developed health care systems.
International K-12 schools, public schools, and colleges hire foreign teachers for teaching English and other subjects in English, such as history, economics, or the natural sciences. A degree in one of those subjects is almost always a prerequisite.
ESL Salary in the UAE
You can expect to make at least $3,500 USD a month plus benefits, and possibly much more, making the UAE one of the best countries to teach English and save money.
These high salaries come with several downsides, including stricter hiring requirements and a high cost of living.
Requirements to Teach in the UAE
A bachelor's degree and a TEFL certificate may not be enough, as most potential teachers need at least two years of prior experience and in many cases a master's degree.
There's another downside — it's really hot. But if you're able to land a job with a high enough salary to offset the price of rent and nonstop air-conditioning, you'll be living in one of the most dynamic and compelling parts of the world.
7. Saudi Arabia
The most obvious difference between teaching in the UAE and teaching in Saudi Arabia is the conservatism of the latter.
Life in Saudi Arabia
Homosexuality is illegal in Saudi Arabia (as well as alcohol and pork products), women must cover their shoulders and knees while in public, and unmarried men and women aren't allowed to freely socialize.
There are numerous other rules and regulations that make adjusting to Saudi society difficult for many Westerners.
Saudi Arabia deserves a spot on the list of best places to teach English because of high salaries and many opportunities for development. Also, it's a wonderful chance to get to know a very different society from the inside, as a resident.
Most teachers will be living in a special compound. These compounds often contain restaurants, swimming pools, and more. While inside, Saudi Arabia's strict laws concerning alcohol and clothing are somewhat loosened.
Requirements to Teach Abroad in Saudi Arabia
The visa process rivals China for its complicatedness. Also, the requirements are stricter than in many countries, with at least one-year prior experience, a bachelor's degree, and a teaching license or a degree in education needed.
This means that in most cases, a TEFL certificate isn't enough, although it will help.
How to Find Teaching Jobs and Salary
English teaching positions are available at all levels, particularly K-12 and universities. Besides tax-free salaries of $3,000 USD and up, teachers are provided with furnished housing, usually in special compounds for foreigners.
Searching online is a good way to begin looking for jobs. If you want to work at a university, go directly to university websites. As the largest cities in Saudi Arabia, Riyadh and Jeddah are logical places to start.
Other common benefits include return airfare and contract completion bonuses. Combined with the high salary and the impossibility of wasting all your money on nightlife, there's no doubt that Saudi Arabia is one of the best countries to teach English and save money.
8. Thailand
Everyone knows that Thailand is gorgeous, but another important factor that makes it one of the best places to teach English abroad is that the people are wonderful too.
Life in Thailand as an ESL Teacher
As in most of Asia, teachers are respected in Thailand and students generally behave well. For the most part, Thai students go beyond this and are active and fun participants in class.
Your students and other locals won't be the only friendly people you'll meet in Thailand, but also expats from around the world who've chosen to enjoy the many things that make the country a great destination to live.
Why is Thailand Popular for Teaching?
The demand for English instruction is extra high in Thailand because it's a top destination for South Korean, Japanese, and Chinese students to study English abroad, both in universities and private language schools.
Thailand is a popular overseas destination for EFL students because for many people, especially Asians, it's much cheaper and closer to home than popular native-speaker destinations like London, Sydney, and Vancouver.
How to Find ESL Jobs Abroad in Thailand
Many jobs are available in Thailand for both experienced and first-time English teachers. Search online for jobs, or if you're feeling adventurous, you can come to Thailand on a low-cost backpacking trip and visit schools yourself.
A newly-instituted English Program in Thai K-12 schools means that experienced teachers have higher salaries and more benefits, although there are plenty of language schools that hire new teachers.
Most English schools can be found in Bangkok, but you'll find plenty of opportunities in smaller cities as well, and less competition from other potential English teachers.
Requirements and Salary in Thailand
A bachelor's degree is necessary not only for the job but also for the work visa. Other requirements depend on the type of school.
At around $1,000 USD a month, pay is far lower than in most other countries on this list, but Thailand is also more affordable. Some schools offer housing, although most don't, luckily the price of accommodation is also quite reasonable in Thailand.
Perhaps the biggest perk is that you won't have to wait for a week-long vacation to take a trip to paradise. You can travel to Thailand's world-class beaches and natural areas on any weekend of the year.
9. Mexico
Mexico may be one of the best places to teach English abroad, but it's not for everyone.
Low salaries, few English schools outside of large cities, and growing insecurity throughout the country make living in Mexico as an expat a somewhat daunting proposition.
There are plenty of opportunities, however, mostly at universities and at small language schools attended by high school students and business people.
Other than some international schools, which are rare in Mexico, public grade schools are unlikely to hire foreigners. Furthermore, to get a teaching job in Mexico, you'll probably have to visit schools yourself. It's unusual for Mexicans to hire anyone online, and emails rarely get answered.
Also, don't expect to live on a stunning beach, as most schools are located in large cities. Housing is almost never provided, and benefits like return airfare and contract completion bonuses are rare.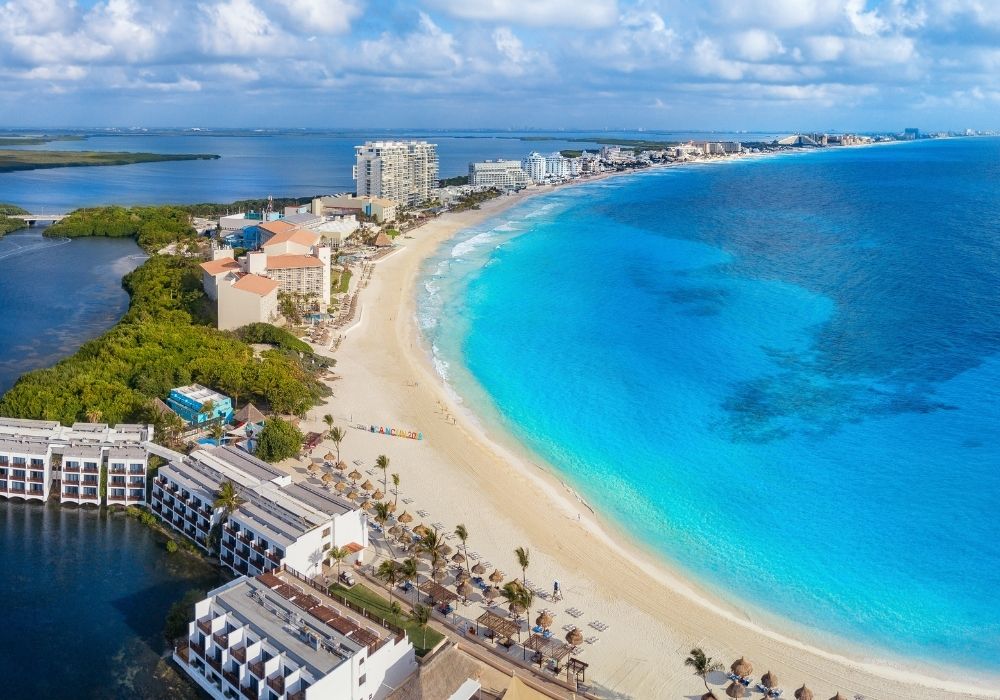 Why Teach English in Mexico?
You may be wondering, then, why is Mexico on this list of best places to teach English abroad?
The main reason is that Mexico is a wonderful place to live. I know, I was there for 10 years teaching English in several types of schools as well as working as a translator and freelance writer.
Despite its problems, Mexico is traditional yet modern, exotic yet accessible, and full of natural beauty. Mexicans are friendly, helpful, and fun-loving, and Mexican food is one of the best cuisines in the world.
Teaching at Universities in Mexico
Mexico is an excellent place to get started teaching at universities. Requirements are much less strict for university teachers than in other countries.
Salaries are low at universities, usually less than $1,000 a month, but hours are also low, giving you plenty of time to learn Spanish, explore the country, or work side jobs, like teaching private lessons or translating.
10. Your Own Country (Online or In-Person)
Due to COVID-19, now more than ever, online English instruction is in great demand.
Teaching English Online
Countless job openings exist, and in many cases, the only prerequisite is a reliable internet provider and a willingness to wake up in the middle of the night to teach students on the opposite side of the world. Or in some cases, you'll be teaching in the same timezone.
You can work directly for a school (either at home or abroad) or at an online English company. The pay and requirements vary greatly, although in most cases, you'll need a TEFL certificate.
Preply is a great English teaching option as you set your own rate. Teachers earn around $500 per week teaching online with PrePly. Learn more here.
Teaching English in Your Home Country
And finally, living in an English-speaking country doesn't mean you can't teach speakers of other languages at home.
Although the ESL industry has been dealt a serious blow by COVID-19, once the pandemic is finally under control, cities full of immigrants and tourists, such as London, Sydney, New York City, Toronto, and Vancouver, will undoubtedly reemerge as premier destinations for people wanting to study English abroad.
You may find that if you're looking for the best countries to teach English without a degree, it's in your own country as well.
Look for positions at a small English school where knowing the language is the only requirement, and because it's your own country, you won't have to deal with visa requirements.
This is a practical way for potential English teachers to try teaching without committing to a TEFL program or relocating to another country.
Conclusion
I'm certain that anyone reading this article with experience teaching abroad has their own ideas about the best places to teach English overseas.
Many other popular countries didn't make this list of the best places to teach English abroad, including Vietnam, Oman, Brazil, and the Czech Republic.
You can even teach English in Kurdistan, Iraq, like a friend of mine from my South Korea days. He assured me that it was safe and a stimulating experience.
It's hard to generalize by country, as conditions aren't only determined by the place, but also by the type of school.
The students you have — whether adults or children, for example — can have a much greater influence on your time in a foreign country than more important factors like working hours, benefits, and even pay.
I'm sure you disagree with this list of the best places to teach abroad, either because I included a country that you don't think should be on the list, or because I left a country out.
Please let me know your own choices in the comments. The more we can share our personal experiences, the better.
Like This Article? Pin it!