If you're looking for ideas on where to go in London, then look no further than this comprehensive guide to the best places to visit in London, the UK's vibrant and cosmopolitan capital.
No doubt you'll know about Big Ben, Buckingham Palace, and the London Eye, but in this guide you'll learn all about some of the less well-known, but equally amazing London landmarks and attractions.
I've lived in and around the city for most of my life and can tell you about London's best places to visit; from top tourist attractions to hidden gems. 
On each trip to the city, I aim to find something new and interesting to try out, and I'm happy to share my insider knowledge with you. Don't forget to have a look at this neighborhood guide to figure out where to stay in London.
Let's check out some of the best places to see in London.
25 Best Places To Visit in London, England
Below I've listed my top 25 picks for the best things to do in London, which includes all of the best places to visit. I've also included an interactive map, as well as some suggested London itineraries (below) so that you can better plan your trip.
London is one of the top places to visit in all of England, for good reason! If you're looking to see more of the country, don't miss our full guide to traveling to England.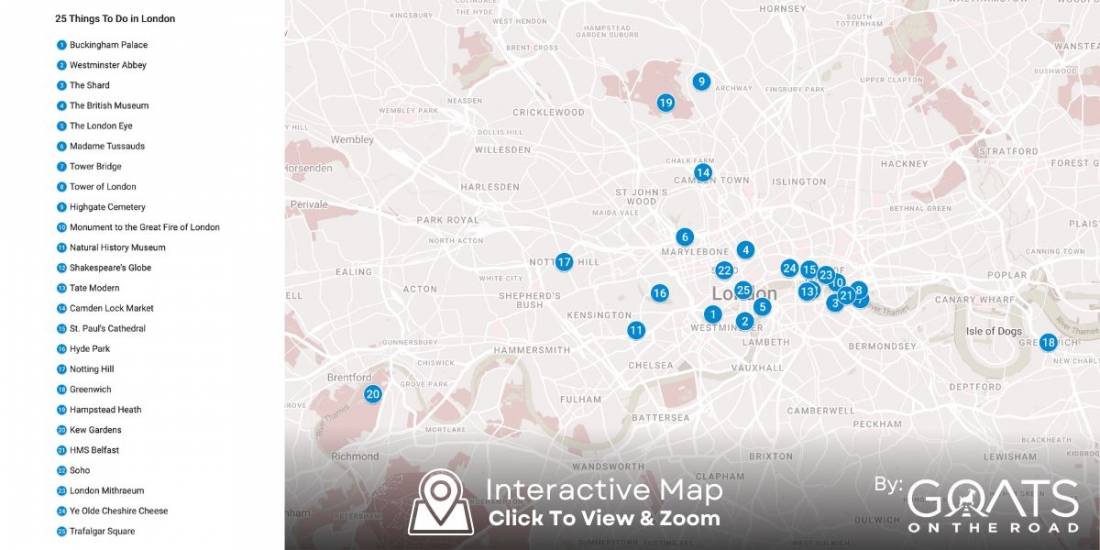 1. Buckingham Palace
Not only is Buckingham Palace the home of former HRH Queen Elizabeth II, but it's also the administrative headquarters of the British monarchy, and as such, plays an important role in the running of the country.
For the past 70 years, the British Prime Minister met the Queen at Buckingham Palace to discuss the week's events. The Queen saw 15 British Prime Ministers during her reign; from Winston Churchill to Boris Johnson.
Buckingham Palace, which is over 300 years old, is naturally one of the top London attractions and attracts over 2.7 million visitors each year. Watching the Changing of the Guard is one of the highlights of any trip to London, especially for first-time visitors.
This unique ceremony where soldiers of the King's Guard in their famous red tunics and bearskin hats change over, has been ongoing since the reign of Henry VIII over 500 years ago. Witnessing this ceremony is a recommended England experience.
If you want an in-depth look into British history and the monarchy, then this Amazing Palaces and Parliament experience is just the thing for you.
☞ SEE ALSO: 10 Best Day Trips From London
2. Westminster Abbey
Westminster Abbey is arguably the most important religious building in the UK. Not only is it where British monarchs are crowned, but it's also a burial site for all English, (and later British)monarchs since William the Conqueror in 1066.
The impressive gothic architecture dates back to the 13th Century, but the site itself dates back to 960AD when a local fisherman saw a vision of St Peter where the Abby now stands.
You can book tickets online to visit Westminster Abby, or you can join a London walking tour that takes in this impressive structure, as well as many of London's other top attractions.
Westminster Abbey is located behind the Palace of Westminster, (the houses of Parliament), and just a few minutes walk from Big Ben and the River Thames.
☞ SEE ALSO: 10 Best Airbnbs in London
3. The View from the Shard
This 95-story, 310-meter tall, (1.016 foot), structure, The Shard, is one of London's newest skyscrapers. It's the tallest building in the UK, and the seventh-tallest in the whole of Europe.
It goes without saying that the views from this glistening, glass shard are some of the best you'll find in the city. There's a viewing platform on level 72 which is the highest level members of the public can reach.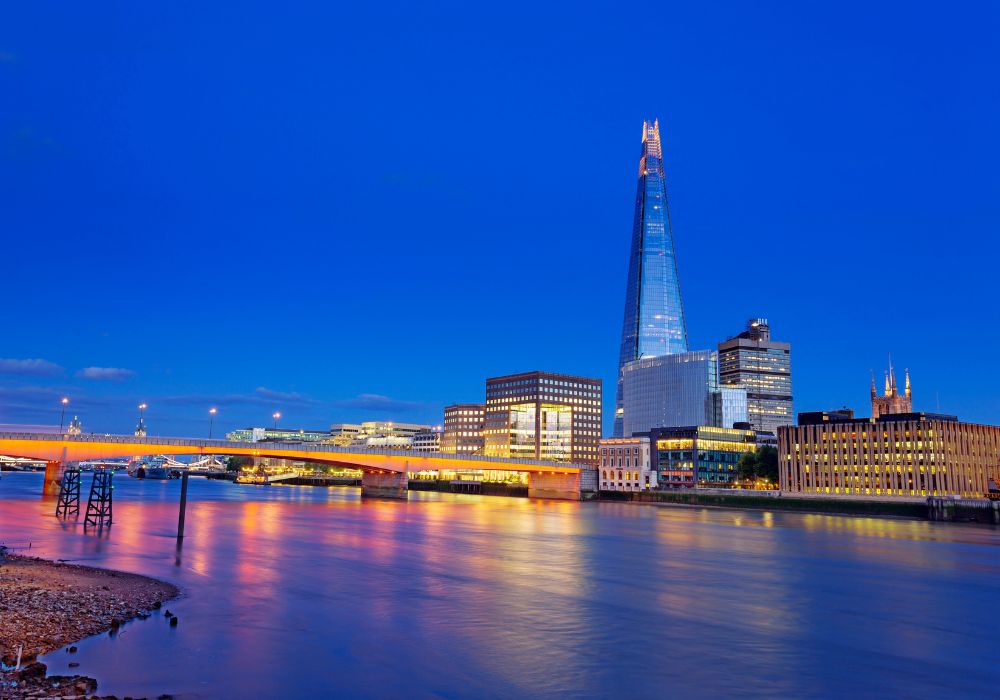 I watched the Shard being built and saw the opening ceremony as I was living in nearby Bermondsey at the time. Inside there are offices, penthouse apartments, and even a TV studio. There are also bars and restaurants which offer fantastic views of the London skyline, made even better with a gin and tonic in hand.
4. The British Museum
Along with the Louvre in Paris, the Metropolitan in New York, and the Hermitage in Russia, the British Museum is among the top museums in the world.
From ancient Mesopotamia up to the modern day, this treasure trove of exhibits, displays, and galleries will have something of interest for everyone.
There are many events and specialist exhibitions held throughout the year, so be sure to check and see what's going on for your visit.
Whether you want to see an Egyptian mummy, (Night at the Museum anyone?), the Elgin Marbles, or a Ming vase, you can wander around thousands of years of history all under one roof.
Many of London's top museums don't have an entry charge, and the British Museum is definitely one of the best places to visit in London for free. You can dip in for just an hour or two, or spend an entire day there, it's completely up to you.
If you really want to get the most out of your visit, then consider taking a tour with a working Archaeologist so you can learn all about the displays and associated stories in more detail.
5. The London Eye
If you're looking for fun places to go in London, or something a little romantic, then the iconic London Eye is a great option. Take a leisurely spin above the city in your own glass pod, complete with VIP drinks service if you so choose.
At the top of its cycle, the London Eye reaches 135 meters, (443 feet), and offers stunning views out across the Houses of Parliament, River Thames, and the iconic London city skyline.
One of the best times to ride the London Eye is just before sunset so you can experience the city as the sun goes down and the lights begin to twinkle across London – it's truly magical.
6. Madame Tussauds
Have you ever wanted a selfie with James Bond, Spider-Man, or The Rock? No? How about Usain Bolt, Rafael Nadal or Mohammed Ali? Whoever your heroes are, you're sure to "bump into them" at Madame Tussauds' famous waxwork museum.
From royalty, pop stars and sports personalities, to film stars and superheroes, you'll be amazed at the lifelike waxwork models on display. There are over 250 figures across 8 zones plus the "Spirit of London" ride which takes you on a journey through Tudor England.
The museum dates back to 1835 when Marie Tussaud set up her first display of waxwork figures on Baker Street in London. The museum is so popular that many cities around the world now show their own version.
A trip to Madame Tussauds is one of the most fun places to go in London with family, and was one of the first London attractions I visited as a child.
7. Tower Bridge
Often confused with London Bridge, Tower Bridge is one of the most iconic landmarks in the city and is recognized around the world as a symbol of London.
This suspension bridge was constructed between 1886 and 1894, and features a hydraulically powered system to raise the road and walkway, allowing large boats to pass underneath.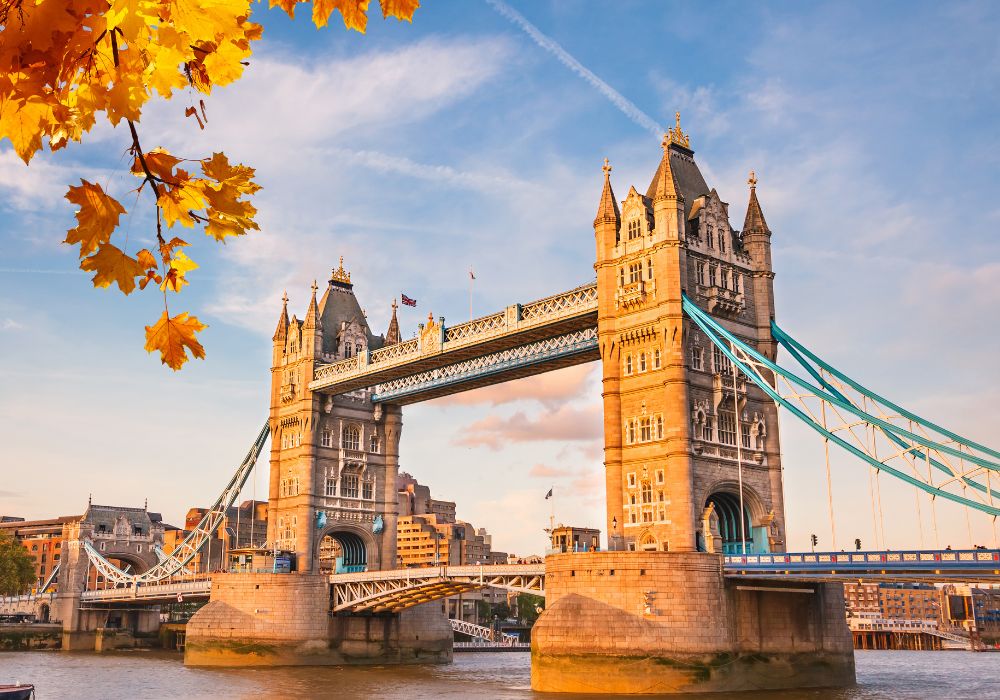 The bridge is raised around 800 times per year so your chances of witnessing this unique spectacle are high, and you can even check the times online so you don't miss out.
Tower Bridge is still used today for vehicle and foot traffic, and in fact, I used to cross it regularly when making my way from Liverpool Street station to Bermondsey.
As well as being able to cross the bridge on foot, (a good option if visiting the HMS Belfast), visitors can take a look inside, and there's even a glass walkway on the upper level, (if you're not the shaky leg kind)!
If you're looking for that perfect memento of London, then this London landmark photoshoot, which includes Tower Bridge, is just the thing for you.
You'll receive some awesome photographs alongside London's landmarks taken by a professional photographer, which you can take home and treasure forever.
8. The Tower of London
The Tower of London is a Norman castle in the center of London dating back to 1066, and situated right next to Tower Bridge on the north side of the Thames.
The castle was used as a prison from 1100 until 1952 and was the place of execution and torture for those falling foul of the king or queen.
Today the Tower of London is most famous as the place where the Crown Jewels are kept under armed guard. Although the crown jewels are still used today by the royal family for important ceremonies, it's still possible to see the diamond and jewel-encrusted regalia for yourself.
There's plenty to see and do at the Tower, from exploring the castle and grounds to seeing the Crown Jewels alongside the famous Beefeaters, or Yeoman Warders, (the King's guards).
And of course, you can't miss the black raven "guardians of the tower". Legend has it that if and when the ravens leave the Tower of London, the country will fall.
9. Highgate Cemetery
Highgate Cemetery is something of a hidden gem tucked away in a beautiful suburb of north London. If you want to escape the hustle and bustle of the city, then a trip to Highgate, with its rustic old pubs, second-hand bookshops, and large green common is a must.
No trip to Highgate is complete without seeing the famous cemetery, which is the final resting place of philosopher Karl Marx, punk icon Malcolm McLaren, and sci-fi novelist Douglas Adams, amongst many others.
I used to work at Highgate as a volunteer gardener in the secretive west cemetery, which requires a guided tour to enter otherwise.
You can visit the east side of the cemetery, (where you can visit Marx's grave and statue), by paying the £4.50 entrance fee and walking around on your own. However, I highly recommend a tour of the Victorian west cemetery, complete with ornate gravestones, crypts, and burial chambers.
For more information, and to book tickets online, see the official Highgate Cemetery website. Highgate is easily reachable from central London by tube on the Northern Line or by bus, (routes 214 and 271).
10. The Monument
The Monument to the Great Fire of London is one of my favourite London landmarks that's often overlooked. This 62-meter (203-foot) column was erected in 1677 to commemorate the rebuilding of the city after the great fire of London in September 1666.
It's possible to climb the 311 steps up a winding staircase for fantastic views of the city, (though there is now a cage at the top which isn't great for photographs). You even get a certificate at the end, of which I unashamedly have an ever-growing collection of…
I first climbed the Monument with my grandfather in the mid-1990s when the London cityscape looked very different, (the only skyscraper was Canary Wharf in Docklands at that time), and have been returning ever since to an ever-changing skyline.
The Monument is open on weekends and school holidays between 9:30am – 6:00pm, and is closed for lunch between 1:00pm – 2:00pm. Tickets cost £5.80 for adults and £2.90 for children, and can be bought at the attraction next to Monument tube station, (District and Circle lines).
11. The Natural History Museum
Another of the best places to visit in London for free is the Natural History Museum. Discover everything from dinosaurs to the life of wasps at one of Britain's most enthralling museums, dedicated to the study of the natural world.
There are exhibitions dedicated to British wildlife, the world's oceans, human evolution, and outer space, just to name a few. The Natural History Museum is definitely one of the coolest places to go in London with the whole family, and you're sure to learn a thing or two from your time there.
The museum also hosts special events, exhibitions, and even sleepovers for both children and adults. Due to its inside nature, the museum is a great option if you're looking for things to do in London in the rain.
12. Shakespear's Globe Theatre
The Globe Theatre, also known as Shakespeare's Globe, is a reconstruction of the original Elizabethan playhouse where our most beloved bard wrote his plays.
Located on London's trendy South Bank, right next to the Tate Modern art gallery, the Globe is a British institution that dates back to 1599, (although it has since been painstakingly rebuilt to match the original design).
The Globe has a seating capacity of 3,000 people and is a working theater where you can watch Shakespearesin plays being performed in the way that the playwriter himself intended.
One of the best ways to experience the Globe is to take this fantastic Shakespeare and London tour, which details Shakespear's connections with the city of London.
There's plenty to see and do in the area around the Globe; such as visiting the likes of Tate Modern, (see below), the Clink Prison and London Dungeons, and walking along the South Bank.
The Globe is also a short walk from London Bridge station and the Shard.
13. The Tate Modern
Tate Modern is a large contemporary art gallery located on London's trendy South Bank. It's housed inside the redundant Bankside power station and the large turbine room is used for exhibitions.
Although I'm not a massive fan of modern art, I usually pop in when I'm south of the river as I like the impressive structure, and I usually find something of interest inside.
Tate Modern is one of the top places to visit in London thanks to its great location on the waterfront, and is also another excellent option if it rains.
The Tate hosts many different displays and exhibits throughout the year, so check the website to see what's on during your visit.
14. Camden Lock Market
Camden Market is something of an institution and sees millions of locals and tourists alike passing through each year. If you want to buy a pair of Doc Martins, a Sex Pistols t-shirt, or an old record, then this is the place to go.
There are over 650 businesses and stalls that make up Camden Market, selling everything from alternative clothing to jewelry, home decor and artisan foods.
The market is located next to Camden Lock, (one of London's main canals), which is the perfect place to soak up the atmosphere, have a drink, or a bite to eat between shopping.
Camden is also a great place for evenings out and is home to many of the capital's most famous music venues like the Camden Underworld, and the Dublin Castle. There aren't many occasions when I'm in London and don't make my way here at some point.
If you're looking for other quirky places to visit and things to see, check out this guide to unique experiences in London. And, if you're a foodie and want to join a tour to visit some offtrack hotspots, have a look at this list of the best food and drink tours in London.
15. St. Paul's Cathedral
St Paul's Cathedral is one of London's most famous landmarks with its large, domed roof. It's located on Ludgate Hill, the highest point in the City of London, and is the seat of the Bishop of London.
There's been a church on this site since 604AD, and the current structure is over 300 years old. St Paul's has been used for funerals for some of England's most famous sons and daughters, from Lord Nelson to Winston Churchill, and more recently Margaret Thatcher.
Tourists can enter the cathedral and see the cathedral floor, dome galleries, and crypt. St Paul's is famous for its "whispering gallery", which thanks to its unique shape and acoustics, means if you whisper on one side of the dome, someone on the other will be able to hear your words.
Tickets to enter cost £21.00 for adults, (£18.00 if booked online), and £9.00 for children, (£7.70 online). Visit the website for advance bookings. You can also visit for free if you wish to attend one of the daily church services, but this will be limited to the church floor.
16. Hyde Park
London is filled with over 5,000 acres of beautiful parks, perfect for escaping the rush of city life. There are 10 Royal Parks in and around the city, including St James Park, Kensington Gardens, Regents Park, and the popularly known Hyde Park.
Hyde Park is just a short walk from Buckingham Palace and not far from the West End. It offers a slice of tranquility and relaxation just minutes from some of London's busiest areas.
Inside the park you'll find the famous Serpentine Lake and lido, which attracts swimmers all year round – even on Christmas Day. There are cafes, restaurants, and picnic benches across Hyde Park and it makes a great spot for lunch.
Hyde Park is also home to another British institution; Speakers' Corner. Here, anyone is free to air their views and discuss/debate different topics.
From conspiracy theories to politics, Speakers' Corner is an eccentrically British phenomenon. You should definitely witness this spectacle if you have time spare.
17. Notting Hill
Notting Hill is a trendy part of West London made famous by the film of the same name, starring Hugh Grant and Julia Roberts, as well as the annual carnival.
The area is famed for its pastel-coloured houses, rustic old bookshops, and Parisian-style cafes. Notting Hill is definitely one of the coolest places to go in London and is one of the most "Instagrammable" places in the city.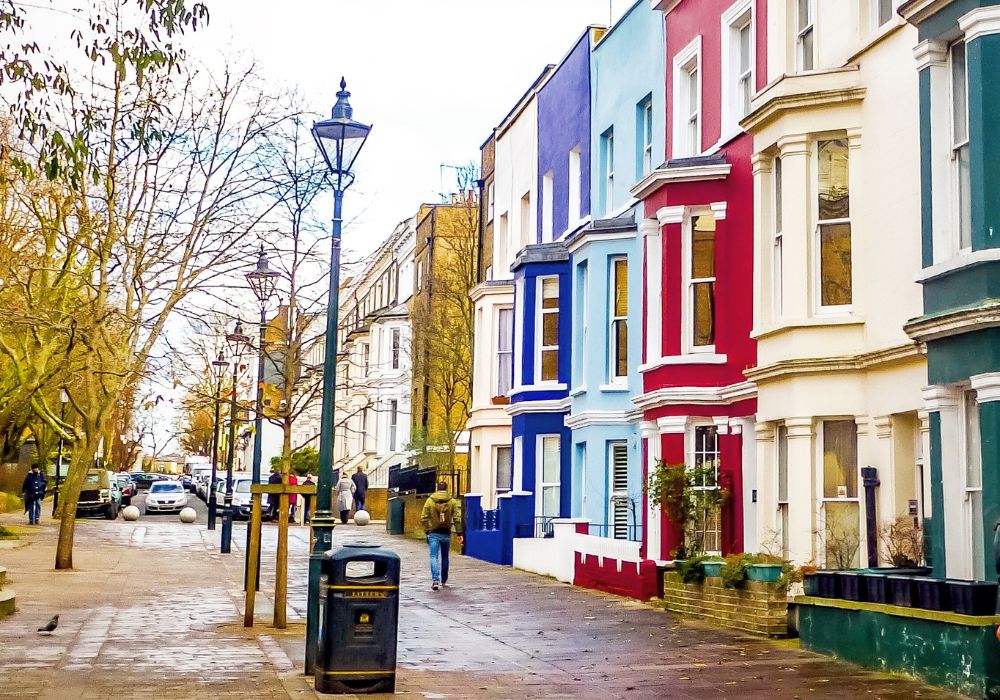 One of the best ways to experience this vibrant suburb is to take a walking tour. You'll learn all about the history of the place, see film locations, an original Banksy artwork, and may even spot the odd celebrity.
18. Greenwich and The Cutty Sark
Greenwich has long been associated with Britain's naval history, and is home to the National Maritime Museum, Cutty Sark, and Royal Observatory. There's a weekly market, plenty of shops and restaurants, and London's oldest Royal park.
The Cutty Sark is a British "tea clipper" ship built in 1869, and apart from some restoration work after a fire in 2007, remains largely as she did when first built. The Cutty Sark is one of the only original 19th Century ships left anywhere in the world.
The ship is open to tourists to explore its decks and cabins and see how the crew used to live. There's also a glass walkway underneath with interactive exhibits and more.
It's possible to buy a day ticket for the Greenwich Royal museums which includes entrance to the Cutty Sark and Royal Observatory.
One of the best ways to reach Greenwich is to take the Emirates Airline Cable Car which costs just £5.00 with an Oyster card or contactless payment card.
19. Hampstead Heath and Parliament Hill Fields
This is one of my favorite areas of London as it feels like you're out in the country, but with magnificent views of the city skyline. I often visit Hampstead Heath with friends in the summer as it's a great place to relax with a few beers and a frisbee.
Hampstead Heath is a large 800-acre common that includes hilly meadows, woodland, and even a lido, (open-air swimming pool). It's located in North London and is easy to reach on the Northern Line from the city center.
Parliament Hill is a 98-meter (322-foot) hill and parkland southwest of Hampstead Heath and is famed for its incredible views of the city. This is definitely one of the best places to go in London for fresh air and stunning views.
20. Kew Gardens
London's Kew Gardens houses one of the largest collections of curated plantlife and fungi anywhere in the world. The collection of over 50,000 living plants dates back to 1840 and is considered one of the UK's top tourist attractions.
Kew is a UNESCO World Heritage Site and covers over 300 acres. It even has its very own police force called the Kew Constabulary.
There's an arboretum, herb garden, bamboo garden, carnivorous plants garden and much more to discover. There are plenty of places for the kids to explore too so Kew makes a great day out for all the family.
You can explore greenhouses, themed gardens from around the world, listed buildings and royal treasures. There's also a treetop walkway for a birds-eye view of this botanical treat.
The gardens and grounds are open from 10:00am to 7:00pm on weekdays and from 10:00am to 8:00pm on weekends.
21. HMS Belfast
The HMS Belfast is a Town-class light cruiser battleship that is permanently moored between London Bridge and Tower Bridge on the south side of the River Thames.
She was launched in 1938 and saw active service throughout the Second World War, most notably during the Arctic Convoys to protect supply ships, and during the Battle of North Cape.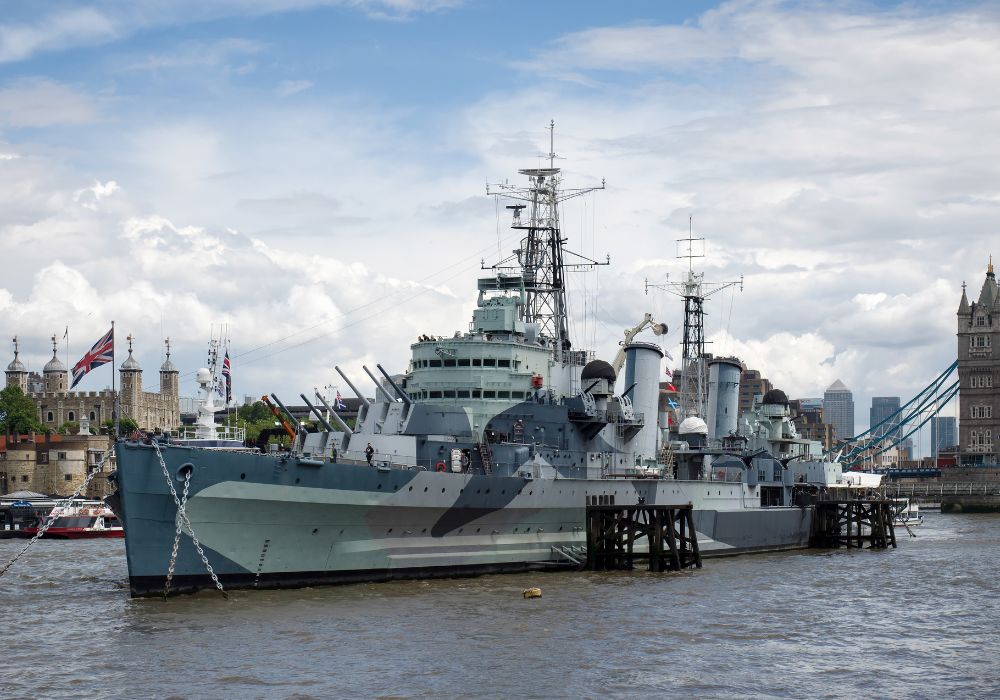 The Belfast now forms part of London's Imperial War Museum, and is a popular visitor attraction for families and history lovers alike. There are many interactive displays and exhibitions detailing life on a WWII cruiser.
Tickets cost £26.00 for adults and £13.00 for children and can be booked online.
22. Soho
If you're looking for things to do in London at night, Soho is the place to go. With some of the best bars in the city, (including my favorite, Garlic and Shots), this is best the area to dance and drink the night away.
From bars and restaurants to theaters, shopping, and more, this West End suburb has everything you could possibly need and is set in a great location close to Covent Garden, Oxford Street, and Tottenham Court Road.
One of the best ways to experience Soho and the surrounding areas is to go on a bar crawl where you'll get to enjoy VIP entry into some of London's top night spots.
23. London Mithraeum
Before London, there was Londinium, which was the Roman capital of Britain founded almost 2,000 years ago that lasted until the 5th Century.
Initially a Persian deity, Mithras was adopted by the Romans who built temples to this "god of war" who was worshiped mainly by soldiers.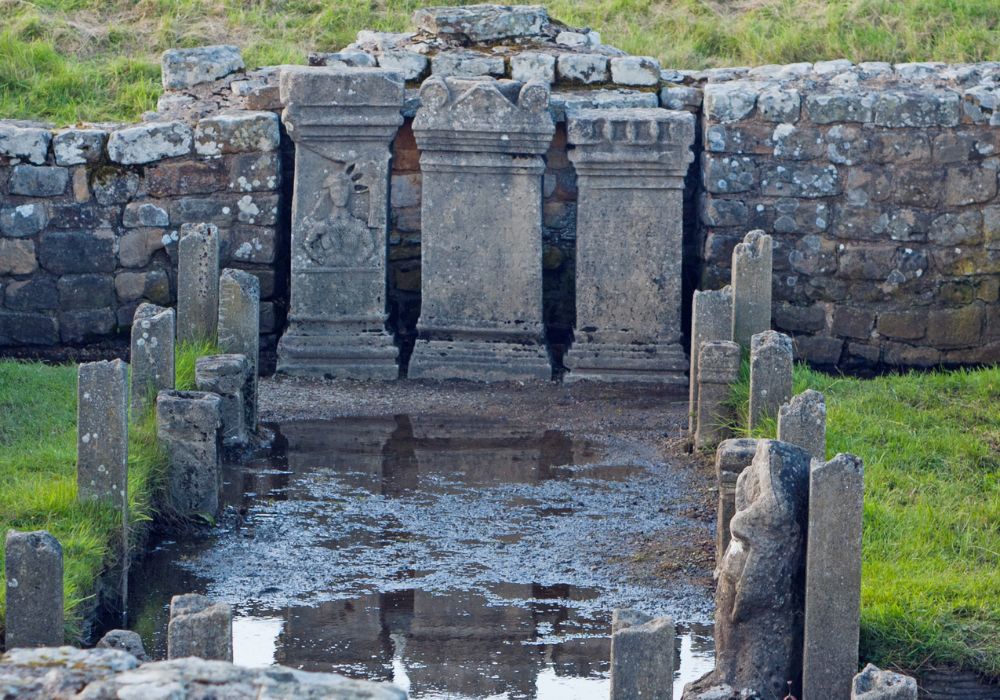 The London Mithraeum is an archeological site on the ruins of the Mithras Temple, and gives a fascinating insight into Britain's Roman past. The museum houses over 600 exhibits, including Britain's earliest recorded written document.
The museum forms part of the Bloomberg Space which also houses contemporary art exhibitions in addition to the archeological ruins and Roman artifacts.
A visit here is one of the best free things to do in London. The Mithraeum is open Tuesday – Saturday from 10:00am – 6:00pm, and on Sundays from 12:00pm – 5:00pm.
24. Ye Olde Cheshire Cheese
Ye Olde Cheshire Cheese is one of the oldest pubs in London, (and therefore likely the world), and dates back to 1538. It was destroyed in the Great Fire of London, but rebuilt shortly after 1666 making it over 350 years old.
You'd think that such a historic building would have been turned into a museum, but it's still serving pints of ale today – I recommend you go for a pint of London Pride. This is one of my favourite pubs in London and it's bursting with character.
Not much light penetrates from outside, so there's definitely a spooky, Jack the Ripper sort of feel to the place. The pub is located on Fleet Street, home of the British press and close to the Royal Courts of Justice.
If you want to see more of old London, this walking tour is a great option where you'll get to see some incredible old buildings and learn about the history of the city.
25. Trafalgar Square
Trafalgar Square is one of London's most iconic landmarks, and is situated not far from Leicester Square and Covent Gardens. It's one of the liveliest places in the city day or night, and should be on every visitor's list of places to see.
The Square is home to Nelson's Column, a 53-meter (169-foot) monument with a statue of Lord Nelson at the top. The column was erected to commemorate Nelson's victory at the battle of Trafalgar in Spain in 1815.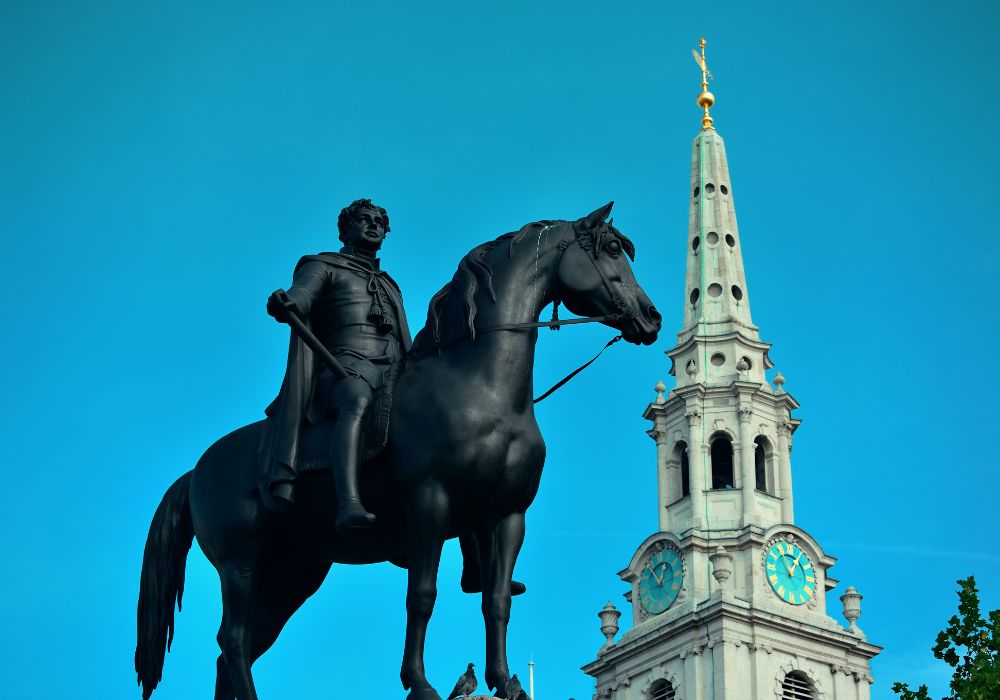 Trafalgar Square sees revelry throughout the year, from football match celebrations to New Year's Eve fireworks displays. There's plenty to see and do from the National Gallery and National Portrait Gallery to what was once Britain's smallest police station.
Quick Travel Itineraries For London
Many of London's top attractions are clustered together making it easy to "tick off" a lot of the famous landmarks in one go.
From the Tower of London and Tower Bridge to the Houses of Parliament, Big Ben, and Westminster Abbey, you'll find some useful itineraries below to help you plan your stay.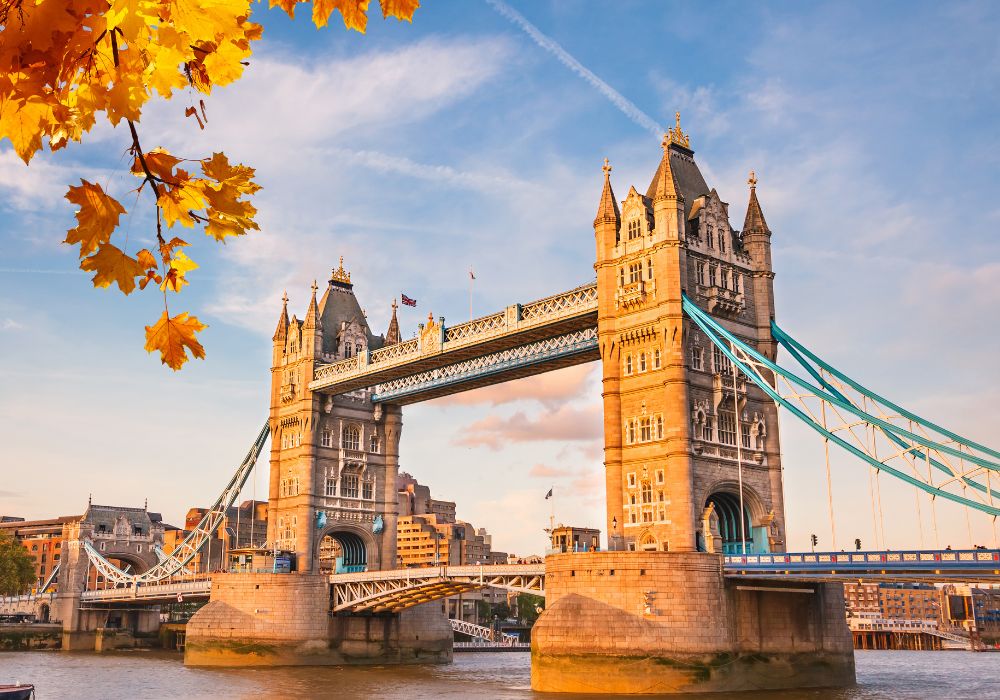 1 Day in London Itinerary
Start in Westminster where you can visit Buckingham Palace to watch the changing of the guard. From there it's a short walk, (less than a mile), to Big Ben and the Houses of Parliament.
Jump on the tube to Covent Garden for some food, (I recommend Ben's Fish and Chips for a great London lunch option), and explore this thriving area of the city.
After eating, hit the British Museum to explore centuries of world history before heading to Soho for dinner and drinks – try Garlic and Shots on Frith Street to finish up your day. Don't miss our guide to the best traditional foods to sample in London.
2-3 Days in London Itinerary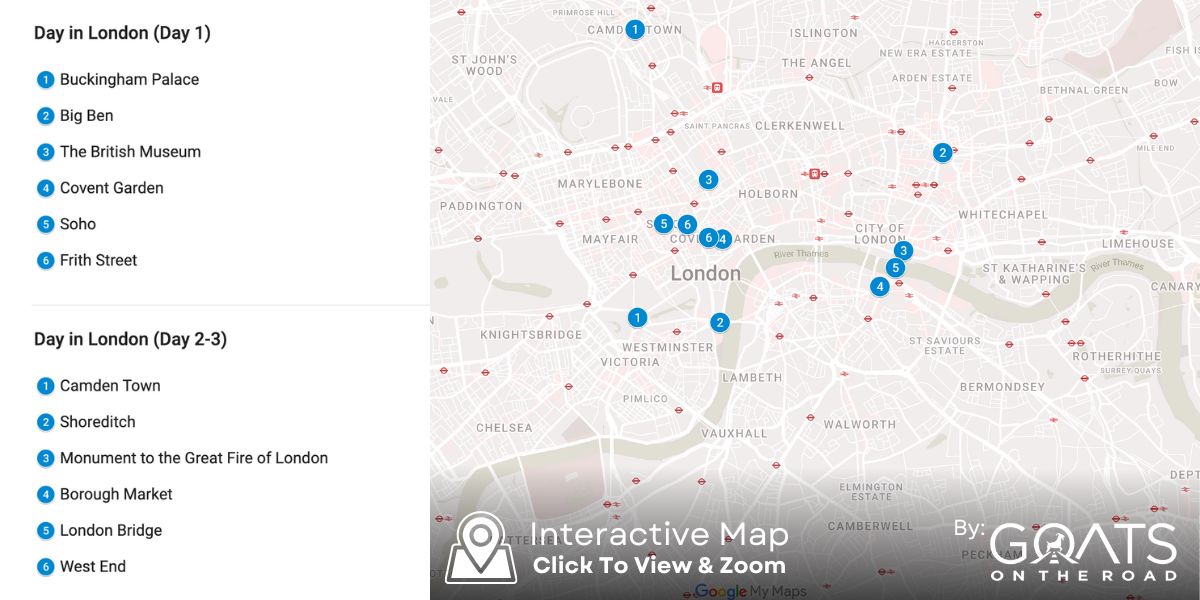 For your first day follow the above itinerary.
On day two head north to Camden to explore the famous market and pop into one of the great pubs such as the Elephant's Head.
Next jump on a tube to Shoreditch to check out this vibrant artsy area of the city complete with lots of interesting street art. You'll find plenty of great dining options here too such as Burger and Beyond.
On day three climb the Monument for excellent views of the city before heading to the Tower of London and Tower Bridge. From the bridge, it's just a short walk to Borough Market where you can sample some of the city's finest foods street-style.
You can walk to London Bridge and take a tube back to the West End to see a show, or savor some dinner and cocktails.
1 Week in London Itinerary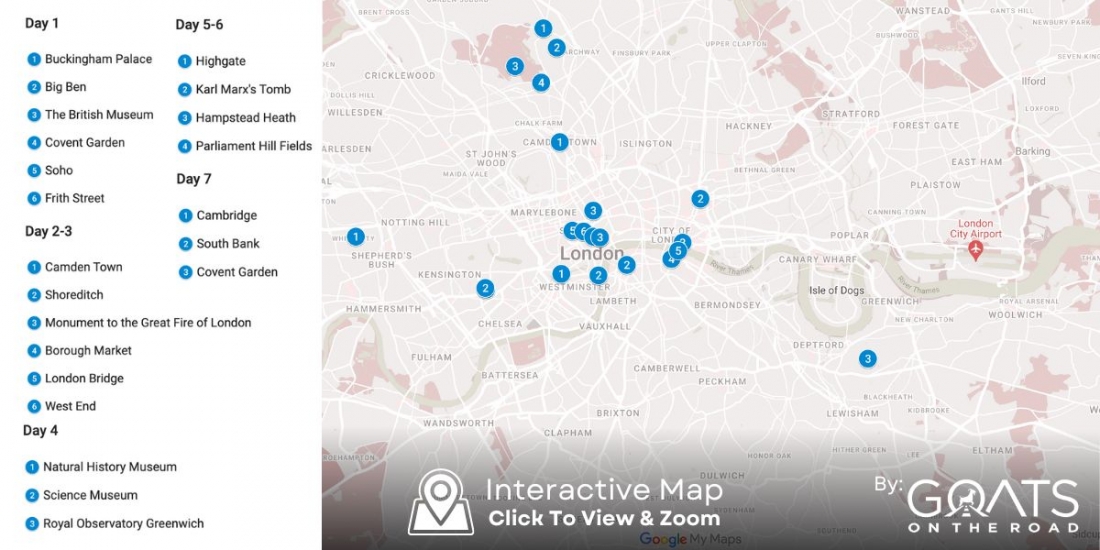 Follow the above itinerary for three days and include trips to the Natural History Museum, Science Museum, and Greenwich Observatory.
Spend a day exploring North London. Visit beautiful Highgate village and take a trip to the famous cemetery to see the graves of Karl Marx, Vivian Westwood, and other famous peoples resting places.
Take a trip to Hampstead Heath and Parliament Hill Fields where you can spend the day relaxing, swimming at the lido, or playing ball games on the common with picture-perfect views of the city.
Take a day trip to beautiful Cambridge and discover this ancient university town with its stone colleges, punting river, and miles of impressive parkland.
Explore London's South Bank and view the city from the London Eye. Explore the old turbine hall and contemporary art pieces on display at Tate Modern. There are plenty of great pubs along this stretch of the river such as the Founder's Arms, which is perfect for a bite to eat.
Finish back up in Covent Garden where you can explore the markets, watch street performers, and enjoy one of the many great restaurants.
Places to Visit in London: FAQs
Answers to some commonly asked questions about visiting the incredible attractions in London.
What is the Prettiest Place in London?
It's difficult to choose the prettiest place in London as there are so many. From the brightly colored houses of Notting Hill, to Covent Garden's charming markets, London is packed with beautiful little corners.

Personally, I think Highgate is the prettiest place in London thanks to its cute, village feel and wonderful old pubs. Hampstead Heath comes a close second.
What is the Number One Attraction in London?
The statistics tell us that the British Museum is the number one attraction in London, and it's hard to disagree. With so much to see from around the world, it's a great place to while away a few hours or spend days on end there.
What are the Best Places to Visit in London First Time?
First-time visitors to London should definitely be sure to check out the big hitters like Buckingham Palace, Tower Bridge, and Westminster Abbey to get a feel for the history of the place.
The West End is also a must-see as it is jam-packed with things to do from shows and shopping, to fine dining and street food.
What is London Most Famous For?
London is recognizable around the world for its many unique landmarks such as the above-mentioned Buckingham Palace, Houses of Parliament, and Big Ben.

Exploring London's most famous attractions is a right-of-passage for many travelers. Follow in the footsteps of kings, queens, authors and playwrights that have all left their stamp on this incredible city.

London is also famous for its diverse food culture and should be on the bucket list of every foodie. Whether you want to try fish and chips, jellied eels, or sample food from further afield, you certainly won't go hungry.
In Conclusion
With so much packed into one city, it's sometimes difficult to know where to start. But with this guide, you now know about some of the best, and coolest places to visit in London.
London has been a capital for over 2,000 years and each era has left its own stamp on the city. From Roman Britain to the modern day, there's so much to experience and taste.
And if you're looking for things to do on a quick weekend in London, be sure to check out this two-day London itinerary.
Like This Article? Pin it!