One of the best parts about being a digital nomad, travel blogger & web entrepreneur is the ability to work anywhere in the world from a remote office.
We've set up our office on the beach, in the middle of the rainforest, beside a waterfall, on top of a mountain and on the shores of a volcanic lake.
But even though the best part of a remote office is often the location, there are a few other things that you can do to really improve your workspace.
Over the years we've found some pretty amazing tools that have helped us to be more ergonomic, more efficient, and more excited to be location independent.
Waking up with a coffee in hand, still in our pyjamas and sitting down at our perfectly set up remote office is still a reminder of how happy we are to be away from our office & oil rig jobs back in Canada.
In this post I'm going to share our favourite gadgets and tools that we use every day to maximize the "cool factor" of our remote office.
These are all add-ons, apps, software, and gadgets to make your location independent work life easier. If you're a digital nomad or just a person who spends a lot of time working from your computer, then this post is perfect for you!
Let's get started…
In Case You're Wondering, Our Computers Are:
2019 MacBook Pro 13″
2019 MacBook Pro 15″
Disclaimer: Some of the links in this post are affiliate links, which means that if you make a purchase through them, Amazon gives us a small commission, but you will never pay anything extra. These links help to keep this blog running for free, so we do appreciate your support. Also, I've added prices to many of these items, but prices on Amazon fluctuate frequently, so note that prices may vary slightly depending on current sales & promotions.
1. Laptop Stand
This is an essential and once you have one, you won't ever want to go back to looking down at your laptop screen. By easily elevating your laptop, you can look straight forward, making your remote office much more ergonomic.
You can also easily adjust the height to be just right, no matter what table you're sitting at.
For portability and ease of use, we recommend the Roost Portable Laptop stand. At just 3.2 ounces, and folding up to just 13″ x 1.3 inches, this case proves that good things do come in small packages.
It can raise your laptop up to 12 inches off your desktop surface and helps make your remote office more ergonomic in just a few seconds.
ROOST PORTABLE LAPTOP STAND ON AMAZON (From $75)
Update: We now have 27″ LG monitors for our computers, which aren't good for when you're moving around, but if you're working from home, it's nice to have a large screen. 
2. Cordless Mouse / Trackpad & Keyboard
A cordless keyboard and mouse (or trackpad) is essential if you're going to have a laptop stand because once you place your computer on the stand, the keyboard and trackpad will be out of reach and at an awkward angle.
Because I use a Macbook Pro, I have an Apple keyboard and trackpad. I love the trackpad, but there are definitely more ergonomic keyboards available on the market both for Mac and for PC.
If you are a Mac user and decide to shop for non-Apple products, Just be sure that they're compatible with your Mac product and its current operating system (most are).
I still love the tip-tap feeling of a good Apple magic keyboard, so I do forgo some ergonomics for the more compatible set-up.
Apple keyboard & mouse COMBO ON AMAZON (from $213) 
SEE ALSO: 10 Best Tips For Working Remotely From Home
3. Portable Projector
A portable projector isn't just a great item for a remote office, it's an essential travel item that I think everyone should have!
If you do a lot of presentations, Powerpoints etc, then a small, palm-sized projector is essential. But even if you don't often use them for work, these things are great for watching movies while on the road.
We used to have the Rif6 Cube and it was okay for the time, but the resolution was pretty bad and it just wasn't very bright. Currently we have the Axxa P300 Pico Projector and we love this thing.
It's bright enough that you can watch it during the day with the curtains drawn and with 720p HD resolution that fits in the palm of your hand, it's an incredible piece of tech.
When we first picked the P300 up, we just displayed it on the white wall at our apartment and it looked great. Also, if you're planning a bit of "van life" you can just use your white sheet draped over the side of your campervan and have a theatre anywhere you stop for the night.
Since we're living in Grenada for a while, we picked up a cheap projector screen on Amazon and now our theatre room is looking pretty amazing. Pair this with a good set of Bluetooth speakers and you're good to go.
axxa projector on amazon (from $269)
4. Better Back
If you watch Shark Tank, you may have seen this wonderful contraption come into the "tank" and if you're like us, you were instantly hooked.
Dariece has already had a history of back pain, so this ergonomic posture control system could be a lifesaver. We've both been waiting to be a bit more stationary to pick these things up, but they have been proven to help with lower back pain, inflammation and aches.
Basically a strap goes around your knees and then up around your lower back to make sure you're keeping your body in the optimal position while working at your remote office.
The product folds up small enough to fit into a purse or a small backpack, so you can pretty much take it anywhere.
Betterback on amazon (from $59)
5. Wi-fi Range Extender
If you're sick of trying to connect to the internet and seeing only 2 signal bars, you NEED to pick up a range extender.
I honestly don't know what we did without this thing. Basically, it's a tiny little device that you plug into the wall. Once you set it up to be connected to the wifi at your hotel / hostel / cafe / apartment, etc., it can extend the signal by up to 3X.
If there are dead zones in your accommodation, you should get one of these. They're only about $70 on Amazon, are very compact and they're a lifesaver for remote offices.
I recommend the NETGEAR AC1200 Wall Plug Version Wi-Fi Range Extender. It has a dual antenna system that offers further range, compact size and amazing speeds.
I can't count the number of times that we checked into a hotel that claims to have "wi-fi in every room" only to lie on the bed and see that I can't connect to the signal.
Once I plug-in the range extender, the signal goes up to full bars and suddenly the internet is as fast as it would be if I was sitting right next to the router.
AC1200 RANGE EXTENDER ON AMAZON (FROM $65)
6. Surge Protector & Multi-Plug
There are simply never enough plugins. Whether you're in your hotel room, at the airport, at a cafe or sitting in your house, every remote worker needs more power!
Not only that, but there are also unreliable outlets all around the world where power surges can quickly destroy your electronics. A good surge protector and multi-plug is an essential item for any remote office.
When you're shopping for a multi-plug, make sure that it has at least 3 DC power spots, a few USB and USB-C outs and of course, make sure you also have an international adapter so that you can plug it in wherever you are.
For sheer portability and functionality, I prefer the Belkin SurgePlus Swivel Power Adapters, but there are also some other great options on Amazon.
Belkin surge protectors on amazon (from $15)
7. Noise Cancelling Headphones
There's nothing worse than sitting down at a cafe to get some work done and a loud group of people shows up. Pop in a set of noise cancelling earbuds and suddenly the world around you disappears.
Personally, I can work fine with lyrical music, but Dariece prefers to listen to music without words while she works. We use YouTube to search for classical or vocal-free playlists, but you can also easily find them on Spotify and Pandora.
To keep it compact and portable, I prefer to use earbud-style, noise canceling headphones. They don't cancel as much noise as the full ear covering style, but they are about 1/100th the size and weight.
For anything audible, I always recommend Bose. They make an amazing set of noise cancelling earbuds (Bose QualityComfort 20), but at $250, they're a bit steep.
For a bit of a cheaper set, you may want to check out TaoTronics Active Noise Cancelling Ear Buds which come in at a much more reasonable $50 or so.
If you're not a person who tends to lose small things while travelling, consider picking up a pair of wireless bluetooth noise cancelling headphones.
noise cancelling earbuds on amazon (from $50)
8. Power Bank
No remote office is complete without a good power bank. No matter how many power outlets there are, there can always be outages or places get too busy to plug in.
The power bank technology has improved drastically over the years and now there are power banks that can even charge DC outlet devices like older laptops and camera batteries.
Power banks that have USB and DC charge functionality tend to be a bit larger, but they also offer a lot more juice. Some power banks can charge a 3 devices at once including a laptop from 0% – 100% and an iPhone over 20 times!
find AC power banks ON AMAZON (from $79)
9. External Hard Drive
Even though we upgraded our laptops to have over 2TB of SSD disk space each, we still love to have an external hard drive.
Make sure if you're shopping for external hard drives that you pick up an SSD and not an HDD. HDD (Hard Disk Drives) are the older model of hard drives and they have a very tiny needle and disk to read the data. This means that they're extremely fragile.
I've personally dropped a 1TB HDD hard drive and lost all of my data. Sure you can recover the data by taking it in and spending more money than the hard drive is worth, but why not just buy a more durable SSD in the first place. They're faster, more compact and most importantly, more durable.
FIND SSD HARD DRIVES ON AMAZON (from $99)
10. 1080p Webcam & A Good Microphone
Our job sometimes requires us to do interviews for podcasts, YouTube and big media. There's nothing worse than watching back an interview and having poor quality audio and video.
It just doesn't look professional. We're also now creating WordPress Blogger Courses and I wanted to make sure that my course looks and sounds as professional as possible.
You may be thinking that the built-in webcam and mic that came with your laptop is just fine, and if you don't ever use them for creating video content, voiceovers or interviews, then you're probably right.
But if you ever record audio or video with your computer, you should pick up a cheap mic and webcam on Amazon.
I highly recommend having a good mic. Believe it or not, it's actually more important (in my opinion) than a good camera. By having your voice full and clear, you'll be able to present your message in a professional way.
We've used the Samsung GoMic in the past and it's decent, but now we're using a (much larger) Pyle USB mic. The best USB mic on the market right now is probably the Blue Yetti Blackout Edition and it's still compact enough to travel with.
For our webcam we have a Logitech c615 1080p Webcam and it looks great. If you want to have some shots further away from your computer, I'd also recommend picking up a USB cord extension.
find webcams and mics on amazon (from $19)
11. A Good Electronics Bag
If you find yourself heading at cafes or co-working spaces to set up your remote office, then you may want to pick up a good travel rucksack for your electronics.
There are so many on the market, but the best ones will be lightweight, easily organized and often have their own power banks built in. I still love Vanguard bags and highly recommend them as they're durable, lightweight and super well-thought-out.
I used the Vanguard Uprise II bag for my Phantom drone when I had it, but now with the much smaller Mavic and Spark drones on the market, you really don't need such a large backpack. The best overall electronics bag right now is probably the eBags Pro Series Backpack.
Find electronics bags on amazon (from $99)
12. aText
A good remote office is one that helps you be as efficient as possible and this cheap app for Mac has saved me hundreds of hours over the years. It really is one of the best productivity apps out there.
Basically it allows you to type special codes that you set yourself and it will auto-paste content for you.
For example, I have an aText code saved for every one of my affiliate links. So if I am writing an email or a blog post and I want to add my affiliate link for World Nomads Insurance, I simply type WNlink and it pastes the URL for me.
Similarly, I have an aText code for a lot of different email templates.
As a blogger, I get requests for ads, sponsors and brand ambassadorships on a regular basis.
If the person sending the email sounds serious, I'll type them a personalized email, but 90% of the time I just type in my code and automatically paste a 4 – 5 paragraph email explaining what we can offer, what our rates are, how we can work together etc.
If you get a lot of the same questions via email, aText is great. For example, we have people emailing us about where to rent a motorbike in Viñales, Cuba all of the time (even though I wrote the address in our guide).
Instead of emailing each person back separately, I just type "cubabike" in the email and it automatically pastes:
Hello,

thanks for emailing us and for reading our blog! You can rent motorbikes on the main road in Viñales near the bus station. We paid $20 / day for 3 days, but I believe they cost $25 per day for shorter-term rentals. I hope this helps! Let me know if you have any more questions.

Best,

Nick.
Before aText I found myself writing that email out over and over again every week. I have dozens of codes for emails, affiliate links, blog post templates, HTML and more. It's the best productivity tool that nobody seems to know about.
13. Better Touch Tool
Another great little app for Mac, Better Touch Tool allows you to program specific functions into your trackpad.
If you're already a Mac user, you'll know that Apple comes with a few of these standard gestures like 2-finger scroll down, 5 finger together brings up the app window etc., but with BTT, you can program a nearly unlimited amount of custom gestures.
For example, you can make a 3 finger click to open up Google Chrome.
You can even program a series of finger gestures to do a wide range of complex requests on your Mac. I have so many of these set that I can basically do everything I want right from my trackpad.
It may not sound like that big of a time-saver, but once you've mastered and memorized a dozen or so custom gestures, you'll shave milliseconds off of every command you do on your computer.
Those milliseconds quickly add up and over the course of a month you could be saving hours.
14. Handpresso
Waking up to no alarm, rolling over in bed and getting to work in your pyjamas is great, but what would it be without a delicious cup of espresso coffee?
The Handpresso is one of our favourite travel tools and it really does add to our remote office, especially when we're travelling and staying in hotels & guest houses that don't have an espresso machine.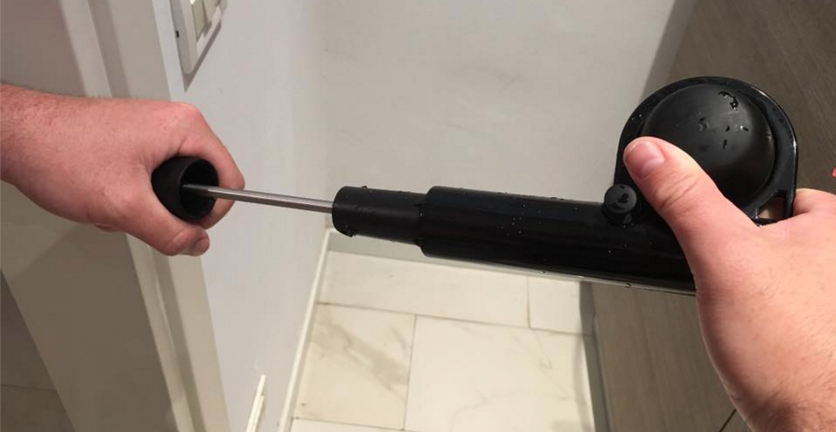 All you have to do is buy some espresso coffee grounds, pack a pod, pump up the Handpresso, add some hot water and voila! You have a delicious cup of coffee every time.
At the time of writing, we have a nice electric espresso machine in our house in Grenada, but for when on the road, the Handpresso is our go-to.
I really can't recommend this thing enough. It's a bit heavy, but if you're like Dariece and I and you don't enjoy filtered coffee, then this is a must-have travel item for sure.
shop for handpresso on amazon (from $100)
15. Wireless Hot Spot
We never travel without a local SIM card because you never know when your wifi is going to go out randomly. That's why a portable hot spot is a must-have travel item.
If you already have an iPhone, you can likely just tether your computer to the mobile data by following these steps, but if you want to have multiple devices hooked up, don't want to waste your phone battery or want further range, you should definitely consider a mobile hot spot device.
For speed, portability, ease of use and nice design, I'd say that the Huawei E5787s-33a is the best on the market. It supports up to 10 devices at once, offers 10 hours of battery life at full use and works pretty much anywhere in the world.
It also has blazing fast speeds at up to 300mb/s when hooked up to a good 4G/LTE network.
You can pair a wireless hot spot with a good international SIM card as well. These cards tend to be a bit slower than local SIMs, but they are still convenient for when you first arrive at airports and don't have a local SIM yet.
Huawei hot spots on amazon (from $220)
In Closing
Starting to shop for remote office gadgets on Amazon can be a slippery slope! There are just so many cool products available on the market and as this laptop lifestyle movement continues to grow worldwide, we're seeing more and more nomad-friendly products available.
While I have seen plenty more items online and in stores, these are the ones that we've found that we actually believe to be essential in creating the perfect remote office.
What are your favourite products and how did you create the perfect remote office for yourself? Share with us in the comments below!
Like This Article? Pin it!