During the month I spent in this beautiful city, I ate in some of the best restaurants in Campeche.
I am the kind of traveller that considers tasting local food to be one of the top priorities, as I believe that a country's essence is greatly reflected in its cuisine.
Every time I visit a new place, I already have a list of specific dishes, fruits, or drinks to look for.
Mexico generally has a cuisine known for rich, well-seasoned delicacies that incorporate ancient Maya and Aztec fruit and vegetables, combined with foreign elements introduced by the Spanish conquerors or, more recently, through globalization, (like rambutans from Asia for example).
Street food is also a prevalent concept in Mexico, so it's no wonder that I looked for this type of restaurant in Campeche as well; think homemade empañadas, tacos, and enchiladas from little stalls on quaint corners.
These street vendors are by far the cheapest way to try some fresh and excellent food, and although you're often served quickly, the quality doesn't suffer.
In this short list of best restaurants in Campeche, you'll find a delicious mix of authentic Mexican cuisine in the form of vibrant restaurants with lots of musical accompaniment, food stalls serving on-the-go delicacies, and the occasional pizza place in case you want something different.
Most of the recommendations are located around the main tourist attractions in Campeche, but as I stayed in the city for a while, I also ventured to other parts of the city and found some hidden gems that I'll share too.
The list also includes some of my favourite bakeries – breakfast is essential! – the ice cream parlour you don't want to miss, and a few of Campeche's best coffee shops; the perfect guide for all things tastebuds in this mouthwatering part of Mexico.
Map of Campeche Restaurants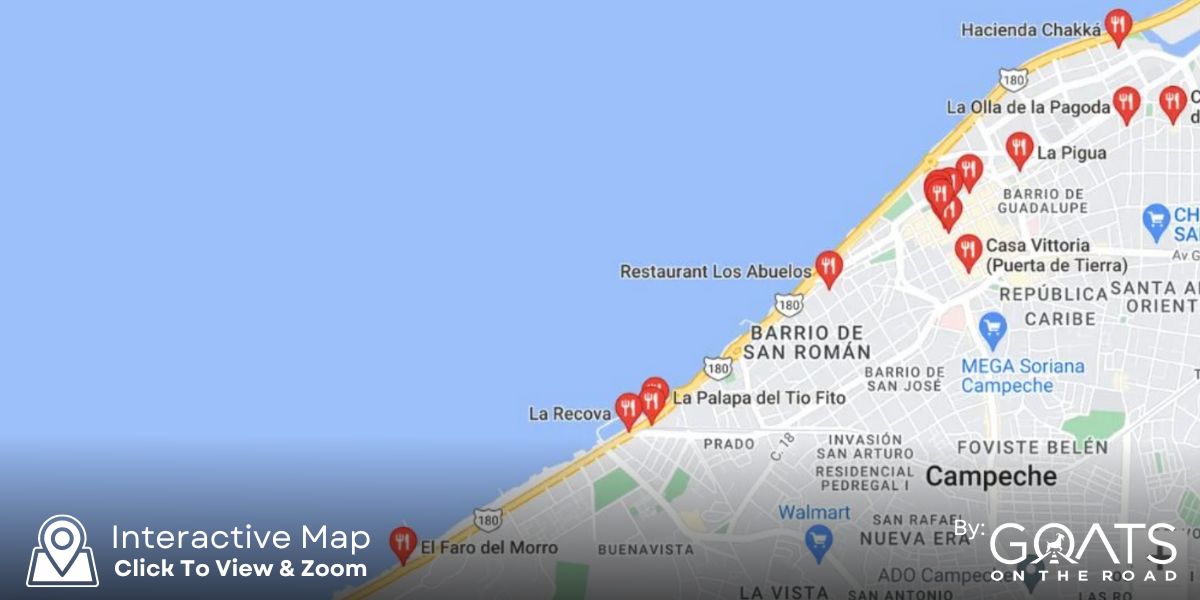 1. Palapas Y Parador Turístico (Best Restaurant in Campeche Overall)
Technically, the Parador Turístico isn't one restaurant but several different eateries in one place.
Underneath the quirky-looking straw roofs, you will find several little restaurants serving the freshest fish in all its variations: sold per weight, fried a la plancha, or coated with breadcrumbs.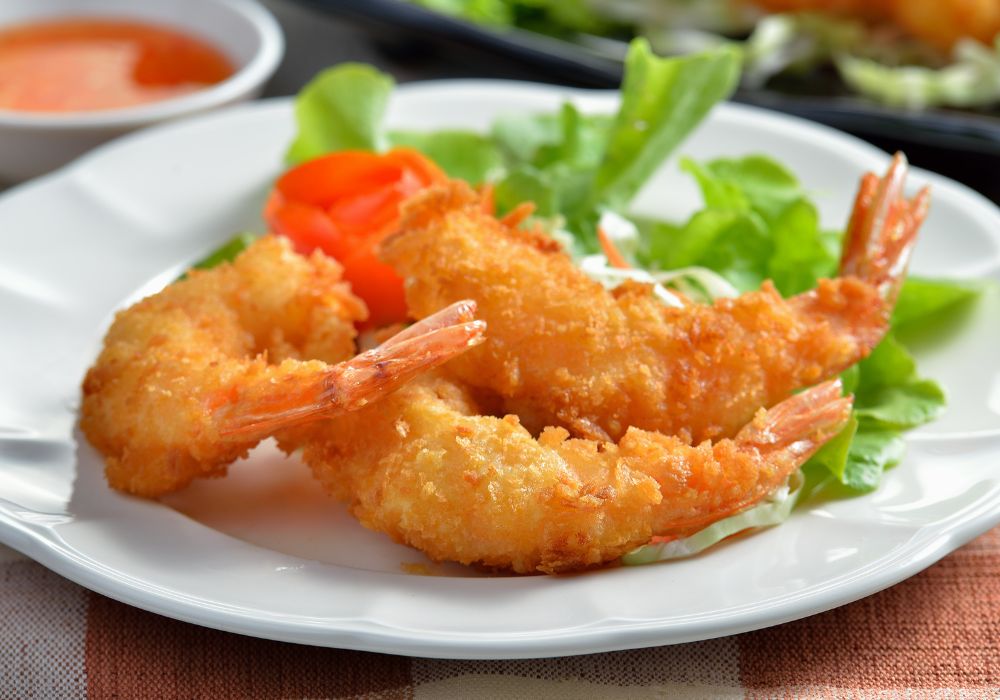 Try the delicious spiny lobsters or the pampano en escabeche, a big marinated fish that gets served whole and is considered a typical dish in Campeche.
Add to that the musicos spread over the whole Parador, and you get the unique atmosphere that I love so much in Campeche.
My favourite palapa here is El Auténtico Sabroso, for the best fried shrimps I've ever had.
☞ SEE ALSO: 10 Best Airbnbs in Campeche
Palapas Y Parador Turístico Info
Address: Palapas Y Parador Turístico
Phone: +52 981 124 5211
Operating Hours: 8.30am-8pm every day for El Auténtico Sabroso – opening hours vary per restaurant
Must-Try Meals: pampano en escabeche, pescado empanado, camarones empanijados, (deep-fried shrimps), calamari
Average Cost: $5 – $11 per dish
Website: ElAutenticoSabroso
2. Marganzo Restaurante (Best Atmosphere in Campeche)
Marganzo is probably the restaurant in Campeche and it has the coolest vibe.
It has become pretty touristy over the last few years, but it's still a good value and one of the best restaurants in Campeche.
The interior is vibrant, with colourful napkins, servers dressed in typical Mexican attire, and the occasional musical ensemble to accompany your meal.
Though it is a bit more expensive than the average restaurant in Campeche, chef David Muños serves delicious food on beautifully arranged plates.
Their parrillada de mariscos, a big platter of excellent fried fish and marinated seafood, is a must-try. It's pretty pricy, but they guarantee fresh produces.
Marganzo Restaurante Info
Address: Calle 8 267, Zona Centro, 24000 Campeche, Camp., Mexiko
Phone: +52 981 811 3899
Operating Hours: 7am-9pm Mon; 7am-10pm Tue-Thu-Sun; 8am-10pm Wed; 7am-11pm Fri-Sat
Must-Try Meals: Chilaquiles con castacán, any fish-dish
Average Cost: $5 – $7 for starters, $6 – $8 per main
Website: Marganzo on Facebook
3. Casa Vieja Del Río (Best for the Best Views on Campeche's zócalo)
Back when I was staying in Campeche, this restaurant was called Casa Vieja de Los Arcos – which was fitting since beautiful historic arches cover their terrace.
Although the name has changed, the menu remains mostly the same as before.
Casa Vieja Del Río is a restaurant you mostly choose for the spectacular view of Campeche's busiest square, the zócalo, with the majestic cathedral directly in front of you. The vibe gets particularly vivid when the night falls, and musicians fill the square below.
Inside, you can soak in an authentic Mexican style amongst old colonial furniture.
The food (Yucatán specialties) is good and comes at a fair price, but don't expect "haute cuisine". However, their grilled tuna is a delight, and the mint margarita is incredible!
Casa Vieja del Río is the perfect place for drinks accompanied by finger food in the evenings.
Casa Vieja Del Río Info
Address: Calle 10 No. 319 Altos, Zona Centro, 24000 Campeche, Mexiko
Phone: +52 981 811 8016
Operating Hours: 3.30pm-11.30pm Fri-Wed; 8pm-11.30pm Thu
Must-Try Meals: Sopa de lima with tortilla chips, mint margarita, grilled tuna
Average Cost: $5 – $15 for a main,
Website: Casa Vieja Del Río on Facebook
4. La Recova Cincuenta & Nueve (Best Steak House in Campeche)
La Recova Cincuenta & Nueve is a beautiful little restaurant with a terrace on the famous Calle 59.
Since it's a parrilla, a barbecue restaurant, they have a wide choice of local meat that's grilled à la minute and served on a piping hot grill plate. They also claim to have the best steaks in Campeche, freshly cut right at your table.
Leave some room for dessert, as the chocolate cake is one of the best you will ever taste – take my word for it.
They also have dishes to share, which is perfect if you want to try a mixture of different things without overeating.
The prices are pretty high compared to the other restaurants in Campeche, but the quality of the meat is worth it.
La Recova Cincuenta & Nueva Info
Address: Calle 59 between Calle 8 and 10, Centro Histórico, 24000 Campeche, Camp., Mexiko
Phone: +52 981 812 4127
Operating Hours: 1pm-10pm, every day
Must-Try Meals: Bondola Poc-Chuc (local pork steak in Mayan orange marinade), picaña (fillet steak), chocolate cake
Average Cost: $18 – $30 (rib eye) for the grilled meats, $20 for fish dishes
Website: La Recova on Facebook
5. Los Abuelos (Best for Authentic Mexican Food in Campeche)
Granted, Los Abuelos doesn't have the most beautiful interior, but it's located in the less touristy San Román quarter and is very popular with locals.
They are mostly known for their excellent breakfast options: eggs in all variations, produce straight from the family farm, and reasonable prices.
The must-try is their home omelet with ham, cheese, beans, and mole, (a typical Mexican cocoa-based sauce).
Add some plátanos fritos (fried plantain) and a refreshing horchata, (a kind of sweet milk made of tiger nuts), and you're all set for a full day of exploration.
Besides breakfast, they serve excellent lunches with hamburgers, chilaquiles, (fried corn tortilla pieces), or enchiladas, (filled corn tortillas covered in sauce), with mole.
Miss Gloria, the friendly hostess, will attend to your every need with a smile.
Los Abuelos Info
Address: C. Bravo 8, Barrio de San Román, 24040 Campeche, Camp., Mexiko
Phone: +52 981 144 0211
Operating Hours: 8am-5pm Mon-Thu; 8am-5pm and 8am-11pm Fri-Sun (9am on Sun)
Must-Try Meals: Omelette Los Abuelos (with ham, cheese, and mole sauce), huevos a la granja, (eggs with tortilla chips)
Average Cost: $2 – $4 for delicious egg breakfasts, $3.50 – $4.50 for a homemade hamburger
Website: Los Abuelos on Facebook
6. Luan (Best Breakfast in Campeche)
This breakfast cafe is next to the popular Calle 59, which means there will most likely be a lot of people waiting in line – once you're served, you'll see why!
This lovely little place with its black and white checkered floors serves breakfast croissant sandwiches, different kinds of chilaquiles, fresh fruit, and homemade cakes.
Accompanied by a fresh smoothie, or your choice out of a wide range of coffee and teas, it's the perfect place to start your day right.
They also have lunch options such as pizza or molletes, a Mexican sandwich often served with cheese and beans – authentic Mexican dishes with a touch of Italian influences.
Top it off with their pancakes with chocolate and banana – debatably sinful but so good…
Luan is one of the few breakfast restaurants in Campeche with vegetarian and gluten-free options. They even know about cross-contamination for the coeliacs among us.
Get there early as the seating is limited and it's quite popular, (especially amongst tourists).
☞ SEE ALSO: 35 Best Places to Visit in Mexico
Luan Info
Address: C. 59 35, Zona Centro, 24000 Campeche, Camp., Mexiko
Phone: +52 981 811 5205
Operating Hours: 8am-10pm Wed-Mon; 8am-3pm Tue
Must-Try Meals: Quesadillas de María, the Nutella frappe, mollete with chorizo and cheese
Average Cost: $6 – $8 for an egg breakfast, $6 – $11 for mains, $1.20 – $2.10 for the big coffees
Website: CafeLuan on Facebook
7. Chocol´Ha (Best Chocolate in Campeche)
Inside a beautiful little historical house, Chocol´Ha is heaven for chocolate lovers.
It is one of my absolute favourite places in Campeche. They serve the best hot chocolate, (with chilli – truly Mexican!), light lunches, and delicious pastries.
Even the decoration is unique, with old sewing machines dotted all over the place.
Chocol´Ha is the best place for a quick afternoon break and to do some souvenir shopping in the form of the best chocolate Campeche offers.
Try their homemade spinach quiche or some yummy tamales with red sauce for something savoury. For your sweet tooth fix, the crepes and the carrot cake are sublime.
Chocol´Ha Info
Address: C. 59 30, Zona Centro, 24000 Campeche, Camp., Mexiko
Phone: +52 981 130 6329
Operating Hours: 8am-9pm, Mon-Sat
Must-Try Meals: Hot chocolate with chilli, carrot, and chocolate cake, chocolate tamales
Average Cost: $1,50 – $4 for a light lunch, $4 for a crepe, and about $3 for other desserts
Website: ChocolHa.mx
8. Origen (Best Coffee Shop in Campeche)
The best coffee in Campeche is undoubtedly found at Origen: family-owned, they source and roast their very own coffee!
With that, they make excellent frappes, sublime pastries, and the best flat white in town.
Add to that homemade cakes, muesli with fresh fruit, delicious brioche sandwiches with eggs, and an eco-friendly mindset, (recycled cups and metal straws), and it's the perfect combo.
Try the 100% vegan focaccia and check them out on Facebook, as they regularly offer a coffee tasting where you can learn everything there is to know about coffee farming, roasting, and brewing.
It's a bit more expensive than average but totally worth it.
Origen Info
Address: 24000 centro historico, 24000 Campeche, Camp., Mexico
Phone: +52 961 659 6141
Operating Hours: 8am-10pm, Wed-Mon (closed on Tue)
Must-Try Meals: the vegan Focaccia, the black honey espresso, the brioche breakfast sandwich with scrambled eggs
Average Cost: $4 for a frappe, $2 for regular coffee
Website: Origen on Facebook
9. Trancas Y Tacos "El Cirujano" (Best Foodtruck in Campeche)
There is no other way to describe El Cirujano other than the best taco food truck in Campeche.
They serve great food at a small price and pour their heart and soul into everything they offer.
The pico de gallo accompanying the delicious carnitas tacos with caramelized red onions is always fresh and tasty.
If you prefer to sit over standing, they have a few tables outside.
It's fast, clean, and cheap, but it's also trendy among locals so be prepared to queue. Even though we're a bit off the tourist zone, the wait is well worth it.
They only open in the evenings until the middle of the night.
Trancas Y Tacos "El Cirujano" Info
Address: Av República 177, Barrio de Sta Ana, 24050 Campeche, Camp., Mexico
Phone: +52 981 129 1465
Operating Hours: 7pm-2am, Sun-Thu; 7pm-3am Fri-Sat
Must-Try Meals: Tacos!
Average Cost: $2 per taco
Website: El Cirujano on Facebook
10. La Palapa Del Tío Fito (Best Sea View in Campeche)
La Palapa Del Tío Fito is where locals like to get together, especially when a crucial match in the Mexican soccer league is going on: be aware that there's no chance of escaping the TV sounds, but the energy is electric!
The views on the seafront are unique, and you should call beforehand to be sure to get one of the best tables. The best ones are located on the terrace: great views and quieter than inside the restaurant.
This is also the best spot for a sunset dinner.
They serve a regional cuisine that's reasonably priced, as well as lots of fish and seafood, (slightly more expensive).
I also liked coming here to sip a refreshing drink in-between excursions in the afternoon.
La Palapa Del Tío Fito Info
Address: Av. Resurgimiento 127, Lazareto, 24044 Campeche, Camp., Mexiko
Phone: +52 981 816 5918
Operating Hours: 9am-8pm Sun-Thu; 9am-9.30pm Fri-Sat
Must-Try Meals: Chowder stuffed fish, marinated craw-fish a la plancha, marinated snails
Average Cost: $4 – $11 for starters (those with fish are the most expensive), $10 – $15 for regional specialties as a main, $5 for desserts
Website: LaPalapaDelTioFito.com
11. El Bastión De Campeche (Best for Light Lunch in Campeche)
El Bastión de Campeche isn't your typical fancy dinner restaurant. Instead, they serve small, simple, savoury dishes without fuss.
It's a good address for breakfast, (eggs in all variations), or a light lunch while exploring the city.
During my travels in Mexico, one of my go-to dishes was cochinita pibil, (stewed pork with onions inside of a tortilla), and the one served at El Bastión is sublime.
Again: don't expect beautifully decorated plates or elegant creations. What matters here is the taste of the food and the friendliness of the owners.
El Bastión de Campeche Info
Address: C. 57 2A, Zona Centro, 24000 Campeche, Camp., Mexiko
Phone: +52 981 816 2128
Operating Hours: 7am-10pm, every day
Must-Try Meals: Panuchos de cochinita pibil, the Campechano breakfast, eggs in all kinds of variations
Average Cost: $3-$5 for full breakfasts, $3-$4 for egg dishes, and about $6 for lunches like tacos and enchiladas
Website: ElBastion.mx
12. La Pigua (Best for Fish and Seafood in Campeche)
La Pigua is undoubtedly one of Campeche's best, (but also more expensive), fish and seafood restaurants.
The restaurant area has huge window panes on either side, looking out onto beautiful rockeries and little garden oases.
You'll find hardly anything other than fish and seafood on the menu, but their dishes are served in all the ways you could imagine; filleted with garlic, a la plancha, in a mustard marinade, and many more variations.
The exquisite dishes show off refined cuisine and impressively presented plates.
The pampano, the local fish I mentioned earlier, is served whole and cooked differently; from fried, over-crusted, to poc-chuc, (in a Mayan orange marinade).
Don't overeat, as their homemade coconut cake, (family recipe), from their relatively small desert menu, is truly fantastic.
La Pigua Info
Address: Av. Miguel Alemán 179-A, Guadalupe, Barrio de Guadalupe, 24010 Campeche, Camp., Mexiko
Phone: +52 981 160 1684
Operating Hours: 12pm-10pm, every day
Must-Try Meals: octopus (in its ink), pampano, Sir Francis squid
Average Cost: $9 – $13 for entrees, $12 – 18 for fish and seafood main courses, $6 – $7 for desserts
Website: LaPigua.com.mx
13. La Scatolla 59 (Best Italian Restaurant in Campeche)
Expect a vast menu, just like in most Italian restaurants: an extensive choice of antipasti, pizza that comes in three sizes, pasta, and dessert.
They have a few meat dishes like steak and fajitas, but that's not personally why I'd visit an Italian.
The coffee is good, and the tiramisu is the best!
Try the pasta with salmon, or the delicious pizza Alfredo, and enjoy the excellent music that plays in the background.
Either sit on the terrace or, even better, try to score one of the tables on the balcony.
They only use quality ingredients and serve good wine and cocktails as well.
La Scatolla 59 Info
Address: C. 59 160, Zona Centro, 24000 Campeche, Camp., Mexico
Phone: +52 981 811 0010
Operating Hours: 1pm-1am, Sun-Tue; 7am-1am, Wed; 1pm-11pm, Thu; 1pm-11pm, Fri-Sat
Must-Try Meals: pasta with salmon, pizza alfredo, lasagna
Average Cost: $3 – $13 starters, $6.50 – $9 for pasta dishes, about $10 for a big pizza
Website: Scatolla59.mx
14. Churrería El Jarocho (Best Churros in Campeche)
You can't really go wrong with churros, providing you use fresh ingredients for the dough, and the right combination of cinnamon and sugar.
Churros are among my absolute favourite snacks – no matter what time of the day – and Churrería El Jarocho, a simple-looking food truck on Campeche's Malecón, (the seafront boulevard – there's another one downtown), meets all the requirements.
If churros aren't your thing and you're instead craving a savoury snack, they also have excellent salty plantain fries.
The perfect break during a day of sightseeing if you ask me.
Churrería El Jarocho Info
Address: Pedro Sainz de Baranda 187, Área Ah, 24028 Campeche, Camp., Mexico
Phone: +52 981 210 5205
Operating Hours: 4pm-11pm, Tue-Sun (closed on Mon)
Must-Try Meals: plain churros, stuffed churros, plantain fries
Average Cost: 2$ for a 5, $2.50 for 7, and $5 for 16 churros
Website: No website
15. Artehelado Malecón (Best Ice Cream in Campeche)
The looks alone are worth a visit: an artistic and vintage-looking converted container front right by the sea.
You can choose to have your ice cream inside or while enjoying the light breeze in one of the comfy lounge chairs outside, and for those travelling with kids, there's a playground right next to it.
They regularly change the flavours, but they all have a rich, creamy texture. Try the tangerine or watermelon peppermint; they are so refreshing.
Artehelado serves excellent coffee and has other shops in Ciudad del Carmen and Mérida.
Artehelado Malecón Info
Address: Av. Resurgimiento, Montecristo, 24044 Campeche, Camp., Mexico
Phone: +52 981 811 7069
Operating Hours: 12pm-9.30pm, Mon-Thu; 12pm-10pm, Fri-Sun
Must-Try Meals: Dulce de leche ice cream, waffle with cookie ice cream, macarons with ice cream filling
Average Cost: $1.50 mini scoop, $2.25 single scoop, $3.40 double scoop, or $11 for 32oz if you can't get enough
Website: Artehelado.com.mx
Must-Try Meals in Campeche
Here are some of the must-tries in Campeche. Even if they're not to your usual taste, I recommend you try them at least once…
Pampano
This typical Campechano fish is served whole, fried, in breadcrumbs, or marinated and grilled.
Pan de cazón
A lasagna made with tortillas, filled with shark meat, (dogfish shark), and black beans.
Chilaquiles
Fried corn tortilla pieces are served as breakfast, usually with a bean paste, cheese, and eggs.
Poc chuc
Pork in a sour orange marinade – a typically Mayan dish.
Octopus
Almost every better fish restaurant serves this, generally in its own ink.
FAQs About Campeche Restaurants
Here are some of the most common questions people ask regarding restaurants in Campeche.
What are the best restaurants in Campeche?
The Parador Turístico and Marganzo are the best restaurants in Campeche. I personally have a weakness for Chocol´Ha.
What time is dinner in Campeche?
Campechanos are late eaters: 9pm is the earliest.
What time is lunch in Campeche?
Lunch is usually from 2pm – 3pm, but as Campeche is quite touristy, restaurants often open at noon.
What time is breakfast in Campeche?
Breakfast never starts before 9am – and that's still early!
Do you tip in Campeche?
Yes, 15% is excellent average tipping in Campeche.
What neighbourhood has the best restaurants in Campeche?
You will find the best places along the malecón, (the seafront), or Calle 59.
Where should I stay in Campeche?
The best area to stay in is the zona centro, close to the cathedral, the zócalo, and the famous Calle 59. Check out this beautiful World Heritage house that sleeps up to 4 people; complete with pool and bicycles to help you get around.
To Summarize
If I could go back to Campeche to spend a day eating, I would start with an excellent flat white at Origen. I would then choose a light lunch to enjoy whilst chatting with Gloria at Los Abuelos, and head home for a siesta.
Once suitably rested, I'd grab an ice-cream-filled macaron at Artelehado, stroll along the Malecón, and get ready for dinner at Marganzo to finish the day.
Campeche makes it hard to choose as, despite being a relatively small city, the variety of restaurants and types of cuisine is enormous.
Don't just focus on the sightseeing; experience Campeche through its food scene as well.
Like This Article? Pin it!