What's great about the best restaurants in Limassol is that you have lots of different cuisines to choose from. While some of the best food in Limassol is the local cuisine, there are also some fantastic Asian and Italian restaurants too. It's a foodie's heaven.
I spent three months based in this beautiful coastal city and fell in love with the friendly local people, the relaxed way of life, and of course, the tasty Cypriot cuisine. I can't wait to go back.
If you're wondering where to eat in Limassol, I've put together a list of my top restaurants to give you a starting point. You'll definitely not be disappointed with the food offered – it's absolutely fantastic.
Here are the 15 best places to eat in Limassol, Cyprus.
Top 15 Best Restaurants in Limassol
After 3 entire months of living in and eating my way around Limassol, I've narrowed down dozens of different restaurants into this list of my favorites based on food, service, location, value for money and customer reviews (so it's not just my opinion).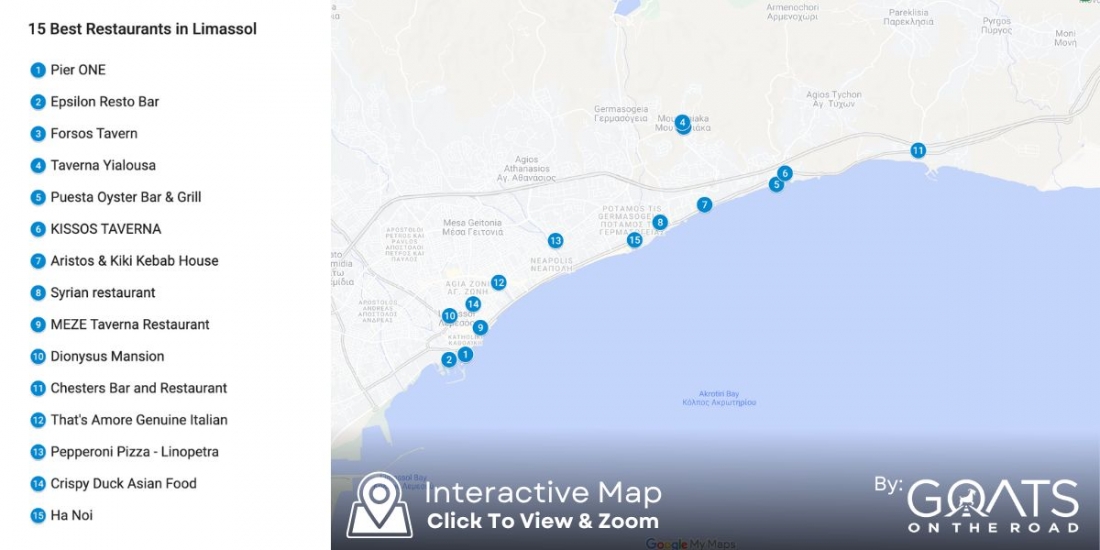 1. Pier One (Best Place to Eat in Limassol for Breakfast with a View)
The best thing about Pier One has to be its location. It's situated on an elevated pier above the sea which provides the best views over the ocean whilst you're dining.
For this reason, it's one of the best restaurants in Limassol by the sea. Visit in the evening for a view of Molos (the promenade and park) all lit up, and soak in the sites of the entire stretch of Limassol. Or, visit in the morning and grab a coffee or breakfast in view of the bright blue sea.
I love their breakfast menu, which is served until 12.30 pm. It has superb sweet and savoury choices, and a variety of other options such as French brioche toast, and avocado with poached eggs. My favourite is the scrambled eggs which cost around €9.
They also have a vast sushi menu, as well as burgers, salads, and pasta, so you'll find something to eat no matter the time of day.
Pier One is a popular choice because of the fantastic view. I would definitely recommend booking a table by the windows in advance.
☞ SEE ALSO: Best Things to Do in Limassol, Cyprus
2. Epsilon Resto Bar (Top Place to Eat in Limassol Marina)
Epsilon is one of the best restaurants in Limassol Marina (the New Marina). It has a really interesting menu described as "international fusion" cuisine.
The menu features a great selection of sushi dishes which are super fresh and tasty. There are also some great fish, pasta, and salad options available for those looking for something more substantial.
Epsilon also has a great brunch menu, although this is only available at weekends. I recommend ordering from the Eggs Menu as everything is divine!
Epsilon is based in the New Marina and has a beautiful veranda, but also a cosy interior for the evening. It's one of the more romantic restaurants in Limassol and has an extensive cocktail and wine list – perfect for a date night.
Epsilon is one of the most popular options for fine dining in Limassol; you should reserve a table in advance, particularly at weekends and in the high season.
☞ SEE ALSO: 25 Best Places to Visit in Cyprus
3. Taverna Forsos (Best Restaurant for Traditional Meze)
A short drive from the coast, in the suburb of Mouttagiaka, is this lovely taverna called Forsos, which is one of the best restaurants in Limassol for traditional cuisine.
You'll need to drive, or hire a taxi as it's a bit far to walk, but it's definitely worth a visit. Although it's based in a residential area, inside you're greeted by trendy interiors and a stunning outdoor terrace. It has an upmarket feeling compared to other tavernas in Limassol.
Order a mixed meze to sample some of the best Limassol food. This includes sheftalia, (pork and lamb sausages), souvlaki, (meat grilled on skewers), and Cypriot rice, (bulgur wheat flavoured with garlic, onion and tomato).
As with most tavernas, you won't be short of tzatziki, taramasalata, and bread to nibble on. As it's located outside of the tourist area, the prices are lower, but the quality isn't compromised. Meze is also great value as you get a lot of food for around €20; make sure you go with an appetite.
4. Taverna Yialousa (Best Restaurant for Authentic Dining)
In the same neighbourhood as Forsos is Taverna Yialousa. In comparison to Forsos, it has a much more traditional feeling to it. The indoor area is fairly ordinary but the outside is the complete opposite, filled with tables dressed in lovely tartan tablecloths under a canopy of grapevines.
My favourite thing to do is order like the locals by getting a selection of different plates for the table. This way you can try a bit of everything. The food is excellent and the pasta, which is similar to a halloumi ravioli, is perfect.
It's the perfect place to sample Limassol food at a reasonable price in a sweet and authentic atmosphere. It's around €20 per person for a group, depending on how many plates you order.
5. Puesta Oyster Bar and Grill (Best Restaurant in Limassol by the Sea)
Puesta is located in the tourist area in Agios Tychon, and has an enviable position right on the beach. It's one of the best restaurants in Limassol, not just for its incredible oyster selection and seafood, but for its beautiful location and great cocktail list.
Because of this, it's a little pricier than some other seafood restaurants, with a plate of six oysters costing between €20-25. It's certainly worth that little extra to enjoy your meal whilst listening to the waves.
The majority of the restaurant is outdoors, so you'll get the perfect al fresco dining experience under the stars, making it one of the most romantic restaurants in Limassol for sure.
I definitely recommend booking here. Being one of the best restaurants in Limassol by the sea, it does get busy. Even in the low season, I was unable to get a table in the evening without a booking so make sure you book in advance to avoid disappointment.
☞ SEE ALSO: 15 Best Things To Do in Paphos
6. Taverna Kissos (Best Restaurant in Limassol for Fish Meze)
Taverna Kissos is a fish restaurant also in the tourist area. It's based on the main beach road so doesn't have the views or the same atmosphere that Puesta has. However, for the same quality, it's a little more affordable.
Whilst it doesn't have a sea view, it's an immersive and quaint restaurant with lots of greenery and trees which makes it feel like you're eating outside. The cobbled stone floors and kitsch colourful chairs and tables create a relaxing ambience.
The food is fantastic. I recommend the fish meze here so you can sample a variety of seafood including some delicious octopus and squid. The moussaka is also spectacular.
7. Aristos & Kikis Kebab House (Best For a Tasty Lunch)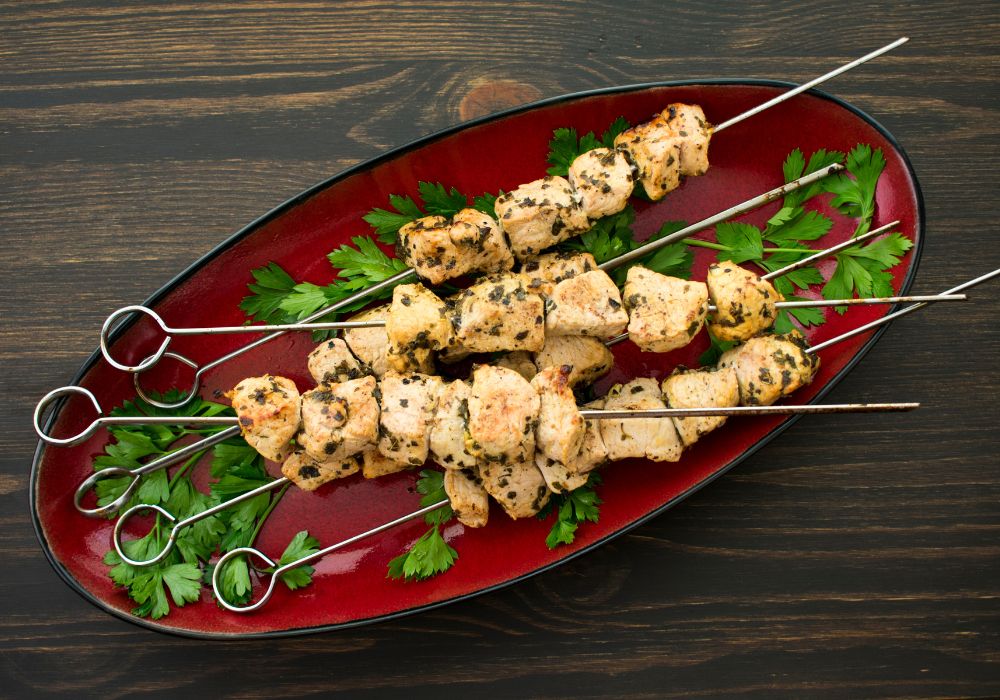 Aristos & Kikis Kebab House is an unassuming restaurant and is one of the best places to eat in Limassol for a tasty, budget meal. Eating out in Limassol can be expensive, but at Aristos & Kikis, you get great value with their large portions.
This is certainly not fine dining in Limassol, but you will get fresh food served quickly and inexpensively. The restaurant isn't fancy at all with plastic chairs and tables, and a takeaway counter next door, but don't be put off, the food is incredible.
I recommend the chicken or pork souvlaki, or the halloumi for vegetarians, which will cost under €10. These are all cooked fresh and are super filling. You can choose how many skewers of meat or cheese you want alongside a serving of pita bread and salad.
It's a great place to go for a quick and relaxing bite after the beach, or for lunch. You don't have to dress up, it's great value, and serves the best local Limassol food. It's a total local gem.
8. Syrian Restaurant Limassol (Best for Middle Eastern Inspired Meze)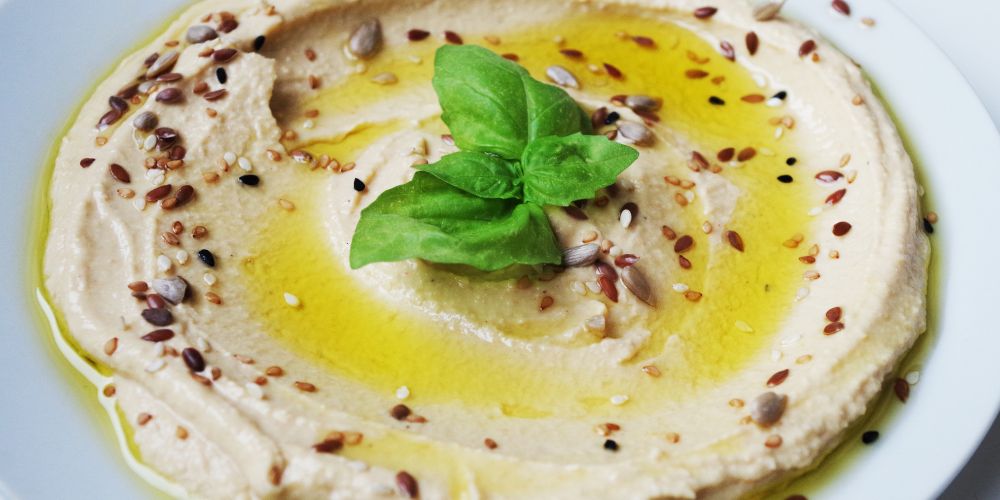 Syrian Restaurant is one of the best restaurants in Limassol for meze, complete with a Middle Eastern twist.
The excitement starts from outside. It has an extravagant frontage which looks like a temple from a film set. It's quite impressive, especially when it's lit up at night.
There's lots of seating both indoors and outdoors, but I recommend sitting outside where it feels more authentic. The tables are under vine leaves and grapes which feels really romantic.
Syrian Restaurant serves modern Lebanese and Syrian food. The menu is plentiful and has lots of small dishes, as well as traditional main dishes on offer. If you're looking for both quality and value, then you should order the meze which costs around €18-20.
Various dips and salads, along with lots of different meat, cheese, and vegetarian small plates are brought to the table in various stages. Everything is delicious at the Syrian Restaurant. It's one of my favourite places to eat in Limassol.
9. Meze Taverna Restaurant (The Best Limassol Old Town Restaurant)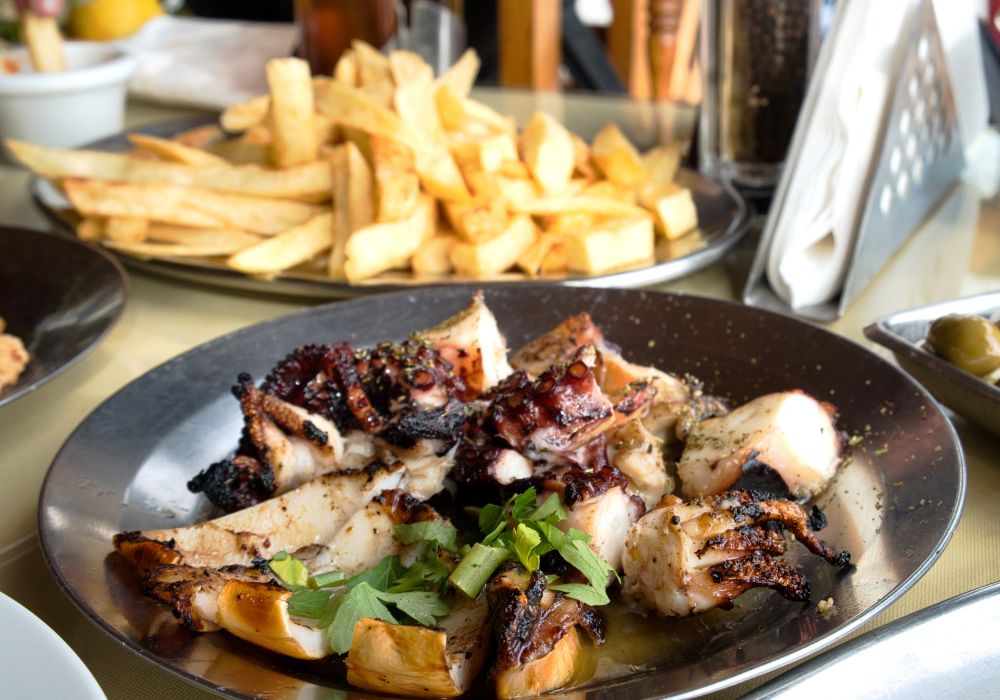 Nestled in the Old Town in Limassol is Meze Taverna, a gem of a local restaurant. In my view, this is one of the best Limassol Old Town restaurants and is hugely popular with locals and tourists alike.
Meze Taverna is a small and intimate restaurant with a few tables inside and around 5 tables on the street outside.
If you're lucky enough to grab an outside table then you have the perfect vantage point to watch the world go by in Old Town as you dine. I recommend booking in advance.
They offer a full range of homemade Cypriot delights, but as the name suggests, their speciality is meze. They're all great but I particularly liked the fish meze.
If you choose a meze, make sure you bring your appetite with you. Expect to be satisfied with around 10 dishes of salads and dips, grilled fish, and marinated seafood. You certainly won't be leaving hungry.
For me, this is some of the best food in Cyprus, particularly for a traditional, authentic feel within Limassol itself.
10. Dionysus Mansion (Best for Date Night or a Special Occasion)
If you're looking for romantic restaurants in Limassol then look no further than Dionysus Mansion in Limassol Old Town.
From the outside, this restaurant looks like a traditional Cypriot house. Head through into the beautiful garden to the rear of the restaurant, and you'll find the real selling point. Out here you'll find a softly lit, intimate setting under the trees which creates a beautiful and romantic setting.
The menu certainly matches the ambience, and perfectly blends authentic cuisine with fine dining in Limassol.
There are a lot of dishes to choose from, ranging from traditional starters such as stuffed vine leaves and juicy scallops. For the main course, I recommend the tuna steaks and beef cheeks washed down with some delicious local wine.
Dionysus Mansion is based in a beautiful setting and has some of the best food in Limassol. It's perfect for a treat meal and is one of the best restaurants in Limassol. I recommend booking in advance.
11. Chesters Limassol (Best Restaurant for Pub Food)
Chesters started out as an English-style pub back in the 1990s but since then, it has become so much more. This place is now a Limassol institution; combining a modern pub setting with great food.
The restaurant has expanded over the years as its popularity has grown. I recommend booking for larger groups but otherwise, you should find a table on one of its three floors.
As you may expect from a gastro-pub style venue, the menu is varied. It's a great place for groups or families as there's a huge range of salads and pizzas, grilled meats, and fish to choose from.
If you're a meat eater, I definitely recommend the Mongolian pork chop. It's an enormous portion, (nothing like the pork chops I'm used to at home). It's perfectly cooked and deliciously seasoned, and one of the most popular items on the menu for good reason.
As well as food, Chester has a great drinks list. It offers shisha, and shows most sports on one of its many screens. It has everything you could wish from a pub and more.
12. That's Amore Genuine Italian (Best Italian Restaurant in Limassol)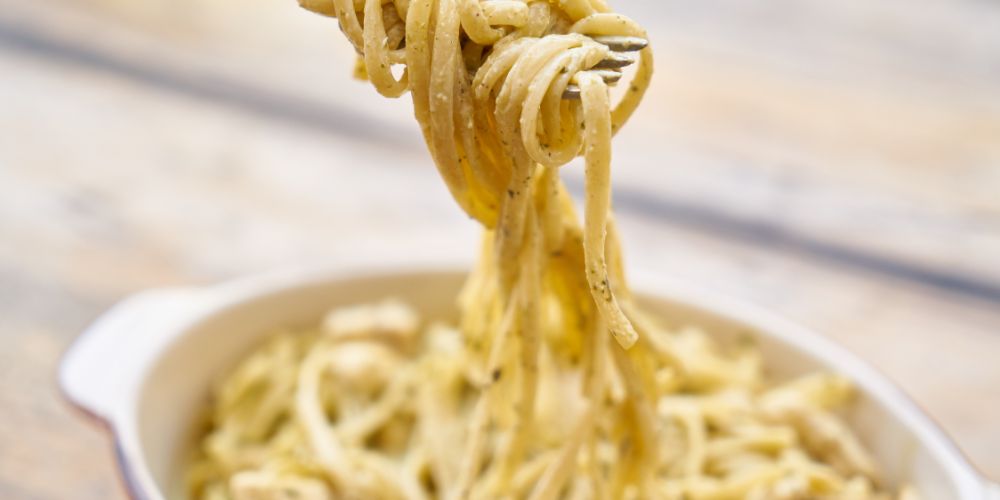 That's Amore is one of the most popular Italian restaurants in Limassol thanks to its huge range of Italian specialties, and its seasonal specials.
This excellent restaurant is located in the heart of Limassol, not too far from the beach road. It's a quaint, intimate restaurant with only a few tables, and so you could easily walk past it without noticing. Given its size, make sure you book ahead so as not to miss out, especially for dinner.
The menu features an impressive range of unique and interesting Italian dishes that separate That's Amore from the rest. The ravioli is excellent, as is the impressive range of vegetarian options.
They offer a special menu each week which is fantastic. If it's on the specials menu when you visit, I highly recommend the swordfish.
For a true taste of Italy, this is one of the best places to eat in Limassol.
13. Pepperoni Pizza (Best Pizza in Limassol)
For some of the best pizza in town, look no further than Pepperoni Pizza, another of the fantastic Italian restaurants in Limassol.
Despite its name, Pepperoni serves up much more than just pizzas. With great salads, pasta, fish, and meat dishes, there's something for everyone here. They try to offer healthy options too, so there are lots of great alternatives to the usual carb-heavy Italian menu.
That being said, the pizzas shouldn't be overlooked – they're excellent. The pizza dough is made fresh and all of the ingredients are locally sourced. There are over 30 pizzas to choose from, and if that isn't enough, then you can build your own.
The restaurant itself is casual and relaxed. It's perfect for groups or for families and has a play area in the garden for kids. I recommend booking ahead of time if you want to visit on a weekend, or during the peak season.
14. Crispy Duck (Best Takeaway Option)
Crispy Duck is definitely one of the best Asian restaurants in Limassol, specializing in Chinese and Japanese cuisine.
It's located away from the coast, in the centre of Limassol. You can choose to 'eat in', either inside the restaurant or in their covered outdoor area, or take advantage of their takeaway and delivery service for those days when you want a quick and easy meal at your apartment.
The restaurant itself is rather unassuming from the outside, but don't be fooled! You're guaranteed a great meal at a good price at Crispy Duck.
It's one of the most affordable options for Asian food in Limassol, and the food is always fresh and beautifully presented. I recommend the beef noodles, Beijing duck, and crispy duck rolls. A main course dish will cost around €8.
15. Ha Noi (Best Asian Restaurant)
Another one of the best Asian restaurants in Limassol is Ha Noi, which specializes in Vietnamese food. It's located on the main beach road, which can be a little noisy so I recommend sitting inside.
The food is fresh, flavourful, and authentic. It's also very reasonably priced considering it's the only place that serves authentic Vietnamese food in Limassol.
It's one of my favourite places to eat in Limassol for something a bit different to the local dishes. The entire menu is incredible but my favourites are the Pho Bo, (beef and rice noodle soup), the sweet and sour shrimp, and the pad thai.
The service is also fantastic at Ha Noi, with friendly, welcoming, and helpful staff on hand to help you with the menu if you need it.
☞ SEE ALSO: Best Airbnbs in Limassol, Cyprus
FAQs About the Best Limassol Restaurants
Still have some questions about where to eat in Limassol? Read on for answers to some frequently asked questions.
What are the most popular restaurants in Limassol City?
Some of the most popular places to eat in Limassol are Puesta Oyster Bar and Grill, Epsilon Resto Bar, and Dionysus Mansion. For where to eat in Limassol for breakfast, check out Pier One.
What are the best restaurants in Limassol City that deliver?
For delivery, try Crispy Duck or Pepperoni Pizza.
What is the most famous food in Cyprus?
Cypriot cuisine is a mix of Middle Eastern, Mediterranean, and other influences, so famous foods include souvlaki, pita bread, and olives. One of the most famous native foods is halloumi cheese, which is often fried. One of the best Limassol restaurants that serves halloumi is Aristos & Kikis Kebab House.
What time do Cypriots eat dinner?
In Cyprus, dinner is usually served from 7:00 pm until late evening.
What time do Cypriots eat breakfast?
People in Cyprus usually eat breakfast between 7 and 10 in the morning.
Now You Know Where to Eat in Limassol
These are just a few of the best restaurants in Limassol that I tried during my stay. I ate at many others which were also spectacular so your taste buds are in for a treat on your trip to Limassol.
There's such a great range of cuisine available in Limassol, and a huge variety of places to eat, making Limassol a great destination for digital nomads, expats, or those staying long-term.
Whether you want to sample some amazing seafood, traditional local cuisine, or flavours from around the world, you'll find it all in Limassol. I hope this helps you decide where to eat in Limassol… let's eat!
Like This Article? Pin It!