Mexico City has fantastic nightlife and a number of excellent bars to visit. In this article, I'll introduce you to some of the best rooftop bars in Mexico City.
With stunning views of the skyline, these bars are perfect for enjoying a drink or two, whether during the day, before dinner, or as part of a fun night out on the town.
10 Best Rooftop Bars in Mexico City
Many of the best rooftops in Mexico City are found in the Centro Histórico, (i.e. Historical Centre). This is where some of the city's most recognizable landmarks are and so it's no surprise that it's also home to some of the city's most iconic views.
I spent a month living in Mexico City and really enjoyed my stay. Days were spent working, with evenings spent enjoying the fantastic restaurants and visiting many of the best bars with views!
In recent years, a number of other excellent places have emerged across alternative and trendy areas of the city; a few of these have also been included below.
1. Nivel 40 SkyBar – Best Bar for Panoramic 360-Degree Views of CDMX
First off, Nivel 40 SkyBar really does have the wow factor! Located on the 40th floor of the Torre Latinoamericana – one of Mexico City's most recognisable landmarks – this bar offers some of the best views in the whole city.
Rising from the busy streets of the Centro Histórico, this iconic skyscraper was built between 1949-56 and stands at a height of 182 metres.
You would usually have to pay to visit the Torre Latinoamericana's viewing deck, but entrance to the building is free if you're visiting the bar.
This is one of the best places to visit in Mexico City, so you may as well check two things off your list – sipping on a cocktail and visiting the building.
Nivel 40 is open from 1pm – 10pm, Monday – Thursday, and from 1pm – 11pm, Friday – Sunday. The lighting inside is superb, and large floor-to-ceiling windows give you unobstructed views of the Zócalo, the Metropolitan Cathedral, and the Palacio de Bellas Artes.
On a clear day, you can see the entire city from up here, with a 360-degree view that's simply world class. It's especially amazing at sunset, when you can watch the sun set behind the volcanoes that surround CDMX.
As you'd expect, the drinks menu is a little pricey – for Mexico at least. Cocktails range from 160 – 200 Mexican pesos, (around $8-10 USD), but you're largely paying for the view.
This alone is what makes this one of the best rooftop bars in Mexico City, although there is a decent range of cocktails, beer, wine and spirits available to sip on whilst you take in the sights too.
There's also a small selection of food if you get peckish. Or you can also enjoy a luxurious meal in the Miralto restaurant on the floor above. Reservations are recommended for the restaurant, but not usually necessary for the bar.
☞ SEE ALSO: 15 Best Airbnb Stays in Mexico City
2. Aleli – Best Rooftop Bar for Draft Beer Lovers
Aleli is a great rooftop bar in Roma Norte, one of the trendiest neighbourhoods in Mexico City. It's located on Sinaloa, a leafy and tranquil street, two blocks away from Sevilla metro station.
Built on the roof of a beautiful house, the staff here serve a good range of creative cocktails, and fantastic draft beer.
In fact, if you're a fan of draft beer, I would definitely recommend coming here and trying some of their selection. If you're struggling to choose, or you'd like to try several beers, I recommend ordering the beer flight!
The wine list is pretty good too, with something for all tastes. Prices are fair, and you'll find a decent selection of wines for less than 500 MXN, ($25 USD) per bottle.
Service at Aleli is friendly and attentive, and the atmosphere is relaxed and casual.
They also have a restaurant on the roof, serving delicious fresh food, expertly prepared with a Mexican twist. They bake their own bread, and trust me, their famous "roasted" cheesecake, (145 MXN / $7 USD), is to die for…
It's open Tuesday – Sunday and closed on Mondays.
☞ SEE ALSO: 10 Best Day Trips From Mexico City
3. La Azotea – One of My Favourite Rooftop Bars in Mexico City
La Azotea is situated right next to Alameda Central, the oldest municipal park in Mexico City, in the heart of the Centro Histórico. From the terrace you have fantastic views of the park, and can (just) see across to the Palacio de Bellas Artes.
This rooftop bar is open throughout the day, and is a popular spot among locals and tourists alike. It's connected to Chaya B&B, a boutique hotel, but is open to members of the public as well as guests of the hotel.
They have a fantastic selection of craft beers as well as a small food menu. But the standout offerings are their delicious, sophisticated cocktails. Prices here are very reasonable too, with most cocktails only costing around 100-140 pesos ($5-7 USD).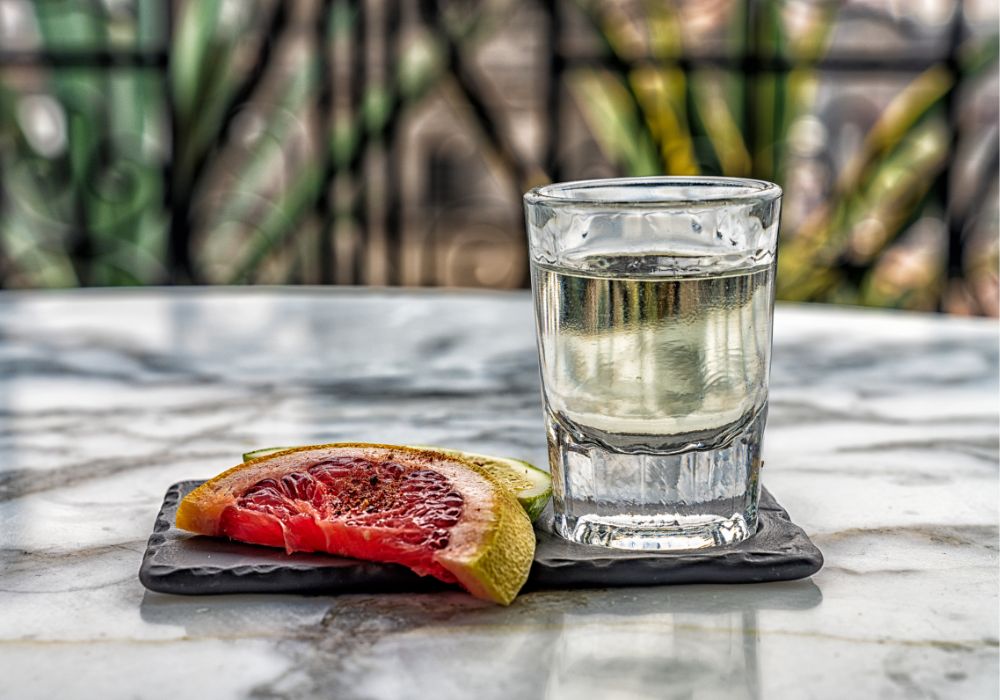 As well as the classics, they have a number of inventive concoctions made using traditional Mexican ingredients, such as ancho chillies, hibiscus flowers, various tropical fruits, and (of course) mezcal.
Mezcal is one of my top choices when it comes to cocktails, and the drinks here are mixed to perfection.
The menu changes all the time, so even if you've been here before, you can try something new each time you visit.
This is a great place to come during the daytime, to take a break during a long afternoon of sightseeing, or for a pre-dinner drink.
Don't miss this highly rated experience in Mexico City which takes you to 3 top bars in the city!
4. La Terraza del Gran Hotel Ciudad de México – Best Place for Architecture and Old-fashioned Opulence
If you're looking for a good rooftop bar in the Zócalo, check out La Terraza, on Avenida 16 de Septiembre.
This is the open-air rooftop bar and restaurant of the Gran Hotel Ciudad de México, and is another of the best rooftop bars in Mexico City. With stunning views of the city skyline, it's a perfect place to enjoy a cocktail or two whilst taking in another gorgeous Mexican view.
From here, you can enjoy panoramic views across the Zócalo to the Metropolitan Cathedral and beyond. It's one of the best vantage points in the Centro Histórico of Mexico City.
You can have dinner here too, with seasonal menus full of delicious dishes and haute cuisine. They also do brunch on the terrace on Saturdays and Sundays from 9am – 3pm, (550 MXN per person, excluding drinks).
On your way up to the rooftop, it's also well worth having a look around the Gran Hotel Ciudad de Mexico, housed inside a stunning Art Nouveau building.
Everything about this place is luxurious and opulent, from the plush carpets and intricate stained glass ceiling in the cavernous lobby, to the traditional gilded cage elevators.
☞ SEE ALSO: Guide to Getting from the Mexico City Airport to downtown
5. La Casa de las Sirenas – Best Rooftop Bar in Mexico City for History Buffs
La Casa de las Sirenas is another fantastic rooftop bar in the Centro Histórico. The terrace housing this bar dates from 1754!
Located on Calle República de Guatemala, you can enjoy wonderful views across to the Zócalo, Metropolitan Cathedral, and the Templo Mayor from here.
History fans will be particularly interested in the Templo Mayor, the remains of the main temple of Tenochtitlan and the capital city of the Mexica, (or "Aztec") people. At night, these landmarks are lit up, and the sight from this terrace is simply wonderful.
The bar itself has one of the largest selections of tequilas I've ever seen. Apparently they have over 250 different types! Most cost between 100-200 MXN, (5-10 USD), per 60ml serving, but there are also some rare and top-quality options available that cost several times this amount.
There's a decent wine list, but the standout drink here for me was a cocktail made from tamarind and mezcal. Bitter-sweet, rich, smokey, complex, and utterly delicious.
There's also an on-site restaurant which serves tasty local specialities. Ask to be seated on the terrace, (the downstairs bit doesn't offer the same outstanding views).
6. Terraza Cha Cha Chá – One of the Most Famous Rooftop Bars in Mexico City
Ask any local for their list of the best rooftop bars in Mexico City, and the chances are Terraza Cha Cha Chá will be on it.
Open until late, this is a very popular spot, especially at the weekend. It's located close to the Monumento a la Revolución, on Avenida de la República, and offers wonderful views.
Terraza Cha Cha Chá has a great selection of craft beers, loads of different tequilas and mezcals, as well as wines and soft drinks. Cocktails cost around 150 MXN, ($7.50 USD).
They also serve excellent food; mostly sharing plates with a range of traditional Mexican dishes. Try the incredible fresh marlin empanadas and the nopal salad.
The staff are friendly and attentive, and the vibe is casual and upbeat. It gets especially vibrant and energetic here after the sun goes down. If you'd prefer to visit when it's quieter and less crowded, I advise you to come during the day.
There is an indoor seating area too, but as long as the weather isn't wet, ask to sit "en la terraza".
7. Downtown Hotel Terrace Bar – Best Rooftop Bar in Mexico City with a Pool
What's better than a rooftop with a bar on it? A rooftop with a pool and a jacuzzi too.
If this sounds like your kind of place, look no further than the Downtown Hotel Terrace Bar on Calle Isabel La Católica.
Located on the roof of the luxurious Downtown Hotel in the Centro Histórico, this is another great place to look out over the skyline of CDMX and admire some of its most famous landmarks.
The terrace is large and modern, with a range of tables, chairs, and comfy sofas for you to relax on.
They have a decent cocktail menu, and a range of beers and wines to choose from. If you get hungry, you can order some classic Mexican snacks from the bar including tostadas and tacos.
Sometimes a DJ is up here performing a live set, and it can get quite lively especially in the evenings. If you'd like to come on Thursday, Friday or Saturday evenings, booking in advance is recommended. Otherwise, you should be able to just turn up.
8. Hotel Condesa DF Rooftop Bar – Best Rooftop Bar in Condesa
Hotel Condesa DF has the best rooftop bar in Condesa, my favourite neighbourhood in Mexico City. This is where I spent a month in an Airbnb and was able to suss out many of the best restaurants in Condesa and incredible bars during that time.
Located on Avenida Veracruz, a calm tree-lined street next to the Parque España, this elegant rooftop bar and patio is a really wonderful place to spend a few hours.
There's a range of comfy sofas and ottomans, as well as tables and chairs. They even have a jacuzzi up there, although this isn't always in use.
The whole place is tastefully decorated and has amazing views over the park and across to Chapultepec Castle. It's a great spot to come either during the day or in the evening, and the vibe is chilled yet sophisticated.
There's an on-site sushi bar, (one of the best in CDMX), run by Japanese Chef Keisuke Harada of the Morimoto School. They also serve a range of delicious Japanese-Mexican fusion dishes.
Service here is quick and efficient, but also friendly. It's a little on the pricey side, (Condesa is a very desirable neighbourhood), but in my opinion the costs are definitely worth it.
Try their martini – it's one of the best you'll find in Mexico City. Hotel Condesa DF Rooftop Bar is open every day from 2pm.
9. Area Bar – Best Rooftop Bar in Polanco
Polanco is a wealthy, exclusive neighbourhood with no shortage of glitzy cocktail bars and fancy clubs. However, strangely, the area is somewhat lacking when it comes to rooftop drinking establishments.
The best rooftop bar in Polanco is Area Bar, which is attached to the Hotel Habita on Avenida Presidente Masaryk, one of the main roads running through the neighbourhood.
The décor is sleek and modern, with plenty of glass and subtle, elegant lighting. They have a number of comfortable sofas, lounge chairs and tables. In the evenings, these are decorated with candles creating an intimate and romantic ambience.
This is a quiet, refined place to come for a drink. Don't expect the same lively atmosphere here as can usually be found at most of the other bars on this list. If you're looking for somewhere that's peaceful, sleek and chic, Area Bar is a great bet.
It has spectacular views over the Mexico City skyline, and is both partially covered and partially open to the elements, meaning you can enjoy a drink here whatever the weather. For colder evenings, there's a long open fireplace which creates a snug and cozy place to settle in with your favourite tipple.
They also offer a good selection of food, including excellent tapas and sharing plates. It's also surprisingly affordable, which isn't always the case in Polanco.
10. Balmori Roofbar – Best Rooftop Bar in Roma Norte
Balmori is a very chic and trendy rooftop bar in Roma.
They have a varied and interesting selection of drinks, including some amazing and inventive cocktails. These change all the time, but typically feature tequila and mezcal, (obviously), mixed with a range of unique flavours, such as smoked chilli, honey, jalapeño, basil, and chapolines, (fried grasshoppers).
In addition, you can choose from a good range of Mexican and international wine, beers and mocktails. If you get hungry, they also offer sharing plates and tapas, including a range of Spanish, Mexican, and fusion dishes.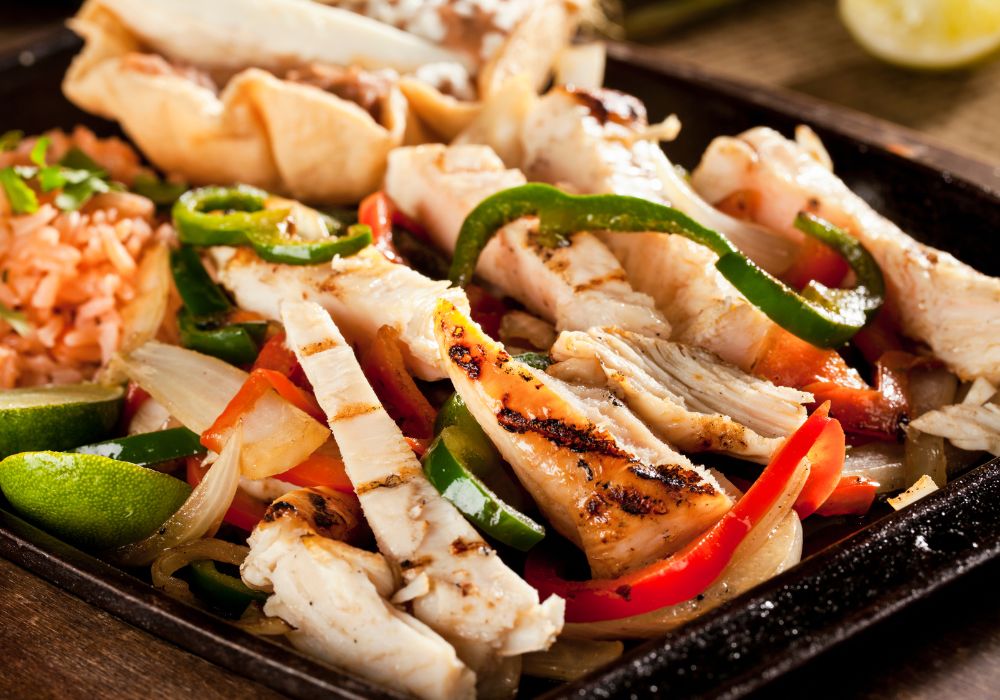 Balmori is located on Zacatecas, a quiet street close to the elegant and tranquil Plaza Luis Cabrera, in the heart of Roma Norte. It's easy to miss the entrance, with only a tiny sign pointing you up a set of stairs off the street.
A lot of thought and work has been put into designing this space, and the result is truly a thing of beauty. The terrace is green and lush, with little trees, shrubs and hanging plants complementing the modern, smooth décor.
There's a retractable roof, and the bar is usually busy come rain or shine. Spanning around 300 square metres, this is one of the largest rooftop bars in Mexico City, and is especially popular with a younger crowd.
On weekends, there's often a DJ playing chill house music, and the bar is open until late.
In Conclusion
Each of these rooftop bars in Mexico City is a great place to relax and take in the views of this amazing city. Whether you're looking for a place to start your night out or finish it off, this list offers something for everyone.
Most bars in Mexico City operate a relaxed dress code policy. Sportswear and flip-flops tend to be frowned upon in the evenings, so I'd steer clear of these.
However, in general, it's not a stuffy place. I typically go out wearing jeans with either a nice t-shirt or a casual buttoned shirt, and clean trainers/sneakers, and have never had any issues regarding dress.
As a rule, it's not usually possible to reserve space at these bars ahead of time, (a notable exception being the Downtown Hotel Terrace Bar, above).
If you plan to go out for drinks on Friday or Saturday night between 7 – 10pm, you may have to wait a little for a table at some of the more popular spots. But otherwise, you can usually just rock up and find a spot.
And that's it. I hope this has inspired you to try out some of these amazing rooftop bars in Mexico City.
Like This Post? Pin it!