Despite being a relatively small city, there are plenty of exciting and fascinating things to do in Campeche, a UNESCO-protected, fortified town on the west coast of the Yucatán peninsula.
Campeche immediately made me feel welcome with its well-preserved, multi-coloured colonial buildings and hospitable people. I had just spent some time in the jungle of Palenque, so it was refreshing to be back in modern civilization.
I spent about a month in Campeche exploring all that the area has to offer. I really enjoyed the mix of culture, good food, and friendly people.
Let me show you some of the most interesting activities in and around Campeche, a gorgeous and unique city that offers beautiful little corners for the postcard-perfect picture.
Here are 15 of the best things to do in Campeche, Mexico.
1. Explore The Historic Centre By Foot
By 'historic centre', I mean the part still enclosed by the 16th-century fortress walls. Although they aren't visible everywhere any longer, you can still feel the original space thanks to the way the buildings are aligned.
It's possible to get up the walls to see Campeche from another perspective, and if you choose this guided tour, you'll enjoy the historical backstory, some snacks, and museum tickets.
A tour of Campeche's walls is punctuated by several towers that you can visit, which provide more insight into life during an era when pirates frequently raided the city.
The historic centre is pedestrian, but there are tramways, (El Guapo and Super Guapo), and even a little touristic bus, (tranvía de la Ciudad), as alternatives to walking.
For the perfect Instagram-worthy picture, don't miss out on Calle 59, which links de Puerta de la Tierra, (Earth Door), and the Puerta del Mar, (Sea Door), together.
The beating heart of Campeche is called the zócalo, dominated by the impressive cathedral of Santa Isabel – pure baroque! – with lots of little shops all around. The zocaló is especially interesting in the evening, when street hawkers, musicians, and shoeblacks crowd the gardens.
☞ SEE ALSO: 35 Best Places to Visit in Mexico
2. Visit Campeche's Centre At Night
Campeche at night gets an entirely different vibe, especially when you choose a tour that focuses on this particular city's spooky legends and myths.
The Legends Tours is particularly exciting when travelling with kids since pirates play a significant role.
But even adults enjoy being transported back to the 17th century. Use your imagination to feel what it must have been like when attacks occurred, and the city had to be defended. Note that night tours are also usually less crowded. 
3. Admire The Poésia Del Mar Magic Fountain Show
One of Campeche's coolest activities that I had the chance to see a few times, offers a beautiful spectacle of water-jets jumping and dancing in glittering lights.
Grab a cool drink and some snacks and head down to the malecón to enjoy a fairy-like show.
The best part of it? It's free!
The magic fountain operates every Monday, Wednesday, Thursday and Friday at 8.30pm, on Saturday at 8pm and 9pm, and on Sunday at 7.30pm and 8.30pm.
Get there early to secure the best spot on the malecón!
If you want to enjoy it from an entirely different perspective, try this guided boat tour to the other side of the fountain, where you get another view of the vivid colours. 
☞ SEE ALSO: 51 Fun Things To Do in Mexico
4. Dive Deeper Into The Mayan History At The Museo Arqueológico De Campeche
You want to visit the Museo Arqueológico de Campeche, inside of Fuerte San Miguel, before heading out to Campeche's various Mayan sites. This way, you'll already have a bit of backstory; allowing you to better understand this fascinating culture that preceded the Spanish colonialists.
The museum is divided into thematic sections, displaying pieces found across the whole state of Campeche. You get an explanation of the different Maya styles, ("Petén" and "Puuc"), their daily lives in the ancient city, which deities they adored, and who was in charge, etc.
The last part around power and warfare is incredibly educational.
Exceptional jade masks, exquisite jewellery, and bones and ceramics from significant sites like Calakmul and Edzná are amongst the highlights.
Be sure to get up onto the museum's roof for a superb sea view before you leave.
5. Visit The Impressive Edzná Maya Site
About 50km from the city centre of Campeche lies Edzná, a primary archaeological site surrounded by lush green jungle, and probably one of the best-kept secrets in the state of Campeche.
Unlike other Maya tourist attractions, where the sites have been over-renovated, giving it a "too clean" look, Edzná is still quite wild and, therefore, more authentic.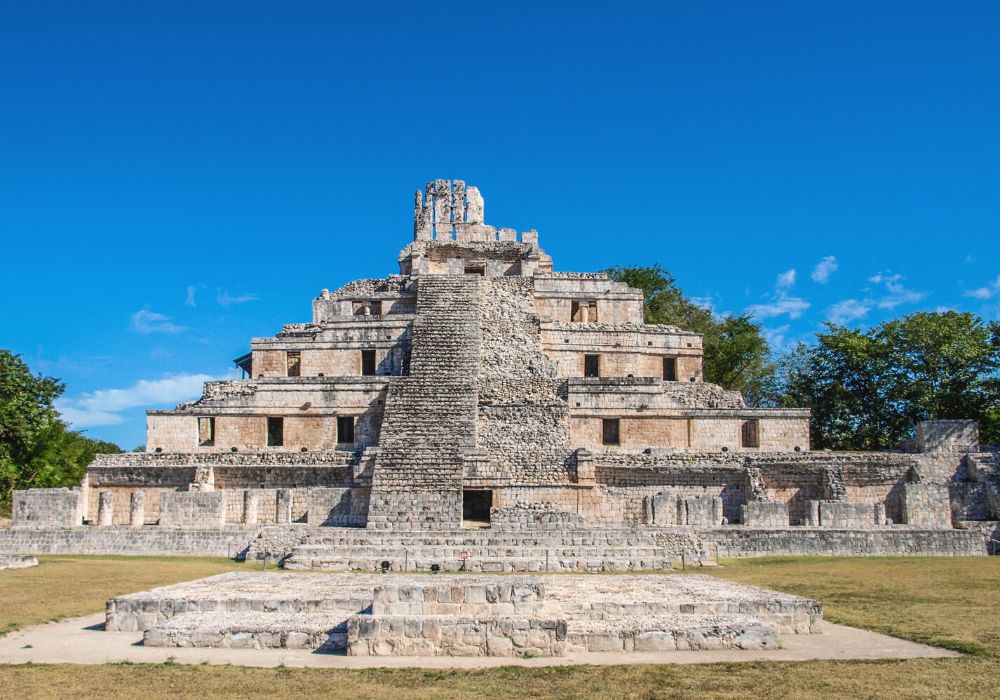 There are about 6km² to be explored, and tourism here is scarce so you may even end up being alone. The Maya city of Edzná prospered from the 7th to the 9th century and has some of the finest temples in the region.
Amongst these temples are the Plataforma de Los Cuchillos, an important building where pigments indicate that it was once painted red, and the Edificio de Los Cinco Pisos, a five-story building with a temple on top, around 31m high.
If you happen to visit the site at the beginning of May, an Astro-architectural phenomenon takes place where the door of the main temple gets illuminated during sunset.
Try to visit Campeche, and especially Edzná, during July as this is when Chac – the God of Rain – is traditionally celebrated with festivities all around Campeche. For a guided trip to Edzna from Campeche, including transportation, and snacks, have a look at this tour.
6. Enjoy A Spicy Hot Chocolate
Hot chocolate is considered a Mexican speciality as the Aztecs and Maya drank a form of hot chocolate long before the Europeans discovered it. Hot chocolate with chilli pepper is even considered the ultimate aphrodisiac.
Chocol Ha offers a range of hot and cold chocolate drinks, light lunches, and desserts inside a lovely colonial house.
I had the pleasure of trying Chocol Ha's chilli chocolate, and although I can't confirm the effect, I did like the taste. It was a bit too spicy for me, but still an exciting experience, and something you must do when visiting Campeche.
It's also an excellent place to buy some delicious Mexican chocolate as a souvenir for yourself or your loved ones at home. Plus, it's located in the previously mentioned, and very photogenic, Calle 59.
7. Take Advantage of The Sea
Even though Campeche is a coastal town, the city doesn't have any proper beaches.
To enjoy palm trees swaying in the wind whilst burying your feet in the warm sand, you'll need to get a car and get out of the city.
Head down to Playa Bonita, around 14km from Campeche, for a bit of beach fun. The beach is clean, and the water is beautiful turquoise. You'll have to pay the parking lot and a small entry fee.
Of course, there are many advantages to Campeche being located right at sea; thanks to the light breeze, even hot temperatures are easy to bear.  Another advantage brings us to the next must-do in Campeche. 
8. Eat Fish!
If there is one thing not to miss whilst visiting Campeche, it's eating fish.
The best place in Campeche to get the freshest, is at the Parador Gastronómico de Cocteleros. Underneath the thatched roofs, you will find plenty of little restaurants serving fish right out of the water. You pay per weight, fried a la plancha, right in front of you.
Locals and tourists mingle in this spot, and an authentic vibe is guaranteed.
A must-try: the pampano. This big fish gets served whole and is to die for.
For an exquisite parrillada de mariscos, book a table at Marganzo, one of the best restaurants in Campeche, (despite being a little touristy), or enjoy beautiful sea views from La Palapa del Tío Fito – especially when the sun starts setting.
9. Enjoy Mexican Music With A Fresh Margarita
Head to Casa Vieja del Río, next to the zócalo, and order a mint margarita whilst people-watching from the vaulted gallery.
The place feels very colonial with its high ceilings, multi-coloured walls with old pictures and paintings, and some antique decor pieces.
In the evening, it's particularly charming, especially when you get to sit on the terrace overlooking the busy zócalo, admiring the massive cathedral, and enjoying Mexican music from all sides.
For more live music, the Ancestral Bar has live concerts and theme shows on a regular basis.
10. Admire Campeche's Sunsets
Here's another free activity in Campeche; get some Mezcal, Michelada, a margarita or a non-alcoholic beverage to sip on, and find a spot along the Malecón to watch a romantic sunset.
Thanks to Campeche being located on the coast of the Gulf of Mexico, the combination of sunset and sea is magical.
Try to get there early to secure a spot as it can get very crowded at this time of the day. Locals enjoy their sunsets as much as tourists do. Or enjoy it whilst walking down the Malecón, which takes about 50 minutes, admiring some artistic sculptures scattered along the way.
Don't forget to turn around when the low rays hit the beautiful facades of the city, giving it that lovely golden glow. Perfect for amazing pictures.
11. Experience The Día De Muertos in Campeche
Celebrating the Day of the Dead in Mexico on November 1st, (and a few days before), should be on everyone's bucket list. Nothing in the world compares to how Mexicans celebrate this particular day. The way colours are used to commemorate death is mesmerising.
Mexican food and drinks play major roles in these celebrations, as does music and dance.
You can visit nearby Pomuch, about an hour from Campeche, which lets you discover the more intimate side of the famous Day of the Dead: the feast at the cemetery.
Usually, family and friends gather at their loved one's tombs to celebrate.
12. Embark on An Adventure in The Biosphere of The Petenes
Another place to visit in the surroundings of Campeche is the Biosphere of the Petenes, about 75km north of the city.
This unique tropical nature reserve lets you discover local fauna and flora. The best way to explore the Petenes is to embark on a small boat, like the one offered by this tour.
Several islets along the way allow you to stop and observe different birds and many other local animals, such as anteaters, and Geoffrey monkeys.
Although they're hard to find, and highly skilled in watching without being seen, if you're lucky, you might even spot a jaguar or leopard hanging around in the trees!
If the conditions are right, you can stop at a particular spot where it's safe to jump into the water to get a bit of refreshment. The air in tropical forests can get very heavy, and a cold splash of water is most certainly welcome during such a tour. Find out more here.
13. Unearth Your Inner Indiana Jones in Calakmul
Set in the heart of the biosphere reserve of Calakmul, this primary Maya site has been protected by UNESCO since 2002, and with good reason. Calakmul was a city of the utmost importance in the Mayan world and was the centre of the 'Kingdom of the Snake', with 50 000 people living here during the 7th century.
Calakmul even dominated famous other sites such as Tikal, 100km away, at some point in history. The architecture, therefore, resembles that of Tikal, but some temples are only found here, built in the typical 'Río Bec style'.
This Calakmul trip is perfect if you want to combine a visit to the archaeological site with an exploration of the nature reserve. This tour will give you all the insights you need to get to know the local flora and fauna, plus meals are included. Find out more here.
14. Go Birdwatching At Calakmul
Birdwatching in Mexico is fascinating; there are native birds that you've likely never seen before, like the bright Orange oriole, or the threatened Resplendent Quetzal. Mexico's birds come in all colours, sometimes emit bizarre sounds, and often show off some weird skills when it comes to mating.
With this tour here, inside the Calakmul Biosphere Reserve, you can experience one of the most impressive Maya sites in the area – the previously mentioned Calakmul. Some of these birds are hard to spot but an experienced guide can show you where to look. 
15. Take a Day Trip to Uxmal
Uxmal technically isn't part of the state of Campeche anymore, but it's only a two-hour ride from here, and is one of my favourite archaeological sites in this part of Mexico.
The temples here are magnificent; all built in the typical Puuc style, with beautifully sculptured ornamentations. Together with Chichén Itzá, it's the most important Maya ensemble in Yucatán, and by far the most picturesque. A visit here is one of the top things to do in the Yucatan for sure.
FAQs About Campeche
Here are some answers to commonly asked questions about visiting Campeche.
How many days do you need in Campeche?
This depends greatly on what kind of things you plan to do in Campeche. If it's only for the city itself, you could see it all in just one day. But take at least two days to experience the evening scene and get to a good restaurant.
Add another day to see sites like Edzná and Calakmul that are close, and one extra if a day trip to Uxmal is possible.
Is Campeche worth visiting?
Definitely, yes! Campeche is truly a hidden gem of Mexico, thanks to the combination of ancient Maya history with colonial architecture, and the welcoming nature of the Campechanos. 
Plus, it is still somewhat a secret, and thus escapes the "overtourism" the Mexican Riviera is known and feared for.
Does Campeche have beaches?
No, there aren't any beaches in Campeche. Instead, you will have to visit Playa Bonita, about 10km southwest of the city, or drive up even further towards Yucatán and the Riviera Maya.
Where to stay in Campeche?
The best area is the zona centro, where you will have plenty of choice in charming colonial houses with very tasteful decorations. It's the perfect basis to explore all the activities in and around Campeche, and the accommodations here are reasonably priced.
Try, for example, the gorgeous Casa Nicté, or the luxurious Hotel Plaza Campeche with a gorgeous pool. Or, have a look at the best Airbnbs in Campeche here.
Now You Know What To Do in Campeche
Campeche remains one of my favourite cities to visit in Mexico. There are so many fun activities in and around the city, and the colours are a delight for my photographic eye.
Campeche is also well located with many incredible Maya sites and exciting nature reserves all around the city – I am a passionate archaeologist, after all.
Add to that some delicious food and the most friendly Campechanos, and the mixture is perfect. Plus, as I previously mentioned, Campeche isn't on everyone's map yet, so you don't have to fear people crowding the city.
Like This Article? Pin it!