There are so many amazing things to do in Limassol, the vibrant beach-front city in the heart of Cyprus.
This historical city combines its tourist-friendly coastline with a cosmopolitan cafe culture, and the 'siga siga' (meaning slowly-slowly) mentality of the locals.
15 Best Things to Do in Limassol, Cyprus
Limassol is ideally located on the south coast of the island, and its central position makes it the perfect base for exploring all that Cyprus has to offer.
You can be lounging on the beach on one day, and in the mountainous wine region, tasting the best local wines of Cyprus the next.
With stunning national parks and ancient monuments on your doorstep, there's truly something for everyone in Limassol. It's one of the best places to visit in Cyprus.
I spent three months living as a digital nomad in Cyprus. I was based in this coastal city in an Airbnb apartment and completely fell in love with the metropolitan beachside bustle, the friendly local people, and the relaxed cafe culture.
I loved Limassol so much that I've already planned another visit this year! Learn more about the fun attractions and activities in Limassol in this post. And, if you're planning on visiting more of the country, don't miss our in-depth guide to Cyprus.
Read on for my list of the best activities and attractions in Limassol, Cyprus.
1. Take a Walking Tour of Limassol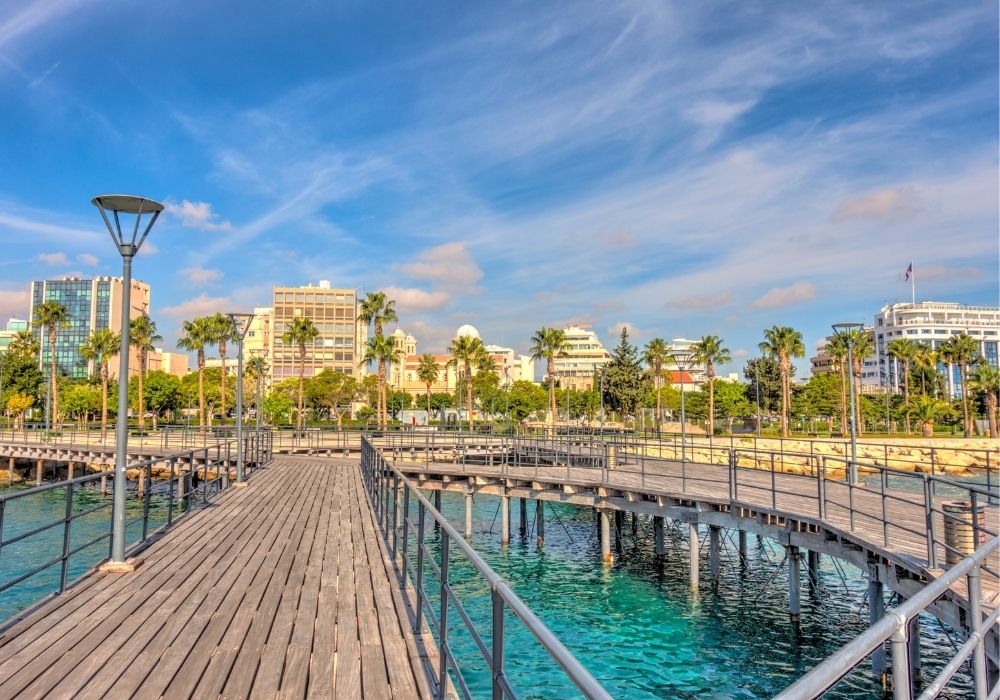 One of the best things to do in Limassol is to take a walking tour of the city. Limassol is a large city, with lots of different areas to explore. It can be easy to get lost or miss things if you're unsure of your way around.
The easiest way to explore the city, learn about the best attractions found in Limassol, and to get to know the different areas, is with a local tour, as this is where you're most likely to receive the best information and experience.
Click here to learn about this recommended tour which will teach you a little about the story of Limassol through history, architecture, and food. With so many things to see in Limassol, this is a great way to cover the main highlights.
☞ SEE ALSO: Weather in Cyprus – The Best Time to Visit
2. Lounge on the Beach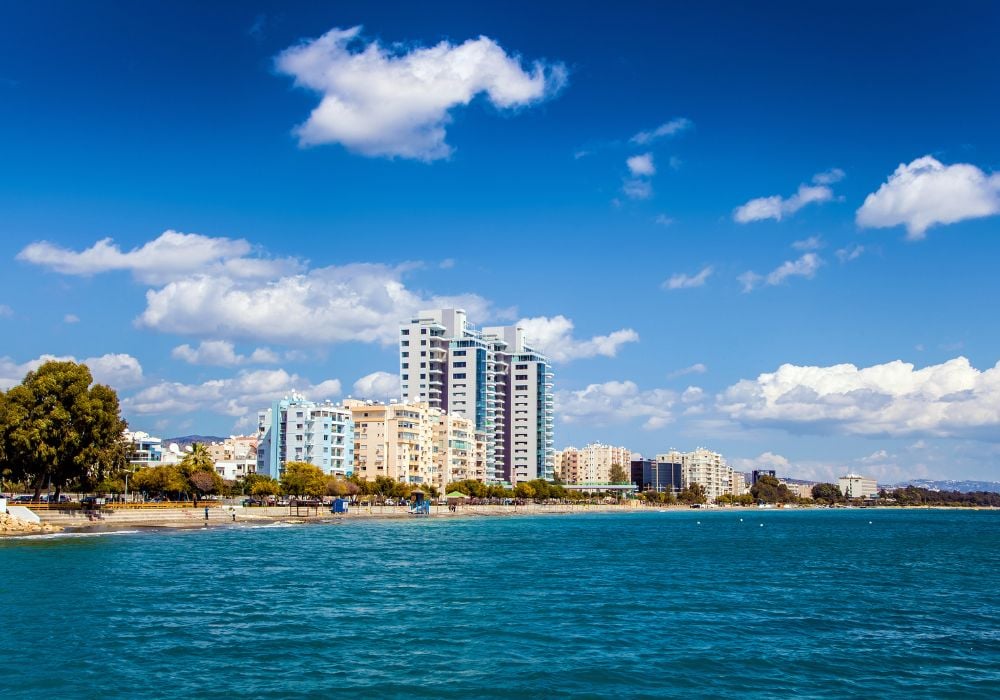 Lazing on the beach is one of the best things to do in Cyprus, and Limassol has some great beaches. Its 'city beaches' stretch along the length of Limassol, so there are plenty of possible spots you can choose to lounge in all day long.
The city beaches in Limassol are very well-maintained, clean and accessible. Expect dark sandy beaches and warm, clear water. Beaches are commonly referred to with reference to local landmarks, rather than their official names. For example, Debenhams Beach.
If you want a quiet spot where you can swim, rent a lounger and relax, then head to Armonia Beach. Named for the cafe located on the beachfront, it's an excellent place to grab a 'frappe', a Cypriot cold coffee, under the shade of an old tree.
For a livelier and more central spot, head to Colombia Beach. Named after its beautiful beach bar, which serves tasty food and drinks beside its own private pool. This location also has loungers on the beach with all-day service.
Away from the city beaches, head for Lady's Mile to the east, and Governor's Beach to the west.
Lady's Mile, named after a former Governor's horse, is a 5 km long beach with a mixture of pebbles and sand. The long beach is divided into zones, each distinguished by a different restaurant. The water is generally cooler, but calm and shallow, a great choice for families.
To the east of Limassol, you'll find Governor's Beach. This is a pebbly bay, hidden within the limestone cliffs. The bright white rocks dazzle in the clear water, and there are lots of little caves you can swim to.
You'll explore these bays if you go on a boat trip as recommended below. If you're wondering where to go in Limassol in the summer, the beach is a top choice!
3. Go for a Coffee at Molos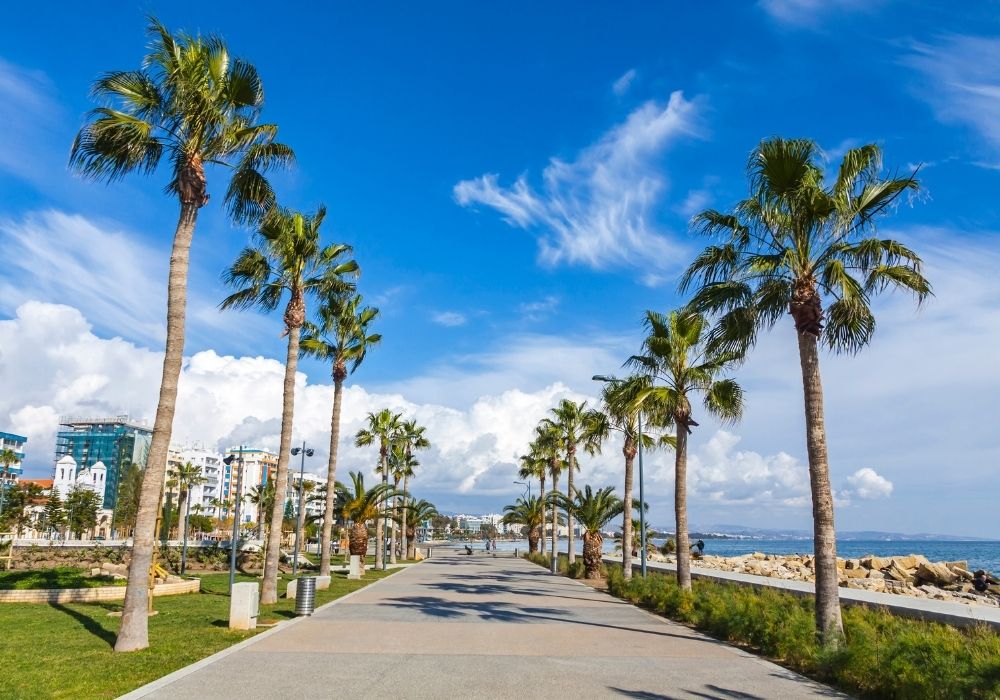 Cypriots love their coffee. One of the most relaxing things to do in Limassol is to take a stroll down Molos, a picturesque palm tree-lined promenade that leads to the Old Port and the Marina.
Stop at one of the three main cafés on the way, and take in the view over the Mediterranean Sea. Grab a coffee from either Red, Yellow or Blue café, which are named to reflect their décor, and while away the morning, local style.
4. Swim by Petra tou Romiou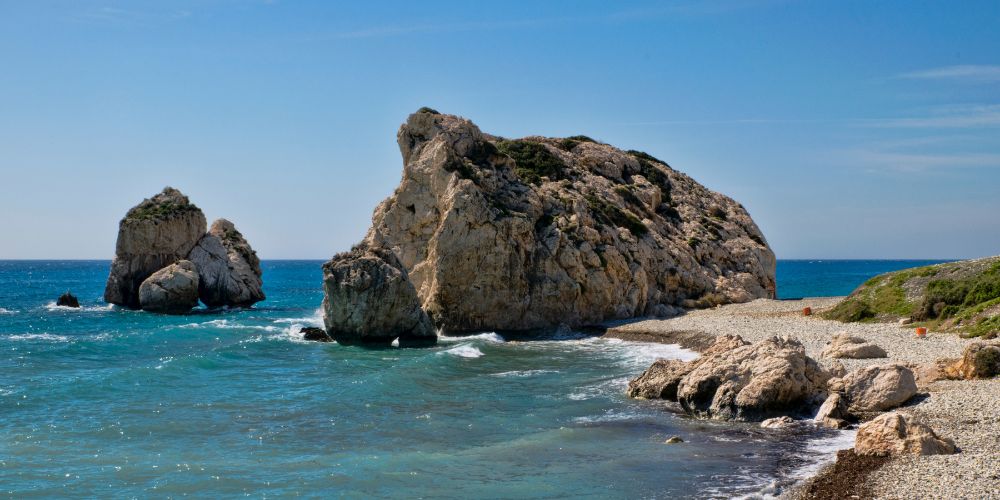 Also known as Aphrodite's Rock, this sea stack in Paphos District is just 45 minutes from Limassol. It's a beautiful area, with a mysterious mythological status that makes it one of the top places to visit in Limassol.
According to legend, Petra tou Romiou is the birthplace of the goddess Aphrodite. The local 'myth' is that anyone who swims around the rock will be blessed with eternal beauty.
The sea in this area is notoriously rough, however, and so swimming around the rocks themselves is not advised. What I do advise is to watch the sunset here. The site offers the most perfect view, where you can take some truly spectacular photographs.
Combine a trip to the Rock with two other Limassol attractions listed in this blog: the archaeological site of Kourion and the traditional town of Omodos, with this excellent day tour.
5. Go for Brunch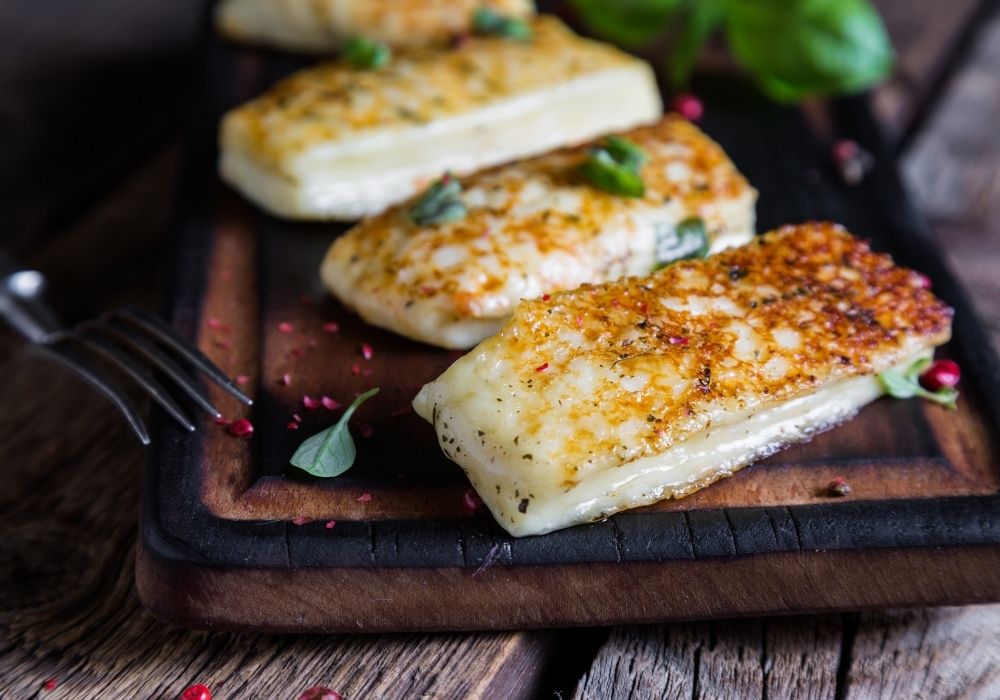 Brunch has started to take off in a big way in Limassol. There are a good variety of places to enjoy your eggs benedict around the city. Sampling brunch menus was one of my favourite things to do in Limassol.
For spectacular views of the sea, you should head to Pier One, located in the Old Port. To gaze over the New Marina, Epsilon offers cosmopolitan vibes. Finally, for a New York, industrial-style setting, head to Cookhouse located in the centre.
6. Dine in Traditional Tavernas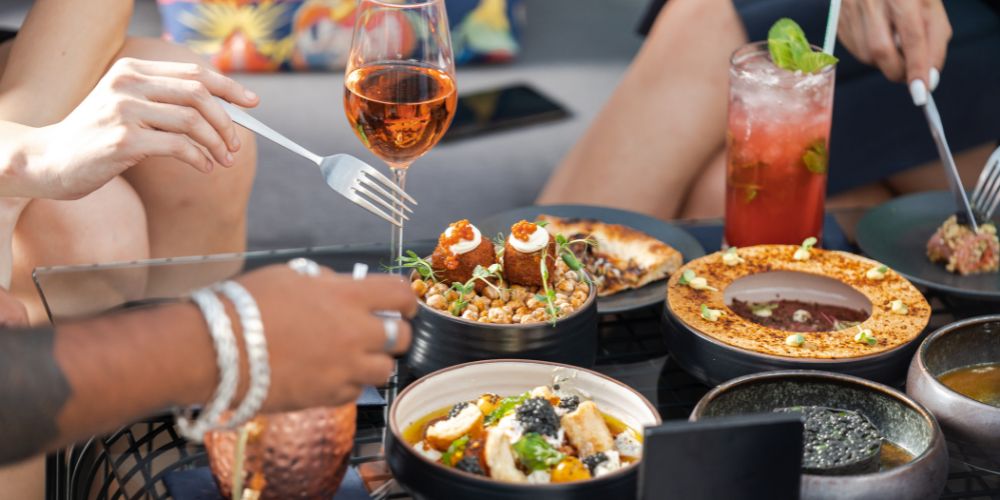 Another amazing thing to do in Limassol is to enjoy Cypriot cuisine! Cyprus is known for its meze and traditional tavernas, which are plentiful around the city.
Limassol is home to many signature dishes you must try. A few of the island's most well-known dishes include:
Sheftalia, a mixture of minced meat with aromatic herbs and spices, wrapped in omentum, and best served with salad, lemon and tzatziki.
Kleftiko is a melt-in-the-mouth lamb dish marinated in lemon, garlic, onion, and olive oil. You'll see it served in most Cypriot restaurants.
Finally, Tirokafteri is a spread made from feta, garlic, yoghurt, chilli and olive oil, and is best served with bread and a beer to wash it down.
My advice is to visit a traditional taverna and order a mixed meze to sample a few different dishes. Some of the best tavernas in Limassol are those slightly outside of the city, just a short taxi ride away.
I recommend Forsos Tavern and Taverna Yialousa in Mouttagiaka. Popular with the locals, both traditional taverns are almost next door to each other, and serve excellent Cypriot meze in relaxing, outdoor settings.
In Old Town, MEZE Taverna Restaurant is a favourite choice. It serves a delicious seafood meze and is always busy. Reservation in advance is recommended.
7. Visit Fasouri Water Park
One of the most exhilarating things to do in Limassol is to visit Fasouri Waterpark. If you're a bit of an adrenaline junkie, you don't want to miss this one.
With 30 different slides and attractions to explore, a visit to the waterpark is the best attraction in Limassol for thrill-seekers.
The park also has plenty of restaurants, cafés, and bars on site. So you can spend the whole day riding the tubes, relaxing on the lazy river, or chilling on a lounger watching the fun unravel around you if you prefer.
Whether you're travelling with family, or just want to cool off during the midday heat, this is one of the best places to visit in Limassol.
Located just 15 minutes outside of Limassol centre, the park is easily reached by taxi. I'd advise pre-booking tickets in the summer season to avoid disappointment — Fasouri Water Park is one of the most popular attractions in Limassol. Grab a discounted ticket here.
8. Day Trip to Nicosia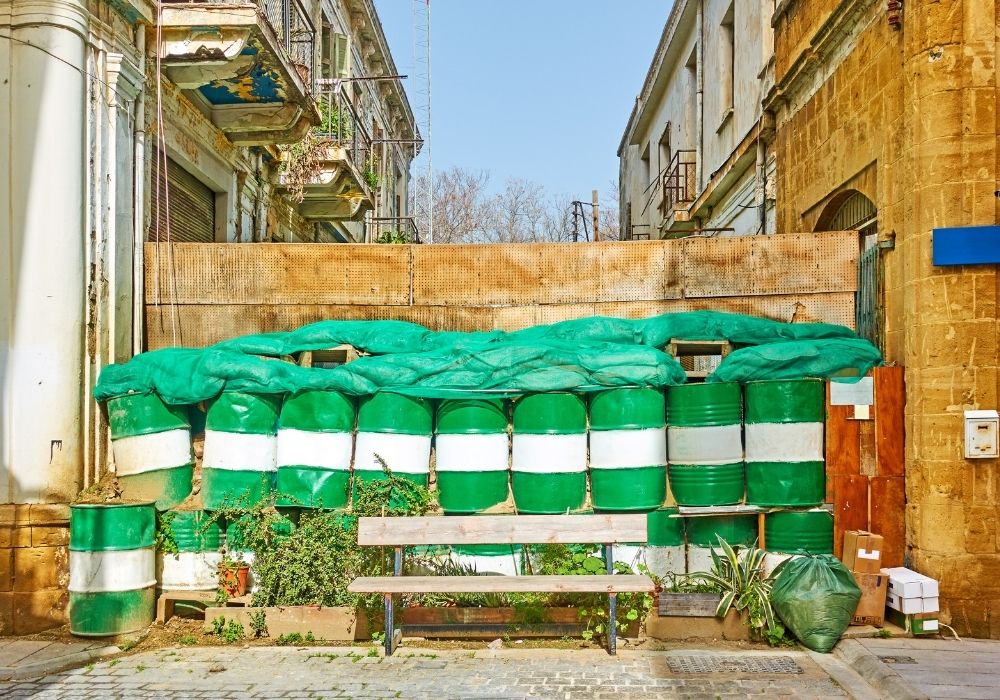 A day trip to Cyprus' capital city, Nicosia should be on every tourist's list, especially as it's only an hours' drive from Limassol.
Nicosia is a city of two halves and is the world's last divided capital. You can still feel the tension as you walk the streets today, some 50 years on from the conflict with Turkey.
Walk the "Green Line" that cuts through the city centre, which has separated the north and south of the island, and both Turkish and Greek Cypriot citizens, for almost five decades.
Enter the buffer zone, and view the bullet-ridden walls of the Ledra Palace Hotel. Once Cyprus's most elite accommodation, it served as UN headquarters until 2019 when disrepair resulted in a relocation.
Cross into Lefkosia, (Turkish Nicosia), and experience the change in culture, just a few steps beyond the 'border'. This is an unforgettable day trip and one best led by a guide. Don't miss this highly rated, informative and interesting walking tour.
9. Go Wine Tasting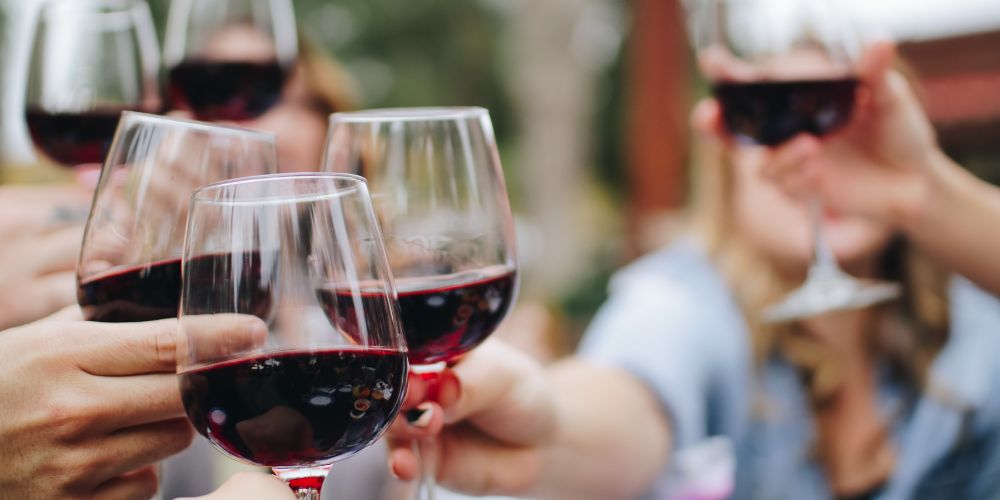 Limassol is the base for many of the island's wine companies as it's located at the foot of the Troodos mountains, these slopes are home to remarkable wine-growing regions.
Limassol is therefore a great base to go wine tasting and is one of the best places I visited in Limassol.
The world's oldest named wine, Commanderia, originates in Limassol. It's a sweet wine and one that you should try on any wine-tasting trip.
Most wine tasting tours will include a trip to the traditional Cypriot villages based in the mountains, including Omodos and Platres. These incredible villages are highlights in their own right and a wine tasting tour is a top way to experience both at once.
Omodos is one of the most famous villages in Cyprus and is a beautiful place to visit. Not only to sample the wine, but also to admire the traditional Cypriot architecture and to experience village life.
This highly-rated tour includes transportation, admission fees to the wineries, a traditional meze lunch, snacks to be enjoyed with wine, and of course, the wine itself.
10. Visit the Old Port and Limassol Marina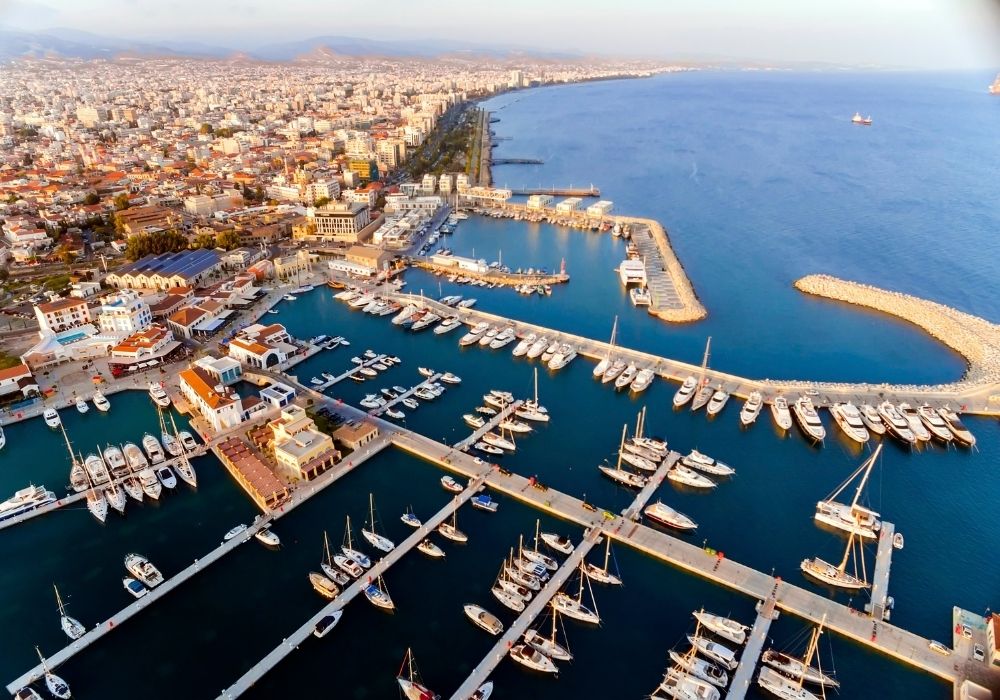 Another highly recommended thing to do in Limassol is to visit the Old Port and Limassol Marina. The Limassol Old Port forms part of the city centre and is located between the Molos Promenade and the new Limassol Marina.
The Limassol Old Port and Marina are worlds apart. In the Old Port, you will find lots of smaller pleasure boats and local fishermen. If you fancy taking a boat out for the day, head to one of the many boats advertising day trips here.
The Old Port is a great place to grab a coffee during the day, and watch the locals go about their work. The Old Port comes alive at night, with lots of lively bars and restaurants and beautiful views over the water. If you fancy a cocktail in a lively atmosphere then head to Bar du Soleil.
On the other end of the spectrum is Limassol Marina. The Marina was built in 2014 and is an established superyacht hotspot.
It's a nice place to take a walk around and marvel at the luxury villas, apartments, yachts, and speed boats moored in the harbour.
The Marina also boasts waterfront bars and restaurants, high-end boutiques and a private beach, making it the perfect place to visit in Limassol by day or night.
11. Go to a Festival
The city hosts many festivals throughout the year and these are definitely some of the more lively things to do in Limassol.
One of the biggest festivals in Limassol is Carnival. Held 12 days before the start of Lent, locals say that the celebration of carnival originates from an ancient Greek festival celebrating Dionysus, the god of wine and fun.
Locals take Carnival seriously, and celebrations usually span 2 weeks. Festivities include enjoying food, wine, satire, dancing and singing as well as dressing up in masked costumes.
Limassol has a reputation for being the best place on the island to celebrate Carnival.
Other festivals include the Limassol Wine Festival, held in the Municipal Gardens in August, and the Beer Festival in July.
12. Visit Akamas National Park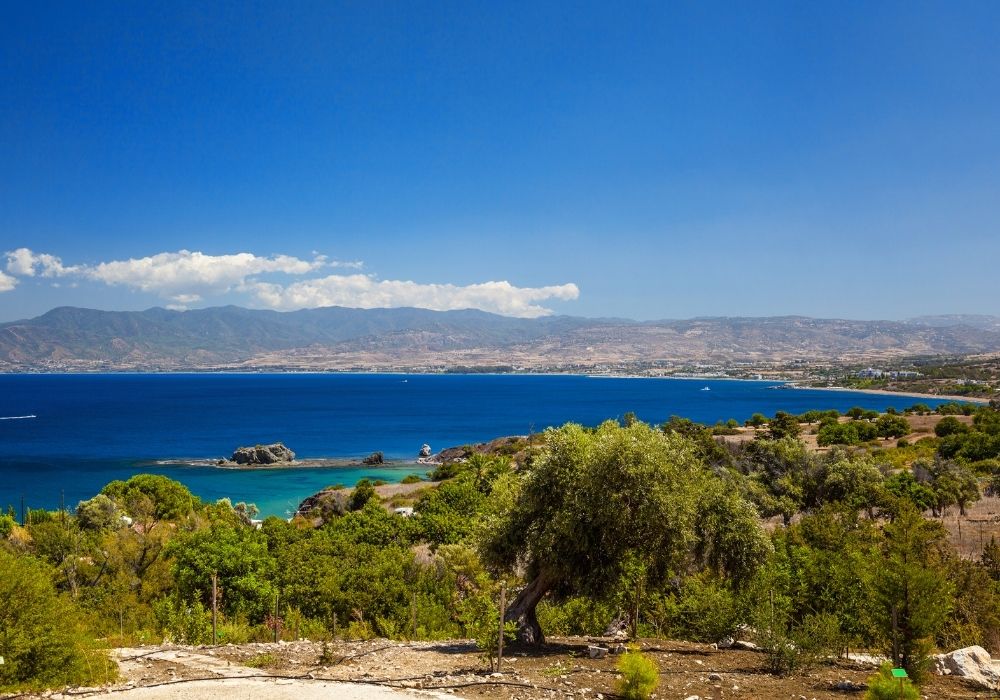 Without a doubt, my favourite place to visit in Cyprus is Akamas National Park. It's around 2 hours from Limassol, but well worth the visit.
The park contains many of Cyprus' top natural attractions including:
The Baths of Aphrodite. This is supposedly where the goddess of love used to bathe.
Lara Beach. An untouched, rugged beach where it's possible to see sea turtles nesting if you visit between May and August.
The famous Blue Lagoon is at the top of most tourists' lists when visiting Akamas National Park. The water here is bright turquoise and crystal clear. Without a doubt some of the most pristine water I have ever seen.
An excellent way to explore the Akamas National Park, and the west side of the island in a day, is by taking a tour.
There are many available tours that will take you to Akamas National Park from Limassol, and many ways of exploring it, but prices generally cost around €75 and last around 8 hours. Click here to learn more.
13. Visit the Archaeological Sites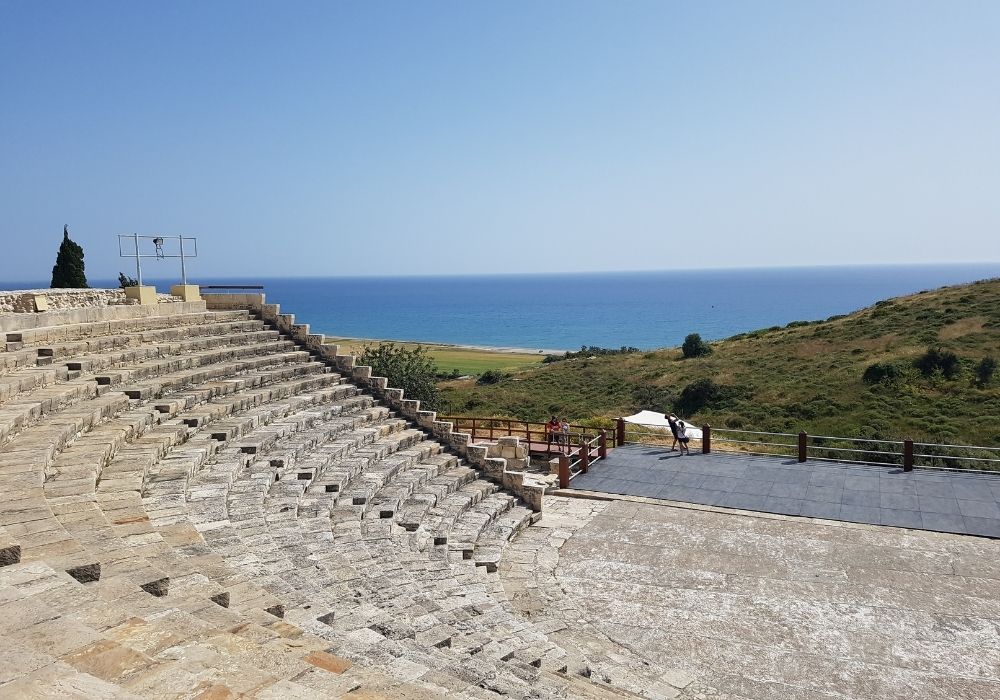 There are a few ancient sites in Limassol, and two of the most interesting to see are Kourion and Amathous. These sites make up two of the seven ancient kingdoms of Cyprus.
Second to her birthplace in Paphos, Amathous is an important place of worship for Aphrodite. Here you will see various archaeological findings such as the Temple of Aphrodite. Entrance will cost around €2.50.
​Hike to the top of the hill outside of the site for a fantastic view of the entire area, and of the sea. The site is within walking distance of the tourist area and close to the Four Seasons Hotel.
Kourion stands on a hill just outside of Limassol and its crown jewel is the magnificent Greco-Roman theatre. The theatre has been restored and is occasionally used for open-air performances, with the perfect backdrop of the sea, during the summer months.
To visit Kourion, take this tour and stop off to see Petra Tou Romiou and Omodos Village for some wine too!
14. Take a Boat Trip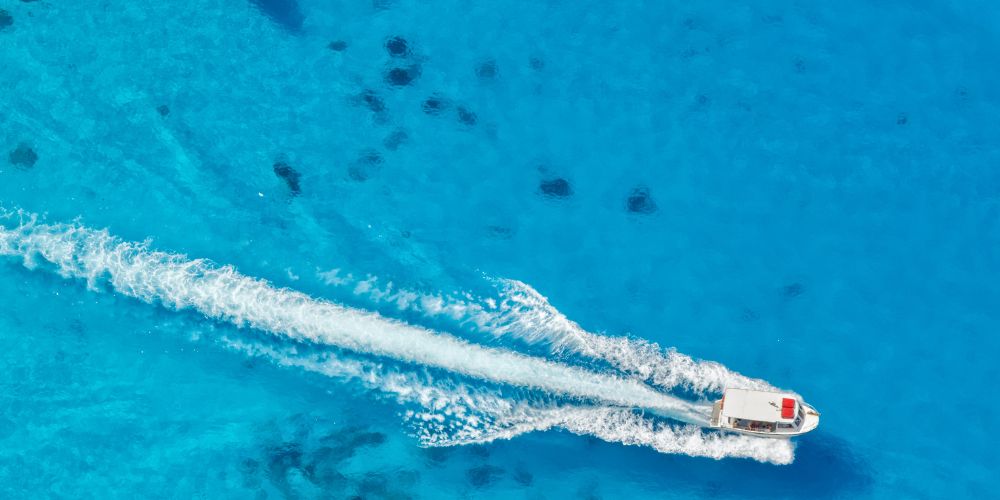 One of the most lively things to do in Limassol is to take a tour in a boat.
On this tour, you'll explore Akamas on a guided day tour by boat and bus. You'll see the sea caves, check out the Baths of Aphrodite, and swim in the Blue Lagoon.
It's a great way to experience some of the best things to see in Limassol and cool off in the water too. Click here for more info.
15. Party at Guaba Beach Bar!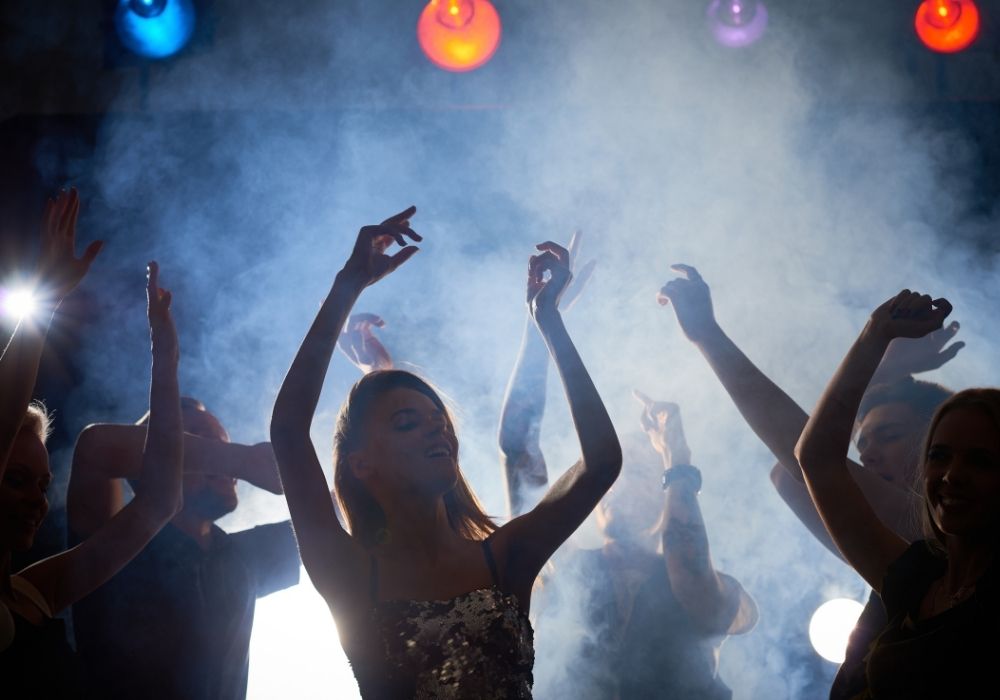 For those seeking out a party, one of the best things to do in Limassol at night is to visit Guaba Beach Bar.
During the day, Guaba is a super chilled beach bar where you can swim in the beautiful bay, play games on the beach, or relax on a sun lounger.
By night, Guaba transforms into an open-air, jungle-themed super club.
The venue has hosted some of the biggest DJs in the industry, and with a capacity of 2,500, holds quite the party! It's a real experience, so grab a beer and be ready to party on the beach until the sun comes up.
Where to Stay in Limassol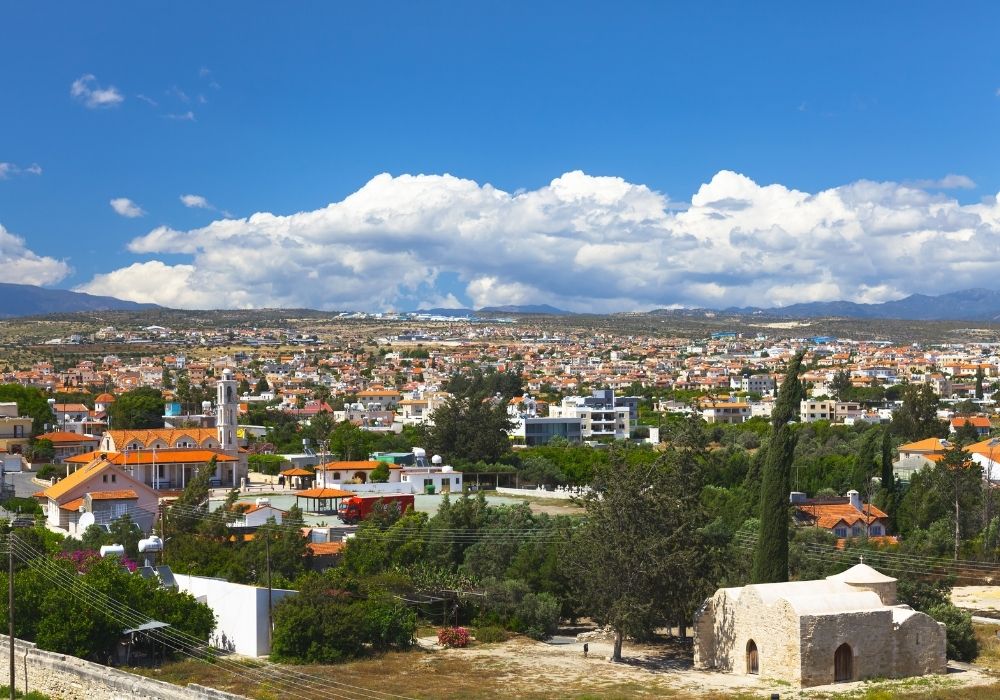 Limassol is divided into four main areas, all of which are spread along the coast and have different benefits.
FAQs About Limassol, Cyprus
Still have some questions about what to do in Limassol? Here are some answers to commonly asked questions about visiting Limassol, Cyprus.
Is Limassol worth visiting?
Definitely. Limassol is an incredible destination in its own right and the perfect base for visiting the best of Cyprus. It combines beautiful beaches with a bustling metropolis where you will find trendy bars and restaurants frequented by tourists and locals alike.
How do I spend a day in Limassol?
There are many options for things to do in Limassol. You can explore the Old Town, go to the beach, dine in traditional taverns, or take trips to nearby archeological sites. And these are just some of the fun Limassol activities.
Which is better, Paphos or Limassol?
There are lots of great things to do in Paphos, but for me, Limassol is the better all-rounder. Beaches or mountains? Trendy bars or local tavernas? Ancient history or modern art? Why choose when Limassol offers it all!
Does Limassol have beaches?
Yes, Limassol has beaches. Limassol is located on the coast, and has kilometre after kilometre of beaches. With Lady's Mile to the west, Governor's Beach to the east, and city beaches on your doorstep, you will be spoilt for choice.
Where to stay in Limassol?
I'd suggest either the Old Town or the Tourist Area. In Old Town you're close to the Old Port, the New Marina and Molos, with lots of trendy bars on your doorstep. Check out this beautifully traditional stay in Old Town for some inspiration. The Tourist Area, to the east, has some great beaches and bars, and a lot of accommodation options, such as this home away from home in the heart of the area.
Now You Know What to Do in Limassol
There is so much to love about Limassol. Whilst it's become more popular over the last few years, it's surprising that many tourists still opt for neighbouring towns of Paphos and Protaras.
There are so many things to do in Limassol for all kinds of travellers, and for that reason, I think it has the edge over the other towns in Cyprus.
I hope this list of things to do in this captivating city will help you plan and enjoy your time exploring Cyprus.
Like This Article? Pin It!